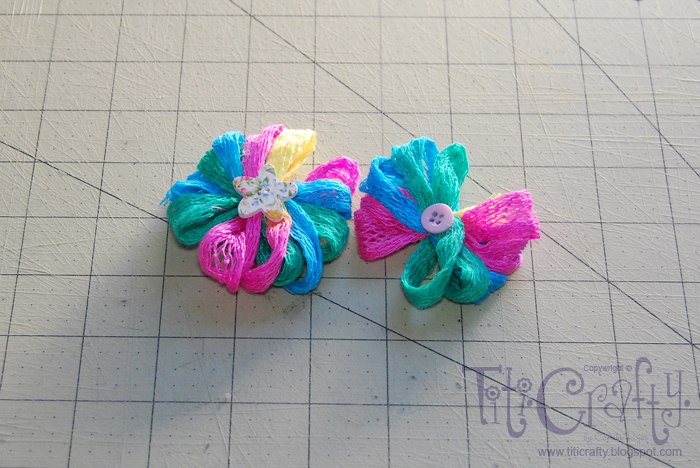 Delicada flor de primavera hecha con lana malla
¿Qué es lo que me gusta más de las manualidades? Que cualquier cosa es posible y cualquier material es útil.
Un día paseando por una tienda pase por la estantería de lanas y una en particular me llamó la atención, era una malla arruchadita y enrollada como cualquier lana. Ahí mismo con una puntica de uno de los rollos empece a ver como se verían lacitos y cosas así y se me vino a la cabeza que podría verse chula una flor que vi con cinta de raso hecha con esta lana :D, pues me la llevé!.
Al llegar a casa me puse a ver como la hacía y la verdad es que me resultó mas fácil de lo que me esperaba y ¿A que es chula?
Para los que deseen hacerla aquí les dejo como la hice:
Materiales:
Lana malla
Hilo
Botón o cualquier elemento decorativo para el centro.
Silicón caliente.
Aseguré el extremo de la lana con mi pulgar y el meñique y el resto de la lana en sentido hacia el dedo índice.

Le di de 5 a 6 vueltas a los 4 dedos de mi mano siempre buscando que quedaran formando una x así como ven en la foto.
Cuando terminé la última vuelta corté la lana y con mucho cuidado saqué mis dedos de dentro del rollito de lana. Con el hilo lo que hice fue sujetar justo en el centro, al principio parece un lazo.
Luego con mucho cuidado fui separando los tramos de la flor hasta que formaran como un círculo, que pareciera más una flor.
Cuando quedó como me gustaba le di unas puntadas con hilo y guja y por último le pegué un botón en el centro y voilà está listo :D.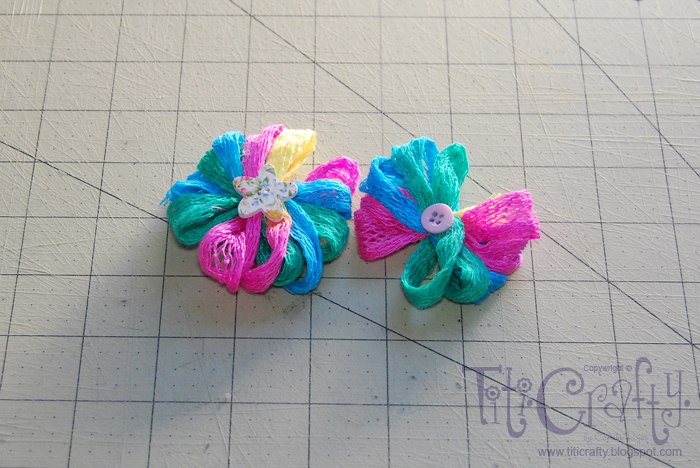 Qué fácil, ¿no?, ¿que les ha parecido? Si les gusta, sus comentarios hacen mi día más feliz :D y pueden enterarse de mis nuevas publicaciones suscribiéndose al blog y siguiéndome por las redes sociales :D
I LOVE your opinion and comments, it totally makes my day, it gives me a huge motivation to keep making fun stuff and crafts!!!
Tu opinión y comentarios hacen mi diá más feliz, me da mucha motivación para seguir haciendo colsas divertidas y manualidades!!!
If you like my happy spot I invite you to subscribe and get my updates. You also can follow me on the social networks on my sidebar.
Si te gusta mi rincón feliz te invito a suscribirte y recibir mis actualizaciones. También puede seguirme por las redes sociales hubicadas en mi barra derecha.
Till next time!!! =D
Hasta la próxima!!! =D