A ver, creo que no soy la única que sufre del mismo mal. Uno va cortando el papel que necesita, va montando las tarjetas o manualidades y van quedando retazos aquí y allá, algunas veces son tan pequeños que se desechan pero a veces sabemos que en el plotter de corte o con los troqueles pueden ser útiles.
 DIY: Organizador de papeles y cartulinas que ocupa poco espacio :D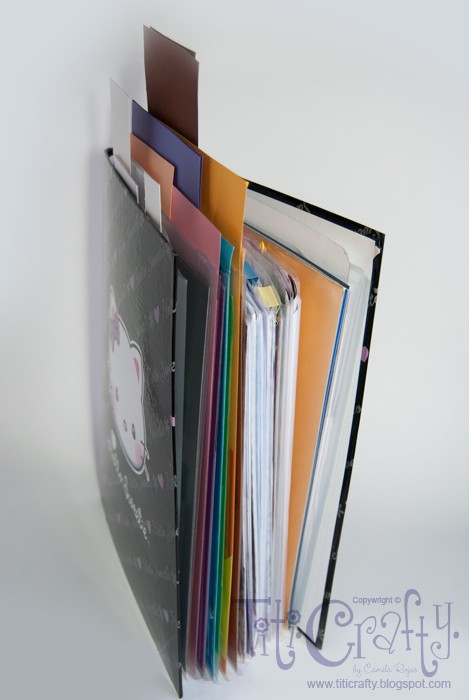 El problema es que vamos guardando, guardando, guardando, y como se va acumulando entre otro montón de papeles de otros tantos colores, llega un momento en que no los usamos pero nos inundamos de papeles. Bueno a mi me pasaba hasta que se me prendió un bombillo (probablemente mucha gente ya lo ha hecho pero para mi ha sido la iluminación JA!). No dispongo de mucho espacio en mi estación de trabajo por lo que bandejas no me funciona y ahí también se terminan pudriendo los papeles porque se van yendo hacia el fondo. En cajas… archivadores… uhmmm, para que me caigo a mentiras ahí se quedan y los papeles encima para rematar.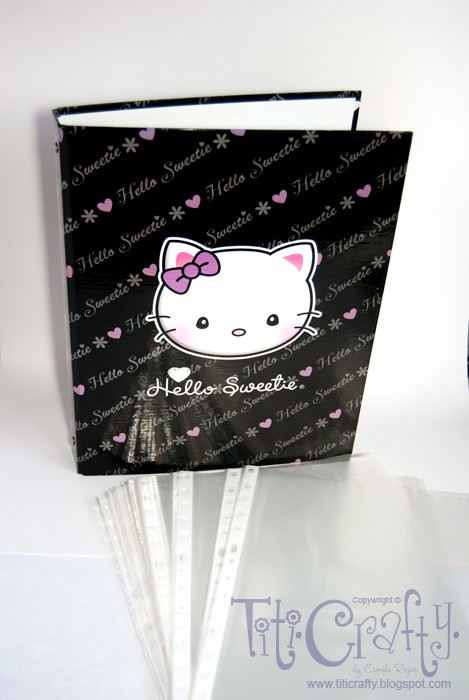 Así que me compre un folder!, esas carpetas con aros y los sobres plásticos :D. Oh yeah baby!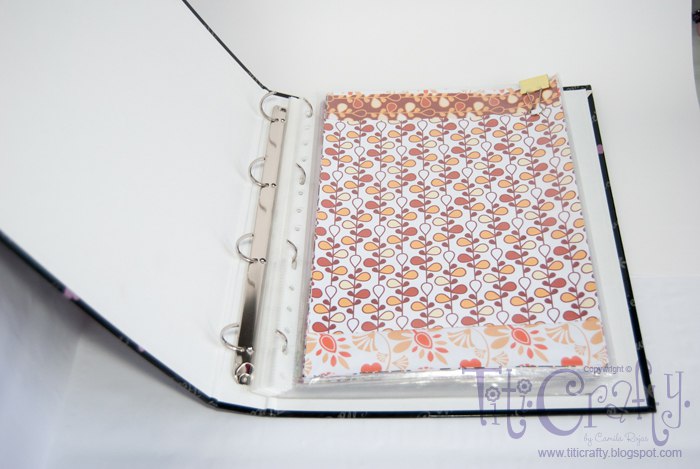 Coloqué los sobres en los aros y empecé a orgainzar :D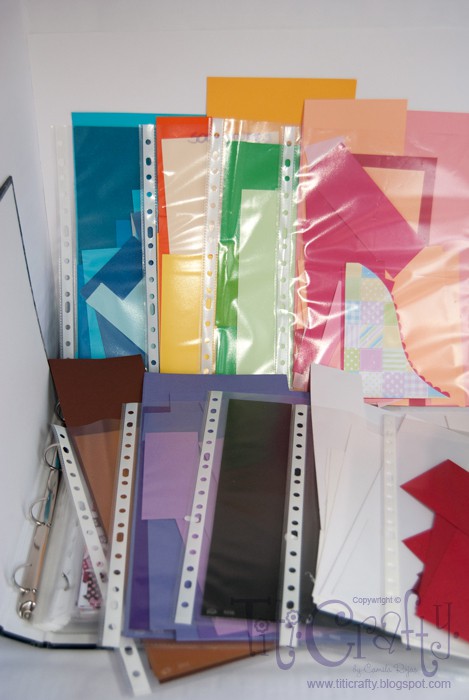 Discriminé cada set de papeles decorativos que tengo impresos y las cartulinas por colores y los coloque en sobres diferentes. Me puse muy exigente y hasta ordene los colores por el arco iris jajajaja.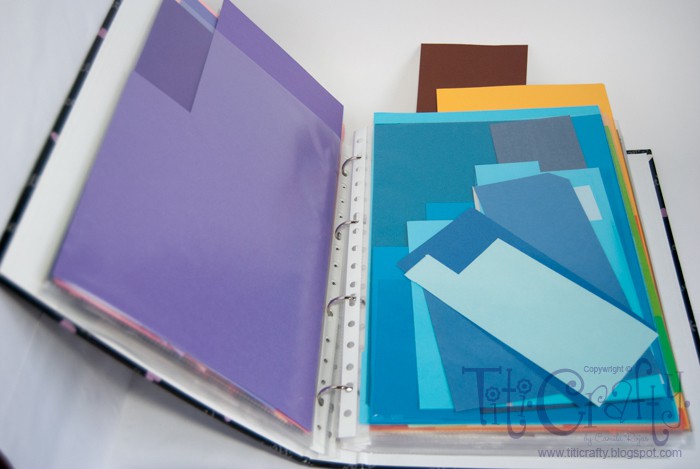 Todo tiene sentido ahora. Miren la diferencia, bueno no pueden ver la diferencia aquí porque jamás le tome foto al pleno desastre pero se la pueden imaginar!. No ocupa casi nada de espacio y es súper fácil conseguir las cartulinas y mantenerlas en orden y es mas factible que use los pequeños retazos, de hecho lo hago :D. Lo mejor de lo mejor de todo, lo repito… NO OCUPA casi nada de espacio :D!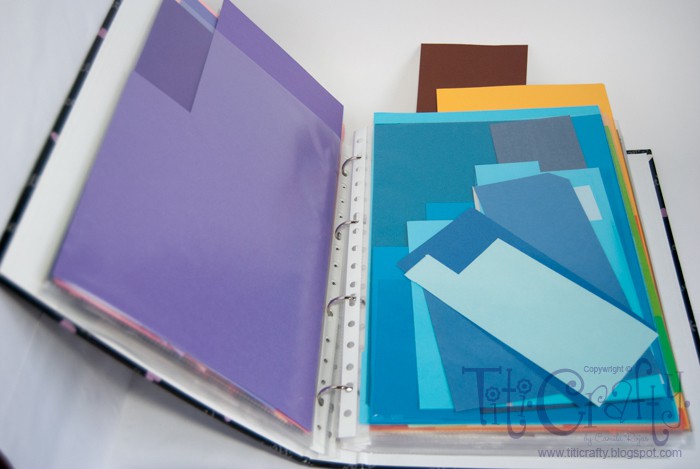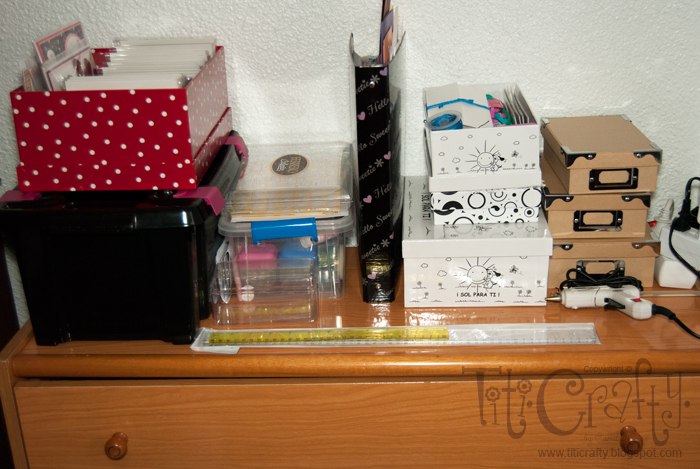 Solo hay un detallito, cuanto más veo el folder más siento que le falta un Make Over, ponerlo a mi estilo así que ya sé cual va a ser una de mis próximas manualidades :D.
¿Que les parece la idea? ¿A que no esta mal? Se que no es el descubrimiento de la pólvora pero me encanta el resultado :D ¿y ustedes han hecho cosas como ésta para organizar sus materiales?
I LOVE your opinion and comments, it totally makes my day, it gives me a huge motivation to keep making fun stuff and crafts!!!
Tu opinión y comentarios hacen mi diá más feliz, me da mucha motivación para seguir haciendo colsas divertidas y manualidades!!!
If you like my happy spot I invite you to subscribe and get my updates. You also can follow me on the social networks on my sidebar.
Si te gusta mi rincón feliz te invito a suscribirte y recibir mis actualizaciones. También puede seguirme por las redes sociales hubicadas en mi barra derecha.
Till next time!!! =D
Hasta la próxima!!! =D