Me fue pedida una tarjeta de cumpleaños que fuera especial, que fuera fashion!… En el momento pensé que me la había puesto difícil. La cumpleañera forma parte del circulo de Canelita's por lo cual ya la conocía y la verdad luego no me fue difícil conseguir la inspiración para crearle un detalle con gracia y mucho cariño.
Recientemente había comprado un set de papeles de scrapbooking de Shery K Designs que por alguna razón me hicieron pensar mucho en la agasajada  así que me deje llevar por la musa inspiradora JA!.

Usé colores Rosa y violetas, cartulinas texturizadas, cintas de Organza y grossgrain y apliqué la tecnica de Pop up cards en la parte interna :D… El sobre lo hice con volumen interno, es decir, parece una cajita pero se abre igual que un sobre :D porque la tarjeta tiene capas y relieves, además de lazos y piedras y no quería que se da dañaran en el camino!. También lo decoré por fuera con papel decorativo y las mismas cintas con un detalles en piedras.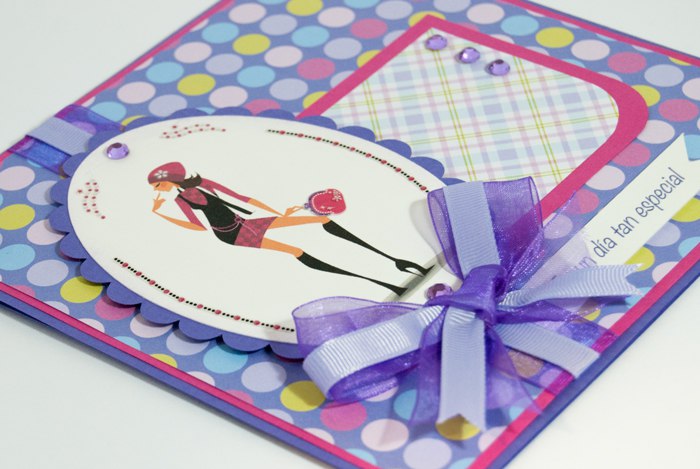 Hice uso de algunas ilustraciones bellisimas  de Dezignus y la verdad es que el resultado me gustó mucho… Por suerte a la cumpleañera también :P!!!
I LOVE your opinion and comments, it totally makes my day, it gives me a huge motivation to keep making fun stuff and crafts!!!
Tu opinión y comentarios hacen mi diá más feliz, me da mucha motivación para seguir haciendo colsas divertidas y manualidades!!!
If you like my happy spot I invite you to subscribe and get my updates. You also can follow me on the social networks on my sidebar.
Si te gusta mi rincón feliz te invito a suscribirte y recibir mis actualizaciones. También puede seguirme por las redes sociales hubicadas en mi barra derecha.
Till next time!!! =D
Hasta la próxima!!! =D
Save