I LOOOOOOVE salads, don't you? And they are perfect for summer time, fresh, cool, and you can have it as you like, that's why I called this one Summer Surprise, because I was craving for a salad and I wanted it to have lots of things, so I just opened the cabinets and started to take everything I could find that would taste good in a salad LOL and I added my favorite Honey Vinaigrette!!!
Summer Surprise Salad with Honey Vinaigrette
Ensalada Sorpresa de Verano con Vinaigrette de Miel
I could have added many other things that I thought about but…. I didn't have them LOL!… It was REALY good though!
Here is how I made this one, thankfully I remembered to take some pics before I prepared it to share it with you =D
Ingredients: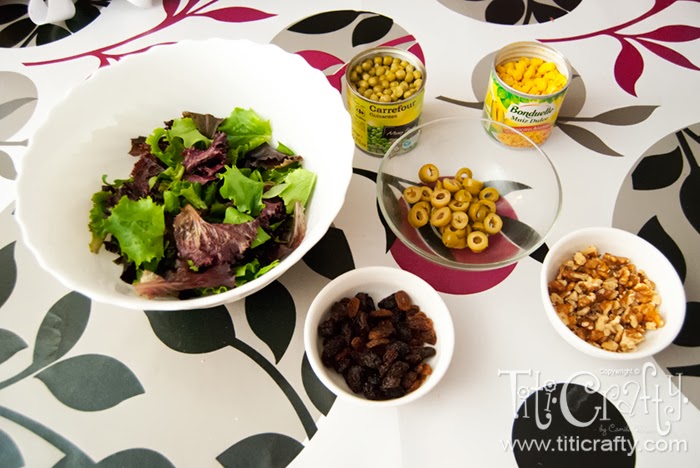 Salad:
A bag of mixed lettuce salad
1/4 cup of chopped walnuts
1/4 cup of grapes
1/4 cup of green olives
8 Oz (1 can) of sweet peas
8 Oz (1 can) of sweet corn
whatever else you want to add lol
Dressing:
1 1/2 tsp of white wine vinegar
2 tsp of honey
2 tbsp of olive oil
Salt
Mixed pepper
1/2 tsp of dried basil
1/2 txp of dried oregano
Directions:
Combine all the salad ingredients in a serving bowl and leave aside.
Mix together the vinegar, honey, oil, salt, pepper, basil and oregano in a small, nonreactive bowl until all the oil is incorporated. Taste and adjust the seasoning as desired.
Pour the vinaigrette over the mixed salad and, using your hands or a wooden spoon, mix to coat the salad. Taste and adjust the seasoning as desired.
Done!!! =D Easy right???
What do you think?, Yummy, isn't it?
Till Next time!