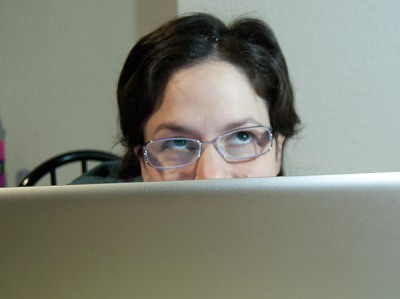 Un blog… Un blog! 
Decía mi mamá. La verdad es que hasta ese momento no veía necesario tener un blog. Luego un día empecé a escribir artículos que iba guardando para mí y pensé: Un blog!, quizás deba abrir un blog para compartir mis pensamientos y generar opinión. Pero luego surgió la idea de retomar las manualidades y dije: Un blog!. Pero ok, no puedo tener un blog por cada cosa que me gusta hacer, entonces le di prioridad a mis manualidades y emprendí junto con mi mamá el proyecto de crear mi propio blog para mis tarjetas y manualidades. 
A mi me seguía dando vueltas en la cabeza el hecho de querer compartir mis escrituras y dije: ¿Por qué no ponerlos juntos en el mismo blog? 
Un blog para mi es intimidante, uno lee al respecto, y te dicen tantas cosas, una lista casi interminable de pasos que debes tener presente para tener éxito que uno hasta pone en duda la capacidad para sacarlo a flote. Es decir, probablemente cualquiera puede pero es como cuando uno es soltero y piensa en casarse y tener hijos, a lo lejos se ve cuesta arriba, y uno dice –No se si pueda con todo-. 
La verdad es que cualquier cosa desconocida da miedito y genera un montón de dudas. Pero cuando me siento y lo analizo bien y con cabeza fría me digo a mi misma: ¿Pero que te pasa? Es sólo un BLOG!, si da lata lo cierras y ya!. Pero aquí entran mi signo y mi ascendente a hacer de las suyas y hacerme la persona más indecisa de este mundo. –Pero si empiezo algo es para llevarlo a termino-, -¿Y si a la gente no le gusta o no le interesa?-, -Ay! No puede ser tan difícil, si no, no habrían tantos blogueros!-, -Y si las estadísticas de mi sitio no son buenas…-, En fin, un puedo-no puedo constante que me puede volver loca y literalmente quitarme el sueño. 
Al final, doy gracias a Dios por hacerme bien obstinada, y que por orgullo propio una vez que empiezo algo lo termino porque lo termino y no miro atrás, lo experimento y si luego en verdad no me llena entonces sí pienso que hacer al respecto. 
Lo cierto es que todo comienzo es difícil y lento pero casi todas mis referencias tienen su blog y lo hacen porque les gusta y se lo disfrutan así que aquí estoy, disfrutando de las cosas que mas me gustan hacer y espero contar con el apoyo de otros blogueros a quienes le gusten mis mismos intereses. Estoy aquí para aprender y compartir, y por qué no hasta vender mi trabajo para mantenerme en marcha. 
El mundo del blog es muy amplio y hay mucho que aprender, Uy!, mejor lo corto aquí antes que mis signos hagan estragos de nuevo JA! 
Hasta el próximo White Paper…
I LOVE your opinion and comments, it totally makes my day, it gives me a huge motivation to keep making fun stuff and crafts!!!
Tu opinión y comentarios hacen mi diá más feliz, me da mucha motivación para seguir haciendo colsas divertidas y manualidades!!!
If you like my happy spot I invite you to subscribe and get my updates. You also can follow me on the social networks on my sidebar.
Si te gusta mi rincón feliz te invito a suscribirte y recibir mis actualizaciones. También puede seguirme por las redes sociales hubicadas en mi barra derecha.
Till next white paper!!! =D
Hasta el próximo White Paper!!! =D