Print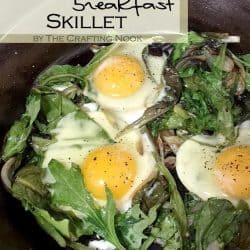 Powerhouse Breakfast Skillet
A delicious breakfast to give you all the energy you need to spend a great day!
I use my iron skillet for this but I'm sure you can use any oven safe pan. Slice your onion and sprinkle olive oil in your pan of choice. Sauteed onion until caramelized(about 30 minutes, low and slow.)

Add 1/2 bag of greens of choice. I've used spinach and kale and recommend these. Cook until they wilt. 3-5 minutes.

Crack 3-4 eggs and make little nests for each egg by moving the greens around.

Place the skillet under the broiler until your desired egg consistency . I like mine over-medium, so I cooked mine for 5 minutes under the boiler.