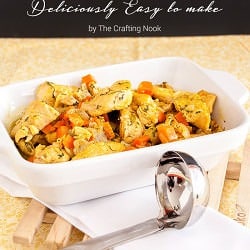 Print
Simple Chicken Curry
This Simple Chicken Curry is the perfect recipe option for a quick meal. Delicious, flavorful and done in less than 40 minutes!
Melt butter in a large frying pan.

Add in the chicken and fry until golden.

Add in onions, garlic and salt. Mix well and let it cook for about 5 minutes.

Stir in the wine and curry. Mix all. All the alcohol will evaporate leaving only the delicious scent and flavor.

Add in the carrot and the water. Let it cook for about 20 minutes.

Add in the coconut milk and the cilantro. Cook for about 10 more minutes

Serve and Enjoy!