Can you believe March is almost gone? Where does time going? I'm afraid to blink too long because my girl might be going to college and she's only 6 now. Easter is around the corner and I thought I wouldn't make it finish this decoration. I'm so excited. I made this fun Reversible Rustic Easter Bunny Butt Sign to put in on my tray decor. Why reversible? Because I'm so behind that I needed a flexible decor to keep up LOL. I'm seriously so happy Spring is starting and the weather is starting to get better so I truly wanted a pretty Spring decor too.
DIY Reversible Rustic Easter Bunny Butt Sign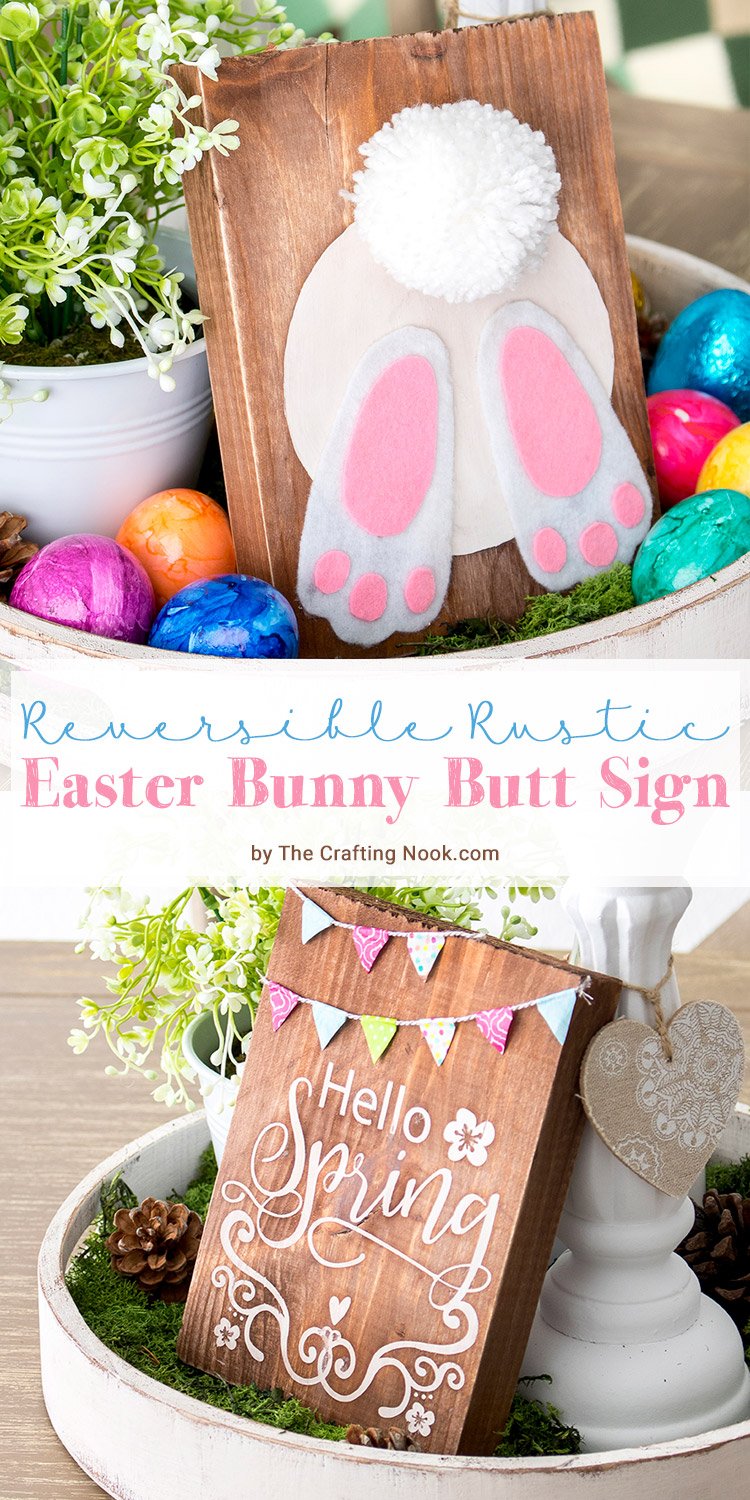 Let's face Easter is one day so I wanted to make a decoration piece that I could easily turn back into Spring. I'll be sharing the tray centerpiece soon. I'm in love with how it turned out!!!
This craft is fairly easy to make. One side you can make without any cutting machine but the other you definitely need one or find a pretty self-adhesive stencil. But, of course, imagination is the limit. If you are good at hand drawing or hand lettering then you are a winner!!!
Let's create this fun Reversible Rustic Easter Bunny Butt Sign, shall we?
Supplies:
A piece of wood (size will be up to you)
Walnut wood stain (or any color you love the most)
White chalk paint
Brush for stain and brush or foam brush for chalk paint.
White and pink scrap felt.
Hot glue gun.
Pom-pom for the bunny butt tail (you can variate with something else)
Washi tape.
Baker's twine (or any twine you love the most.)
Scissors & pencil.
Clean your piece of wood off prior to staining. This will get rid of any loose dirt, splinters and provide a smoother surface to work with. All you need to do is clean it off with a brush or cloth.
Stain your piece of wood and let it dry well.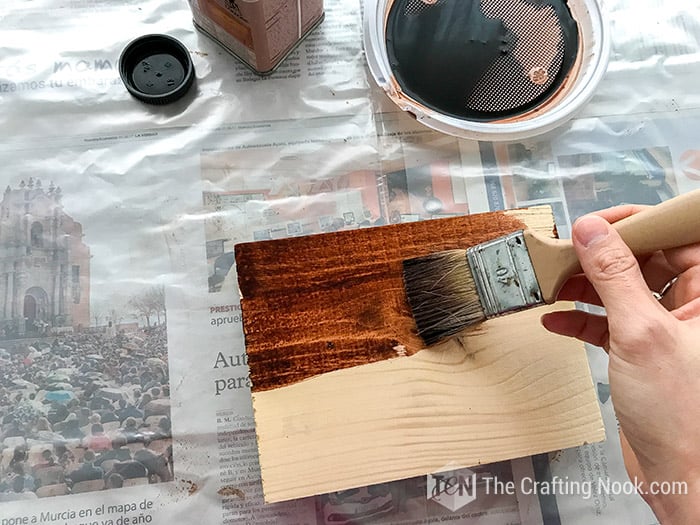 Spring Wood Sign DXF and SVG Files download
Easter Bunny pieces DXF and SVG Files download
Easter and Spring Sign Studio File download
For the Easter Bunny Butt Sign:
I prepared a file with all the pieces for the bunny in case it's easier for you. You can download files with links Above. But, I used a cup large enough for the body of the bunny and then cut the shape of the bunny feet. You can use a cutting machine if you have one to stencil and for the feet.
So, draw the circle directly on the stained wood.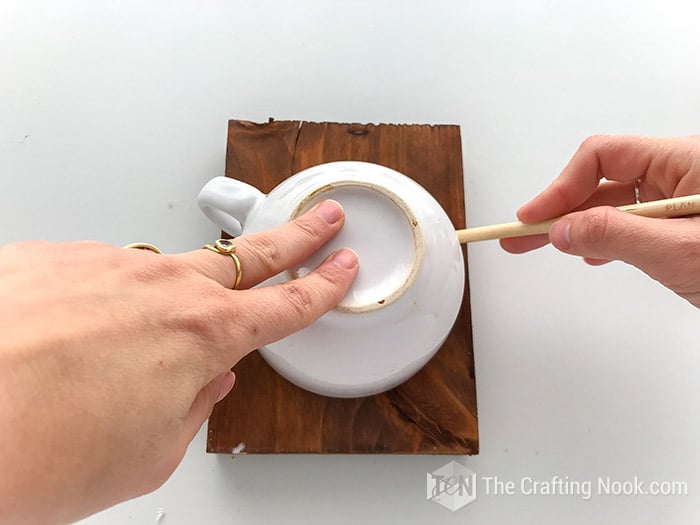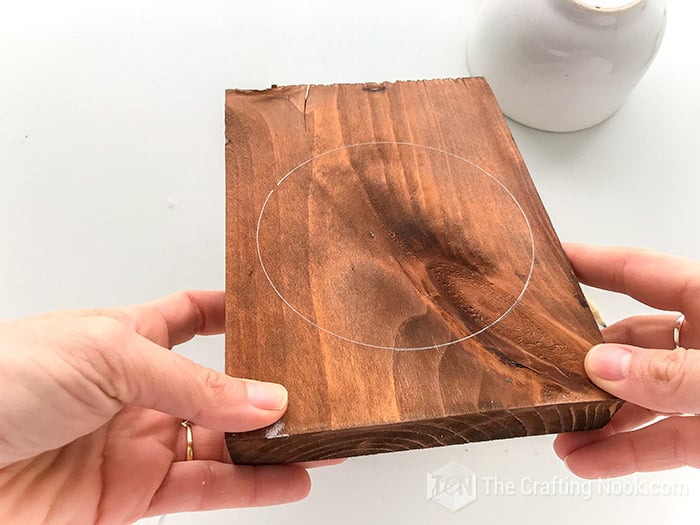 Paint the whole circle with white chalk paint. It doesn't have to be perfect. Actually, bunny bodies are furry so your painted edge doesn't need to be perfectly straight (wink!). Let it dry, apply another coat and let it dry well.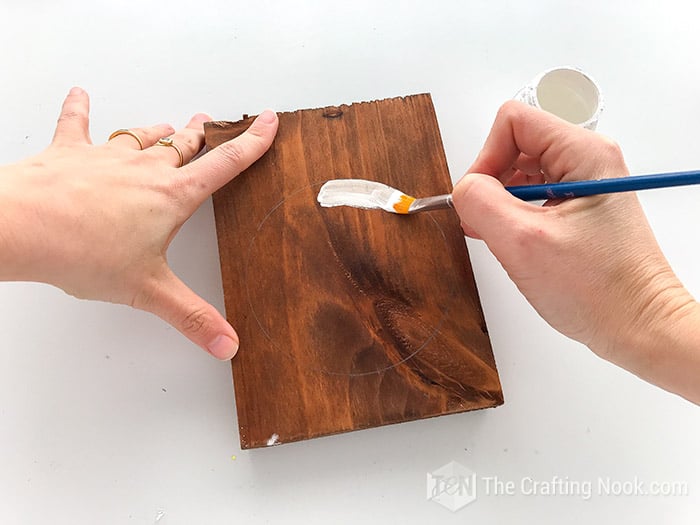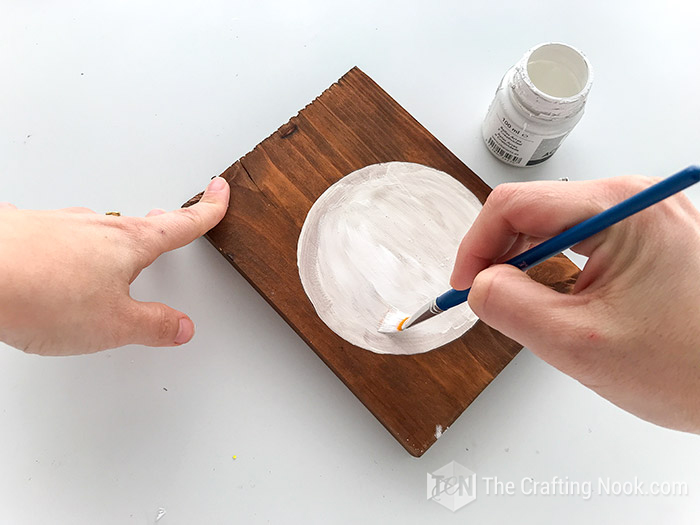 In the meanwhile, let's create the cute feet. Cut your feet pattern and let's transfer them to the felt.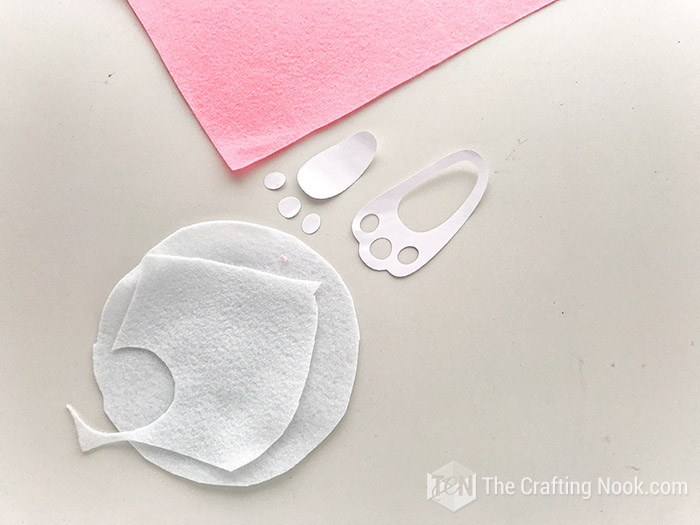 For the main foot shape, use white felt. With a pencil, trace the shapes of both feet and cut them.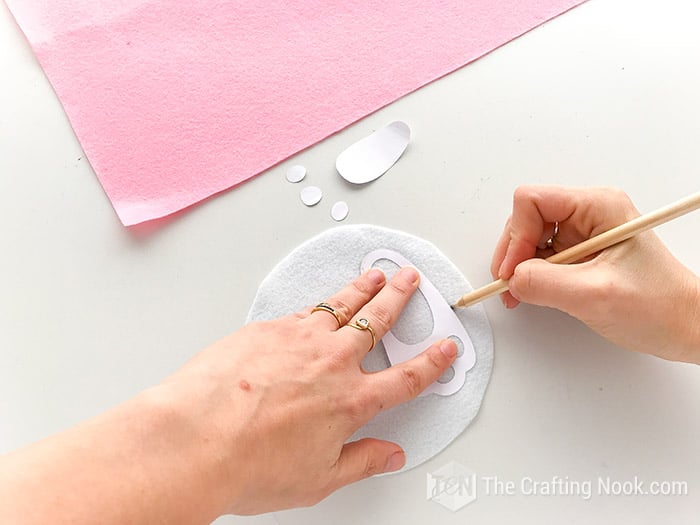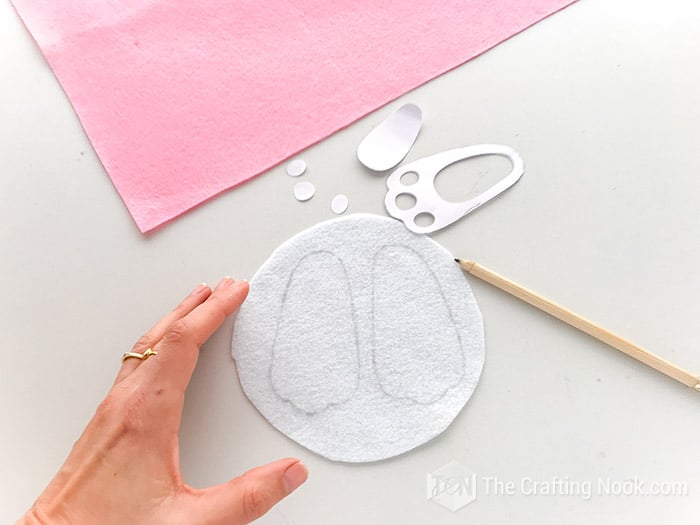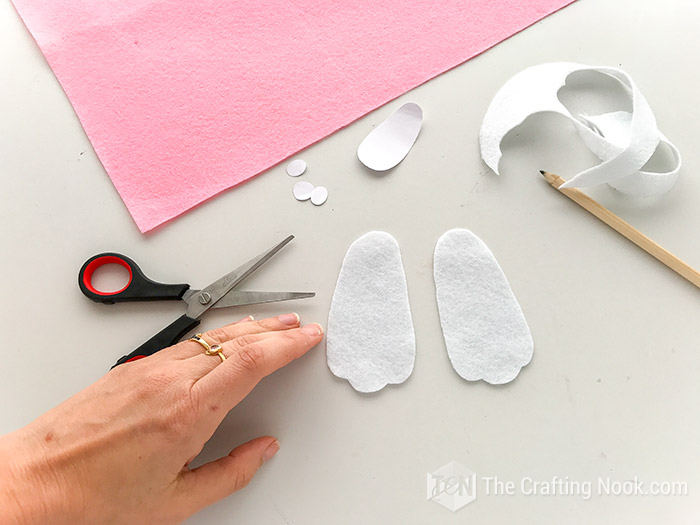 Then trace the pads on pink felt.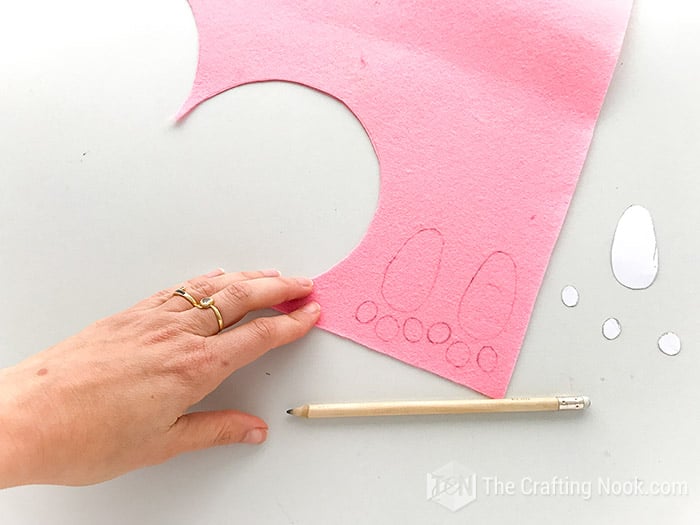 Cut and glue them onto the white felt.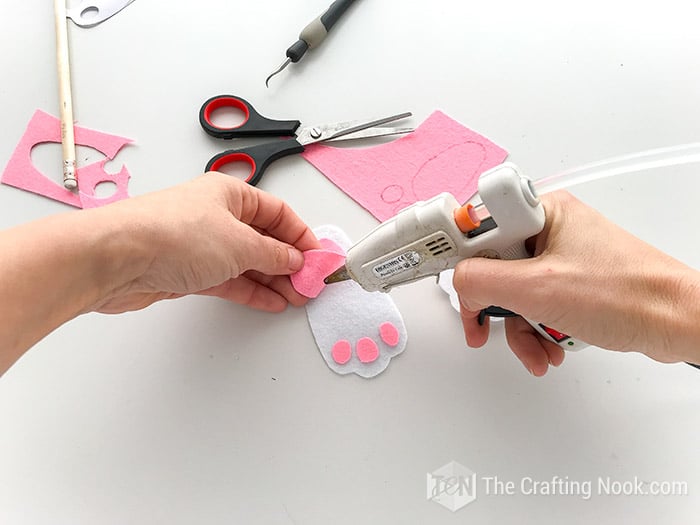 There you go. Cute aren't they?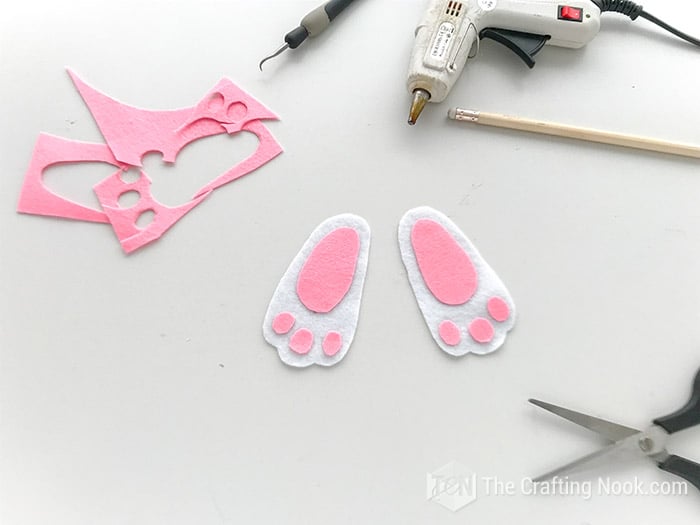 Once your wood piece is dry, Sand it. It's important that you don't make my mistake LOL. I only remembered to sand it when the sign was completely done. Duh!!!
After sanding, clean your wood piece well and then glue your cute bunny feet.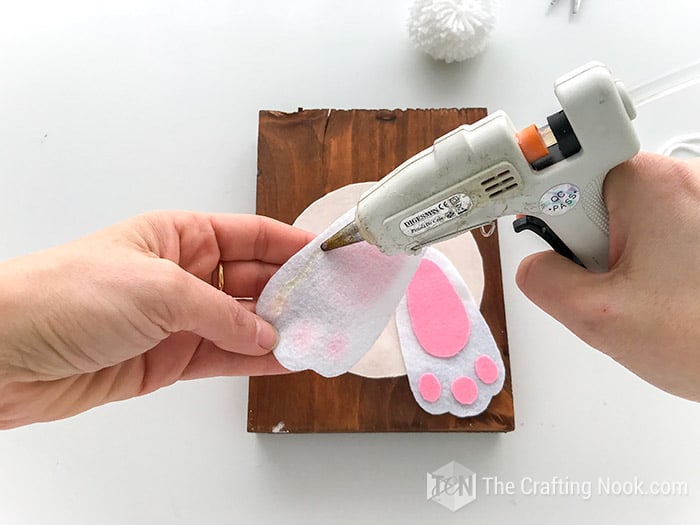 Lastly, glue your pom-pom bunny tail (Actually leave this for the last if you are actually planning on making it reversible and haven't done the other side)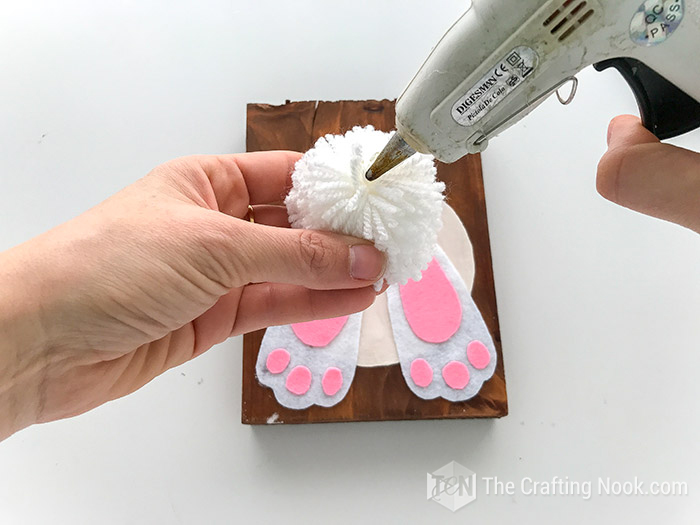 There you go!!!! Your Reversible Easter Bunny Butt Sign is almost done!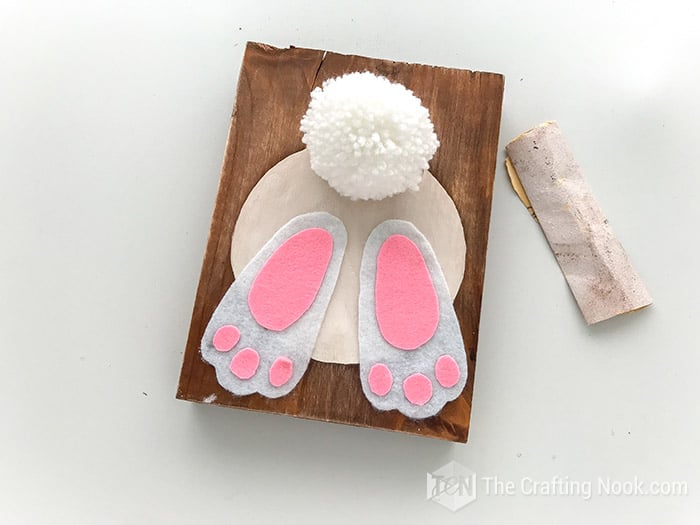 Let's move on.
For the Hello Spring Wood Sign:
Using your cutting machine cut out the template for this project (you can download it with links above) with the vinyl on your mat.
Remove the vinyl from your mat, peel off all the inner design that you will be painting.
Once you have removed all your vinyl pieces apply your transfer tape.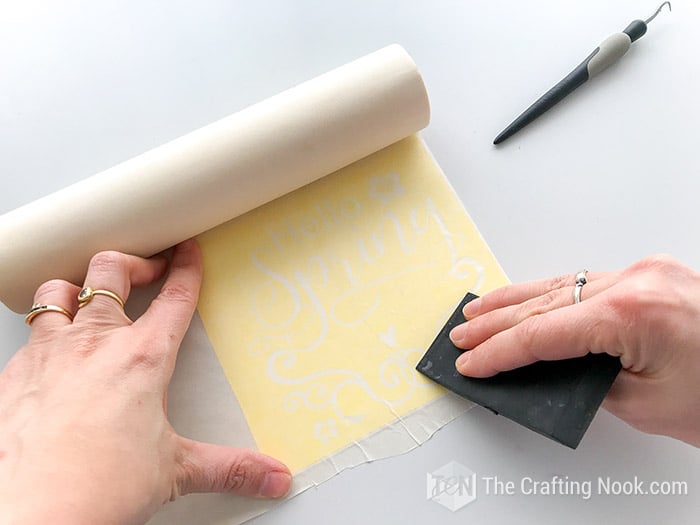 Remove the backing from your vinyl very carefully making sure everything is staying on the transfer tape.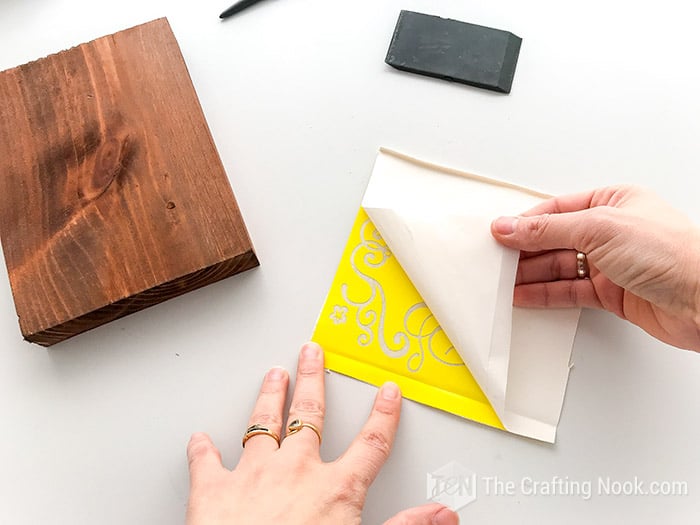 Now time to apply to your prepped signboard. If your vinyl is heavy-duty I recommend sticking it quickly on a fabric first to reduce a little bit the adhesive, otherwise, it will happen to you like did to me, I got some adhesive left on the wood later.
Line up your vinyl with your board so it will be applied evenly, and using your scrapper firmly push it down.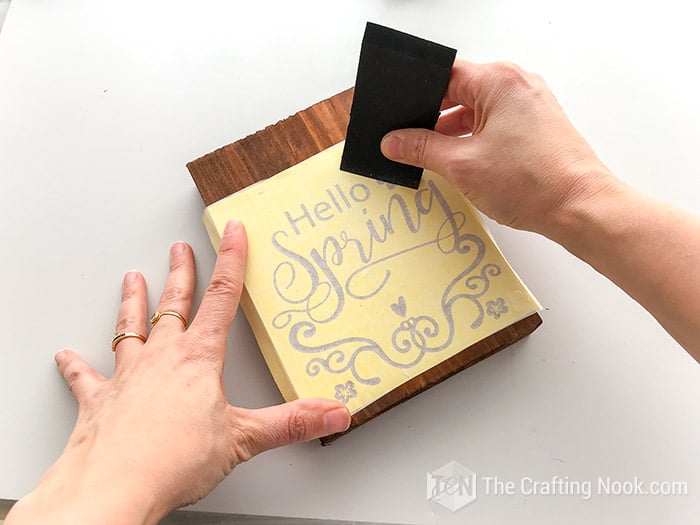 Next, slowly remove your transfer tape so that only your vinyl is on your board.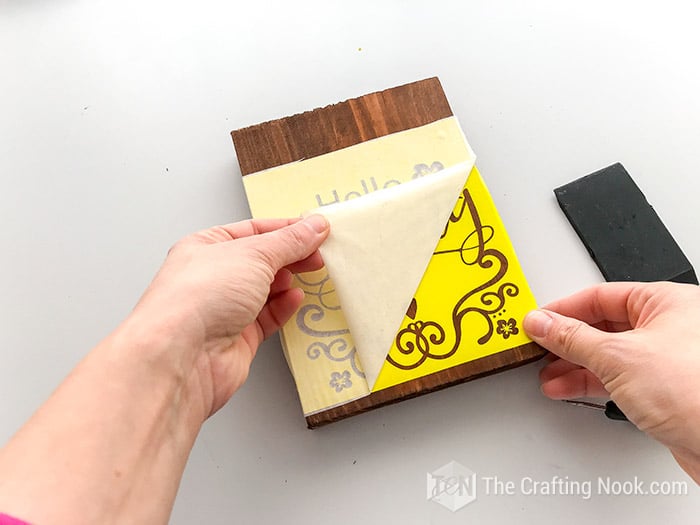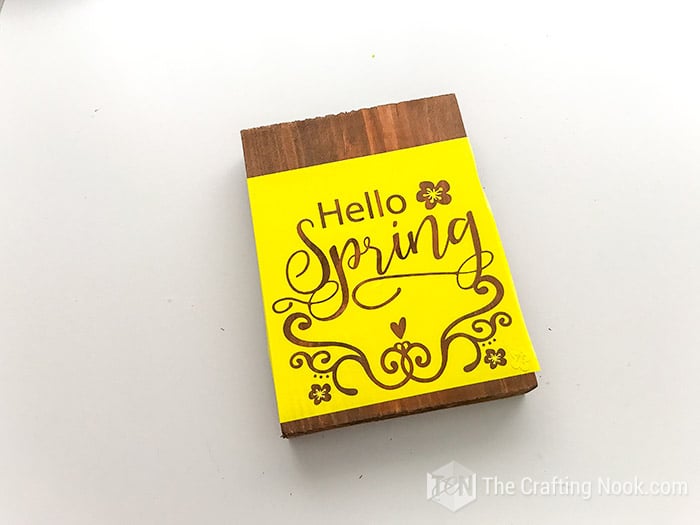 Paint your design. Allow it to dry and then apply your second coat. Repeat this step until your desired color has been achieved.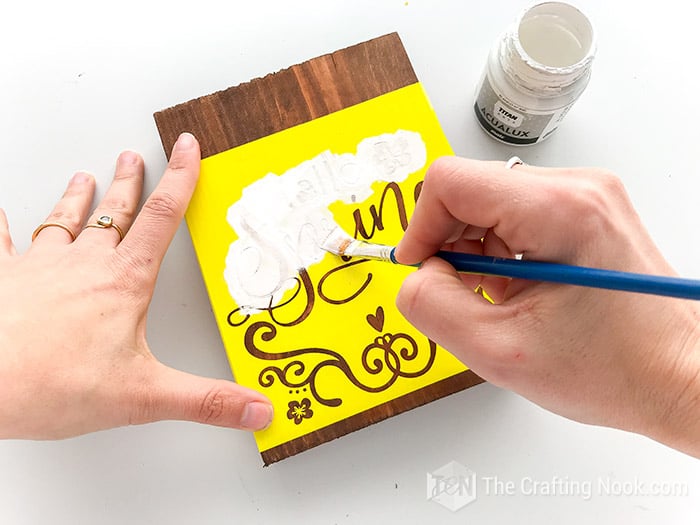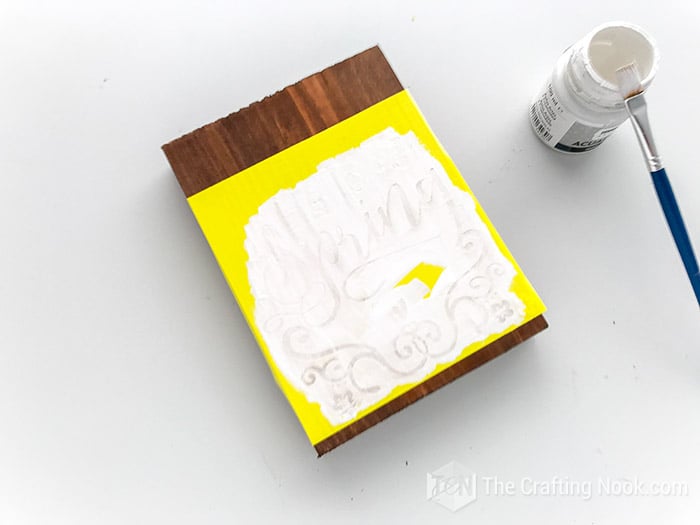 Once your paint has completely dried remove your vinyl.
Let it dry a little bit more and sand it. Here again, you will see that I sanded it after gluing the bunting. You know what to do, right?
Now, cut a couple strips of baker's twine and create some buntings with your washi tape.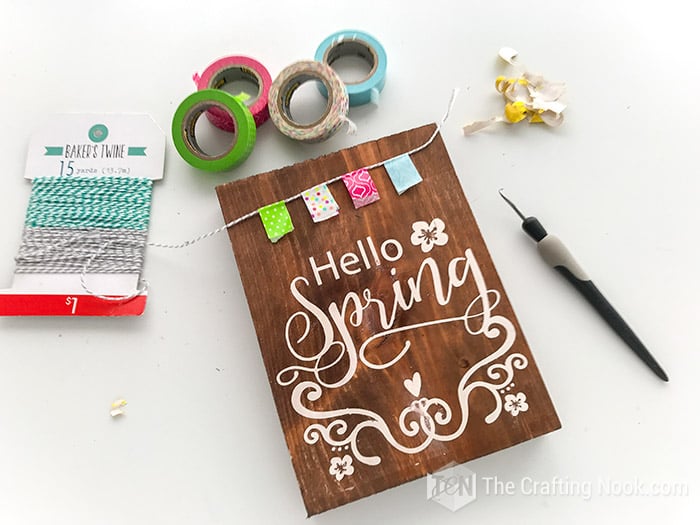 Cut them into your favorite shape. I cut them like a triangle.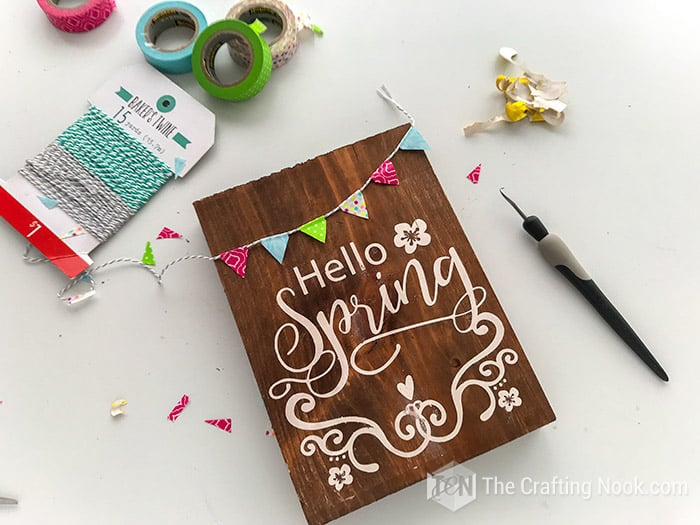 Glue the bunting ends to the edge of the board.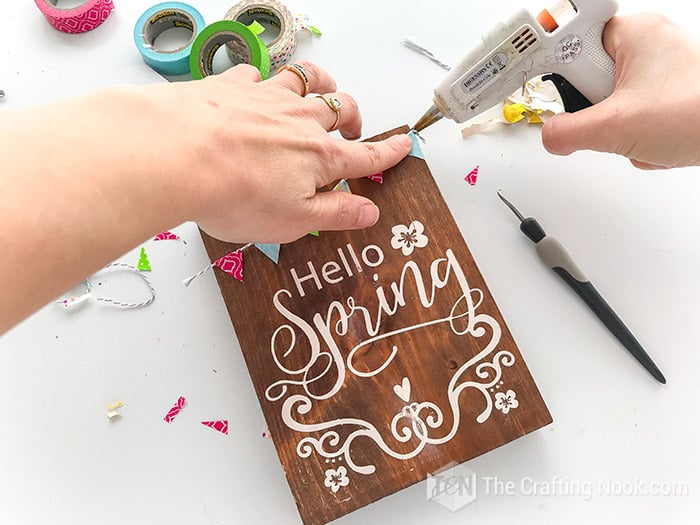 There you go! It's all ready.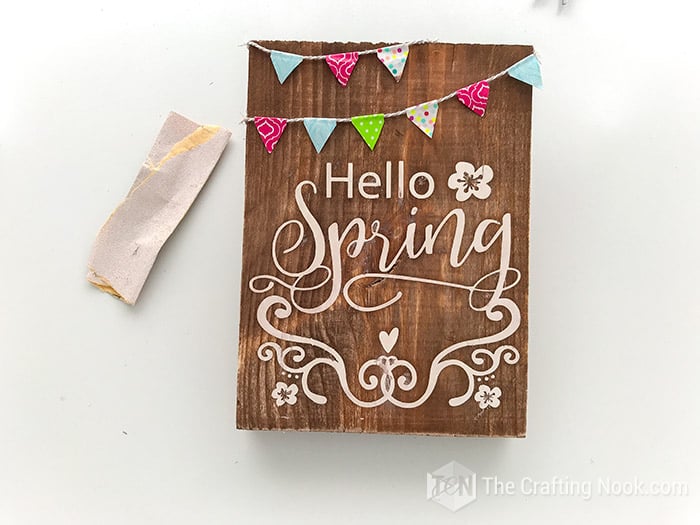 Now you have a pretty Reversible Rustic Easter Bunny Butt Sign. Just turn it over and you get a Spring sign too! How fun!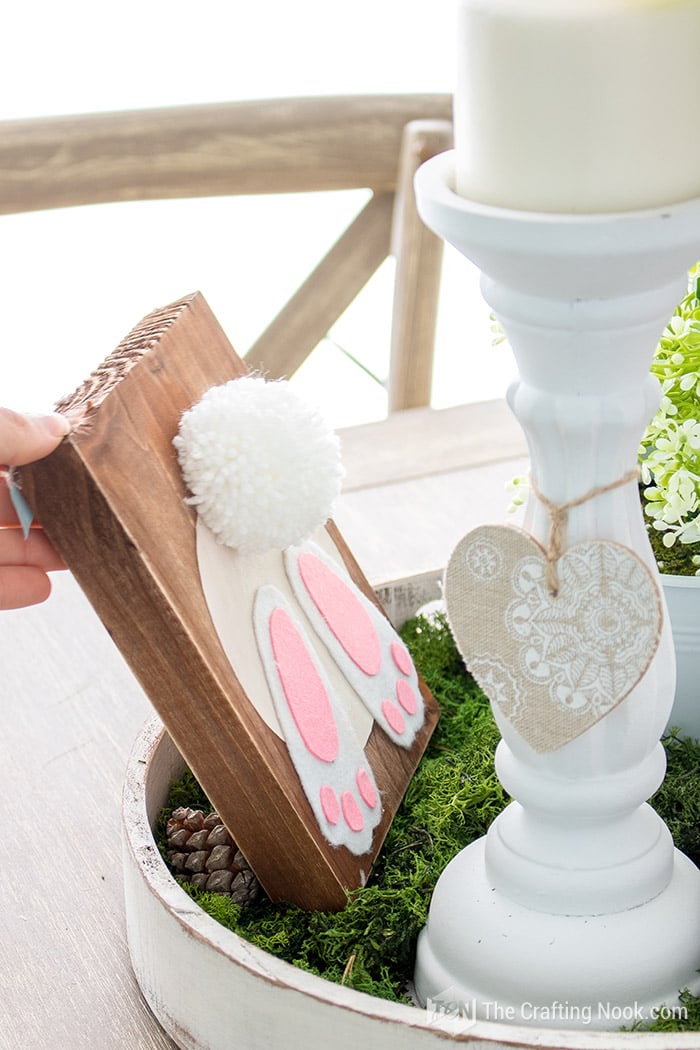 I love how my Reversible Rustic Easter Bunny Butt Sign turned out! What do you think, I would love to hear your opinions in comments.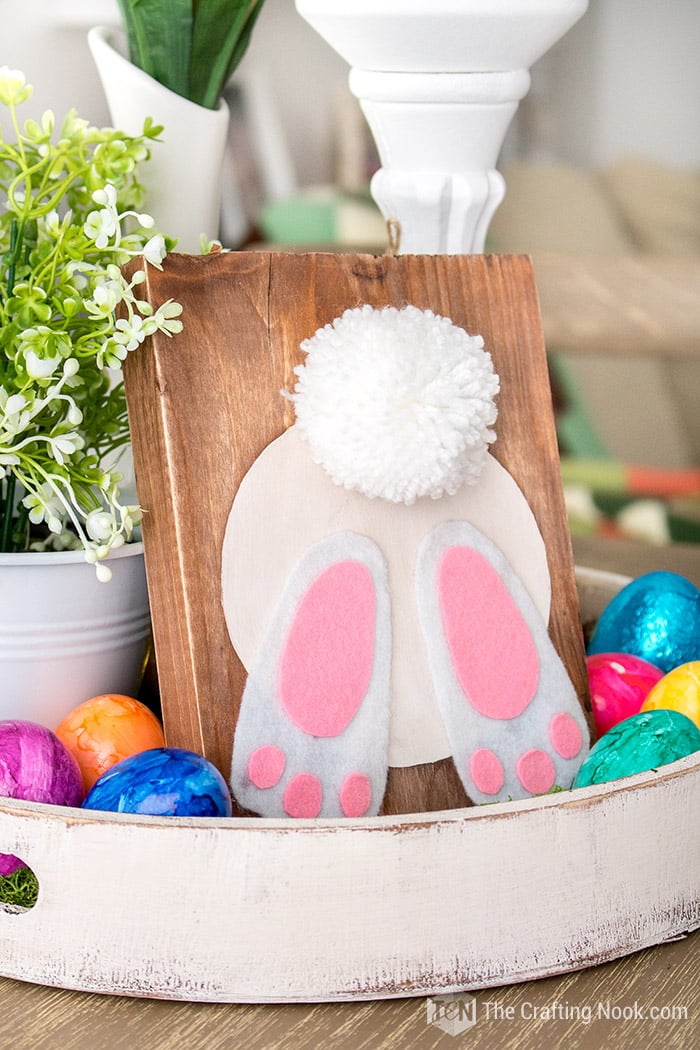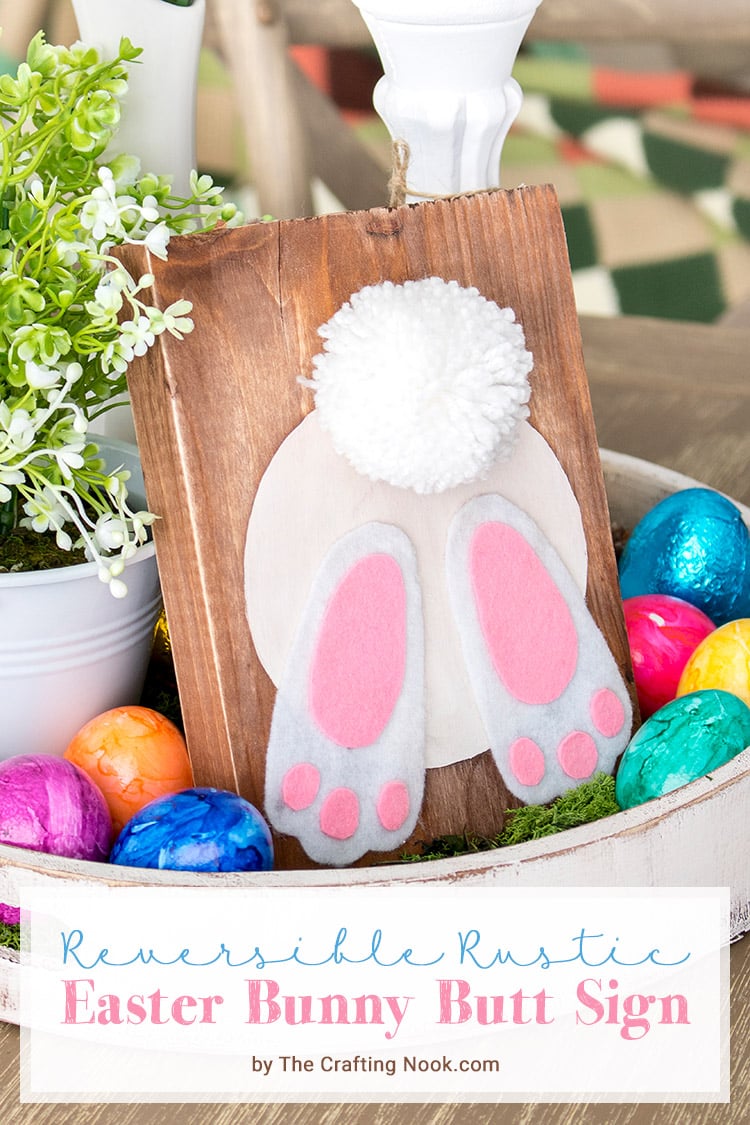 If you like this project don't forget to share so more people see it!

Also, if you like it this Reversible Rustic Easter Bunny Butt Sign project you might also love these too: