You will love this Trofast IKEA hack: Installing a door to hide the messy drawers is the perfect way to keep your space looking clean and organized.
If you are a fan of IKEA then you probably have seen the Trofast line of products. They are perfect for kids' bedrooms and playrooms.
Trofast IKEA Hack: Installing a door to hide the messy drawers.
My problem was that I didn't measure well the available space in my girl's bedroom and it didn't fit anywhere. Boomer!
So I decided to use it myself to store craft supplies or any other stuff.
BUT then my husband and I decided to redo the guest room/office and the Trofast drawer did not look good there.
We debated whether or not to give it away but we did need the storage. Also, my girl had told us that she would like to have her desk in there too so it seemed logical to keep it, especially because the location would be perfect as it would be above the desk once it was placed.
But the main question remained.
How could we make it not look so bad?
Well, the obvious idea came to mind: let's install a door!
But it didn't seem so easy at first but then we went to our local hardware store and gathered ideas.
Came home to measure and make plans to see it would work.
In the end, we decided to go for the door.
We thought it would be better if it would open towards the bottom using decorative hinges and door folding hinges that would hold the door's weight.
This project turned out fairly easy to make. It seemed more work than it really took.
This might not be THE way of doing this but this is how I came up with and it's been 6 months since we installed it and it worked beautifully.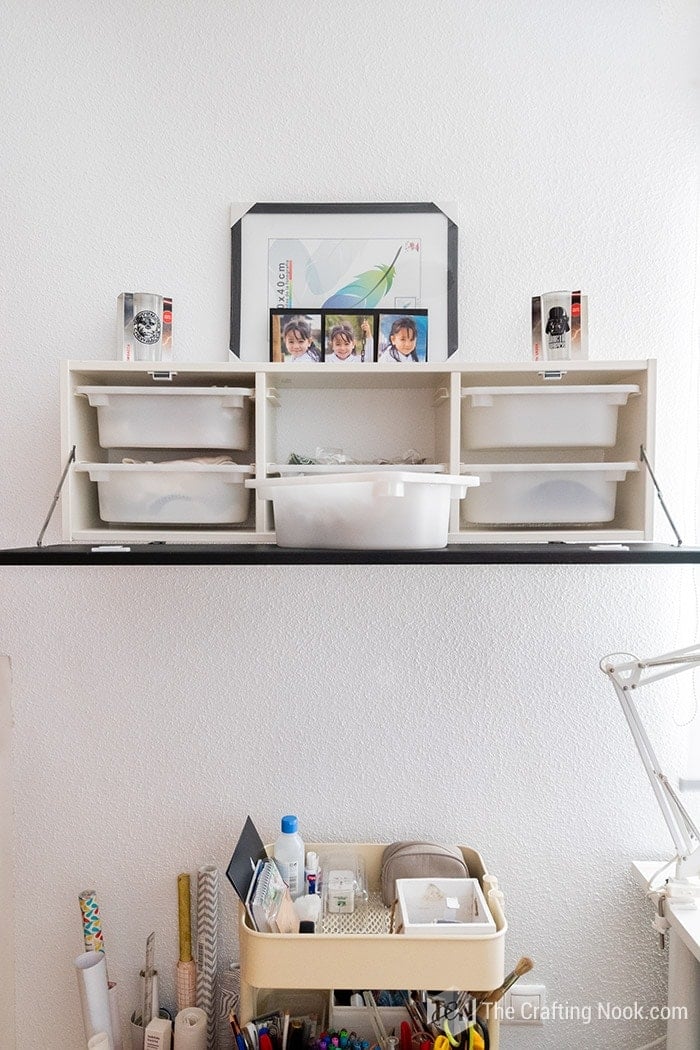 Now we can't see the mess and when our girl's desk comes, the whole place will look super cute! She's in a black kick lately so everything will fit perfectly with the new gaming room mood guest room decor.
Trofast IKEA Hack Door Supplies:
1 pine board (90 x 32 x 1,9 cm) (35.4 x 12.5 x ⅔ Inches)
Black wood stain
Clear varnish
3 Decorative hinges
2 Door folding hinges
Decorative screws to match the hinges
2 Magnetic door catches
Brushes
Sandpaper
Cloth
Drill
Screwdriver
Brill bits (smaller than the size of your screws)
Ruler
Pencil
Protective plastic
Trofast IKEA Hack Tutorial
I created this super quick video of the process but if you like more detailed and step-by-step images and text tutorials, feel free to keep scrolling.
Firstly, installed the bottom hinges on the Trofast piece. I chose a pretty decorative one so I installed it on the outside.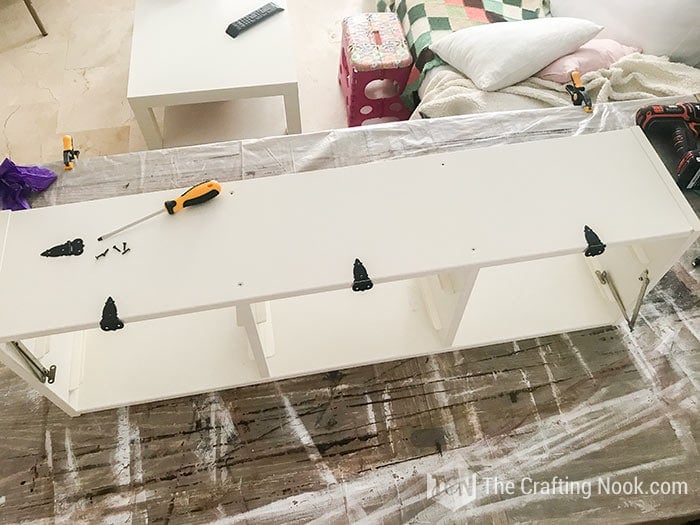 Then I put the door in place and turned both upsidedown aligning well the door and the Trofast frame to draw the location and shape of the hinge.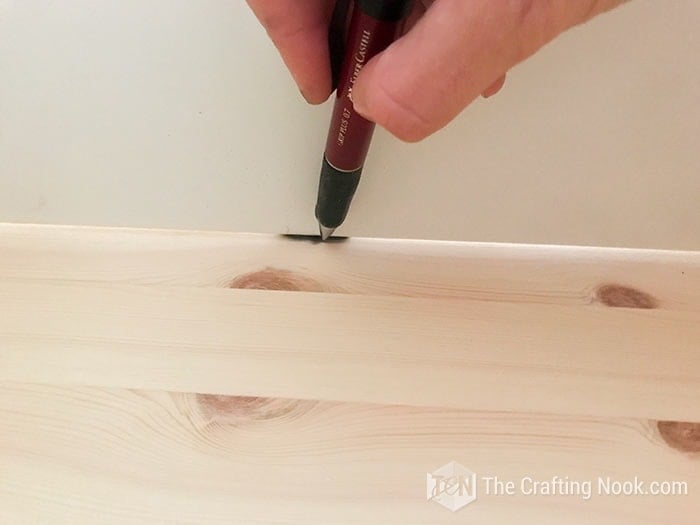 Then I put back the Trofast frame in normal position and rose it to the same level of the door by using a scrap wood piece.
Make sure the door matches the marks you just did and draw the screw holes.
Present the folding hinges and test that the drawers will slide perfectly.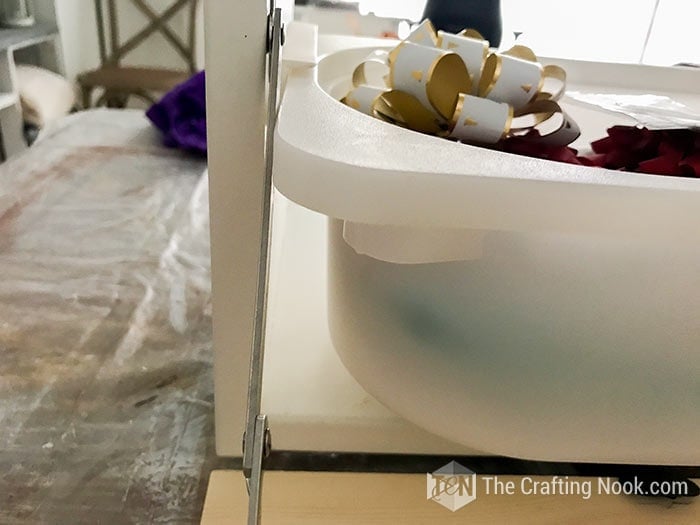 Drill the screw path and screw the hinge in place on both inner sides of the Trofast frame.
Drill all the screw paths you have already marked.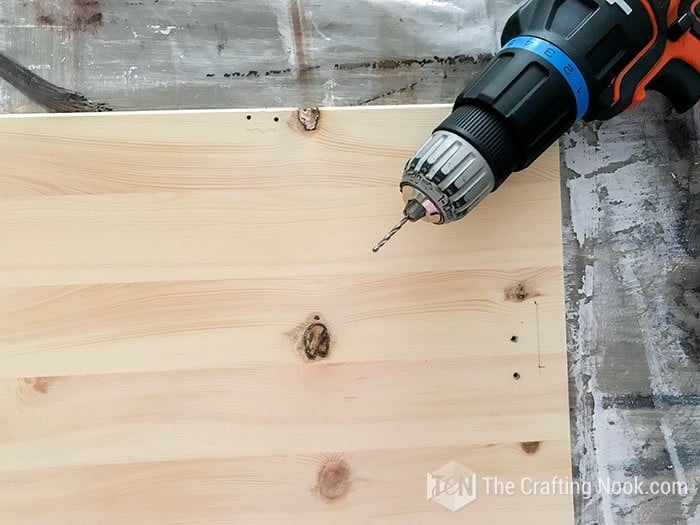 Turn the Trofast frame on the door again, align well the folding hinge and mark where the screw holes.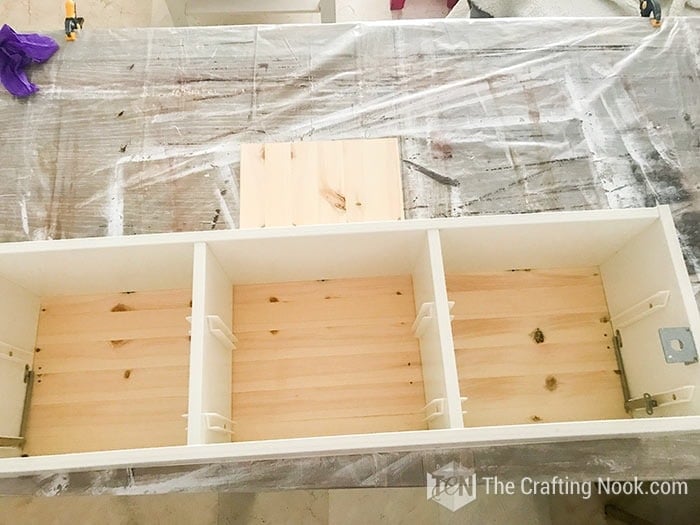 Put the Tofast frame back up again and drill the screw holes.
At this point, it's a good idea to screw everything to test if everything is going according to plan. If so remove everything again and let's move on.
Painting the door.
Sand your pine board well so remove splinters and smooth all the holes. I like to accent the wood lines to I used a steel brush. This step is totally optional.
I clean the surface well with a slightly damped cloth. And then used a dry one.
Since I was using wood stain I didn't use a primer.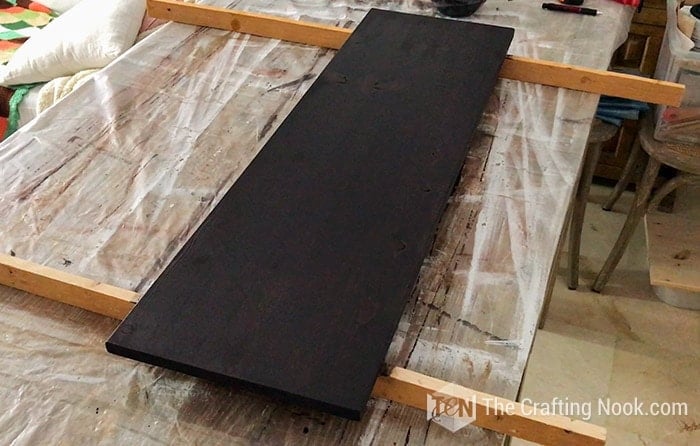 Paint your boor away.
I wanted it dark so I applied 3 coats and let it dry completely.
Then apply varnish. Again here I applied about 2 coats and let it dry completely.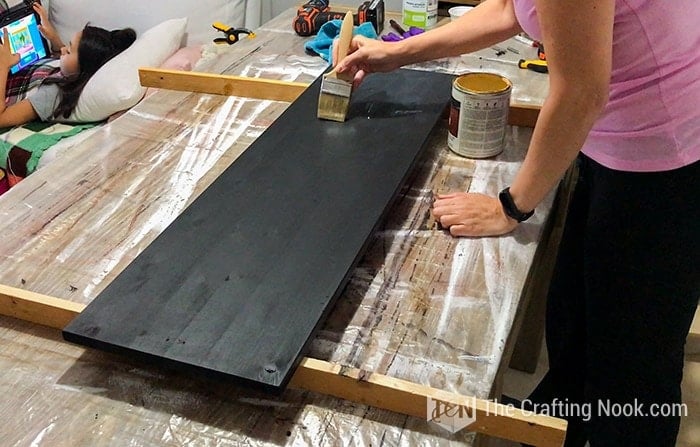 Installing the door.
Now it's time to see the final result.
Put nack your Trofast frame on a scrap wood piece and start screwing things in their places.
The last step before hanging the drawer back in its place is to install the magnetic catches.
Like we did for the hinges, turn it over and place the catches in place.
Draw the shapes well so you know where they go once you open the door.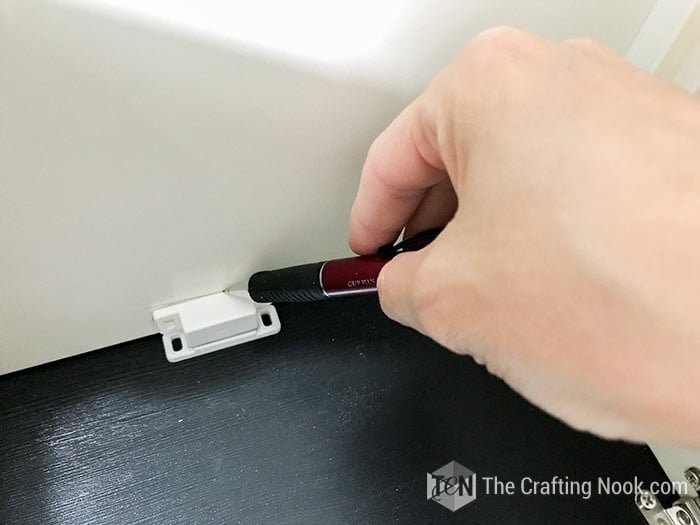 Like we always do drill the screw path first and then screw each piece in its place.
The good thing about most magnetic catches is that they give you room to adjust, so once you have it adjust them so both pieces get in contact and close safely.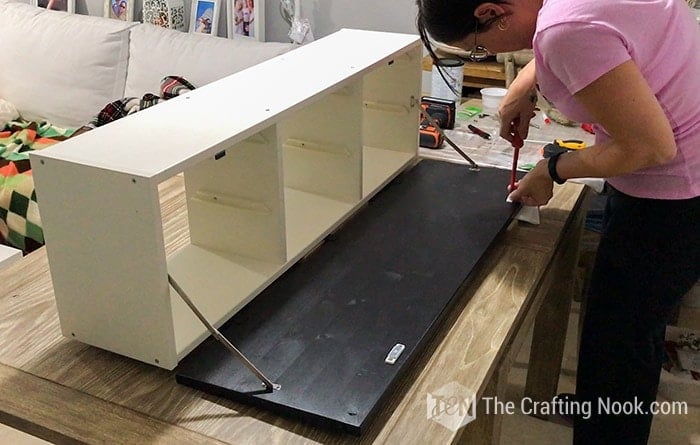 There you go!
Finally, it's time to install back your Trofast.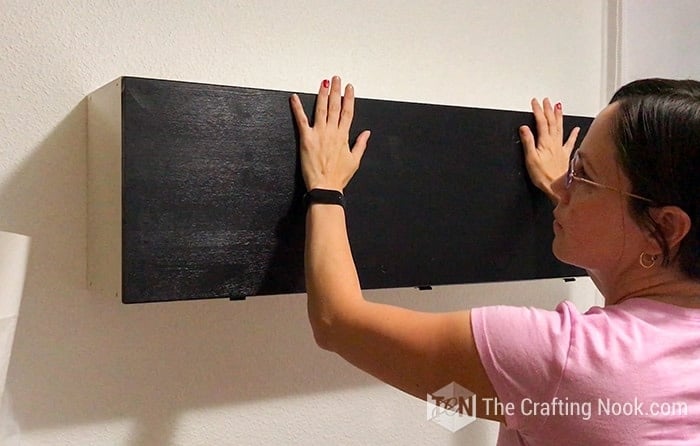 I love how it turned out.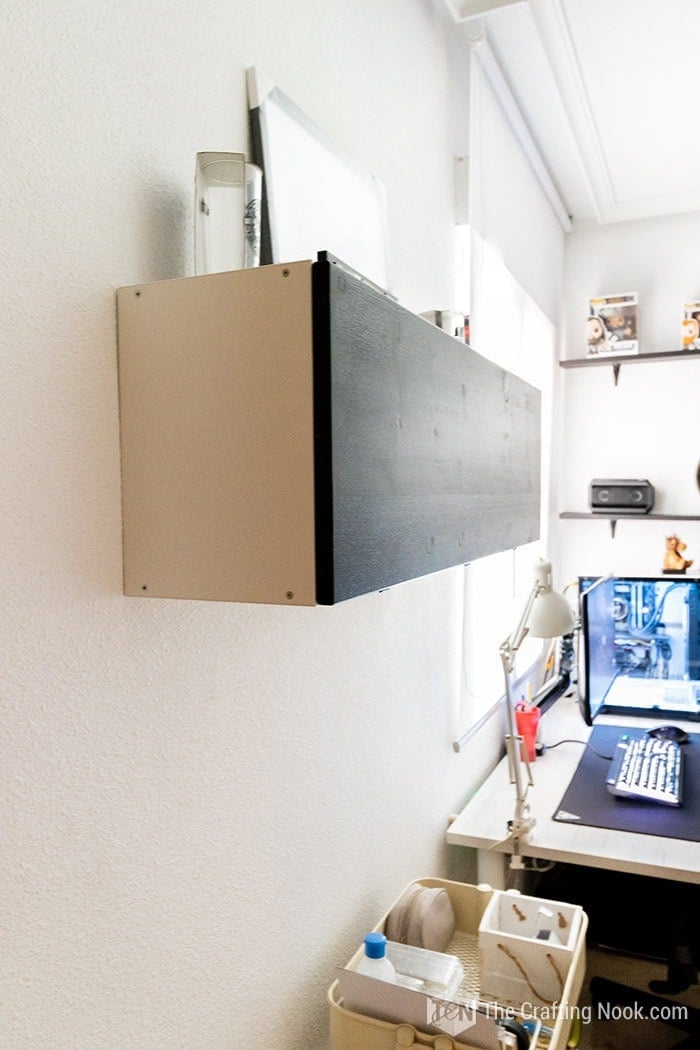 We didn't want to install any door handle to keep it clean and minimalist but if you prefer you can install your favorite one!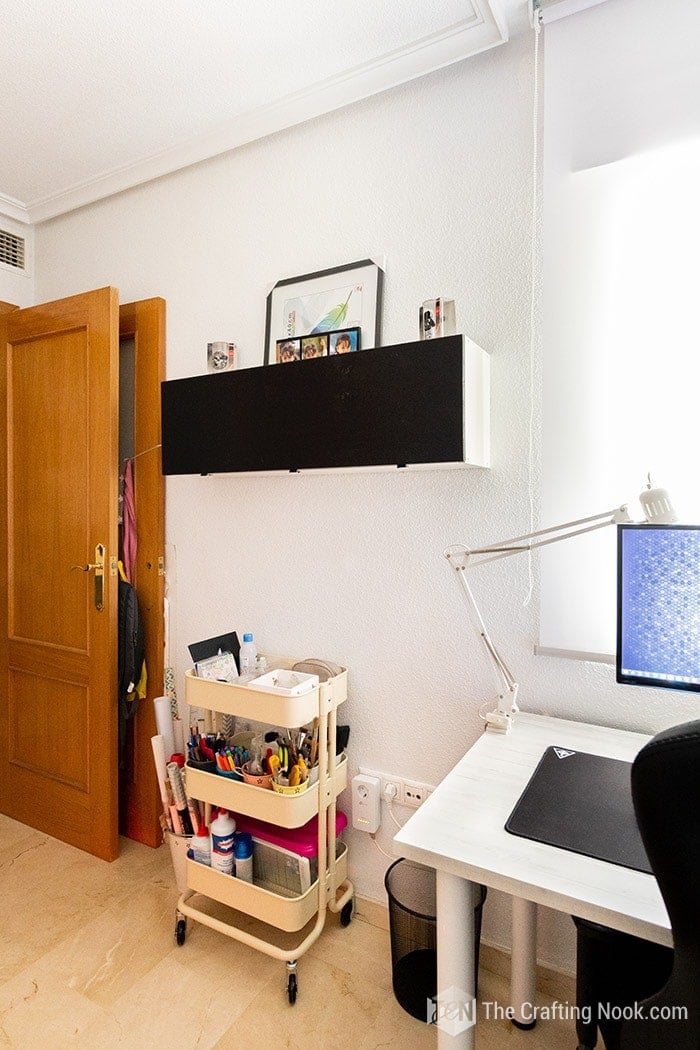 Hope this tutorial was inspiring.
If you found it helpful, don't forget to PIN it and share it with friends!
My Favorite Ikea Hacks from my favorite bloggers:
Did you like this tutorial? You might also love these too: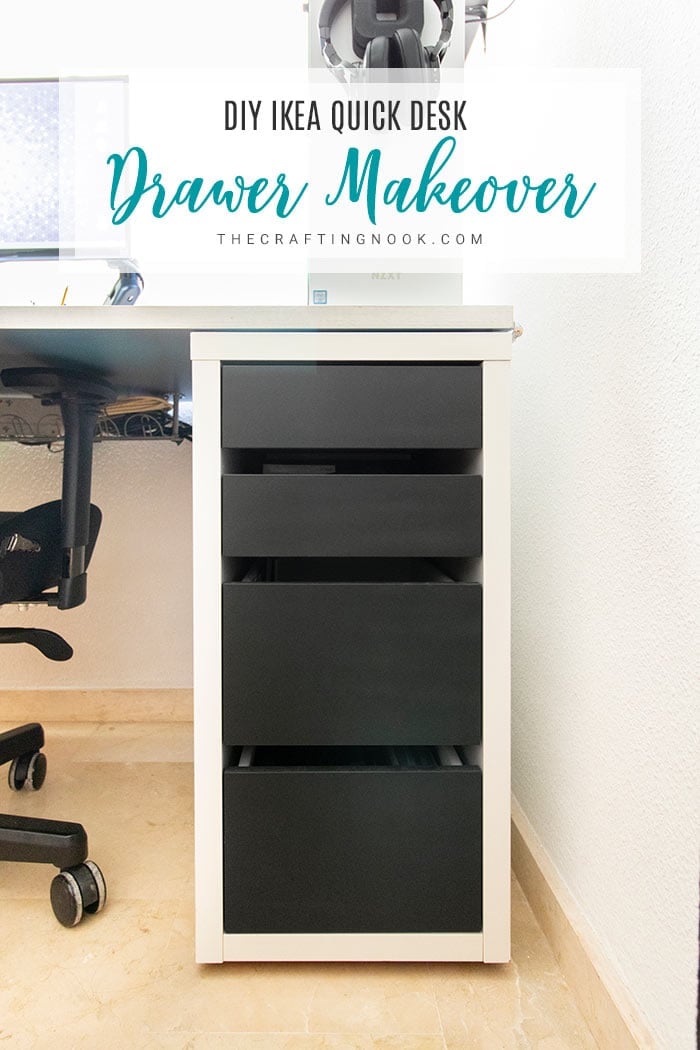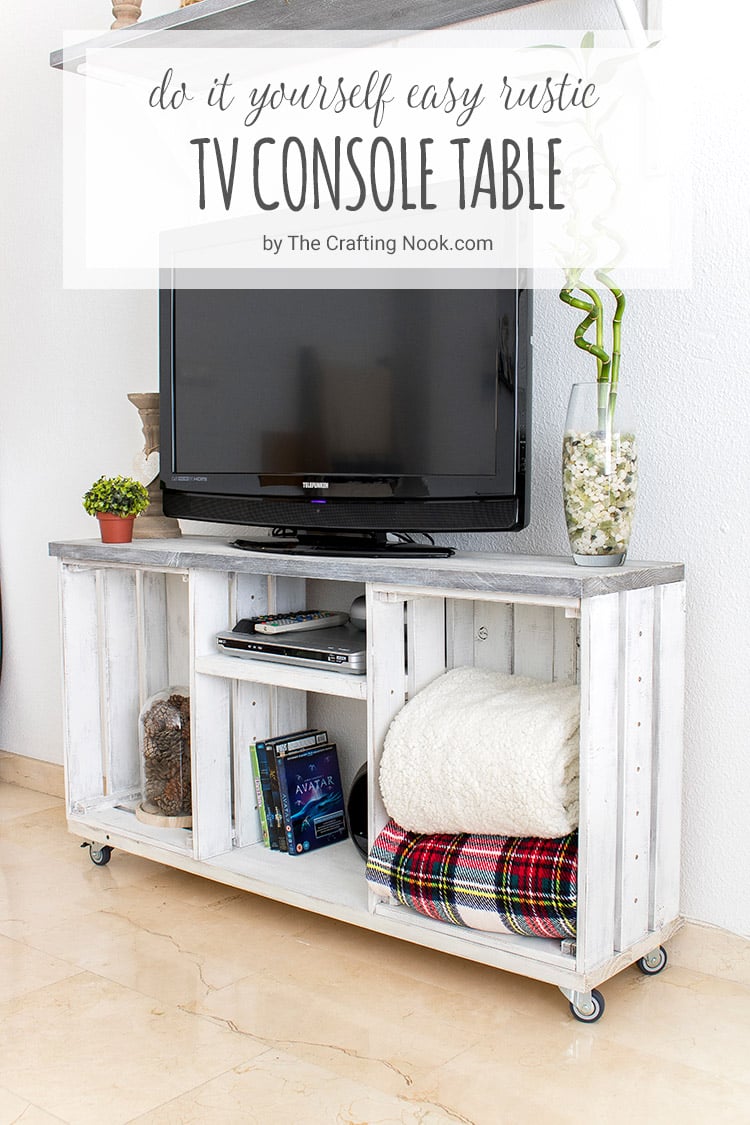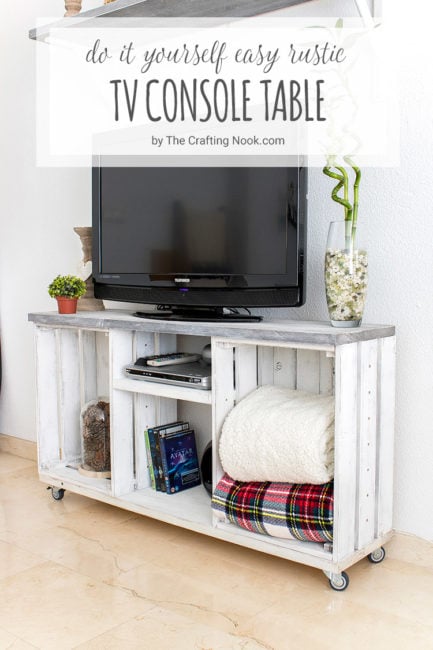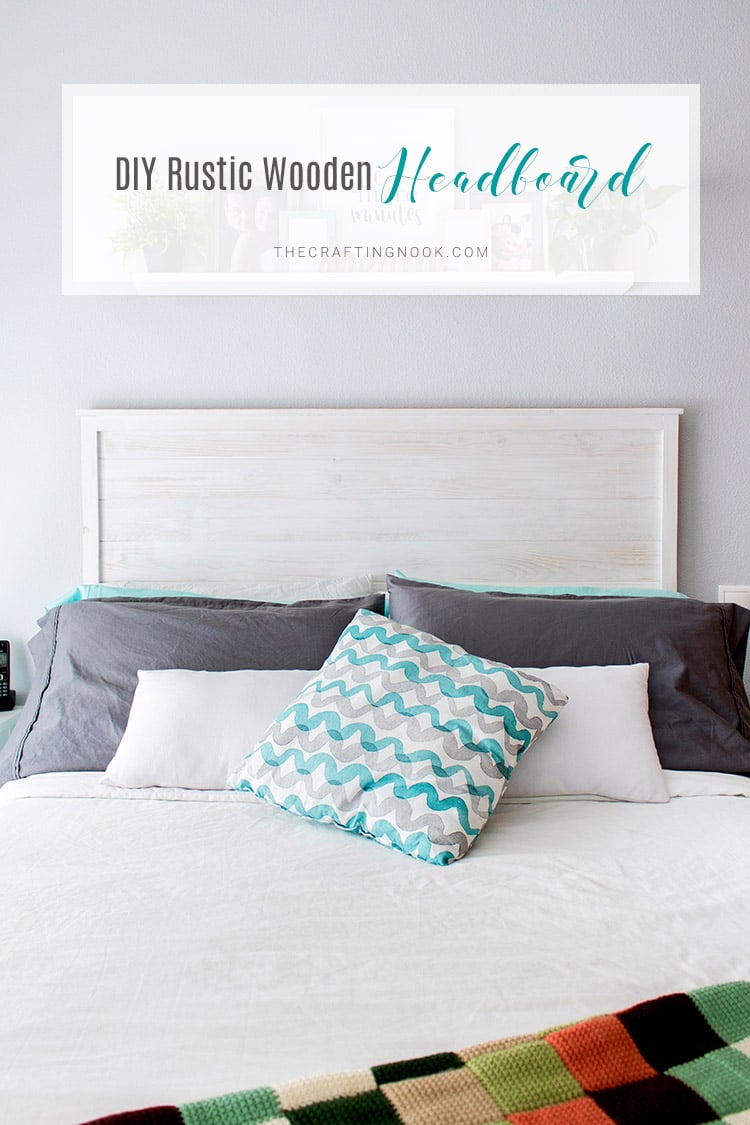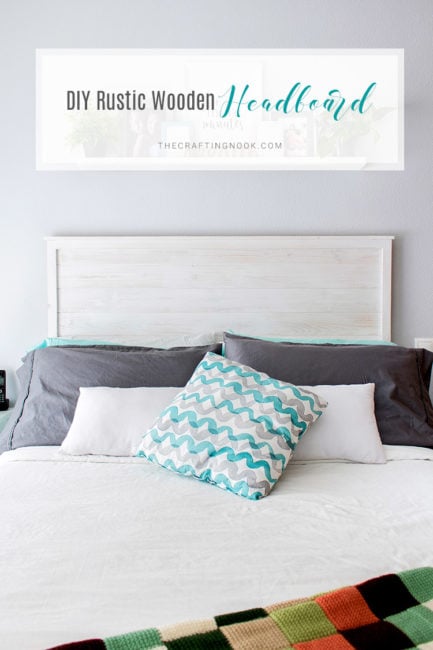 Till Next time!