OMG I'm in the kitchen again =O!!! hahaha! Something is going on here!. Don't think I'm like this often LOL, I just don't like cooking but I have to, so, with all the recipes you share I felt like sharing a bit of my cooking as well. Today I made this delicious fusilli with tuna sause Yummmm!
Fusilli with Tuna Sauce!
This recipe is super easy to make, it's perfect for those days you don't feel like cooking (that makes most of my days LOL). It's made in about half an hour.
¼ of each red and green pepper (regular size)
½ Onion (big size / complete onion if small)
1 or two cloves of garlic
1 or 2 cans of Tuna (depends on the quantity of each can and how much you want)
1 can of tomato puree
1 can of chopped tomato
1 or 2 spoons of tomato paste
2 or 3 spoons of olive Oil
Salt
Chop the peppers and onion in very small pieces, crush the garlic but don't mix everything.
On a deep frying pan or wok (this one is better) pour the olive oil and put it over high heat. When it is hot, add the onions and garlic, mix them until the get a bit transparent.

Now add the red and green peppers the salt and black pepper. Mix a for a little while, add the tomatoes (the chopped, the puree and the paste) and stir well all the ingredients for a couple of minutes. Turn the heat down and leave it to simmer for about 20 minutes.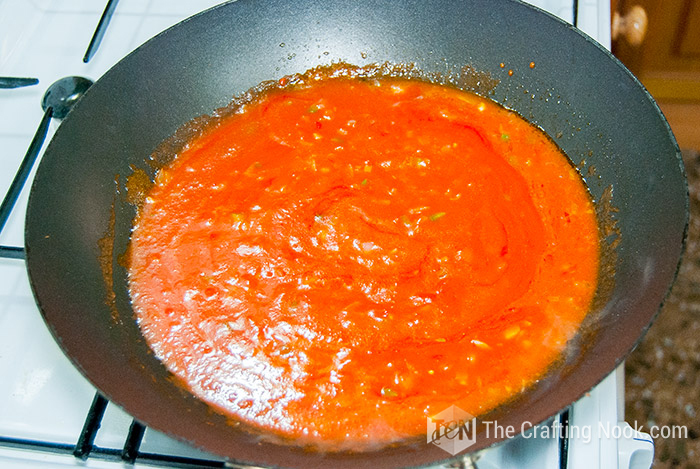 After those 20 minutes, taste a little bit and correct salt and pepper. It's better to be less salty because usually the tuna is a bit salty.  If it's good for you then for the last add the tuna, mix well and leave it for 5 to 10 minutes the most.


It's done!!!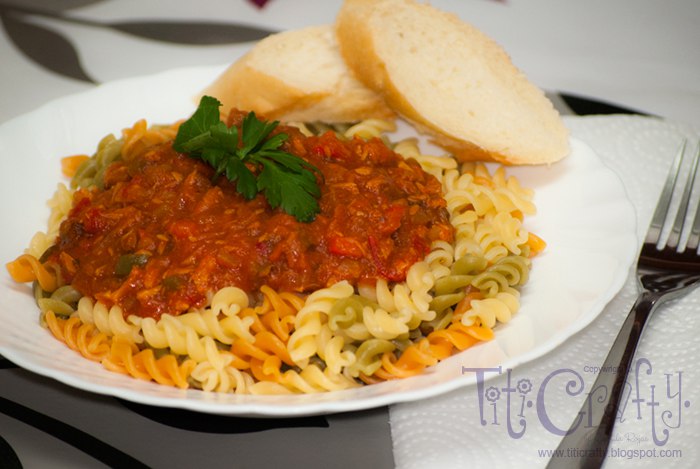 Of course in another pan boil the water and make the pasta LOL! I made Fusilli but any pasta is Yummm with this!


So, what do you think?. Yummy, isn't it? Not bad for someone who doesn't like cooking too much, is it?
I LOVE your opinion and comments, it totally makes my day, it gives me a huge motivation to keep making fun stuff and crafts!!!