Hi y'all! I must admit I've been getting addicted to farmhouse style decoration. I don't think it will be easy for me to get my whole house decorated like that but I'm certainly so inspired. I would so crazy love to have my home all decorated with rustic wood, even reclaimed wood. Looks so pretty and elegant. I recently shared another round up full of Rustic Farmhouse Decor Ideas and it just got stock in my head and kept seeing more and more ideas. I had to make another round up ASAP to keep my favorite ideas handy and also to share this amazing inspiration you all.
25 More Gorgeous Farmhouse Style Decoration Ideas for Our Home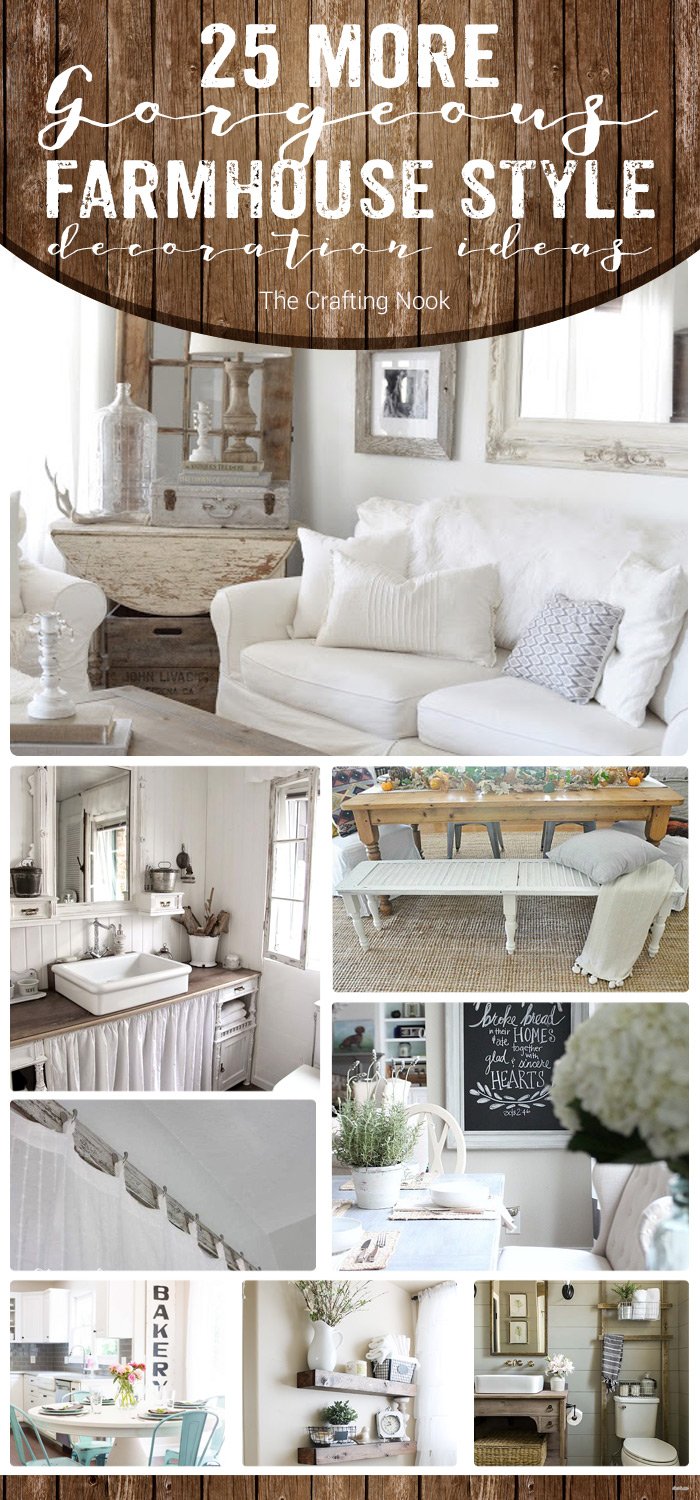 All these ideas are absolutely gorgeous. With slight differences and variations they all get an amazing homey and cozy homes. Sometimes it's hard for me to believe that all those thing and styles from my grand-grand mother's time is now so in again. Modern stuff is awesome but when you mix it with all this rustic-vintage-old style you get an amazing result. Yeah Yeah! I'm addicted, I know that. I LOVE farmhouse style decoration so badly.
So let's take a look at these 25 more Farmhouse Style Decoration Ideas, shall we?
Disclaimer: *Just like I do for all my round ups, I get a lot of inspiration from Pinterest. If you are at all familiar with that platform you know there are tons of pictures with no direct links to the original source. Some pictures featured here I found no source for or directed to the wrong one but if you know the source, contact me and I will update this post immediately, thank you so much!
White and rustic reclaimed wood… What is there to not like? Looks so bright and cozy!
Farmhouse Style: My Vintage Porch Home Tour by Little FarmStead
This bathroom is something else. I could go in that tub and never come out again. It's so pretty and well organized. Love it!
DIY BATHROOM LINEN SHELVES by Ella Claire
How cool is that bench? Have you ever thought about using an old shutter as a bench? Too cool!
DIY Rustic Shutter Bench by Liz Marie
This ladi at Thrifty & Chic always gets me with her rustic and farmhouse ideas! The floating shelves and the whole decor is so pretty!
DIY Floating Shelves and Bathroom Update by Thrifty & Chic
This decor is really all vintage. Nothing seems to have been made as vintage. I'm not sure of course but that's the feeling. Like it's real rustic vintage home decor.
Love everything about this console. Specially love the baskets and the NEST wood letters!
Diy farmhouse console by Paddington Way
This bathroom is beyond gorgeous. If I had to choose, I wouldn't know what pieces of each I would use. I want to have all 3 bathrooms at home!
How to plank a bathroom ceiling by Funky Junk