Baked Strawberry Cake Doughnuts
Hi everyone! It's Dana from This Silly Girl's Kitchen and I'm so excited to be taking over Cami's pretty blog today! If you didn't know, Cami is one of my very best blog friends and I hope you don't mind if I share this yummy recipe for cake doughnuts with you (she approved of these cuties and I know you will too!)! Doughnuts to me are always just so cute and fun to have for a breakfast item. But, have you ever thought about making them yourself? They are so easy and the flavor possibilities are endless! One way to make cake doughnuts the easy way is to bake them! I got this fun doughnut pan for my birthday so I just knew I have to try it out and I wasn't disappointed in the least!
Baked Strawberry Cake Doughnuts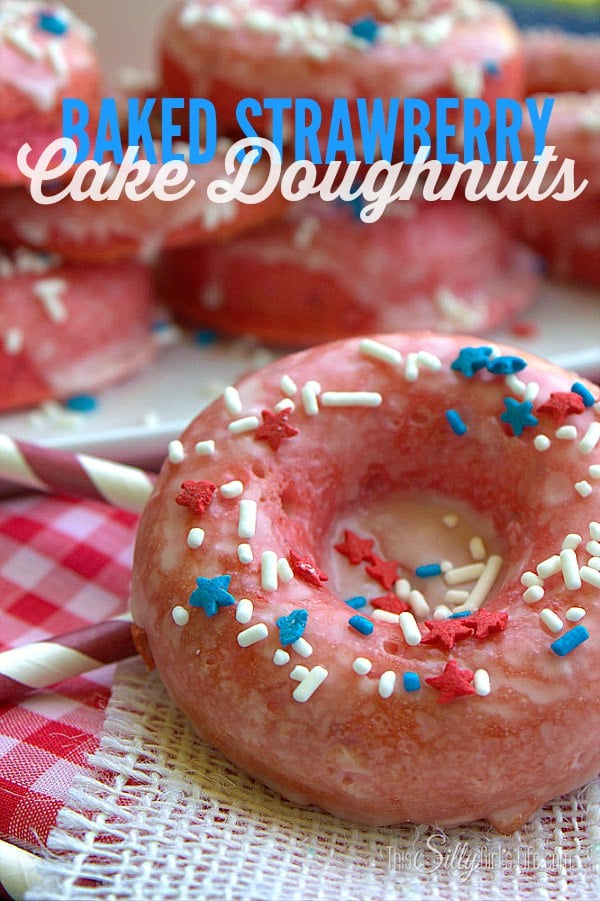 One benefit to baking cake doughnuts instead of frying them is definitely a reduction in calories. Frying them is the traditional way but you will find baking them makes them just as light and fluffy when you use a cake mix as the dough! WHAT?! Yes, that's right we are using a boxed cake mix to make these strawberry doughnuts, topped with a thin vanilla glazed and festive sprinkles your whole family will rave over them!
The batter for the doughnuts was adapted from Tastes of Lizzy T strawberry cupcakes. I also used the same batter for this recipe as I did my Patriotic Strawberry Cupcakes with Funfetti Frosting that's pictured below!
On to the recipe, it's super easy, trust me!
Ingredients
1 box white cake mix
3 oz strawberry jello
4 egg whites
1/3 Cup vegetable oil
1/2 Cup water
1/2 Cup strawberry puree, about 6 strawberries, tops removed and pureed in blender
20 drops red food coloring
2 Cups powdered sugar
1 tsp vanilla extract
3 Tbls milk or water
sprinkles (optional)
Instructions
Preheat oven to 325 degrees. Mix together cake mix, jello, oil, 1/2 cup water and egg whites with hand mixer on medium speed for about 3 minutes. Scrap the sides of the bowl, add in the strawberry puree and food coloring. Mix until combined.
Spoon batter into greased doughnut forms 3/4 of the way up and bake for 17-19 minutes, until toothpick inserted in the center comes out clean. Let sit in tin for 5 minutes on a wired rack to cool. Take doughnuts out and cool completely on rack.
When doughnuts are cooling, make the glaze. Combine the powdered sugar, vanilla and milk or water and whisk to combine. Dip doughnuts one by one into glaze and place on wired rack. Top with optional sprinkles at this point if desired.
Serve and enjoy!
Step by Step Directions
So, what do you think? Couldn't you just take a BITE out of one of these?!
HAHA, see what I did there? ANYways, lol… I hope you all enjoyed this recipe! I think these would be perfect for a fun Patriotic breakfast on the 4th of July or just any ole time really! I love that they are so versatile, you can mix up the colors, flavors, sprinkles, glazes, so fun!
I hope you have a fantastic week and I hope you didn't mind me hijacking Cami's blog from her today! If you liked what you saw here make sure to check out a few of my other yummy treats:
Please check out my blog This Silly Girl's Life for food/recipes, the occasional craft and all things creative!
See you soon,
Til' next time...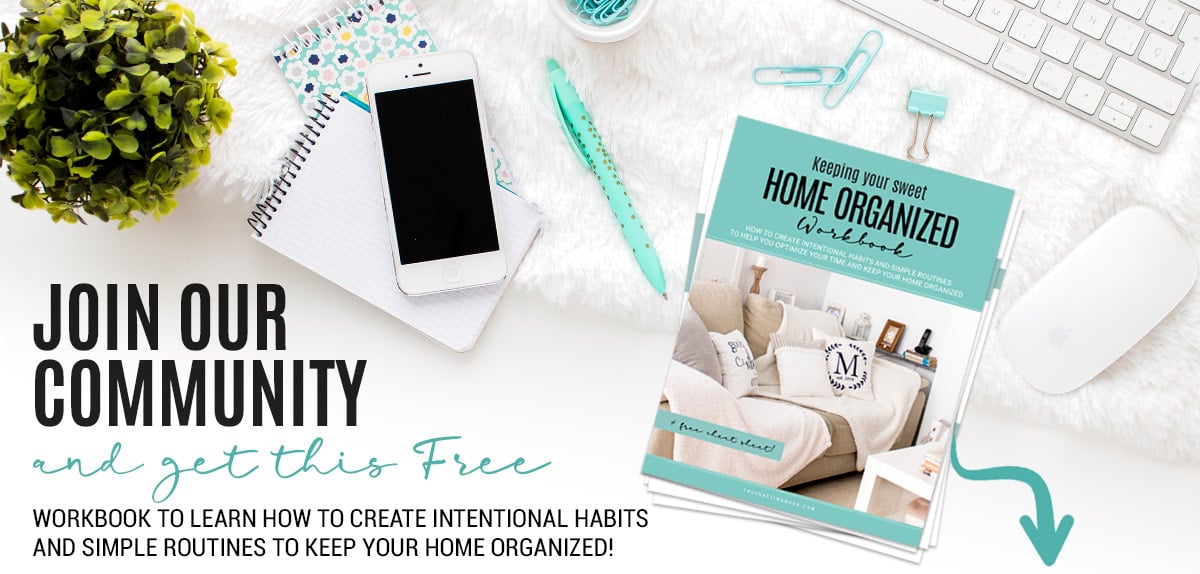 GET INSTANT ACCESS TO THE HOME ORGANIZED WORKBOOK
Plus freebies, printables, exclusive content, tips, stay connected, be the first to know great offers and Product Launches!
Disclaimer: By clicking on the "Yes, I want it" button above you are giving me your consent to collect and use your information according to the law and My Policy Privacy and The Cookie Policy. Zero Spam I promise!