Making cute Girl Hair Bows doesn't have to be expensive or hard. If you or family and friends still have those cute baby headbands, just remove the elastic and add a hair clip to each. Voila, you've got some really pretty girl hair bows in just a few minutes.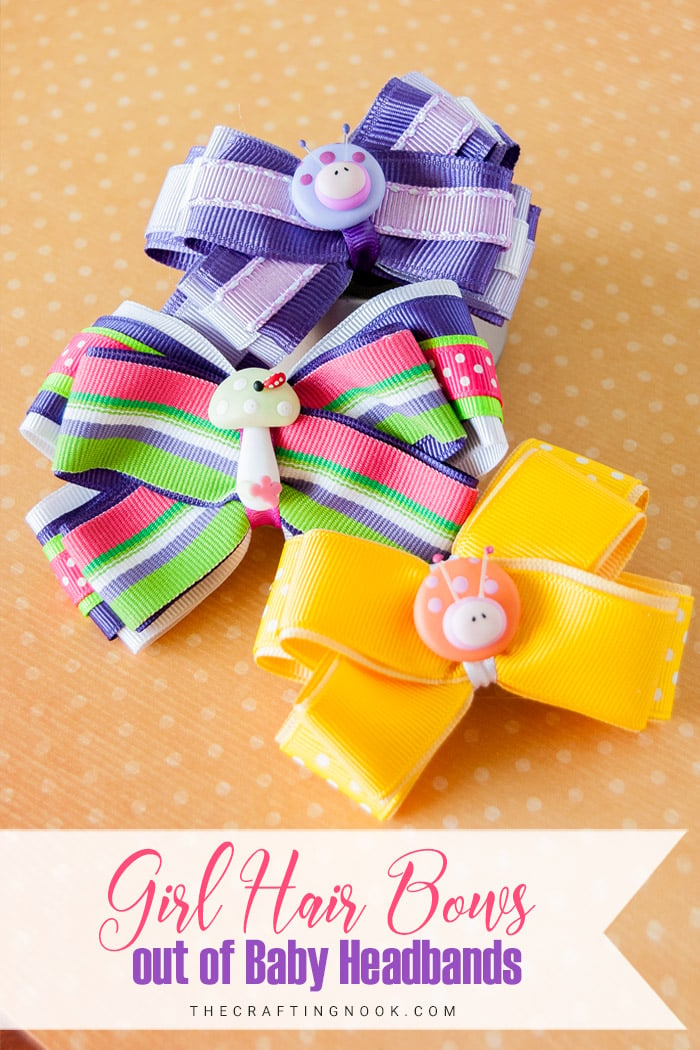 How to Make Girl Hair Bows out of Baby Headbands
I made a post a while ago in which I showed how I turned some elastic baby headbands into those plastic plat headbands and they turned out so cute.
You can see the post HERE if you are interested :D.
One of our relatives gave us a crazy bunch of elastic headbands when my girl was born. I got to use some but Em never really liked to have anything on her head besides hats. Since I had so many of these headbands from Love Lazos, I decided to make another round of hair accessories.
I really LOVE these headband bows and I just couldn't even think about giving them away or having them in a box with no use so that's how I came up with this idea.
My girl started to have stronger and longer hair and accept ponytails and stuff (never headbands for more than 5 minutes) so I thought that French clips would be the perfect fit.
It doesn't take more than 10 minutes to make them and now she uses them almost everyday =D.
Win-Win!
But What is a French clip?
Also called French barrette (American English), hair clip, hair-slide or clasp (British English), is a clasp for holding hair in place. It's my personal favorite type of hair clips because it holds better. They are often made from metal or plastic and sometimes feature decorative fabric. In one type of barrette, a clasp is used to secure the barrette in place; the clasp opens when the two metal pieces at either side are pressed together.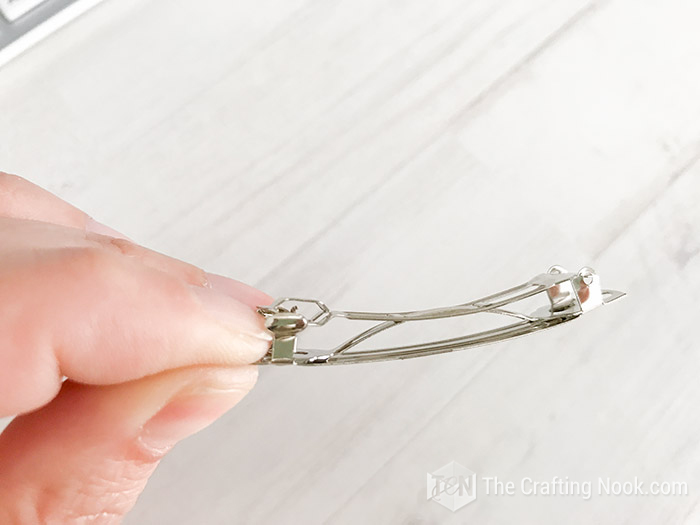 How do you wear a hair bow?
There are so many ways to wear them. On my girl I usually use it:
I make a half-up ponytail and attach the girl hair bows close to the elastic tie.
Sometimes the same but to one side.
Sometimes I tie the half-up ponytail directly with the girl hair bows.
To myself, I love half-up ponytail with only french barrettes or grab my whole hair in a bun and secure with the French barrette.
Girl Hair Bows Supplies:
Baby headbands
Small hair clips (I prefer French barrettes)
Hot glue gun
Scissors
Cut the elastics first so you get the whole bow separated.
Then I applied hot glue on the back of the hair clip and place it on the back of the bow and applied some pressure for a few seconds.
That's it!!! LOL
I made another one with a different kind of hair clip (Alligator clips). Same basic process the only difference was that I glued a small strip of ribbon over the top piece that is glued to the ribbon.
UPDATE: I soon after changed the alligator clip for a french barrette because the alligator wouldn't hold for long.
Tadaaaaa… Can you imagine a craft easier than this??? LOL.
Have you turned baby headbands into some other hair accessories before? Aren't these girl hair bows the greatest option?
Never throw away unused headbands ever again!!!
I love how she looks with them! I try to match as much as I can her clothing with different hairclips everyday… and yes she has that many LOL!!!!
Other Girl hair Bows ideas from my favorite bloggers:
What do you think??? Do you like this???? If you like this craft you might like these too {click on the images}