Today is a day that I was eager to get to. I've been working hard on this special project and I'm finally ready to show it to you all. It's about TCDesigns. I'm so super excited and full of hope and expectations. I'm really hoping you all like this new step and that stay around for a while to see it grow with me.
Big Announcement: TCDesigns Evolved and Got Even Better!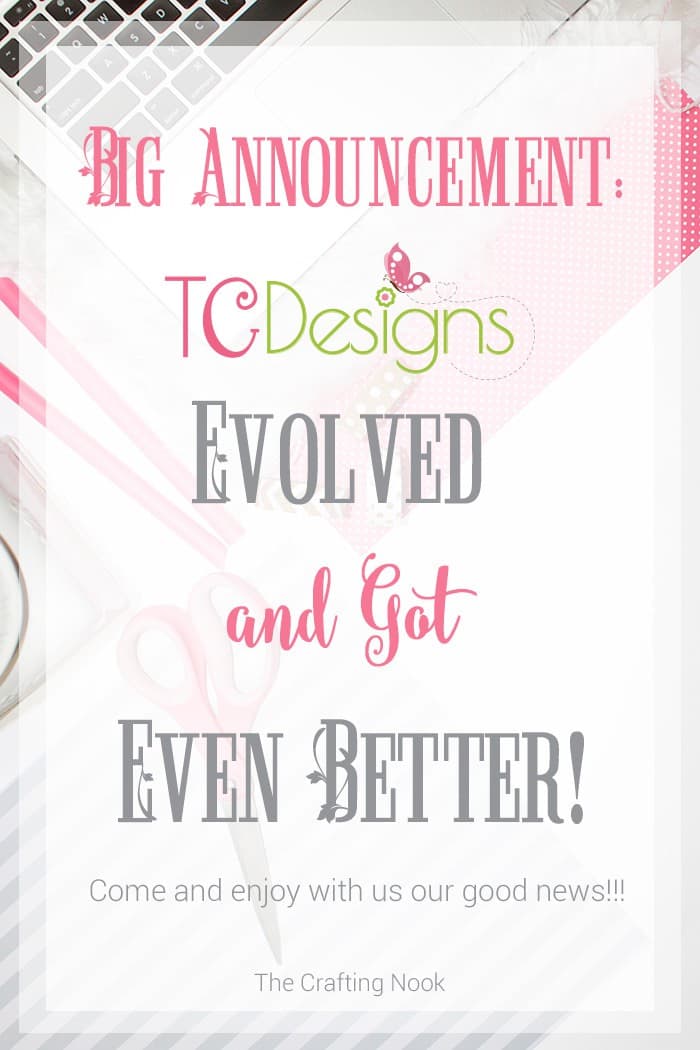 TCDesigns grew up and evolved. Yup! Because of your support, trust and friendship, TCDesigns had to take another step forward and it became a business itself and now it has its own home with a new name.
TCDesigns from now on will be known as TCN Design Studio.

It has now it's own domain and place so it can keep growing tcndesignstudio.com. This is so exciting and scary at the same time. I believe in this dream, I'm putting all my heart into this and I believe that it will become my main source of income and that I'll be able to help many bloggers to grow and succeed.
Those of you who have known me for a while probably already know how hard I've worked to make this far. And I must say this: this wouldn't be possible if you hadn't trusted me, if you hadn't given me the opportunity.
I'm not perfect, I'm not everyone's style, I haven't made it all perfect for everyone, but I have worked hard with a lot of love into each and every customer I've had. Not only because there is money involved but because I value trust and because some of my biggest and dearest friends were born from that business relationship. My goal is not only to deliver a pretty blog, is also to create a wonderful relationship, and help in every way I can. I care about people, I care even more about friends, for me this is all this is about. This might not make me the best business woman, but It's something I can live with as long as each person I work with get what they were looking for and I could make them happy.
I wanted to take some time to thank some people who have been along side with me through this entire journey. People who have blindly trusted me and I wanted to acknowledge them with all my love. My family! What would I do without them? Mom, dad, hubby, aunty and my family in-law THANK YOU!
Dana from This Silly Girl's Kitchen has been my BFF almost ever since I started blogging. There has been no one day when she would turn her back on me, she has always been there for me and she tells me honestly whatever I need to hear to be better and that's something I value above all things. She was also my very first customer when I wasn't even thinking about designing blogs for others, but she saw potential and she trusted me, now she's my recurrent customer every time she wants to change something on her blog.
Then it came Chandra from The Plaid & Paisley Kitchen. She was TCDesigns's second customer and an awesomely sweet friendship was born from there. She has been incredibly supportive ever since I met her. She not only gave me her blog to take care of but also her love and friendship and I'm so thankful for have met her.
Then I have to thank so much to Christine Field from Real Mom Life. She's an incredible woman with a huge heart. What she does each day and share in her blog is beyond words. The reason she's so special besides who she is, is that she pushed me and trusted me to learn how to work with Genesis Framework. I had to reject quite some customer because they were using Genesis. When she reached out to me, she gave me access to her StudioPress knowledge base so I could learn. I also read some great curses, and got to create a child theme especially for her. Because of that trust TCDesigns could start offering Genesis support and design to anyone who uses this platform or wants to.
There are other friends that I want to thank for their friendship and unconditional support. Mary Ellen from That's my Home, who by the way was one of those people I had to turn down because I didn't know how to work with Genesis and who waited until I did. Angela from LeMoine Family Kitchen, An amazingly sweet lady that has become an amazing and supportive friend! Sandra from The Foodie Affair who has trusted me for more than just her blog and gives me great support, Fabiola from FabiFabu, Dina from Dina Silvestri Travel, Lisa from Recreated designs, Kizzy from The Nanny Boss Among many others who have made TCN Design Studio possible.
I also wanted to give a special Thanks to Adrienne Smith, Abby Lawson from Just a Girl and her Blog and Lauren Lanker from The Thinking Closet who even though they are not actual customers, they have trusted in TCDesigns's dream, they have recommended my work in more than one opportunity and have been good friend and a huge source of blogging inspiration.
Of course I couldn't leave out my sweet Mastermind friends who have given me lots of love and support. Rebecca from Sugar and Soul, Meredith from Unoriginal Mom, Malia from Yesterday on Tuesday, Gina from Kleinworth and Co. and Amy from One Artsy Mama. THANK YOU Gals!!!
There is no way to put in words all the feeling I'm having right now. There is a mix of happiness, expectations, a little bit of fear, but most of all excitement. I'm so thankful to have had the opportunity to start this and I hope I stay around for a long while making lots of blogs pretty and lots of friends too!
THANK YOU ALL, THANK YOU for being here, for trusting me, for supporting me and most of all for your friendship: those who already are and those who are to come!
Now I have another news about this business.
TCN Design Studio has been split in two. Yup, you heard that right. TCN Designs has become also a local business here where I live. Now we have a website for USA and rest of the world and a website for Colombia, South America. These two sites even though they are in the same home, they are completely different in design and structure.
In our local business, we offer not only Graphic design and web design but also IT services for anyone who needs help with their computer and devices, from hardware to software support. Hubby and I are pleased to join forces towards what we love doing the most. He's a technology geek and a designer and I'm a deep lover of design! Great match!
So when people come to our site from main domain, they will see this page:
If they are coming from to the page from Colombia, they should click in the left link in which everything is in Spanish and plans and services proper to the local business. Also with a more formal look and feel and of course less girly since is more hubby's style than mine.
If they come from anywhere else, especially bloggers, they would click on the right side link, which is everything in English and with the services I provide for you all no matter where you are along with testimonials and portfolio!!! =D. This site is more "me" in style. I wanted it to keep a close design line with my blog because this business wouldn't have existed without The Crafting Nook. For this reason you will see a lot of me in there and even a section with the latest post from TCN and a link to my blog.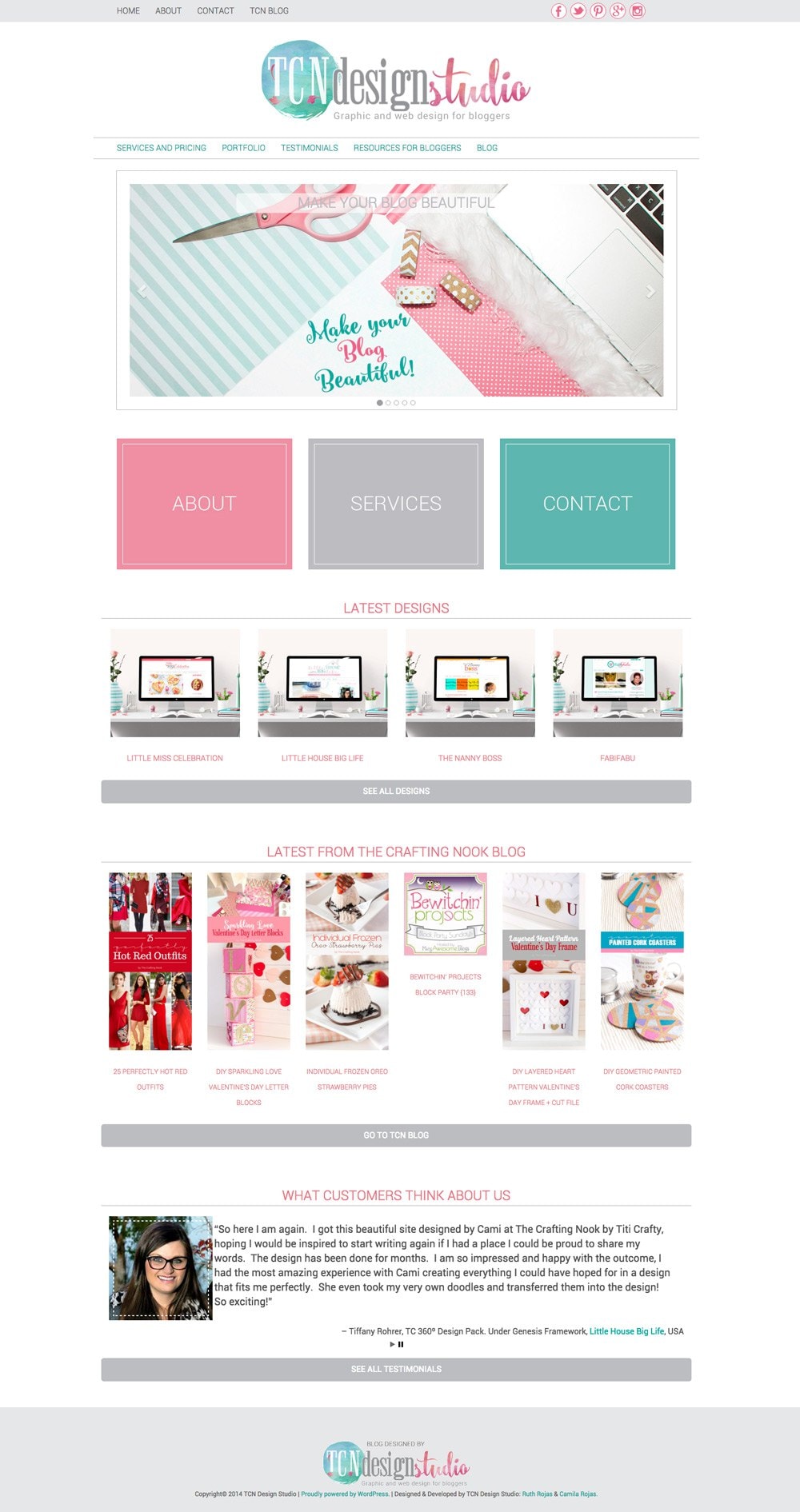 Hope you like the new home of TCN Design Studio. I invite you to sniff around and let me know your thoughts. Probably there will be a few things to tweak and I'll be on top of that as they come up. But overall that's the new Site!!!
Please send us all your love and pray. Wish us success and luck so this business takes off and the other one keeps growing and growing!!!
Thank you for reading this long and hope to see you around our new site soon!