15 DIY Fall Wreath Ideas to Try
Fall is the most beautiful season everyone wants to welcome with a handmade wreath. Check out these DIY fall wreaths to get inspired.
This is a Round up of 15 WONDERFUL Fall Wreaths I found on my link Party and Pinterest. These are stunning and beautiful creations by amazing bloggers so don't forget to stop by and leave some love and pin it from their blogs!
I was not very familiar with fall celebrations until I started blogging. I know I have been in places during that season but I haven't actually lived it the way I see you live and celebrate it.
You might also love these other fall DIY projects: Easy DIY Burlap Banner for Fall, Fall Bead Bracelet Tutorial, and DIY Rustic Fabric Pumpkins.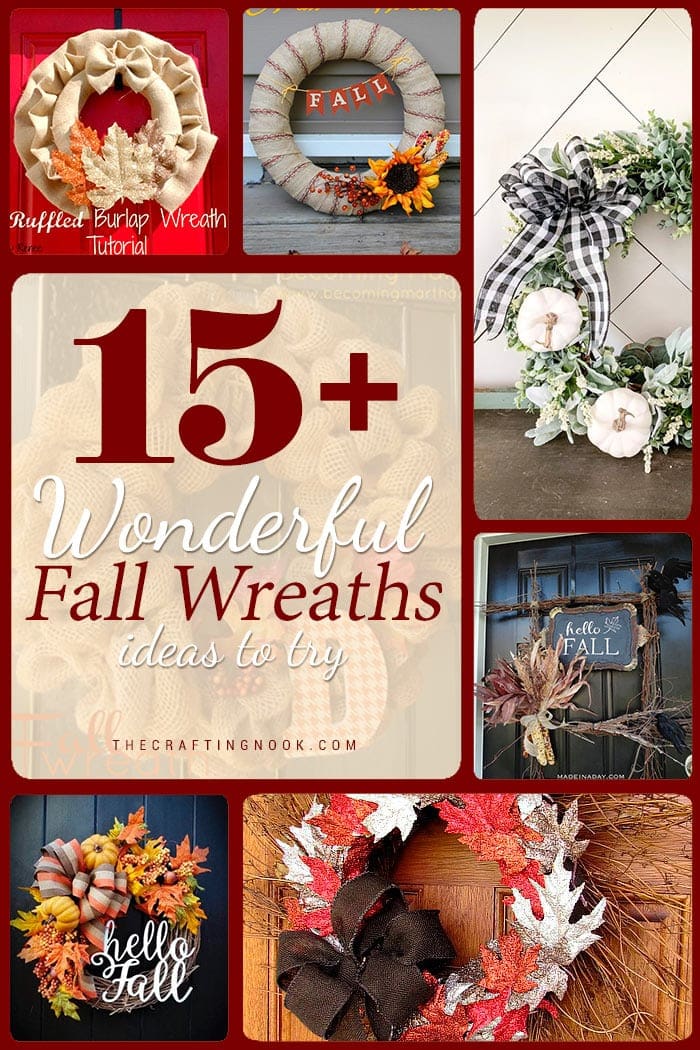 Try these 15 Wonderful Fall Wreath Ideas
In Venezuela we don't have seasons, it's a tropical country and in Spain, well they do have Seasons but it seems like they don't celebrate it much.
So maybe that's why I enjoy so much seeing all your amazing fall creations. It makes me feel like I'm living all that cherish celebration you share.

Wreaths are new to me too. Apart from Christmas, I had never seen wreaths like these before I started blogging LOL.
Actually, I hadn't seen so MANY things before blogging such as Mod Podge and Freezer paper LOL. Where was I living???
These Fall wreaths are beautiful, rustic and glamorous! They exude autumn and all that comes with it from pumpkin picking, Halloween, Thanksgiving, and depending on where you live cooler weather.
I love them all and I'm sure I will start creating them. I love how the doors and entryways look with a wreath now. Of all the fall decorations I have seen, wreaths are my favorite.
Hope you find inspiration to create an autumn wreath yourself. All these are DIYs!
Enjoy!!!
DIY Fall Wreaths To Make Your Door Stand Out
Disclaimer:*My roundups are only for inspiration ideas. Just like I do for all my round-ups, I get a lot of inspiration from Pinterest. If you are at all familiar with that platform you know there are tons of pictures with no direct links to the original source. Some pictures featured here I found no source for or directed to the wrong one but if you know the source, contact me and I will update this post immediately, thank you so much!
Please make sure to Pin from the original blog post!
Before we begin, be sure to follow us on Pinterest, Facebook, Instagram, and YouTube, and also sign up for our email list (at the end of this post), so you'll never miss a post!
1. DIY Burlap Ribbon Fall Wreath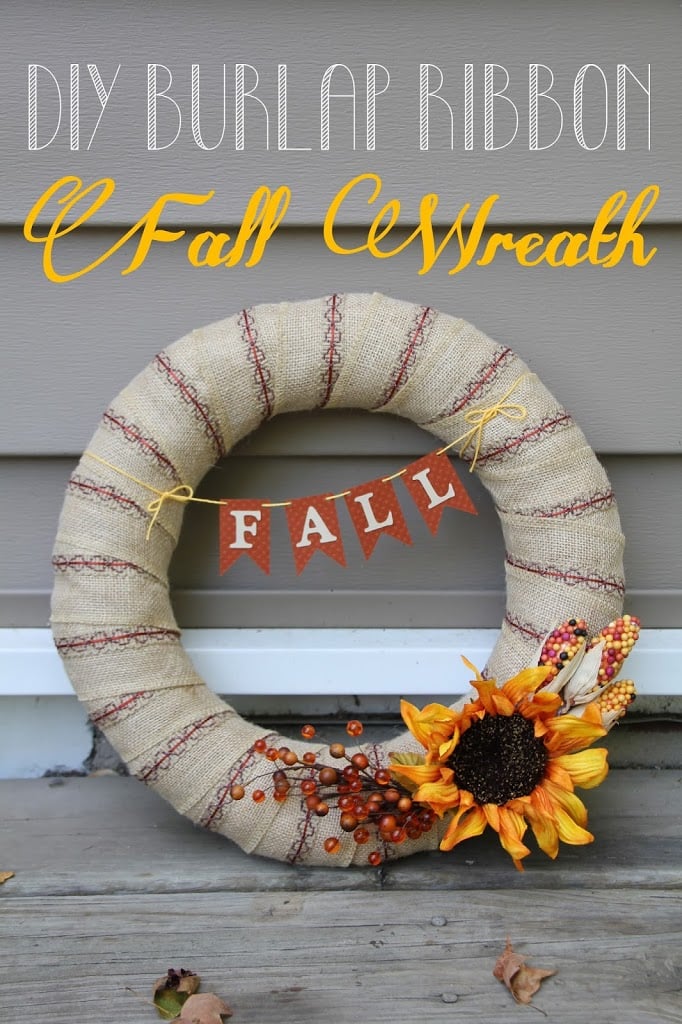 This rustic fall wreath is very affordable to make. Hannah started out with a plain straw wreath from the craft store, and began by wrapping it in burlap ribbon with an orange and brown detail sewn in.
Next, she used a hot glue gun to sew on some floral accents including a silk sunflower
Lastly, Hannah created a sweet banner with her Cricut.
Would you believe this entire project came in at just $10? You don't have to spend a lot of money to create a beautiful handmade fall wreath!
Check out the full fall wreath tutorial on Lovely Little Life via the link below.
via Hannah from Lovely Little Life
2. Deco Mesh Fall Wreath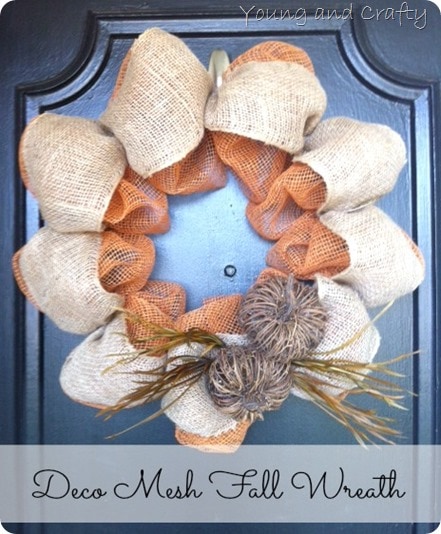 A wire wreath form, deco mesh, and a roll of burlap form the base of this lovely fall wreath.
The deco mesh and burlap are affixed to the wreath form with pipe cleaners.
A few special touches like pumpkins and straw make this simple autumn wreath stand out. I absolutely love the simplicity of this fall front door wreath.
3. Ruffled Burlap Fall Wreath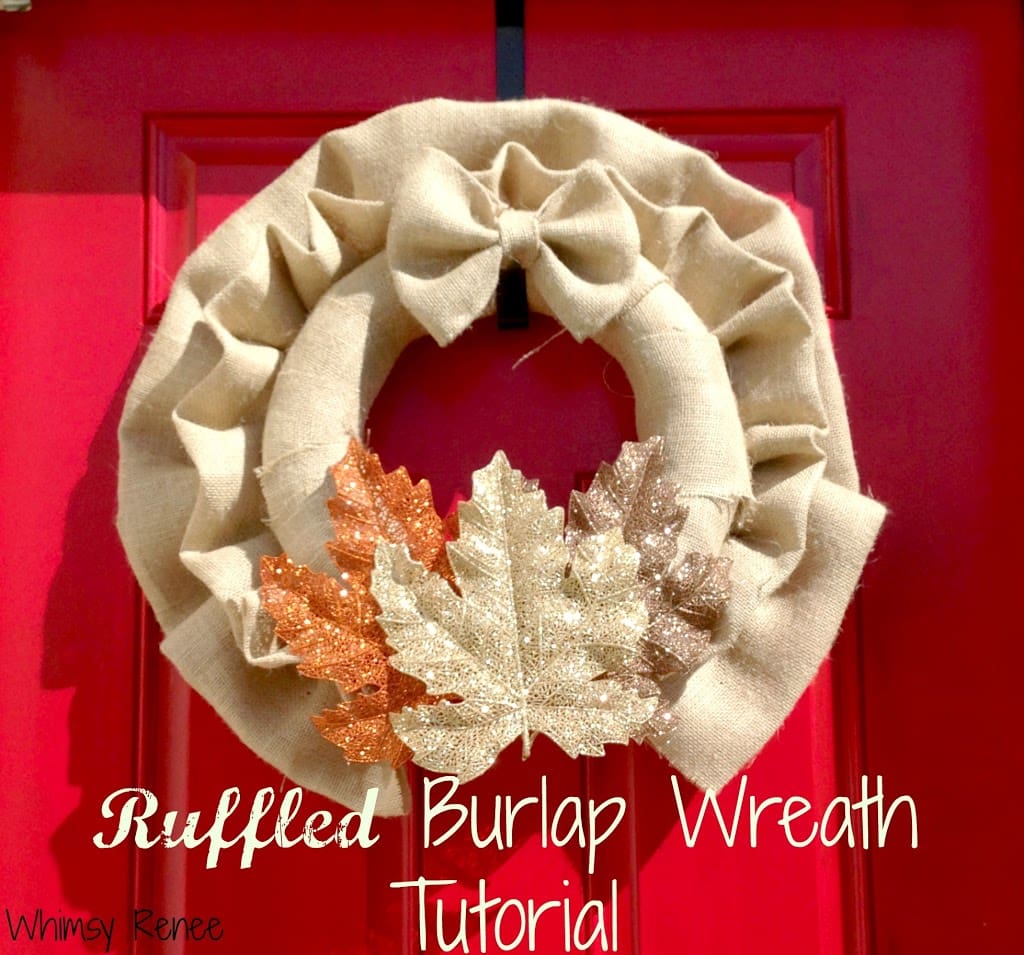 This ruffled burlap fall wreath by Renee is stunning! I adore how she combined burlap and a touch of glam to create the fall wreath for the front door.
The wreath gives you that warm welcoming feeling in a sophisticated way.
Renee covered a straw wreath form with strips of burlap and used additional strips of burlap to make the ruffles.
This non-traditional front door wreath for fall is so cute!
Ruffles, a bow, and some glittery fall leaves are added for a polished look. Don't you love it?
4. Glittered Fall Leaf Wreath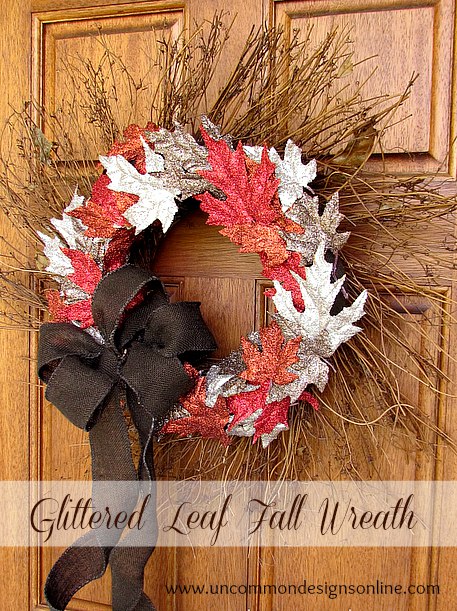 This DIY Wreath is so pretty! Art Glitter-covered fall leaves adorn this gorgeous autumn wreath.
A wispy grapevine wreath comes alive with glittery fall leaves and a chocolate covered burlap bow. Be sure to see the full fall wreath tutorial on Uncommon Designs.
5. Grapevine fall wreath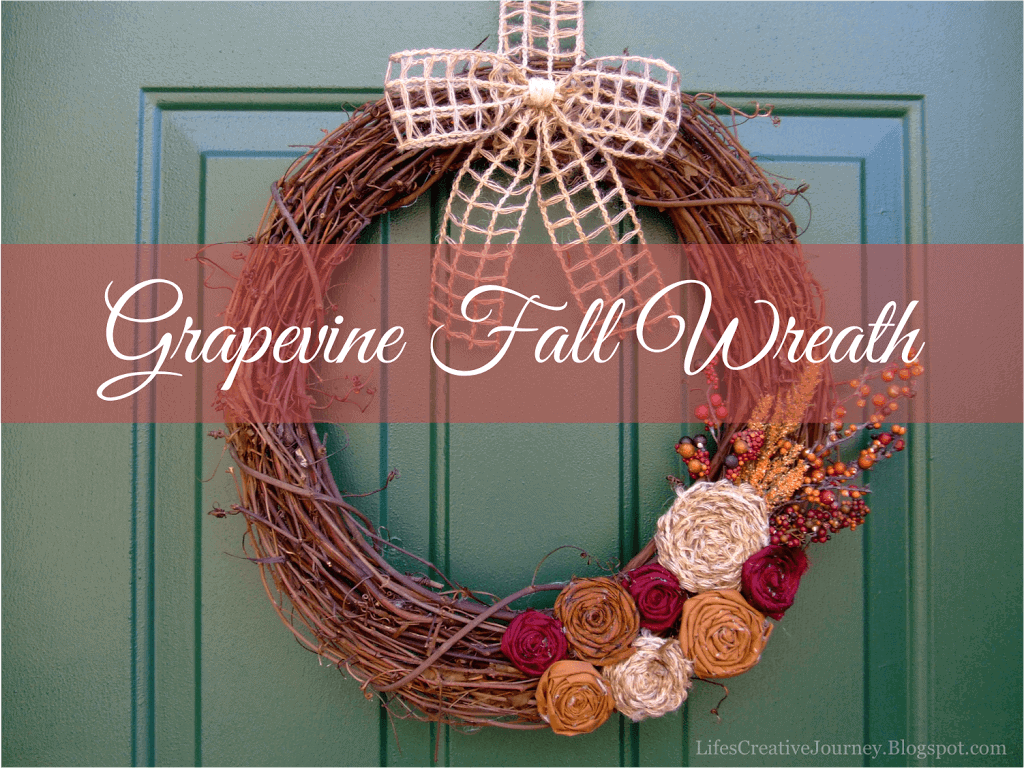 All of fall's colors come to life in this festive Grapevine Fall Wreath by Simply Dream and Create. Isn't it so inspiring?
Original site seems to be off-line.
6. Fall Felt Leaf Wreath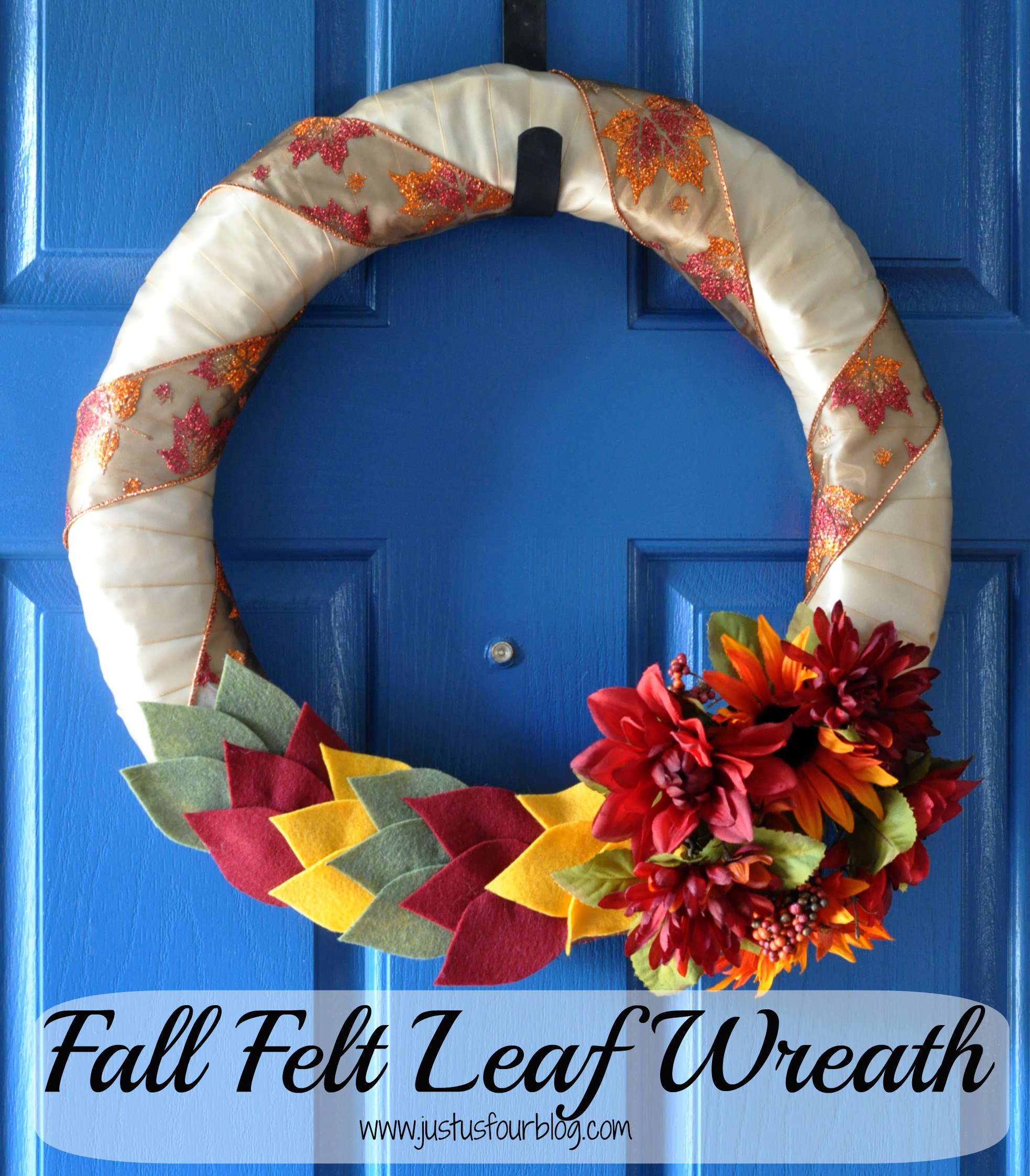 I absolutely love all of the different florals, fall foliage, and textures of this felt leaf wreath. As much as I love the felt leaves, the glittery leaf ribbon is stunning!
This wreath alone could transform your front porch for fall.
7. Peonies, Pumpkins, Pinecones & Berries Fall Wreath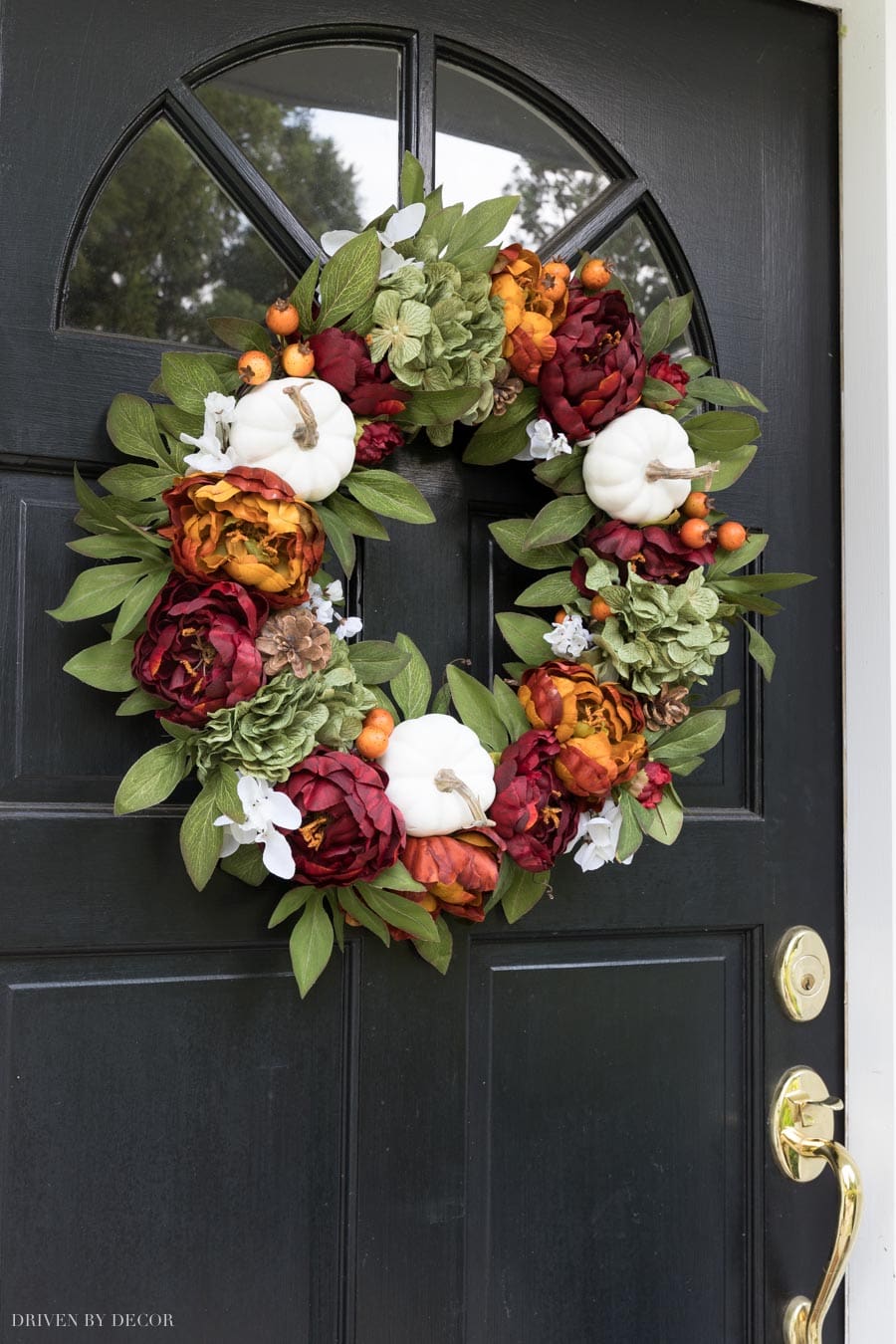 Just give a girl a grapevine wreath, a glue gun and an abundance of colorful fall leaves and florals and you'll have the beginnings of this stunning front door wreath.
Shades of red, orange, and purple fall foliage are the perfect backdrop for sweet little white faux pumpkins.
This grand wreath really pops on a black front door backdrop.
8. Hello Fall Harvest Wreath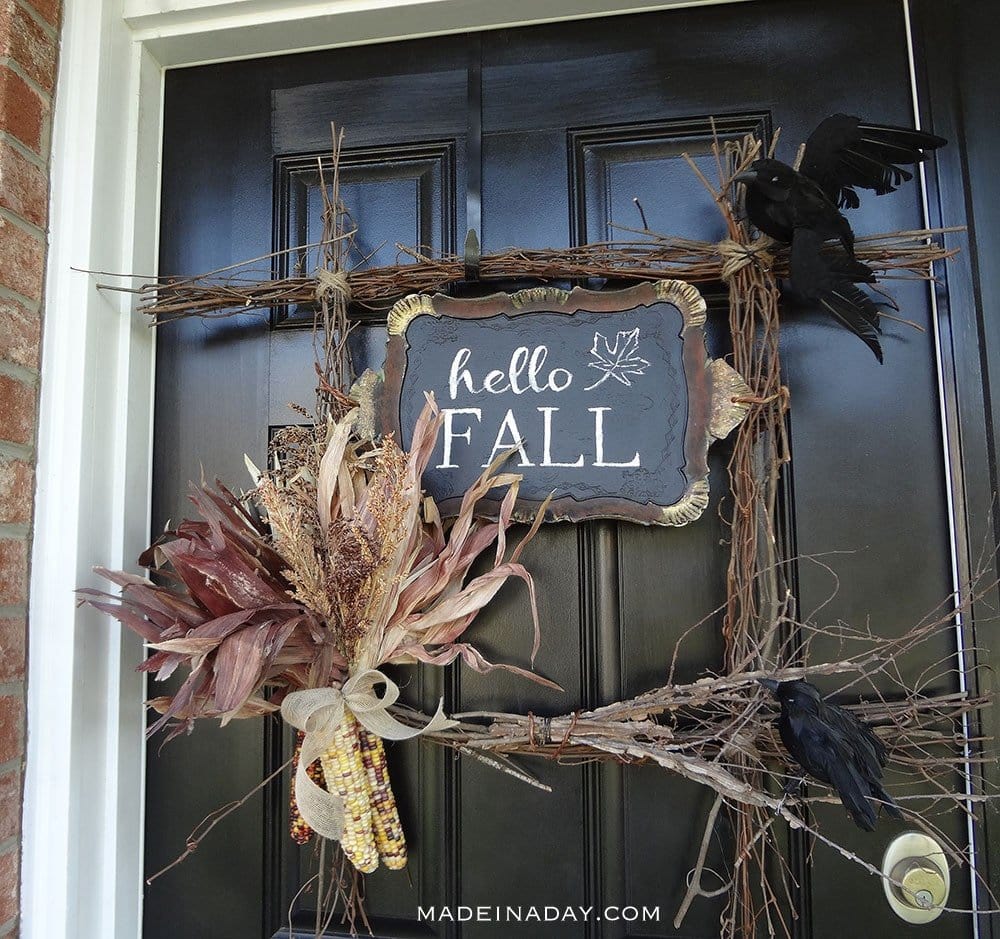 A square wreath built using sticks, and is decorated with Indian corn and crows.
Use the free printable provided by Made in a Day, to recreate the sweet "hello fall" sigh.
9. Easy Eucalyptus & Lamb's Ear Garland Wreath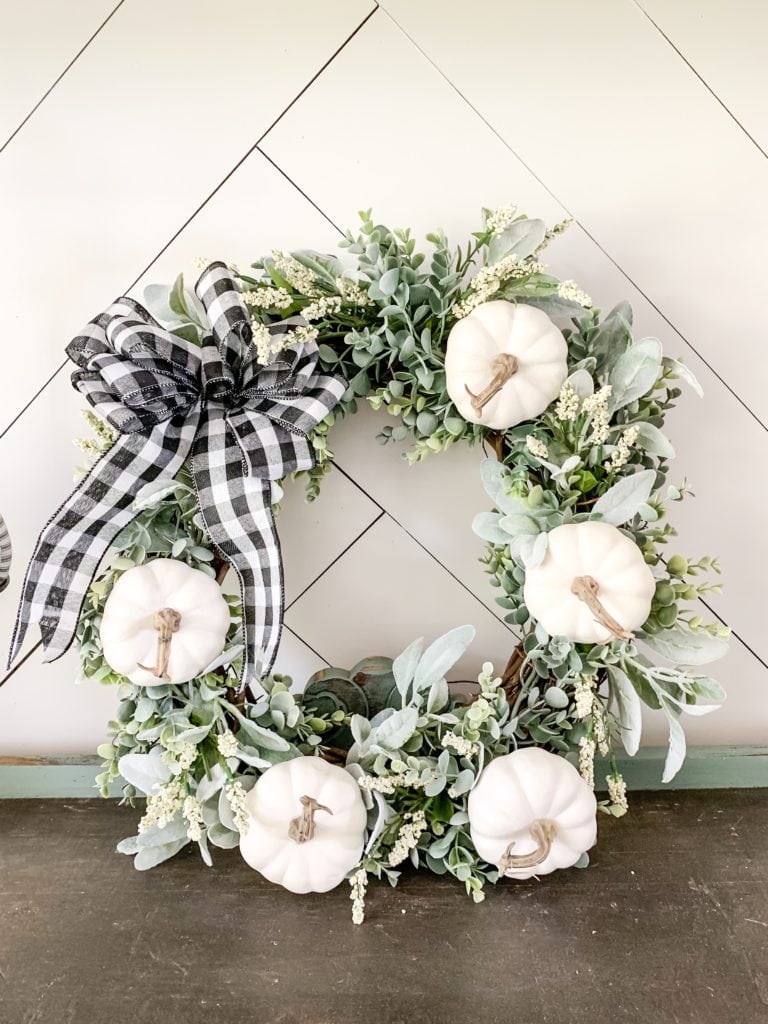 A combination of eucalyptus and lamb's ear garlands adorn a grapevine wreath to form the basis of this classic fall decor.
Floral accents and small white pumpkins are perfectly offset by a buffalo plaid bow.
This is one of those wreaths that you could use year-round with just a few adjustments.
10. Stash Buster Fall Wreath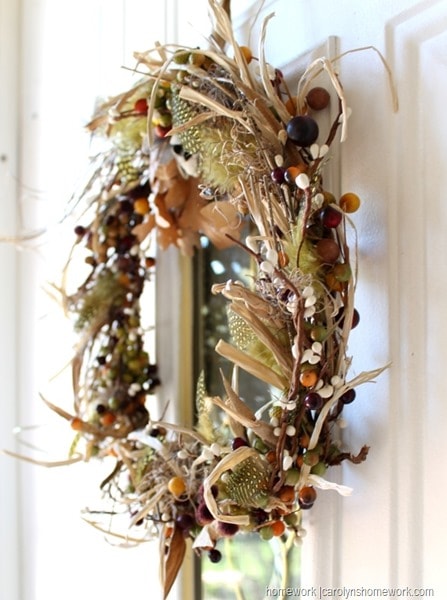 When is the last time you combed through your craft stash? That's exactly what Carolyn did to create this beautiful wreath. I may challenge myself to do the same for my next home DIY project.
Berries, pussy willow, twigs, seed pods, raffia and moss cover a recycled wreath form. I would never have guessed this was stash buster project!
11. Bubble Burlap Wreath for Autumn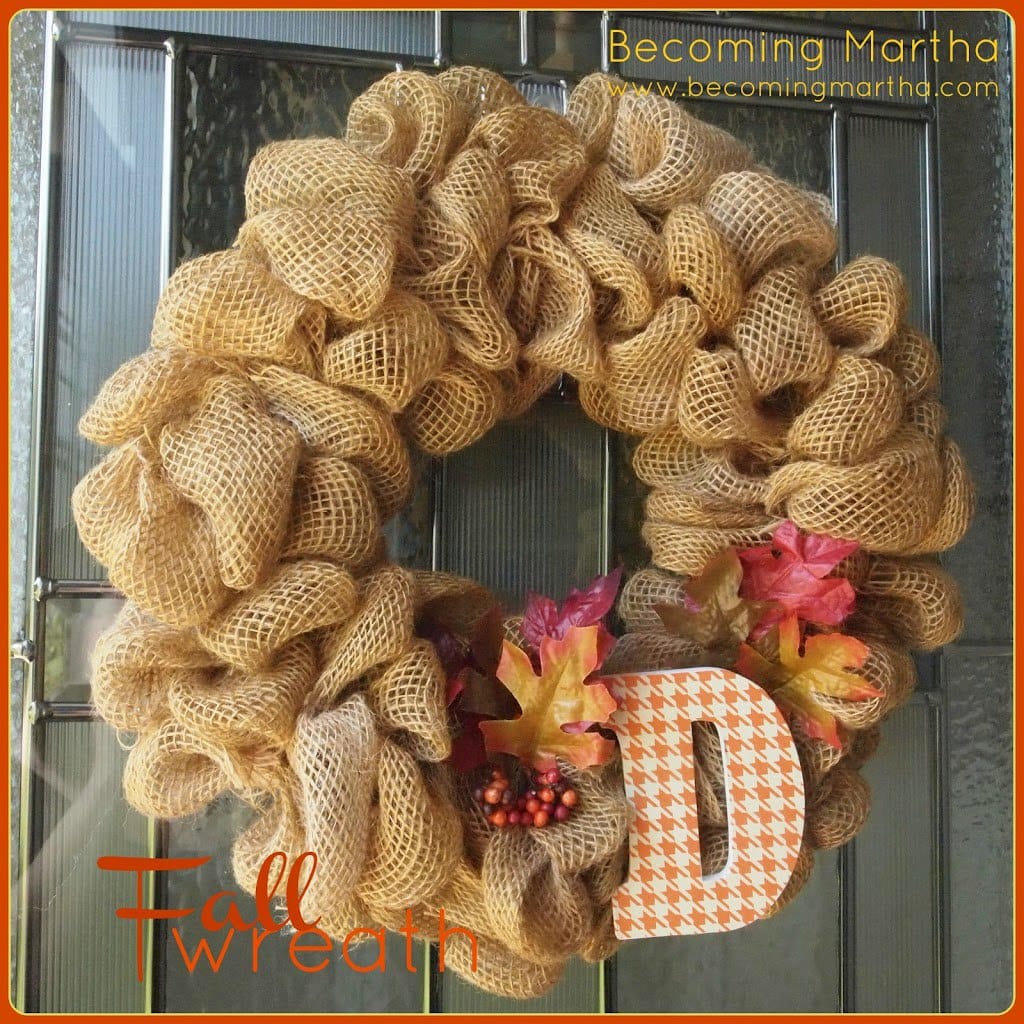 If you've never made a bubble wreath before, Sarah has a great tutorial for you.
It is very smartly decorated with a few fall leaves, and sprigs, and the family initial.
12. DIY Scarecrow Wreath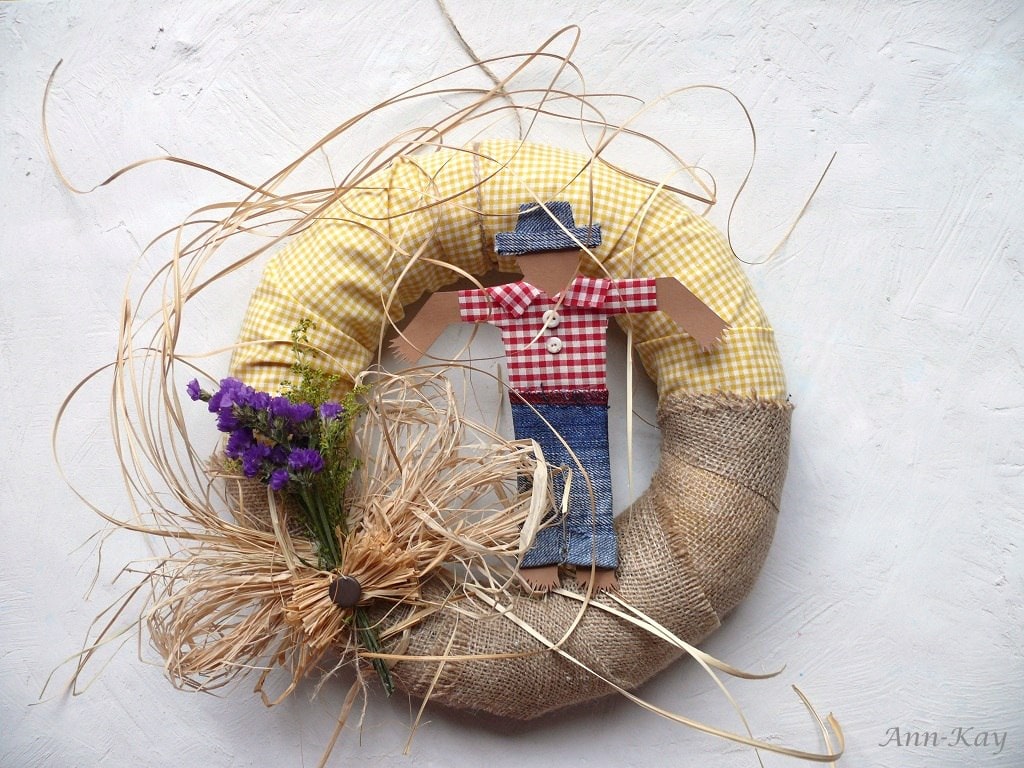 This rustic scarecrow wreath is adorable and a fun inspiration project for fall. A wreath form is wrapped with simple check fabric and burlap, then decorated with some raffia a floral sprig and you guessed it – a scarecrow.
via Ann-Kay Home
13. Traditional DIY Fall Wreath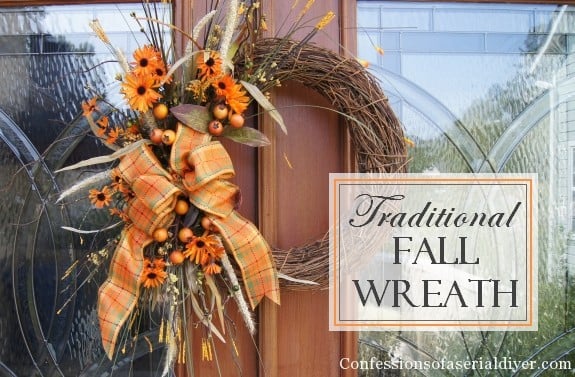 Sometimes there is nothing better than a traditional mainstream wreath. That's what Christy decided when making this beauty.
Many shades of orange, lots of stems, and a large plaid bow on a grapevine wreath. If you are new to bow-making, there is a great tutorial.
via Confessions of a Serial Do-It-Yourselfer
14. The 15-Minute $15 Wreath for Fall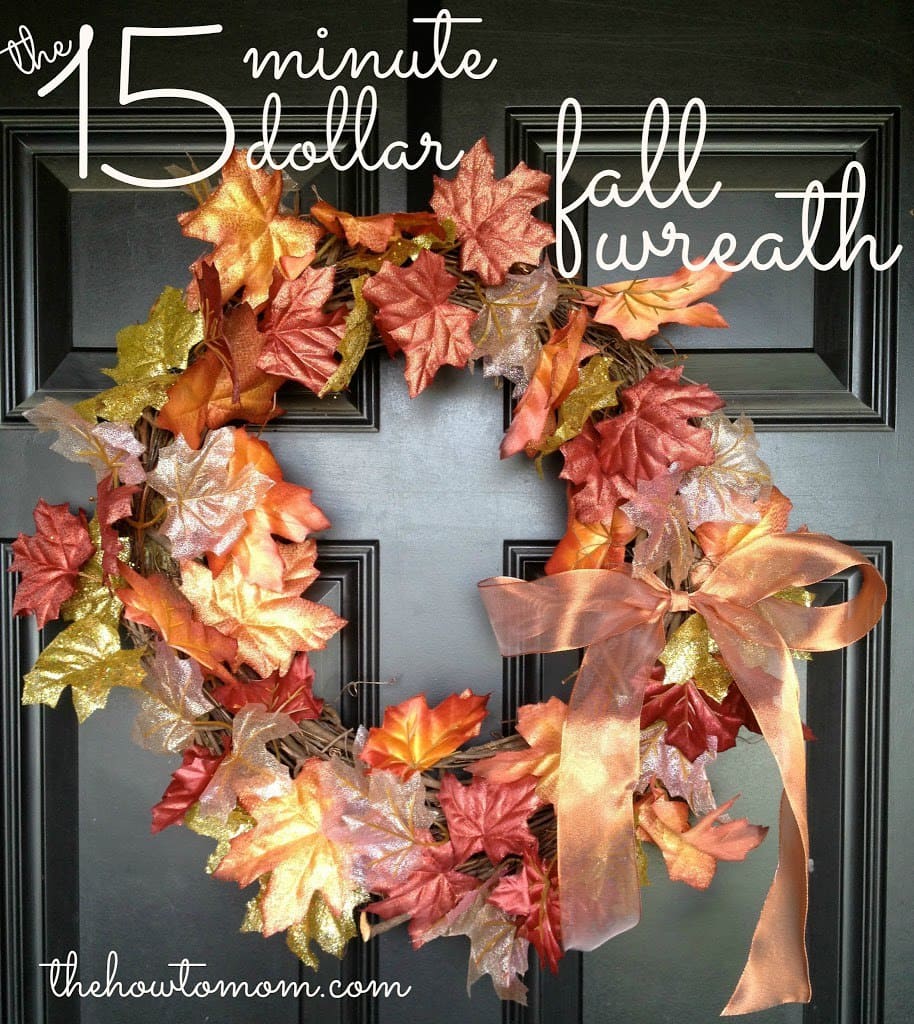 I'm not sure how she did it, but Kylie from The How To Mom managed to make this festive wreath for just $15 AND in just 15 minutes!
Check out her tutorial to see how she made it.
15. DIY Fall Burlap Wreath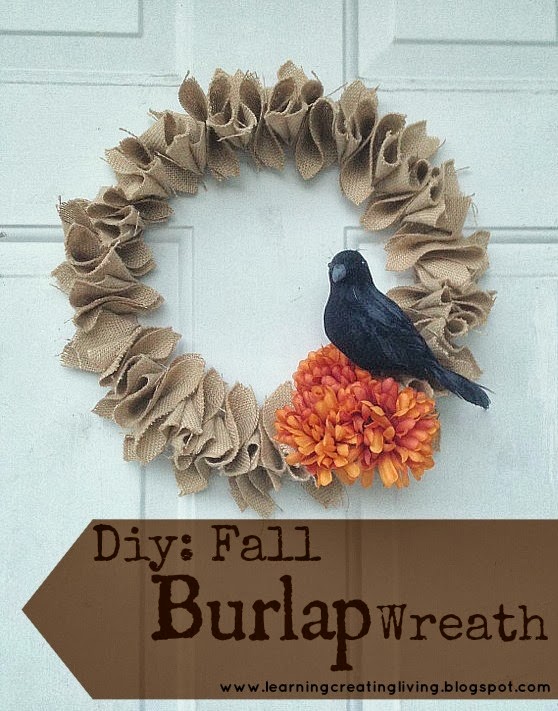 Some more burlap wreath inspiration via Learning, Creating, Living.
The original site seems to be off-line.
What do you put On fall wreaths?
As our examples show, the base of your wreath can be straw, wire, grapevine, foam wreath form or even twigs. Burlap ribbon and fabric are often used to decorate or cover the wreath form.
Decorations can include anything from mini pumpkins, faux apples, dried wheat, corn husks, silk fall leaves, berries, sprigs, moss, acorns, raffia, fall picks, bows, and more. Use your imagination!
I hope these fall wreaths have given you a lot of inspiration.
Make sure to check out Dana's post by clicking on the image below. And Also make sure to check back each Thursday for another roundup posts,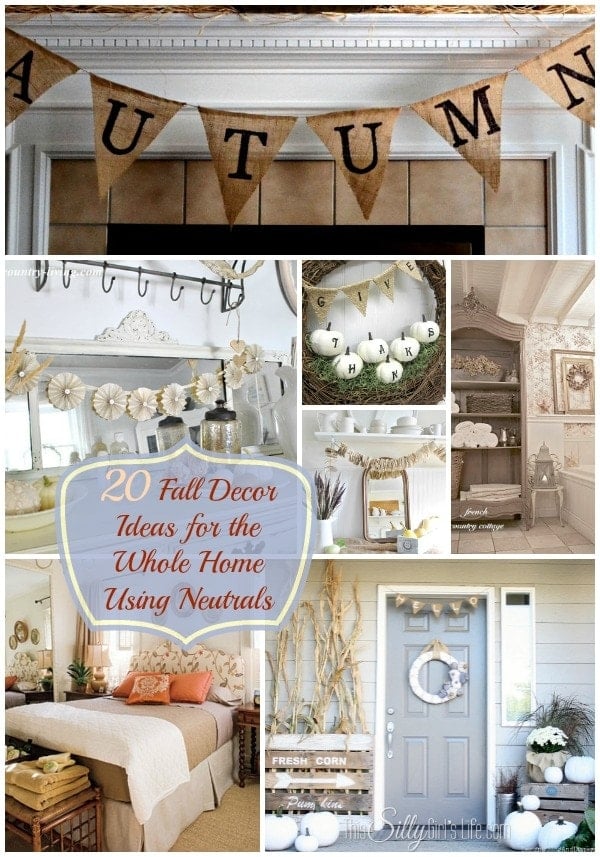 Need more Fall ideas to try this year? You might love these:
Til' next time...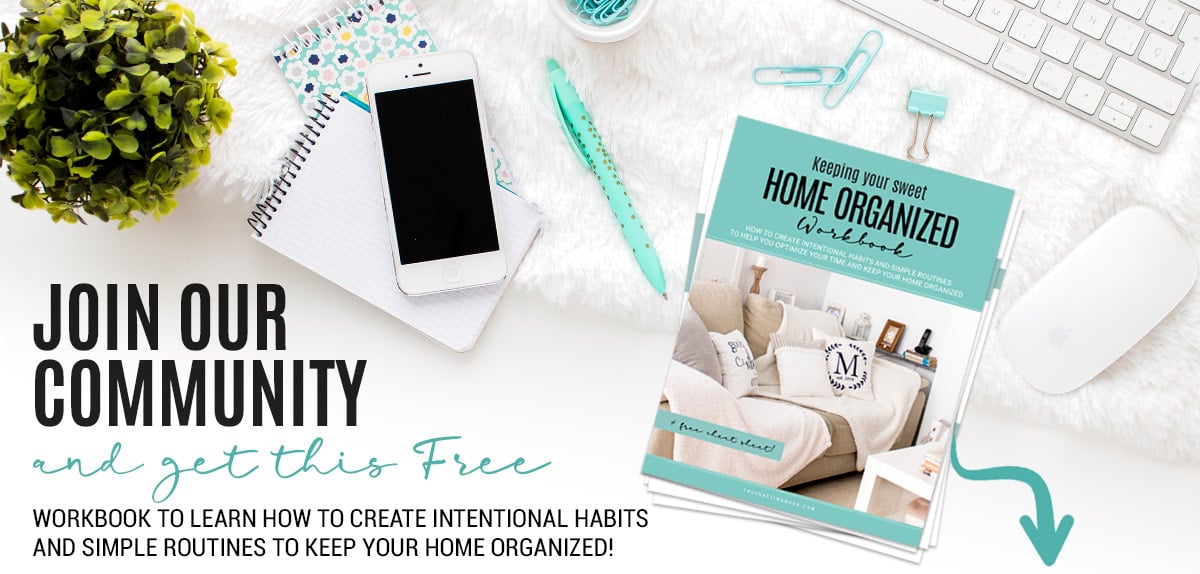 GET INSTANT ACCESS TO THE WORKBOOK
Plus freebies, printables, exclusive content, tips, stay connected, be the first to know great offers and Product Launches!
Disclaimer: By clicking on the "Yes, I want it" button above you are giving me your consent to collect and use your information according to the law and My Policy Privacy and The Cookie Policy. Zero Spam I promise!