Gamer Room Decor: Our Home Office Makeover
Who doesn't dream of a gaming room? This Gamer Room Decor: Our Home Office Makeover will show you that you don't need to spend much to have one.
This Gamer Room Decor Makeover project has been on our to-do list for years (one of many). The thing is, there was always something and it was just not the right time.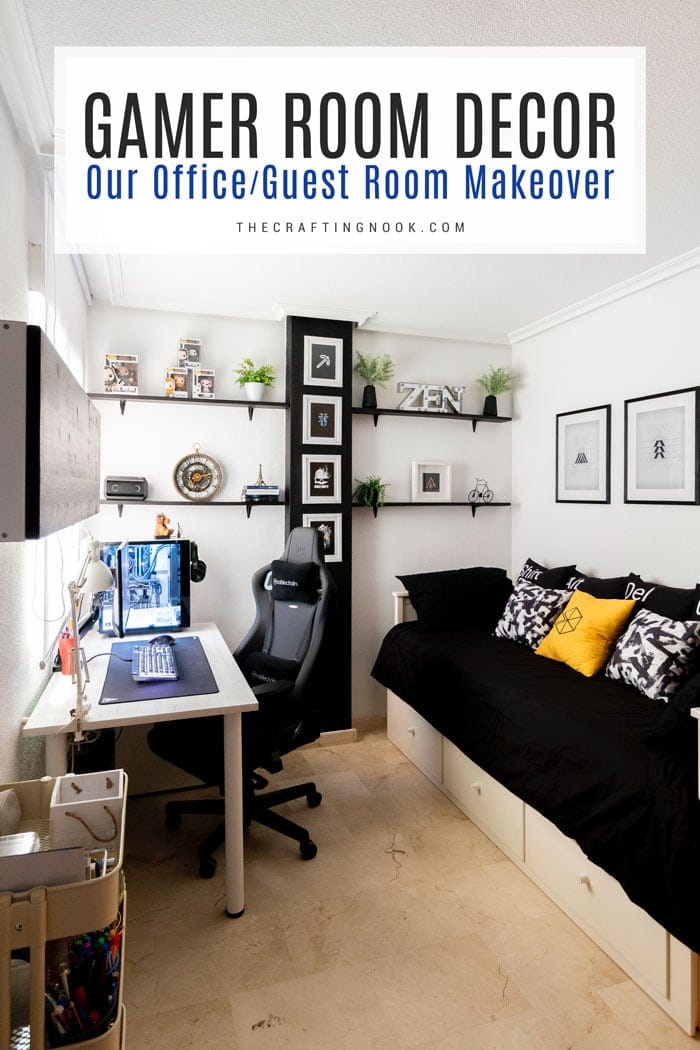 You know how it goes, life happens, something has higher priority and we keep pushing it because something else is more important.
You might also love these other decoration ideas: 20 Master Bedroom Decor Ideas, Small Master Bedroom Decor on a Budget, and 15 Cozy Rustic Living Room Decor Ideas.
Our Home Office Makeover Theme: Gamer Room Decor
My husband and I kept talking and planning and brainstorming gaming room ideas. Like how cool the guest room would be like this or like that. Until one day we said to each other "That's it" we have to do it.
So we set a budget and a date in the calendar and started looking for supplies within the budget.
We realize while brainstorming that what we all three have in common is that we love pc video games.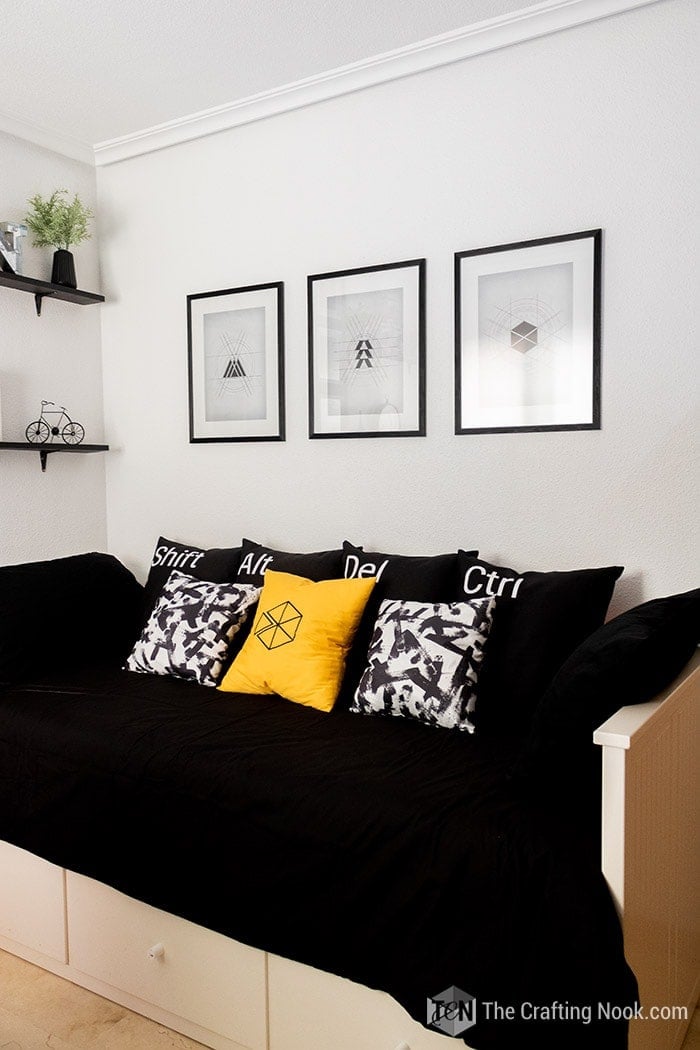 We've always been kind of gamers. I still remember playing Prince of Persia, Doom, Wolfenstein, or Spear of Destiny back when we had to install the games with a gazillion 3 ½ disks, remember those days?
I sure do.
The same goes for my husband. He started building his own PCs from the age of 14 and started playing action games right then.
But neither of us had or needed game consoles. We got used to keyboard and mouse from the very beginning and it seems awkward using the controls of a console.
I did play Nintendo and PlayStation even Sega in my friend's house and I must confess I love Mario LOL. If I had a console, it would be a Nintendo for sure so I can play again the old-days Super Mario.
Now our girl is inheriting the love for pc games playing games like Roblox and Minecraft (closely supervised at all times). What we love about these games is that she uses creativity to build stuff and she's become very good at it.
It seems only logical to use the gaming world as our theme to start our small gaming room setup makeover. This room has been abandoned long enough.
Another point to take into consideration is how small the bedroom is and the main purpose. It's supposed to be a guest room that is also my husband's office/game room.
So we needed to make it all work out. We needed a functional home office that would make a great gaming experience but also a comfortable guest room.
My husband loves black and white, his PC tower was already black and white and the table was white with a black gaming chair. So we had a good start there
The total budget spent was 170€ ($200). I used as much as I could from what we already had, we did many DIY projects, and everything we bought was on sale or from inexpensive shops.
How It All Started: a Home Office Makeover in the Making
Before we begin, be sure to follow us on Pinterest, Facebook, Instagram, and YouTube, and also sign up for our email list (at the end of this post), so you'll never miss a post!
The Before
Let's start from the beginning.
This is what the room looked like when we first moved here.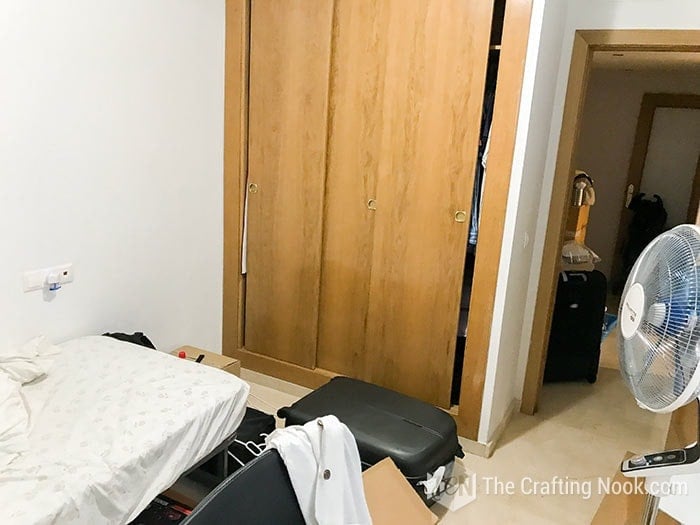 What a mess LOL.
Then we started upgrading a few things like the divan bed and PC desk but the truth is that this room was more like a storage room than an actual room. It was quickly becoming a dumping ground for all things around the house.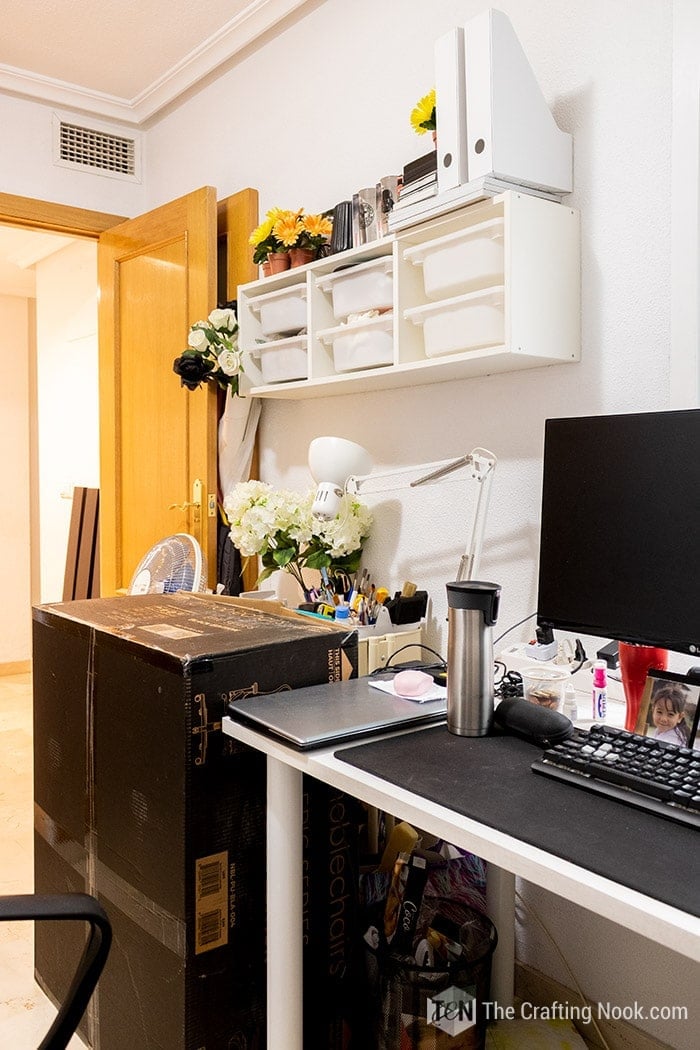 Office space and Gamer Room Decor Ideas
So here go the main ideas:
Paint in black the weird column in the middle of the back wall. A fresh coat of paint makes it all better and also creates a focal point.
Install black shelves to match the column but create contrast against the white wall.
For the shelving, we reused the shelves I had in the living room, repainted it in black, and were good to go.
This is us in work mode all the way. Motivation overload LOL.
We wanted to find decorative items that would be black, or dark colors somewhat related to the games we like and also be nice for a guest.
All items we got were either on sale or reused.
We absolutely loved this ZEN lighted metal word. We knew it would look amazing on the shelves giving nice ambient lighting.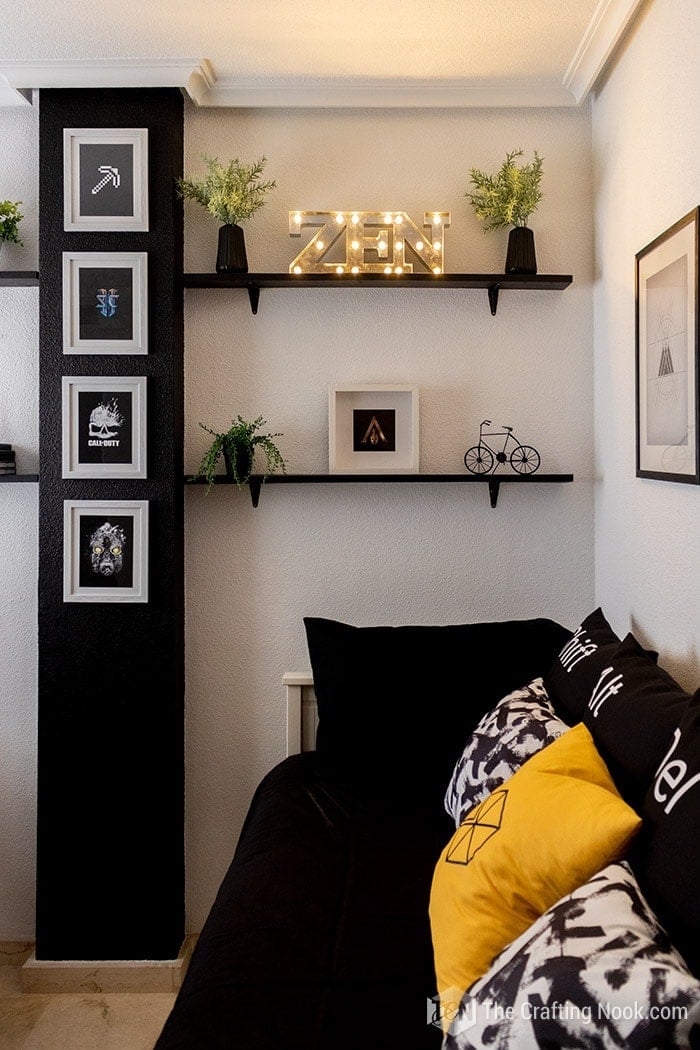 Then in another shop, we found this clock and ooooooh we loved it.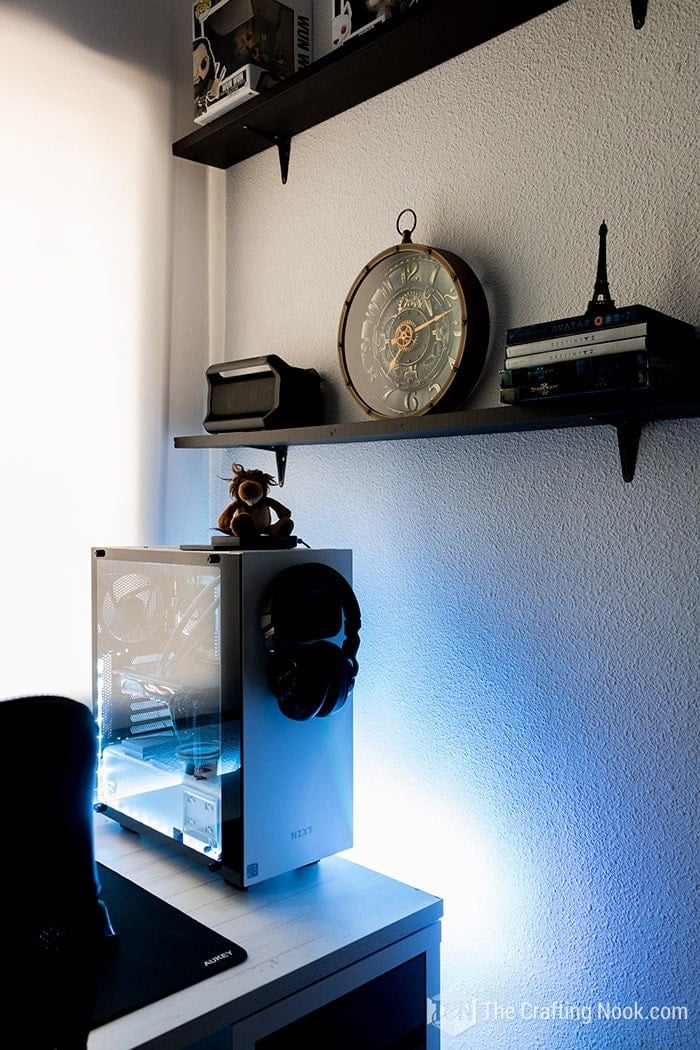 It was about keeping our eyes very open in every shop we went to. We found very cool inexpensive items. But still, We are looking in case something cool shows up!
One thing we knew we wanted to do is to apply led strip lights behind the desk to match the PC tower mood and a more gaming style. We are planning on adding some led lights to the ceiling too but it's more of a future upgrade.
The gaming desk was way too white so we decided to give it a new look changing the drawer chest and revamping another one that we had making the front of each drawer black. You can check out the Drawers revamp full DIY tutorial here.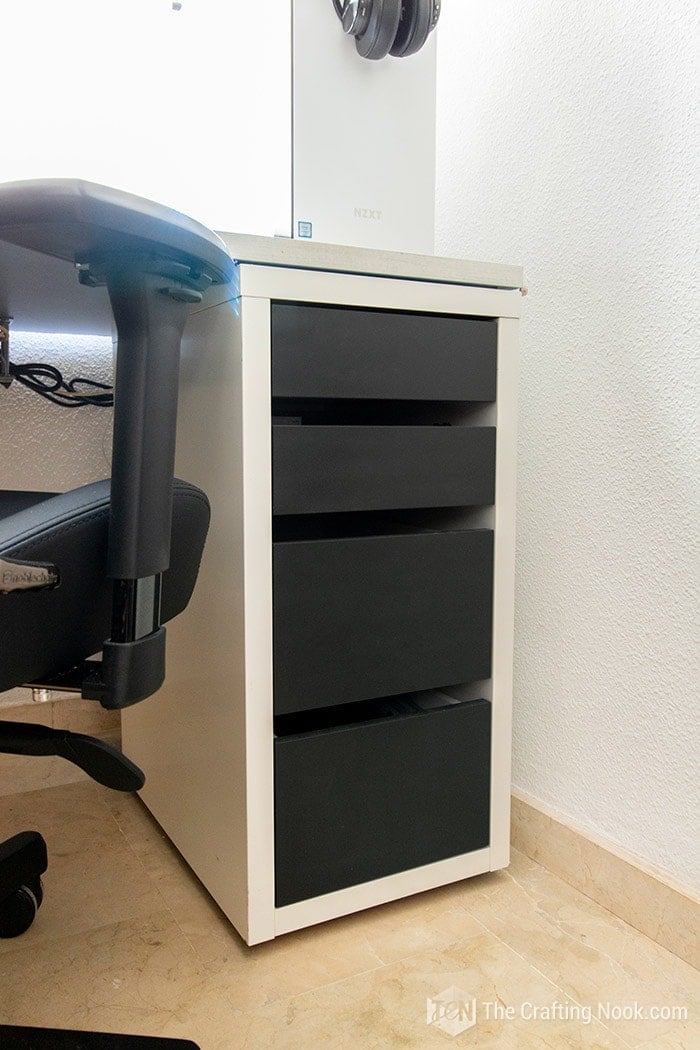 Install new blinds.
The bed decoration would be black and white with an accent color.
We decided to make ourselves a few posters with our favorite games. Some would go on the black column and others on the wall space above the bed.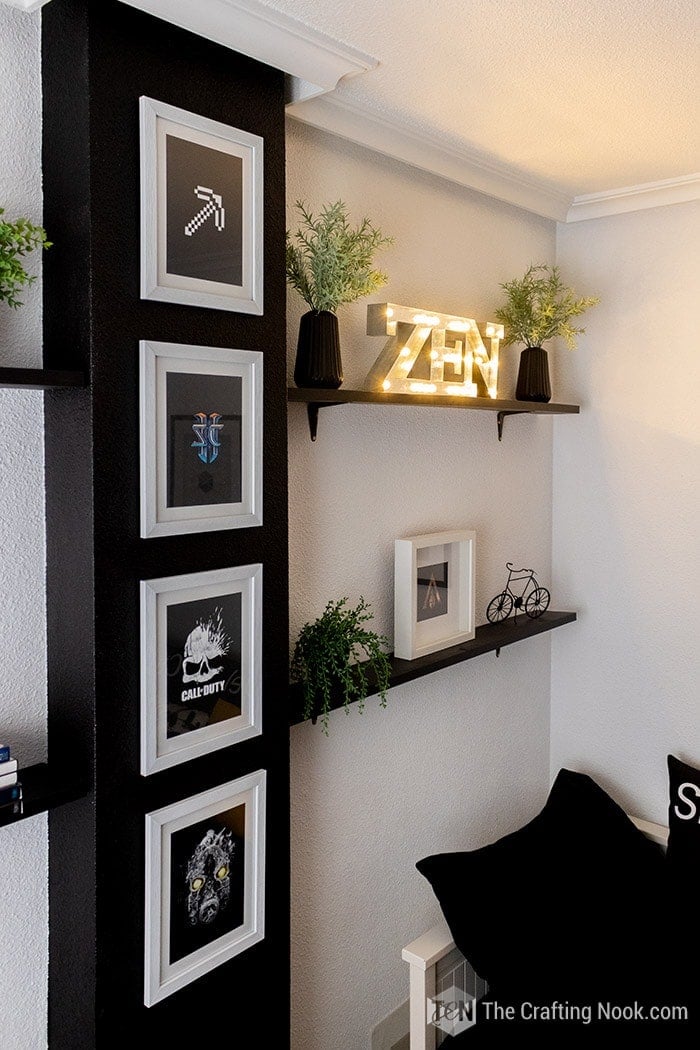 Since the bed was divan-like (Ikea furniture) we wanted to give it a more sofa look so we got some squared pillows from Ikea and created pillow covers with fun keyboard keys designs.
The final touch was the accent color pillow with our logo in it! We couldn't miss that, right?
The Trofast Ikea drawer needed either to go or a revamp, we decided to revamp it. We created and installed a door so it would hide the mess and the plastic drawers that I didn't really like one bit. You can find the tutorial for the Ikea hack: Trofast door project here.
And all the crap left had to go. We can have everything in such a small space.
We wanted to have some green in the room too but with the lack of natural light in the room, we went for faux plants.
This is still an ongoing project. There are more things we want to make that we couldn't in such a short period of time and with the available budget. So we might keep feeding this post as we go.
The Gamer Room Decor Reveal
As of today, this is how it looks.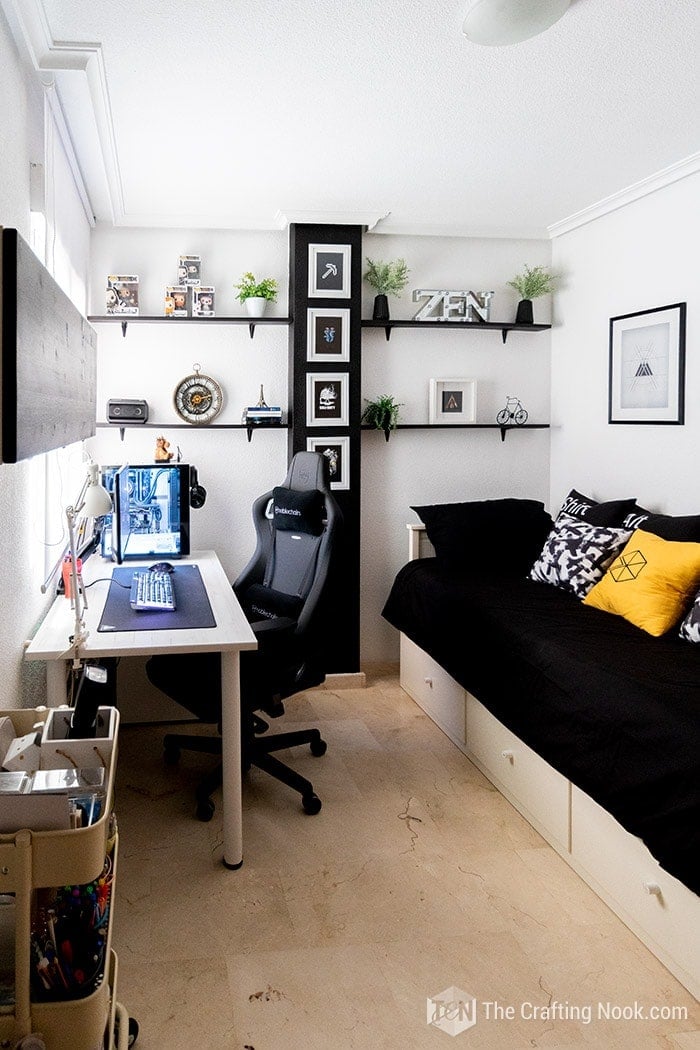 I absolutely love how our gaming room home office makeover turned out and it became my favorite room in our home so far.
We even still think of other things we can add or improve to our home office design so it might change with time.
We might bring bookcases, nice light fixtures, maybe our favorite game figurines, and who knows what else might come!
Now when we play we feel like in the groove haha.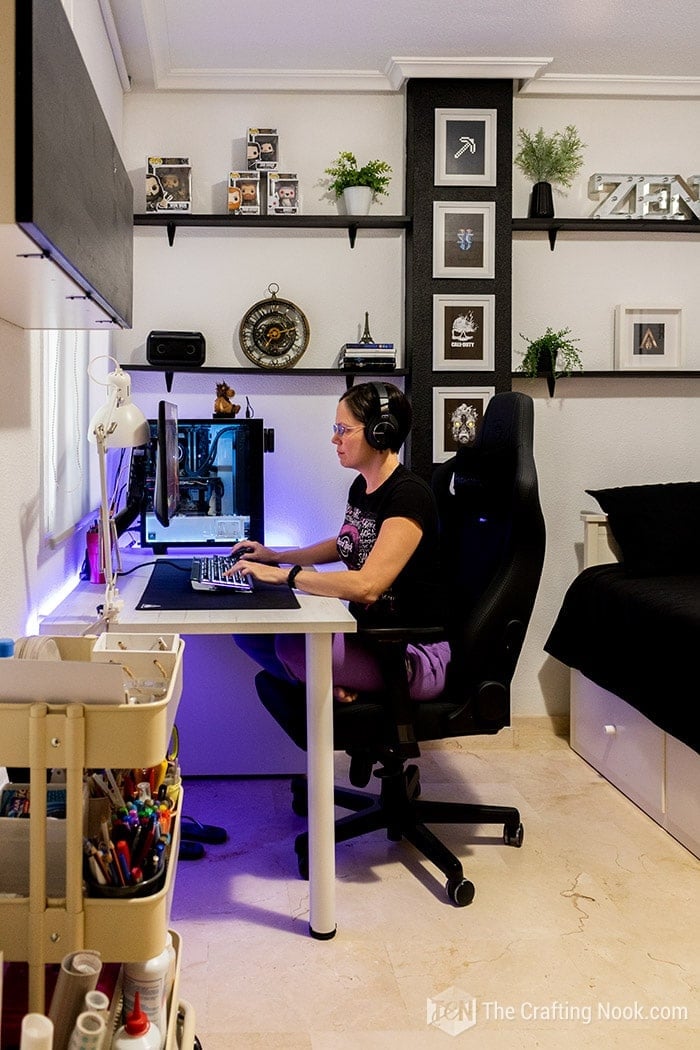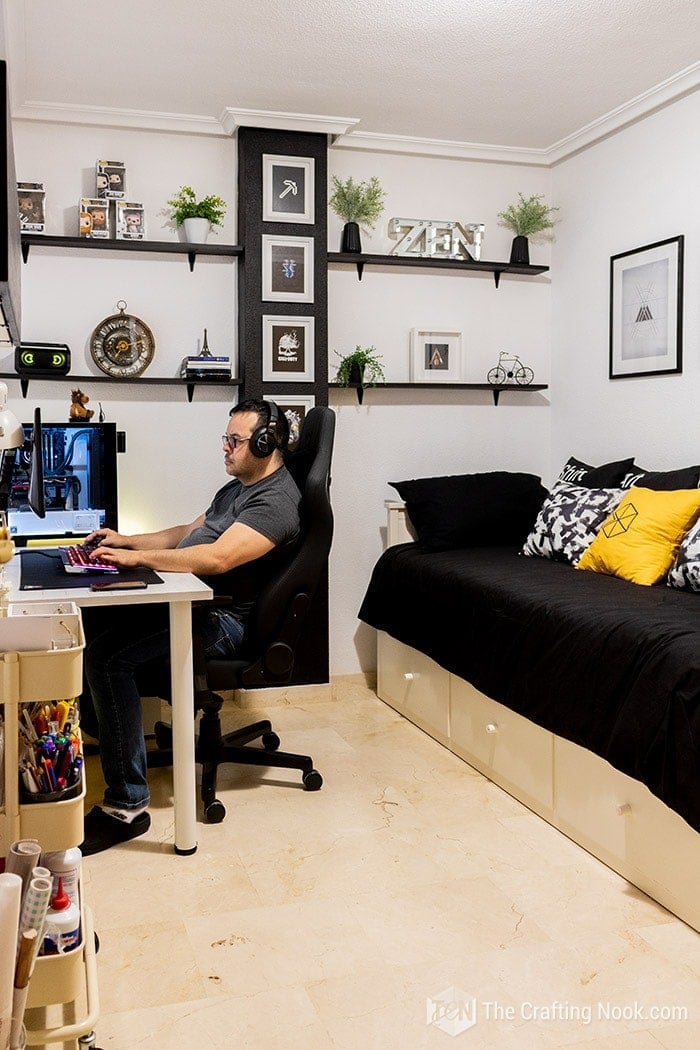 It's a lot more fun to be here, play or work.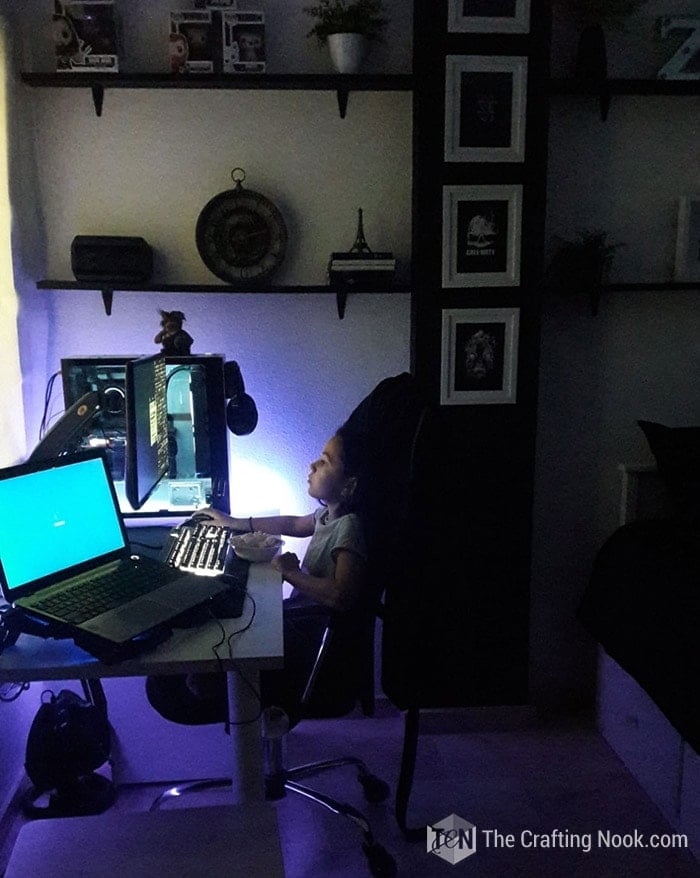 And of course, for guests, this room now is way homier than it was before.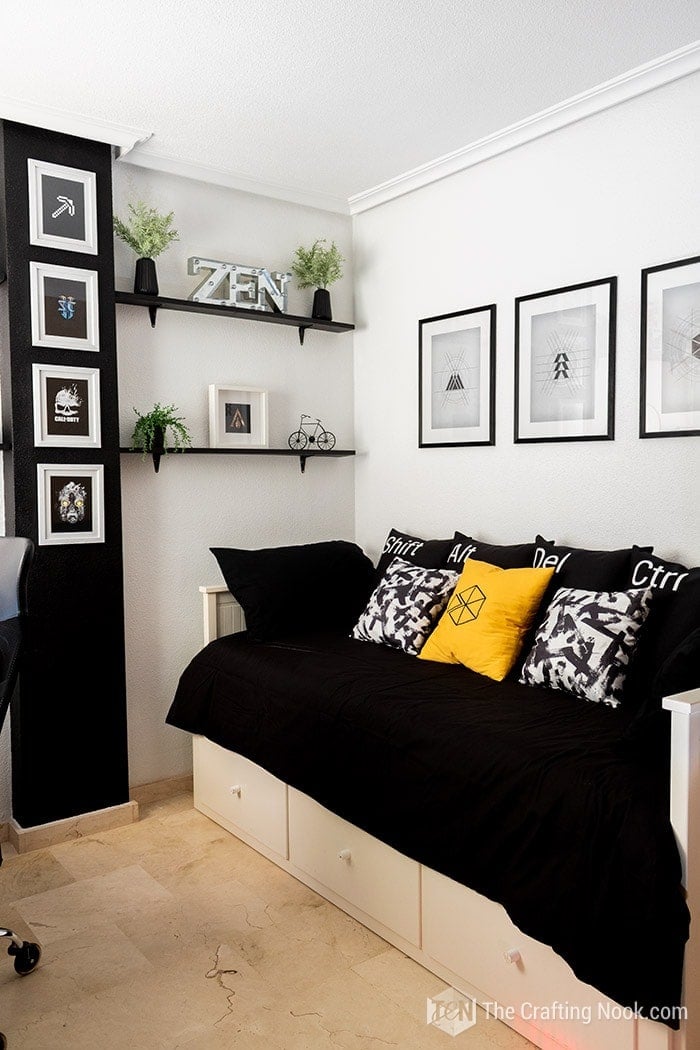 Hope you enjoyed today's tour. I was so excited to finally share it with you.
I'll leave you with some other photos of the room.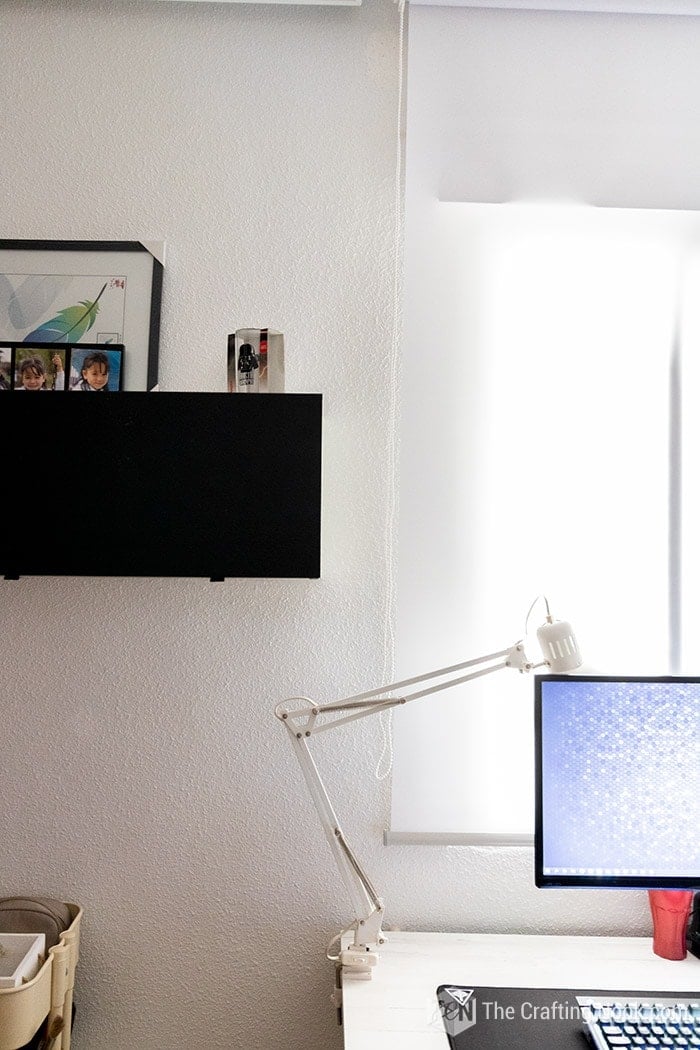 Frequently Asked Questions
What are good things to put in a gaming room?
Wireless chargers, Gaming wall art, Paper character cut-outs, Pinball machines, Board games, Cool game posters, Action Game figures, Led lights and so much more.
How can I decorate my room game?
Always consider the space available in the entire room, ambient lighting makes a huge impact, select cool entertainment centers and units, improve soundproofing for personal space, choose the appropriate home theater system, and select the wall decor, among other ideas.
What is the best color for a gaming room?
We chose black and white with accents of blue and purple. However, when it comes to color psychology, gray is the best paint color for a gaming room because it's an elegant, neutral, and balanced color. Although it may sound plain, it works with just about any background color of your choice.
More Home Decor Ideas to Try
If you enjoyed this Gamer Room Decor, You might love these other home decor ideas:
These are some other Guest Office Decor I love
If you loved what you saw today in our Home Office Makeover, don't forget to PIN and share it with friends!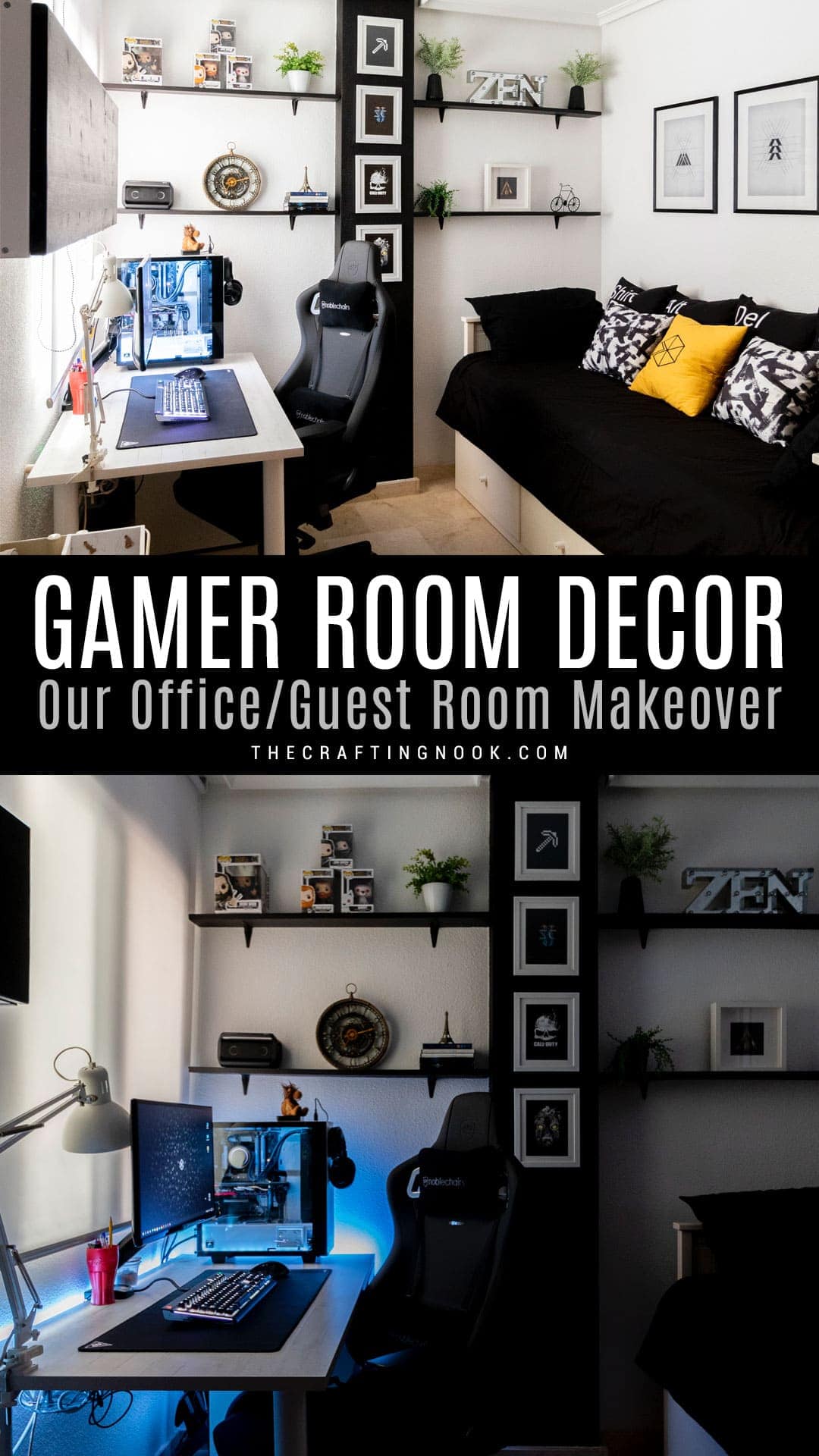 Til' next time...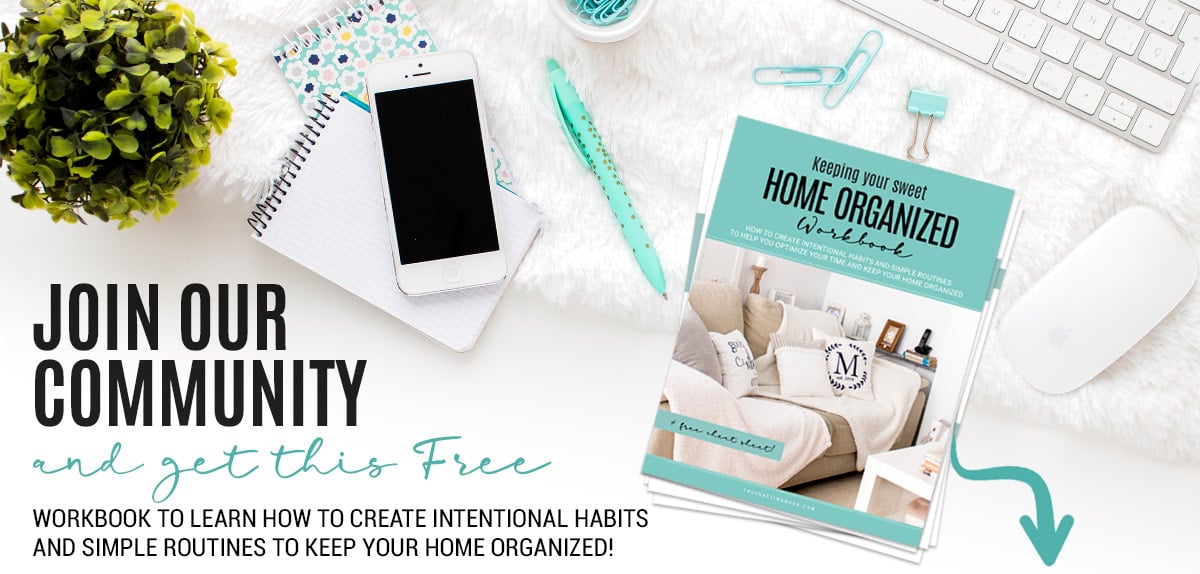 GET INSTANT ACCESS TO THE HOME ORGANIZED WORKBOOK
Plus freebies, printables, exclusive content, tips, stay connected, be the first to know great offers and Product Launches!
Disclaimer: By clicking on the "Yes, I want it" button above you are giving me your consent to collect and use your information according to the law and My Policy Privacy and The Cookie Policy. Zero Spam I promise!