Spring Kitchen Deep Cleaning and Organization
As Spring gets closer, also does the need for renewing. in my book, Spring Kitchen Deep Cleaning is a must as soon as the weather gets better. I'm sharing a few tips and my process to get a perfectly clean kitchen every time!
Just like many of you have said, spring makes us eager for cleaning and refreshing our spaces. I started with my kitchen, and it feels so fresh and renewed. Even though I can't change the fact that I live in an old building with old apartments and the kitchen is not pretty, it always makes me feel renewed when I deep clean and organize things.
Spring Kitchen Deep Cleaning and Organization.
Let me point something out first. I don't live in the States; I live in Spain, at least for the time being.  Here buildings are quite different from there and most of them are old.
There are many regulations that make it difficult to come up with really modern structures or spaces. That doesn't mean we don't have modern and gorgeous buildings and houses, but on our budget, we had to get one of the older ones.
I like it, it is nice and super comfortable though, but you won't see those awesome bright, white, wide open spaces you see in most of houses and apartments in the States, at least not in this apartment.
Any way this apartment is rented so there is not much I can do apart from clean, re-organize and reuse. Which is exactly what I did :D.
This is how my kitchen used to look like. I know, I know!… What a mess! That is why spring and you inspired me to make this deep cleaning in the first place.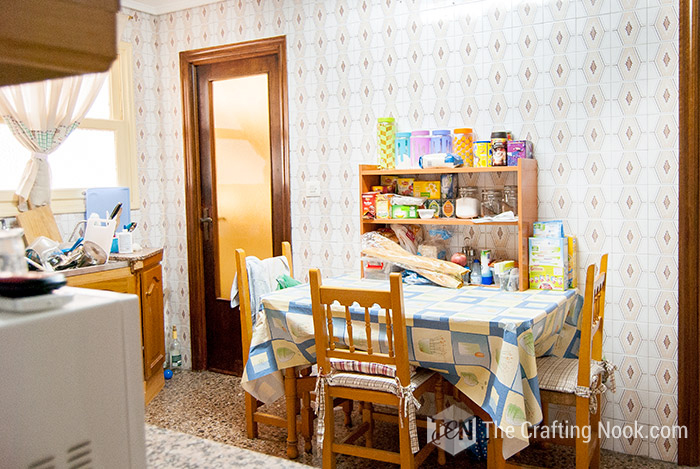 Spring Kitchen Deep Cleaning and Organization Starts
So the first thing I did was unload all the cabinets. ALL OF THEM!…
With KH-7 (strong product to degrease) I sprayed all over the cabinets (inside and outside) left it for a couple of minutes while spraying the next cabinet and then with a sponge I removed all the dirt, grease, and dust all over the cabinets. Not sure who lived here before me… sigh.
When I had them all cleaned up and shiny I began with the organization part.
Use plastic trays to organize cabinets
I had bought a while ago some very useful plastic trays that would be awesome to keep everything organized.
I cleaned them first and then planned where and how I was going to place them. So About 9 on the food cabinets and one big for Emma's Cabinet.
One of the most important and critical spaces is the one where I store the Oils and other liquid condiments such as Soy Sauce. So I took one of the trays and put a piece of kitchen absorbent paper on the bottom and put my bottles in it.
This way, once a month I change the paper and the cabinet stays clean longer.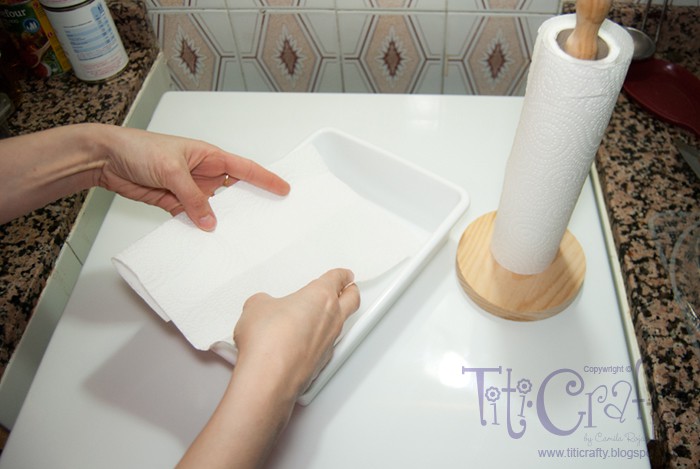 Then I used each tray for different kinds of items. A few trays for cans, tomato, tuna, sweet corn, etc. Others for Snacks, sweets, beans and so on.
Once everything was perfectly organized I went back to the cabinets that were dry and odor free.
Covered the lower shelf of each cabinet with kitchen cloth (here there is one that looks like felt).
Why only the lower one?
Because the whole idea of the trays is that when you are looking for something in the upper shelf you can pull the tray out and check, but in the lower one we all probably reach (Except for little kids but they aren't suppose to be sniffing in there, right? :P) and on the other hand, that kind of cloth absorbs humidity and keep the cabinet clean.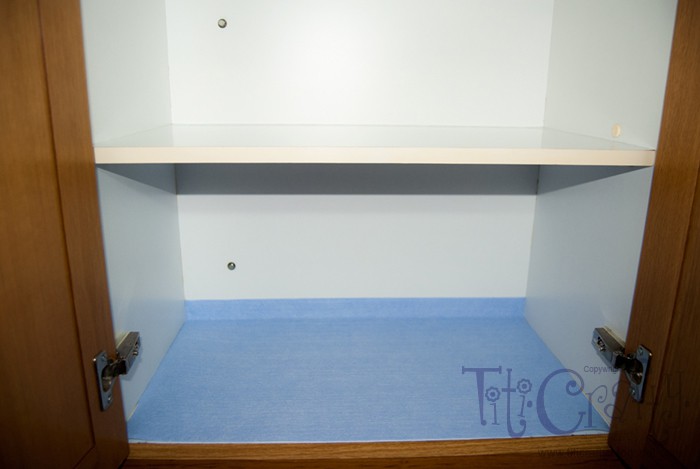 So one of my food cabinets looks like this now.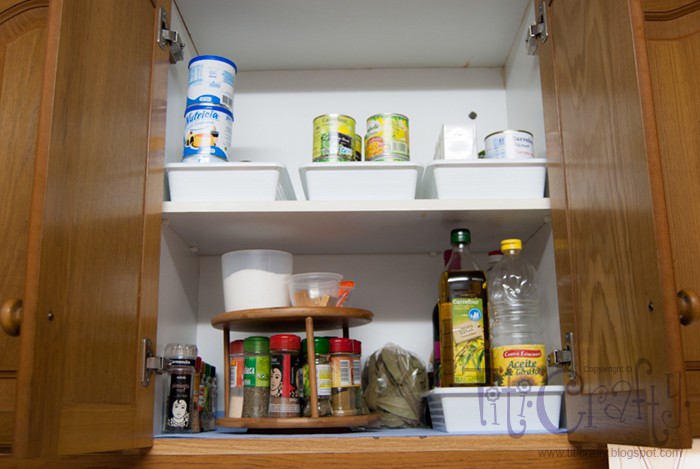 Baby's Cabinet Space Organization
The next step was Emma's cabinet! Yeah, she has her own cabinet :D. The big issue for me is "Bottles", I'm kind of obsessive with keeping them clean.
So I figured something out that worked for me. I took a bigger transparent tray and a fridge veggies rack. It usually comes with some plastic containers (I don't know exactly what it is called but it's that one in the pic).
On the bottom of the tray I placed kitchen absorbent paper, I make sure it fits perfectly then lay the rack over it. The paper absorbs humidity, so I was told.
Then I put the bottles upside down on the rack and all the lids too.  I change the paper every 2 weeks or so.
As in the other cabinets, I covered the lower shelf with the kitchen clothes and on the upper shelf just put her food and snacks. At the end it looked like this: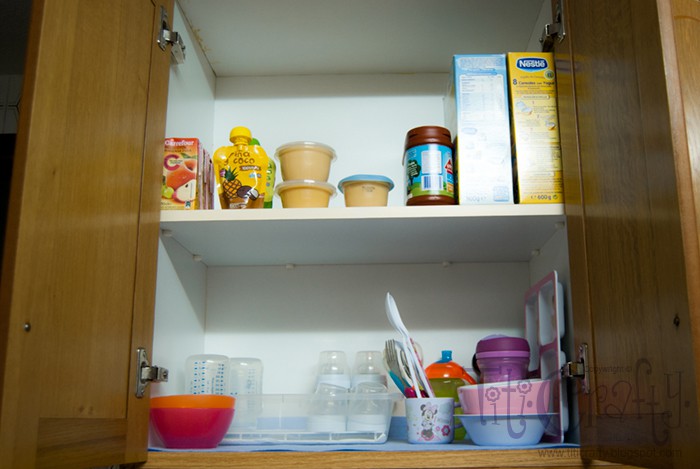 I have many cabinets. I did all this in most of them, I'm just showing you those that had special treatment.
The pots and pans cabinet.
That wasn't hard since I don't have many pots :D. But anyway, I covered it with the cloth, in this case, I attached it to the cabinet with some adhesive tape just to avoid having it moving around.
I like to place pots on the top shelf of the cabinet and the pans on the lower one. If I have enough space I prefer not piling them so I got this:
Under-the-Sink Cabinet AKA the nightmare.
The cleaning products cabinet :-O. That one is a pain because I have a water filter and it is right in there Eek!. Anyway, I managed to organize it be the best I could.
I used one medium sized tray and put in all the liquid products, so it would be easy to clean any leaks or the usual dirt.
The products I don't use often I placed in the back and the rest of the items I put in order.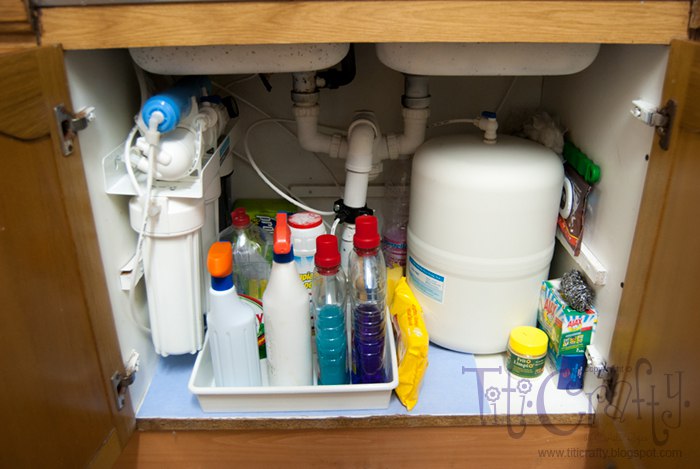 The dining table.
Gosh, the table!!!. THAT WAS A MESS. I started with the tablecloth, I was bored to death of that one, and besides it was all torn on the corners so I changed it with another one I liked better :D woohooo.
I have this shelf on the table. It is my best friend, I can have handy a lot of things but on the other hand, is a magnet for the disorder. Everything ends up there.
So first I took everything away and rearranged and cleaned everything.
I took a plastic box I had around and put all the tea bags in it, organized by flavors in different zip-lock bags and left a piece of the box as a tag in the bags to know what is what. This way I got rid of all those boxes :D Yayyyy.
I put away al the cans and jars I had there and just left the coffee, sugar, rice, pasta, etc. jars in the upper shelf.
The next shelf was for tea, sugar, salt, oil, vinegar, holders and other daily stuff.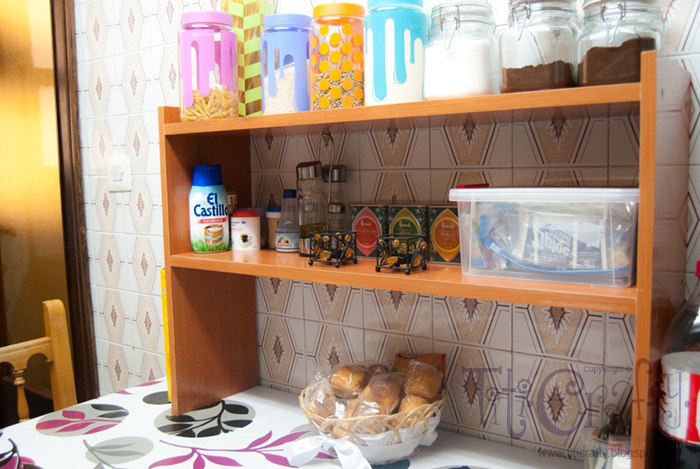 On the table, I just put a cute basket decorated by me using satin ribbon and a bow and put some cupcakes and sweets.
So much more space now!!!
Finishing my Spring Kitchen Deep Cleaning and Organization.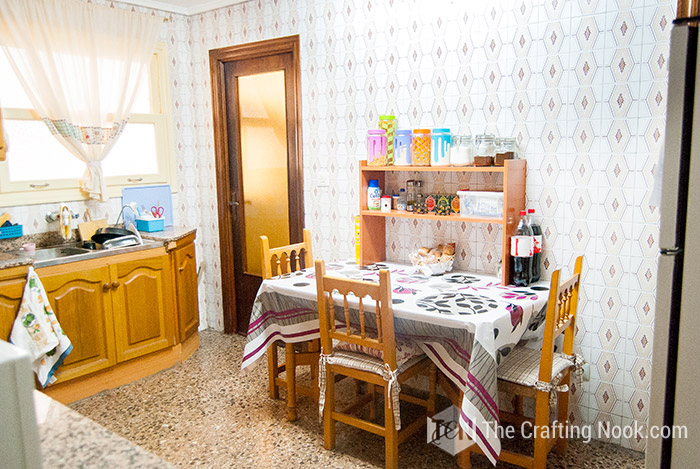 I cleaned up all the tile walls and the granite counter with a sponge and cloth with Ajax with Expel, I love that product!
I placed some veggie and fruit baskets around, and all my wood utensils I put them in a cute cookie can that I found that matched with the kitchen colors :D.
Of course, I washed the curtains and all the chair cushions :D.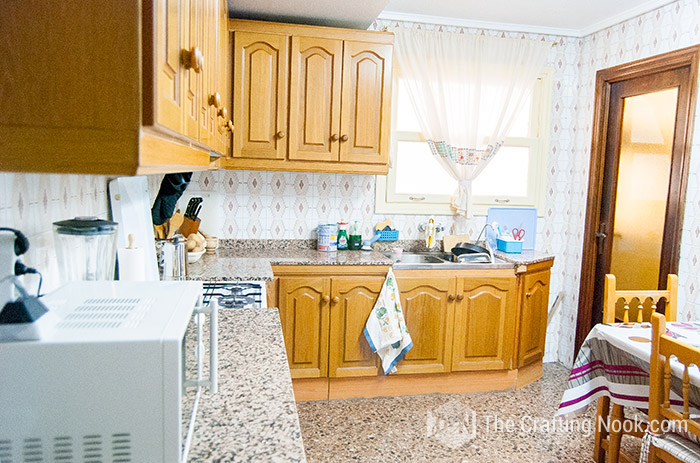 So that was pretty much it!… It was a whole day thing, the next day I was stiff!!! Every part of my body hurt hahaha but it was worth it :D.
Some Spring Cleaning tips I love from favorite bloggers:
So, what do you think?. How did I do?  Not bad, huh? Your opinion and comments are so important and totally make my day, it gives me a huge motivation to keep going and making crafts and white papers!!! If you like my happy spot I invite you to subscribe and get my updates. You also can follow me on all social networks.
I LOVE your opinion and comments, it totally makes my day, it gives me a huge motivation to keep making fun stuff and crafts!!!
Til' next time...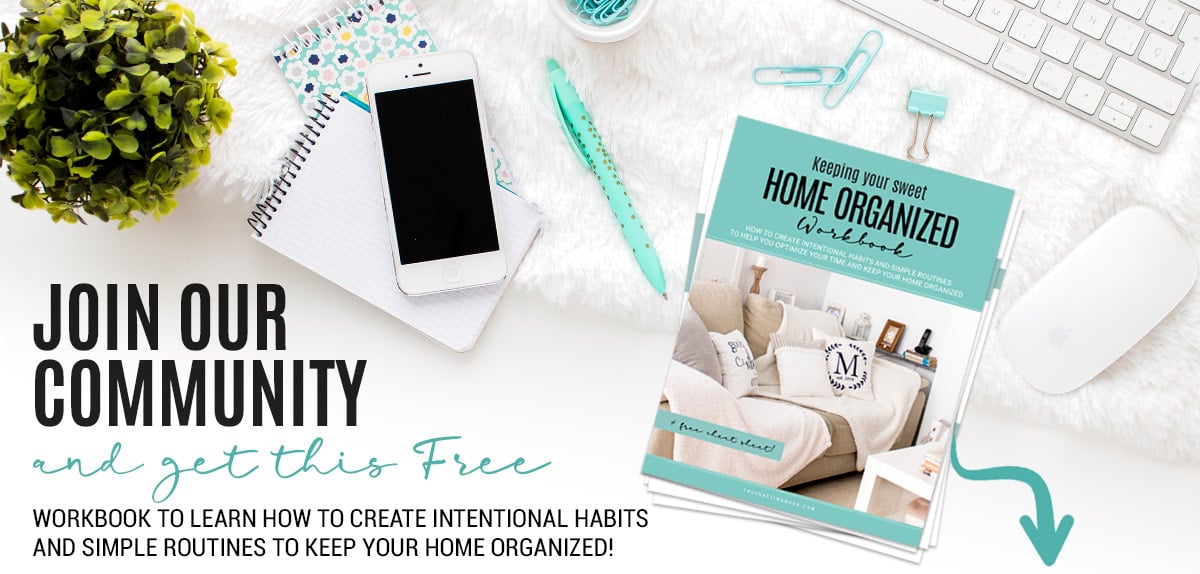 GET INSTANT ACCESS TO THE WORKBOOK
Plus freebies, printables, exclusive content, tips, stay connected, be the first to know great offers and Product Launches!
Disclaimer: By clicking on the "Yes, I want it" button above you are giving me your consent to collect and use your information according to the law and My Policy Privacy and The Cookie Policy. Zero Spam I promise!