New home, new life, new beginning, right? I definitely believe that's true. I recently moved to a new apartment completely unfurnished. I must say that here in Spain most apartments for rent are already furnished but the lower the budget the worst quality the furniture will be. In some cases apartments look like the owner's room storage. I personally hate that. No style, excess of "STUFF" in each room and no possibilities to start having our own stuff. So when we found this apartment, all modern and "EMPTY" I knew right away this was it. The thing is that now I needed even more ideas than before to start decorating it and making it my cozy place. Today I'm sharing with you some of my very favorite findings for a rustic master bedroom decor ideas.
18 Rustic Master Bedroom Decor ideas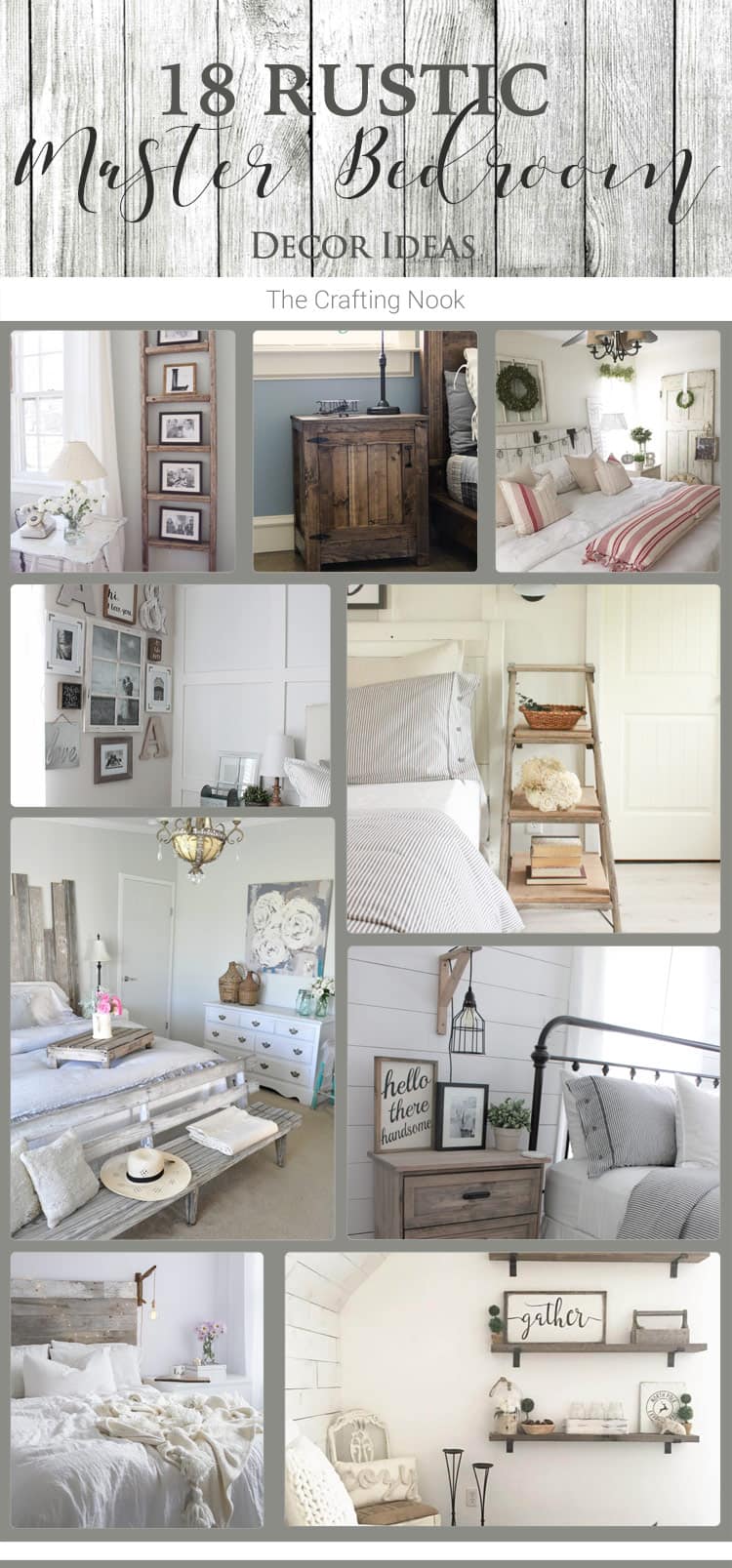 So let me recap the circumstances of this apartment. When I started looking for a new apartment I had a LONG list of must haves for it. I was kind of like the Property Brothers people. Of course I had to land my feet on the ground at some point and give up things for others to be possible. In Spain, specially in this town is hard to find modern, big, comfy, bright apartments. Most big apartments are really old and with it really old everything. Old floors, bathrooms, doors and specially kitchen. Garage is a pain here. most people park in the street and some like me has to rent a spot it in a different building's garage. No fun. When I found this one, I realized I had to make a decision and it was between keep looking or give up the size to have everything else and so I did.
When I say my apartment is small I really mean it. It's the wall-night table-bed-night table-wall kind of small. It will be challenging to make it pretty and comfy but I'm more than willing to give it a fight. I'm aiming for a rustic-farmhouse and also minimalist style. For that reason and because I'll start working on my bedroom, I'm sharing this round up of awesome ideas from awesome decorating bloggers I've found and follow.
So, how about checking these Rustic Master Bedroom Decor ideas out?
Let's go!
Disclaimer: *My round ups are only for inspiration ideas. Just like I do for all my round ups, I get a lot of inspiration from Pinterest. If you are at all familiar with that platform you know there are tons of pictures with no direct links to the original source. Some pictures featured here I found no source for or directed to the wrong one but if you know the source, contact me and I will update this post immediately, thank you so much!
I so love the look of the side table and the carpet. BUT I specially love the lamp styling! So clever and so pretty!
*I couldn't find the original source of this Bedroom but I SO love everything about it specially the ladder and the shelf above the headboard. If you happen to know who this photo belongs to please let me know and I'll link it back to the owner.
I love how bright this room looks. I love the headboard and the window frame above. It all looks so pretty.
I so love crates and I never thought of using them like this. The whole combo looks so pretty and combines my favorite colors stained wood and white. I might try this if I think it will fit inside my room.
How gorgeous does this bench look? I absolutely adore the combo headboard and the bench. Again the bench probably won't fit BUT the headboard is a possibility!
Absolutely loving this gallery wall. The window frame for the main photo looks astonishing. Something I'm looking forward to making!
Idea via Simply Beautiful by Angela