I'm so excited to be here today! I'm Dana from This Silly Girl's Kitchen and I have a fun summer recipe to share. I hope you enjoy! Today I'm sharing my Creamy Goat Cheese Bruschetta, goat cheese and cottage cheese blended together, smeared on toasted baguette and topped with tomatoes, a yummy app or side dish!
Creamy Goat Cheese Bruschetta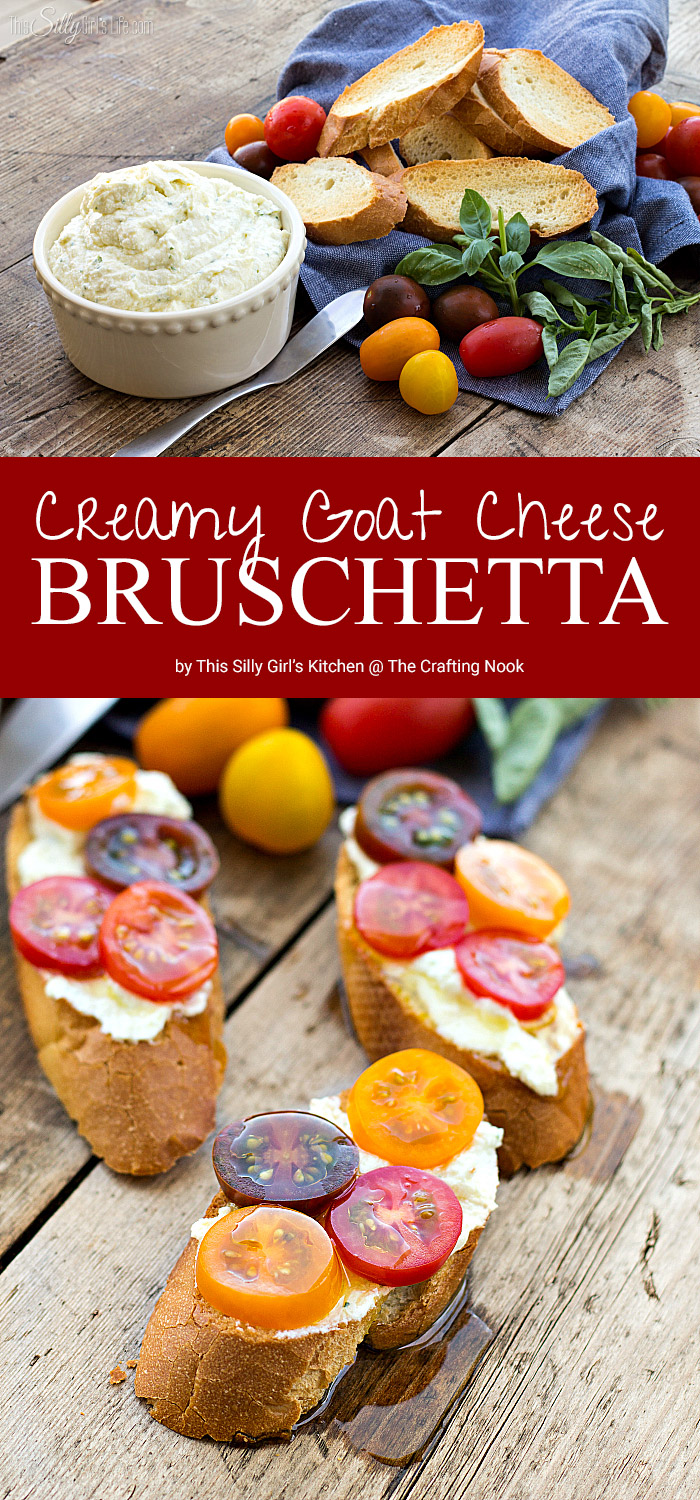 It's no secret that I love small bites. I love mini desserts and appetizers. Something about just a few bites of something, especially when eaten with the hands just draws me in! I'm constantly coming up with new ideas and bruschetta is one dish that I keep making over and over in different variations!
I have already posted a traditional brushetta with garlic crostini and whipped feta bruchetta with grilled crostini! Don't forget about those cute creamy brushetta bites or blueberry and honey dessert bruschetta as well, I know, it's an obsession! (How many times can I say "bruschetta" in one paragraph?! lol)
All this month, I will be sharing one appetizer a week! I'm so obsessed, I constantly have ideas and I think summer is such a great time to eat lighter, and having small bites is the perfect solution!
Now for the recipe!
Creamy Goat Cheese Bruschetta
Creamy Goat Cheese Bruschetta
Ingredients
Goat Cheese Spread
1

Cup

cottage cheese

4

oz

goat cheese

5

cloves

roasted garlic

or one fresh garlic clove, minced fine

1/4

Cup

extra virgin olive oil

10

basil leafs

rough chop

salt and pepper to taste
Assembly
12

oz

grape tomatoes

sliced into rings

extra virgin olive oil drizzle

basil leafs for garnish

optional

1

baguette
Instructions
Goat Cheese Spread
Place cottage cheese, goat cheese, garlic and basil into a food processor. While pulsing, drizzle in the oilve oil. Taste, season with salt and pepper to taste. Set aside.
Assembly
Slice baguette into 1/2 in slices. Toast under broiler.

Top crostini with goat cheese spread, sliced tomatoes and drizzle with olive oil. Garnish with chopped fresh basil if desired, serve and enjoy!
Yumm, so simple and delicious!
You can also use the spread as a dip for veggies, it is super versatile! Also, changing up the herbs for different meals is a great option too! Chopped rosemary and thyme, topped with thinly sliced flank steak and a drizzle of balsamic vinegar would be a super fancy (yet simple!) app at your next get together!
Since you're here already, why don't you stay a while and check out these other yummy recipes:
Roasted Garlic Cream Cheese Dip
Whipped Goat Cheese Tomato Bites
Bruschetta with Whipped Feta and Grilled Crostini
See you next time!!!!
Dana!
…And if you crave for another bruschetta recipe, how about this one?