DIY Decorative Trash Bin out of a Tin Can
Trash bins shouldn't be always ordinary, ugly or expensive. Make it unique by upcycling tin cans and get a pretty Decorative Trash Bin for your desk or office space.
I have o question, How many tin cans do we throw away to the trash every year?… No comments LOL.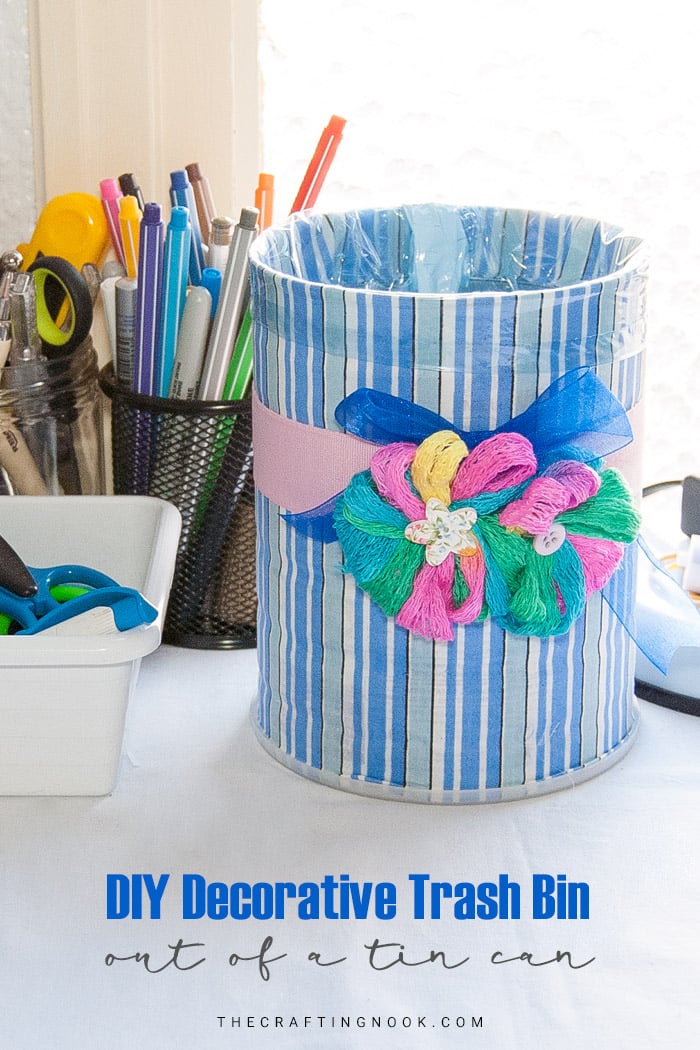 How to make a Decorative Trash Bin out of a Tin Can
Here in Spain Baby Milk formula comes in big tin cans, about 1 Kg (about 1/2 pound), which is awesome to reuse on so many purposes. In the end, any tin can in reusable isn't it?. In my case, I used it to make a decorative trash bin to my work station because I didn't want anything commercial or bought. So, I decided to decorate one of my baby's milk tin cans and upcycle it to a better purpose (I had a few saved for an opportunity like this =D)
If you would like to make one, here is how I made it.
What you need for this Decorative Bin:
A tin can.
Fabric piece.
Ribbon
Flowers or any decoration you like
A brush
White glue
Hot glue gun
Scissors
Decorative Trash Bin out of a Tin Can Tutorial
Firstly, if you tin can has a lid, don't throw it away.
Straighten your fabric, it really doesn't matter if it's wrinkled, it will be fine after gluing it.
Measure your tin can height. Then mark it on your fabric leaving about 1 inch on both top and bottom.
Also, measure your tin can's perimeter (around the can).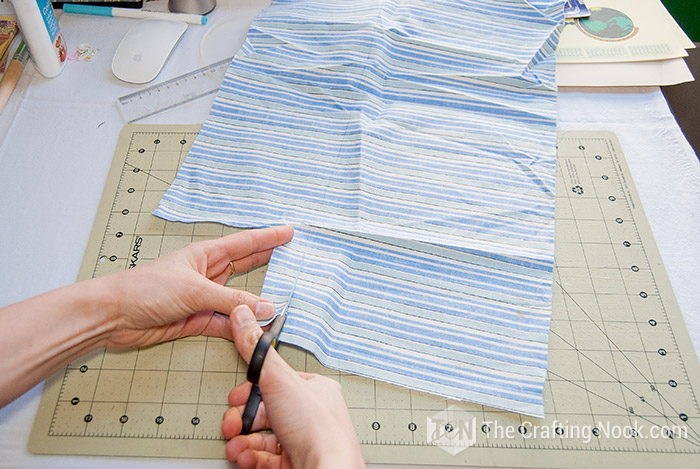 Cut your fabric
Apply your white glue with the brush to your tin can by sections.
Then start gluing your fabric straightening int with your fingers or a scraper. Go by sections.
When you reach the other end, fold it and glue it.
Once the end is glued, apply some more glue on top of the folded end. Don't worry it won't be really visible but it will protect the end.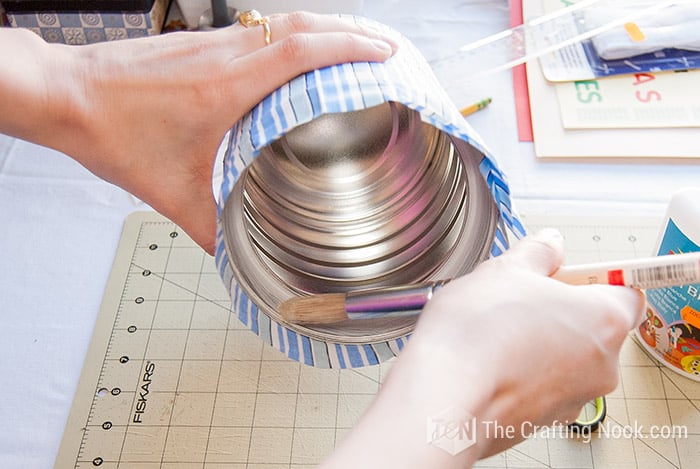 Once done, let it dry for a little while and then apply glue to the inner edge of the tin can and fold the fabric inwards. Apply some glue on top here too.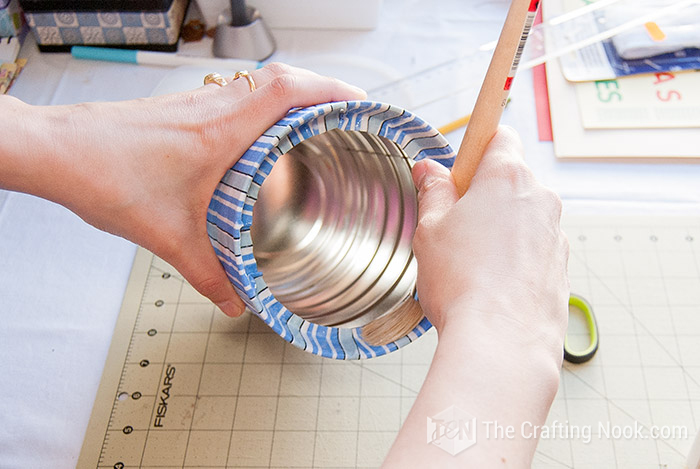 The bottom extra fabric, cut right at the edge of the tin can and apply some glue so it won't fray.
White it all drys, You can plan your decoration.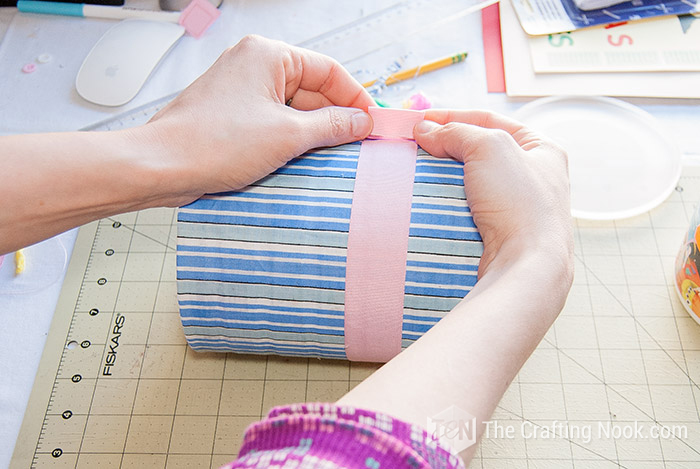 Once dry, I used ribbon to decorate my trash can. I place it around the tin can making sure the fabric cover end would stay in the back. Fonding the end, I glued it with hot glue in the front.
To hide the finish, I glued a couple of cute flowers made with yarn.
Finished the decoration with some cute buttons as the flower center.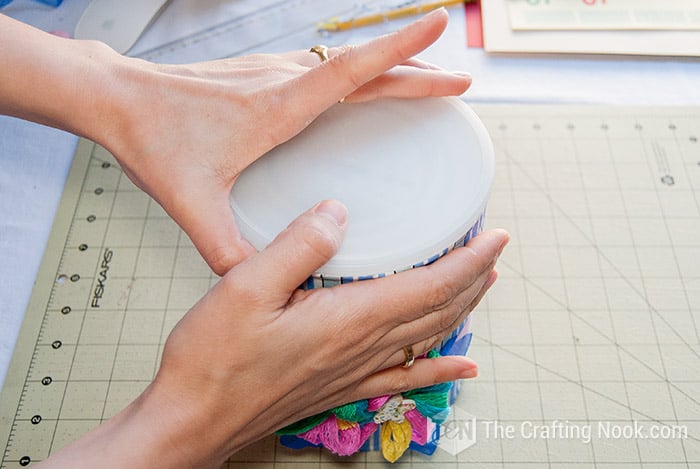 Lastly, remember the lid I told you not to throw away. Well, you can now put it back but to the bottom of your can as a finish. it will protect your tin can from rusting and the fabric from fraying. Most importantly will prefent the can from scratching any surface. Win-win!
Putting the lid back is tricky since now you can the fabric but it's totally possible being careful and with a little patience.
Voilà! This how mine looks and I loved it.
Trash bins don't have to be ugly or ordinary. They can be part of our decoration and imagination is the limit.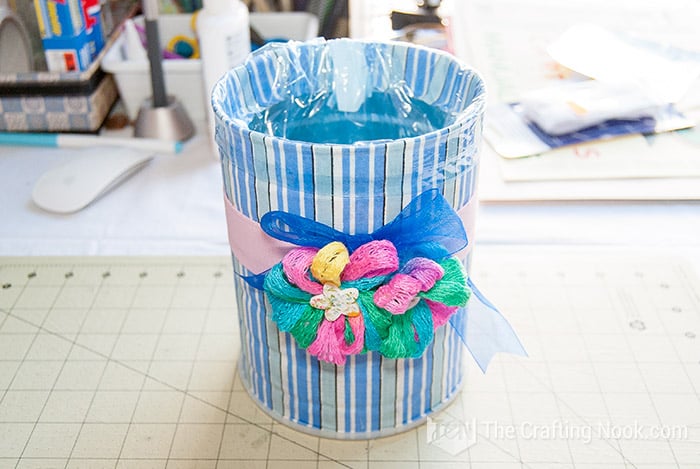 What else can be made with tin cans?
What do you think? Do you like this upcycling idea?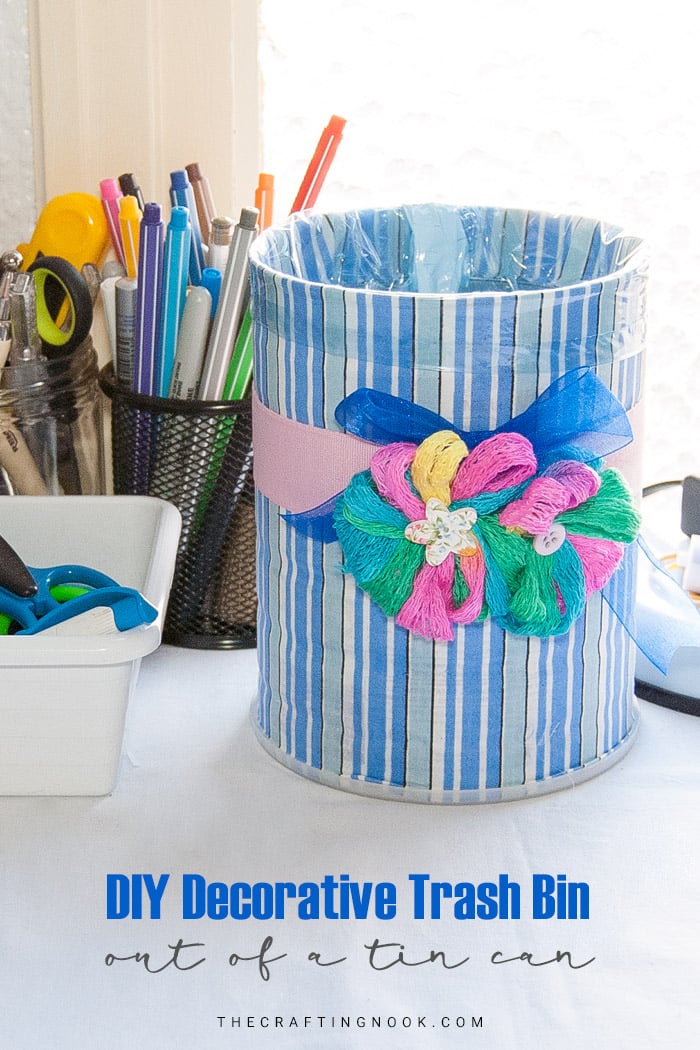 I LOVE your opinion and comments, it totally makes my day, it gives me a huge motivation to keep making fun stuff and crafts!!!

If you enjoyed this DIY Decorative Trash Bin out of a Tin Can, you might also love these ideas too: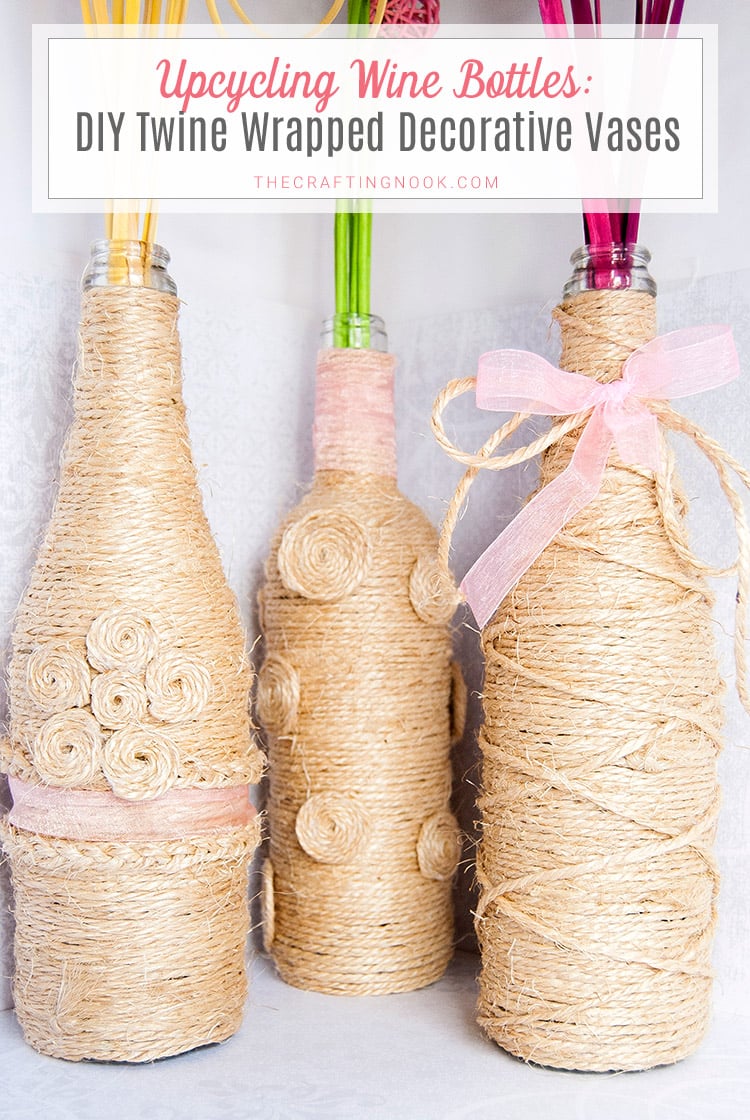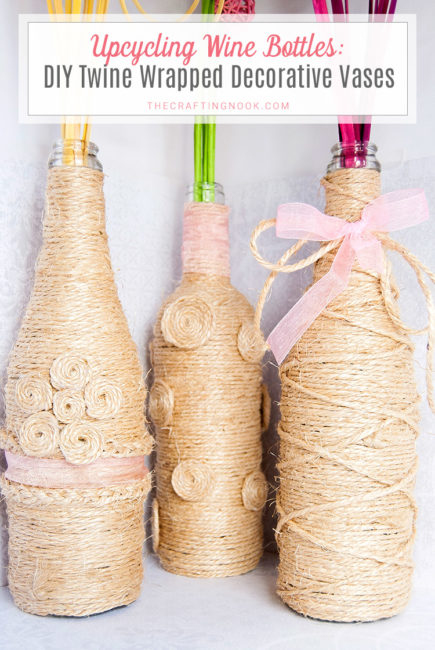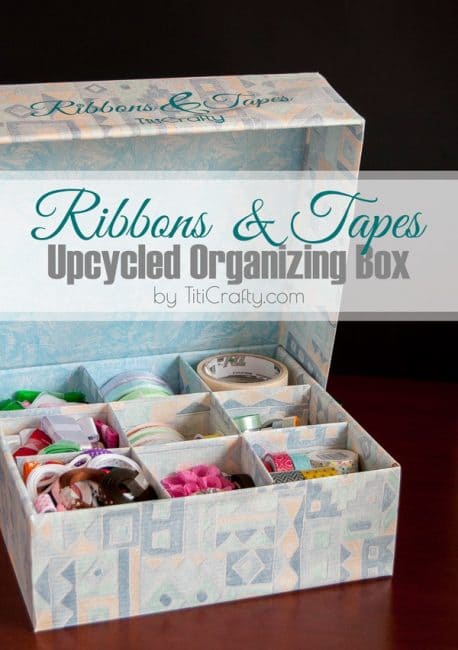 Til' next time...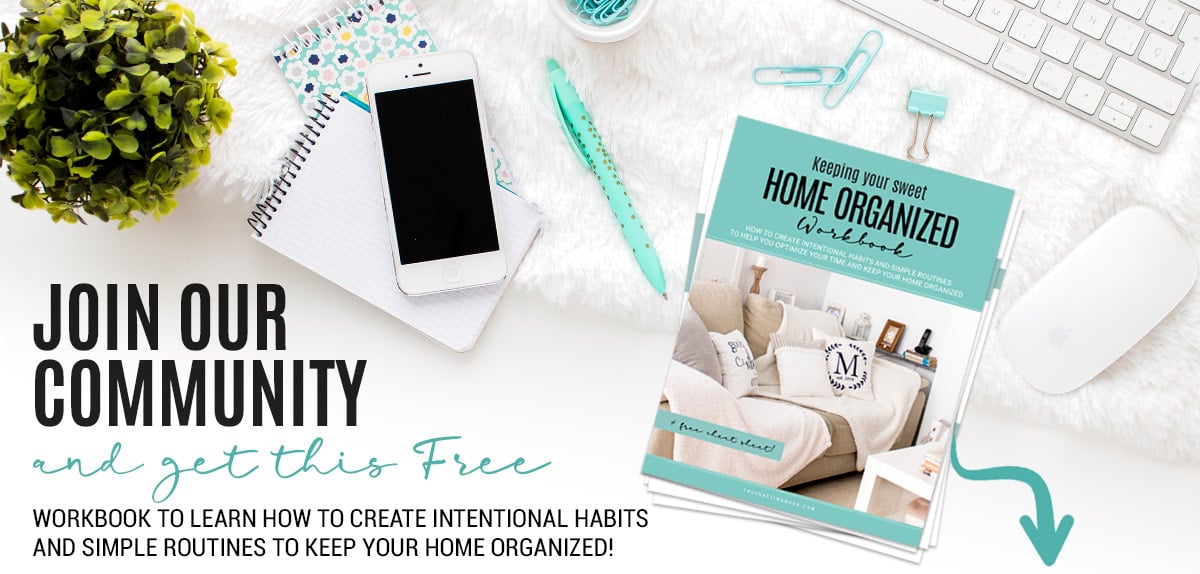 GET INSTANT ACCESS TO THE HOME ORGANIZED WORKBOOK
Plus freebies, printables, exclusive content, tips, stay connected, be the first to know great offers and Product Launches!
Disclaimer: By clicking on the "Yes, I want it" button above you are giving me your consent to collect and use your information according to the law and My Policy Privacy and The Cookie Policy. Zero Spam I promise!