My girl has been a fan of Frozen movie for over a year now even though It came out in theatres over 2 years ago LOL. It's crazy how that movie has kept its audience so fiercely attached. For that reason my girl had decided about 6 months ago that she wanted a Frozen Themed Birthday Party and she never changed her mind, not even once. That tells you how she is in my day-to-day life LOL.
Frozen Themed Birthday Party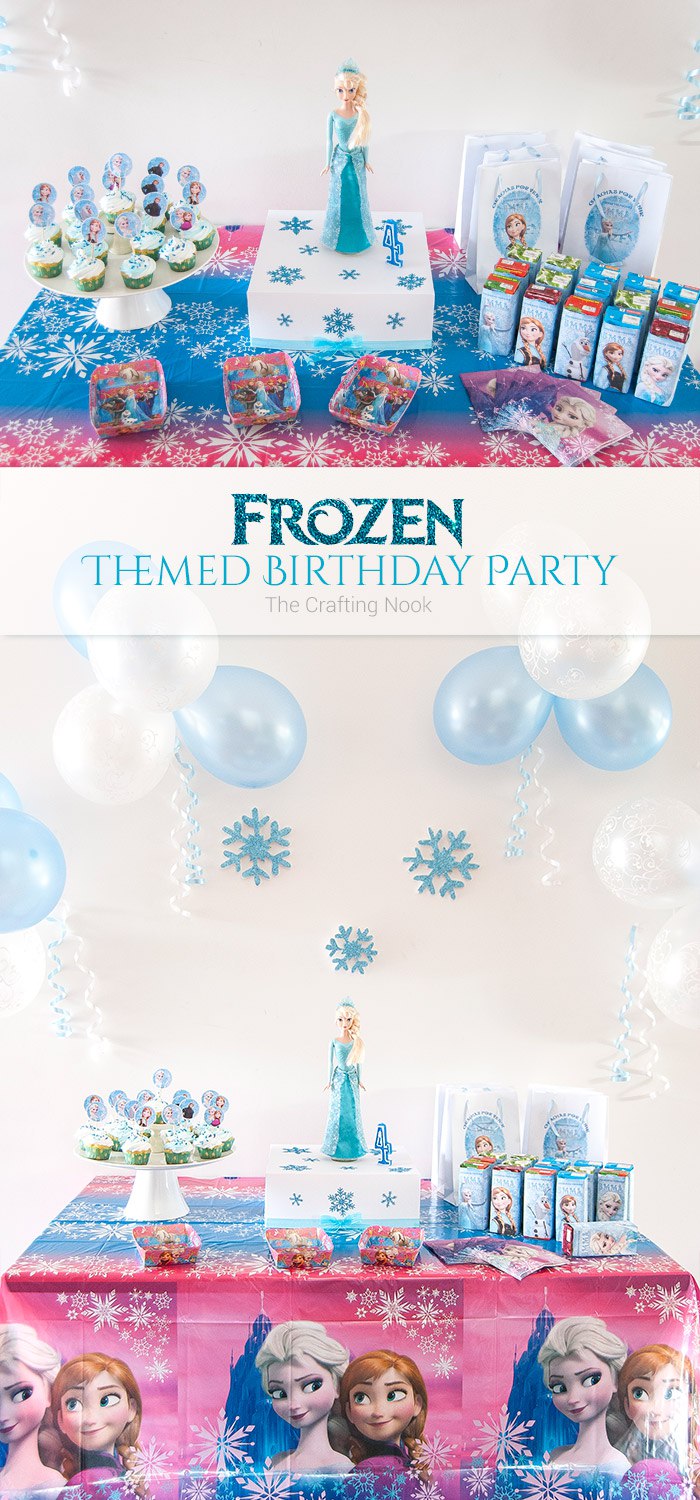 I started working on her party about 3 months ago, but I only really focused on it about a month ago and I still had to run at the end because of final details. Doesn't matter how early you start, the last couple days are a nightmare. At leas they are if you are a perfectionist and control freak, like I am.
It's still fun though. Just the thought of having all done and a huge smile on the kid's face is more than enough. I must say Emma was really collaborative and supportive. She would tell me all the time: "Mommy I love everything you are making" with such smile in her face. I didn't need anything else to keep creating more and more.
I remember my girl's 1st birthday. I literally worked for about 3 months. I made it ALL. Even the tablecloth was handmade. It was all about owls and it had flowers and butterflies and I had to cut everything with cutter and scissors. I was so excited about having all done. It was my dream so when Em is older I can show it to her.
I couldn't do anything for her second birthday and then I finally managed to make a Blue's Clues Themed Birthday Party and everything turned out super cute. I have photos of it but I haven't post about it. Silly right?… I might do it anytime soon.
So, for this birthday party I mixed some bought stuff with other handmade. The main reason was that since the celebration was going to be in her school, the time was not worth making every single detail. I made all those that matter most to me.
This was the overall look I was looking for when the decoration was all done.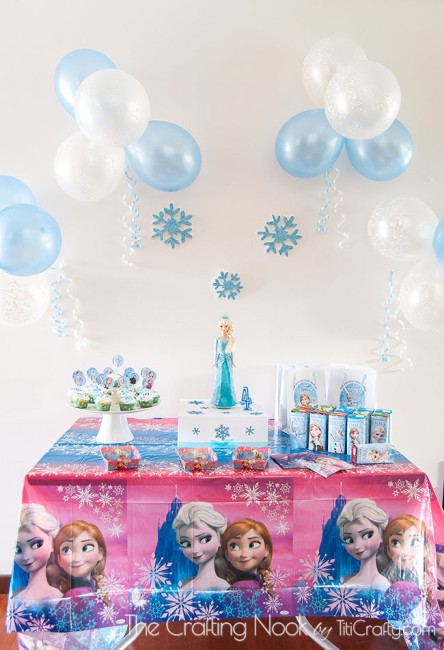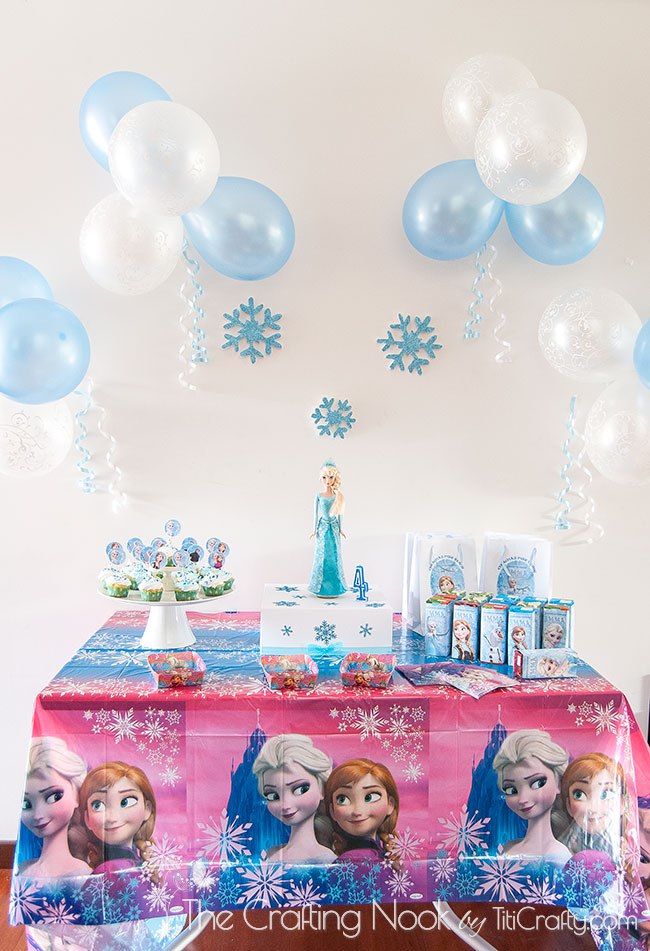 But of course it all started with the invites!
I put a lot of effort and love in these ones because my girl was so excited about inviting her friends to her party.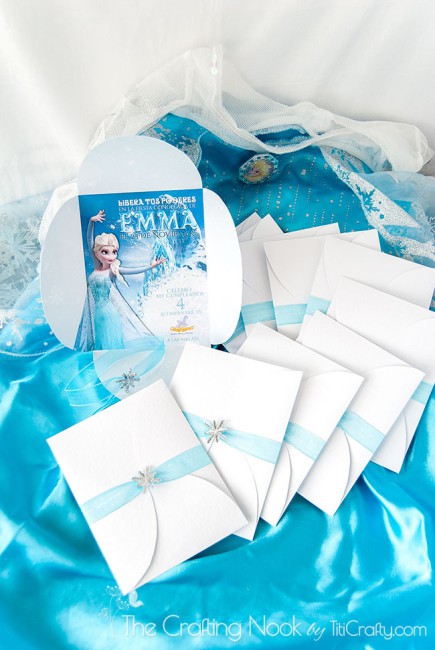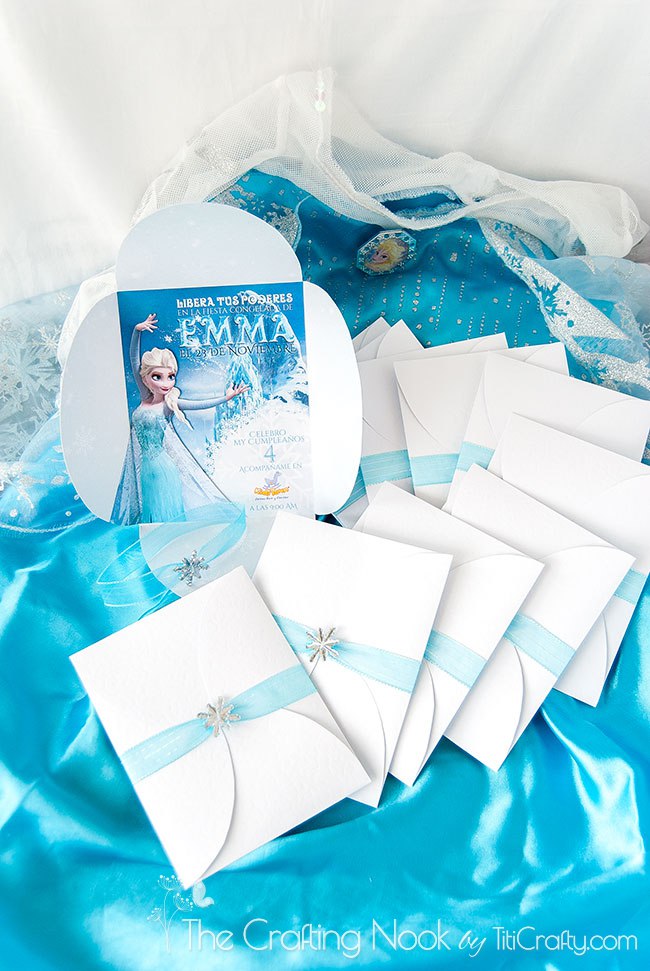 So I used this cute shape for the main card that would become the envelope too. I wanted the card to be a little different so I decided to make Elsa in a new layer so it would look a little 3D. I also created a Birthday Logo for Emma. I actually have done this for each birthday party I've made. The whole card is in Spanish since we are in Colombia but the Logo says: "Set free your powers at EMMA'S Frozen Party" I tried to recreate the Frozen effect for the word Emma.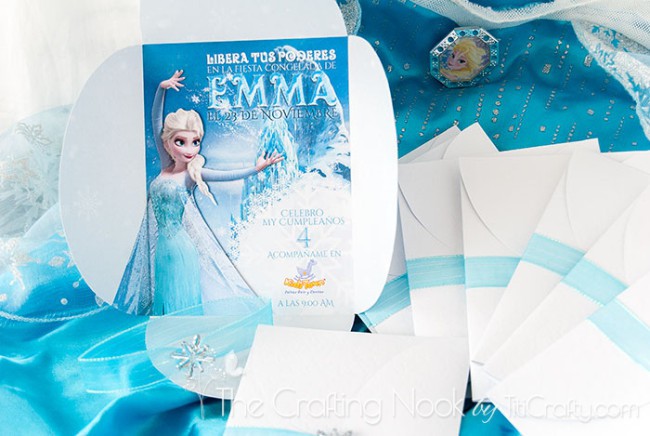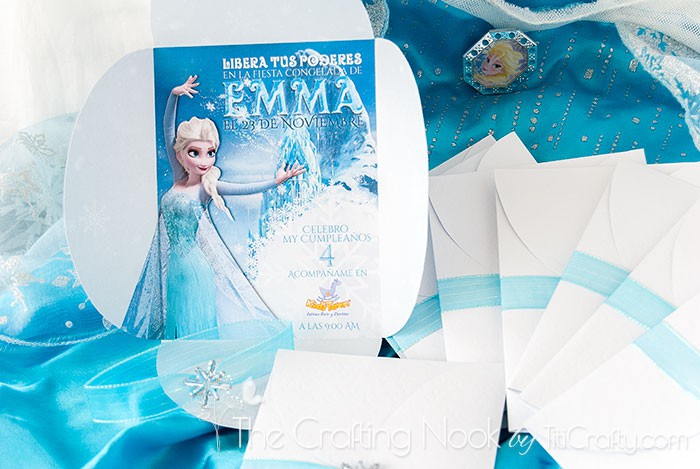 When you close the card it looked like a flower and it was hold by a blue ribbon and a snowflake. Cute isn't it?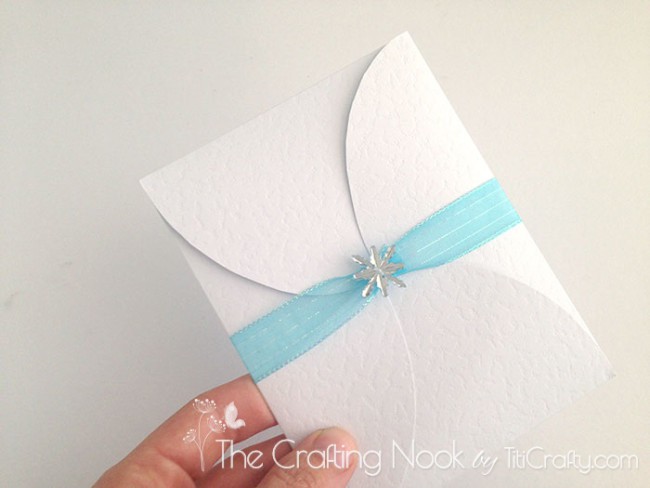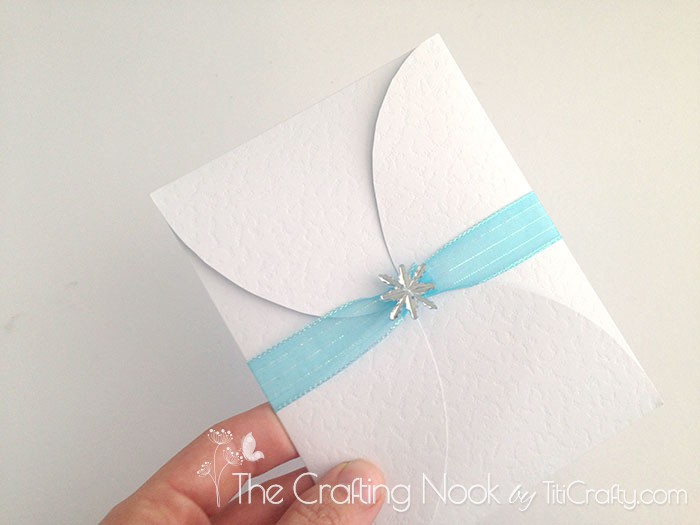 If you want to learn how to make these invites you can check out the full tutorial HERE.
Brazilian Traditions
Half of my roots are Brazilian and I grew up with Brazilian birthday parties traditions and somehow I want to keep them. One of those traditions is that we cut the cake and place them in individual boxes and all the boxes are inside a big box that is the "CAKE" we sing happy birthday to it! LOL weird right?…