Frozen Themed Birthday Party
My girl has been a fan of Frozen movie for over a year now even though It came out in theatres over 2 years ago LOL. It's crazy how that movie has kept its audience so fiercely attached. For that reason, my girl had decided about 6 months ago that she wanted a Frozen Themed Birthday Party and she never changed her mind, not even once. That tells you how she is in my day-to-day life LOL.
Frozen Themed Birthday Party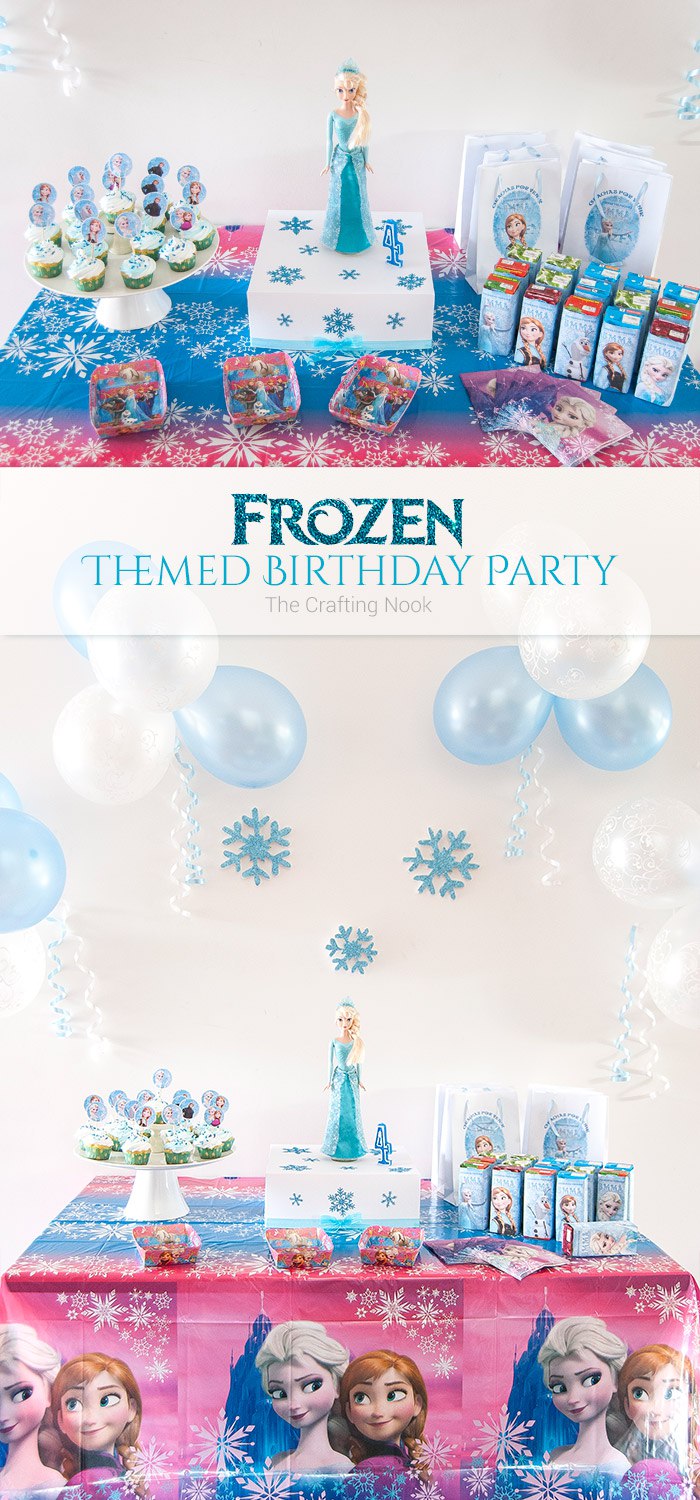 I started working on her party about 3 months ago, but I only really focused on it about a month ago and I still had to run at the end because of the final details. Doesn't matter how early you start, the last couple of days are a nightmare. At least they are if you are a perfectionist and control freak like I am.
It's still fun though. Just the thought of having all done and a huge smile on the kid's face is more than enough. I must say Emma was really collaborative and supportive. She would tell me all the time: "Mommy I love everything you are making" with such a smile on her face. I didn't need anything else to keep creating more and more.
I remember my girl's 1st birthday. I literally worked for about 3 months. I made it ALL. Even the tablecloth was handmade. It was all about owls and it had flowers and butterflies and I had to cut everything with a cutter and scissors. I was so excited about having all done. It was my dream so when Em is older I can show it to her.
I couldn't do anything for her second birthday and then I finally managed to make a Blue's Clues Themed Birthday Party and everything turned out super cute. I have photos of it but I haven't posted about it. Silly right?… I might do it anytime soon.
So, for this birthday party, I mixed some bought stuff with other handmade. The main reason was that since the celebration was going to be in her school, the time was not worth making every single detail. I made all those that matter most to me.
This was the overall look I was looking for when the decoration was all done.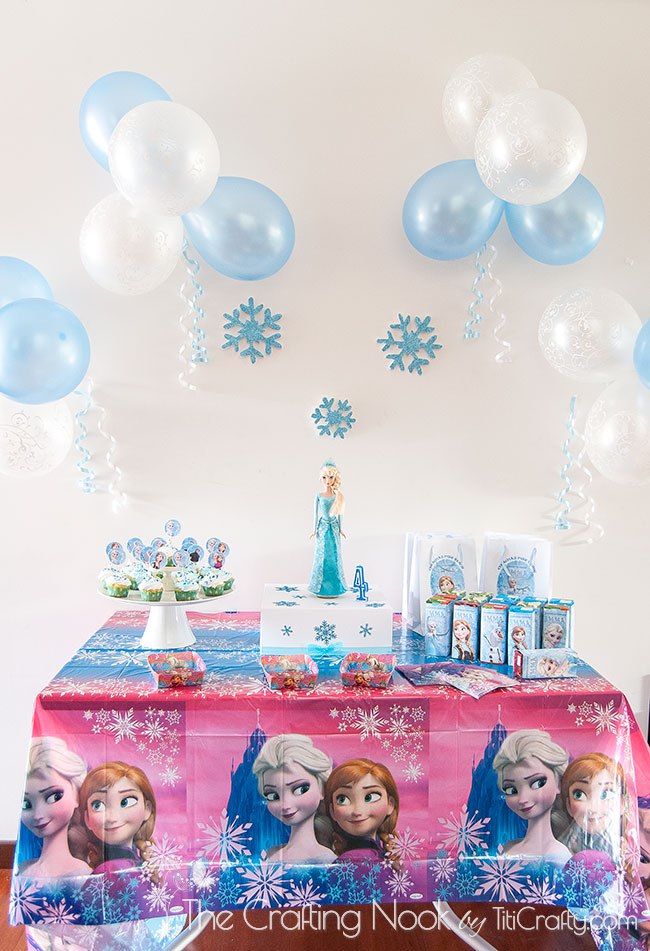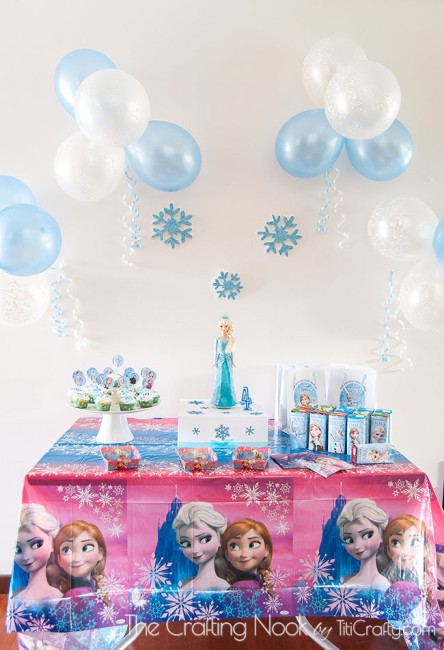 But of course, it all started with the invites!
I put a lot of effort and love in these ones because my girl was so excited about inviting her friends to her party.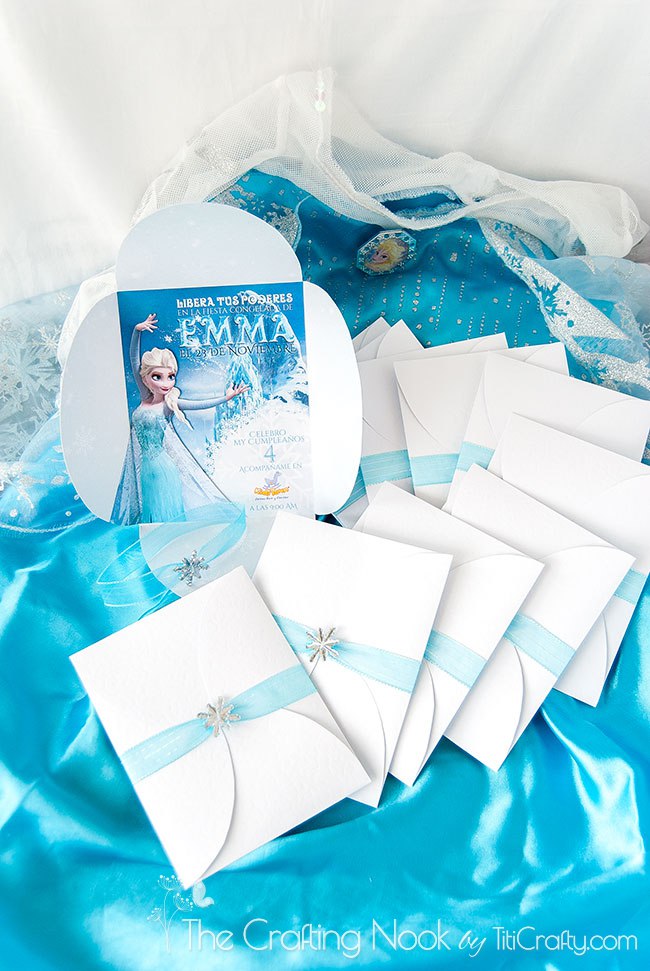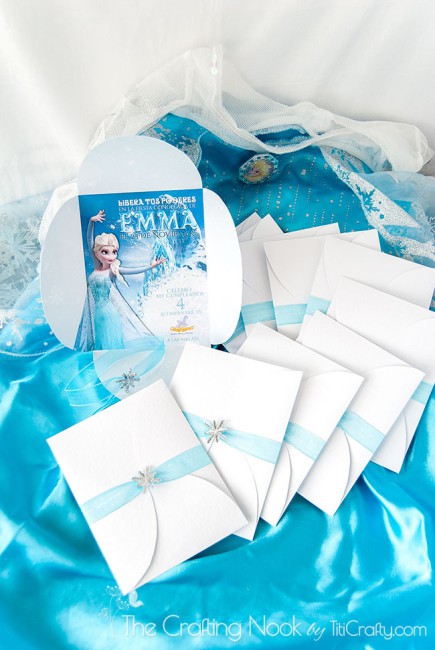 So I used this cute shape for the main card that would become the envelope too. I wanted the card to be a little different so I decided to make Elsa in a new layer so it would look a little 3D. I also created a Birthday Logo for Emma. I actually have done this for each birthday party I've made. The whole card is in Spanish since we are in Colombia but the Logo says: "Set free your powers at EMMA'S Frozen Party" I tried to recreate the Frozen effect for the word Emma.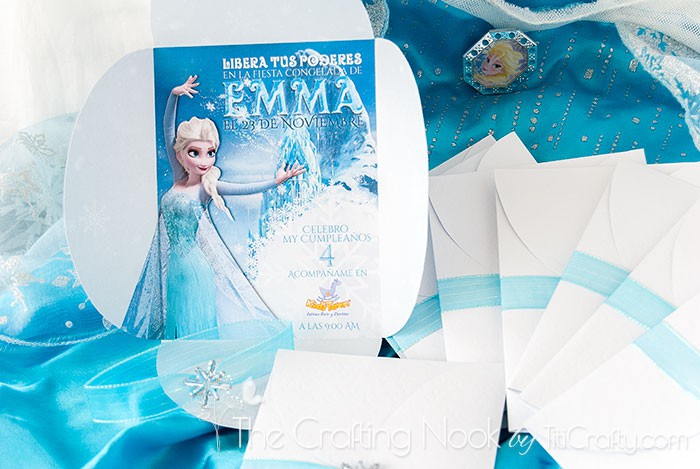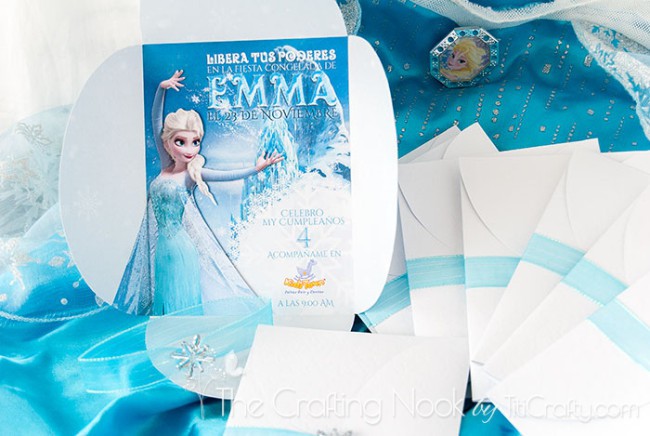 When you close the card it looked like a flower and it was hold by a blue ribbon and a snowflake. Cute isn't it?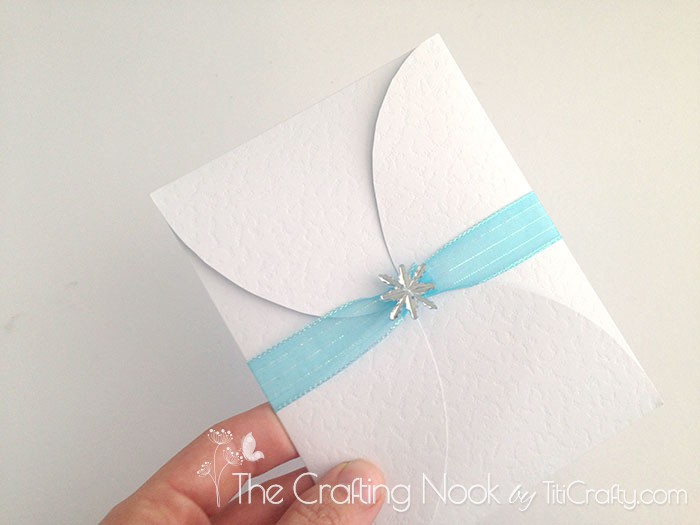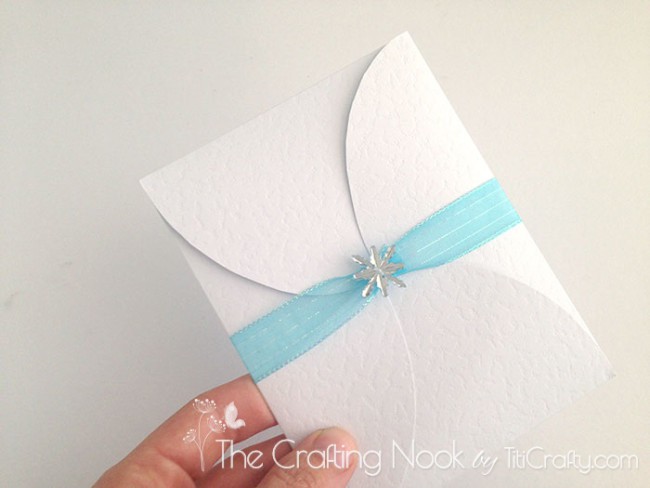 If you want to learn how to make these invites you can check out the full tutorial HERE.
Brazilian Traditions
Half of my roots are Brazilian and I grew up with Brazilian birthday parties traditions and somehow I want to keep them. One of those traditions is that we cut the cake and place them in individual boxes and all the boxes are inside a big box that is the "CAKE" we sing happy birthday to it! LOL weird right?…
But here is the why… Once we sing happy birthday, we just give to each people an individual cake.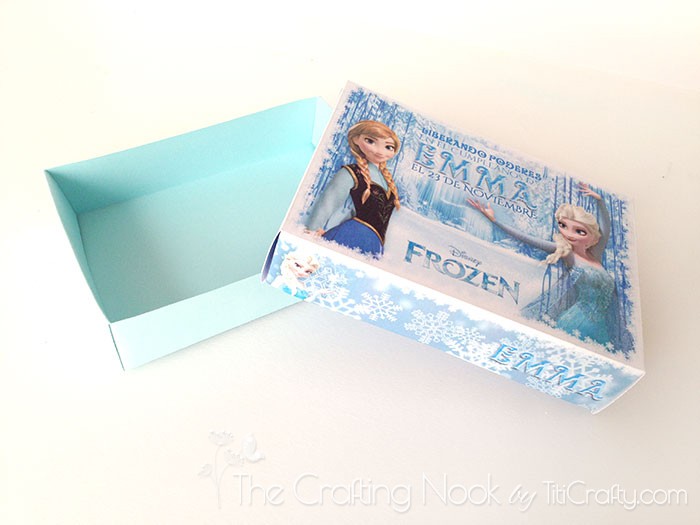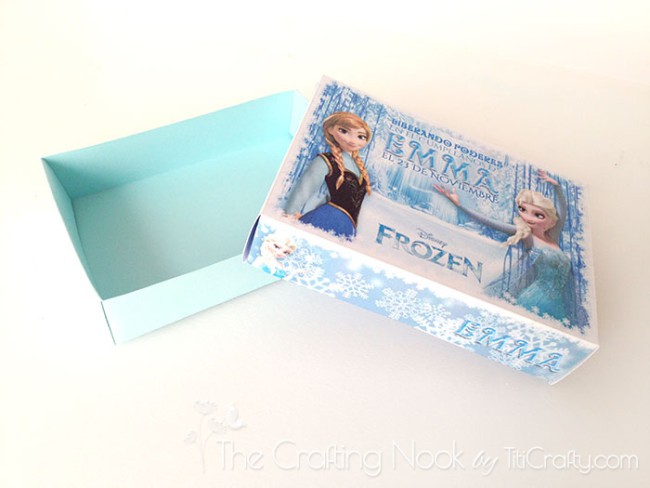 People and kids that have already eaten a lot and want to take the cake home don't need an extra plate to put on top and a bag. No mess, no stress!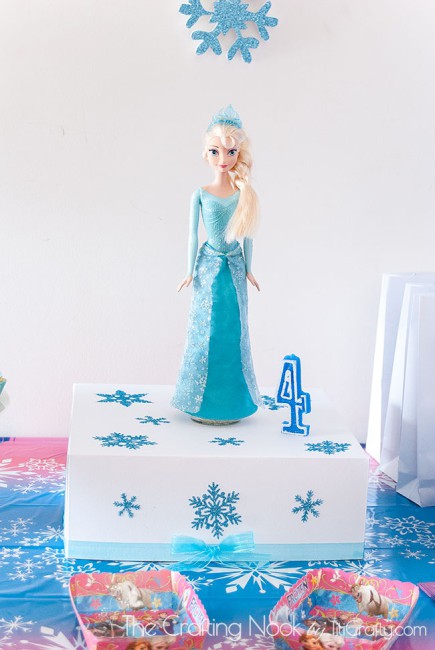 I'm not saying it's practical while making them but. It definitely is at the party itself. It takes work, and patience to make all the boxes but I so hold on the whole thing making my girl happy that I don't care and actually I have fun making each piece.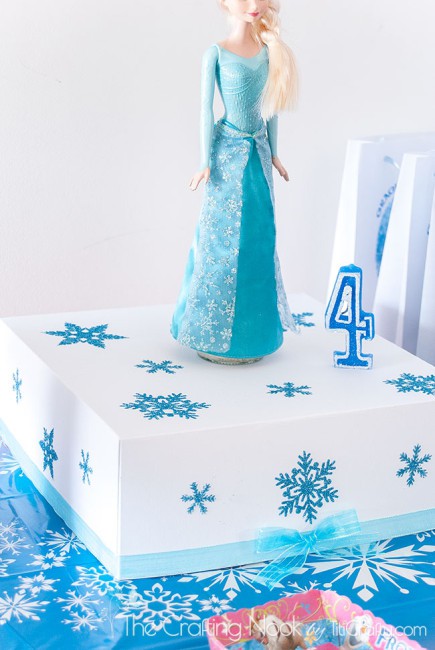 The Big Box was all made too. I cut thick white cardboard to fit 18 individual boxes. Then I made some cute snowflakes with double-sided adhesive and glittered them. If you don't have a cutting machine, some stencils and glue do the job too. At the bottom of the box's sides, I applied blue ribbon with a cute bow. Nothing too fancy but still so pretty.
If you want to check full instructions to make the box and individual boxes you can go HERE.
As you can see, the tablecloth, napkins and disposable plates were store-bought.
Mini Cupcakes
I made some cute mini cupcakes. Last year I made them with buttercream frosting and kids didn't seem to like it much. This year I decided to go with a classic LOL. I made meringue frosting and it was a hit! In 2 seconds the meringue was gone from the cupcakes and you should have seen the kid's faces LOL. You could barely see their skin LOL. I was so excited.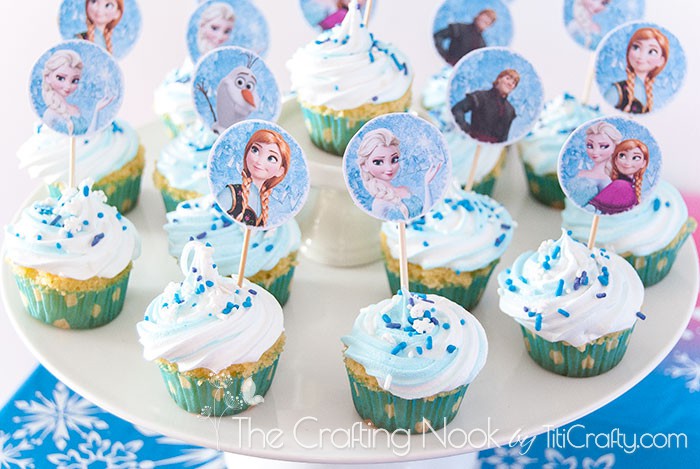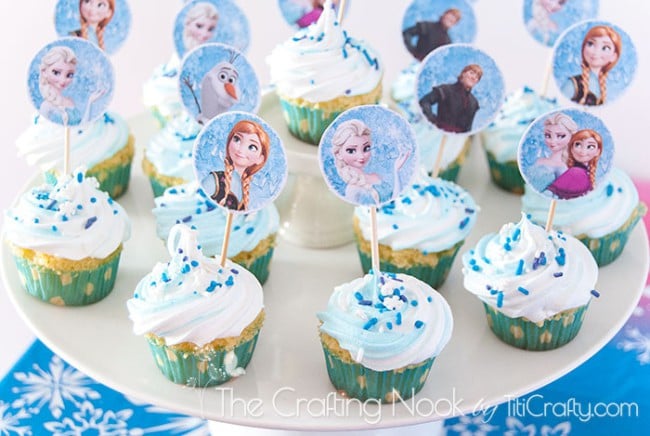 I used My Cupcake Addiction's technique to make my frosting in 2 colors. I wanted it to be white and blue.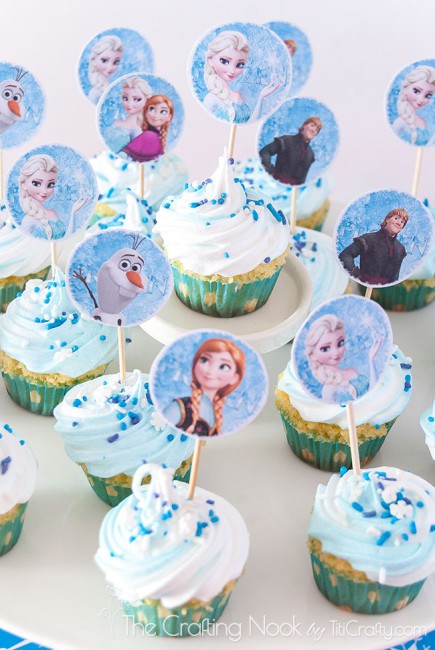 I got in a store this super cute glitter-like sprinkle that made the cupcakes sparkle and then I sprinkle a bit some winter sprinkles I got. I so loved how they turned out. At some point, I had to make my life easier so the cupcakes were from cake mix.
I made these cute cupcake toppers and that was it!!!
Frozen juice Box Covers
Then I didn't want to ruin the whole Frozen line with the juice box. Since the party was in her school we didn't want to make more mess by bringing juice and cups, so we decided to go with juice box LOL. So, what I did was designing some cute covers for each juice box. I made them all different, using different characters. Just like I did with cupcakes. That way I could display them there on the table and still be part of the whole theme. The covers were made with regular letter bond paper and printed at home. Those were easy to lift and get the straw.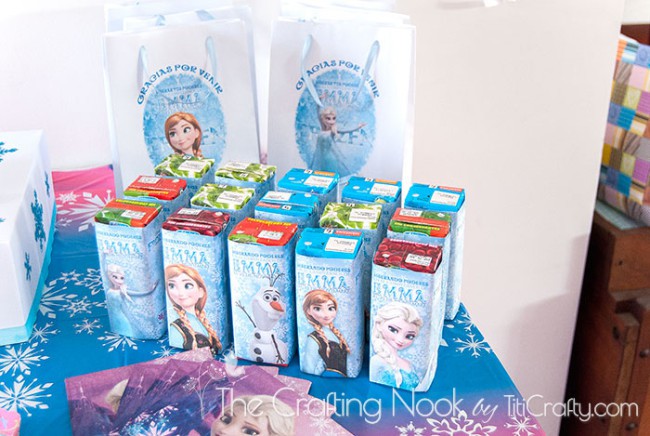 Surprise Favor Bags
I made part of the decoration the surprise favor bag too. These bags couldn't be more low budget. I just filled them with some candies and an inexpensive little toy. I made them with bond paper too. I print the theme on one paper to make one side and used another one for the other side. If you want the full instructions to make these cute bags you can go HERE.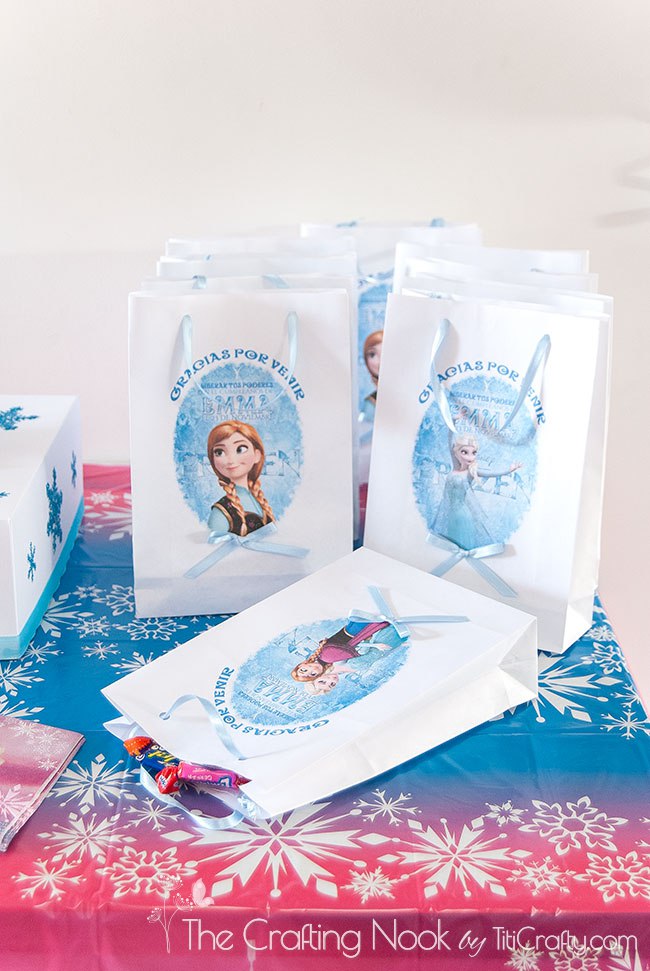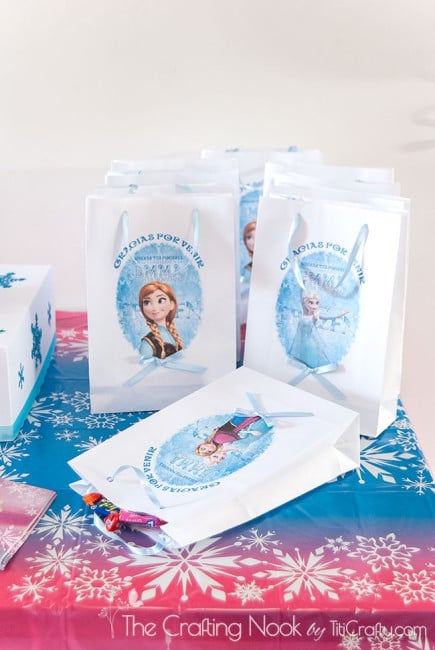 Wall Decoration
For the wall, I used balloons, ribbons and Styrofoam snowflakes. I bought the plain snowflakes and I glittered them all. I found these adorable white balloons with swirls so perfect for a frozen theme and mixed them with light blue ones. Between balloons, I applied some swirl ribbons!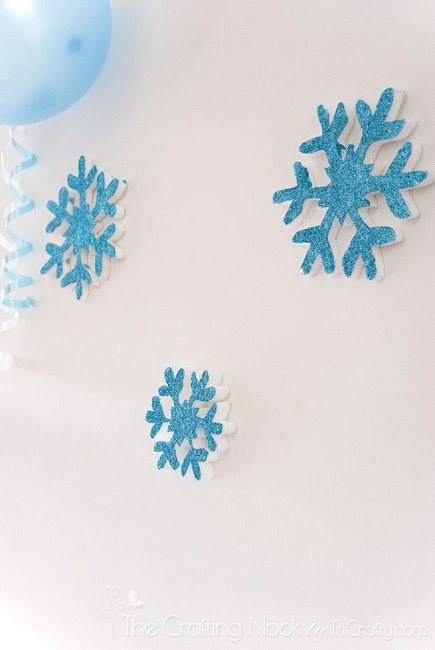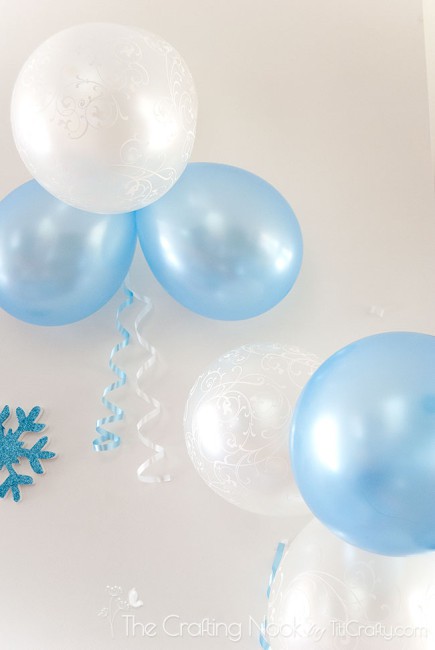 That's it! It's simple and yet full of love birthday party to make a little girl's dream come true! And don't forget the outfit! My girl wore Elsa's dress and the Braid I made her. If you want to learn how to make the Elsa's Braid, just click HERE for the full tutorial.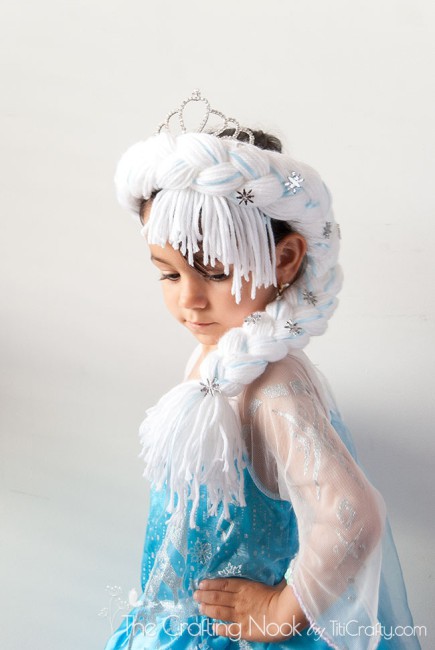 Well, lovely friends, This was my girl's Frozen Themed Birthday Party! It was so successful just because she was absolutely happy that day! Her huge smile paid it all off!!!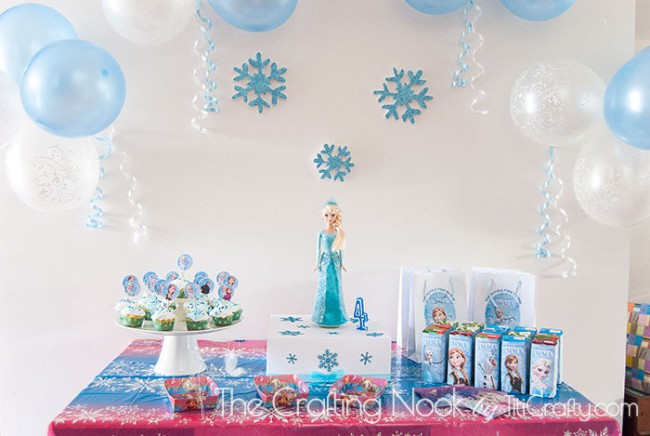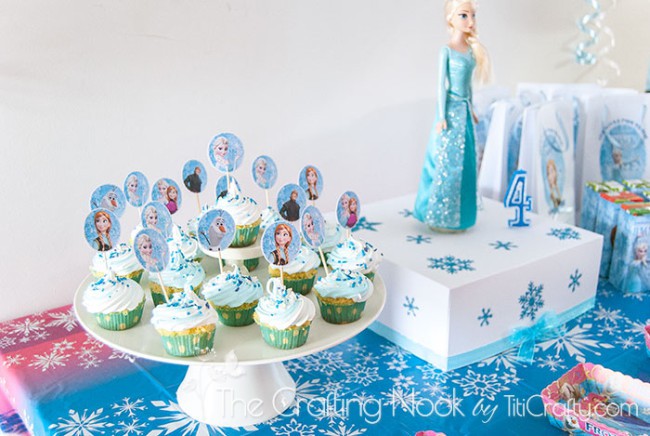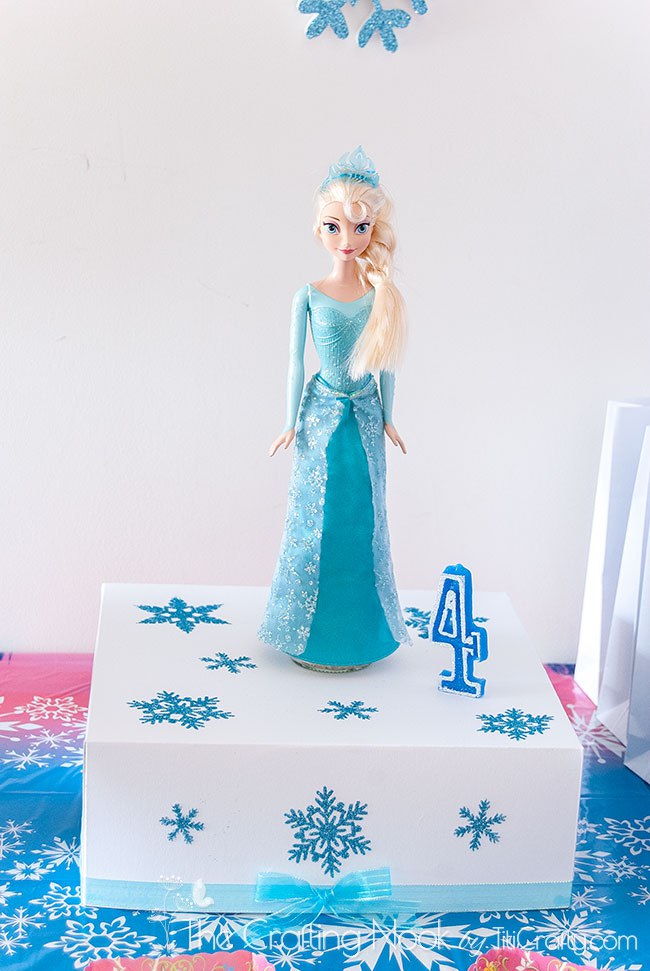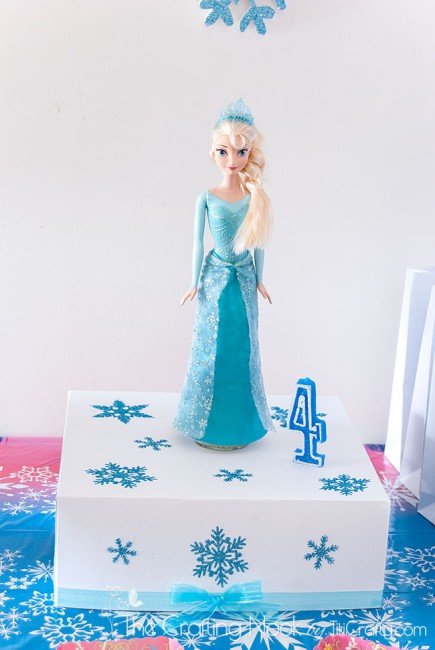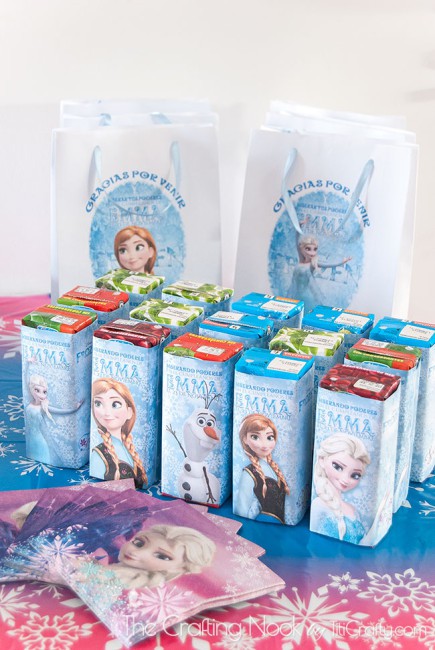 I hope you like these ideas and inspire you to create your own parties for your kids!
If you want to check out each available tutorial, here you have them.
DIY 3d Frozen Themed Invitations
Frozen Themed Individual Cake Boxes
DIY Surprise Favor Bag on a budget.
If you like this project you might also love this one too!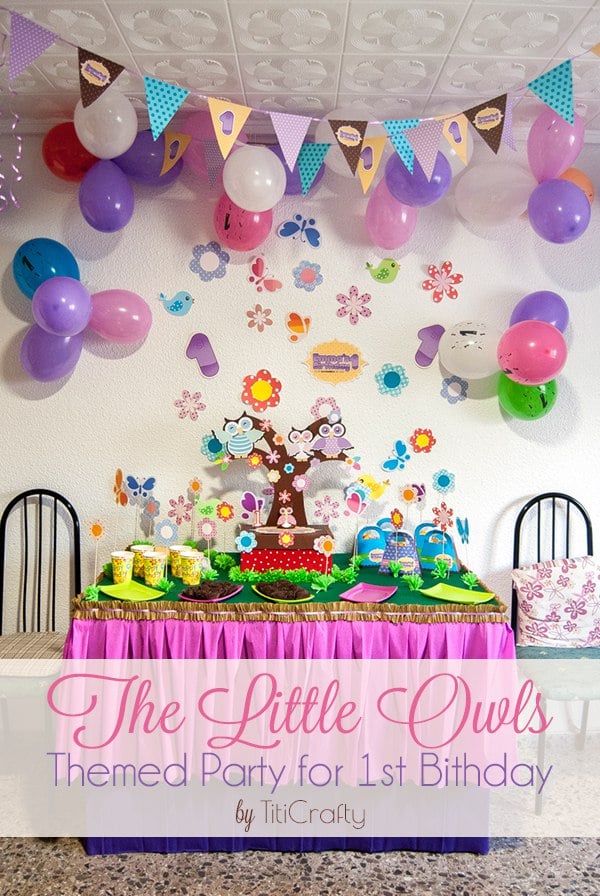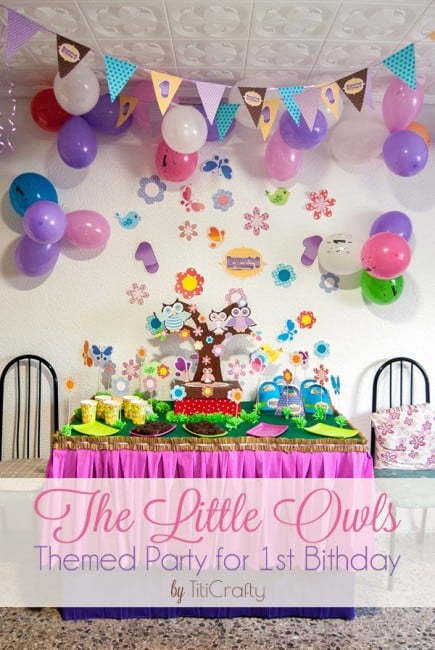 Til' next time...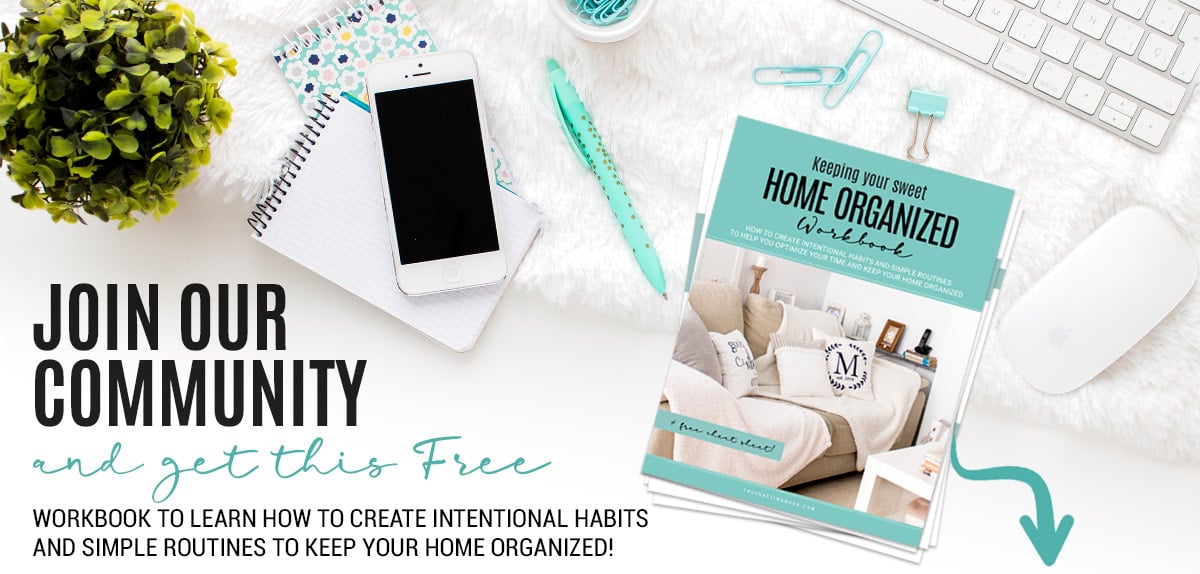 GET INSTANT ACCESS TO THE HOME ORGANIZED WORKBOOK
Plus freebies, printables, exclusive content, tips, stay connected, be the first to know great offers and Product Launches!
Disclaimer: By clicking on the "Yes, I want it" button above you are giving me your consent to collect and use your information according to the law and My Policy Privacy and The Cookie Policy. Zero Spam I promise!