My Blog Planner Evolution (Before and After)
Blogging can be so much fun but as a business, you need all the organization and help you can get. That's why I love using a blog planner.
As I've mentioned before, when I first started blogging I had no idea what was blogging really about, so my Organization was nil. I was completely lost in blogland and I had just found out about link parties so visiting some links I ran across My May Sunshine, a lovely blogger that was featuring her blog planner.
Oh! my life got so much better LOL. She made an awesome job, she made sheets for every aspect of blogging and I found it awesome!… The best part was that IT WAS A FREE PRINTABLE yayyyy.
Update March, 2020: I have created my own blog planner now, it's filled with colorful and meaningful sheets to make your blogging journey a lot easier. You can check out my blog planner details here.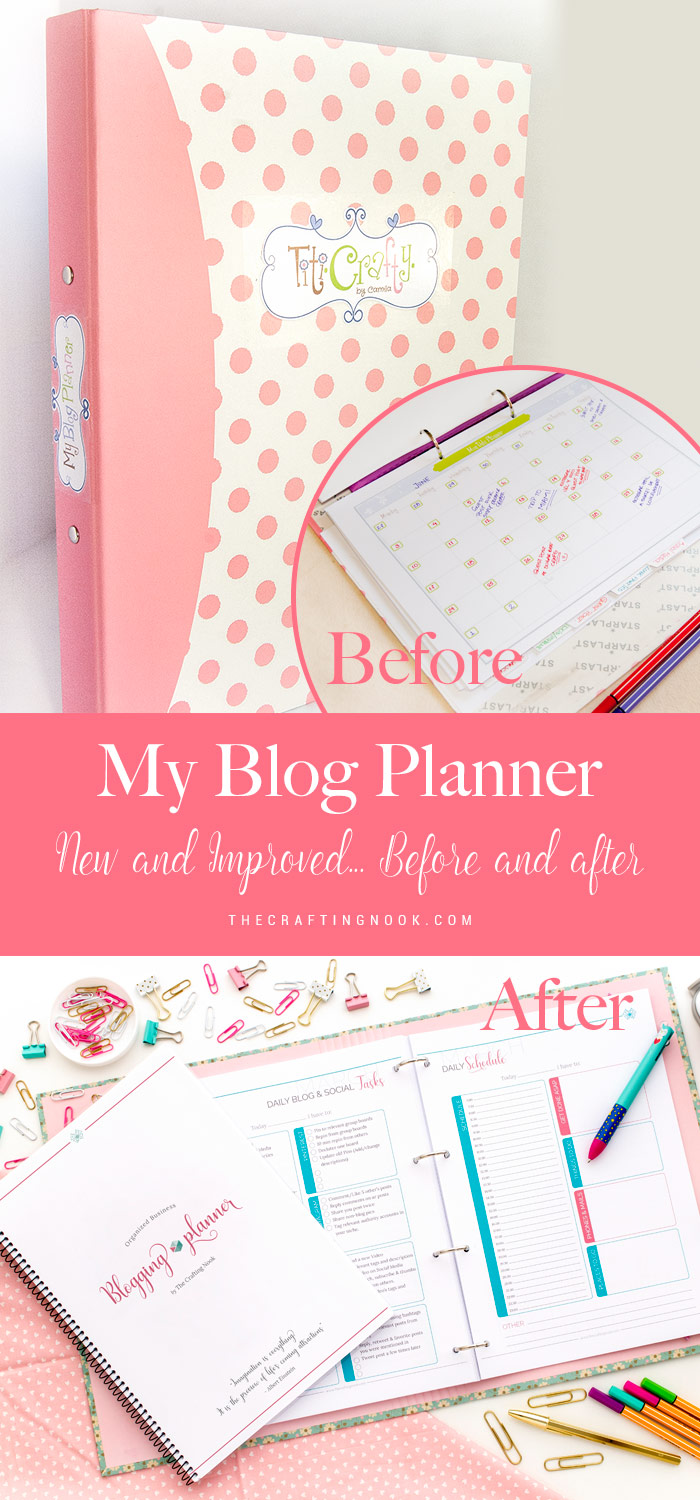 My First Blog Planner
I decided to give it a shot and I downloaded most of them and since those were her designs with her brand colors and patterns, I modified them a bit so I could use my brand design and colors.
The thing is that she didn't have all the planner sheets I felt I needed so I started downloading planner sheets from different blogs which was fun for a little while but I really like having things neat.
I have to confess that for a second I thought I might not keep up with it, but the truth is that I use it every day. =D
So, want to see how my blog planner worked for me?
Here is what I did:
Firstly, I bought a cute binder, so I could keep everything in one place.
Then I printed and cut some cute tags (the tags design are from Delicious Scraps) one with my brand and other one with "My blog planner".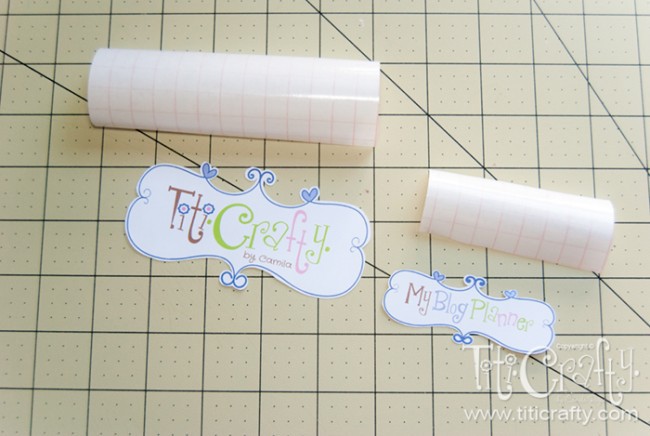 With transparent contact paper I stuck the tag to the binder on the front and on the spine.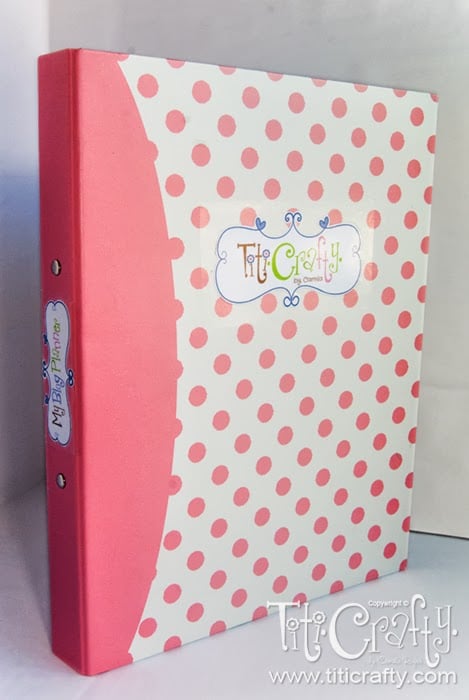 Also I bought a pencil pouch and made a couple of holes with my punch to put it in the binder. =D.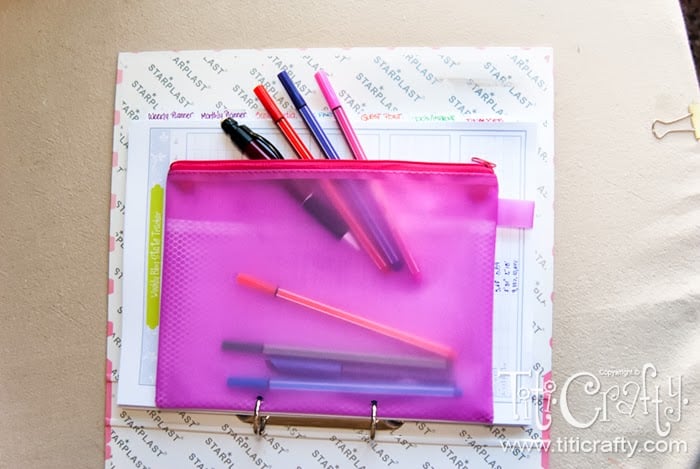 These are some of the planners I use: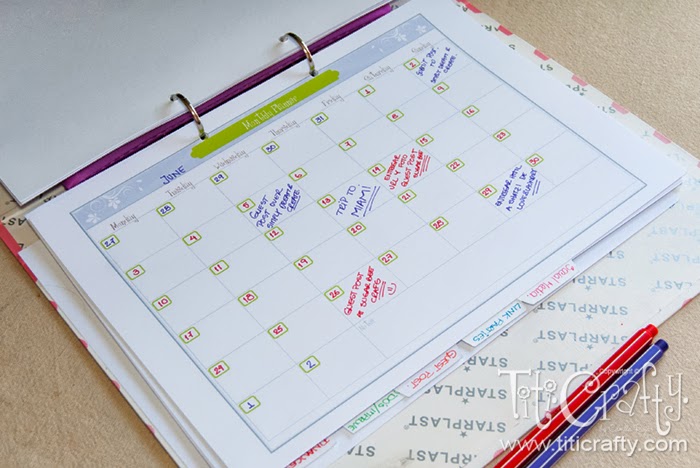 I also was using:
Blog To Do List
Blog Ideas
Blog Sponsors/Advertising
Weekly Blog Stats Tracker
Monthly Blog Stats Tracker (this one is mine)
Blog Finance Income
Blog Finance Expenses
I can really say that this helps A LOT to keep your mind healthy LOL. Organization is the best way to optimize time and your blog. This way I know what I posted and when as well as where I promoted them. Also, keep up with finances and stats.
I really recommend this kind of organization which is why I decided to create my own with all the sheets and features I find useful to stay focused, organized and on track at all times.
My New and Improved Blog Planner
My New blog Planner is all upgraded and covers all sides of blogging as it has grown and evolved.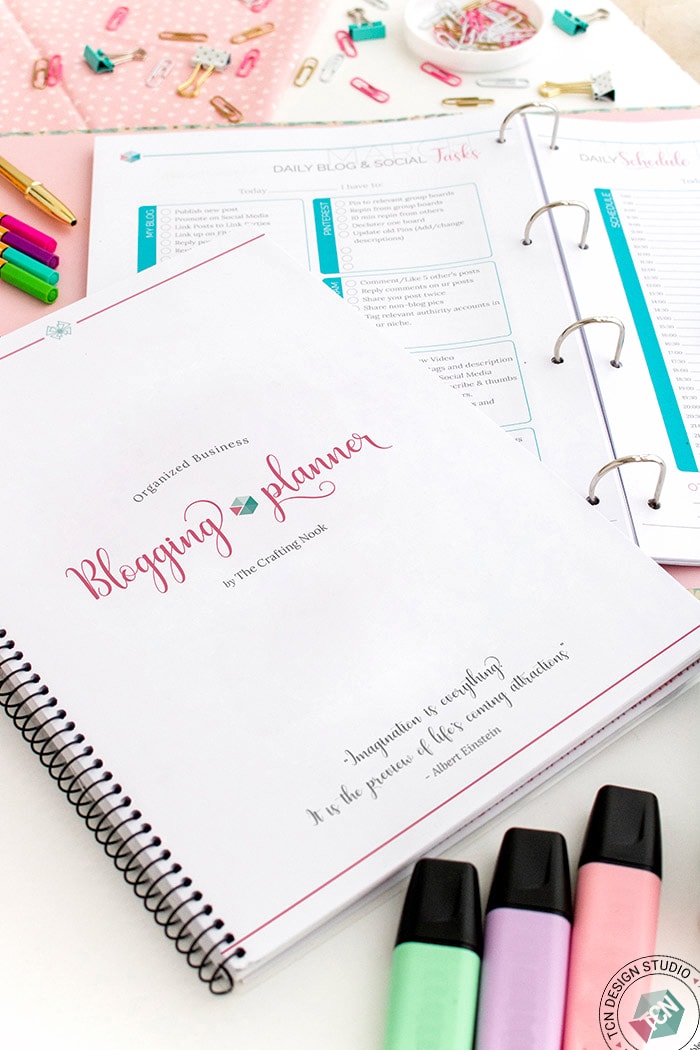 I understood that if I organize and plan everything ahead, I have more time for other things. And that as the blogging world grows, also should my organization and planning.
The best part?
Keeping my business organized, I even got to plan my "me time" or social time LOL.
Am I too control freak?
Yeah, I think so too!
After many years using and improving my blog planner, I thought this planner could help so many other bloggers like me.
So now you can have it too!
Jump over to my Sister Website, TCN Design Studio and check The Organized Business Blogging Planner out. All the details and how I use it right there! Aaaaan you can get a free planner sample while you are there!
So, what are you waiting for???? Click in the link below!
What do you think??? Awesome, isn't it???
Like my Blog Planner evolution? Don't forget to PIN it and Share it with Friends!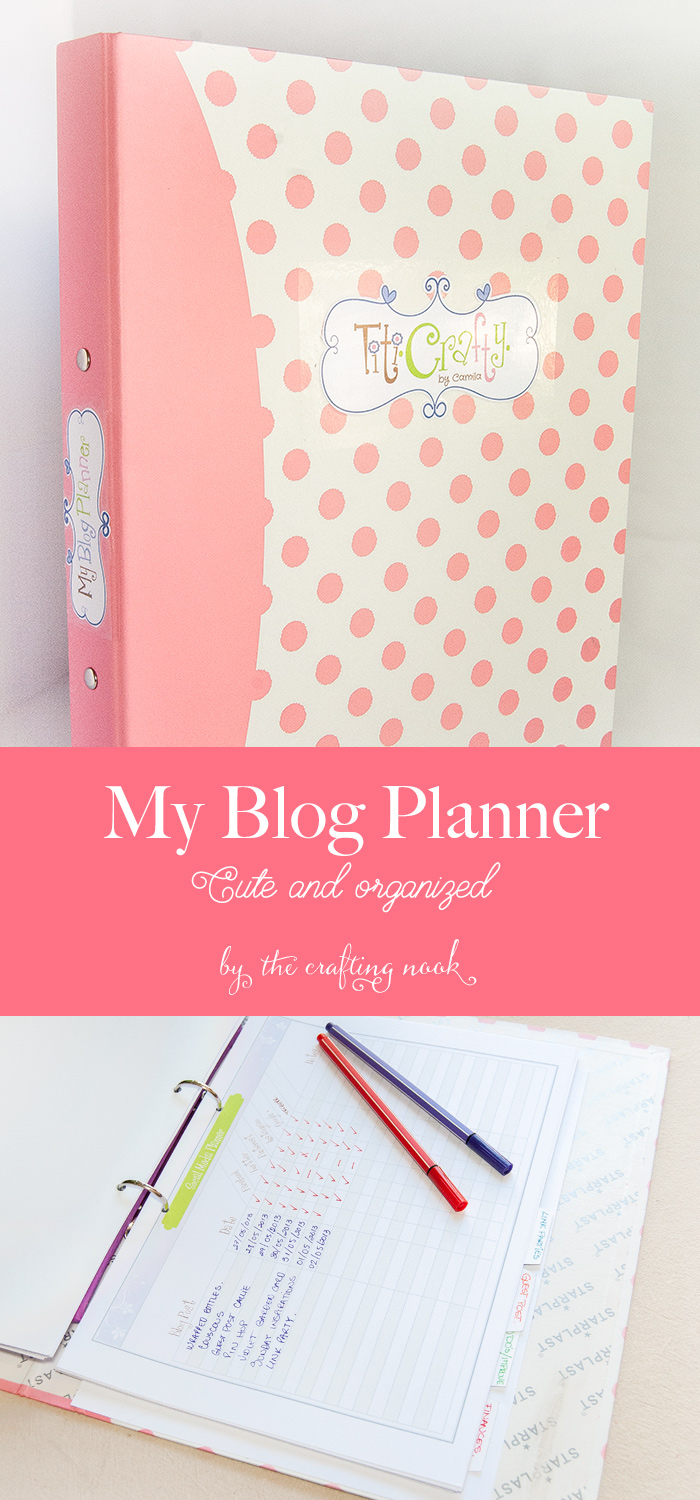 If you like this post, you might also love these too: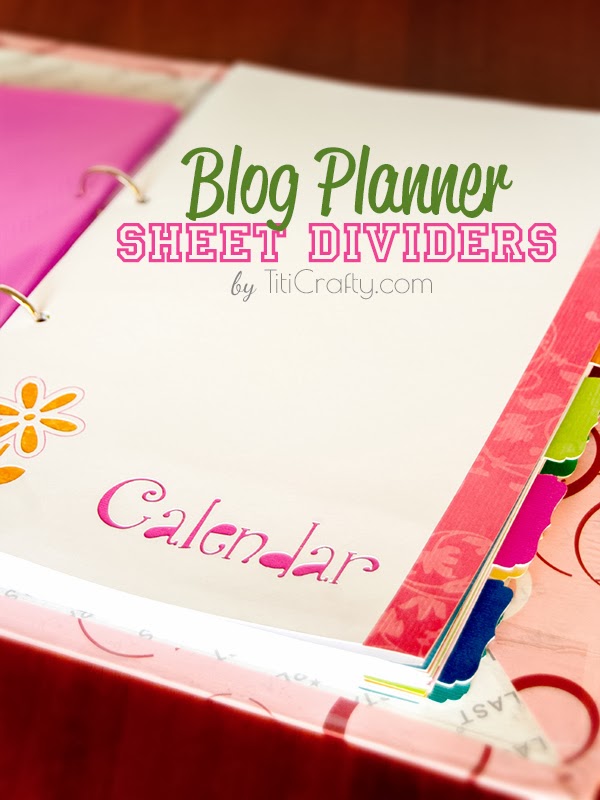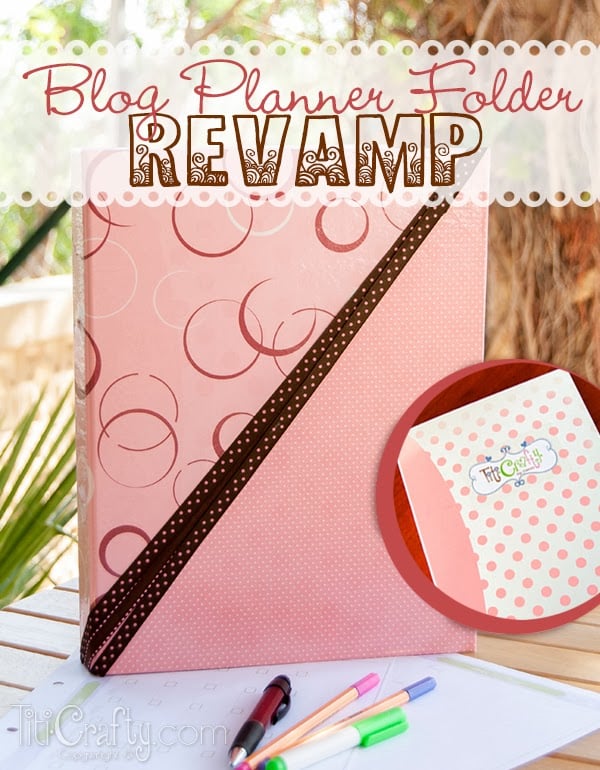 Til' next time...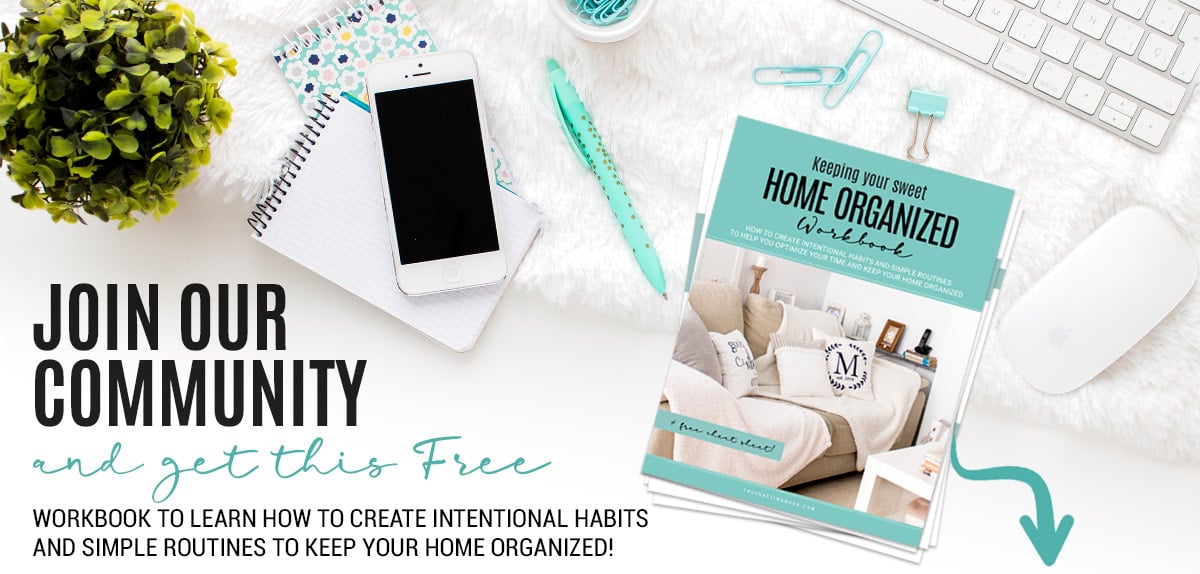 GET INSTANT ACCESS TO THE HOME ORGANIZED WORKBOOK
Plus freebies, printables, exclusive content, tips, stay connected, be the first to know great offers and Product Launches!
Disclaimer: By clicking on the "Yes, I want it" button above you are giving me your consent to collect and use your information according to the law and My Policy Privacy and The Cookie Policy. Zero Spam I promise!