DIY Keychain with Beads and Butterflies
This cute and super easy to make keychain with beads and butterflies makes a perfect gift or a fashionable touch to your home keys. Just a few supplies and lots of love are needed to make it and you will love it.
I love keychains and usually the bigger the better LOL. It is easier to find keys in the purse and it's a little something to our home sweet home keys, isn't it?.
Besides, I so love beads and butterflies so I put them together to create a cute Keychain for myself!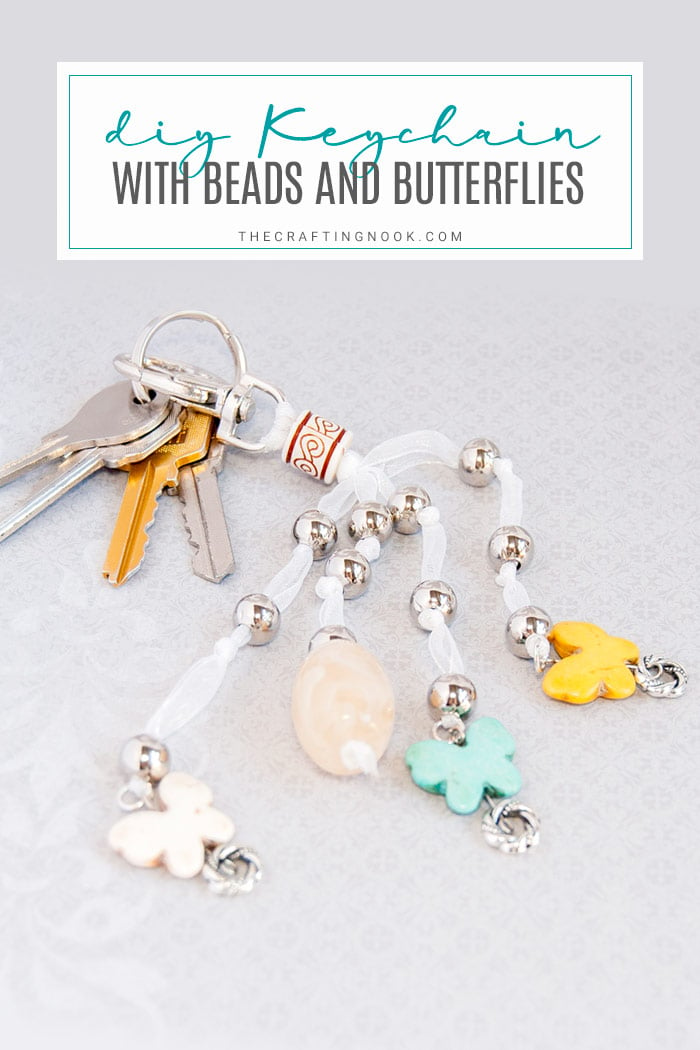 How to Make a Keychain with Beads and Butterflies
I made this you see in the photo and I love it so so much, that I thought it would be nice to share it with you.
I've always loved big keychains. I remember having one of those Disney's koosh ball ones with Winnie the Pooh and different other Disney characters.
Remember them?
Or am I too old?
Ahem, let's move on…
What kind of beads do you need to make this Keychain?
This project is all about imagination and what you love the most, so I can't tell you what kind of beads to use.
For this particular project, I used metallic separator beads. One ceramic one for the top and then the butterflies.
What I can give you is a few tips so you can choose the most appropriate beads:
Make sure the hole in the beads will allow your ribbon to go through.
Find good quality ones so it won't get damaged inside the purse.
Play with size and colors depending on the style you are aiming for.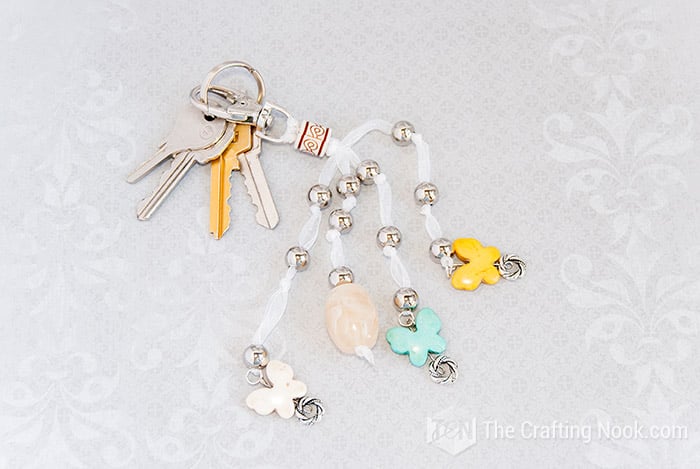 What kind of ribbon is best for a Keychain.
That's another tricky question!
I mean, you can use whatever you want, from cords to yarn and ribbons. What is really important is the use you will give to it so you can make it durable.
This one probably would have lasted a lot longer if I had used cords or leather, but I love white and I love organza so that was my choice. I also used a keychain clasp because I love to switch keychains so I can play around.
You can use your favorite material as long as it fits the hole in your beads.
Supplies needed for the Keychain:
Ribbon
Beads and separators
Ornaments (Butterflies)
Jumprings (3mm)
Needles (jewelry)
Keychain clasp
Scissors and pliers
Lighter (optional)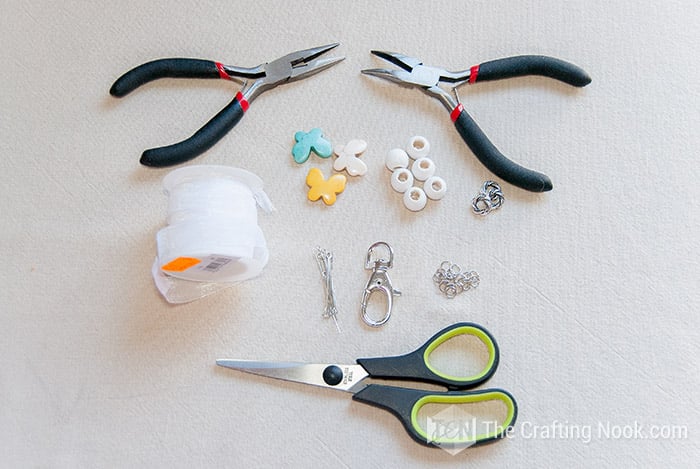 I used a white organza ribbon. I so love organza because it's so delicate and elegant.
First thing, cut 2 long strips of ribbon, it doesn't have to be the same size, just make them double the size of the length you want each keychain string to be.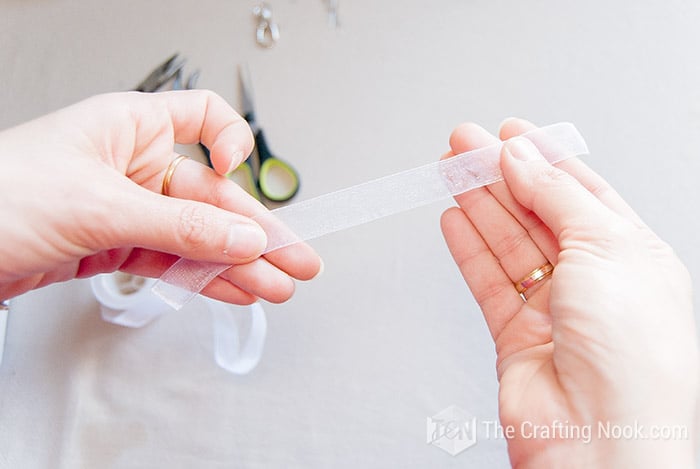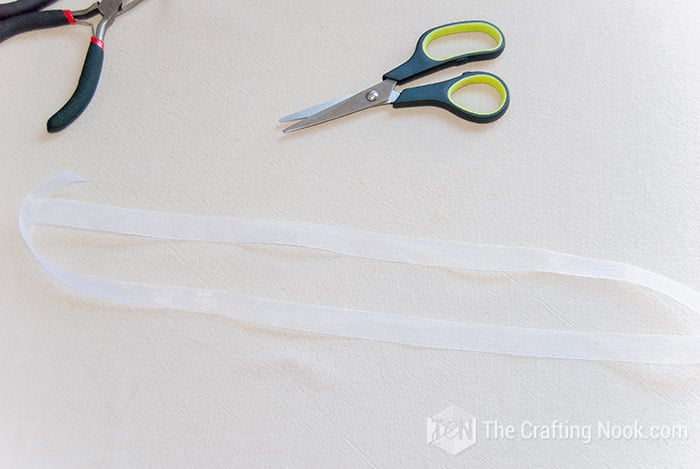 Fold them in half (or leave one side longer than the other =D) and insert the folded end through the clasp hole.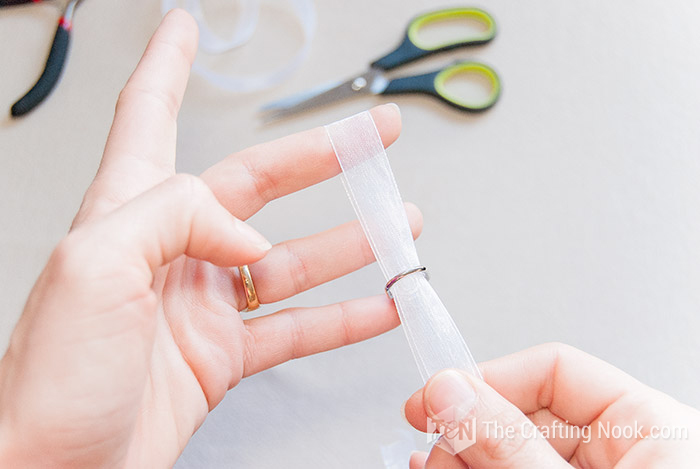 When it's out, leave a few centimeters, insert the other end (both ends) through the folded end and pull all the cord down and tighten!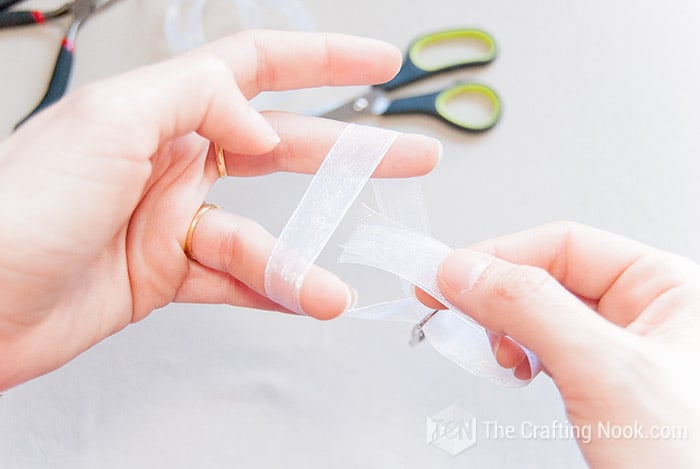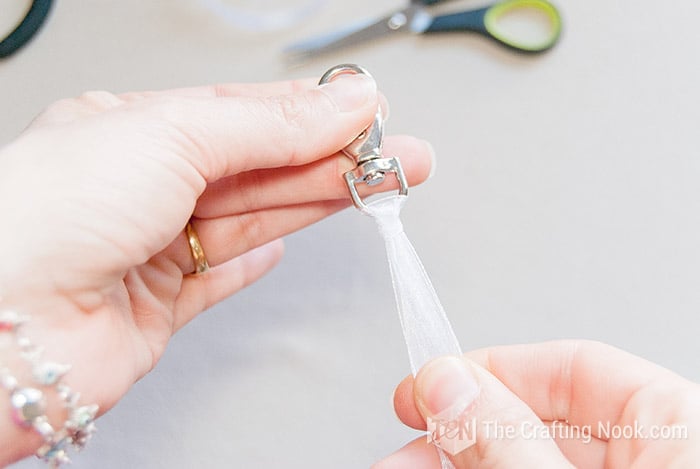 You should have something like this: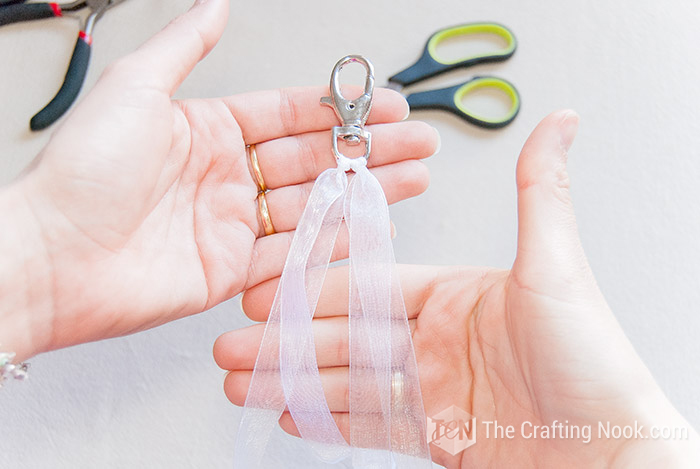 Insert all 4 strips into a decorative bead.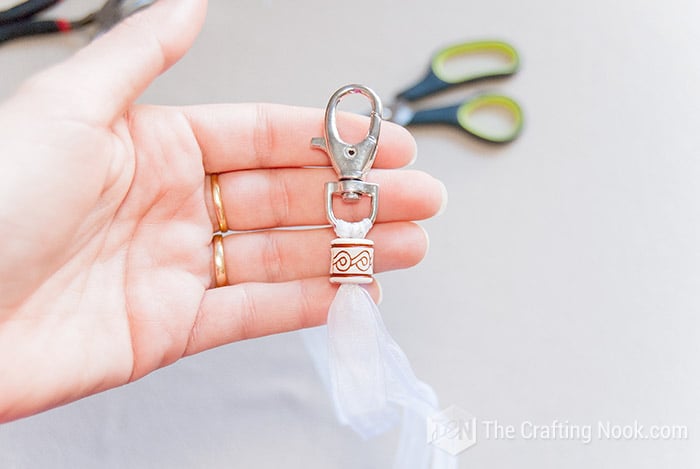 Make a tight knot to keep it in place.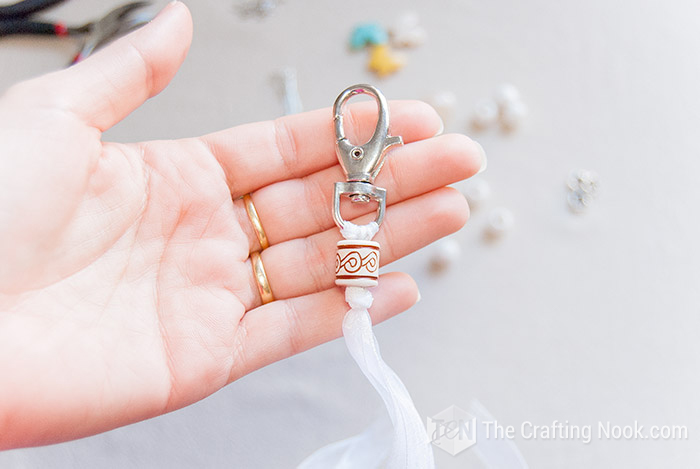 With a lighter burn a bit the ends of the strings to avoid fraying.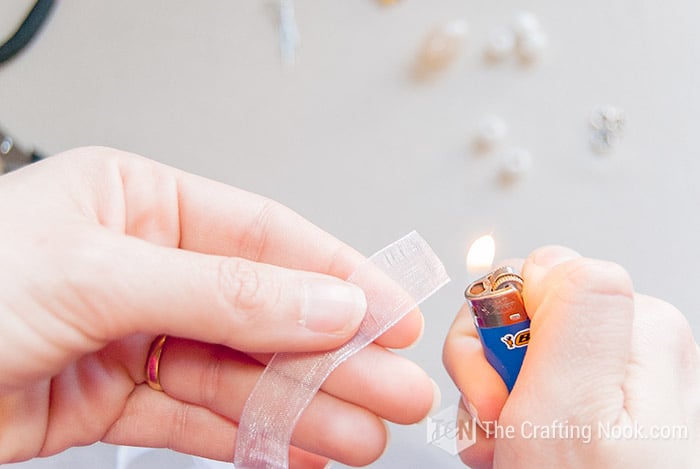 Now in one string insert a bead and make a knot.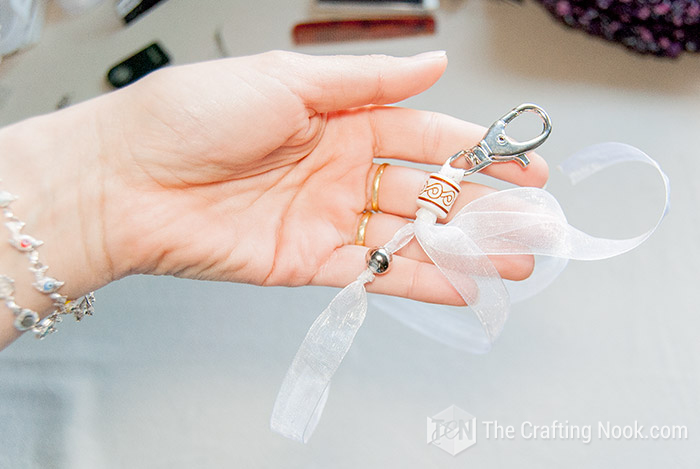 Repeat the process at different distances in every string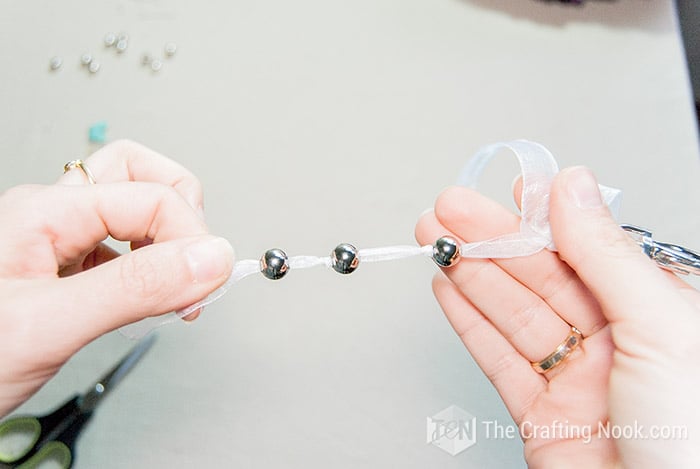 For the butterflies ends, insert a headpin (I used eye pins because I didn't have headpins) into the spacer and then the butterfly.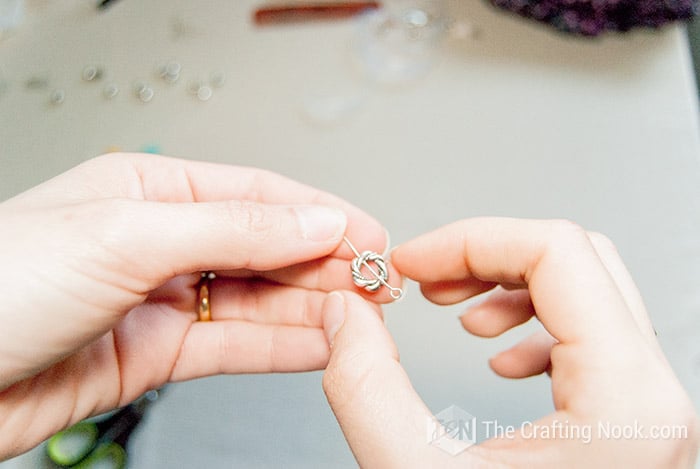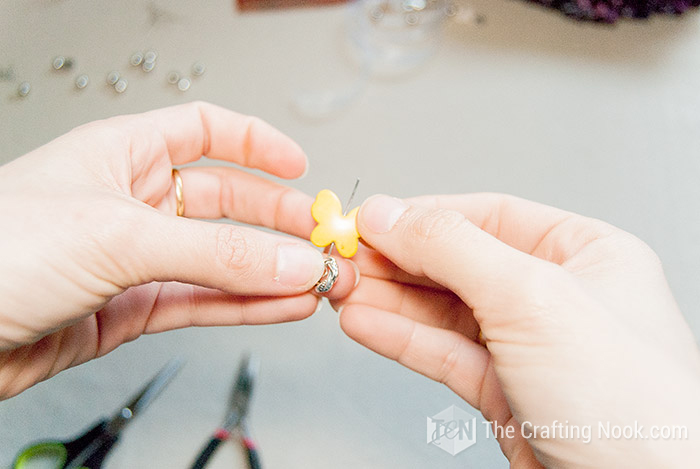 With a needle-nosed pliers (is what I've got back then, round-nosed pliers are better lol) make a swirl with the wire you got left.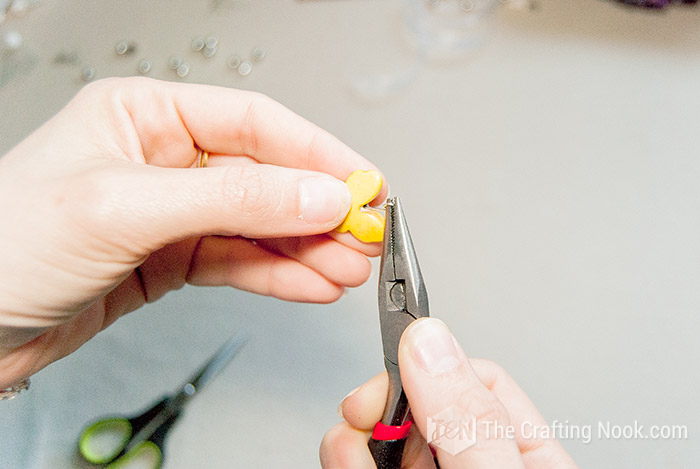 Insert a jump ring in that swirl. Repeat the process with the other 3 strings.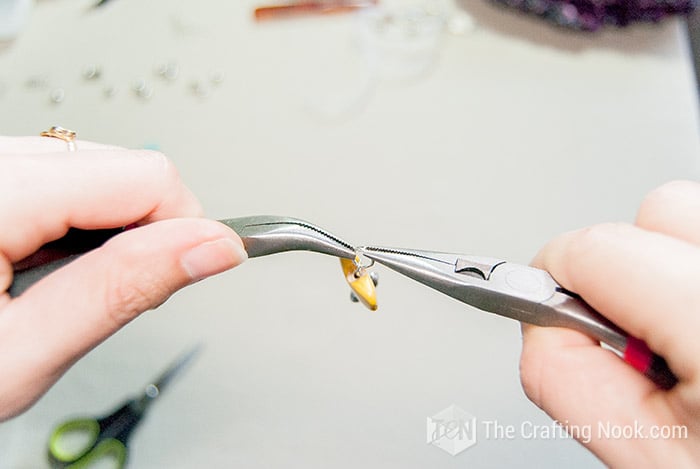 Insert the end of a string in the jump ring.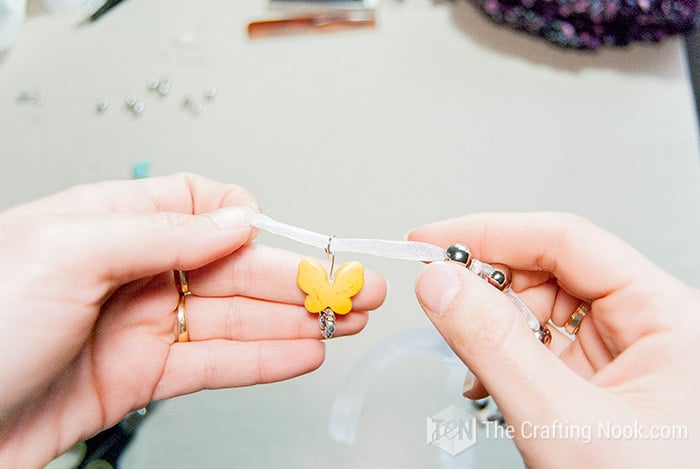 Make a Knot very tight and hide the ribbon ends inside the last bead.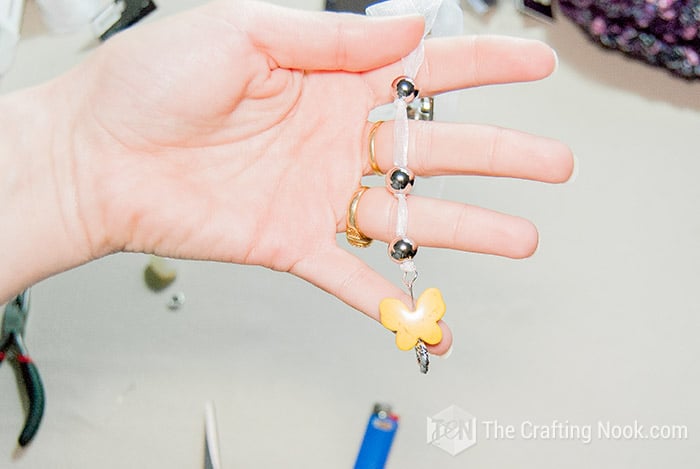 Repeat the process with all the strings.
Finally, since I had only 3 butterflies and 4 strips, I added an extra decorative bead to the 4th end!
Not bad right?
That's it!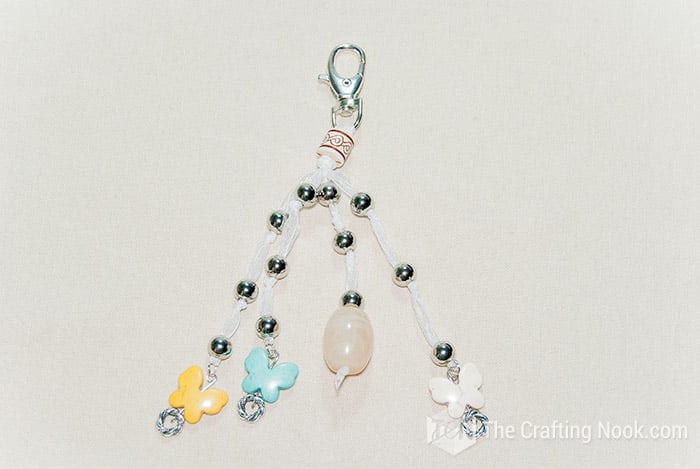 Now it's time to add the keys!
So this is it, and I LOOOOVE it!!!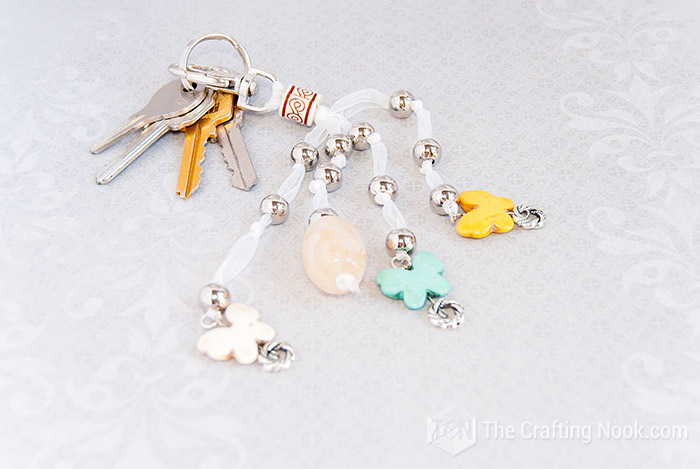 What do you think? Cute or what???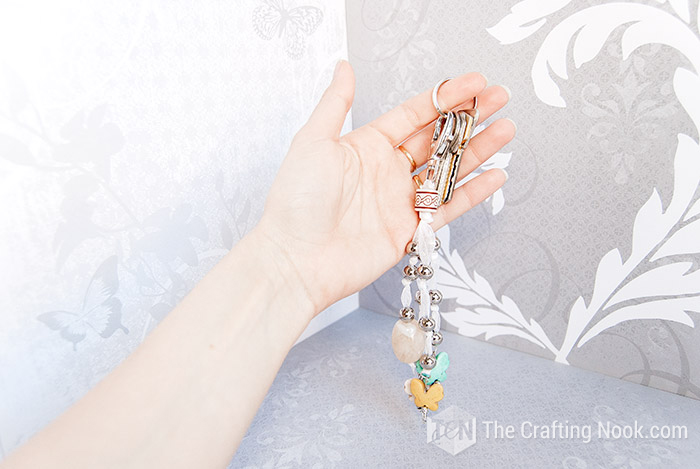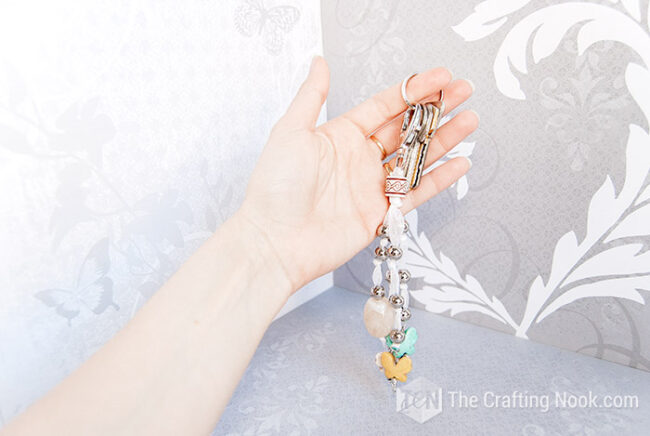 Living this cute DIY Keychain with Beads and Butterflies? Don't forget to PIN and share with friends!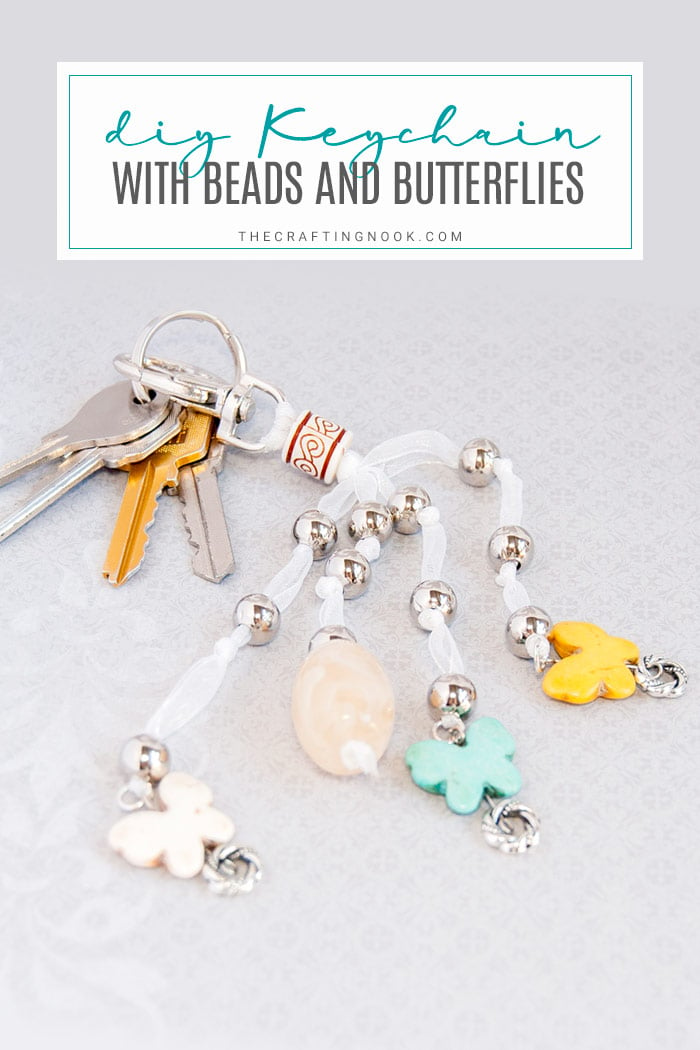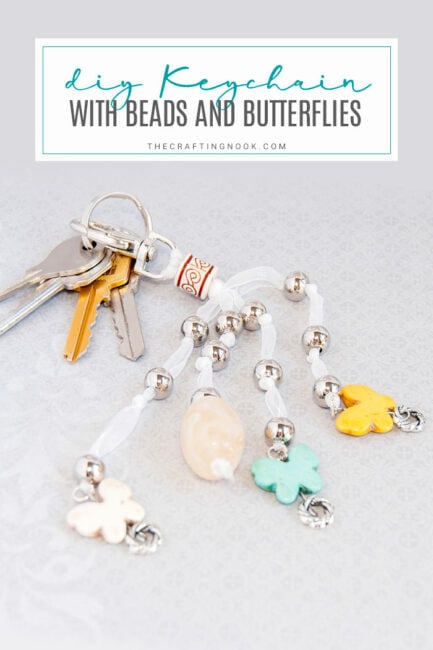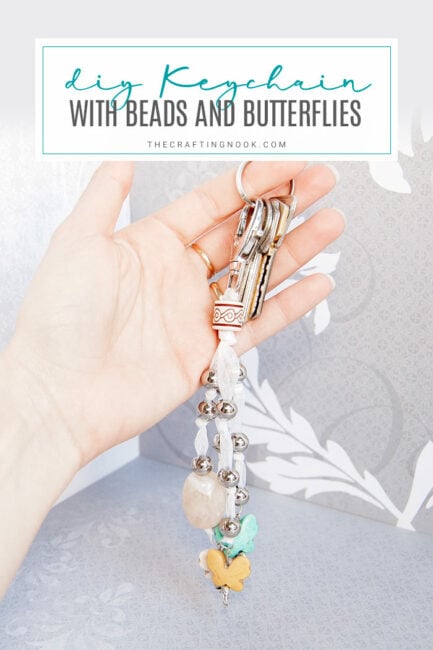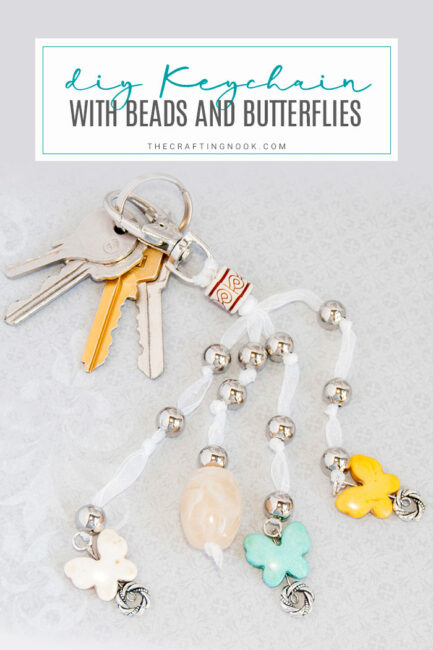 Other crafty jewelry I love from my favorite bloggers:
If you enjoyed this crafty project, you might also love these too:
Til' next time...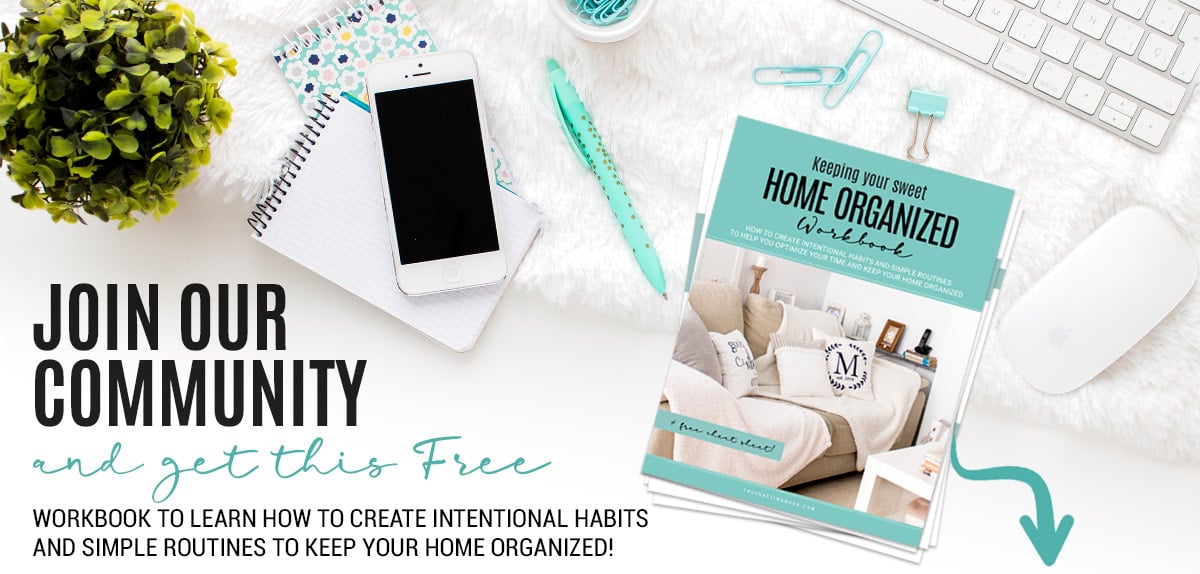 GET INSTANT ACCESS TO THE HOME ORGANIZED WORKBOOK
Plus freebies, printables, exclusive content, tips, stay connected, be the first to know great offers and Product Launches!
Disclaimer: By clicking on the "Yes, I want it" button above you are giving me your consent to collect and use your information according to the law and My Policy Privacy and The Cookie Policy. Zero Spam I promise!