Salted Caramel Sauce (Deliciously crave-worthy)
I have to tell you this: My life will never be the same after I made this absolutely decadent salted caramel sauce. Oh my goodness!!! It's beyond delicious. This caramel sauce it's perfect for topping on ice cream or almost any dessert!
I was scared at first when I made it for the first time since I had never done it but then everything went well and the final result was absolutely amazing. So, consider yourself warned, this sauce is highly crave-worthy.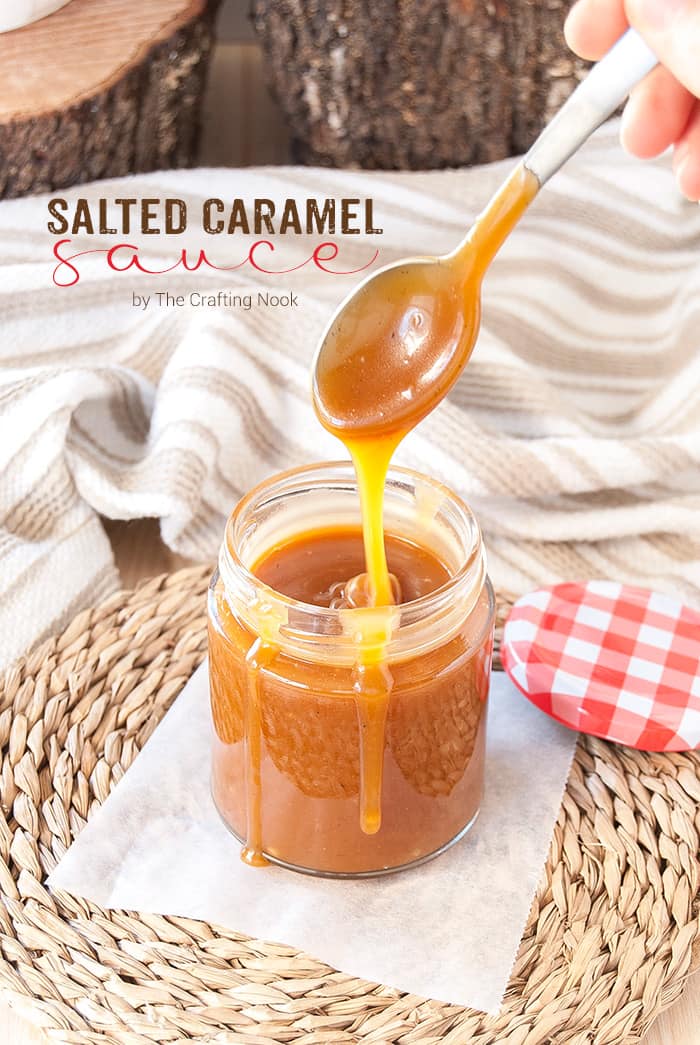 What is so special about this Salted Caramel Sauce?
This Salted caramel sauce recipe is so EASY. Seriously, Like…. who knew that homemade caramel sauce could be so easy? It takes about 10 minutes to make and you'll end up with a whole jar full of deliciousness to use pretty much on any dessert: ice cream, cheesecake, cookies, Oh my! like I said before anything!
The texture is so silky, smooth, buttery dreamy caramel sauce goodness. You will not believe how good it is and you will wonder why you didn't make this sooner. It tastes almost like the Werther's Original caramel but all homemade and creamy.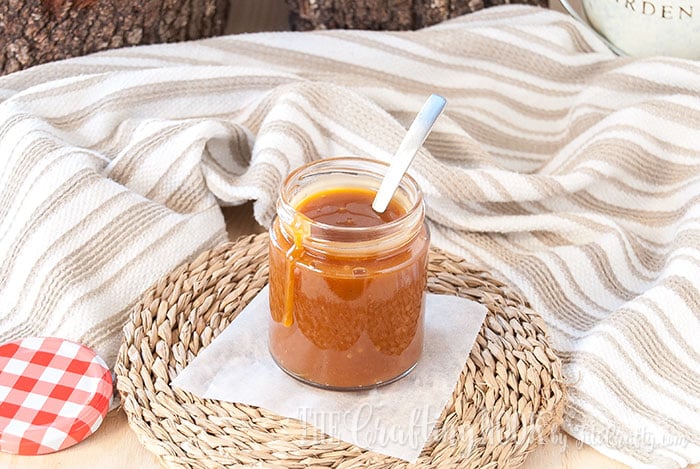 As soon as August is close to being over, I start craving pumpkin, apple, and salted caramel desserts. I just need a small hint of fall in the air (in other words, temperatures barely start to drop) I can't help but get excited to start working on fall recipes and crafts to share with you here.
I wanted to make this for such a long time but when I came across Sally's Baking Addiction Caramel recipe I knew I could and HAD to make it. And by the way, this lady has awesome recipes, it's torture being on her site for too long!
So hope you enjoy this salted caramel sauce and make it soon.
You won't ever regret it! I've got several incredible recipes for using it coming very, very soon so stay close!
And don't worry if you're not a huge fan of salted caramel because you can easily reduce the salt (or skip the salt) in this recipe to make a regular caramel sauce. No matter how you make it, this is an absolutely delicious recipe that you will definitely want to keep around even when it's not Fall!
How to make this Salted Caramel Sauce
In a medium-large saucepan heat the sugar over medium-high heat until melted stirring constantly with a wooden spoon. You will get some sugar chunks so just keep stirring it will eventually melt.
Once sugar is melted, continue to stir slowly until the sugar turns amber in color and add the butter very carefully and whisk vigorously. Warning: It will bubble up really fast but it's normal, just keep whisking until all the butter has melted and combined.
When the mixture is well combined add slowly the heavy cream while stirring. Like with the butter, the heavy cream will rapidly bubble up and even could splatter when added, so be really careful.
Add in the vanilla and mix well. Leave the mixture to boil for about a minute. You will see the mixture rise a bit.
Remove pan from heat and add in the salt.
Let the sauce to cool for about 30 minutes, then pour into a glass jar or a container to cool completely.
To store, simply pour the sauce in an airtight container in the fridge for up to 2-3 weeks. When reusing, heat the sauce pack up in a saucepan over low heat or in the microwave at 5-10 second intervals, stirring throughout.
Serve and Enjoy!
Where to use this delicious Salted Caramel Sauce?
I'm not the right person to tell you this because I might add it to anything sweet. LOL. But just to give a few ideas you could add it to:
Yeah, I kind of love Cheesecakes LOL.
How long can I store a homemade Salted Caramel Sauce?
Once you have made the caramel sauce, leave the caramel to cool down to room temperature and transfer it into a sterilized jar. it will keep in the fridge for up to two weeks. When you want to use the caramel sauce, either warm up slightly on a microwave (low power 10 secs at a time), adding a little water to thin (only if required), or simply spoon it like I did LOL.
Hope you enjoyed this recipe and also hope you make lots of recipes with it!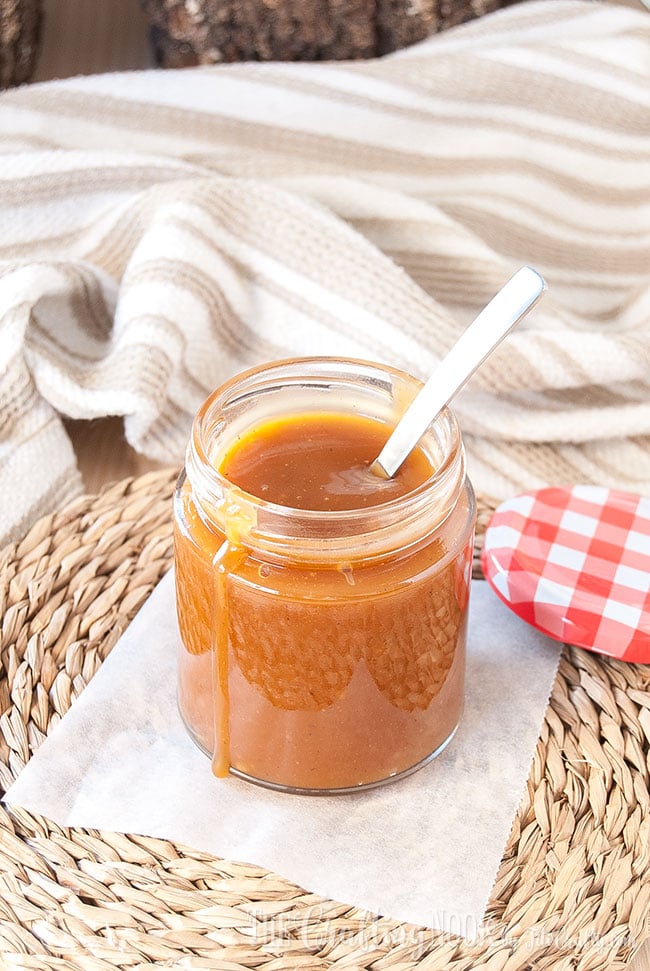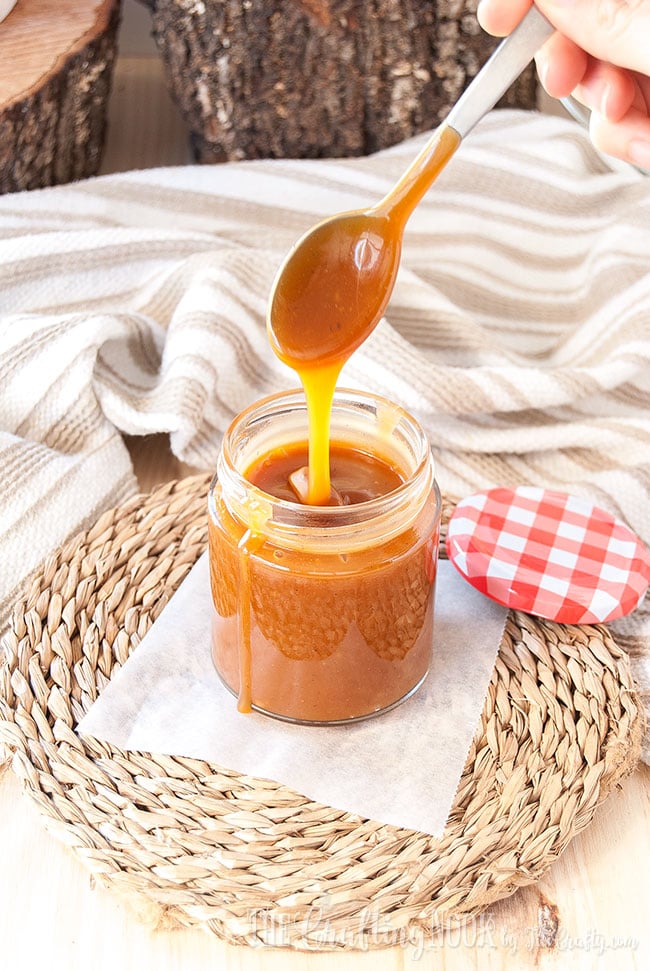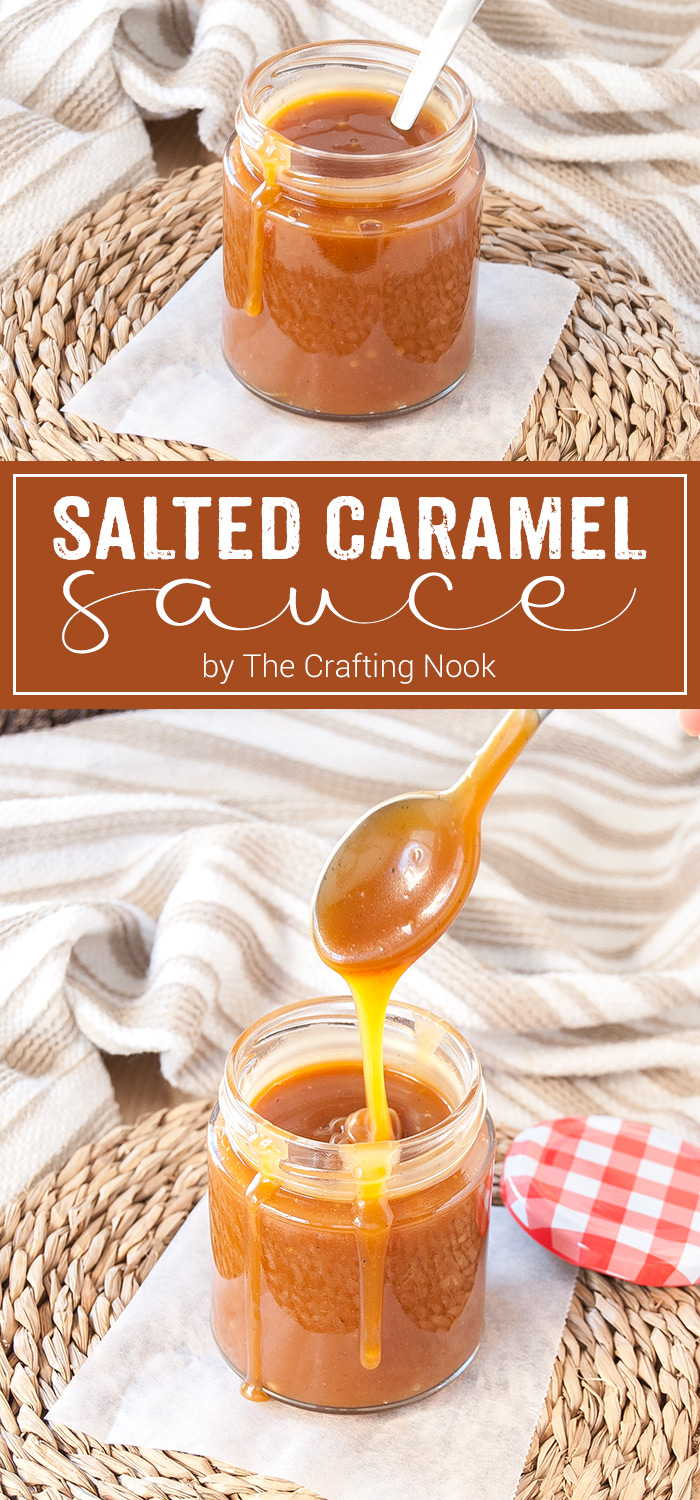 If you like this recipe you might also like these too: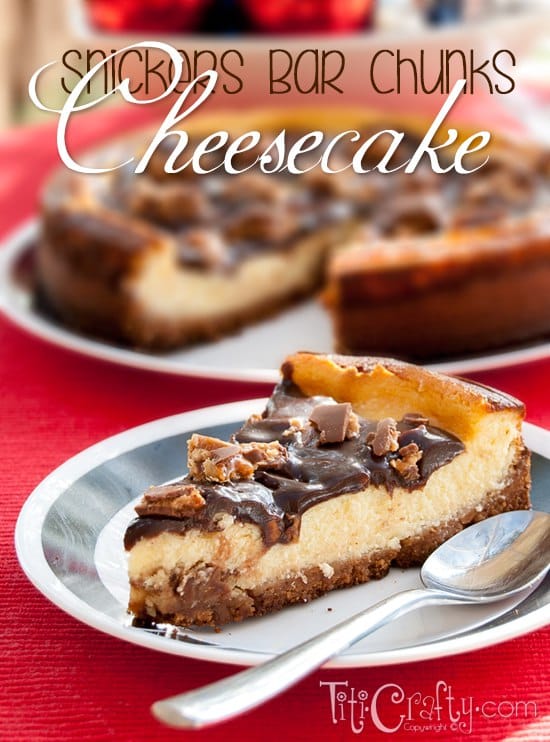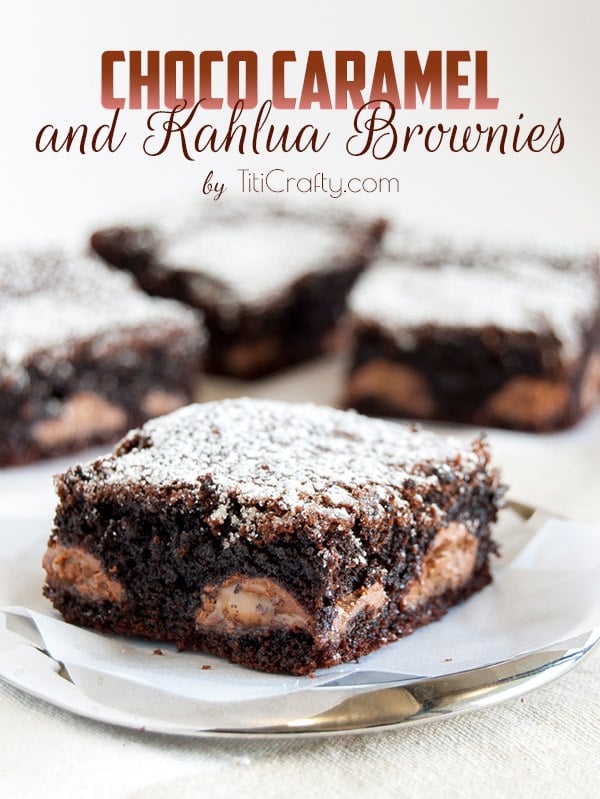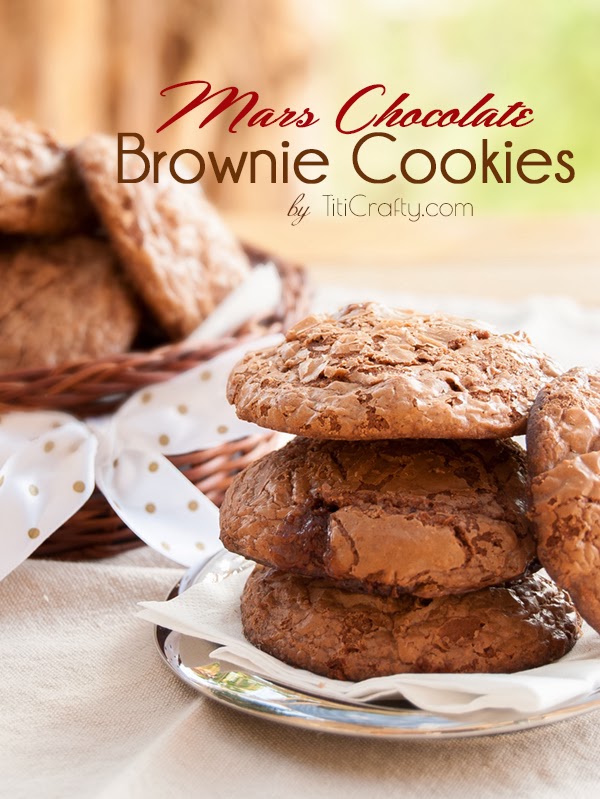 Til' next time...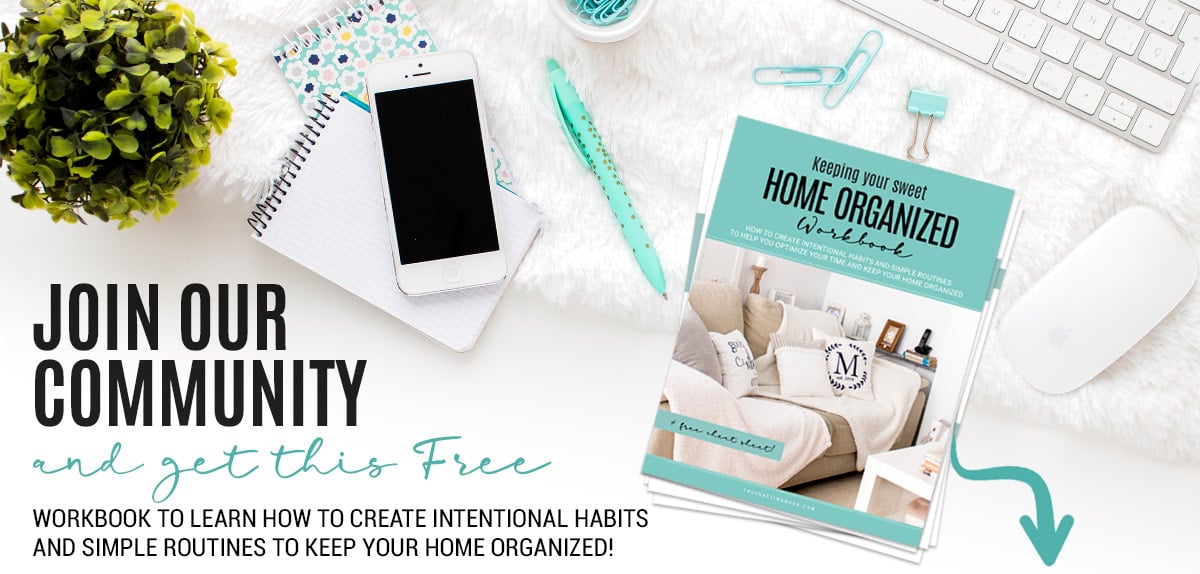 GET INSTANT ACCESS TO THE WORKBOOK
Plus freebies, printables, exclusive content, tips, stay connected, be the first to know great offers and Product Launches!
Disclaimer: By clicking on the "Yes, I want it" button above you are giving me your consent to collect and use your information according to the law and My Policy Privacy and The Cookie Policy. Zero Spam I promise!