Just because a bathroom is too small, doesn't mean it shouldn't be beautiful. 15 Gorgeous Small Bathroom Decor Ideas for you to get inspired.
As I mentioned a few times before, we moved into our new apartment a little over a year ago and of course, we are redecorating and organizing a lot of rooms in our home, in an effort to have things be more organized and tidy looking.
I recently shared some really gorgeous ideas to organize small bathrooms. These spaces may seem like a difficult design task to take on to me; however, these spaces may introduce a well-thought design challenge to add to my list.
You might also love these other home decor ideas: 25 More Gorgeous Farmhouse Style Decoration Ideas, 25 Small Bathroom Organizing Ideas, and 25+ Rustic Fall Decoration Ideas (Mostly DIY Projects)
15 Gorgeous Small Bathroom Decor Ideas
Creating a functional, pretty and storage-friendly bathroom may be just what any home needs which is the hardest task of all.
That being said, I've been looking on Pinterest for some gorgeous Small Bathroom Decor Ideas and inspiration. Thought I'd share them with you today.
In my opinion, a bathroom is one of the most important places in our home where we can find comfort, peace, and serenity.
It should be comfortable and pretty too.
It is a room for personal hygiene, generally containing a bathtub or a shower, and possibly also a bidet (like ours which I still don't understand why they still install them).
While we all love a large bathroom, some of us have to make do with small bathrooms that are usually seen in most apartments especially small apartments in Europe like mine.
If you, like me, have a small bathroom you are in the right place, I've got plenty of small bathroom decorating ideas for you. If your bathroom is large, don't worry, you will get some smart inspiration here too.
No matter how compact your room is, there's a pretty style to fit your taste and needs.
Bathroom Fun Facts
The oldest bathtub was discovered in Greece in 1500 B.C. It was made in the Minoan epoch for the bathroom of the Queen of the Palace of Knossos.
Have you heard of a toilet-themed park? Yes! It existed and it can be found in South Korea! It was launched in 2012 and was called the "Restroom Cultural Park." It features fun toilet sculptures, a toilet-inspired art piece, and a museum that shaped like…yes you guessed it correctly – TOILET!
People celebrate toilets! Yep, you heard it right! "World Toilet Day" is on November 19. Its purpose it to bring awareness on sanitation and its effects on health worldwide. There really is something worthwhile to celebrate!
So…
Are you ready to get inspired with all these Small Bathroom Decor Ideas?
Before we begin, be sure to follow us on Pinterest, Facebook, Instagram, and YouTube, and also sign up for our email list (at the end of this post), so you'll never miss a post!
Let's start…
Disclaimer: *My roundups are only for inspiration ideas. Just like I do for all my round-ups, I get a lot of inspiration from Pinterest. If you are at all familiar with that platform you know there are tons of pictures with no direct links to the original source. Some pictures featured here I found no source for or directed to the wrong one but if you know the source, contact me and I will update this post immediately, thank you so much!
Christene did a great job here! No more boring, basic yellow room from move-in day! It might not be a large room, but the powder room is now one of her favorite rooms in the home.
It feels so much brighter now with the addition of the shiplap wall treatment. The white paint helps the small amount of light that they get in that room bounce around. And, the crisp contrast between the white shiplap and the light gray walls keeps everything looking fresh.
via Christene from Keys to Inspiration
Such a gorgeous and modern bathroom decor. Keeping things light but neutral as well. Using lighter shower curtains, adding some statement pieces such as art that will draw your eyes and create interest, keeping things low to the ground that creates open space near the ceiling which creates height. And most importantly, keeping things organized. Clutter can quickly make a space look small.
via Amber from Snippets of Design
Loving the color palette and the small details. it looks fresh and so bright! She added some new paint, updated the vanity, changed the shelves and mirror, used colorful yet bright curtains as pops of color, and voila!! Love it!
via Amanda from Dwelling in Happiness
A white bathroom can help make a small space seem larger. Lack of color can sometimes make a space feel cold and uninviting. In this small, all-white bathroom, vibrant green from the plants and amazing black accents add a touch of warmth. A clear chair sits beside the black vanity to provide the right amount of contrast. This is such a chic bathroom! I also love the towel hooks and that big mirror!
Light paint colors are ideal for small bathroom design and remodeling. Light paint colors stretch small spaces and create a visually spacious bathroom design. I also love grayish-white tiles on the floor
I love the whole space! The storage baskets on the shelves and some accessories around it like the toothbrush holder, the fresh flowers, the soaps in the container, all in the rustic style make the space feel so warm. And what do you say about the lighting fixtures? so pretty!
via Rachel from Shades of Blue Interiors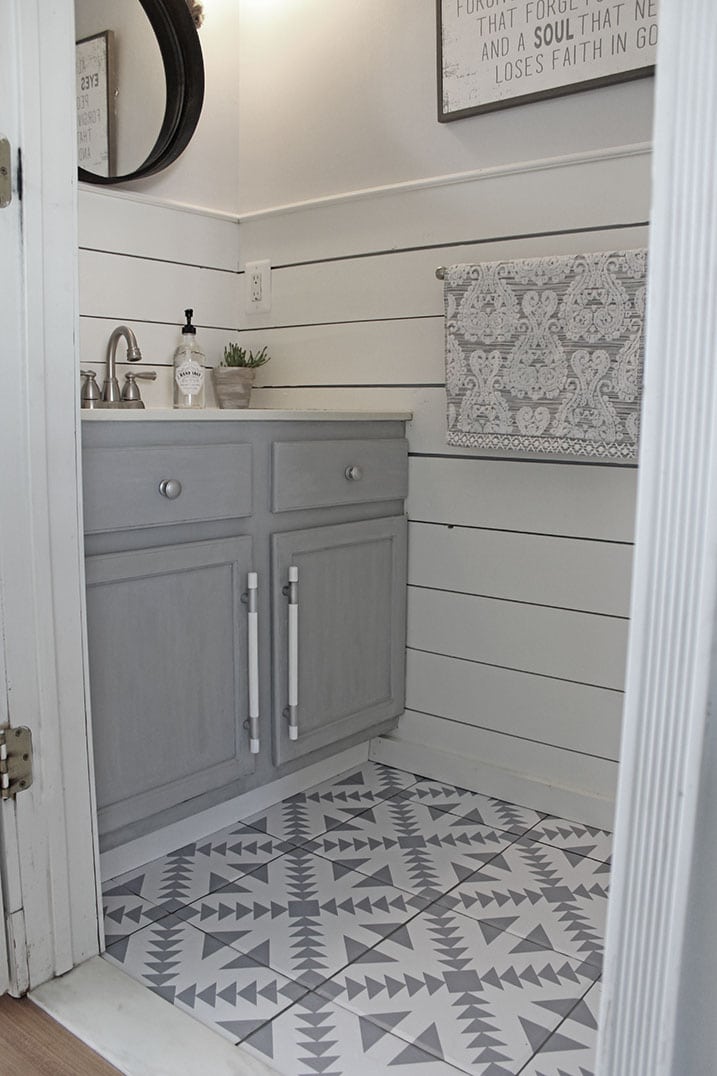 via Roxanne from The Honeycomb Home
In my opinion, the white shiplap with the gray vanity and all the details in gold stainless steel makes a big impact for this small bathroom.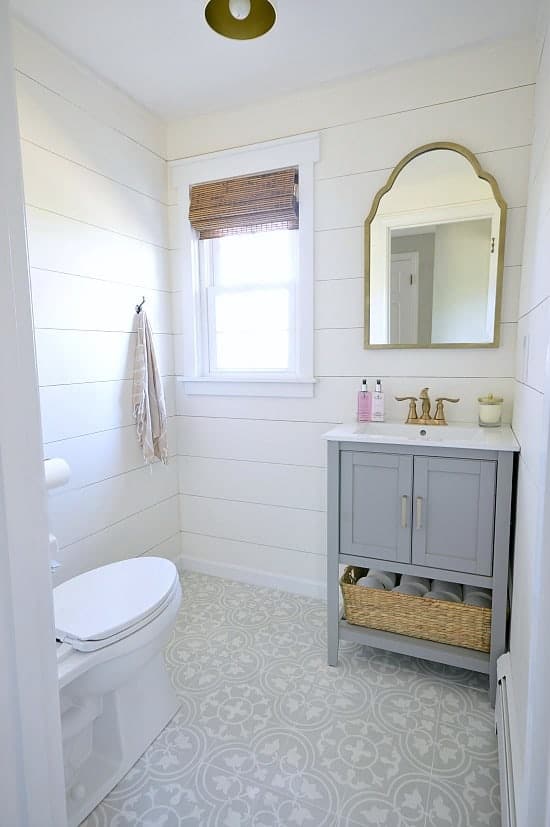 via Jenna from Jenna Kate at Home
As small as this can be it brings enough bathroom storage. Love the use of baskets for toilet paper and also for bath towels. Love the antique look of the hardware especially the hand towel holder.
via Angela from Angela Marie Made
Modern vanities in small sizes, pedestal sinks or bathroom furniture items designed for a corner are great for small bathroom design and remodeling. Wall-mounted sinks are good choices for small bathroom remodeling, as they create an airy feel in small spaces.
Such a bright and lovely bathroom. The shelving system adds the necessary extra storage space and although it has just the right bathroom accessories, it still allows space for small decorative touches!
via Interiors Yum on Tumblr
shared via Angela from Simply Beautiful
via Hayley from Rise and Renovate
Soft grey walls in a shade offer a subtle yet sophisticated contrast colour for white furnishings, as well as taking the edge off of pre-existing glossy white ceramics such as bathtubs and sinks.
A large mirror is an excellent decorating trick not only for adding functionality to your room, but also for creating the illusion of more space and depth. You can use mirrors to reflect ambient and direct light, so place your mirror next to a light source to boost the brightness of your room. Your space will also seem more open and less enclosed if you eliminate dark corners.
via Carmel from Our Fifth Home
Well, that's all for now! These are my most favorite ideas from all those Small Bathroom Decor Ideas I saw out there. You will surely be seeing how I decorate my bathrooms soon!!! So stay tuned!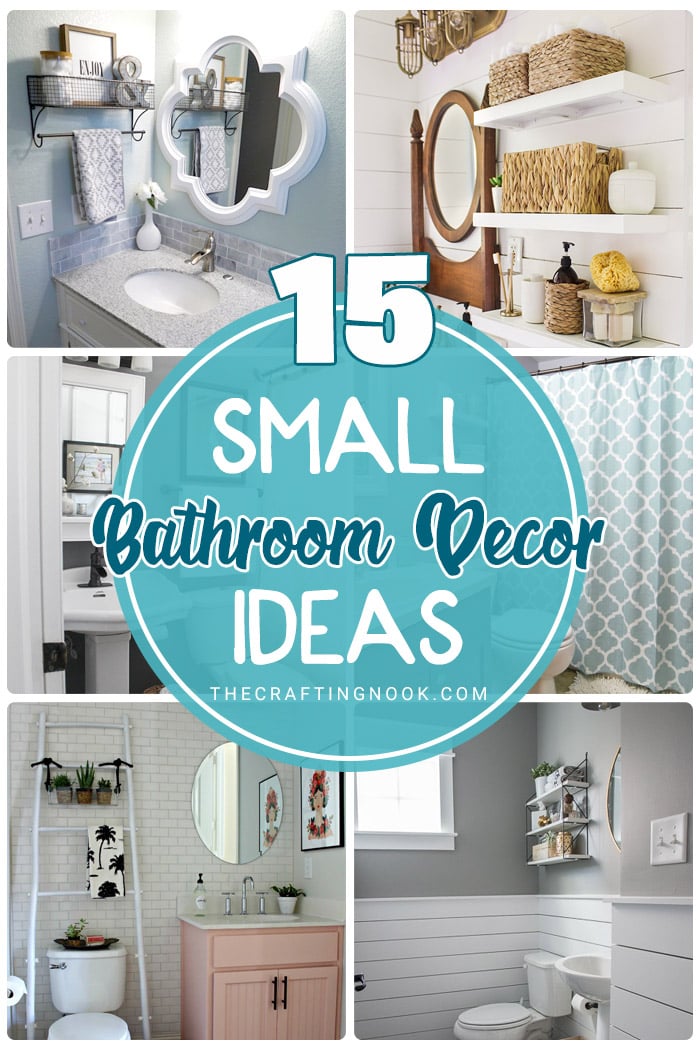 Hope you got some inspiration to start decorating your bathrooms as well! Let me know your favorite idea in comments!!!!
Disclaimer: *Just like I do for all my round ups, I get a lot of inspiration from Pinterest. If you are at all familiar with that platform you know there are tons of pictures with no direct links to the original source. Some pictures featured here I found no source for or directed to the wrong one but if you know the source, contact me and I will update this post immediately, thank you so much!
If you enjoyed and got inspired by these small bathroom decor Ideas, you might also want to check out these too: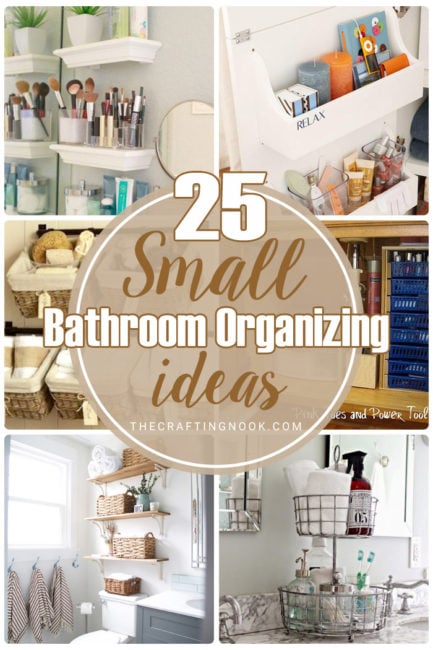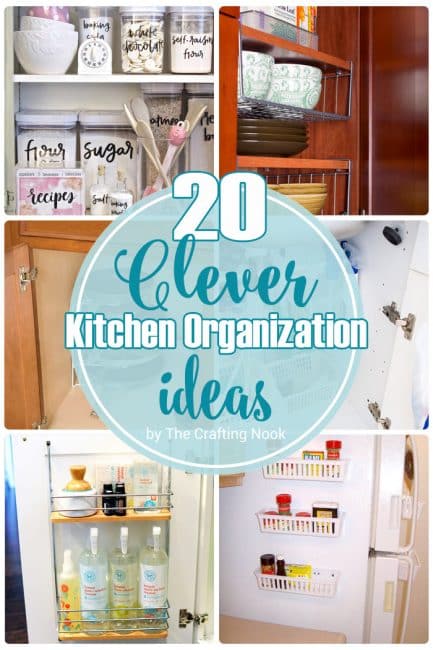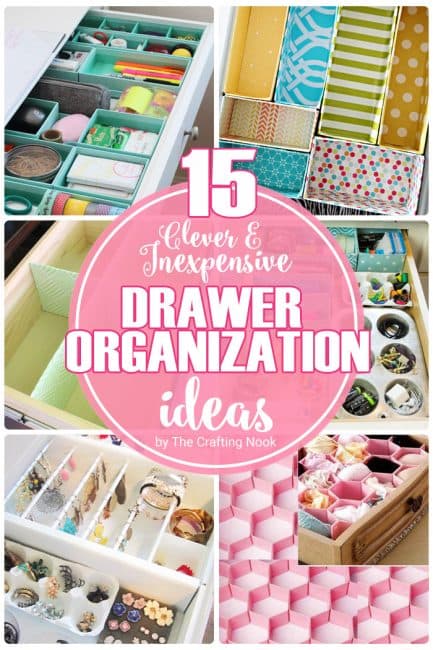 15 Clever and Inexpensive Drawer Organization Ideas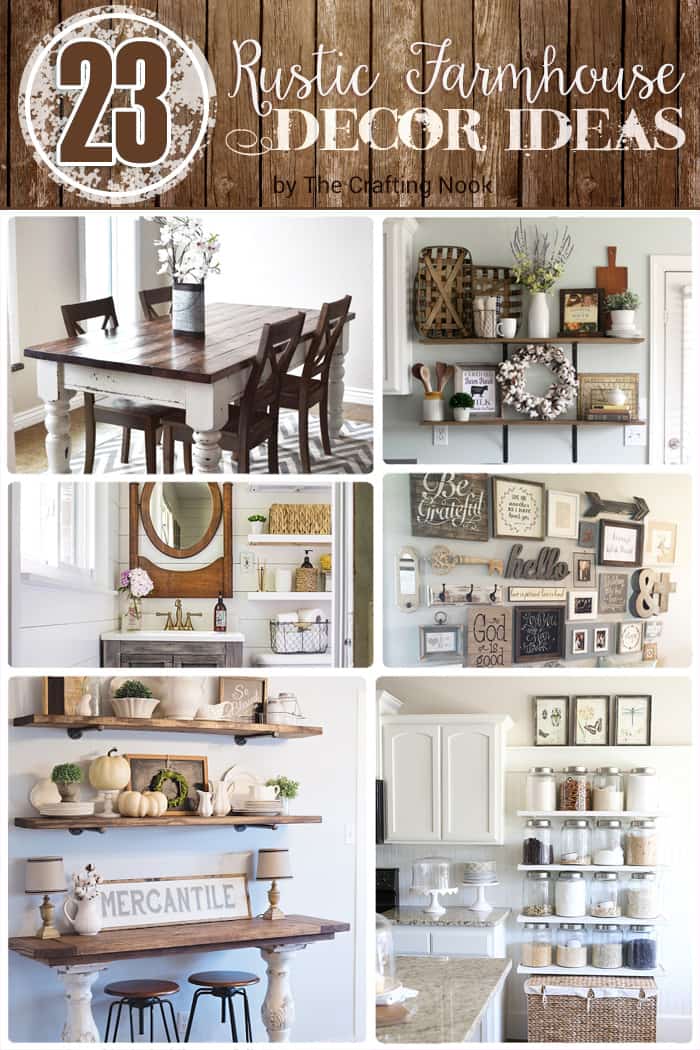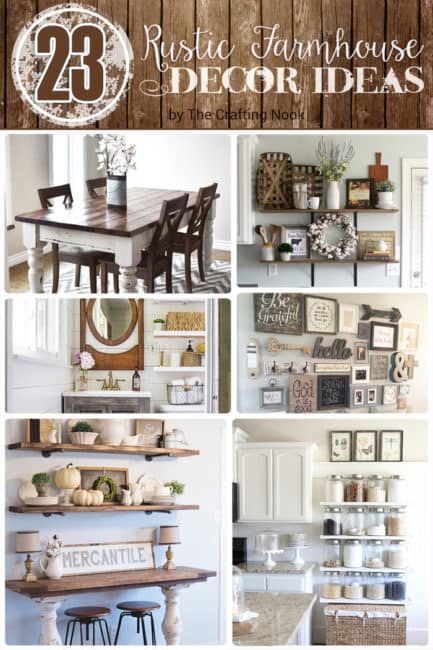 Till Next time!