Hello my lovely readers! St Patrick's Day is around the corner and I thought it would be so nice to celebrate it with a delicious lime and chocolate chips cupcakes with a super yummy green vanilla frosting. I mean a cupcake is good anyway anywhere LOL.
How to make Lime White Chocolate Chips Cupcakes + Freebie
This is an easy recipe that I found in a cool book but I had to change a few things so it would be as I wanted. Hope you find it as yummy as I did.
Directions
Preheat oven to 180ºC/350ºF and line 12-hole muffin pan with cupcakes liners.
In a small bowl mix flour, cornstarch and bicarbonate soda.
In a stand mixer, cream the butter on medium speed until it's very soft and creamy then add little by little the sugar and ring mix for about 5 minutes or until is fluffy. Beat in eggs one at a time.
Stir in flour mixture, juice and milk little by little until well combine. Turn off the mixer and manually mix the white chocolate chips.
 Drop 1/3 cup of mixture into liners. Bake for about 35 minutes.
Stand about 5 min before transferring them to a cooling rack.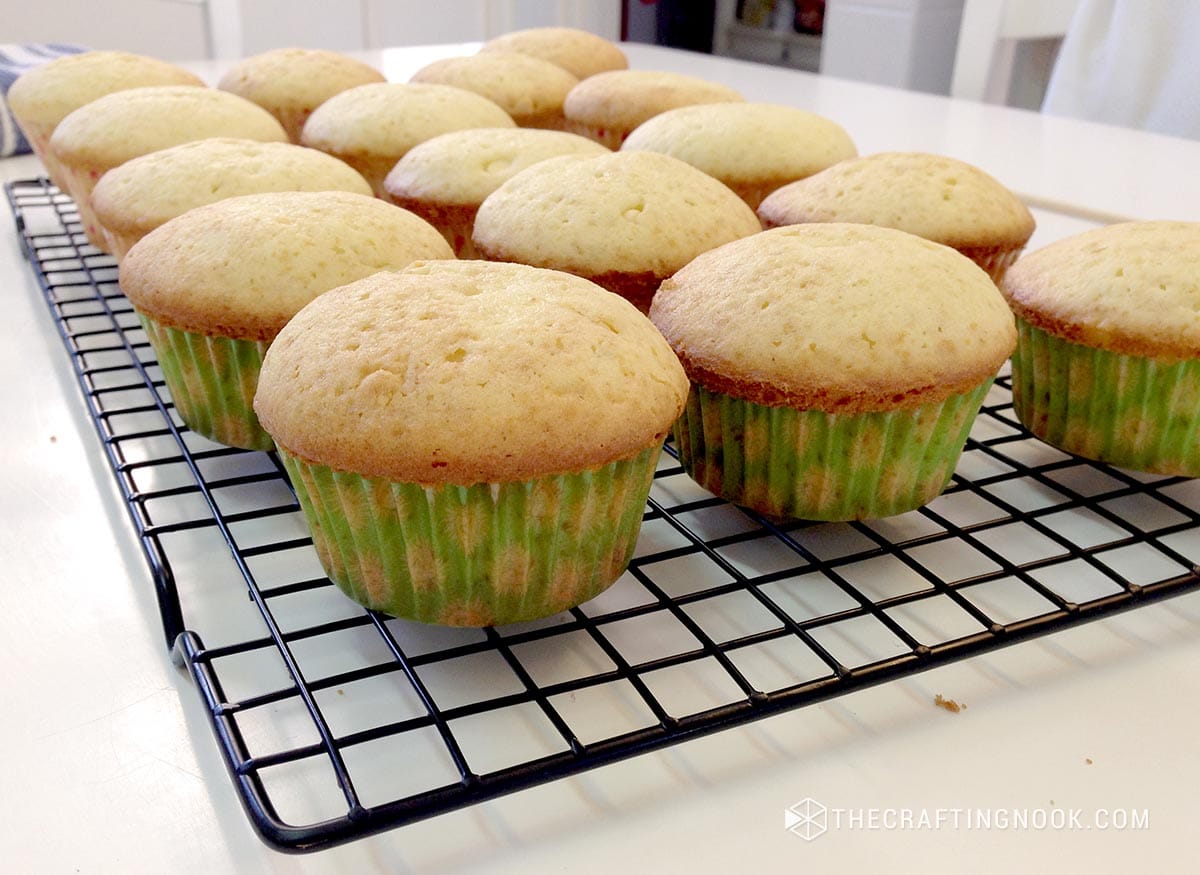 Making the Frosting
Beat butter in a small bowl with a stand mixer until creamy and as white as possible, then beat in the icing sugar and milk in tow batches.
Fill an icing bag with the frosting and set in the fridge for about 5 minutes. Don't leave it for more than 10 minutes or the frosting won't work well.
When Cupcakes are cool, decorate with your icing bag and your favorite tip.
I added a piece of lime peal to the top!
Tadaaaaa…Serve and enjoy!
Many of you probably know I'm a lover of silhouette projects LOL, so I also made these cute cupcake wrappers to add a little bit more St Patrick's Day fun to my cupcakes and guess what??? I'm sharing with you the cutting file so you can make them too!!! Yayyyy!
St. Patrick's Day Lime White Chocolate Chips Cupcakes + Freebie
Ingredients
Cupcakes

1/4

cup

{60 ml} of whole milk

185

gr

{6 Oz} of unsalted butter at room temperature

3

eggs

1/4

cup

{60 ml} of lime juice

1/4

cup

{60 ml} of orange juice

3

tsp

of finely grated lime rind

1 1/3

cups

{300 gr} of caster sugar

1 1/2

cups

{225 gr} of self-raising flour

1/3

cup

of cornstarch

1

tsp

bicarbonate soda

1

cup

of white chocolate chips

Frosting

125

gr

{4 Oz} unsalted butter at room temperature

1 1/2

cups

{240 gr} of icing sugar

2

tbsp

of whole milk
Instructions
Preheat oven to 180ºC/350ºF and line 12-hole muffin pan with cupcakes liners.

In a small bowl mix flour, cornstarch and bicarbonate soda.

In a stand mixer, cream the butter on medium speed until it's very soft and creamy then add little by little the sugar and ring mix for about 5 minutes or until is fluffy. Beat in eggs one at a time.

Stir in flour mixture, juice and milk little by little until well combine. Turn off the mixer and manually mix the white chocolate chips.

Drop 1/3 cup of mixture into liners. Bake for about 30 minutes.

Stand about 5 min before transferring them to a cooling rack.

Frosting

Beat butter in a small bowl with a stand mixer until cream