I love upcycling, it's crafty, it's fun and it's good for the planet. Mst of the time it can be useful as well =D. So I made this great Craft Storage Upcycling Milk Tin Cans I had saved from the first year of my baby.
DIY Craft Storage, Upcycling Milk Tin Cans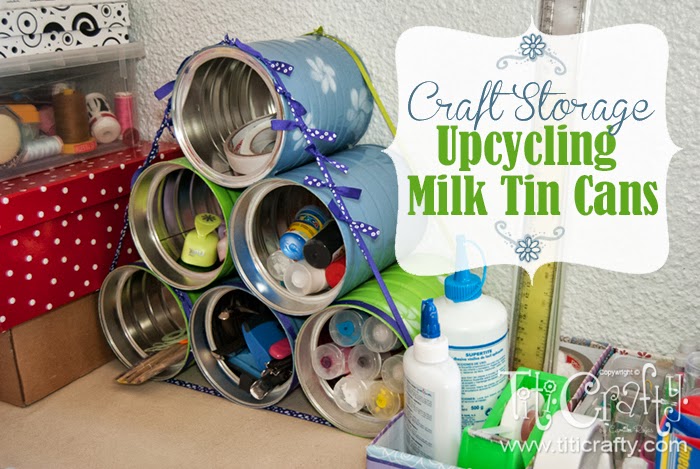 Organizador de Materiales de Manualidades Reusando Latas de Leche
I've seen this kind of crafts with so many pics on Pinterest and also in so many ways that I was in love with the idea. I knew I would have the opportunity to make it in some point =D and I did yayyyy! He visto esta manualidad en tantas fotos en Pinterest y en tantas formas que me había enamorado de esta idea. Sabía que se me presentaría la oportunidad en algún momento de hacerlo, y la tuve yupiiiii!
I collected many milk tin cans from my daughter's first year to reuse them in some way and suddenly I said "OMG I can do it with these cans!" LOL. Guardé muchas latas de leche de mi hija durante su primer año para reusarlas en alguna cosa y de repente me dije "OMG Puedo hacer esa ida con estas latas!" jajaja.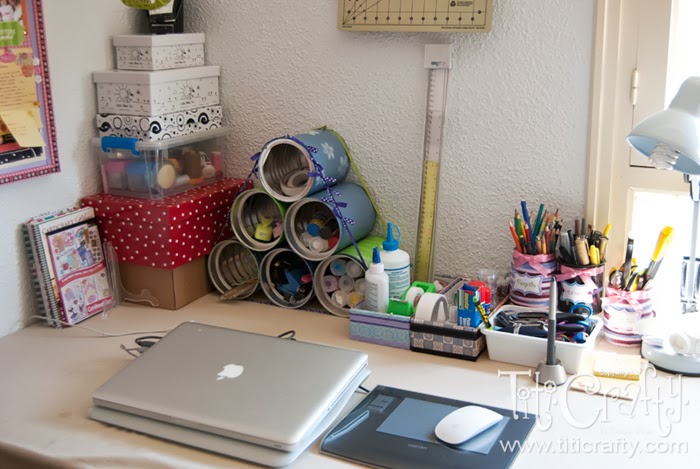 Here I'm sharing how I made my Craft Storage upcycling my daughter's milk cans LOL.
What you need:
Tin cans
Spray paint
Hot glue gun
Ribbons
1
Clean the cans well and paint the cans in white first.
2
Then paint with the color of your choice, I chose green and light violet.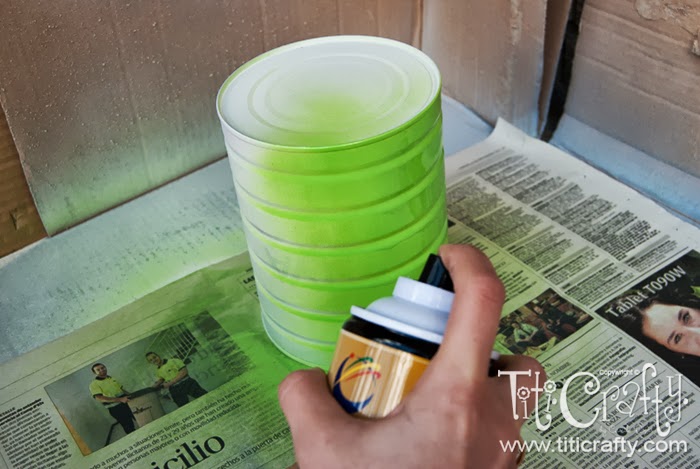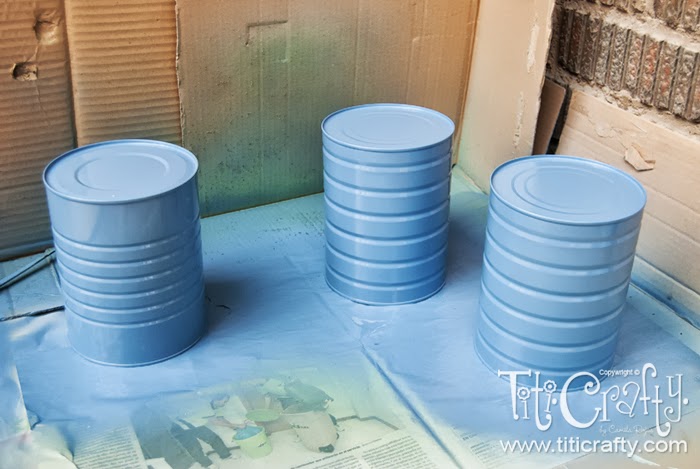 3
I made a cut out of some flowers with my Silhouette and spray painted some of the cans in white.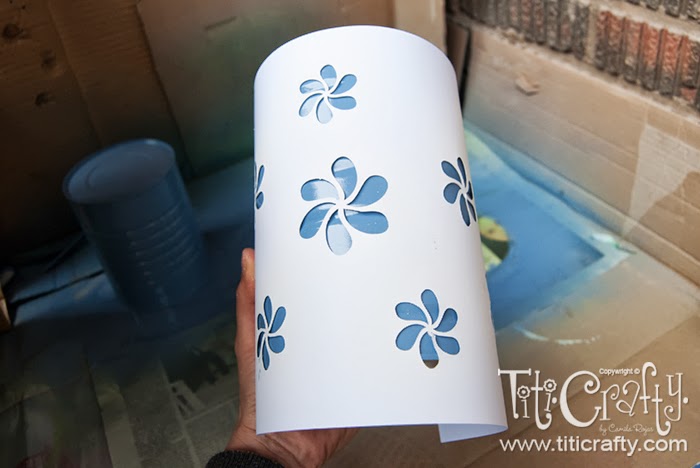 4
Essembling and decoration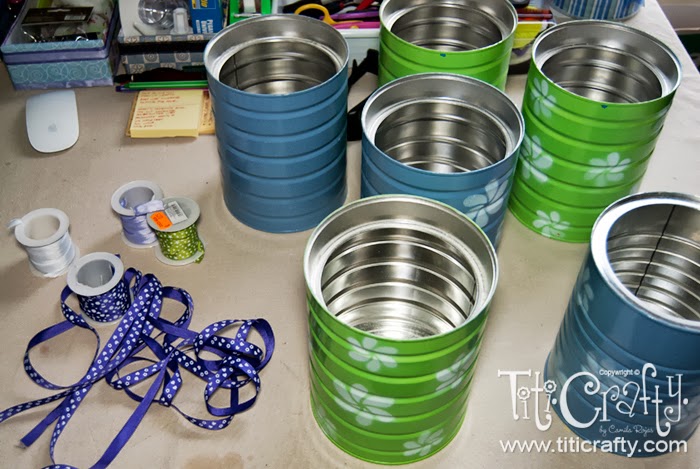 5
Join 3 cans with ribbons making eights and gluing every now and then. I applied2 loops of ribbon.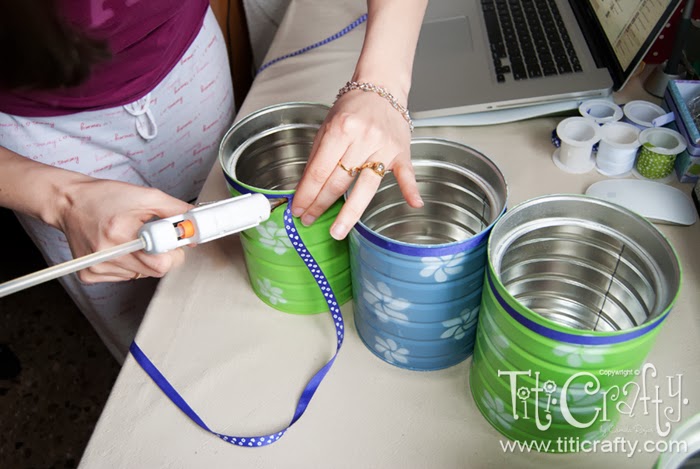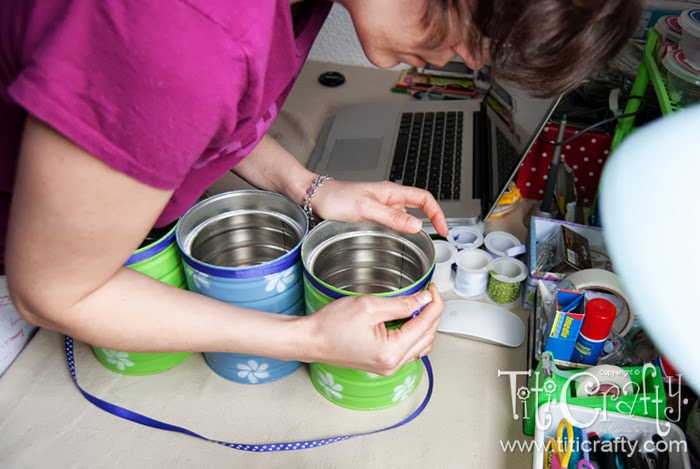 6
Glue and secure the spaces between cans with hot glue. You might need to wait until one coat dries to apply another so it doesn't break apart.
7
Put together the rest of the cans doing the same process above.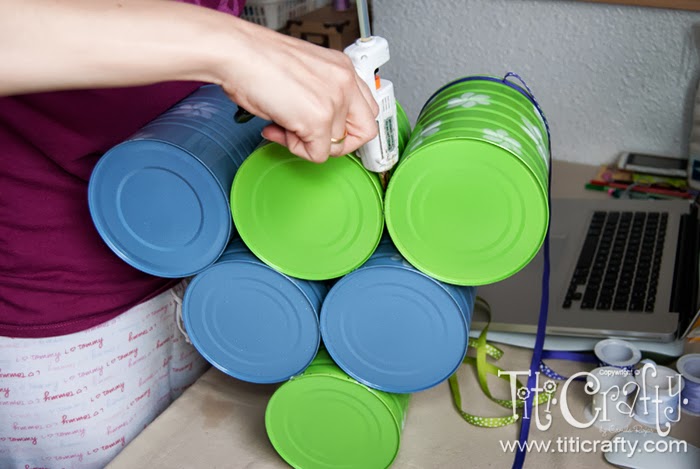 8
Then secure the whole structure with a decorative ribbon in the front.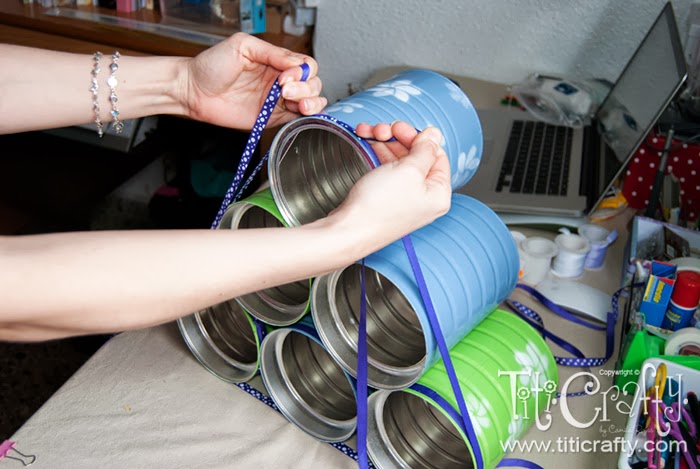 9
…and in the back too.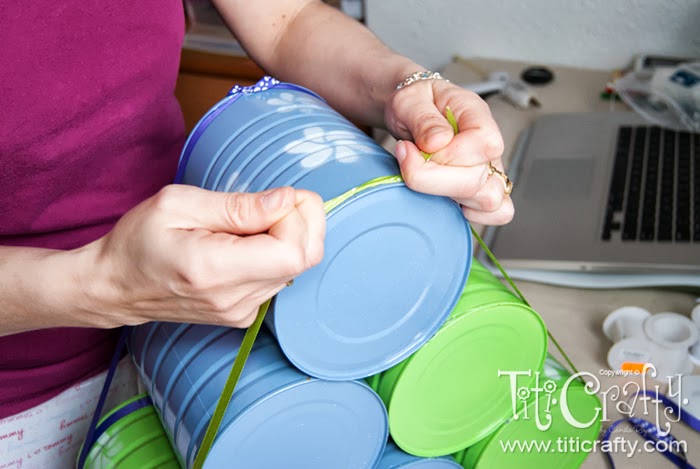 10
Cut the ribbon left leaving some strips left.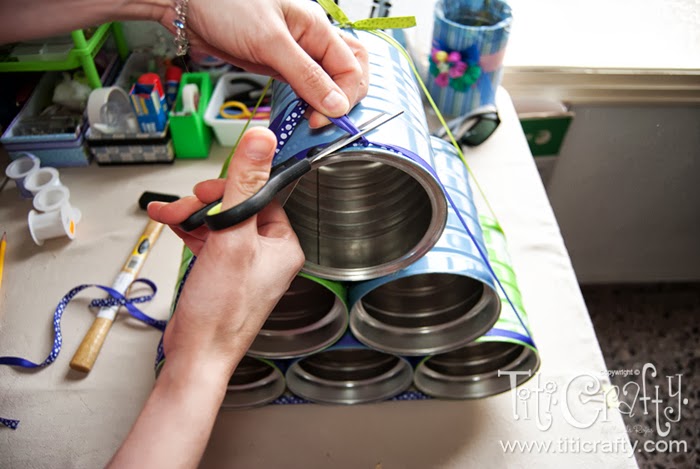 11
Cut some small strips of ribbon and tight them with a knot to the front ribbon.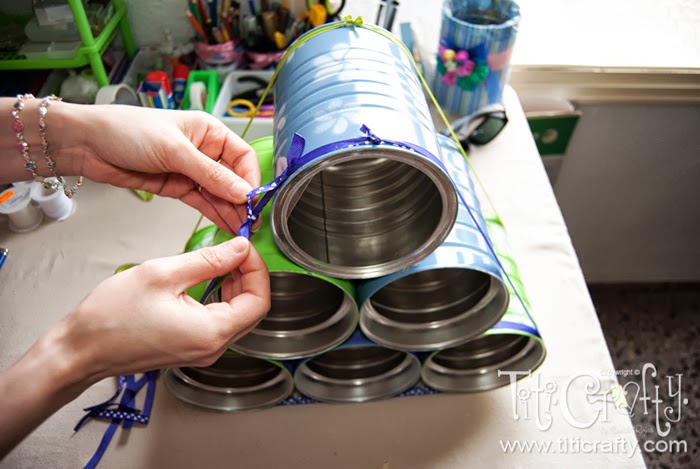 TADAAAAA Readdy to use!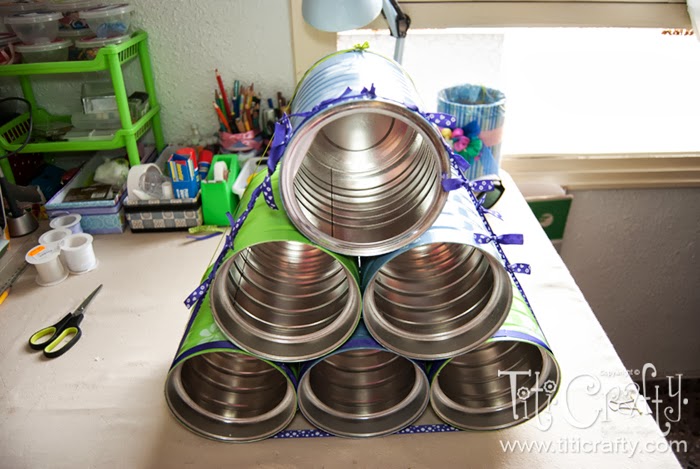 How does it look???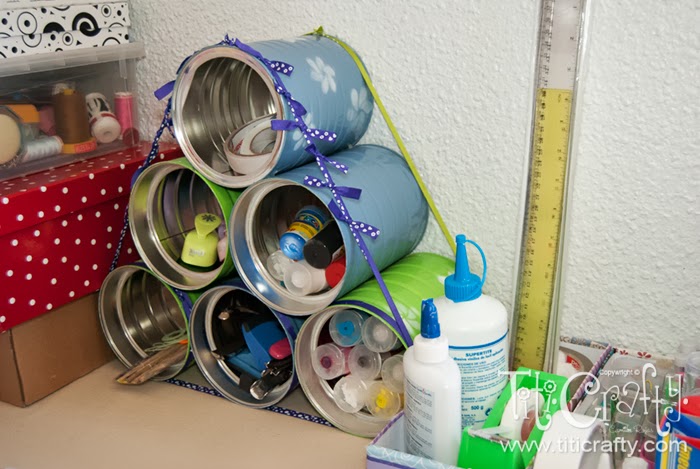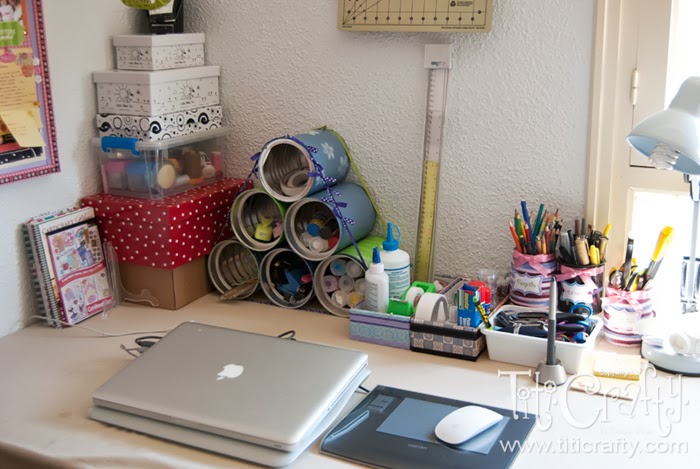 My work station is getting better, isn't it? Love it!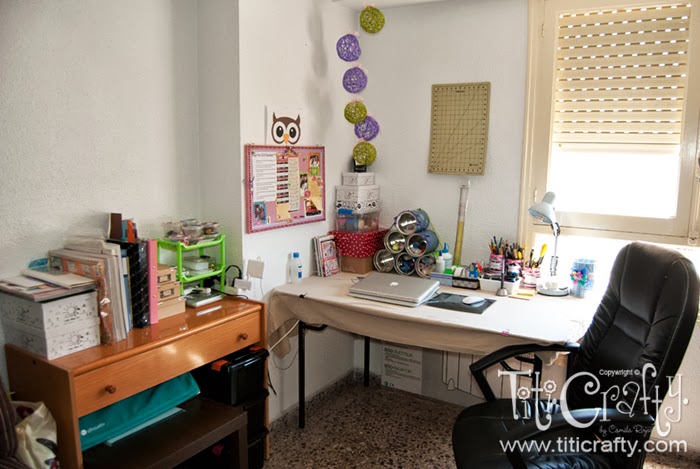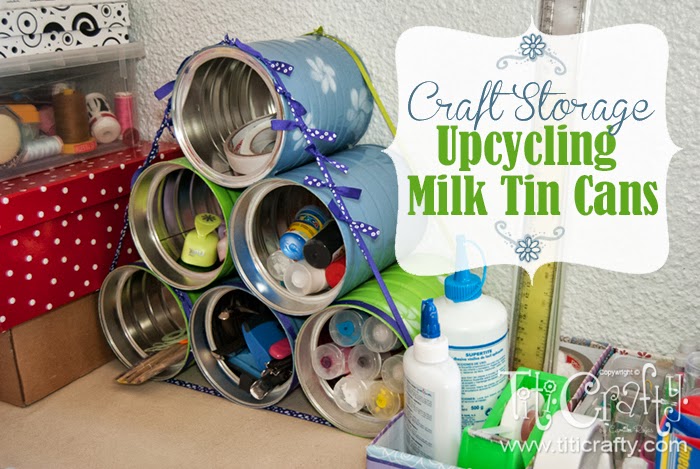 So, What do you think? I love hearing your thoughts!