This Farmhouse Spring Styled Tray is the perfect touch for your dining table or coffee table. It's easy to put together and will make a great decoration adding farmhouse style to the home!
I've been craving for the farmhouse. The more I see, the more I want. The thing is, I live in a really small apartment and it's rented, so I can't do as much as I would love to. However, I'll manage to create and adapt things around so I get that incredibly gorgeous farmhouse look I so love.
DIY Farmhouse Spring Styled Tray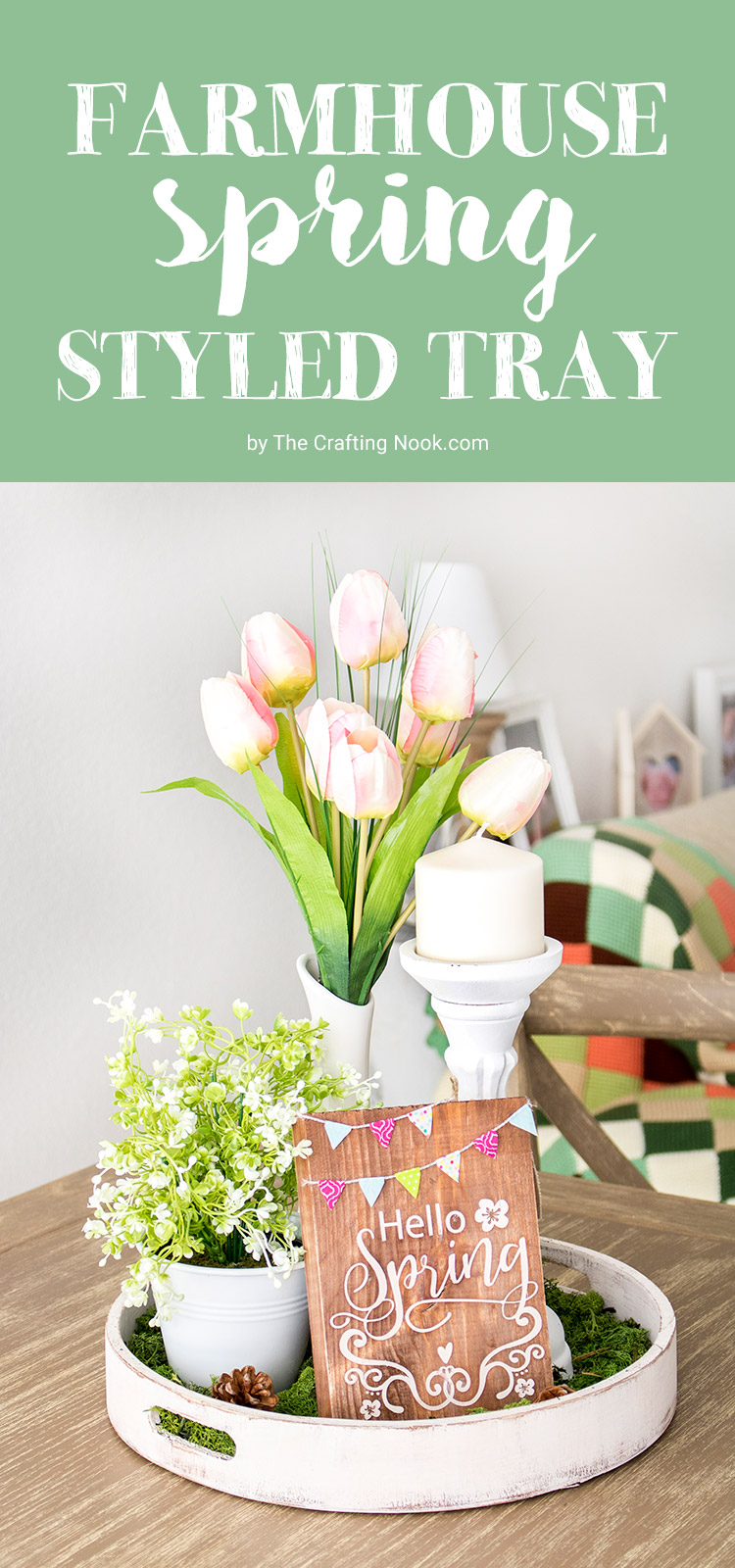 Today I'm excited to share how my Farmhouse Spring Styled Tray turned out. Using Spring as my excuse I created this pretty decor transforming that simple tray into a more rustic and pretty one.
I bought that tray last year and I really liked how it looked. But, you know, I need change and I needed it to look more rustic. My dining table is brown and a little dark so I wanted to create a white aged and distressed look to contrast against the table.
It was a simple project that put together in a few hours. I should have waited longer since I was staining and painting, I know. But I just wanted to have it done. I'm not much of a patient person lol.
I was aiming for a more vignette look inside the tray so I gathered a few things I had already at home and bout the flower vase and the moss. It had to have a pretty Spring look too.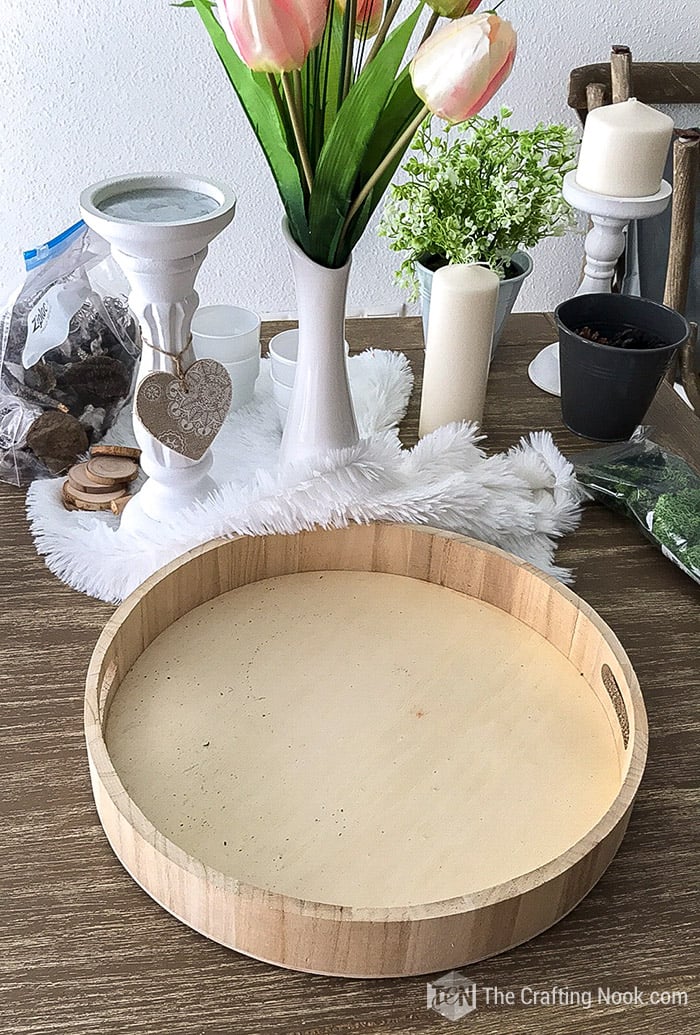 I absolutely love my candle holder so it was an easy one, then I bought a fake plant and put in a painted metal pot. You probably might be asking, why fake? Well, I tend to kill plants. At least that kind of plants. I do good with succulents, cactus, Aloe and lucky Bambu, other than that would be dead in no time.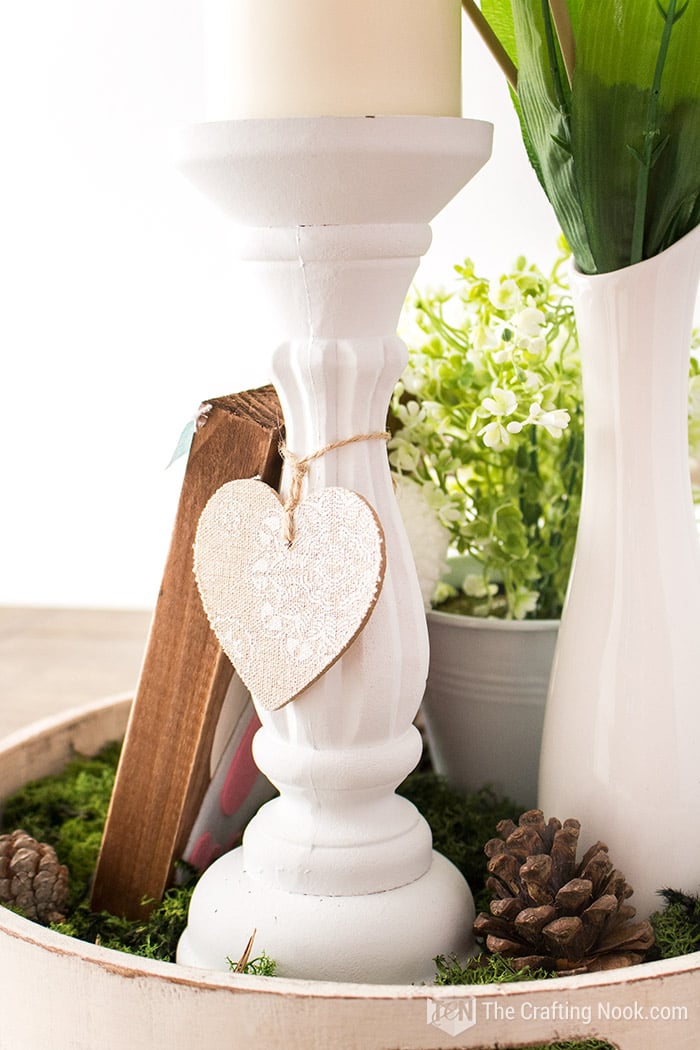 I believe in vibes and I definitely have a connection with those plants. My Aloe Vera is gorgeous and has gotten huge and all main ribs are strong and pointing up instead that to the sides. My Bambu plants keep getting prettier and prettier each day.
Anyway, I wanted to bring more green to my home but I preferred fake so I don't have that extra stress. With the few alive plants I have I'm more than happy but needed a few more spots of green and the Farmhouse Spring Styled Tray was one of them.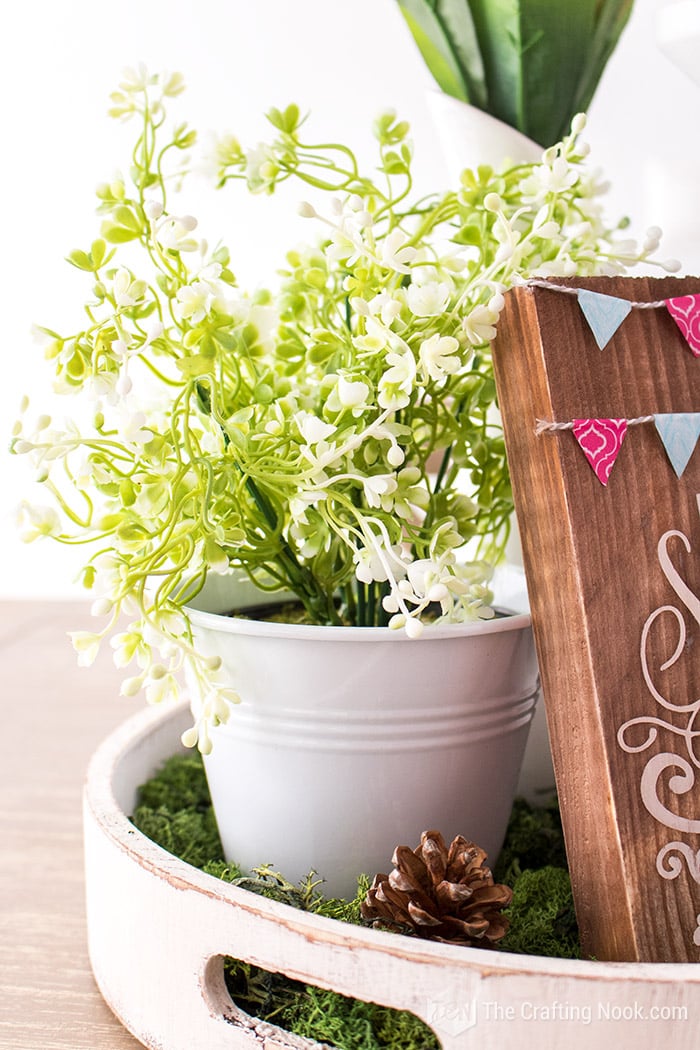 On my pretty vase, I put some (also fake) tulips. Up close you can definitely tell they are fake but when you enter my living room and look at the dining table they look so pretty.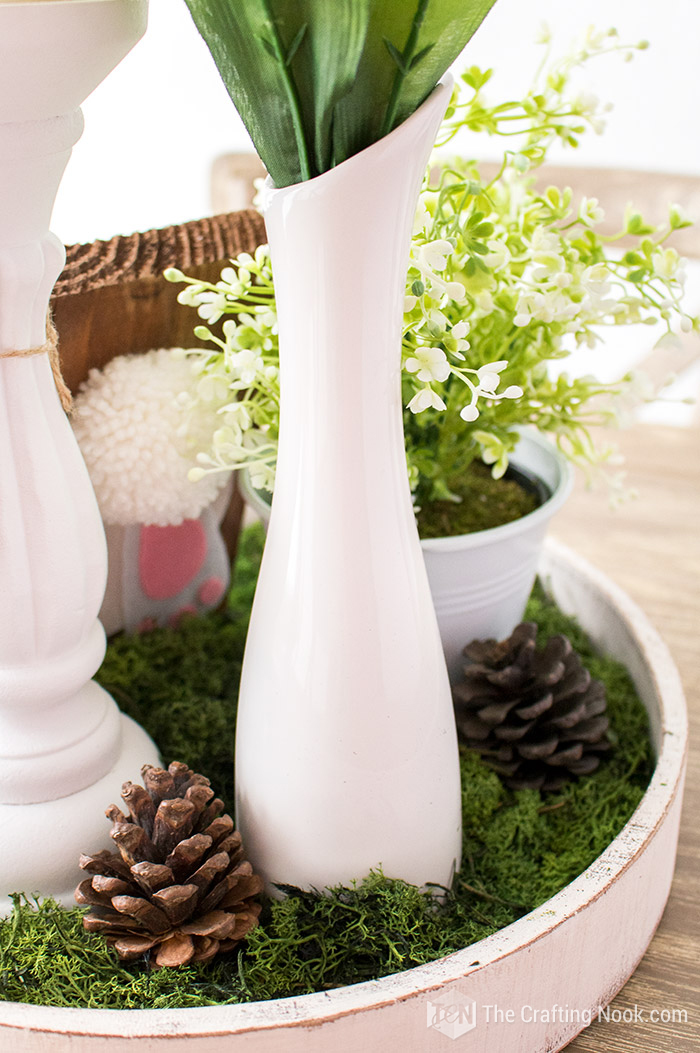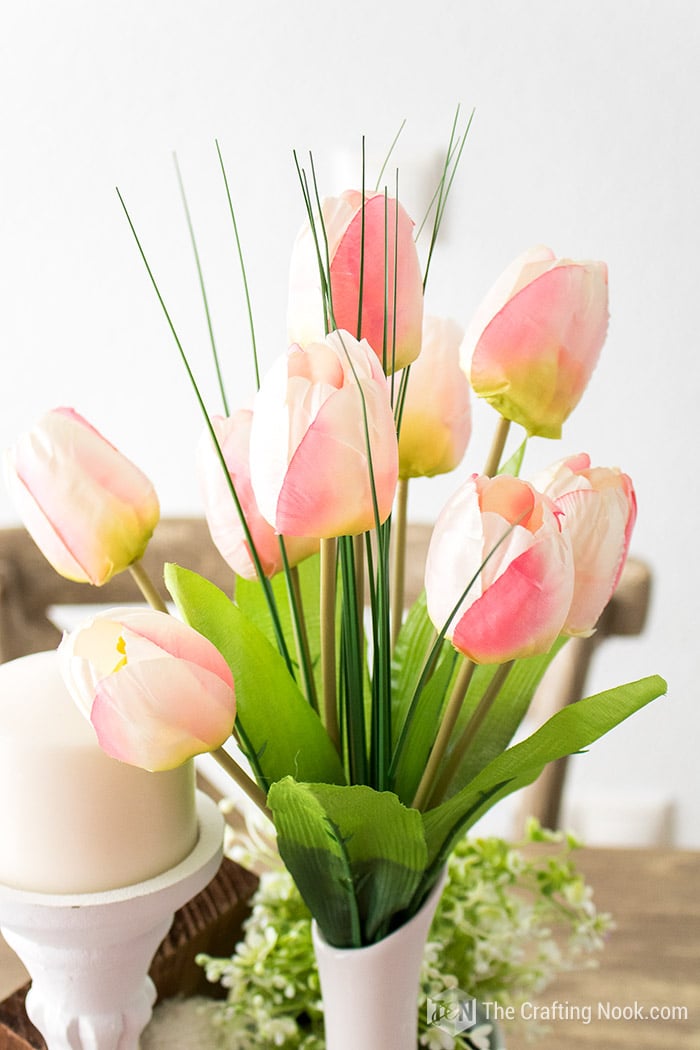 I filled the tray with fresh moss. Who would have thought about it, right? LOL. Yeah, I know! Added a few pinecones. I know it's not the season but I can't help it. I Love pinecones so let's call that my personal touch, shall we?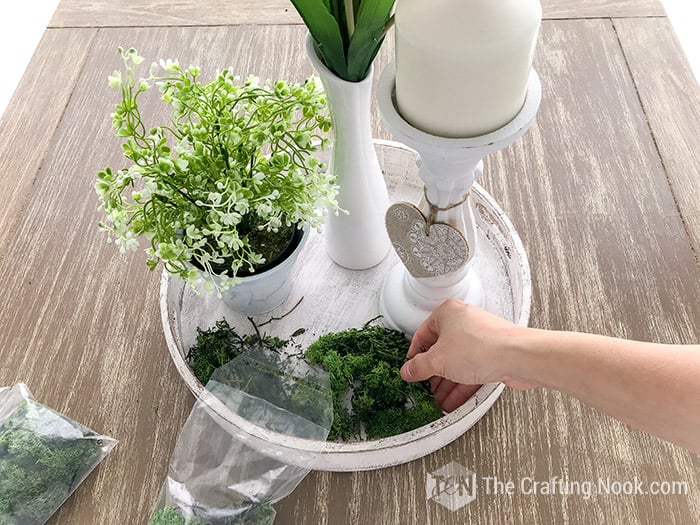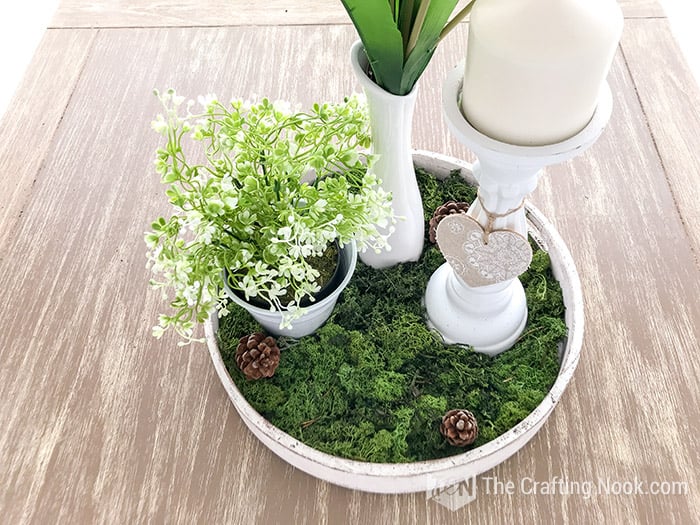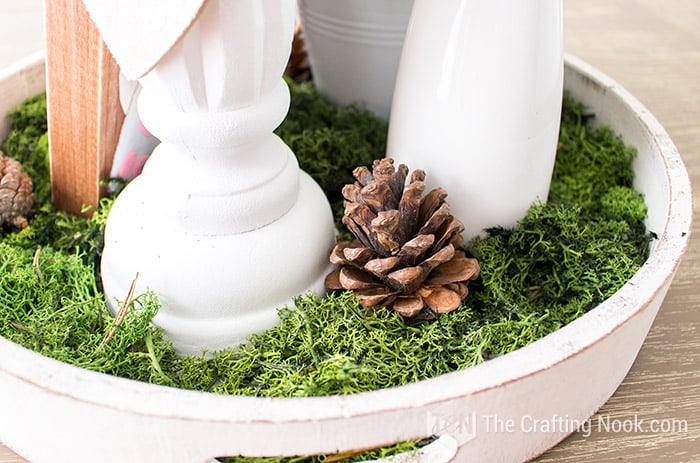 Then my last touch was my Reversible Rustic Spring to Easter Sign. For easter will be filled with cute eggs and then go back to the Spring sign.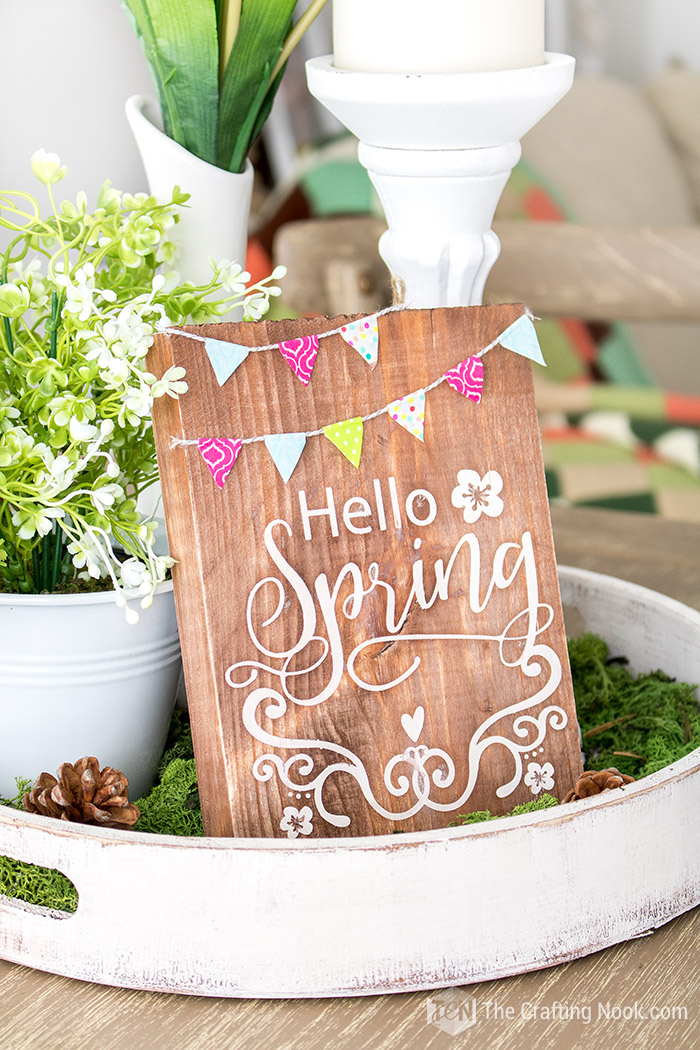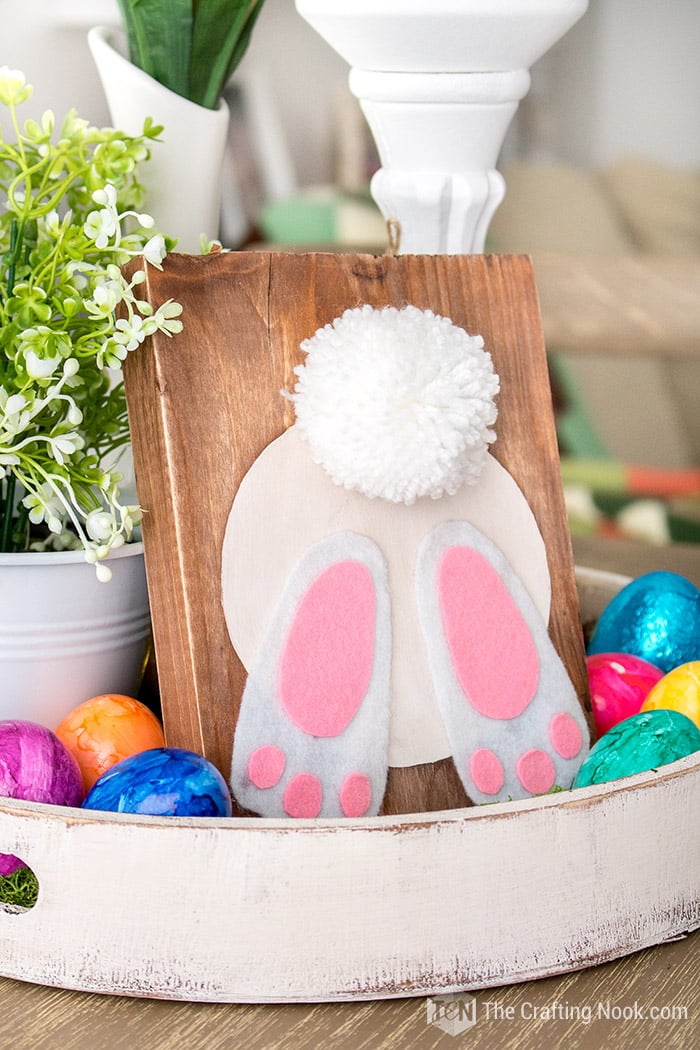 I absolutely LOVE how it turned out. It will be hard to change it when the season is ending. But I still have some time to think about an even prettier tray decor.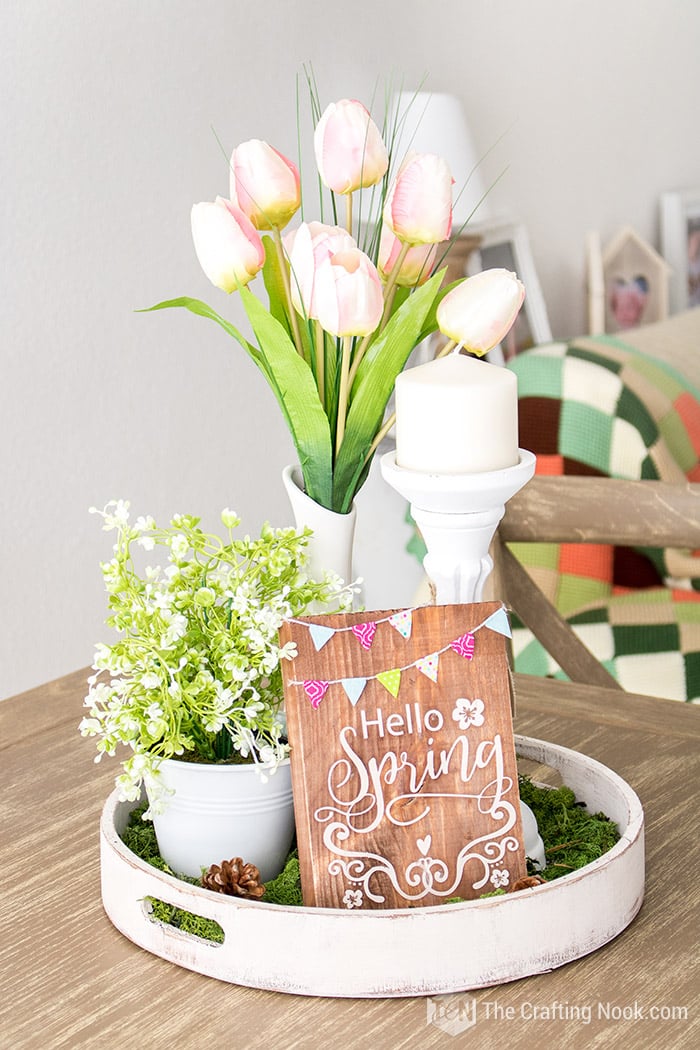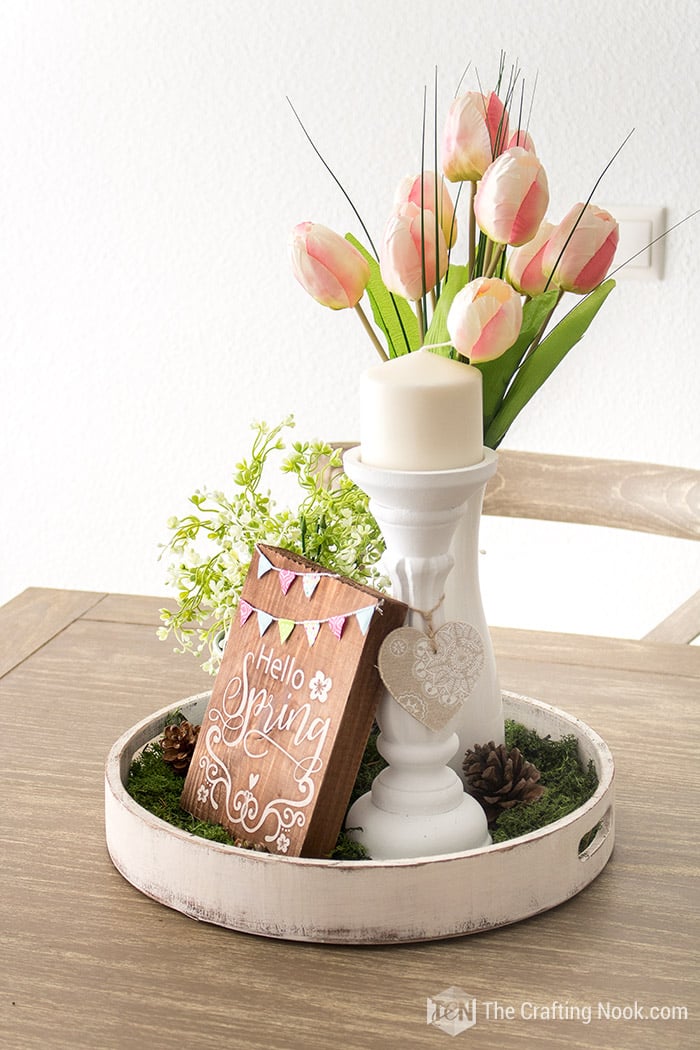 SO…
Wanna see how I painted the Farmhouse Spring Styled Tray?
Woot, let's go!
Supplies:
Walnut Wood Stain
White chalk paint.
Plastic dish.
Brush for stain and brush for chalk paint.
Sandpaper (I used 150 grit and 80 grit)
Cloth
The first thing you need to do is clean really well your tray to remove dust. Then pour a bit of your stain on the plastic dish (if your stain doesn't have a wide opening like mine).
Start staining your tray and leave it dry a couple hours.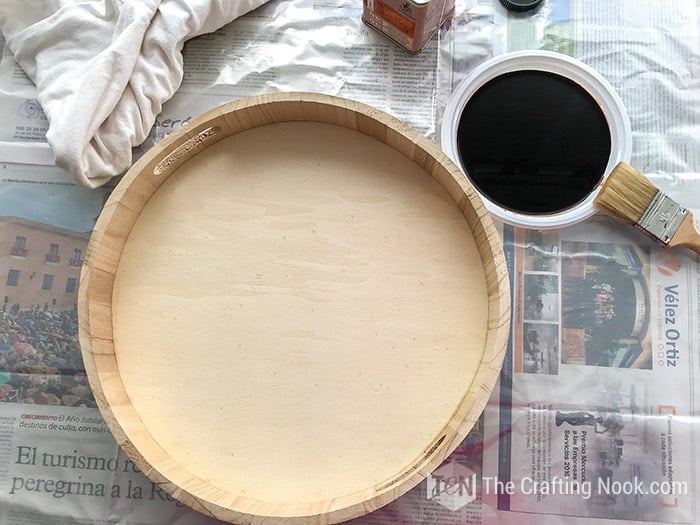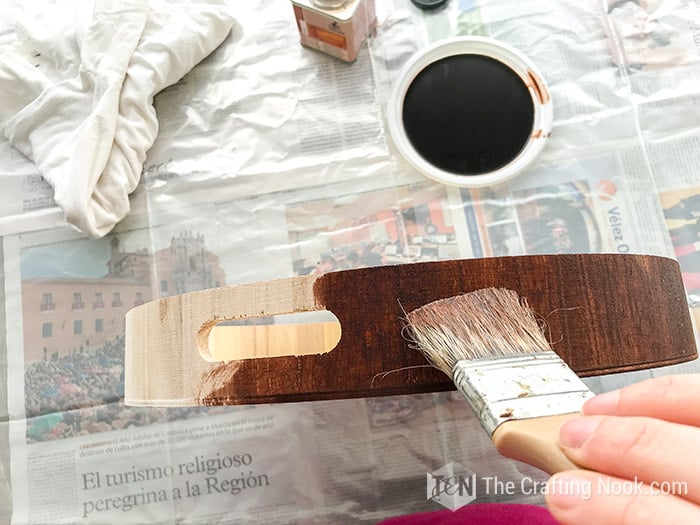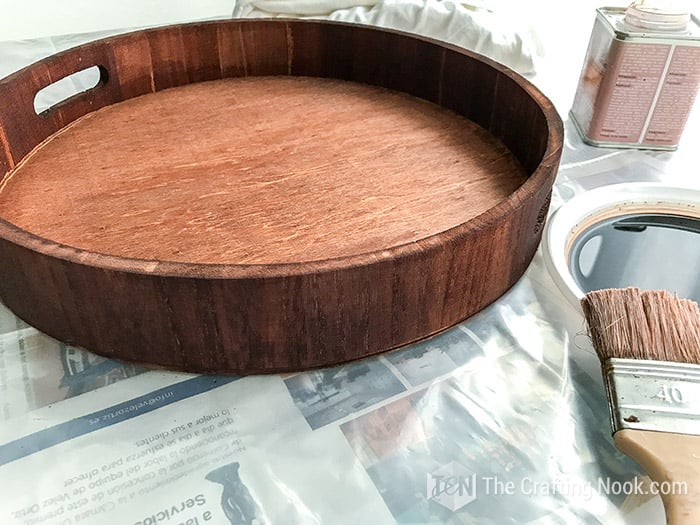 Once your tray is dry, start painting with your chalk paint. Just dip the tip of your brush and make quick rough strokes.
Depending on your stain, the first coat of paint will get a bit pinkish. Mine did I guess it's because it was a water-based stain.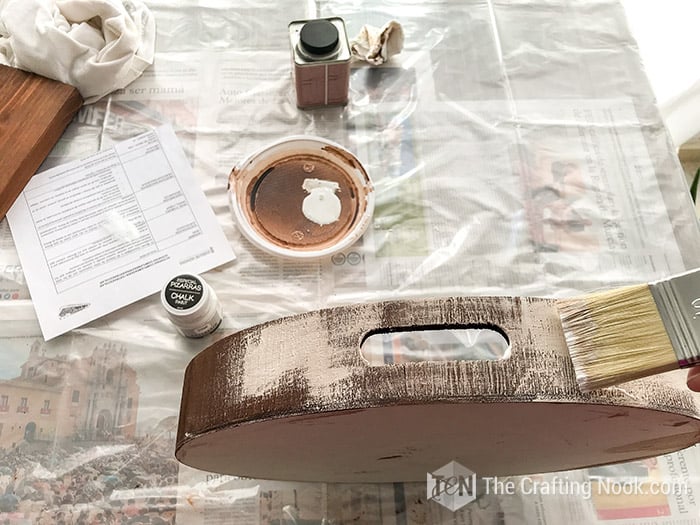 You can paint only the outside or the whole tray. I decided to paint the whole thing. Let it dry for about one hour or according to your paint instructions between coats.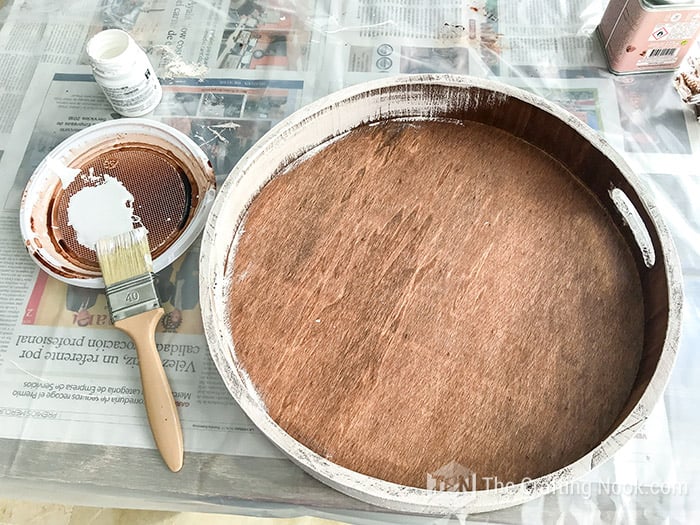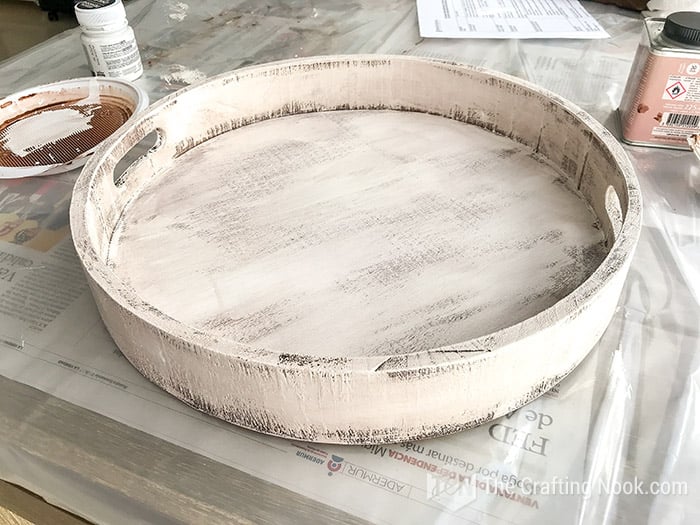 Once dry, sand it with a 150 grit sandpaper.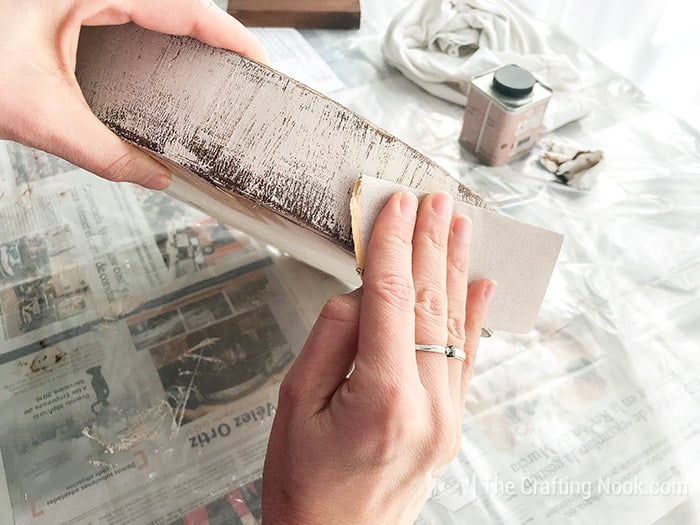 Clean it well afterward with a cloth. Remove all the dust from the sanding.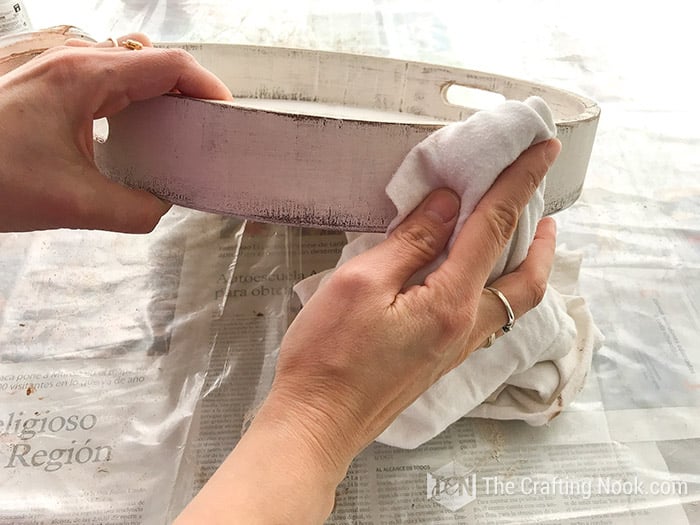 Apply a second coat of chalk paint the same way you did the first coat.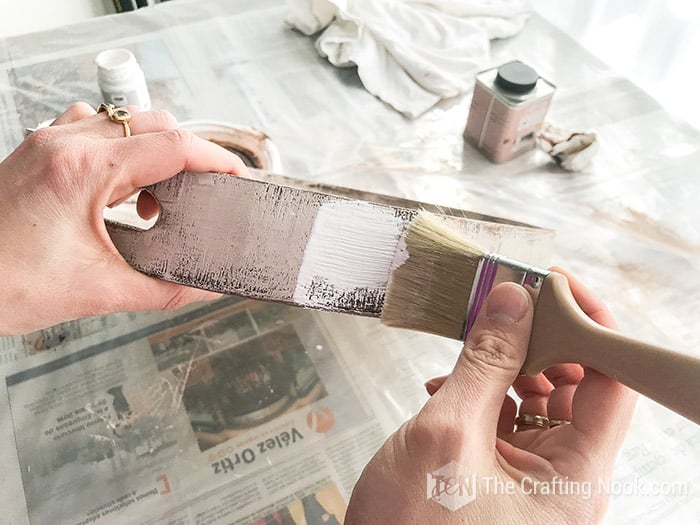 You will see it gets whiter.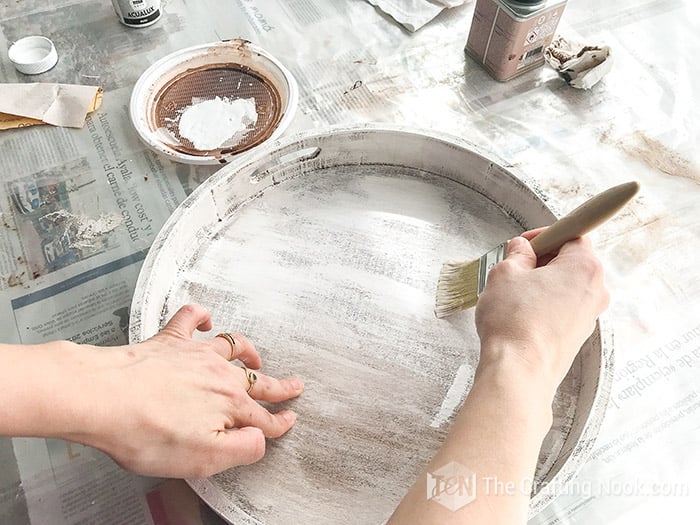 Let it dry again for an hour or so until you feel it really dry.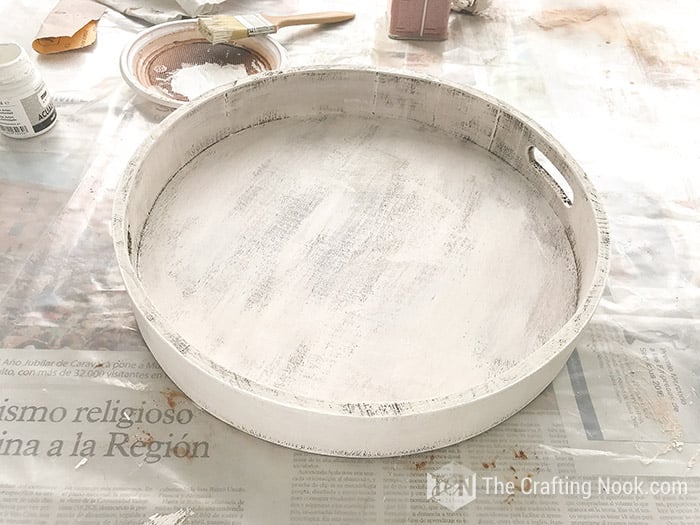 Sand it again. Here it's optional, you can either use the 150 grit or the 80 grit. I used the 80 because I wanted to create a more damaged and aged look. Sand especially on edges.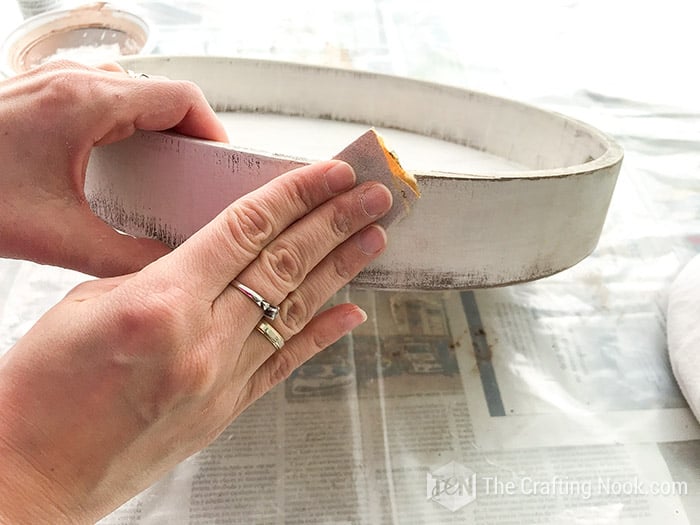 Clean with your cloth again.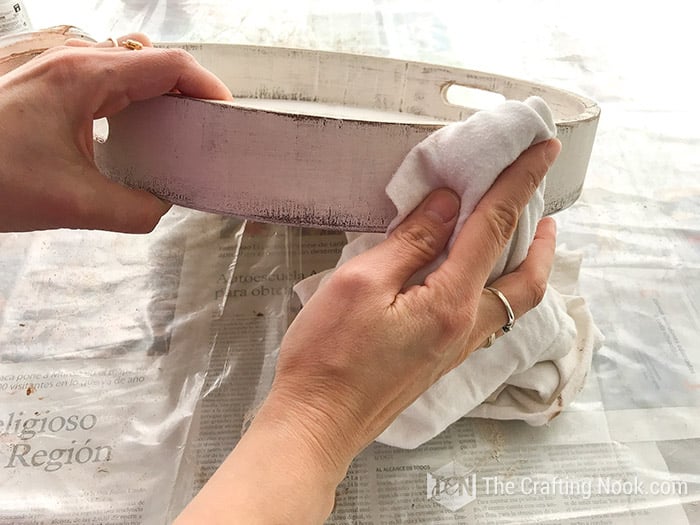 There you go! You got yourself a pretty Farmhouse Tray.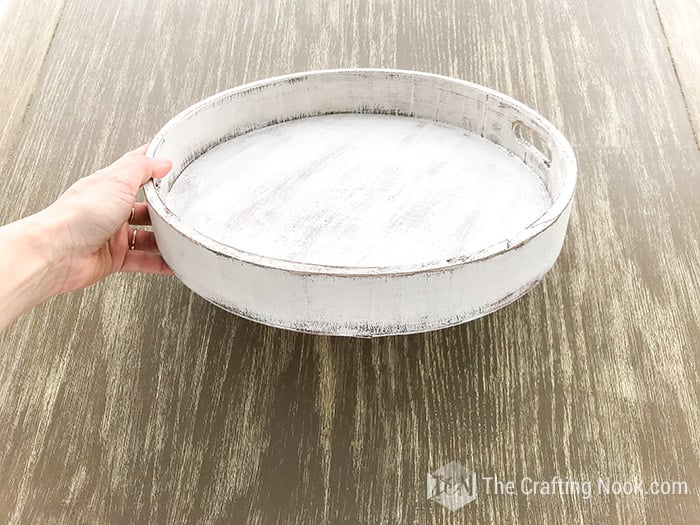 It's ready too style it and make your home rock!
Look how cute mine turned out!!!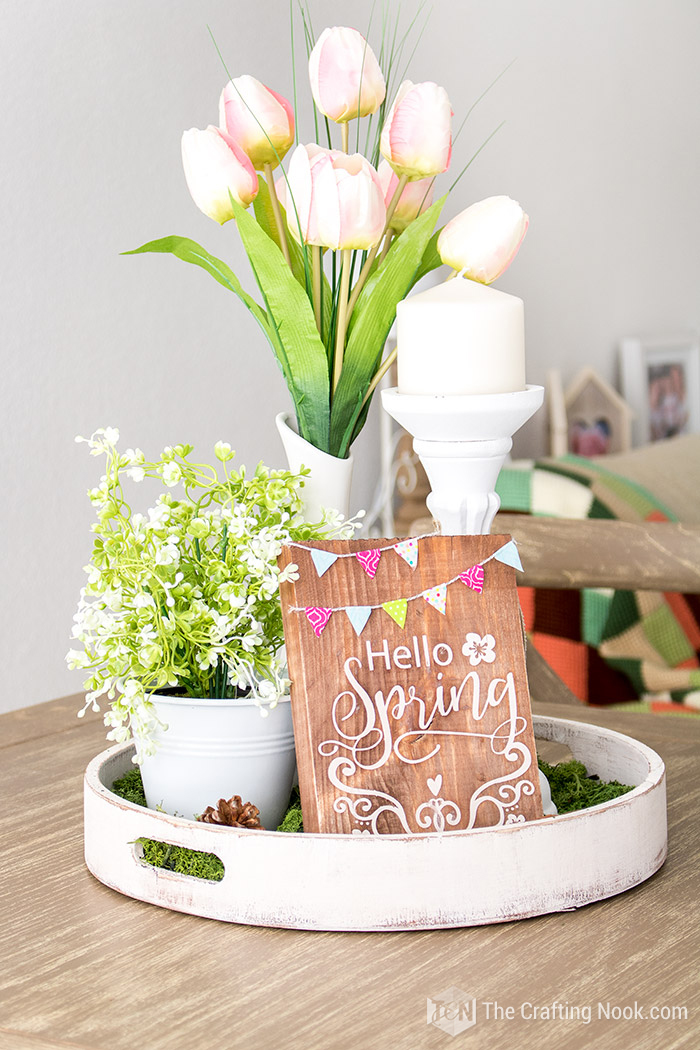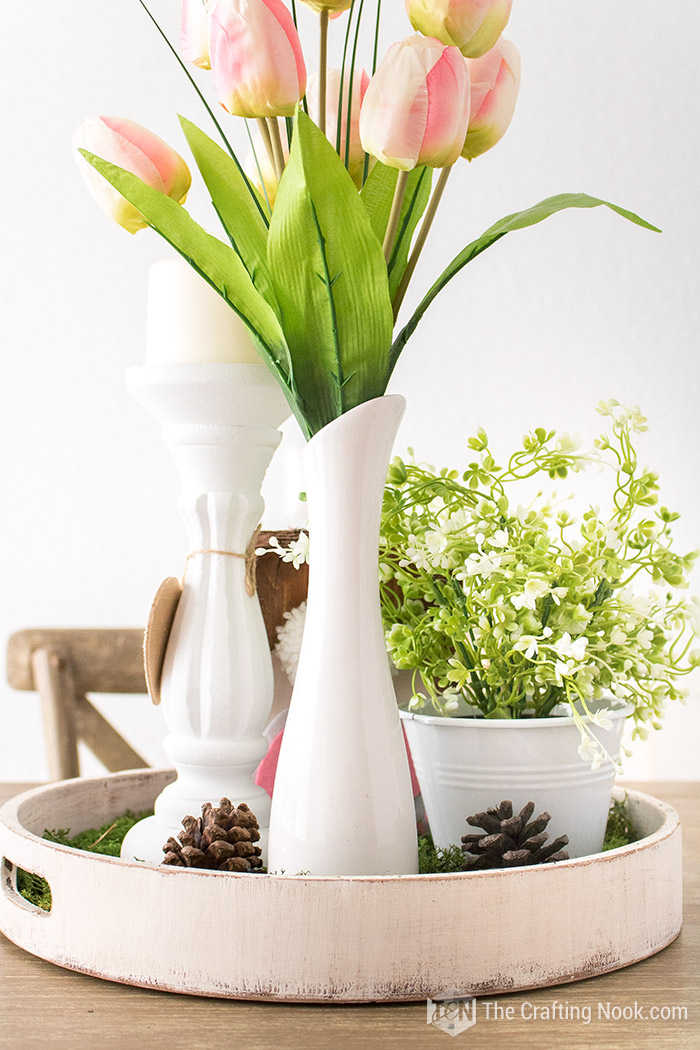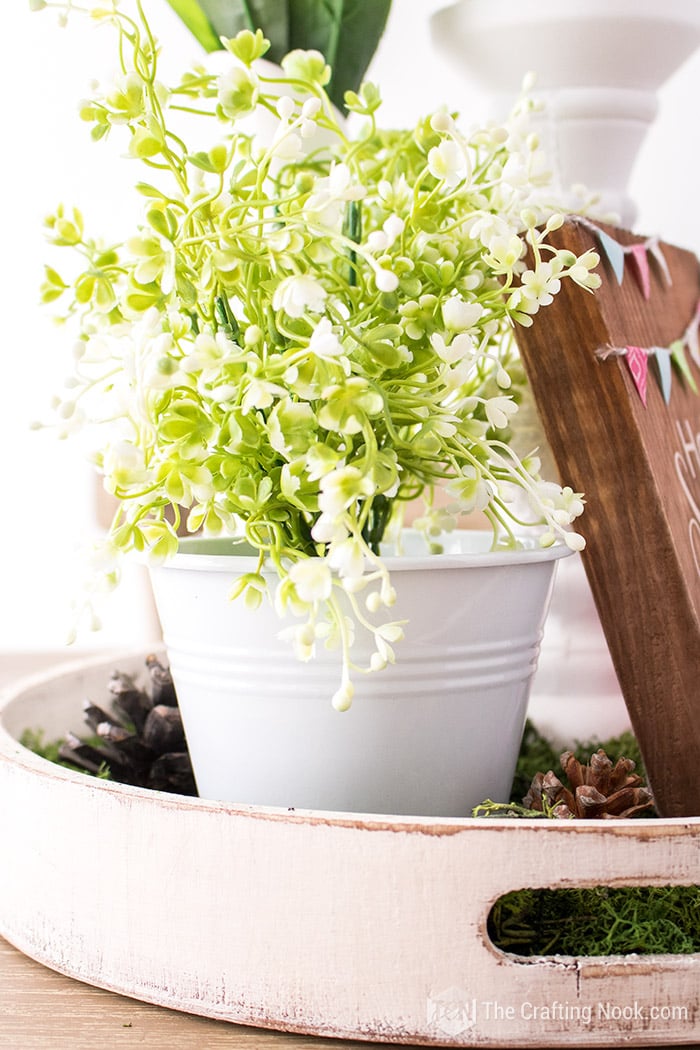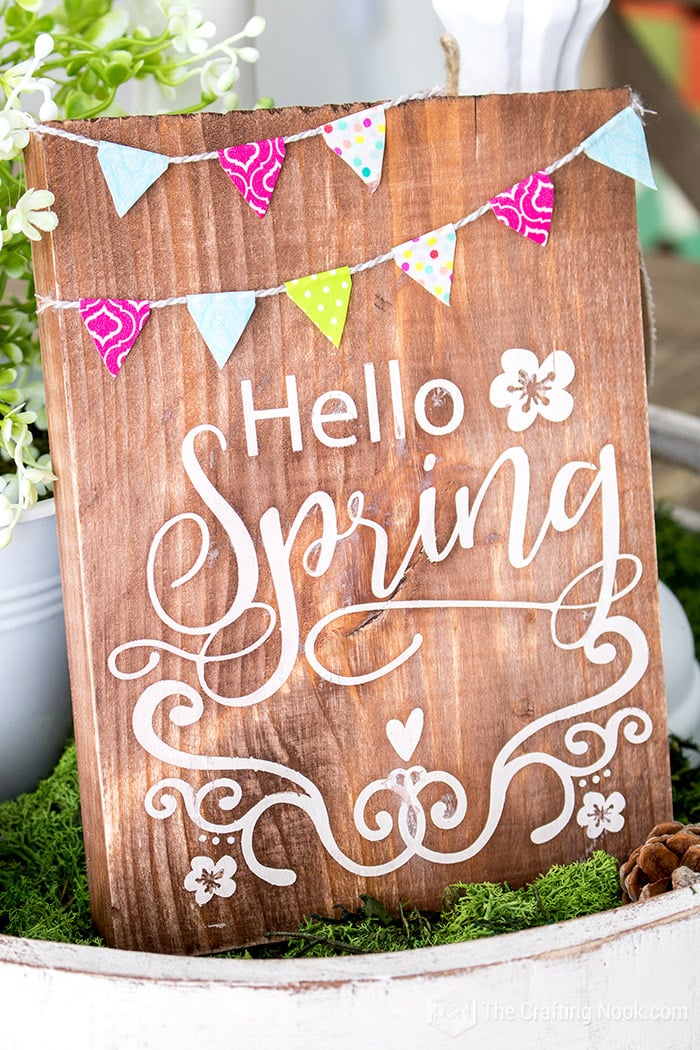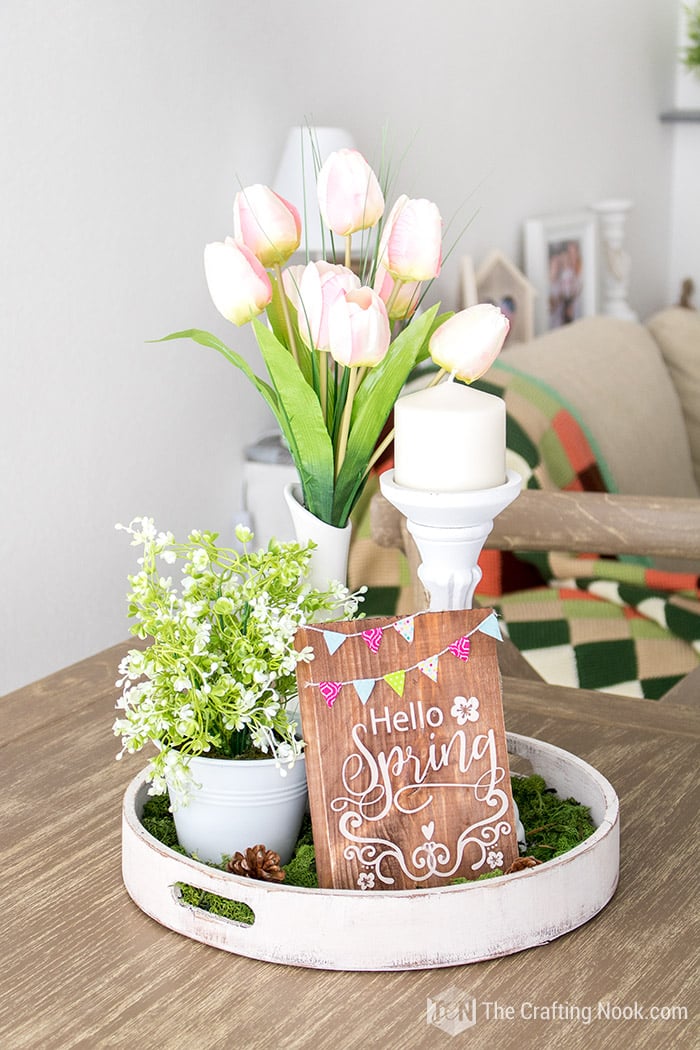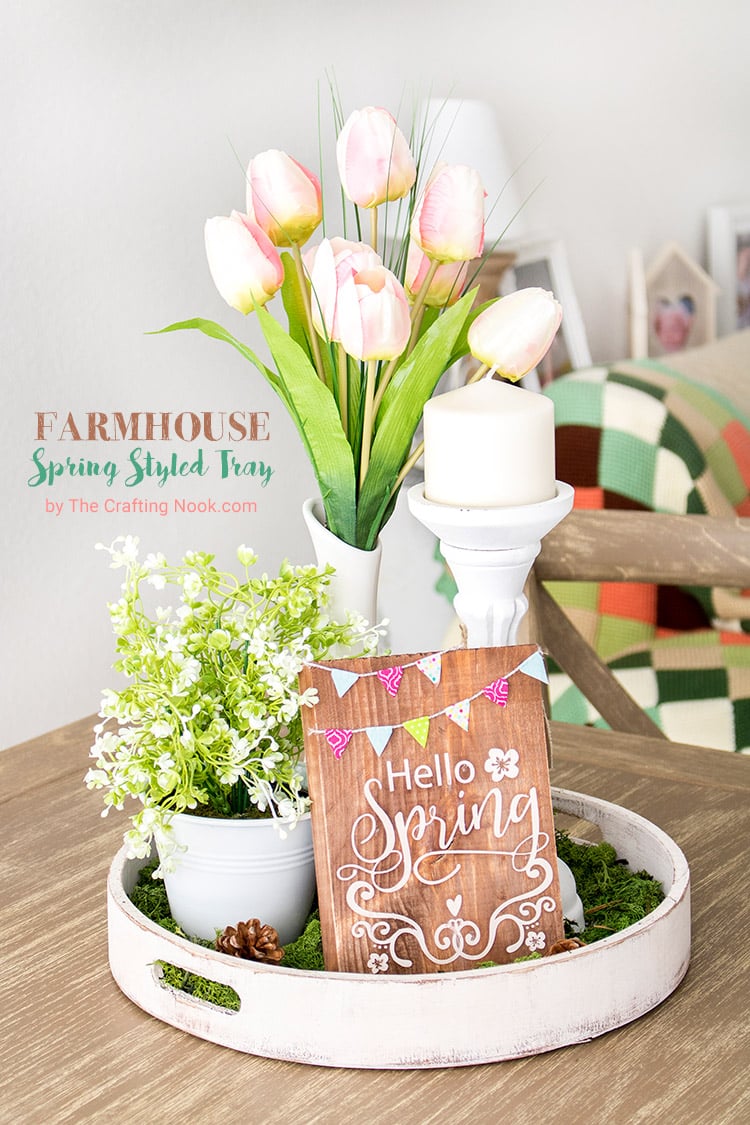 Hope you enjoy this creation and that inspires you to make one. If you did, please don't forget to share on your social media!
If you like this Farmhouse Spring Styled Tray project you might also Love these too: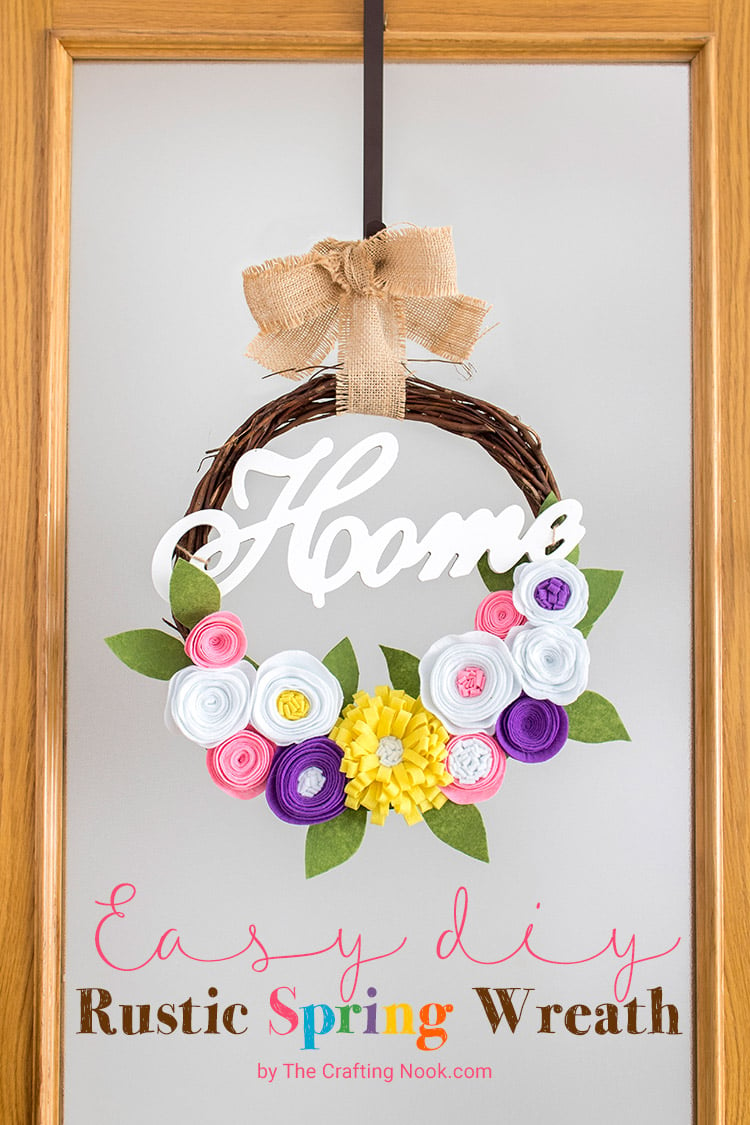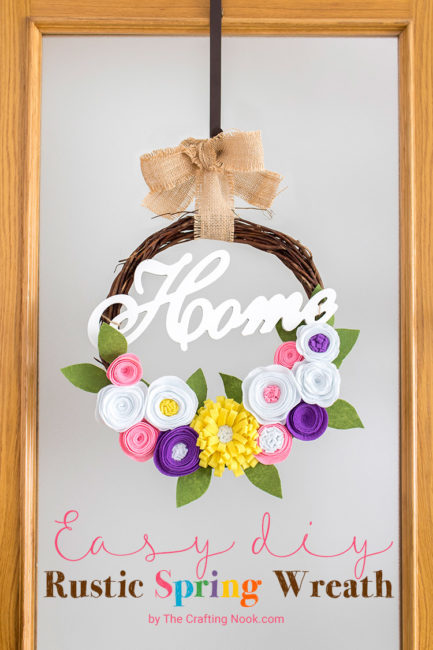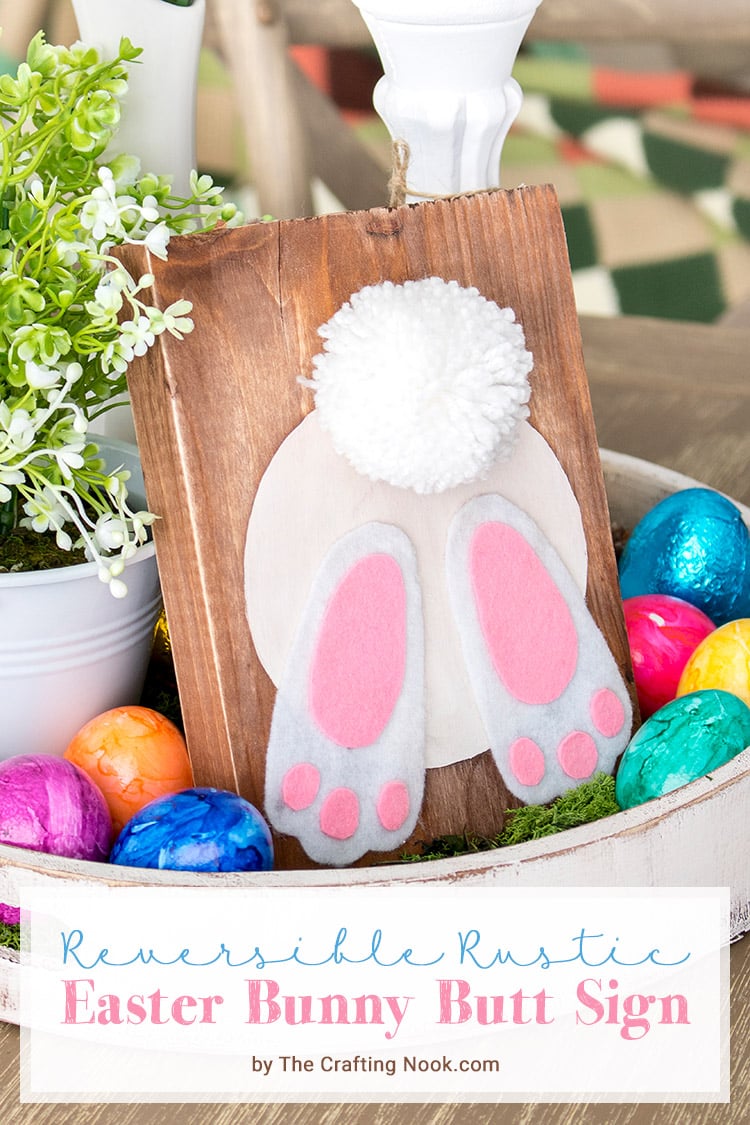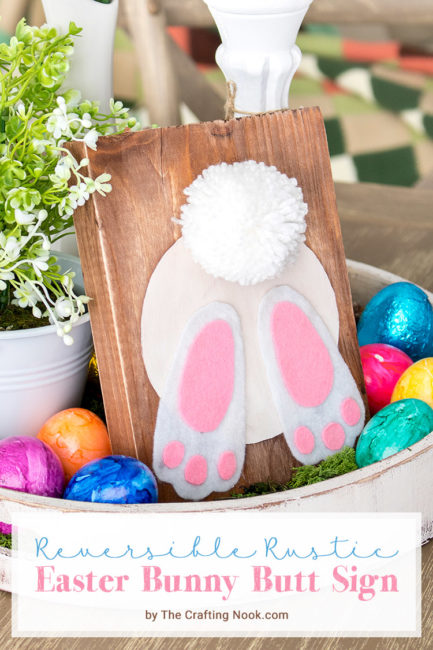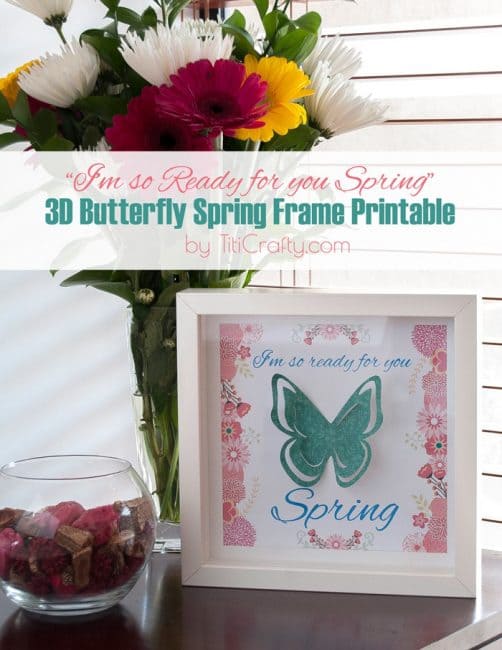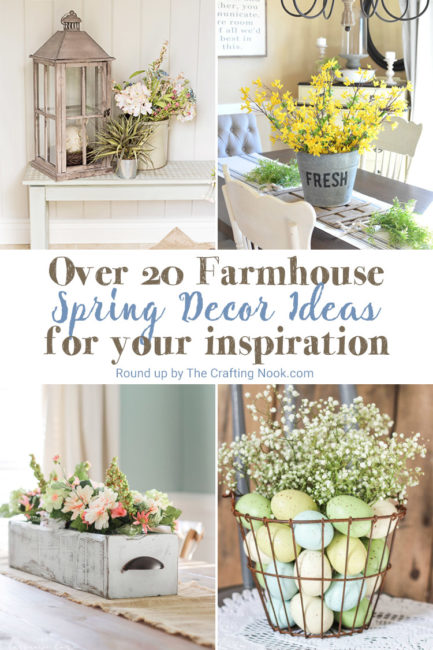 Till Next time!