DIY Farmhouse Spring Styled Tray (super easy)
This Farmhouse Spring Styled Tray is the perfect touch for your dining table or coffee table. It's easy to put together and will make a great decoration adding farmhouse style to the home!
I've been craving for the farmhouse. The more I see, the more I want. The thing is, I live in a really small apartment and it's rented, so I can't do as much as I would love to.
However, I'll manage to create and adapt things around so I get that incredibly gorgeous farmhouse look I so love.
You might also love these other farmhouse and rustic ideas: DIY Reversible Farmhouse Wood Sign (with video), DIY Inspirational Farmhouse Wood Signs, and DIY Vintage Buffet Makeover using Chalk Paint.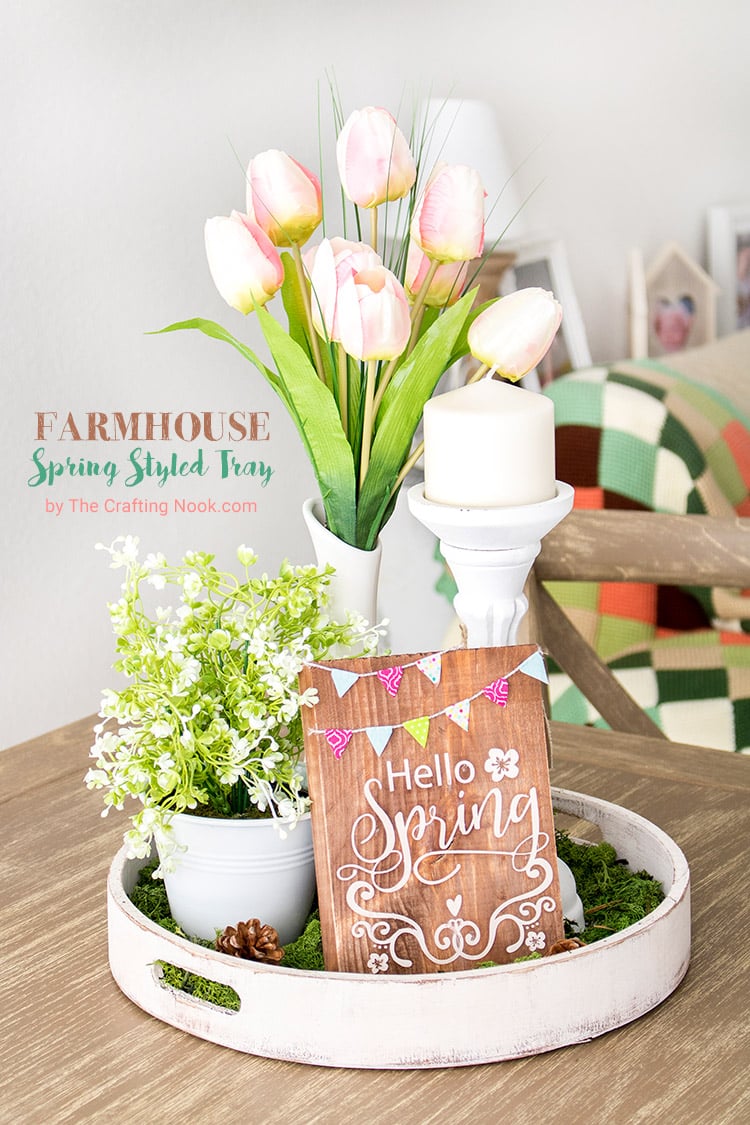 Farmhouse Spring Styled Tray Idea
Today I'm excited to share how my Farmhouse Spring Styled Tray turned out. Using Spring as my excuse I created this pretty décor transforming that simple tray into a more rustic and pretty one.
I bought that tray last year. It was really cheap, the kind of item you could find in a dollar store or thrift store. It was plain wood made for crafting.
I really liked how it looked. But, you know, I need change and I needed it to look more rustic. My dining table is brown and a little dark so I wanted to create a white aged and distressed look to contrast against the table.
I love Spring decor so much. I always get excited as the seasons change but Spring brings me the most joy. The weather gets warmer, the air seems more fresh and flowers start to bloom. It's a renewed vibe.
This centerpiece was a simple DIY project that was put together from scratch in just a few hours. I should have waited longer since I was staining and painting, I know. But I just wanted to have it done. I'm not much of a patient person lol.
If you have been around long enough, you know that decorating and crafting are like my therapy and I want the same for you! Small crafts or projects like this one is one of my favorite things and I hope it serves as an inspiration for you to create your own styled tray.
What to put on decorative trays?
In the bedroom, it can hold anything and everything. Lights, flowers, candles, perfumes, photos, and jewelry are just some of the things you can put on your tray to both keep things organized and looking good.
In the kitchen, a tray can have the salt and pepper belonging with the other frequently used ingredients like oils and garlic so why not keep them all together in one convenient spot? It's also a great place to keep pots of herbs so they're always on hand.
In the dining room, a styled tray is a convenient way to both style the table and keep things close at hand. Candles, flowers, salt and pepper shakers, and other decorative items help add elements of style to the table and make it easy to move everything when it comes time to clean up.
In the living room, a styled tray is a great way to keep all your things in one place and can be styled in a number of different ways depending on the look you're going for. A few examples, it could hold a candle and a few coasters to protect the glass, candles, flowers or plant pots, old books, and small decor items. Imagination is the limit.
How to make a Farmhouse Spring Styled Tray
Before we begin, be sure to follow us on Pinterest, Facebook, Instagram, and YouTube, and also sign up for our email list (at the end of this post), so you'll never miss a post!
Supplies:
A round rustic wooden tray
A wooden rustic candle holder and candle
Faux flowers (I used tulips)
A faux plant pot
Moss
Walnut wood stain
White acrylic or latex paint
Plastic dish.
Brush for stain and brush for chalk paint.
Sandpaper (I used 150 grit and 80 grit)
Cloth
Farmhouse Spring Styled Tray Instructions:
I was aiming for a more vignette look inside the tray so I gathered a few things I had already at home and bought the flower vase and the moss. It had to have a pretty Spring look too.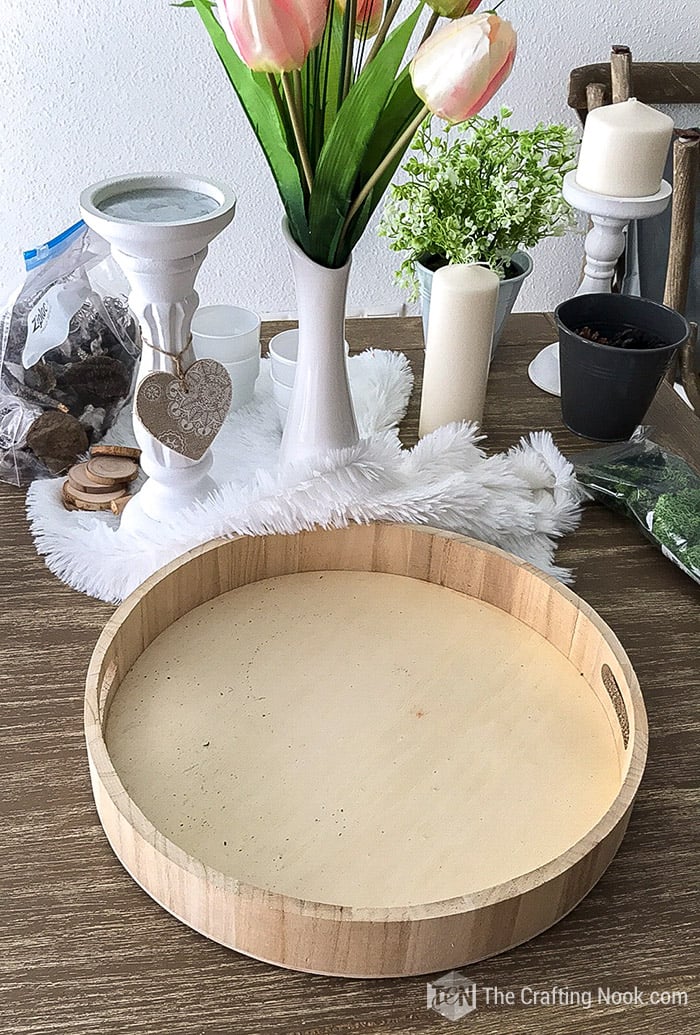 The first thing you need to do is clean really well your tray to remove dust. Then pour a bit of your stain on the plastic dish (if your stain doesn't have a wide opening like mine).
Staining the tray
Start staining your tray and leave it dry for a couple of hours.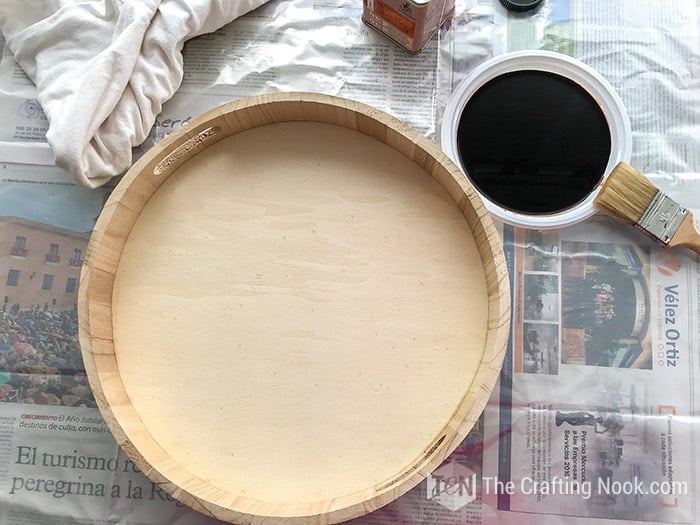 I would apply the stain in full sections, like all the outer side. then rub any excess with a piece of cloth. Then move on to the inner side and then the bottom base.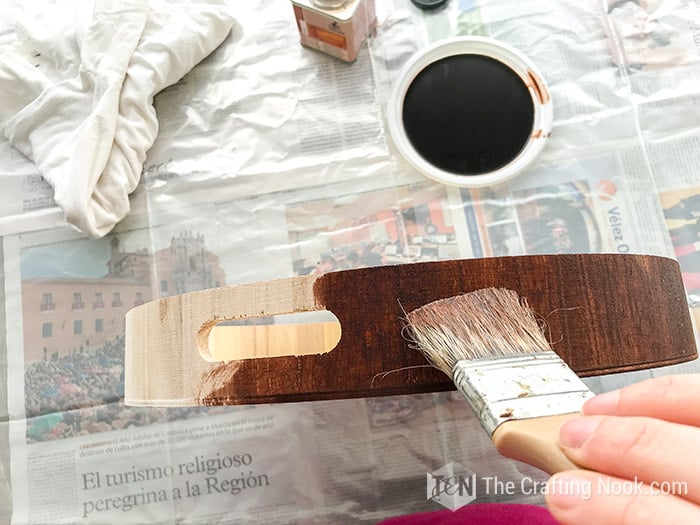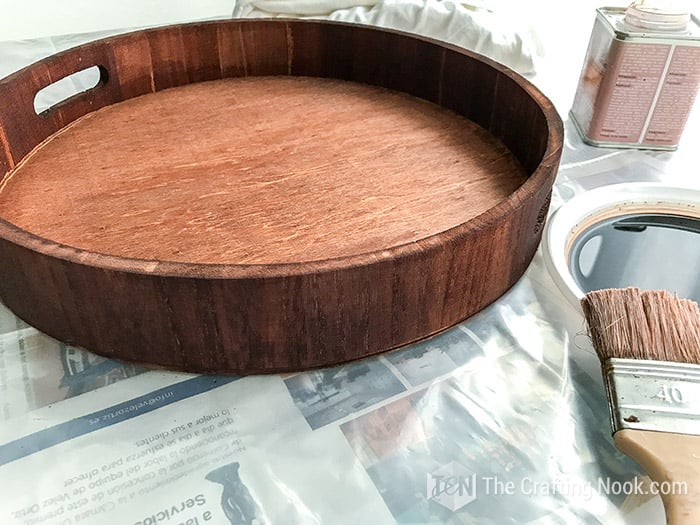 Creating the aged, distressed rustic look
Once your tray is dry, start painting with your paint. Just dip the tip of your brush and make quick rough strokes.
Depending on your stain, the first coat of paint will get a bit pinkish. Mine did I guess it's because it was a water-based stain.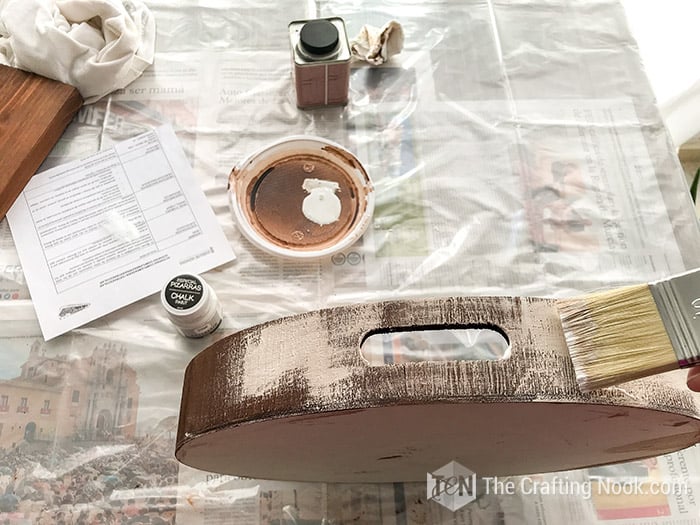 You can paint only the outside or the whole tray. I decided to paint the whole thing. Let it dry for about one hour or according to your paint instructions between coats.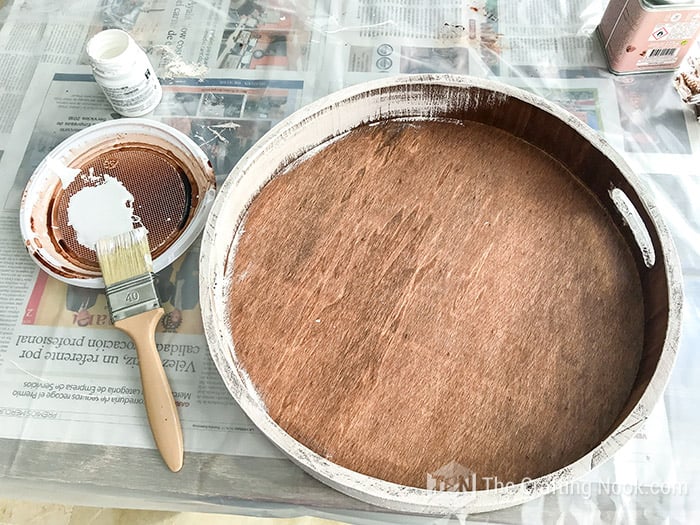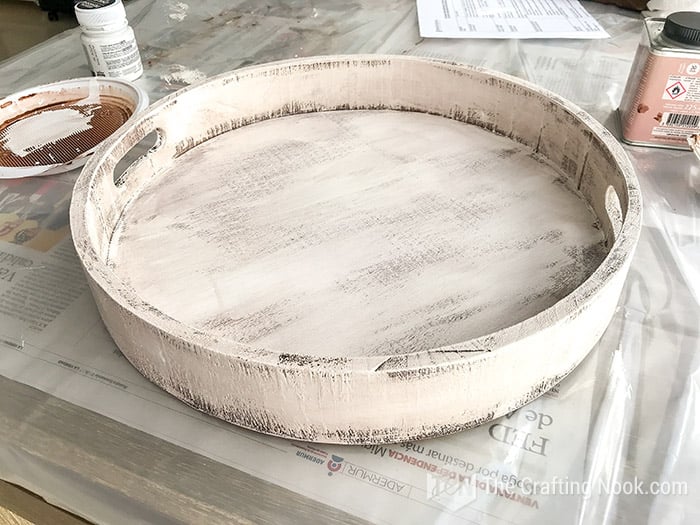 Once dry, sand it with 150 grit sandpaper.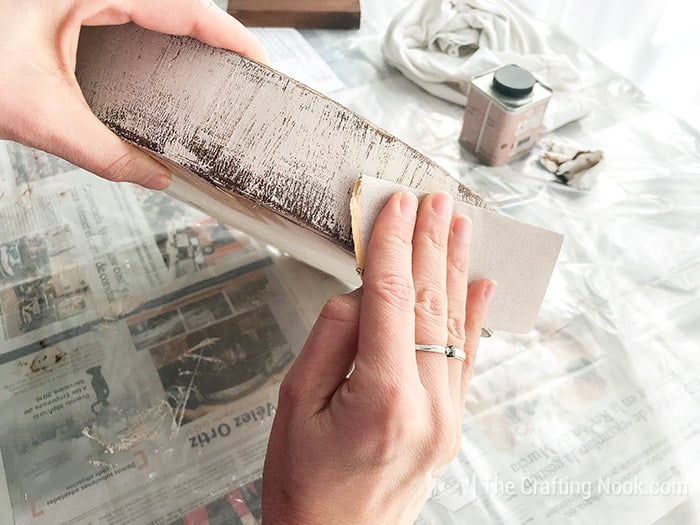 Clean it well afterward with a cloth. Remove all the dust from the sanding.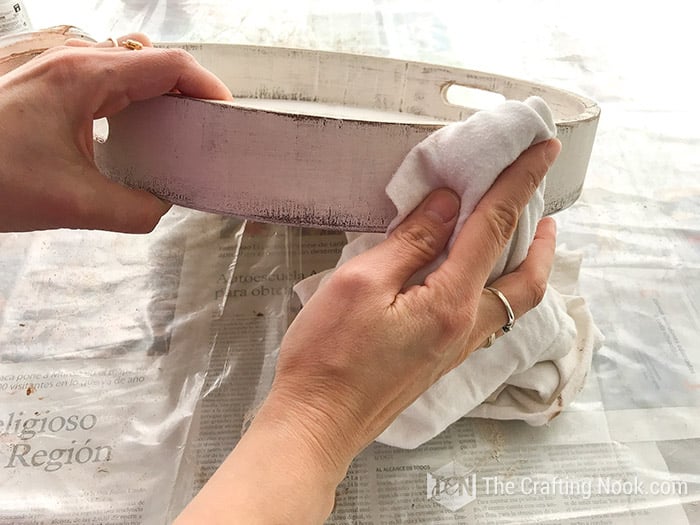 Apply a second coat of chalk paint the same way you did the first coat.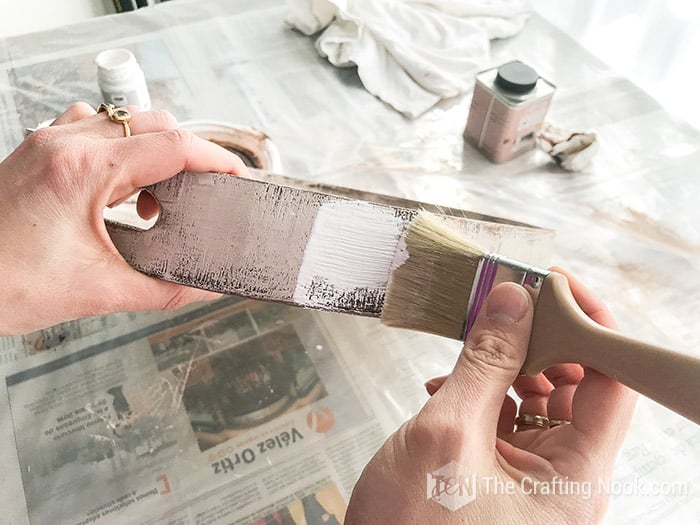 You will see it gets whiter.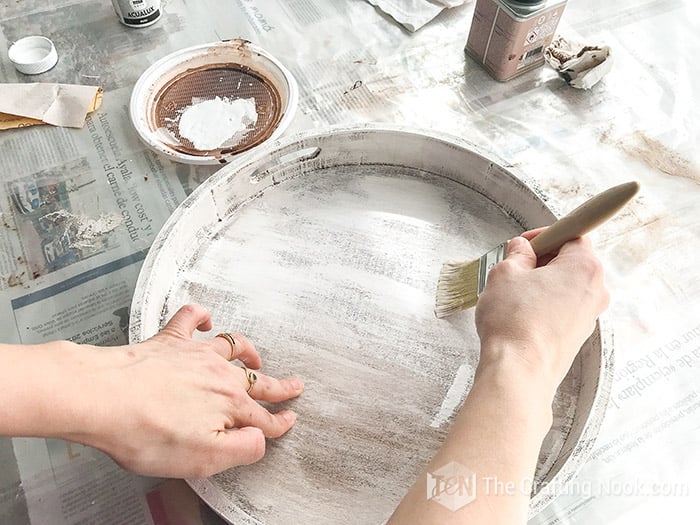 Let it dry again for an hour or so until you feel it really dry.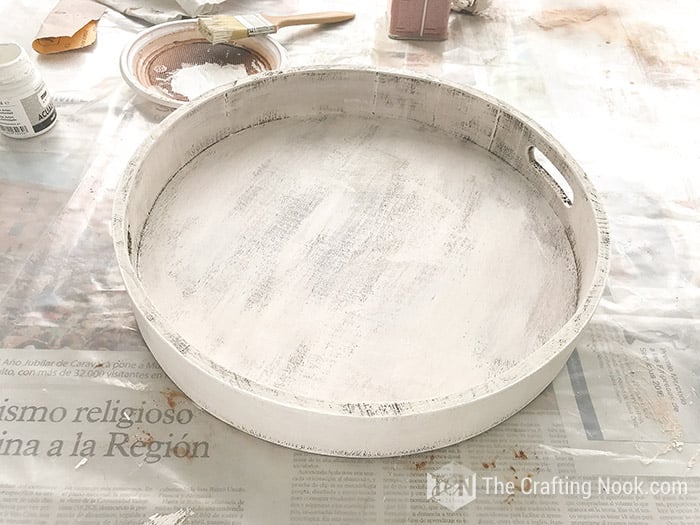 Sand it again. Here it's optional, you can either use the 150 grit or the 80 grit. I used the 80 because I wanted to create a more damaged and aged look.
Sand especially on edges.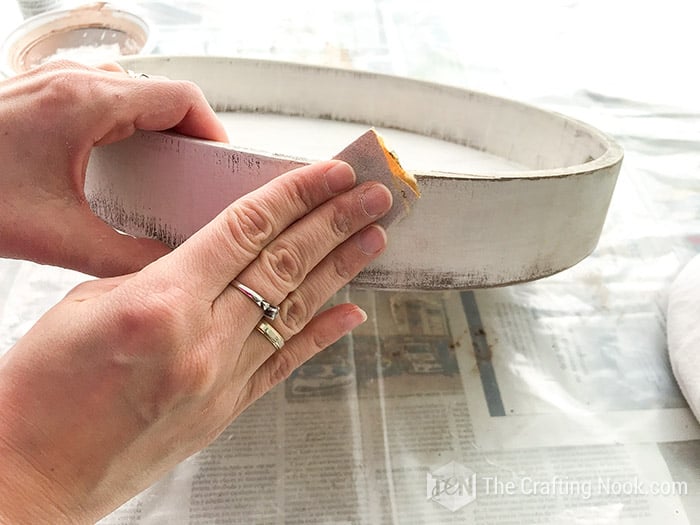 Clean with your cloth again.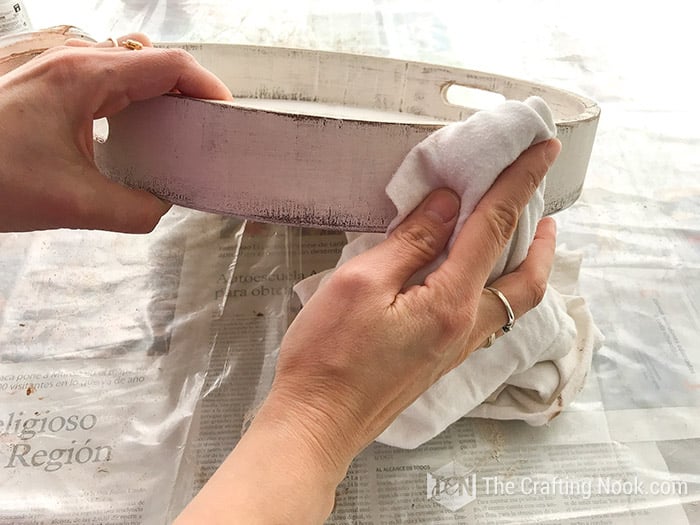 There you go! You got yourself a pretty Farmhouse Tray.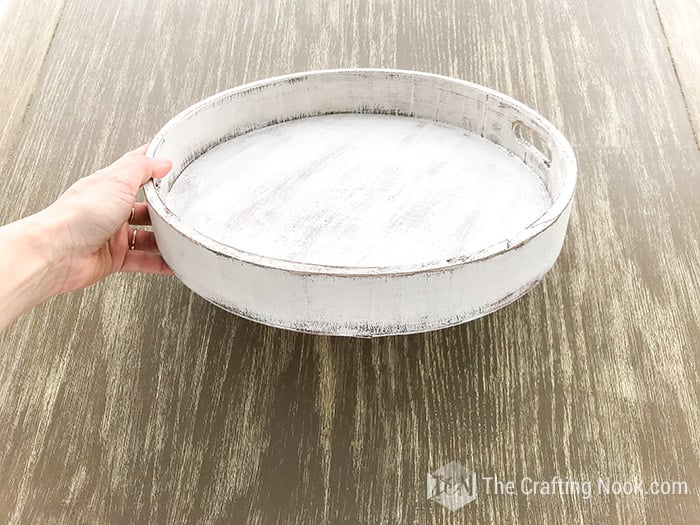 It's ready to style it and make your home rock!
Now…
Styling Farmhouse Spring Styled Tray
Woot, let's go!
I absolutely love my candle holder so it was an easy one, then since I had bought faux plants, put one in a painted metal pot or more like a bucket.
You probably might be asking, why faux greenery? Well, I tend to kill plants. At least that kind of plant. I do good with succulents, cactus, Aloe, and lucky Bamboo, other than that would be dead in no time.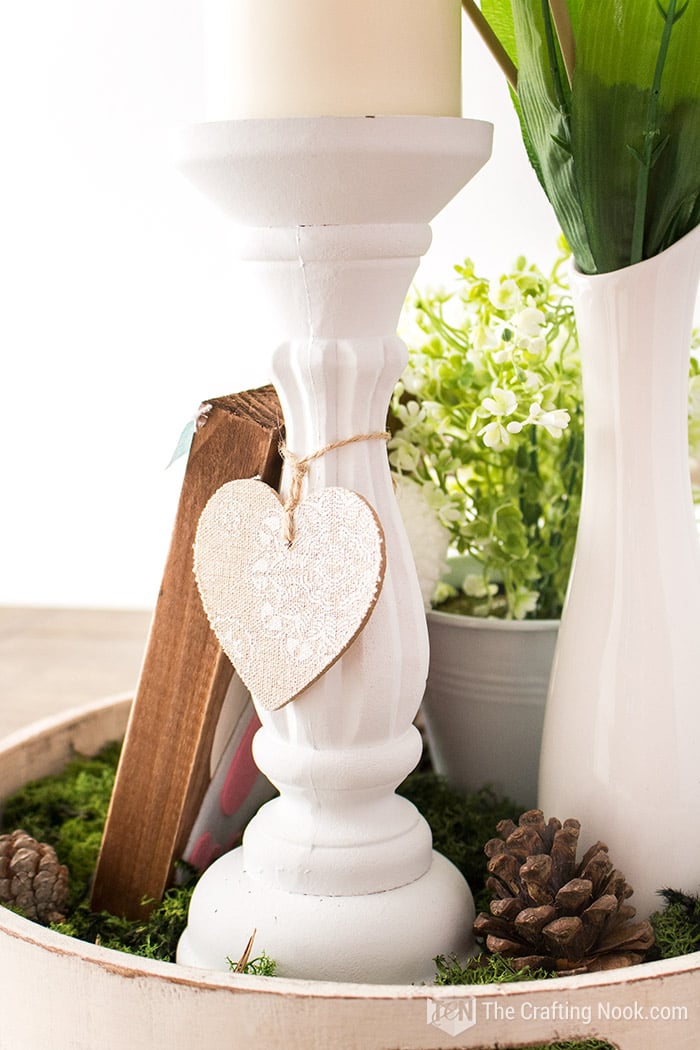 I believe in vibes and I definitely have a connection with those plants. My Aloe Vera is gorgeous and has gotten huge and all main ribs are strong and pointing up instead that to the sides. My Bamboo plants keep getting prettier and prettier each day.
Anyway, I wanted to bring more green to my home but I preferred fake so I don't have that extra stress. With the few alive plants I have, I'm more than happy but needed a few more spots of green and the Farmhouse Spring Styled Tray was one of them.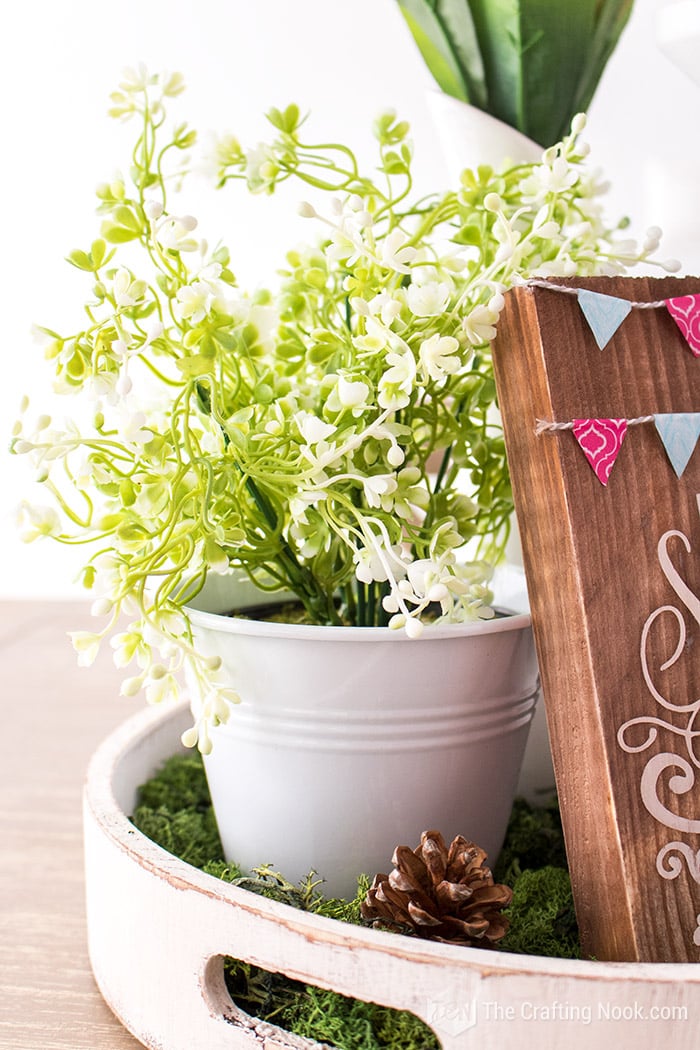 On my pretty vase, I put some tulips (also fake, I'm always sad to see fresh flowers die). Up close you can definitely tell they are fake but when you enter my living room and look at the dining table they look so pretty.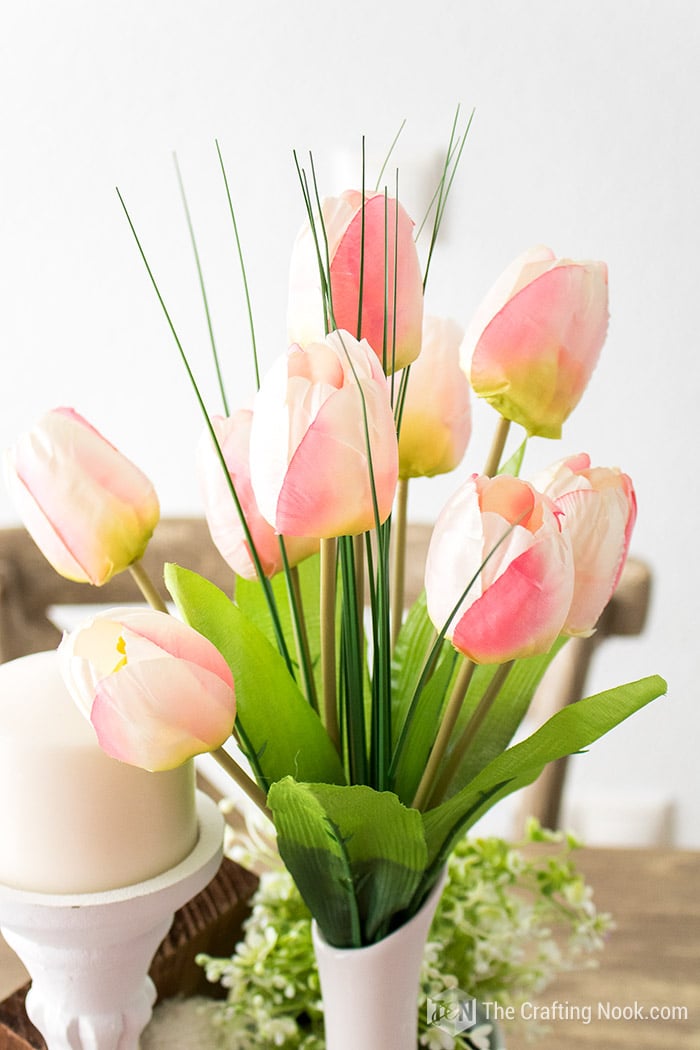 I filled the tray with fresh moss. Who would have thought about it, right? LOL. Yeah, I know! Added a few pinecones. I know it's not the season but I can't help it. I Love pinecones so let's call that my personal touch, shall we?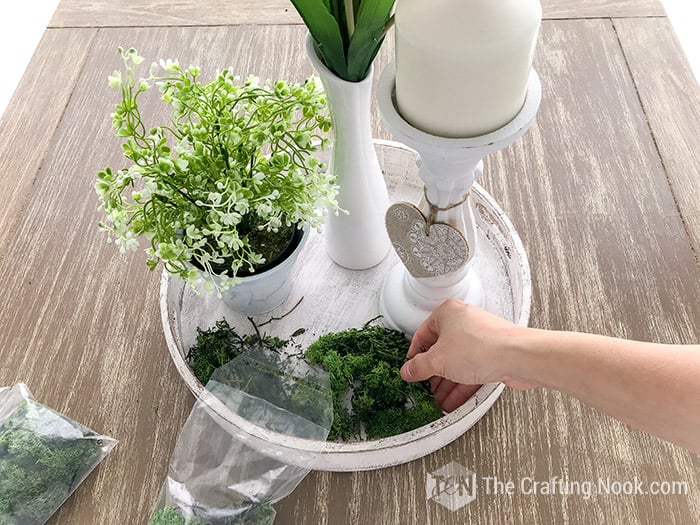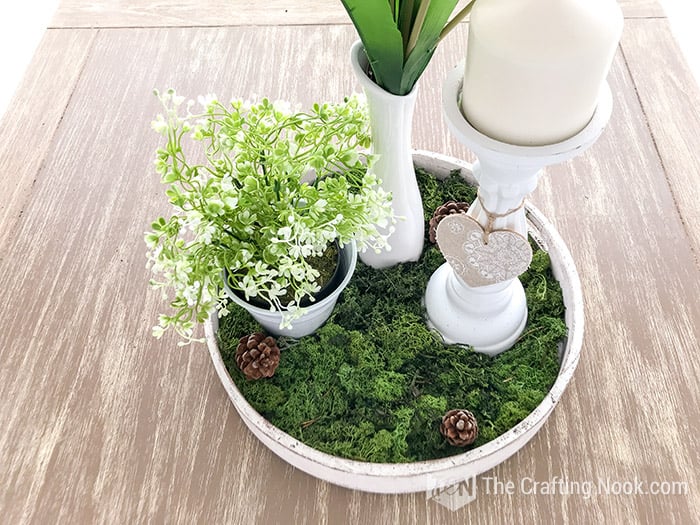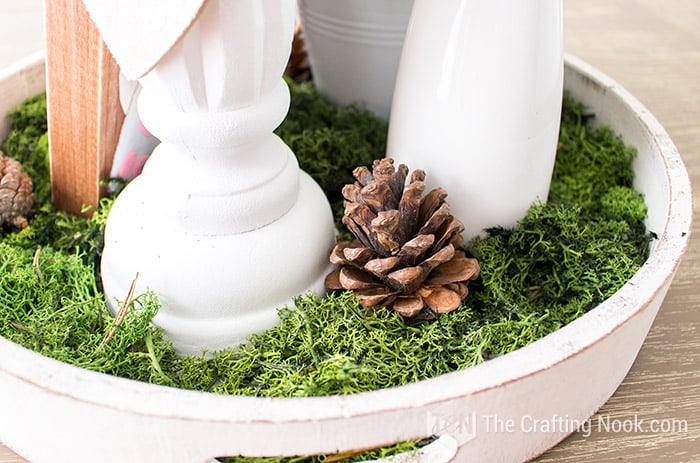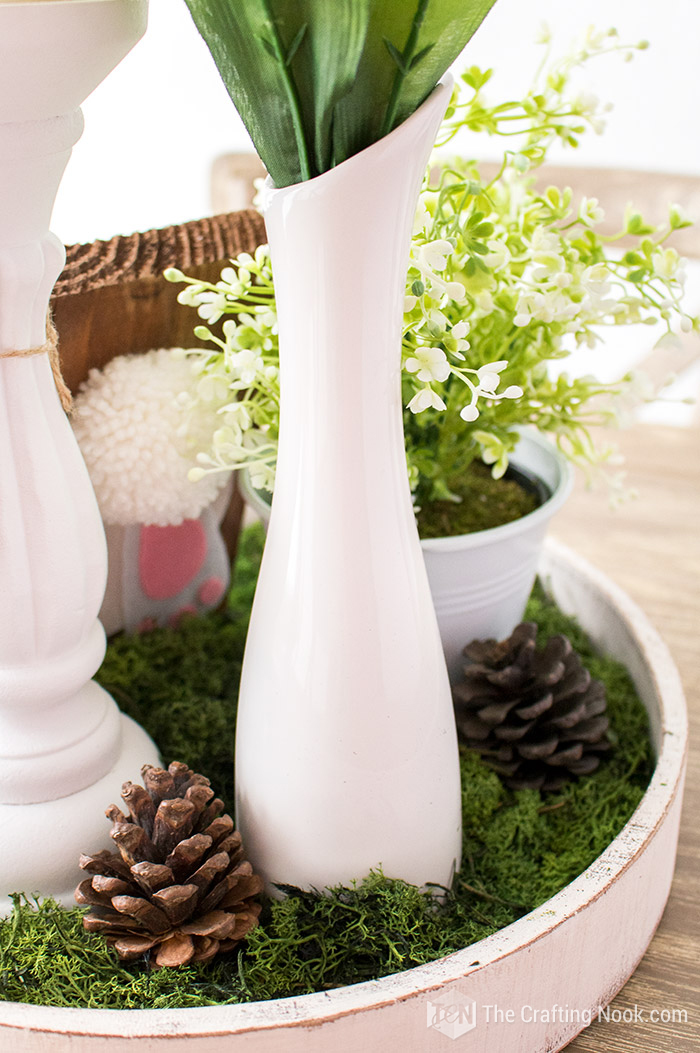 Then my last touch was my Reversible Rustic Spring to Easter wood sign.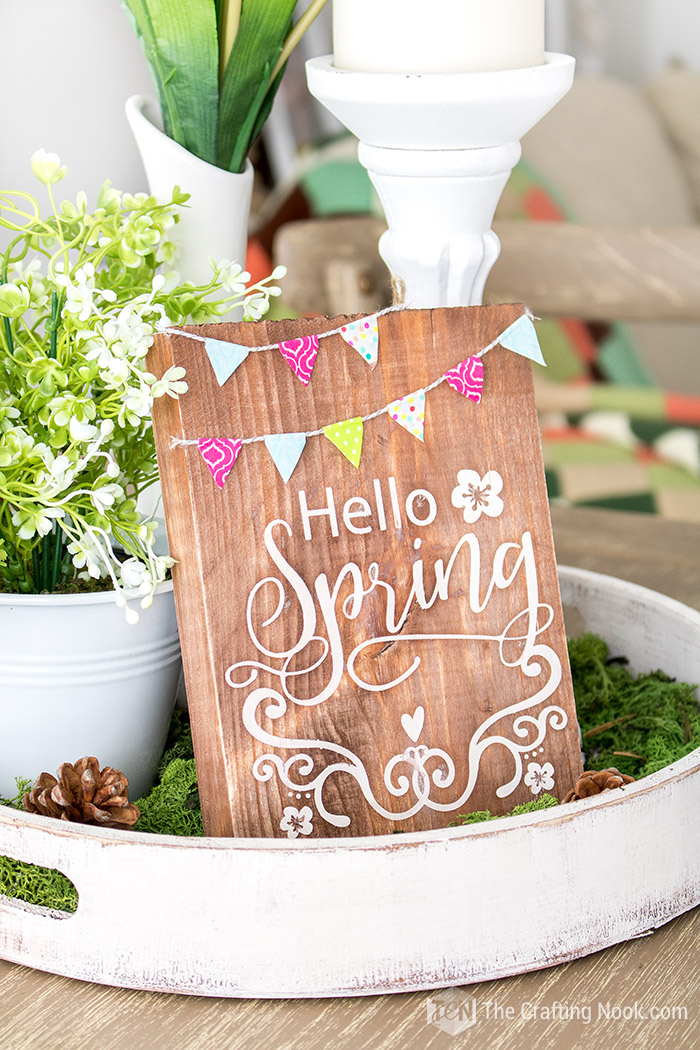 For easter will be showing off the bunny butt and the tray filled with cute easter eggs. When Easter has passed I'll go back to the Spring sign.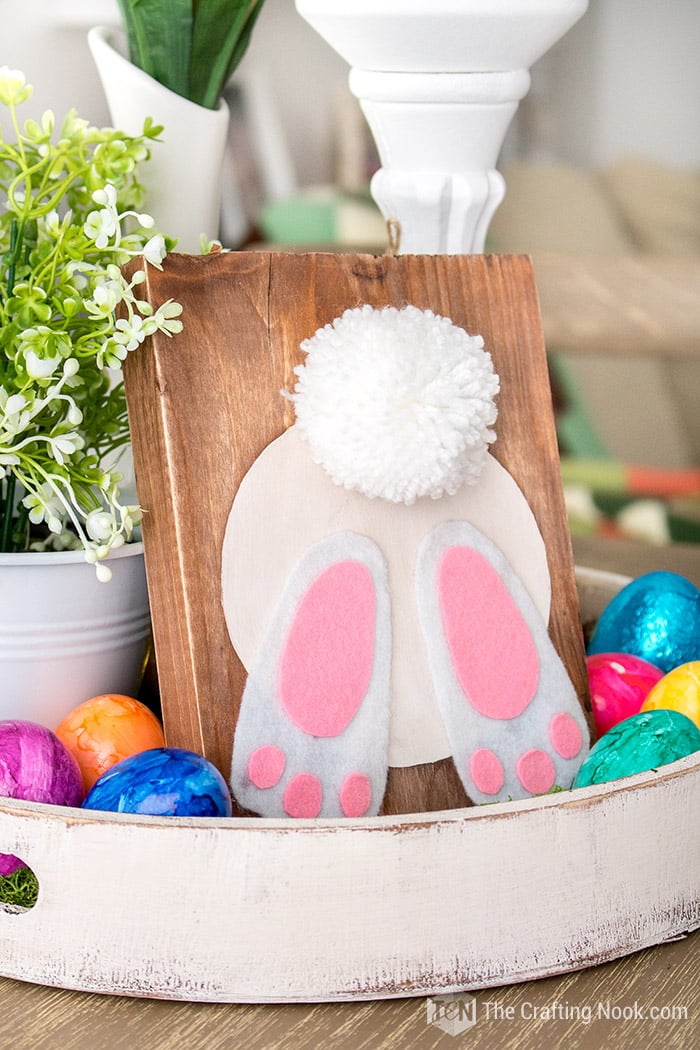 I absolutely LOVE how it turned out. It will be hard to change it when the season is ending. But I still have some time to think about an even prettier tray decor.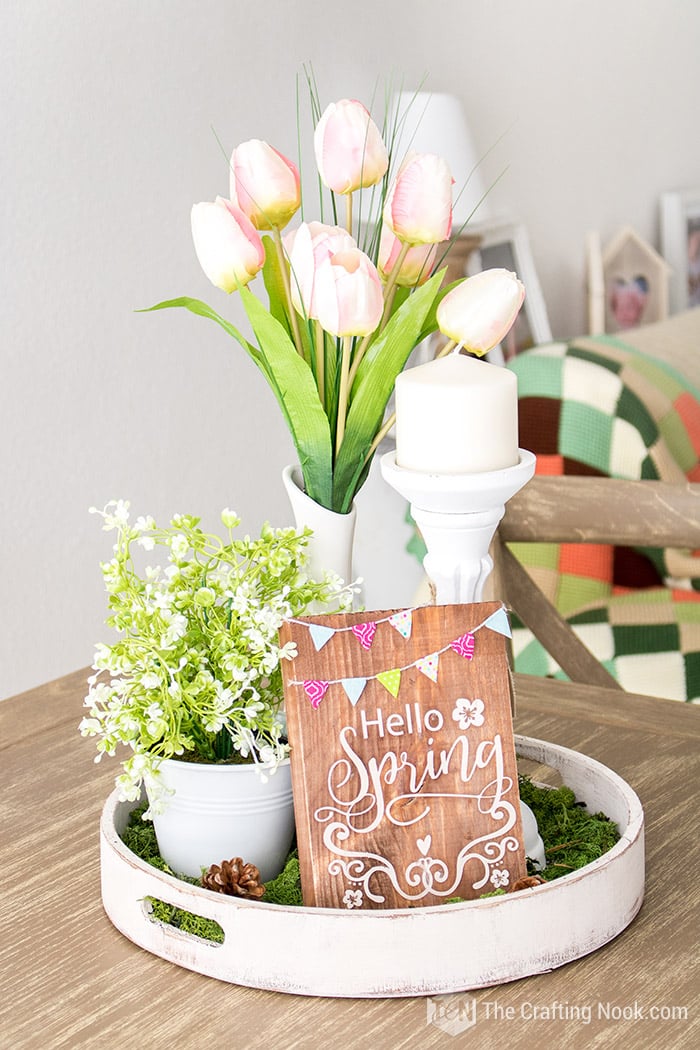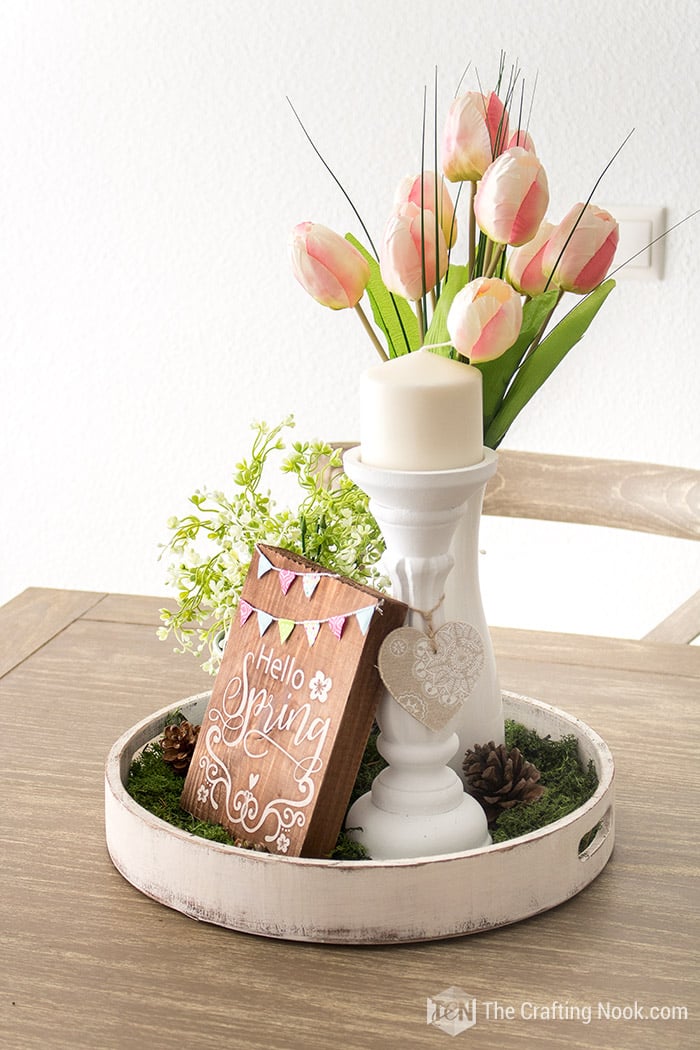 Look how cute mine turned out!!!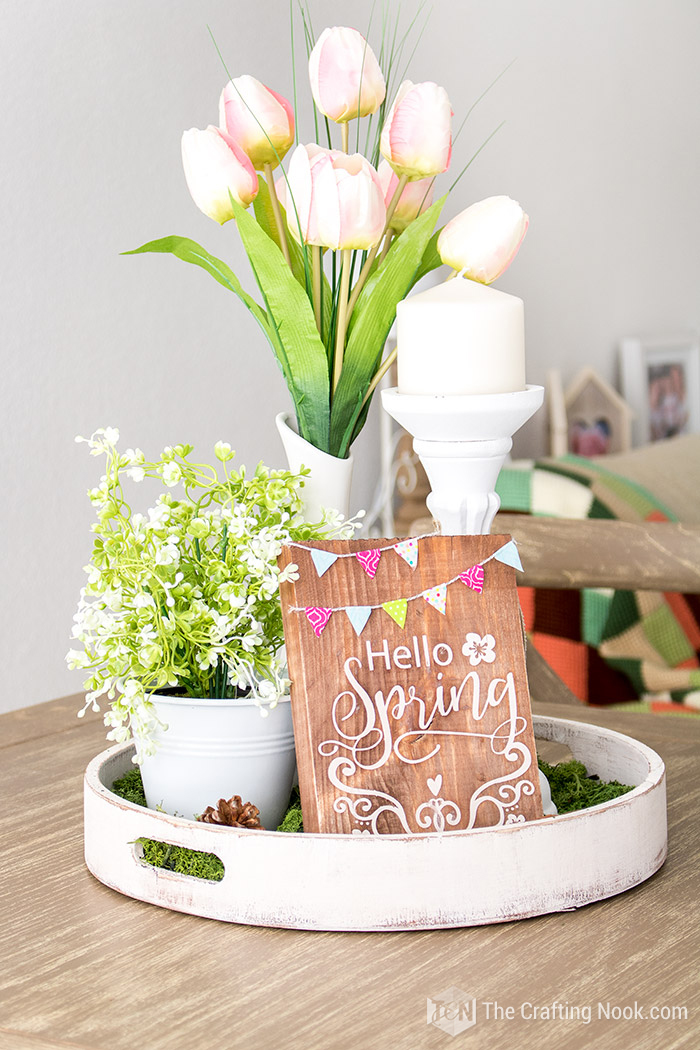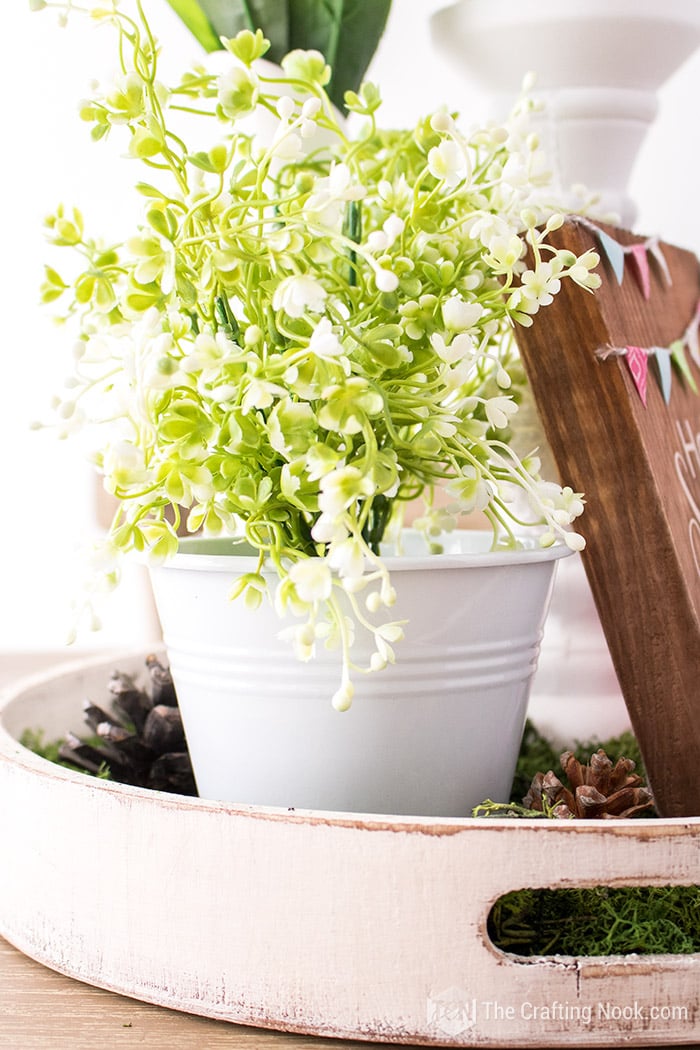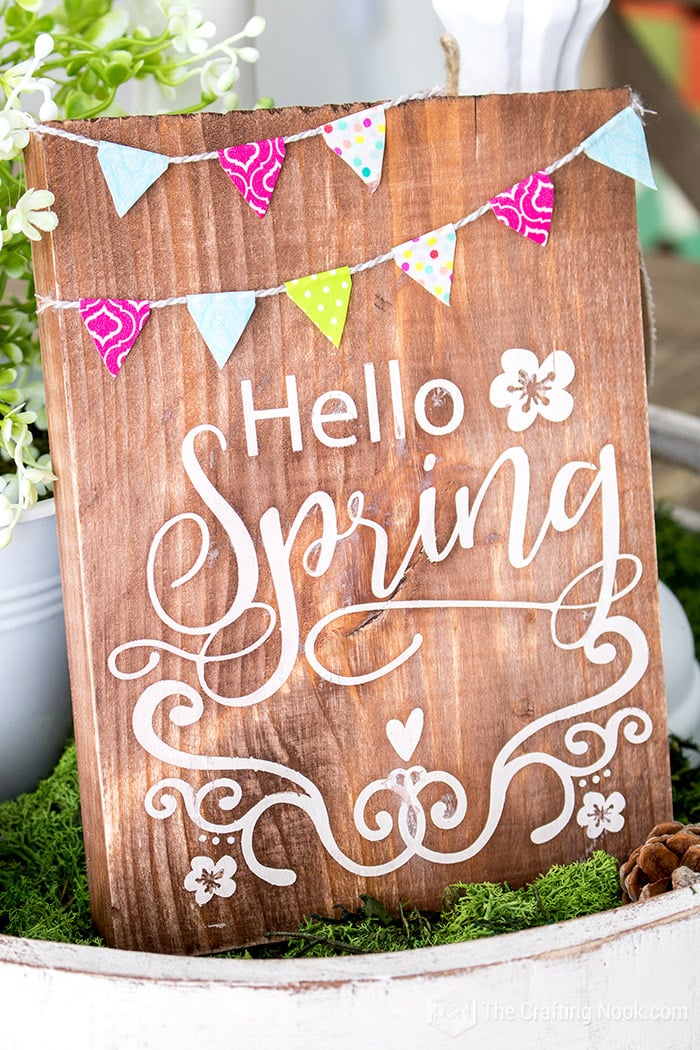 Other Farmhouse Trays decorating ideas from my favorite bloggers: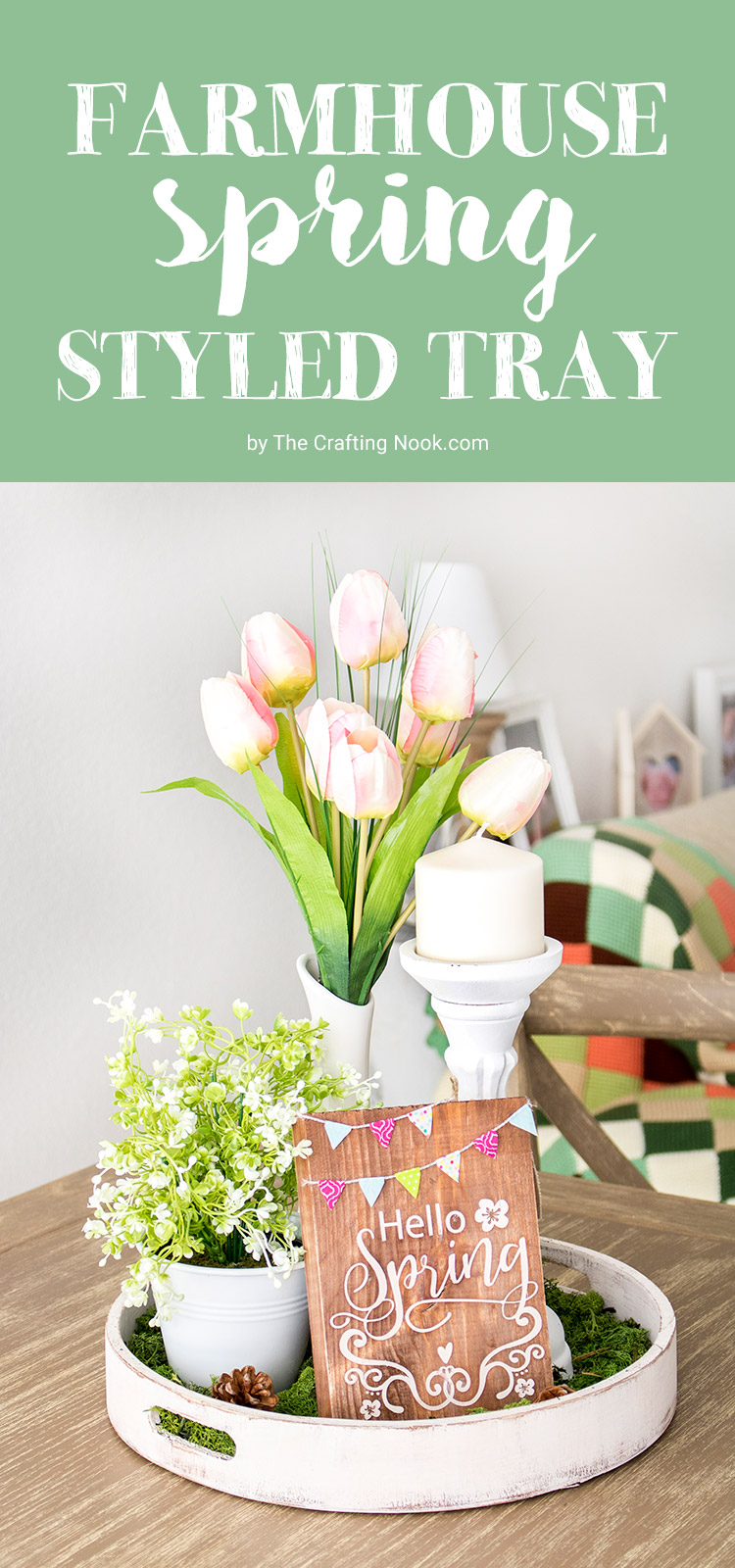 If you like this Farmhouse Spring project, you might also Love these too:
Til' next time...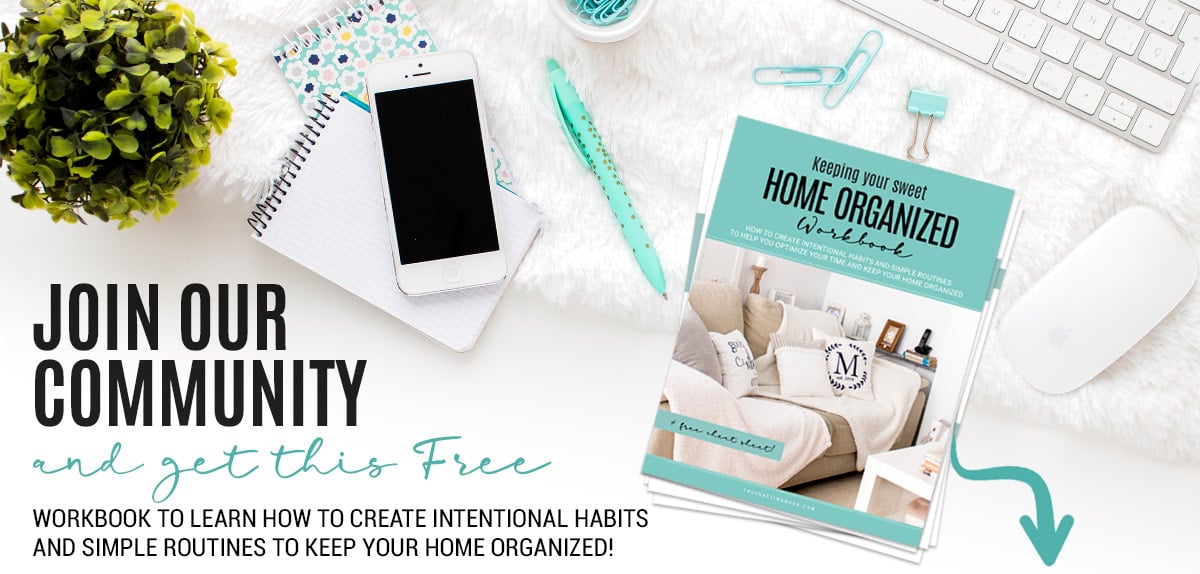 GET INSTANT ACCESS TO THE HOME ORGANIZED WORKBOOK
Plus freebies, printables, exclusive content, tips, stay connected, be the first to know great offers and Product Launches!
Disclaimer: By clicking on the "Yes, I want it" button above you are giving me your consent to collect and use your information according to the law and My Policy Privacy and The Cookie Policy. Zero Spam I promise!