Let's Learn how to make These pretty DIY Inspirational Farmhouse Wood Signs with a cutting machine and some really cool fonts from a bundle from DesignBundles.net. This post is sponsored by FontBundles. It may contain affiliate links which, when purchased through, provide a small commission to The Crafting Nook at no additional cost to you.
You know how crazy life can get, right? You probably know the feeling of life stress, work, kids, housework, etc, etc, etc.
DIY Inspirational Farmhouse Wood Signs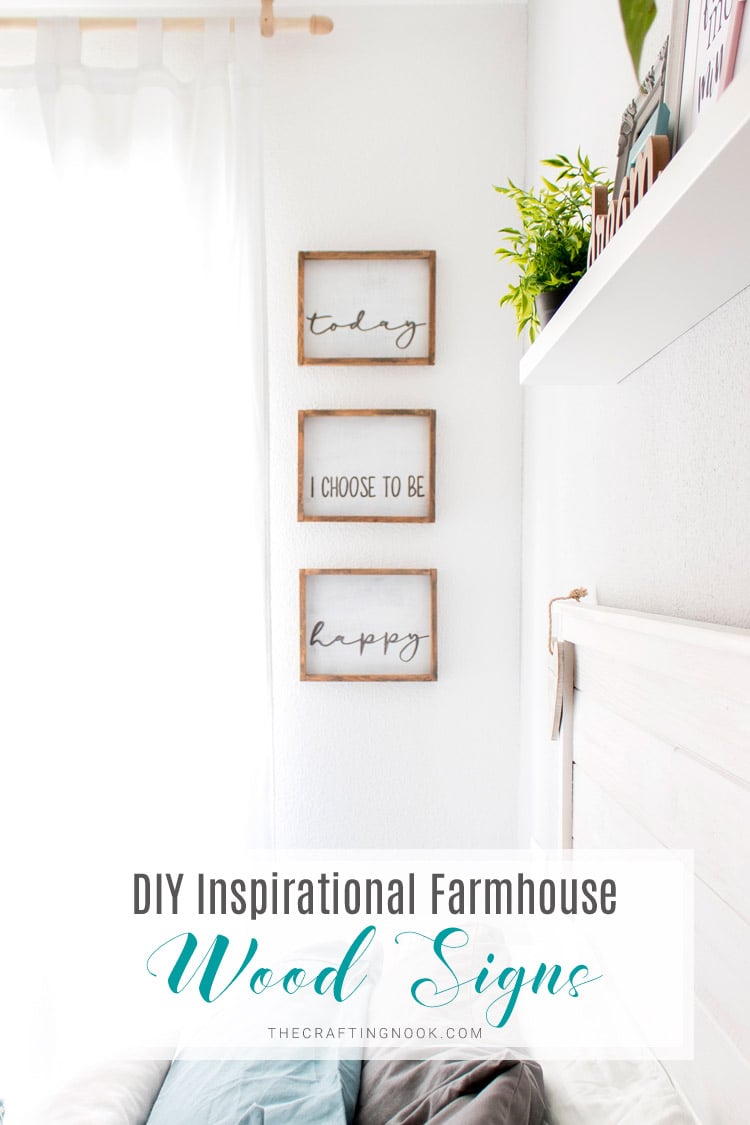 So, when things get so overwhelming we tend to let that take over our emotions and we forget that we are only humans and can do so much.
I'm the first one who is constantly pushing myself to the edge to accomplish an endless list of things and when I can't, I forget that there are more important things than only work. Like to be happy, which mean to enjoy more and worry less.
You may think, that's easily said than done. IT'S TRUE. I struggle with this every day but it's also true we should try harder not to be so self-demanding.
Because I know myself and I tend to forget that I wanted to have a reminder really close, to be happy. Because as hard as things can get we can still be happy and thankful for just being alive and having the family we have.
I easily get so frustrated and overwhelmed that when I see myself in the mirror, I don't see a hint of joy in my eyes. It's my own personal work in progress: BE HAPPY despite anything else.
While working on our Master Bedroom decor, I noticed that I had a section of a wall next to the window and right next to our bed that would be the perfect spot for wall arts.
I particularly love wood signs and triptychs so, why not joining the two ideas in one? FontBundles offered their project for any project I wanted and I knew right away it would be so perfect for some pretty inspirational farmhouse wood signs project.
They both (FontBundles and DesignsBundles) have awesome fonts and incredible amazing bundles packed with printables, SVG files, gorgeous designs, and more. I've used their products for over a year and I absolutely love them. Needless to say, this offer came at the perfect moment.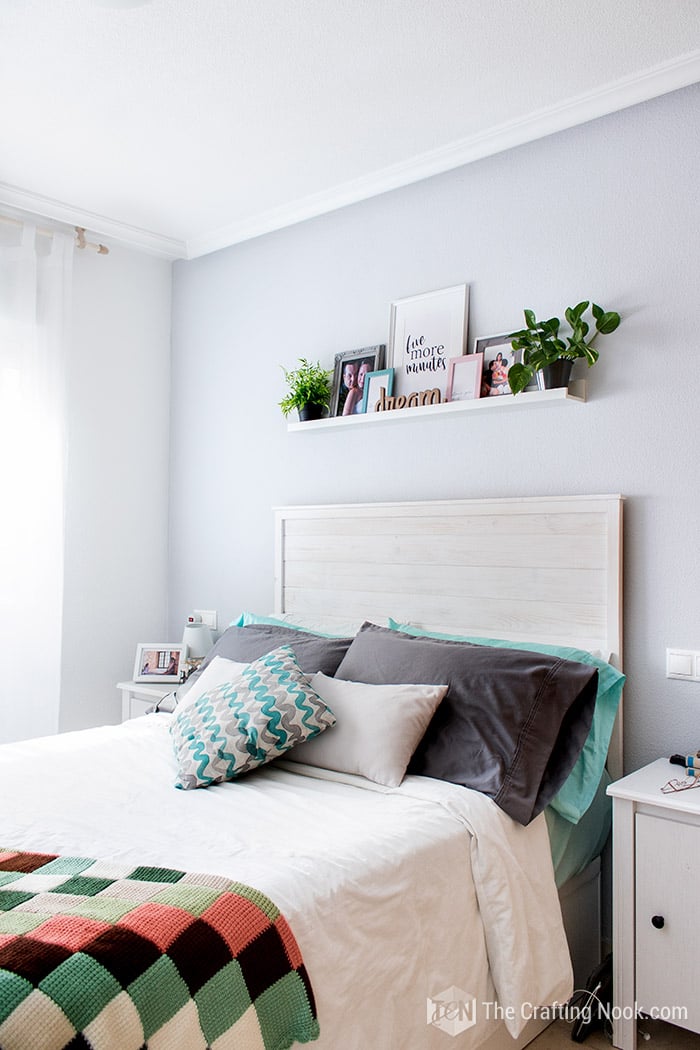 Would you like to learn how I made these pretty Inspirational Farmhouse Wood signs?
Firstly you need to choose your perfect bundle or fonts. I used The Love to Craft Vol II (which already expired but you can choose from many others) because I fell in love with the fonts they included and also a couple of designs I knew I would use soon.
Download the file to your computer and then install your chosen fonts. Open your cutting machine software and design your quote, I chose "Today I Choose to Be Happy", so I read it every morning when I wake up.For this, I used Mostly Sunshine For Duo from that bundle.
Once ready, let's get crafty!!!
Supplies you need:
Vinyl
Transfer Tape
Cutting machine and Mat
Scrapper (credit card will do too)
1/8″ plywood (size of your choice)
6 – 1×2 @ Same height as your plywood (side frame pieces)
6 – 1×2 @ Width of your Plywood minus thickness of your 2 side pieces (top frame pieces)
White acrylic paint
Grey acrylic paint
Brushes
Wood stain (I used walnut)
Piece of cloth
Sandpaper (I used 150-grit)
Wood glue
Finishing nails (3d) for the sides
Finishing nails for the back (about 1" long)
Preparing the Stencils
First of all, prepare your design and cut your stencils with your cutting machine making sure the sizes will fit inside the frames. I used pieces of Vinyl I already had. Use your stencil material if you already have them.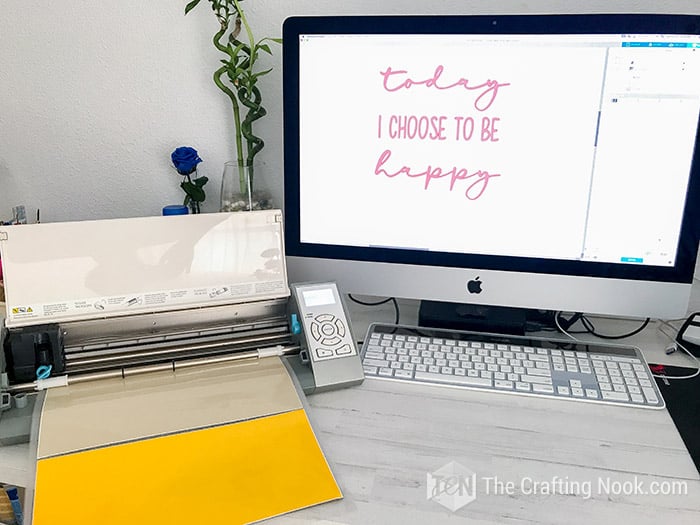 Once cut, use the hook tool to remove all the surrounding and any unnecessary pieces of vinyl.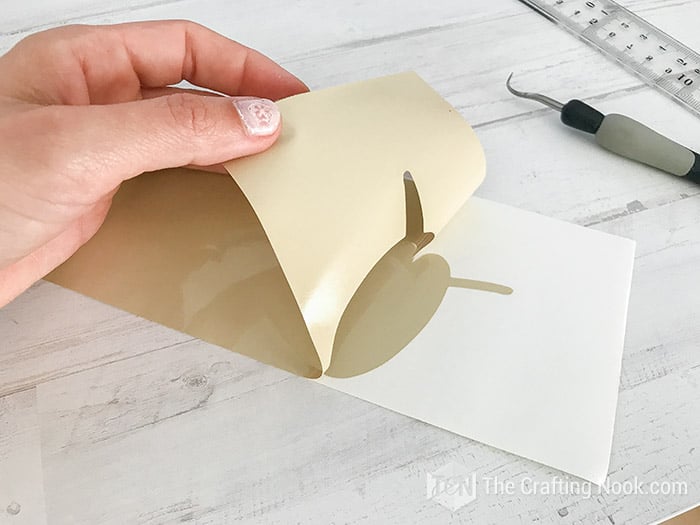 Then cut a piece of transfer tape and place it over one of the stencil pieces. Use the scraper to make sure the vinyl sticks well and cut each stencil to be ready to transfer.