No need to spend a lot to make your bed look gorgeous! This Rustic Wooden Headboard is easy, fun and inexpensive to make. You will love it.
I have no words to describe how excited I am right now. Our Master bedroom decor is coming together so beautifully. It feels so cozy and warm. Now, I finally managed to finish the headboard and Oh my!
The bed wall looks so pretty. It's hard to believe that this project was completely inexpensive. Even though this rustic wooden headboard was made in 2 separate timings it still cost less than the cheapest one I could find that was horrible, to be honest.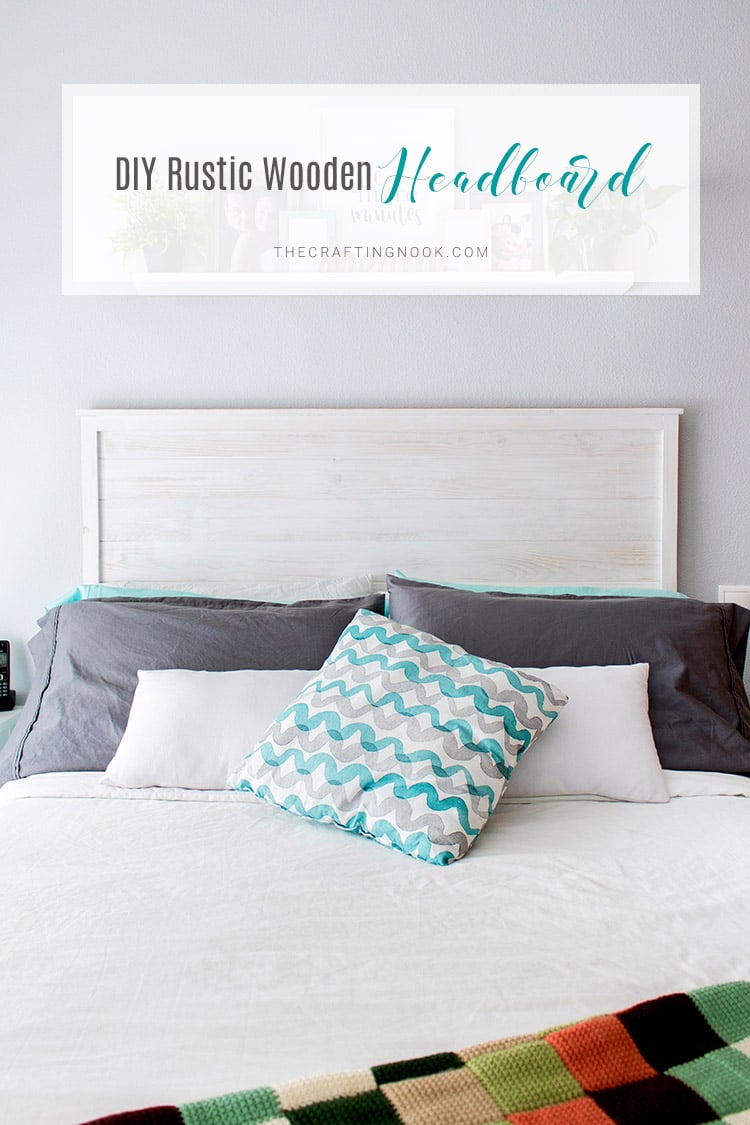 How to Make a Rustic Wooden Headboard
I made a gorgeous pallet headboard a few years ago while I was living in Colombia. Back then those wood planks were really inexpensive and the whole project ended up costing less than $40 but when I went to a hard store here, I almost fainted. But I still wanted to make a headboard as similar as possible.
I used really cheap materials for this rustic wooden headboard. Where I live each board of pinewood is expensive so when I made the math I was going to spend almost $70. It was not making sense to make one if I could find one done for less (not pretty but cheaper). Then I came across these pinewood shiplap boards. They came in packages of 10 boards for about $12. Then another wood plank for the legs. I chose whitewashed white paint because I love to be able to see the wood design through the paint.
The Best part of this new Wooden Headboard?
Once I finished I could barely believe that I had spent less than $30 total. The thing is, once I put it in its place behind the bed, I noticed the paint turned out too shiny and the headboard was looking too flushed with the wall since the boards were not deep enough. I don't know, call me crazy but was not happy at all. I know I was going to either change it or revamp it. That's why I never actually published it.
In the end, I decided to revamp it by framing the whole headboard so it would get more character and personality. I wanted a frame that would look kind of like this one or even like this pretty one but as much as I loved it, I knew I needed something simpler but still with personality.
This how it looked before I first made it: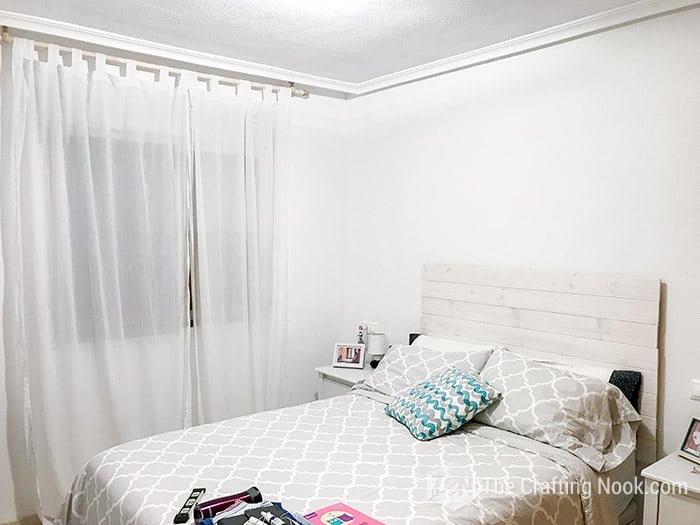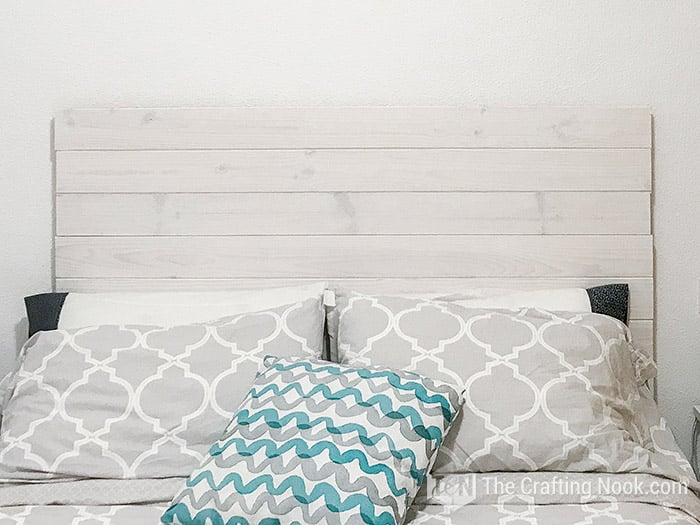 And this is the after I revamp it: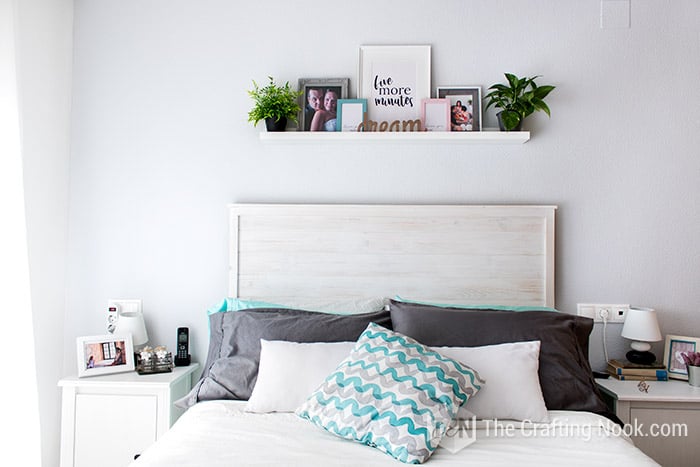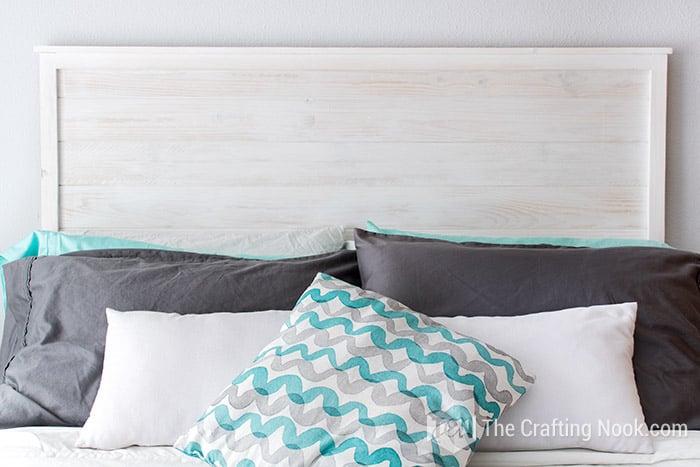 A huge difference right?
Of course, the wall color helps to make it stand out a little more too. But now the wooden headboard feels deeper and stronger somehow. I just LOVE how it looks now.
The best part?
The revamp only cost $7 (5 Euros).
Yup!
You heard me right. I already had paint, screws, nails, everything except the pinewood boards for the frame.
So if you are thinking about making your own headboard I can tell for a fact that you can make one for less than you think and the best part is that making a rustic wooden headboard is something you can make yourself in any style, color and, the size you want. You don't have to just accept what stores have in stock.
Learn how to make this Rustic Wooden Headboard
As I mentioned I made it in two different moments, so you will notice the scenario changes. LOL.
Also, measurements are so relative since each bed is different so I just give an idea but you are the one who decides depending on what you've got.
I'll share the plans and measures for my headboard (full bed)
Supplies you need:
Main Wooden Headboard: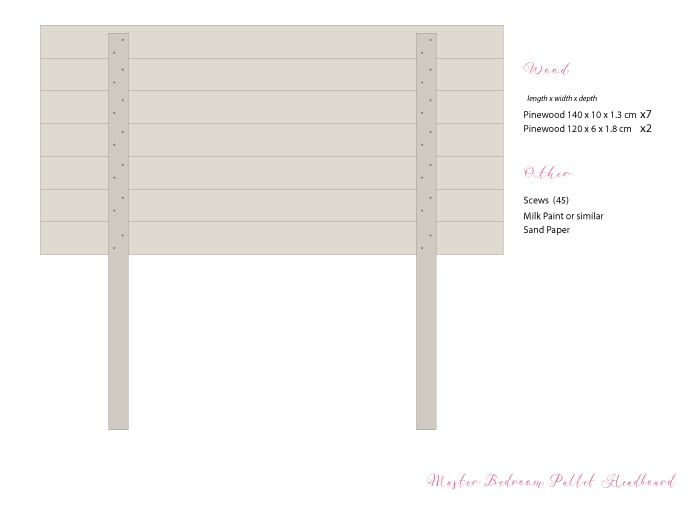 Shiplap boards. Size and number will depend on your bed's size (I used 7 140 x 10 x 1,3 cm (56x4x1/3 Inch)
Pinewood board for legs (2x4s is enough)
Screws (appropriate for your board's size)
Paint of your choice.
Sandpaper, 80, 150 and 250 grit
Wooden Headboard Frame: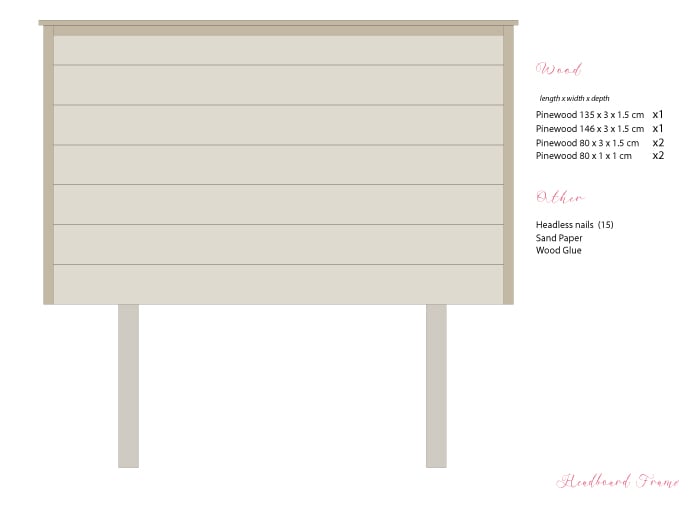 For the Main Wooden Headboard:
First thing I did was protecting the area where I was going to work. I put a plastic and used masking tape to secure the plastic in place. I left my rug underneath so I wouldn't make so much noise LOL. You will see why in a bit.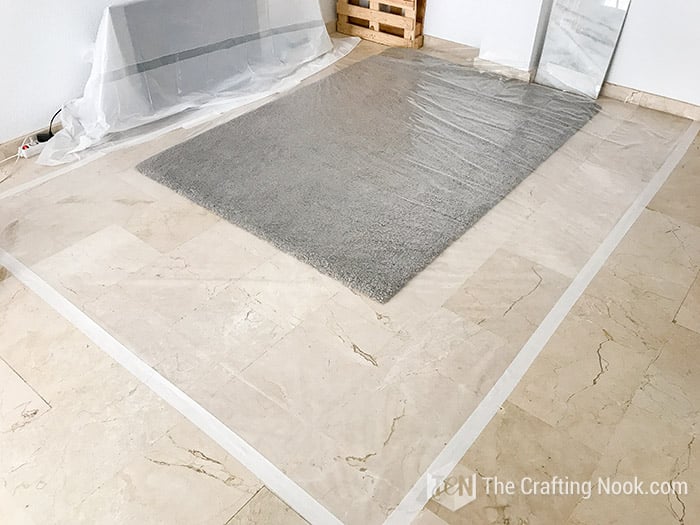 Also, cover electronics and other furniture if you have (I didn't have much at the moment.)
We started this headboard by taking measurements of the bed frame that the headboard was being made for. You will want to measure to the outside edge of the bed frame headboard brackets. Then you will want to add 1-2″ to the total distance to give a slight overhang. You definitely want to make sure the headboard doesn't look skinnier than the bed after the pillows, comforters, etc are added like mine does. We learn from mistakes, right. Still, I love how mine turned out!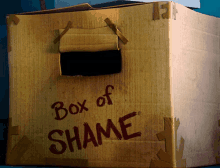 Of course, you need to select the height of your headboard. First, we measured the distance from the floor to the top of the mattress. Then we determined how tall we wanted our headboard to be by measuring from slightly below the batters top to where the top of the headboard would be. With some simple math, I divided that number by the width of the shiplap to know how many boards to use.
Once all measures are done, get your shiplap cut and all the smallest boards too.
I wanted the headboard boards to look used so I hammered it. I actually released a lot of stress there. I just hit it hard LOL. I also used screws and nails and hammered them against the boards so it would get more marks. That's why I needed my rug. I live in an apartment so I didn't want the whole community mad at me.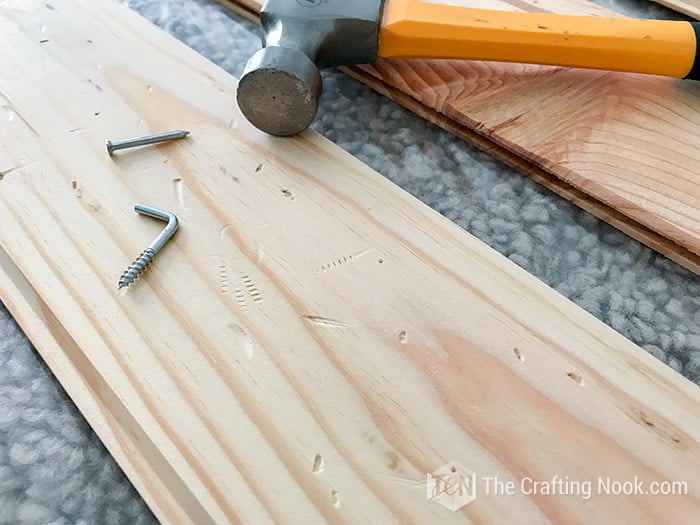 Then lightly sand each board especially on the edges with an 80 grit sandpaper to avoid splinters.
Once finished, clean them well with a piece of cloth. Make sure they are dust free.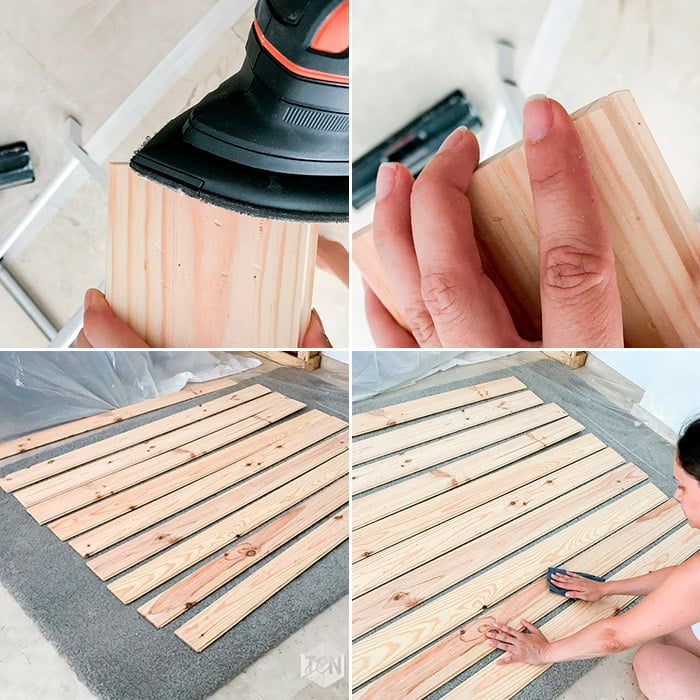 Shake your paint and start painting.
I love this paint because it lets the wood marks show up. I don't live in the USA so I can't really tell you what brand to use, but you can ask at your local hardware, for a satiated, whitewashed paint. The paint also blocks UV and is waterproof. As I mentioned above, The only problem is that it gets shiny because it's kind of plastic.