DIY Rustic Wooden Headboard
No need to spend a lot to make your bed look gorgeous! This Rustic Wooden Headboard is easy, fun and inexpensive to make. You will love it.
I have no words to describe how excited I am right now. Our Master bedroom decor is coming together so beautifully. It feels so cozy and warm. Now, I finally managed to finish the headboard and Oh my!
The bed wall looks so pretty. It's hard to believe that this project was completely inexpensive. Even though this rustic wooden headboard was made in 2 separate timings it still cost less than the cheapest one I could find that was horrible, to be honest.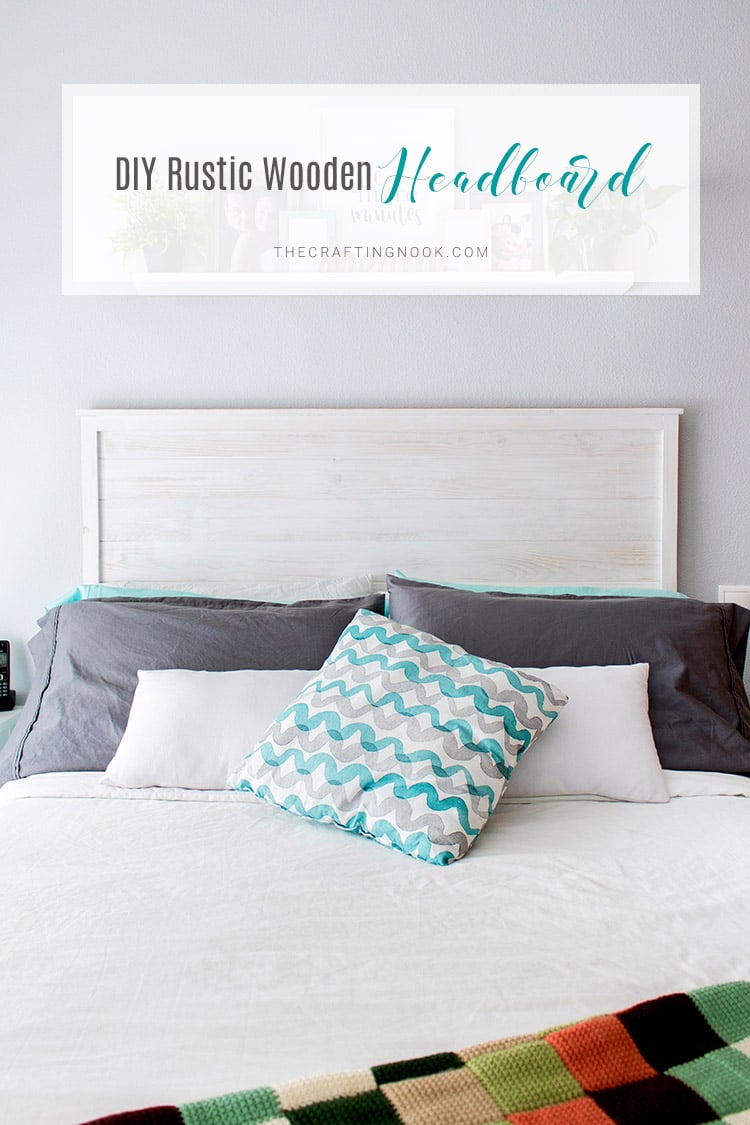 How to Make a Rustic Wooden Headboard
I made a gorgeous pallet headboard a few years ago while I was living in Colombia. Back then those wood planks were really inexpensive and the whole project ended up costing less than $40 but when I went to a hard store here, I almost fainted. But I still wanted to make a headboard as similar as possible.
I used really cheap materials for this rustic wooden headboard. Where I live each board of pinewood is expensive so when I made the math I was going to spend almost $70. It was not making sense to make one if I could find one done for less (not pretty but cheaper). Then I came across these pinewood shiplap boards. They came in packages of 10 boards for about $12. Then another wood plank for the legs. I chose whitewashed white paint because I love to be able to see the wood design through the paint.
The Best part of this new Wooden Headboard?
Once I finished I could barely believe that I had spent less than $30 total. The thing is, once I put it in its place behind the bed, I noticed the paint turned out too shiny and the headboard was looking too flushed with the wall since the boards were not deep enough. I don't know, call me crazy but was not happy at all. I know I was going to either change it or revamp it. That's why I never actually published it.
In the end, I decided to revamp it by framing the whole headboard so it would get more character and personality. I wanted a frame that would look kind of like this one or even like this pretty one but as much as I loved it, I knew I needed something simpler but still with personality.
This how it looked before I first made it: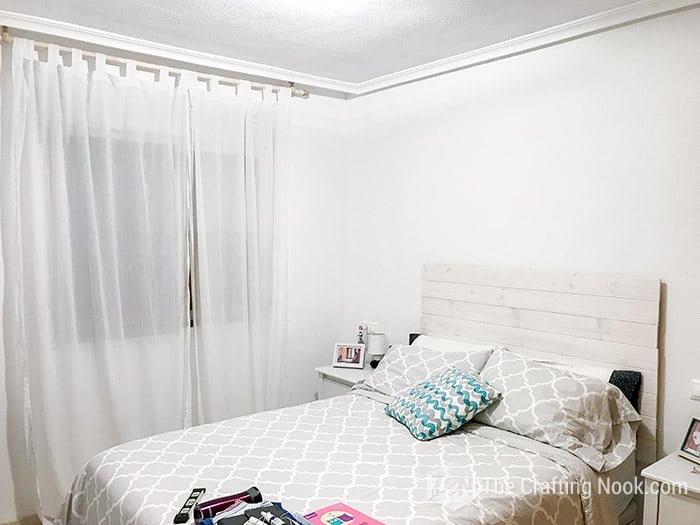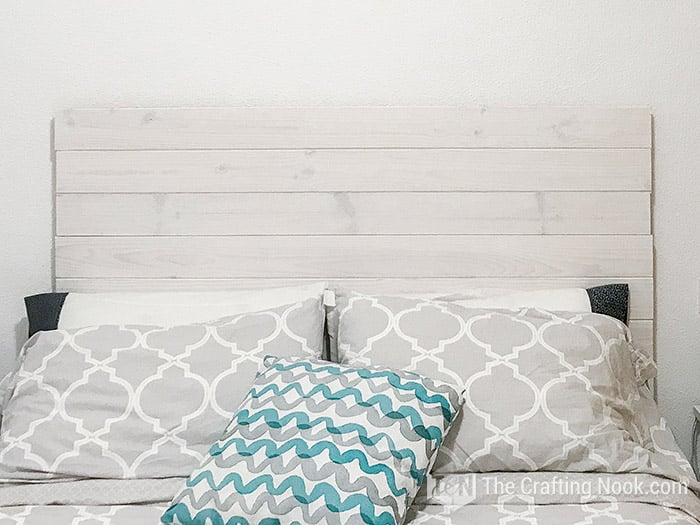 And this is the after I revamp it: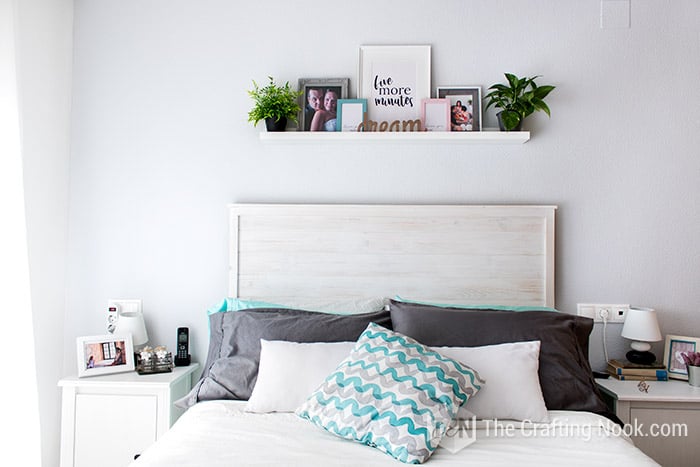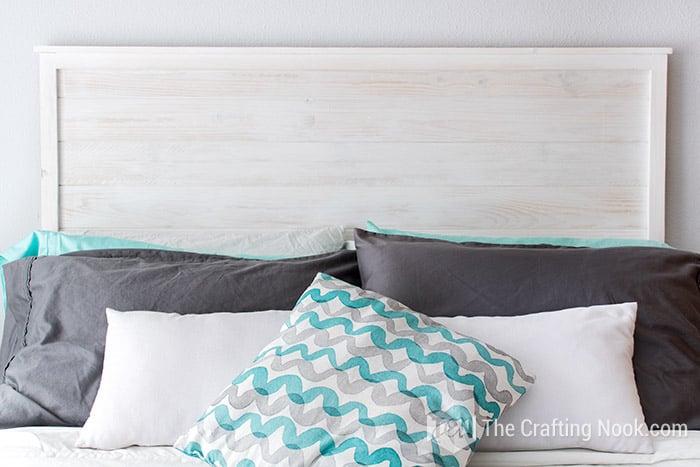 A huge difference right?
Of course, the wall color helps to make it stand out a little more too. But now the wooden headboard feels deeper and stronger somehow. I just LOVE how it looks now.
The best part?
The revamp only cost $7 (5 Euros).
Yup!
You heard me right. I already had paint, screws, nails, everything except the pinewood boards for the frame.
So if you are thinking about making your own headboard I can tell for a fact that you can make one for less than you think and the best part is that making a rustic wooden headboard is something you can make yourself in any style, color and, the size you want. You don't have to just accept what stores have in stock.
Learn how to make this Rustic Wooden Headboard
As I mentioned I made it in two different moments, so you will notice the scenario changes. LOL.
Also, measurements are so relative since each bed is different so I just give an idea but you are the one who decides depending on what you've got.
I'll share the plans and measures for my headboard (full bed)
Supplies you need:
Main Wooden Headboard: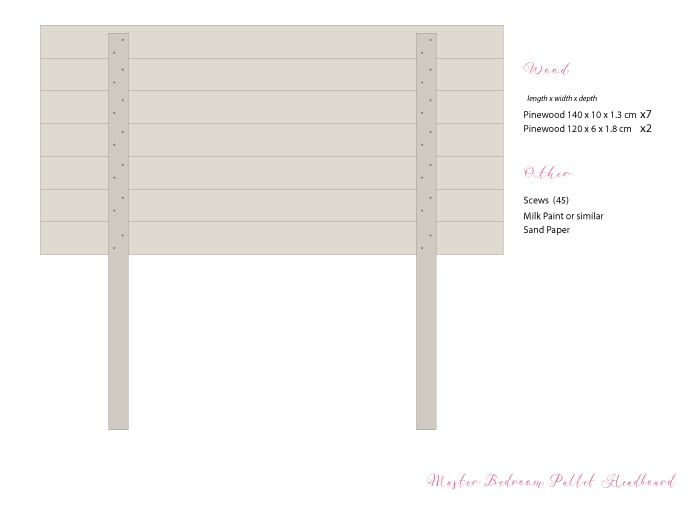 Shiplap boards. Size and number will depend on your bed's size (I used 7 140 x 10 x 1,3 cm (56x4x1/3 Inch)
Pinewood board for legs (2x4s is enough)
Screws (appropriate for your board's size)
Paint of your choice.
Sandpaper, 80, 150 and 250 grit
Wooden Headboard Frame: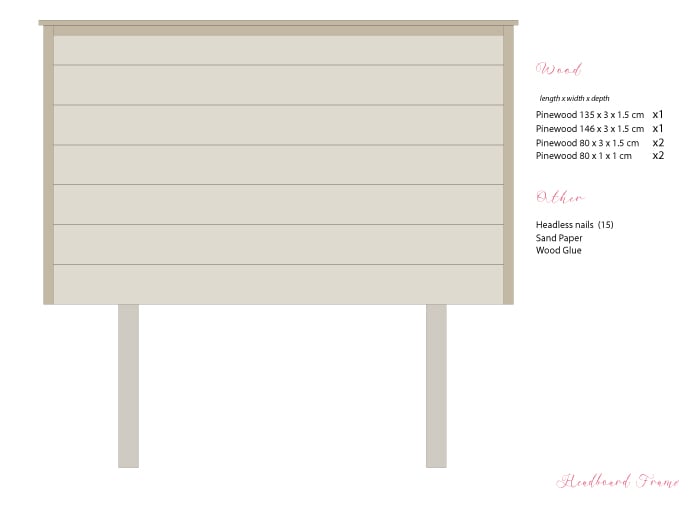 For the Main Wooden Headboard:
First thing I did was protecting the area where I was going to work. I put a plastic and used masking tape to secure the plastic in place. I left my rug underneath so I wouldn't make so much noise LOL. You will see why in a bit.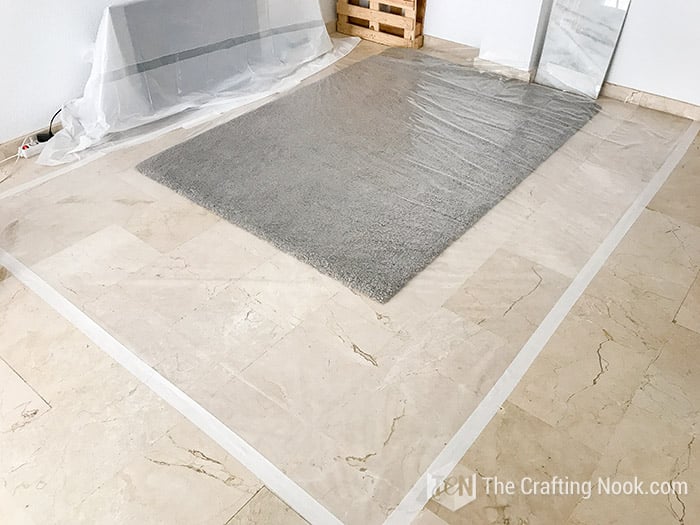 Also, cover electronics and other furniture if you have (I didn't have much at the moment.)
We started this headboard by taking measurements of the bed frame that the headboard was being made for. You will want to measure to the outside edge of the bed frame headboard brackets. Then you will want to add 1-2″ to the total distance to give a slight overhang. You definitely want to make sure the headboard doesn't look skinnier than the bed after the pillows, comforters, etc are added like mine does. We learn from mistakes, right. Still, I love how mine turned out!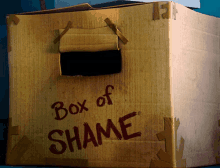 Of course, you need to select the height of your headboard. First, we measured the distance from the floor to the top of the mattress. Then we determined how tall we wanted our headboard to be by measuring from slightly below the batters top to where the top of the headboard would be. With some simple math, I divided that number by the width of the shiplap to know how many boards to use.
Once all measures are done, get your shiplap cut and all the smallest boards too.
I wanted the headboard boards to look used so I hammered it. I actually released a lot of stress there. I just hit it hard LOL. I also used screws and nails and hammered them against the boards so it would get more marks. That's why I needed my rug. I live in an apartment so I didn't want the whole community mad at me.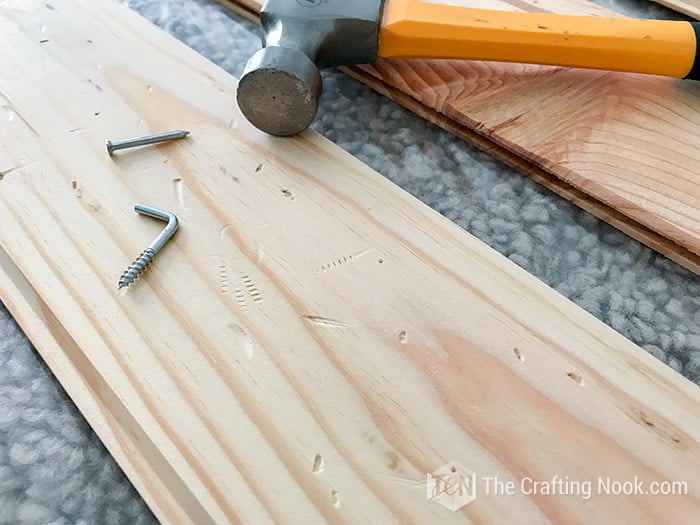 Then lightly sand each board especially on the edges with an 80 grit sandpaper to avoid splinters.
Once finished, clean them well with a piece of cloth. Make sure they are dust free.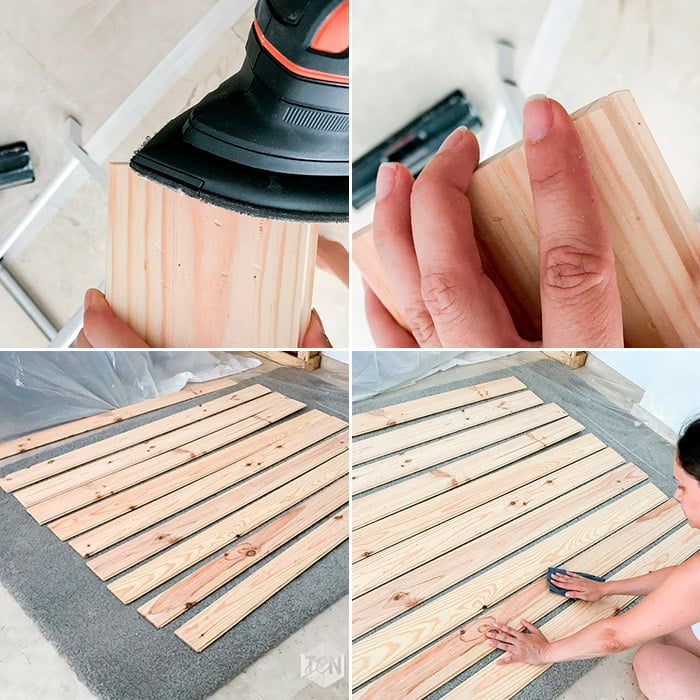 Shake your paint and start painting.
I love this paint because it lets the wood marks show up. I don't live in the USA so I can't really tell you what brand to use, but you can ask at your local hardware, for a satiated, whitewashed paint. The paint also blocks UV and is waterproof. As I mentioned above, The only problem is that it gets shiny because it's kind of plastic.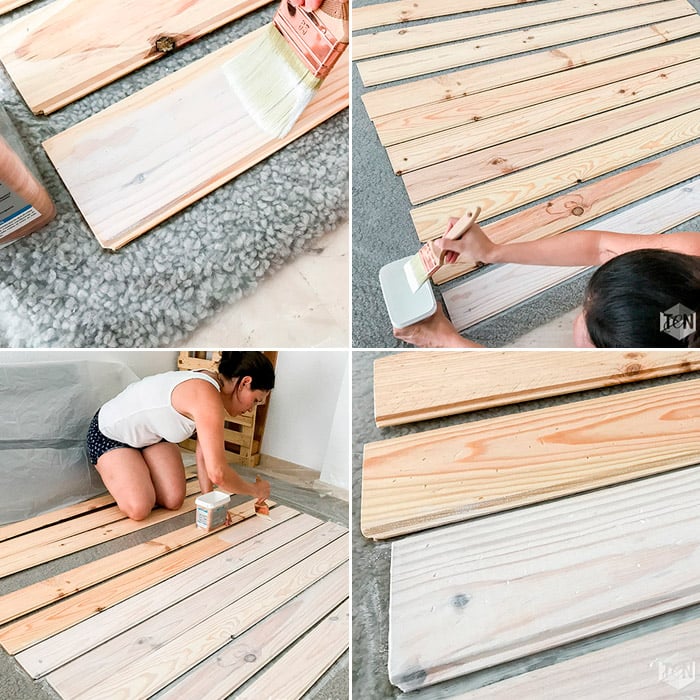 Paint each board in the same direction as your wood marks. Let it dry at least 2 hours between coats and give a slight sanding (150 grit). Clean too. I used 3 coats to get a really white shade.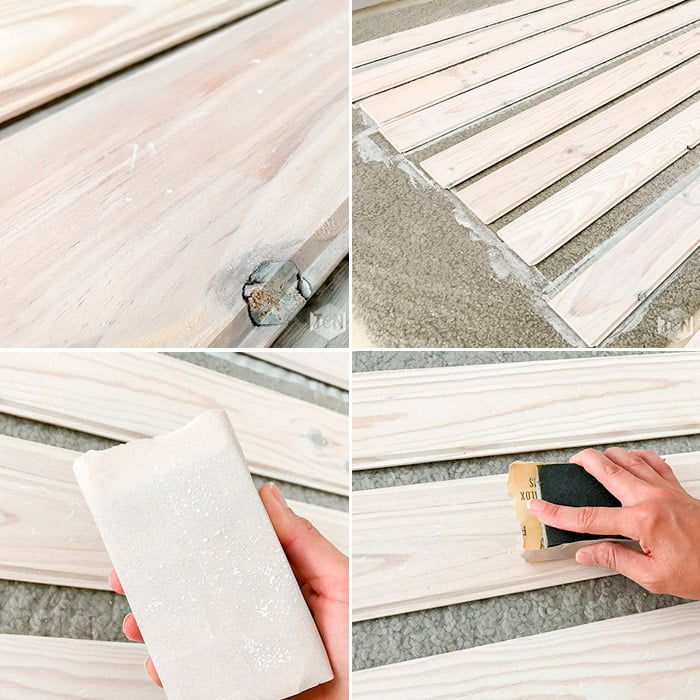 Once done with all the coats, let it dry overnight and give a final sanding with a fine grit sandpaper. I used 250. Again clean well.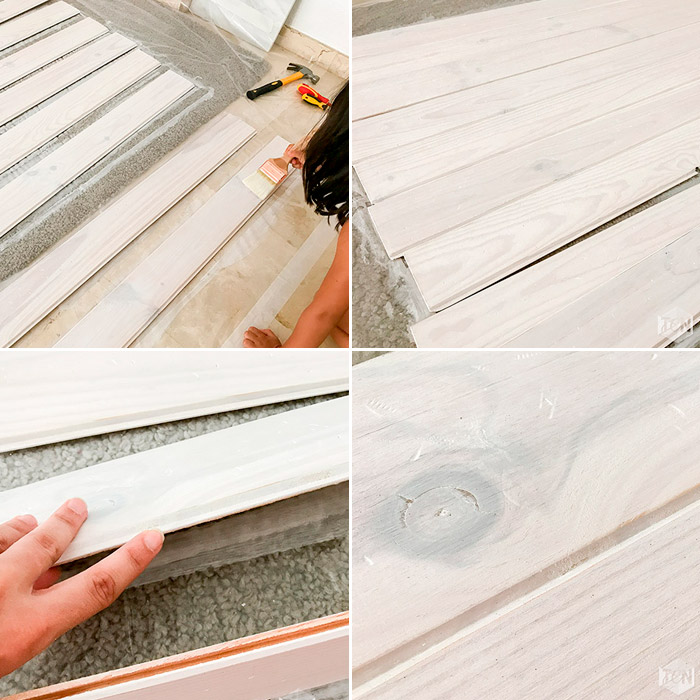 Since the shiplap boards come with these rabbeted edges that fit each other, you just need to slide one to the next until you have them all together. Of course, make sure the side edges are aligned and right side facing the floor (or the table.)
The pinewood boards for the wooden headboard legs.
Measure and mark the height that will go off the headboard.
Place one leg board about 10-11 inches (30 cm) from each side. Decide each screw spot and mark. I like to drill a path for screws but if you feel confident you can skip this step. Then screw each screw in place. I placed 2 per board.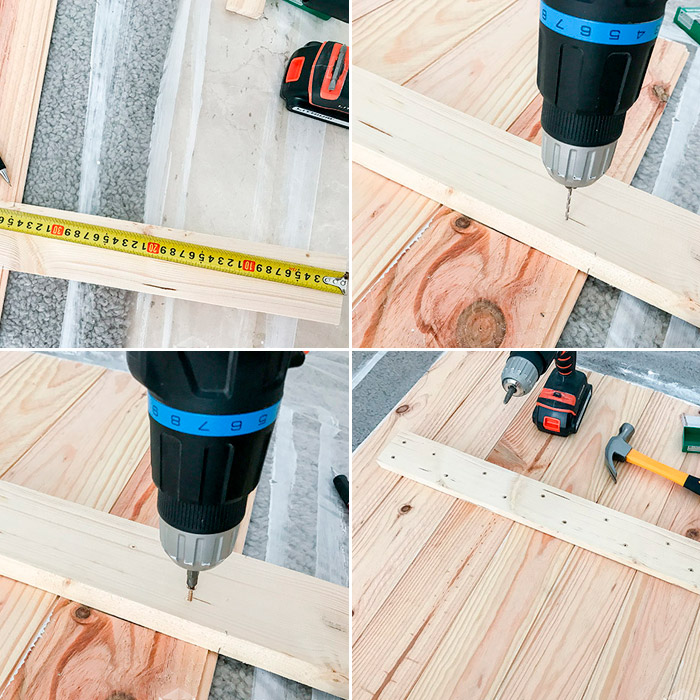 The Original wooden Headboard was done at this point. I screwed a closed hook to the inner side of the leg boards and drilled a hole on the wall for an L-shaped hook.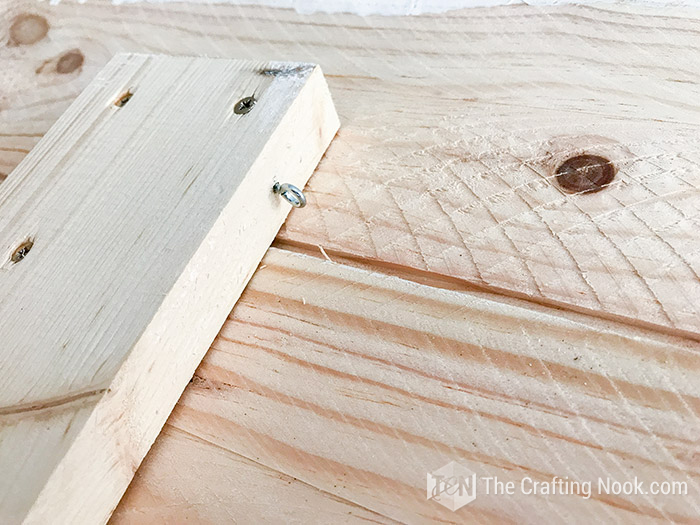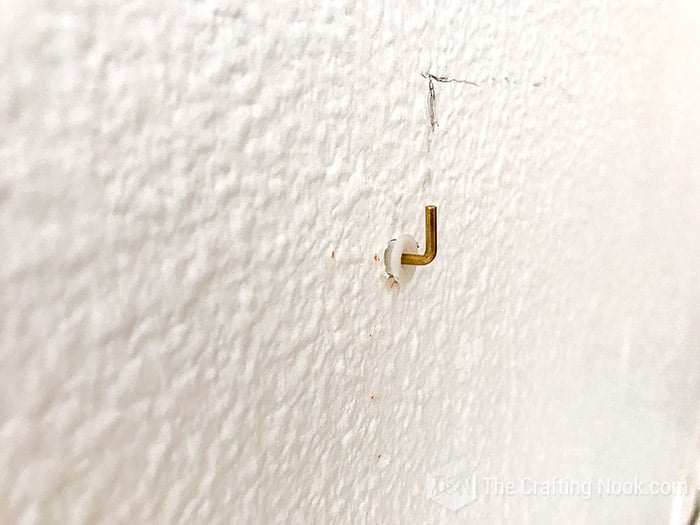 There you go!
That's my BEFORE Rustic wooden headboard.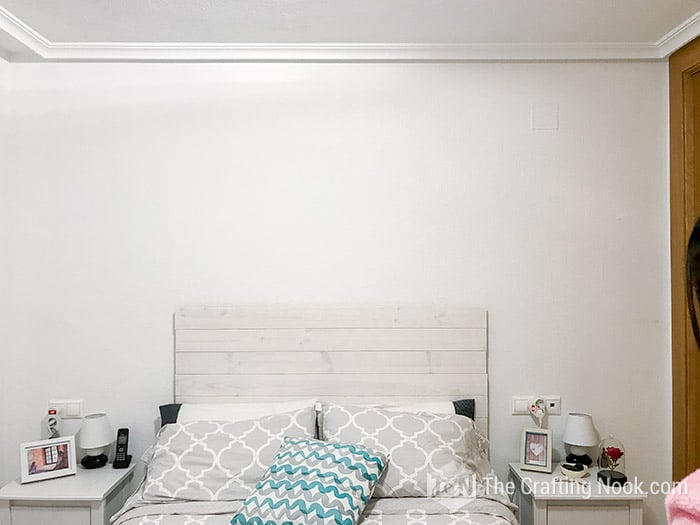 Then I took my rustic wooden headboard out and started the framing stage.
Wooden Headboard Frame: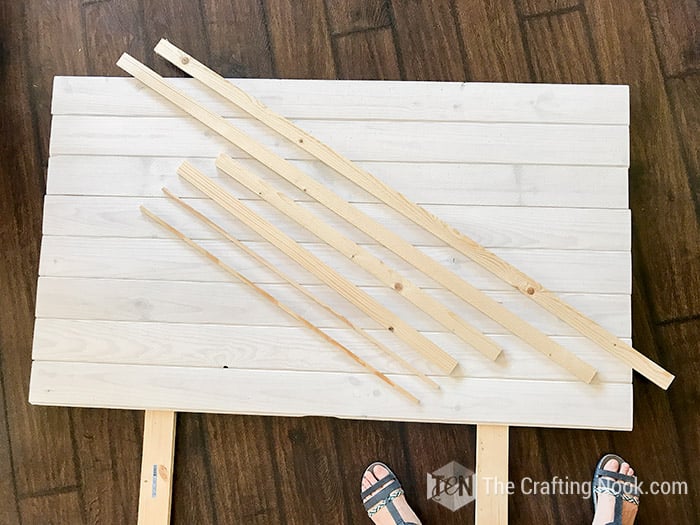 Let's start by mounting and presenting the pieces in place just to make sure everything fits and everything is looking good.
Then is good to give each piece a slight sanding, again to avoid splinters. As for the main headboard, I sanded it really hard trying to remove that shiny aspect that's why you see so much pinewood color showing up.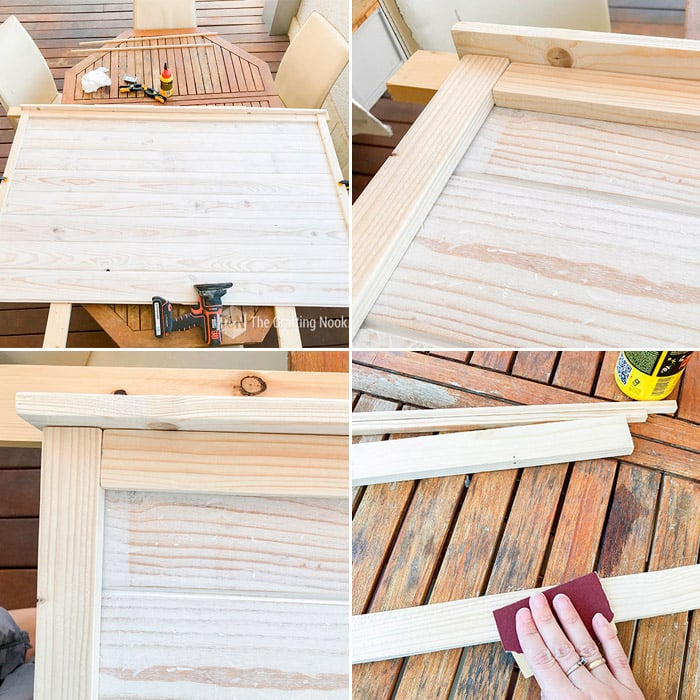 Next, fasten the side back 1×1 piece to the 1×3 front piece with glue and secure with clamps, as shown. Once the glue has dried, apply some nails along the back piece. Use a really thin nail to avoid cracking the wood. Repeat with the other side pieces.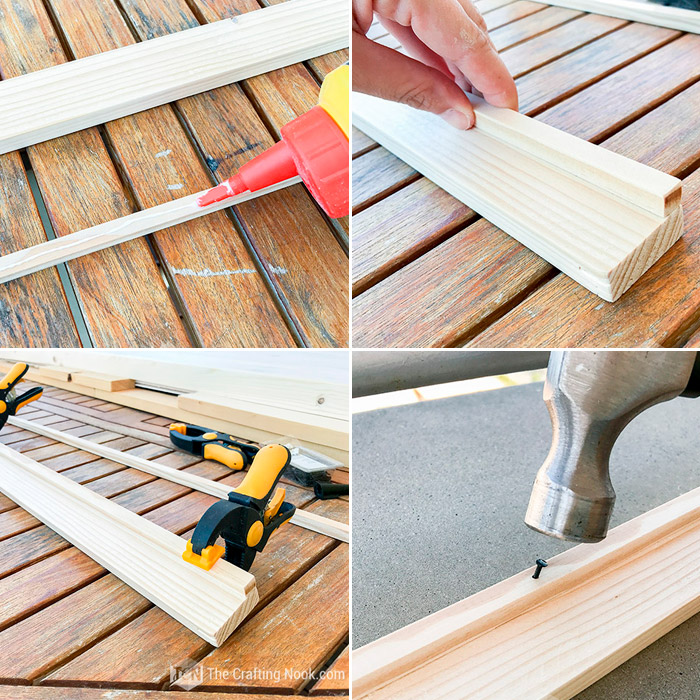 Put it in place to make sure is all fine. If so, then paint all your pieces with the same paint and using the same technique as before BUT I used one less coat because once it's all done I'll give the final paint coat. Let it dry for a couple hours.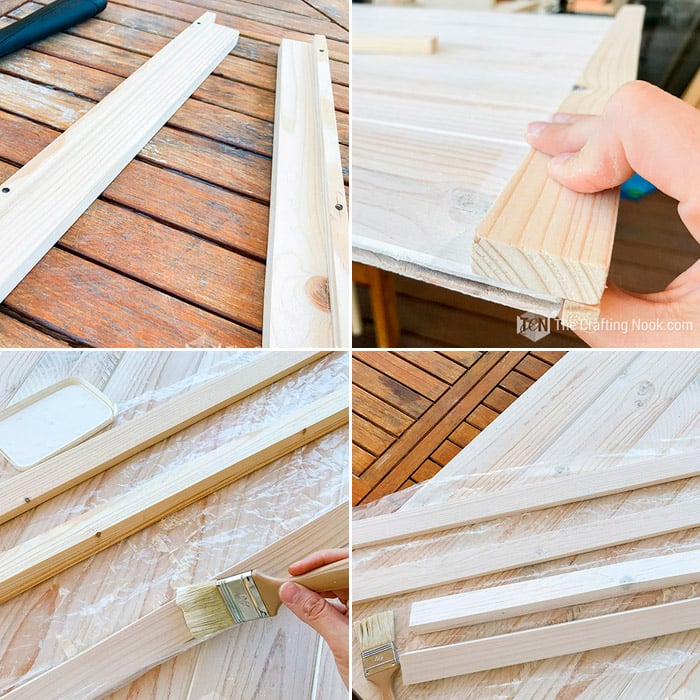 Sand each piece, use sanding machine when possible and paper for edges and narrow sides. Clean each piece well.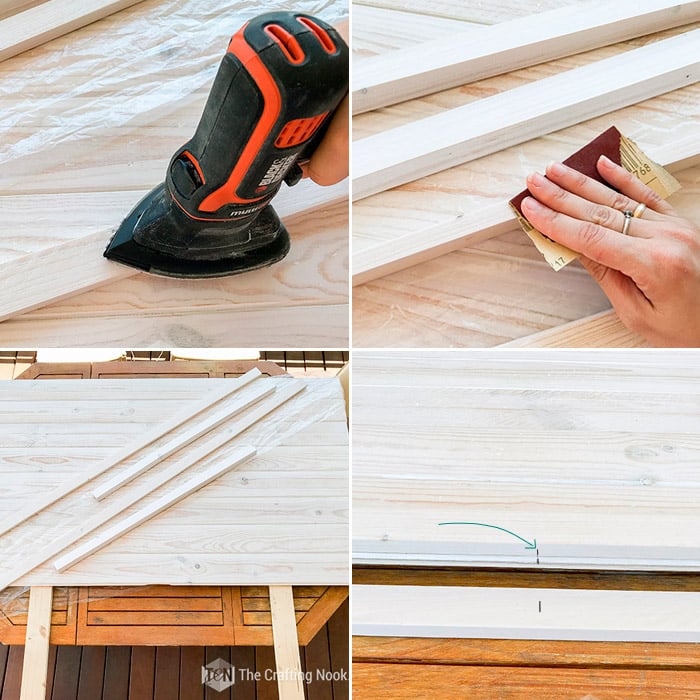 To start framing, let's start with the top piece. Find the center of the headboard, 136×3 and 146×3. Mark it.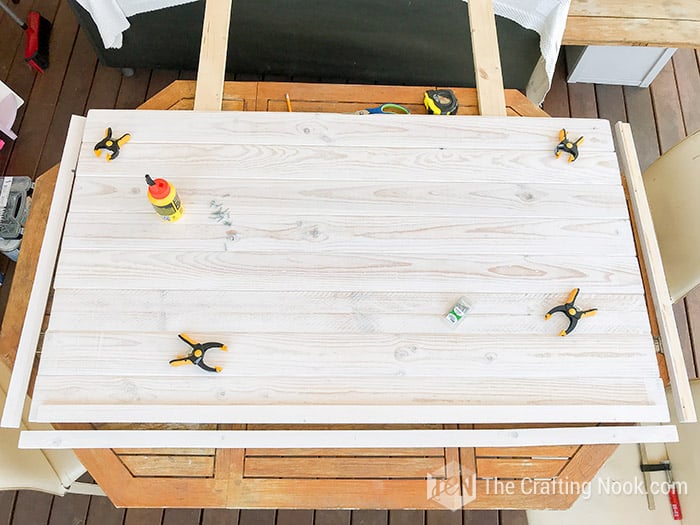 Apply glue to the back of the 136×3 and match center marks making sure the edges are aligned. Secure in place with clamps. Let it dry and then screw along the top edge to secure even more.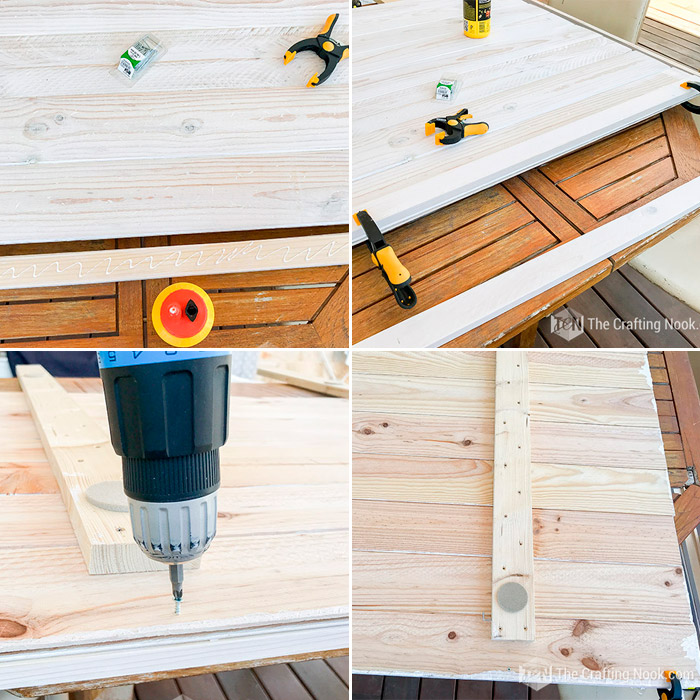 Same process for the sides. Apply glue, and fasten with clamps to each side and making sure marches the top side of the frame.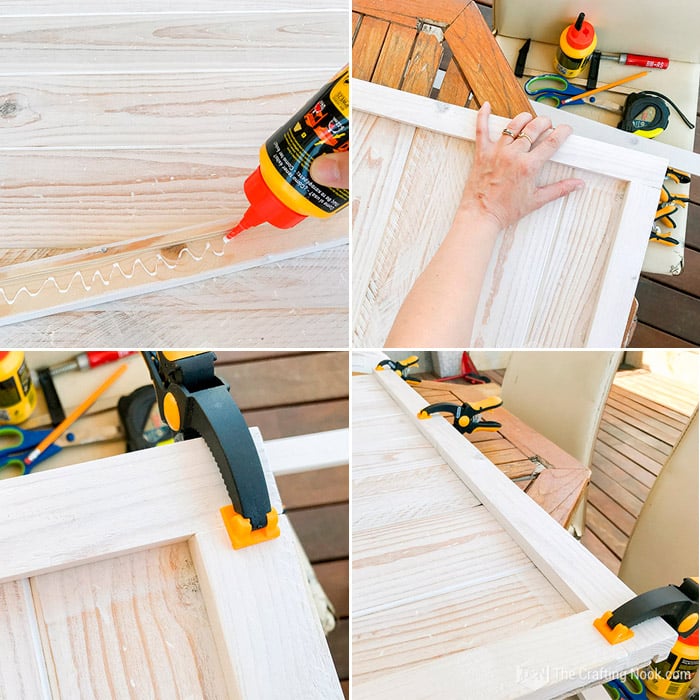 Again, on the back screw in some screws to secure boards from the back.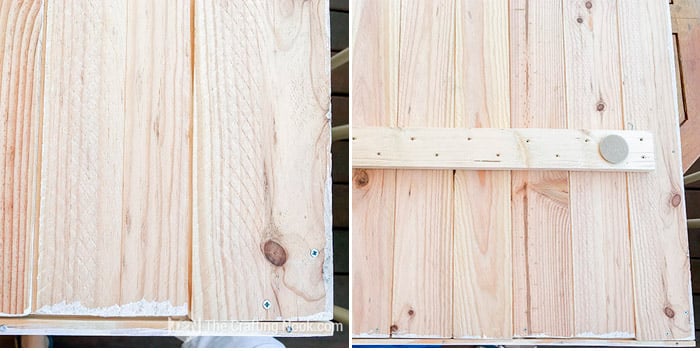 For the very top piece, you need to do the same as the first piece. You already should have marked the center. So, apply glue along the board and then making sure both centers marks match and the back of both are aligned. Secure with clamps. Let it dry very well.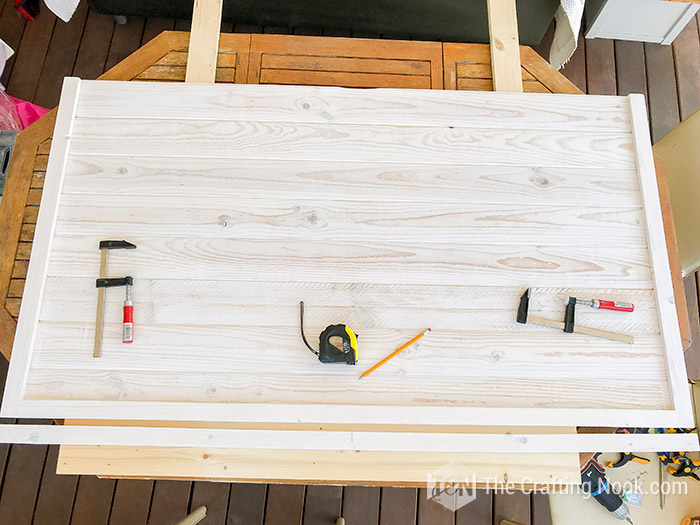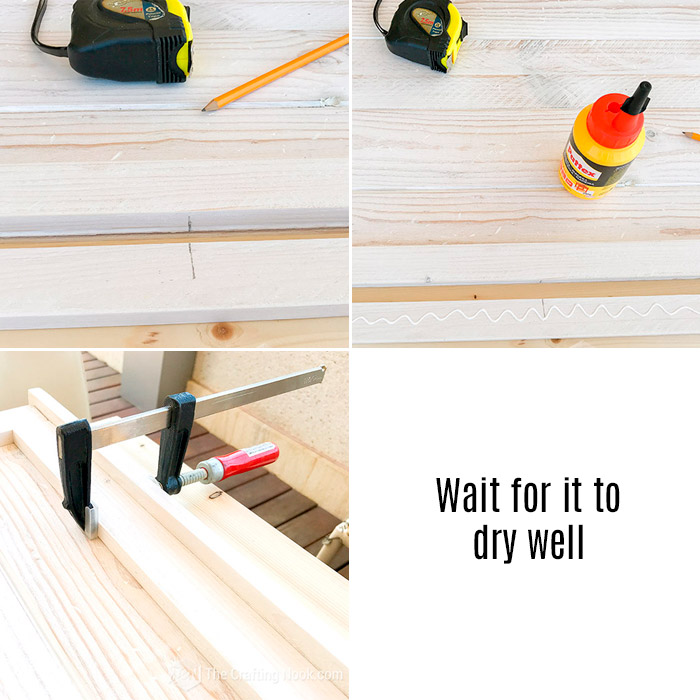 Once the top piece is dry, Measure the front edge to the center of the side frame piece. Then mark that measure on the top where you want to put some headless nails to secure it.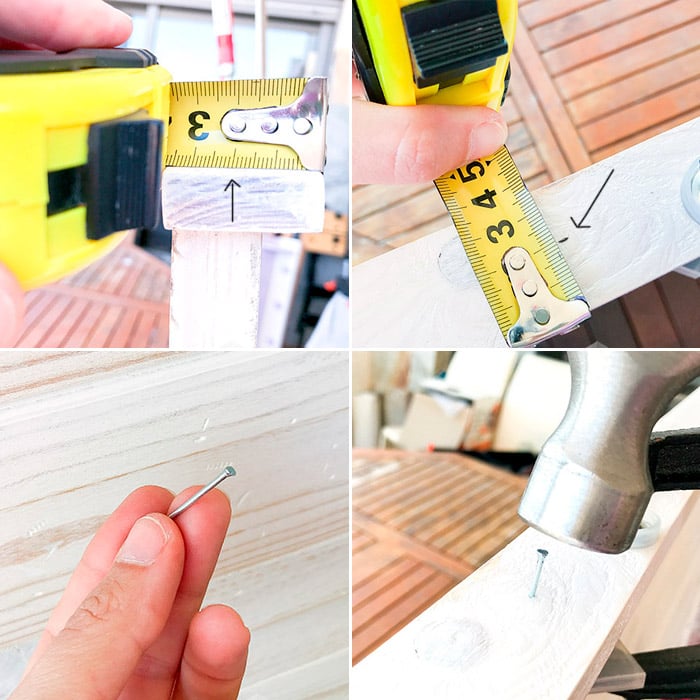 In order to avoid damaging the wood, I used a piece of cloth and hammers it on top of it.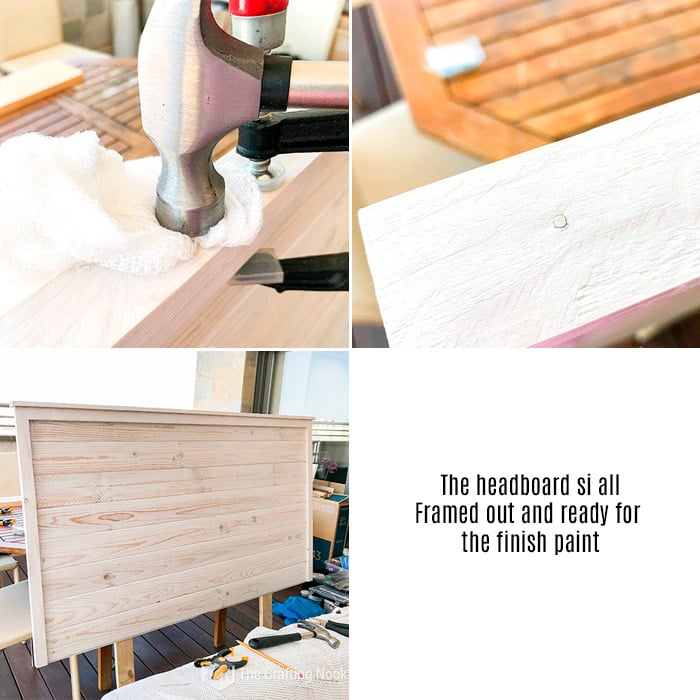 There you go!
The rustic wooden headboard is basically done.
The last step is optional but you can give a last coat of paint to make sure the color is even.
So clean well the headboard and go for it. I only added one coat, especially where wood boards touch each other.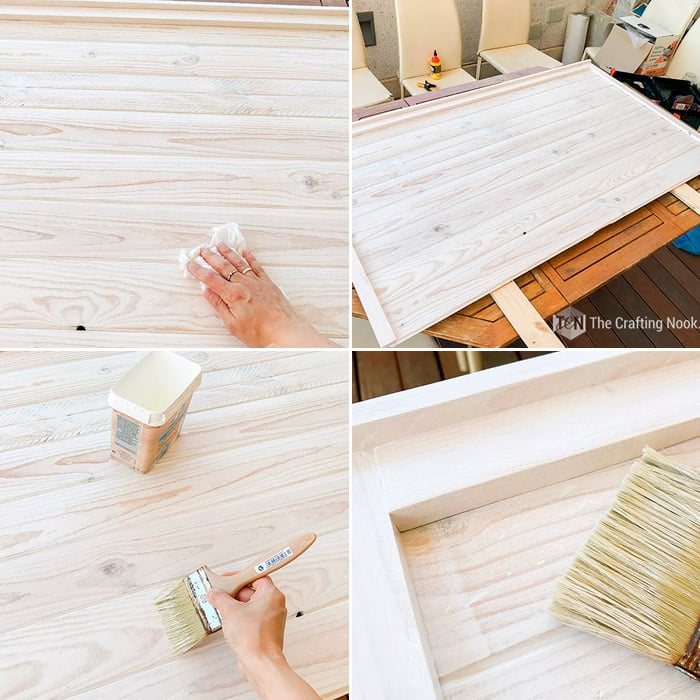 One last thing I did and that's just because I'm a bit obsessed with the shine on this paint, I lightly sanded the board after it was completely dry, clean the headboard and the applied dry brush with white matte varnish. Just harsh strokes to make everything matte. No shine, nothing LOL.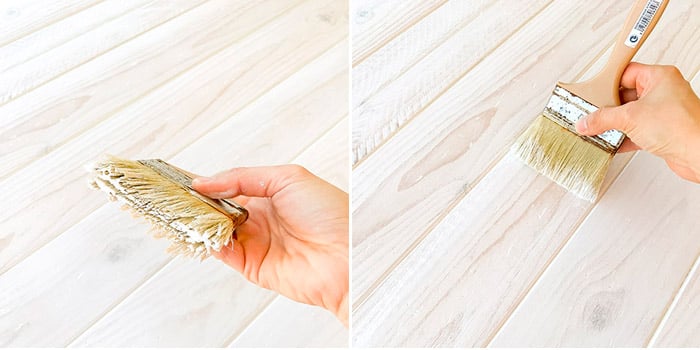 That's it! I promise!
This pretty and inexpensive rustic wooden headboard is all done and ready to rock your bedroom.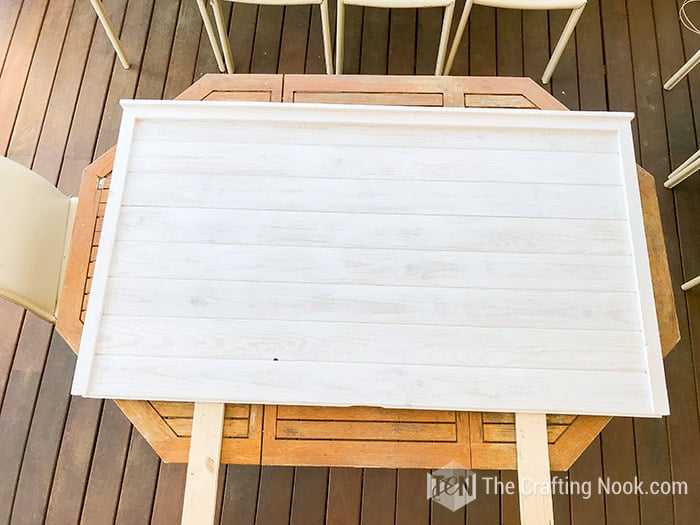 This is how the bedroom looks now with my new pretty Wooden Headboard.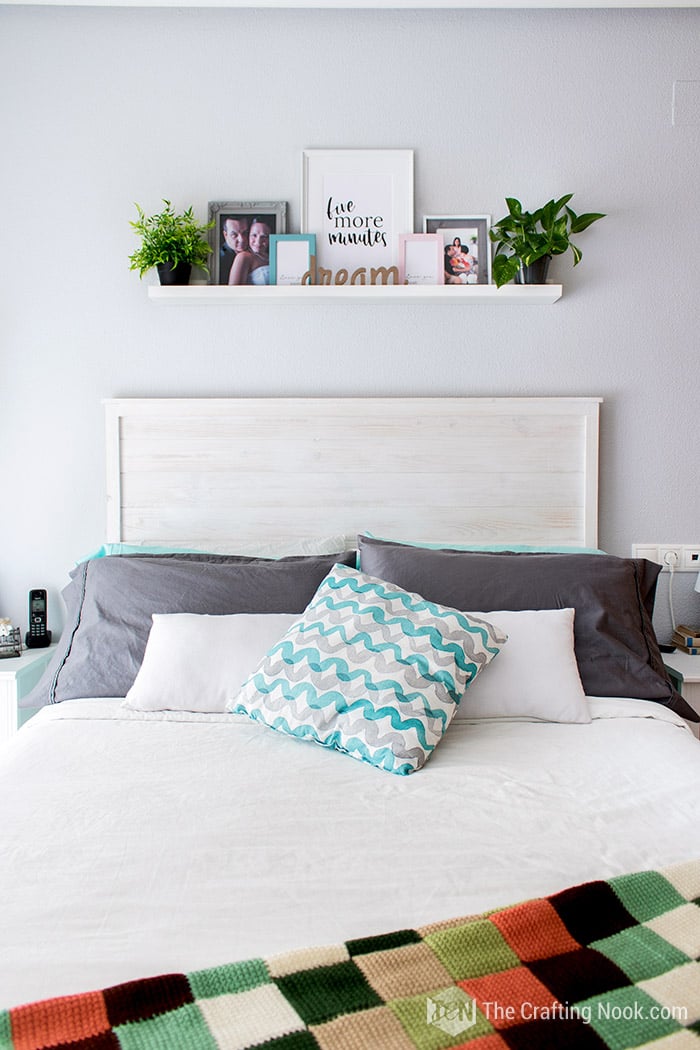 Check out all the details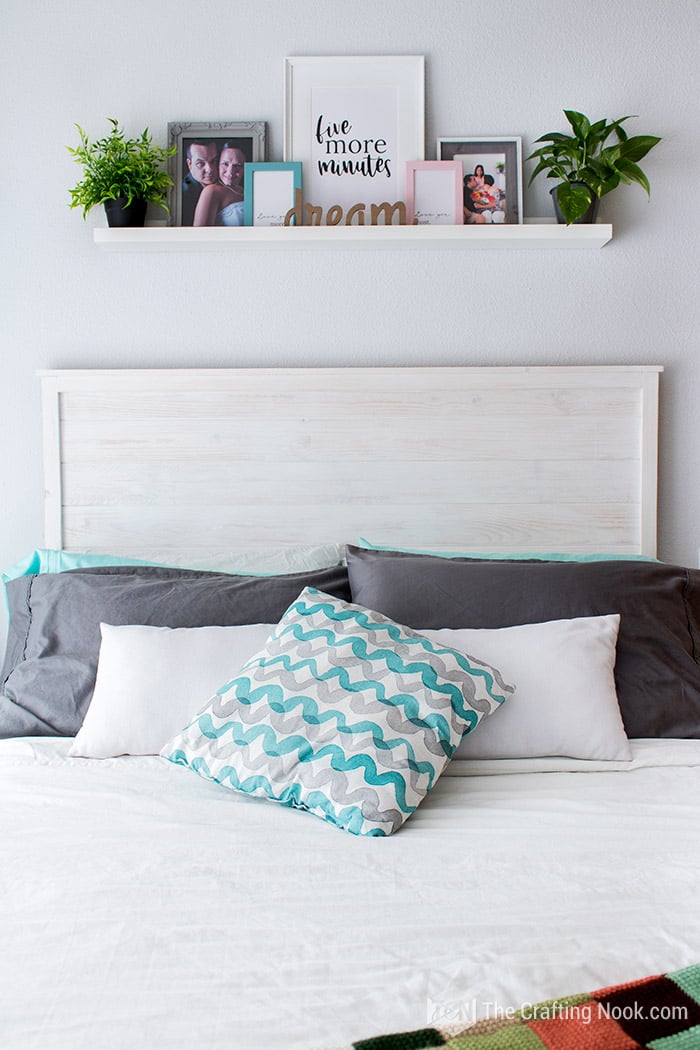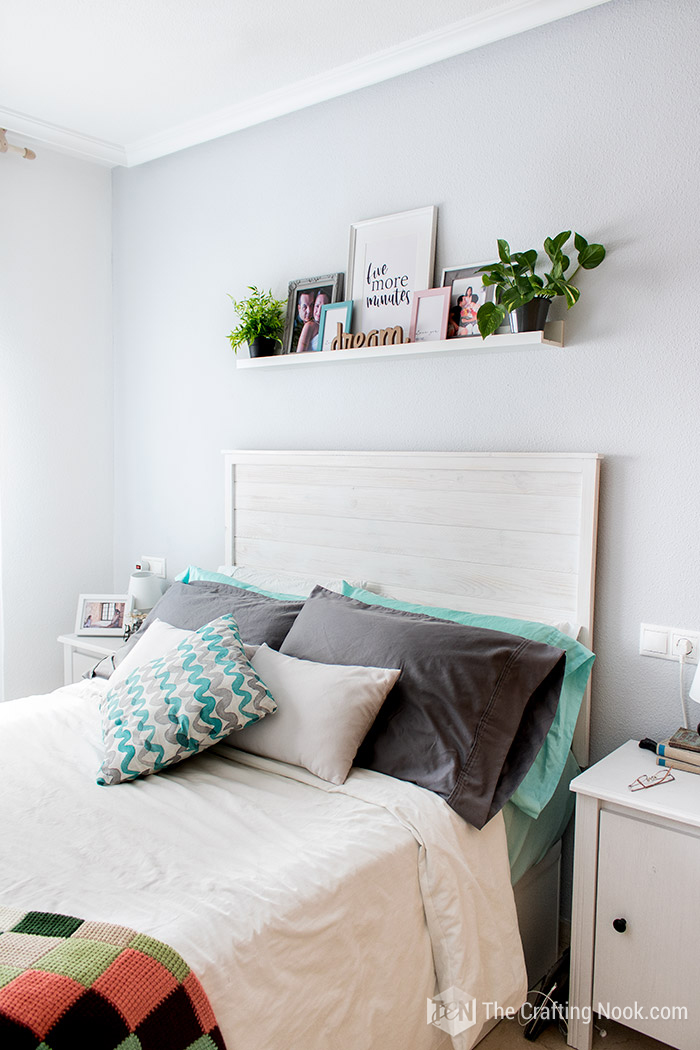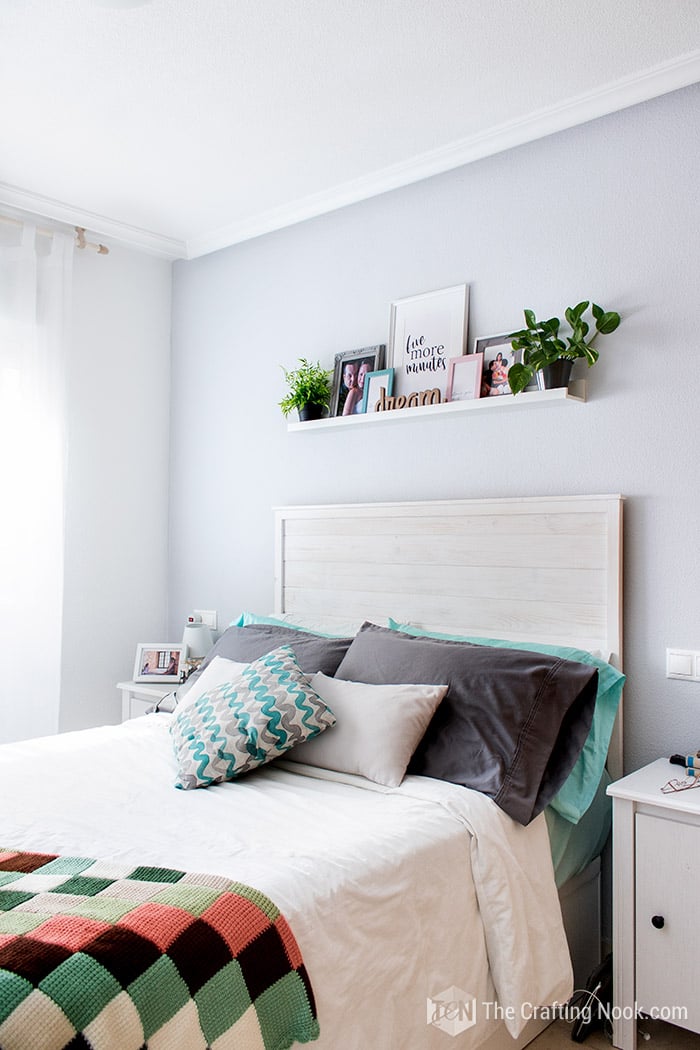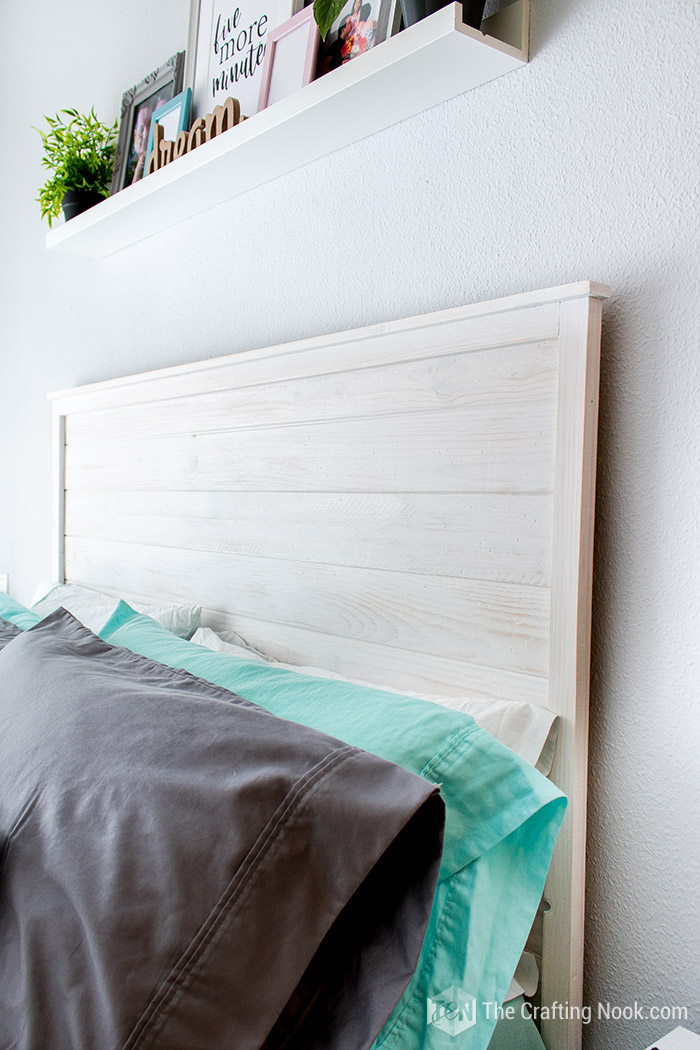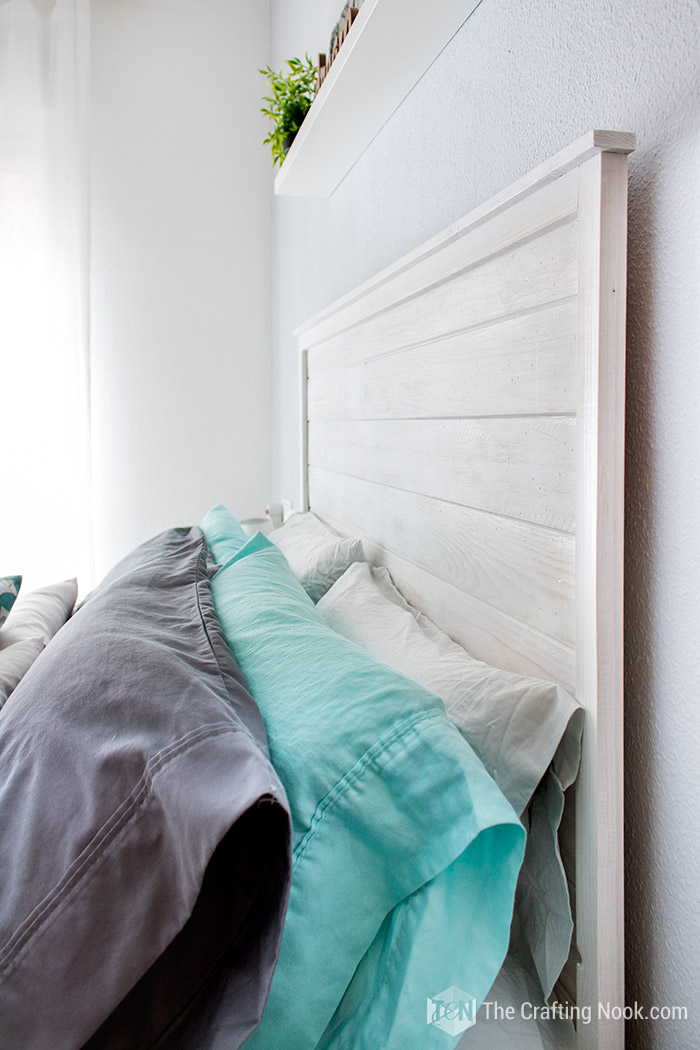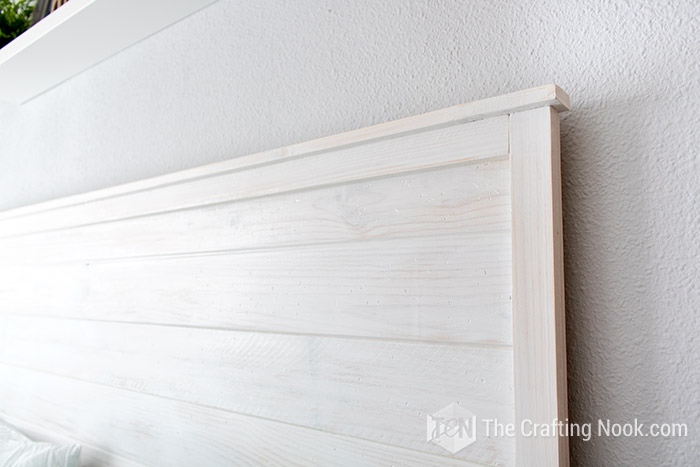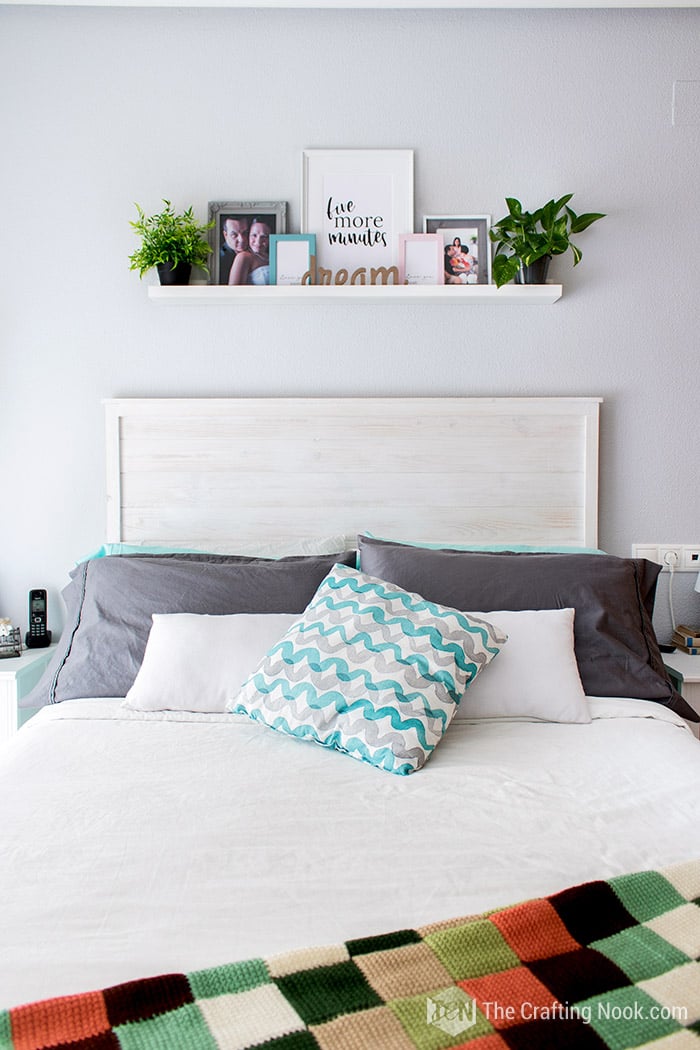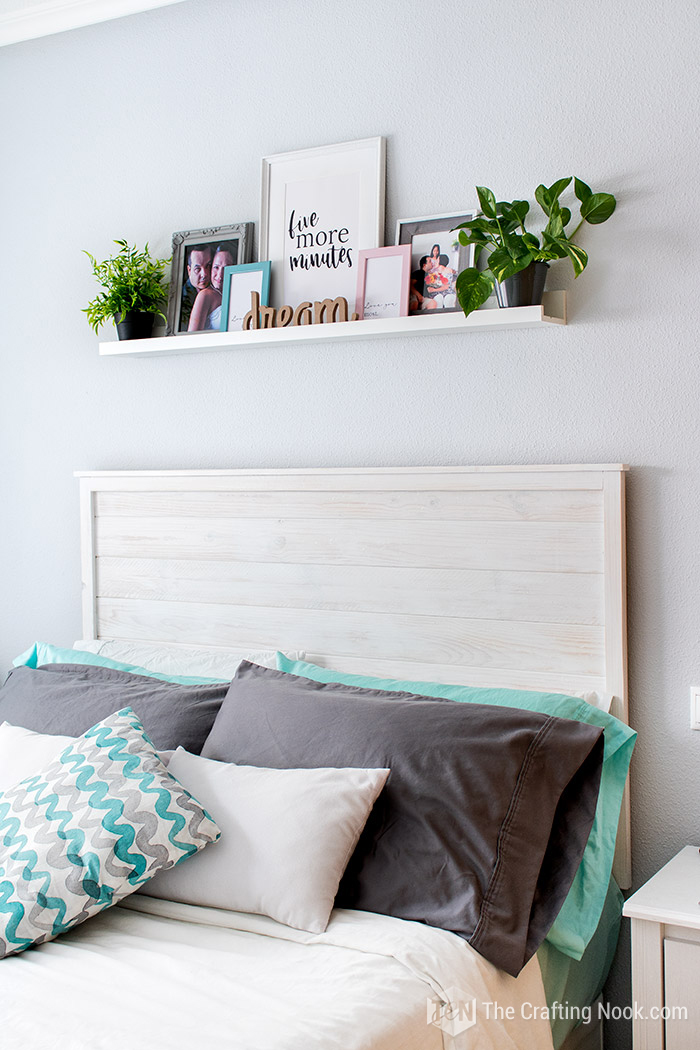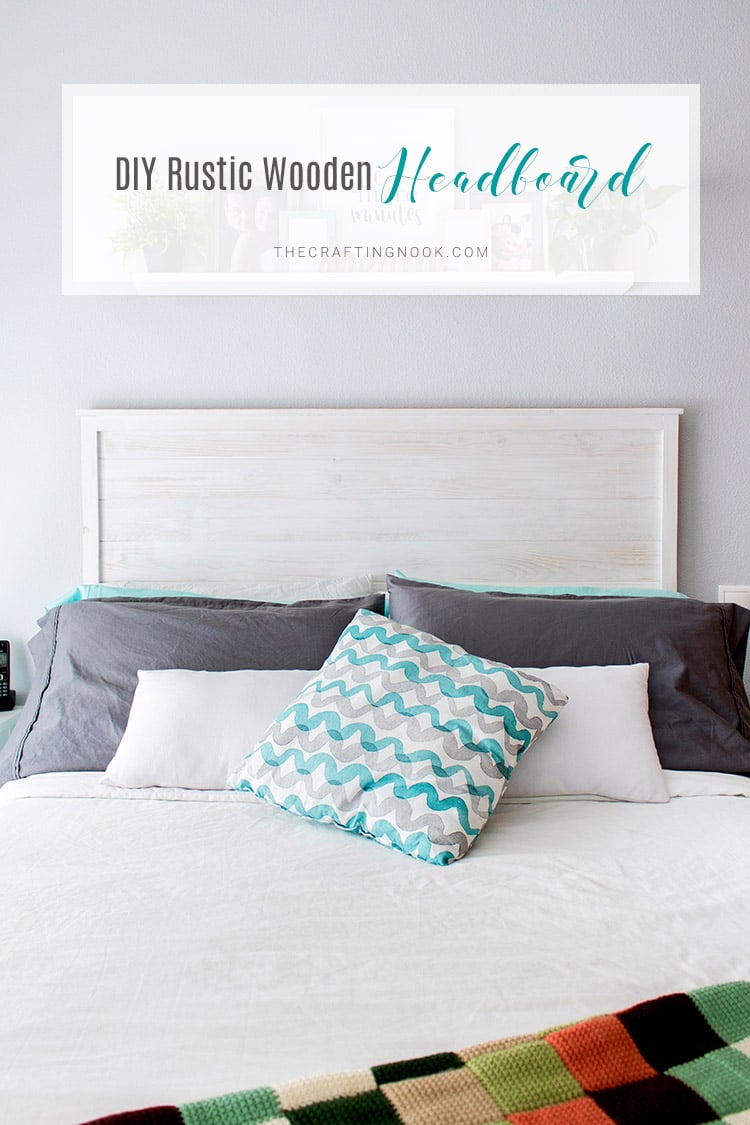 Hope you enjoyed this tutorial, I did my best to explain each step but I'm not a carpenter and I don't know all the words and language. So if you have any doubts, don't hesitate to ask in comments. I'll do my best to explain.
If you like it, don't forget to share it???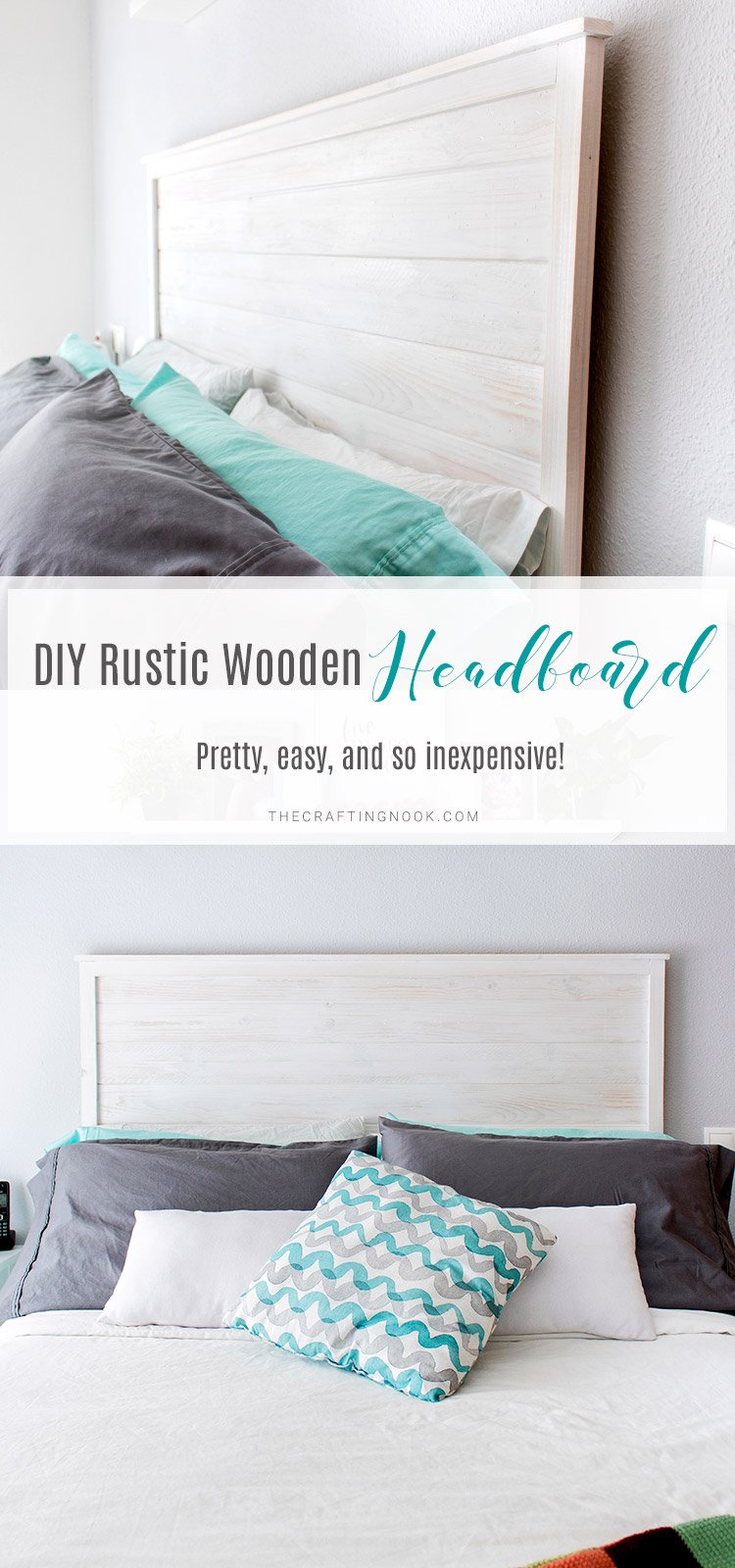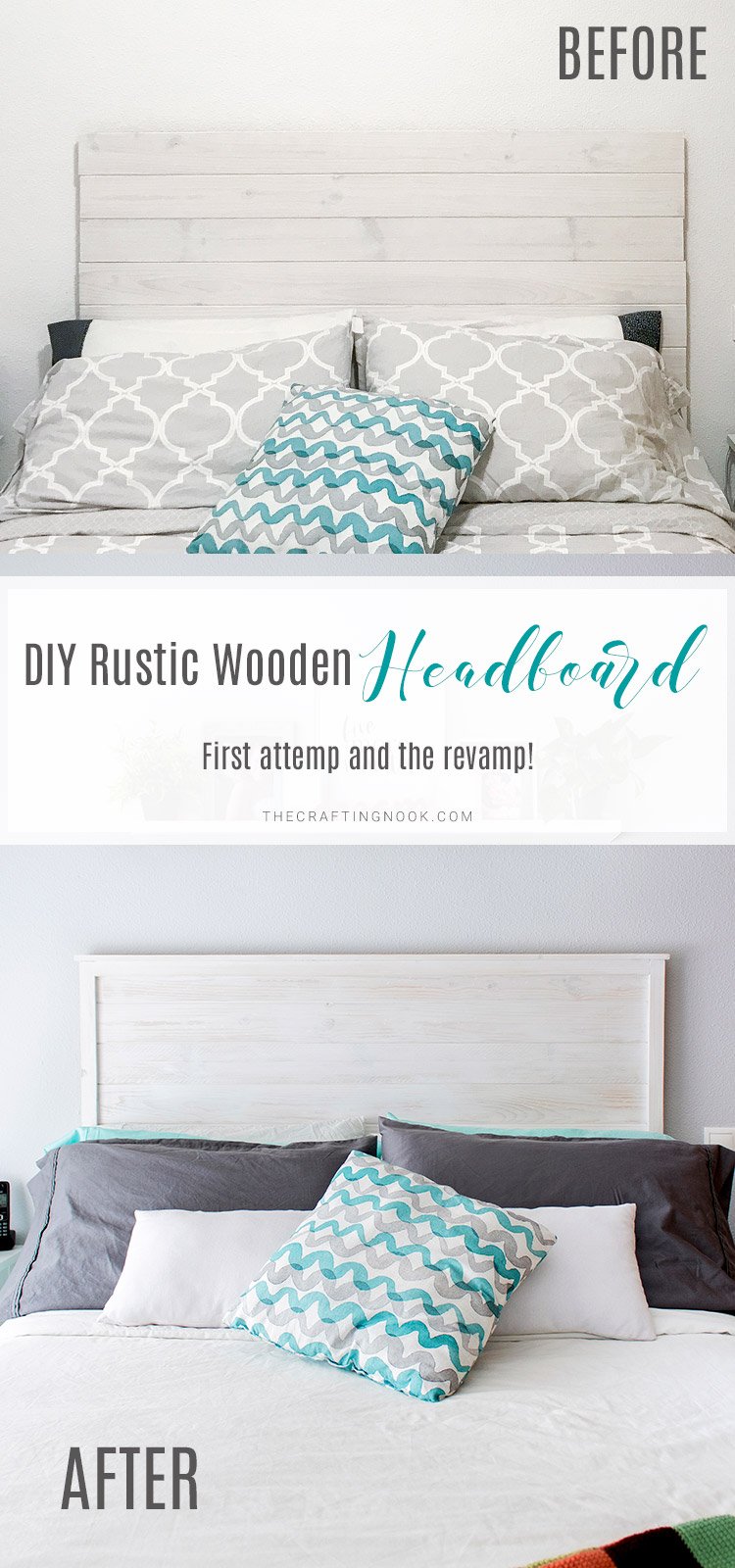 If you like this rustic wooden headboard project you might also love these projects too: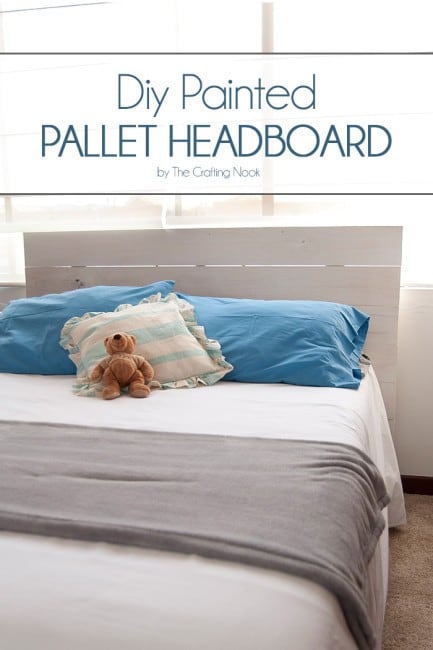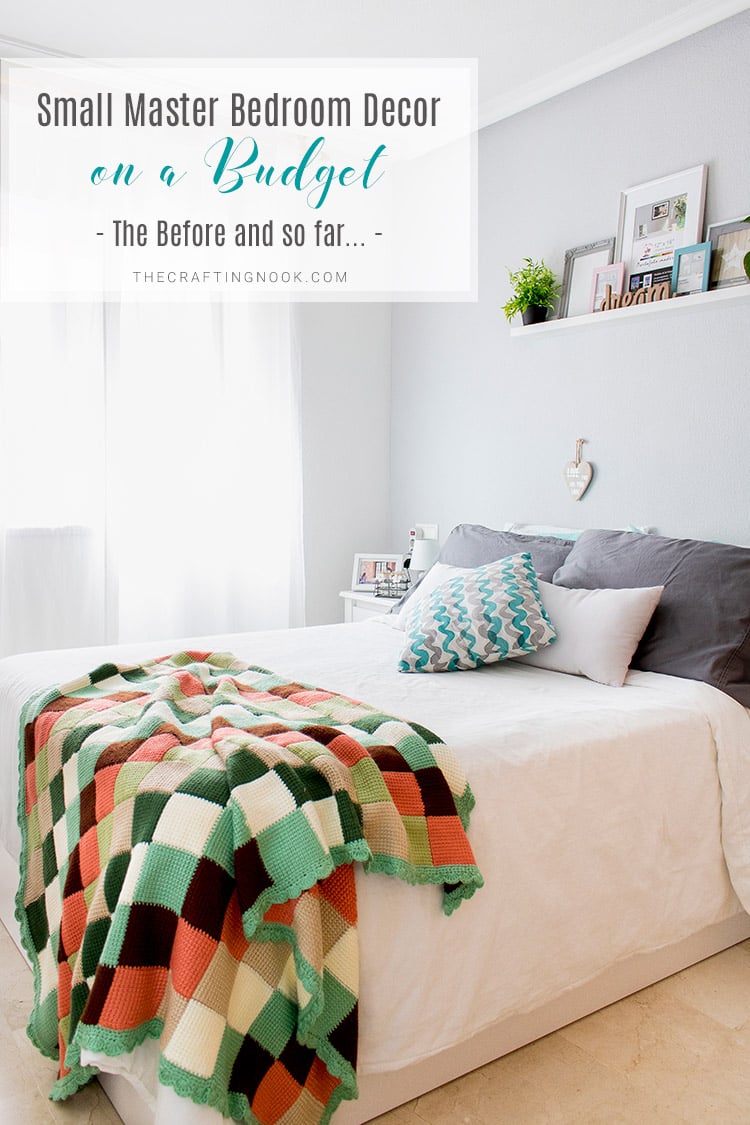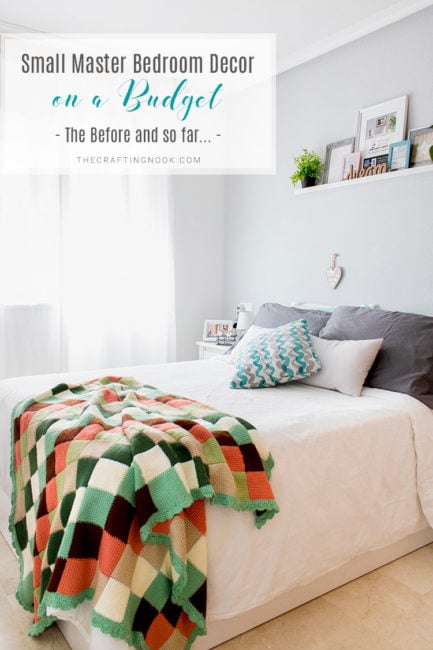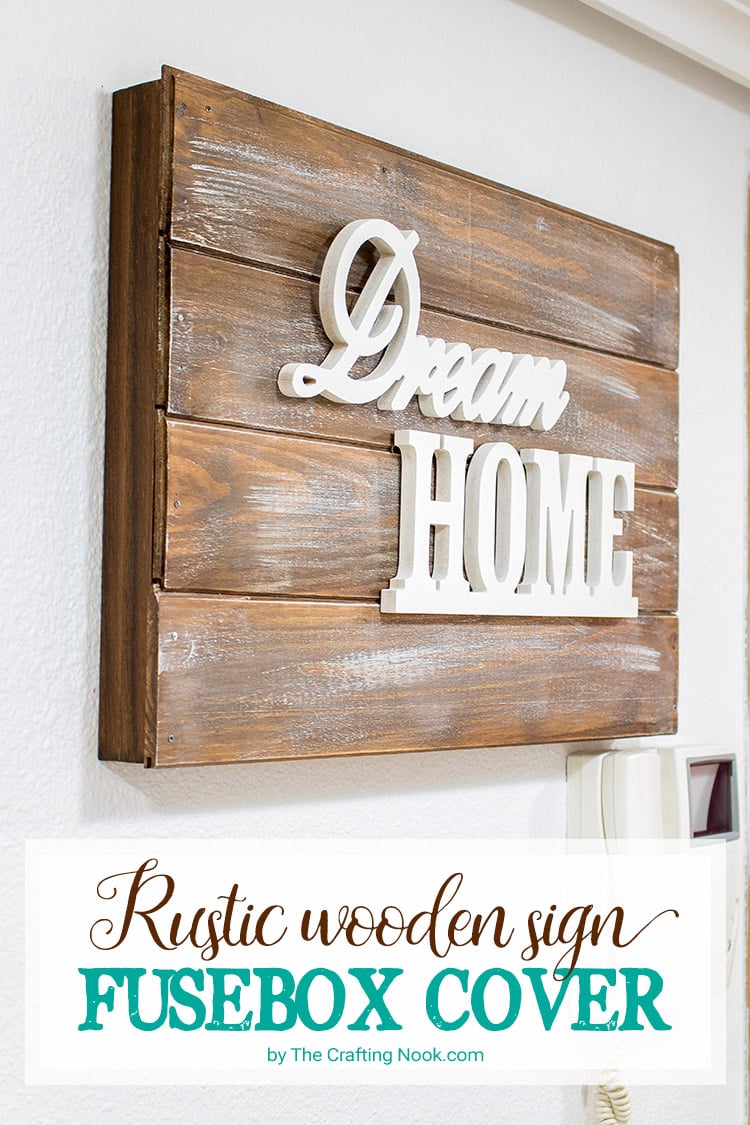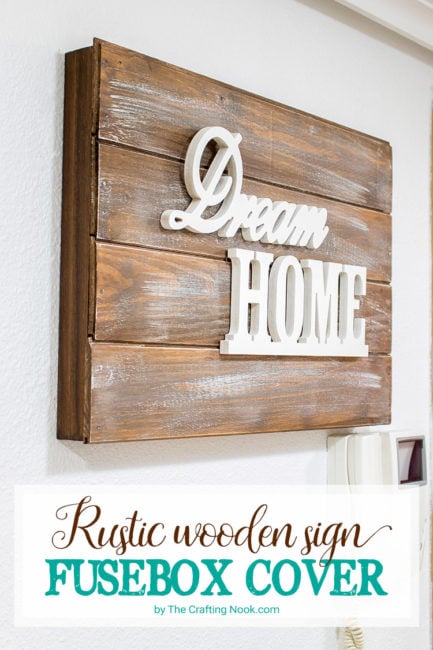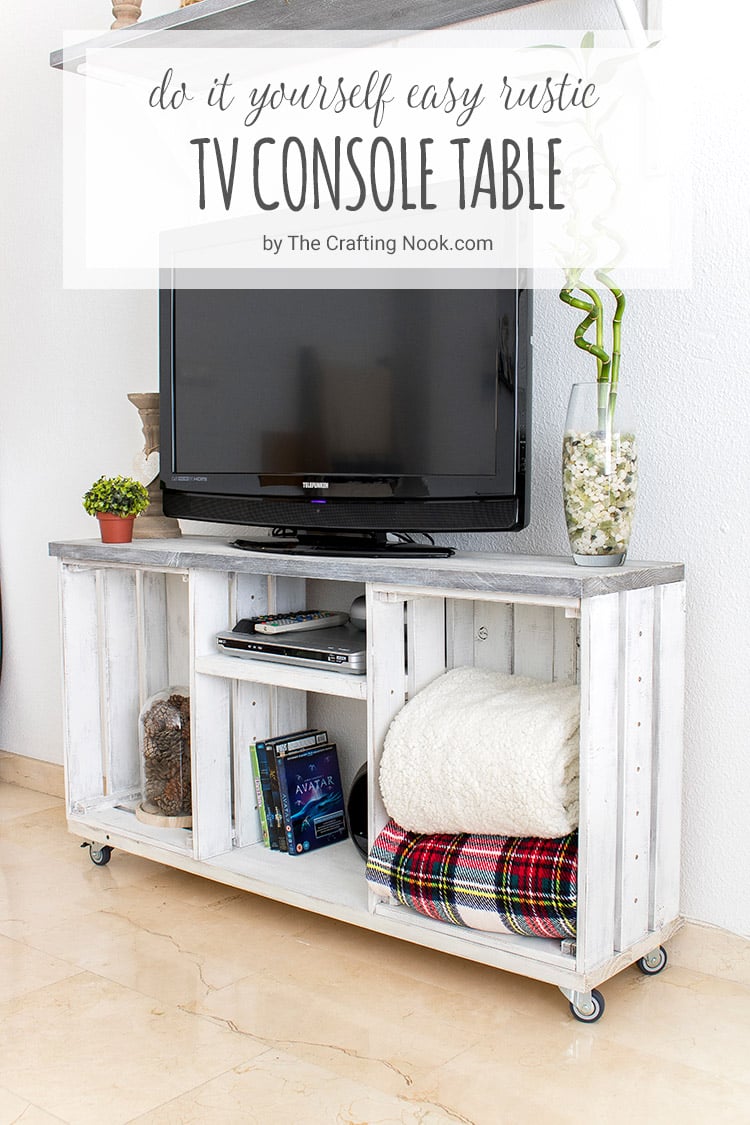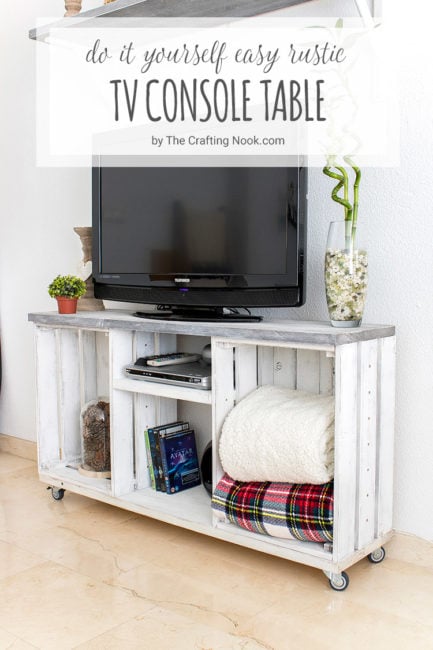 Til' next time...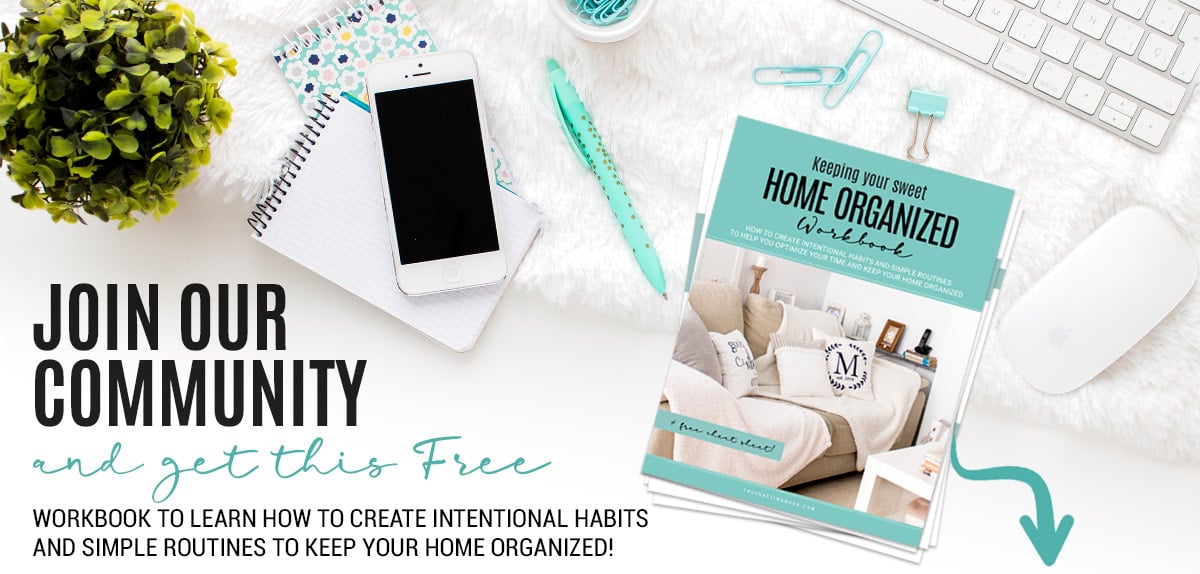 GET INSTANT ACCESS TO THE WORKBOOK
Plus freebies, printables, exclusive content, tips, stay connected, be the first to know great offers and Product Launches!
Disclaimer: By clicking on the "Yes, I want it" button above you are giving me your consent to collect and use your information according to the law and My Policy Privacy and The Cookie Policy. Zero Spam I promise!