Do you have those ugly breakers box in plain sight? I do and I don't like it at all. This Rustic Wooden Sign Electrical Panel Cover is pretty, is easy to make and will fix that problem forever!!!
Would you believe me if I tell you that I have my Electrical Panel right in my entryway next to the front door? Well yeah, I do and I swear I have no idea what is up with that.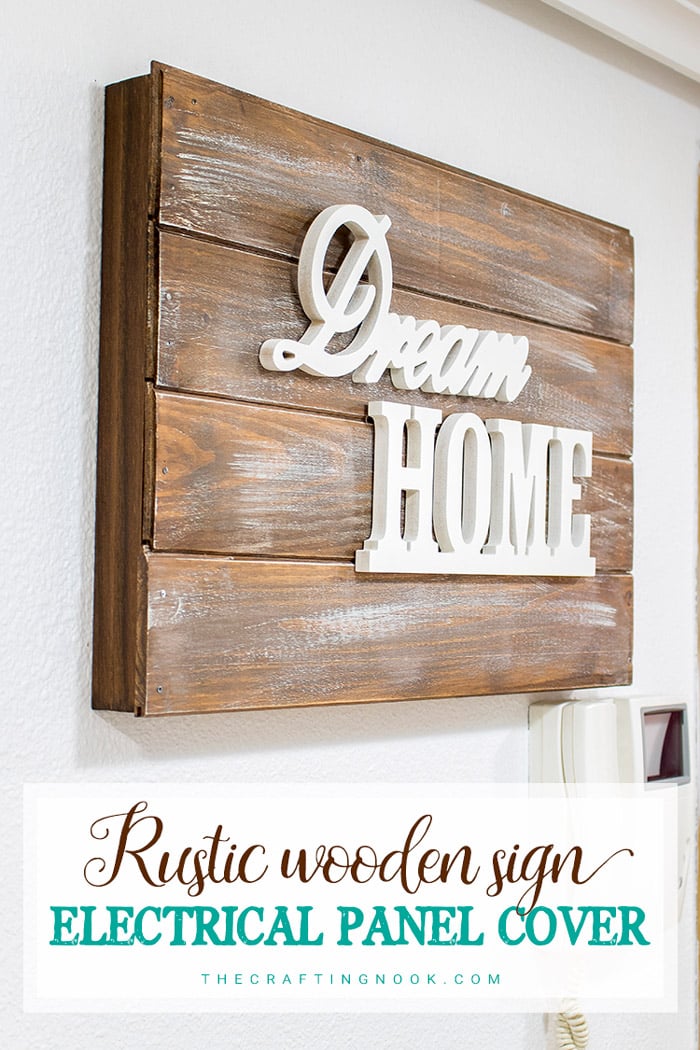 How to make Wooden Sign Electrical Panel Cover
It seems a pattern here since the 2 previous apartments I have lived in also have the electrical panel right there in the entryway.
It hurts my eyes.
I had to do something…
…and I thought maybe a mirror or a wall art but then there is the intercom placed in a really hard place which doesn't give me much room to play with. I was sure it had to be farmhouse related so I thought a pretty and rustic wooden sign electrical panel cover that would fit there perfectly.
This idea came up while working on another project. I was planning a pallet backdrop for a mantel. I was getting a few boards left and my husband asked me how about using those boards to make a rustic Cover for that ugly breaker box.
Seriously, it was the best idea ever. I said yes right away.
We even put it together in quickly to see if it would work. We tried a few things and another project came to my to-do list. It took me a while to actually start making this project but I'm so happy with how it turned out.
Now every time I come to the entryway or I see it from the hallway, it actually makes me smile.
That space right there it's a work in progress. We did the first step making the cover and now I have a few plans to make that space the actual entryway.
I want to put my into wait table underneath the cover and probably a key holder below the electrical panel and next to the intercom.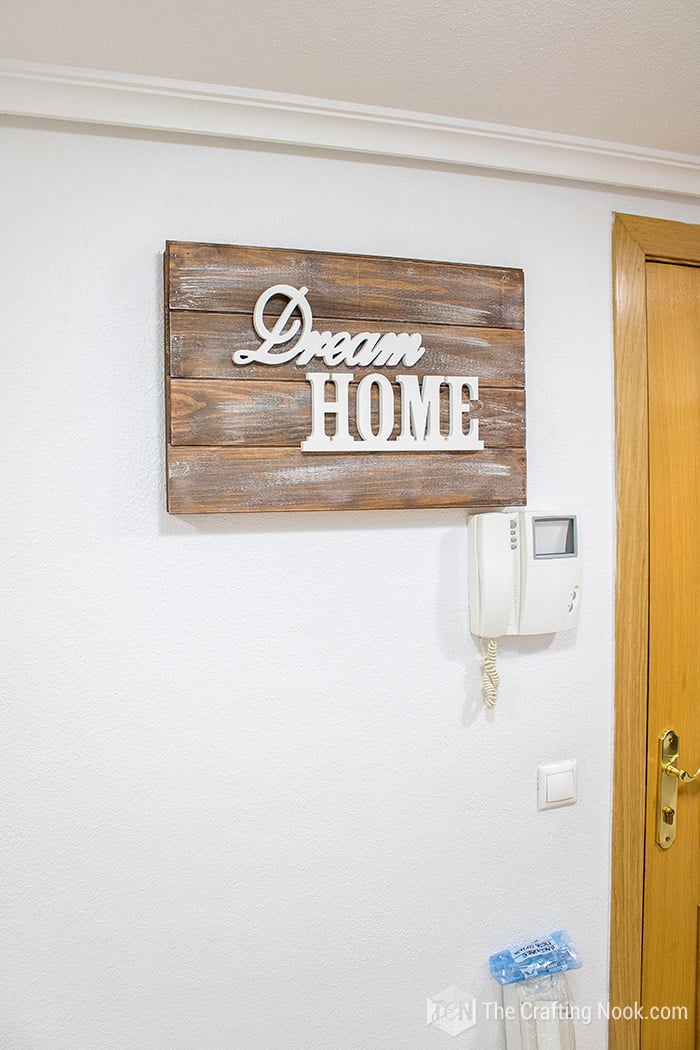 I'm crazy in love with how this rustic wooden sign electrical panel cover turned out.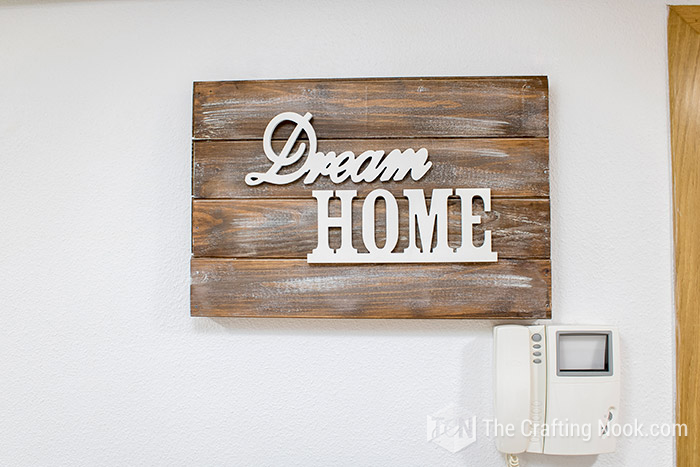 The best part?
It was super easy to put together.
And to be honest, it was super fun to make too.
I don't really understand why would anyone put a breaker box right at the entrance of the house but I guess it's probably this country's rules for this type of features. So I can only try to make it a bit prettier.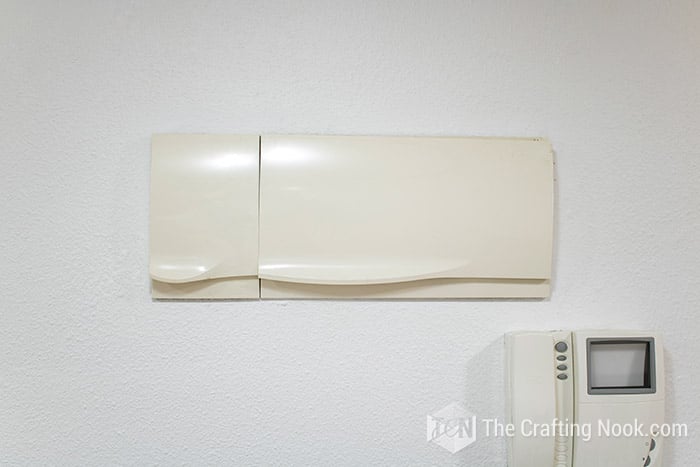 Rustic Wooden Sign Cover Tutorial
Let's go…
Supplies:
Walnut wood stain.
White latex paint
Grey latex paint
Brushes
Lint-free cloth
Plastic plate
Steel wool (grade 2-coarse)
Pine boards (I used shiplap leftovers -about 4 boards)
3 Pine lumbers (for the frame. Length depends on your sign size)
Wood lettering (Paint if you need a specific color)
Wood glue
Nails & screws
Hammer
Clamps
Gloves
Protective eye ware
So first you are going to stain your wood with the Walnut stain using your cloth (or brush) and let them dry.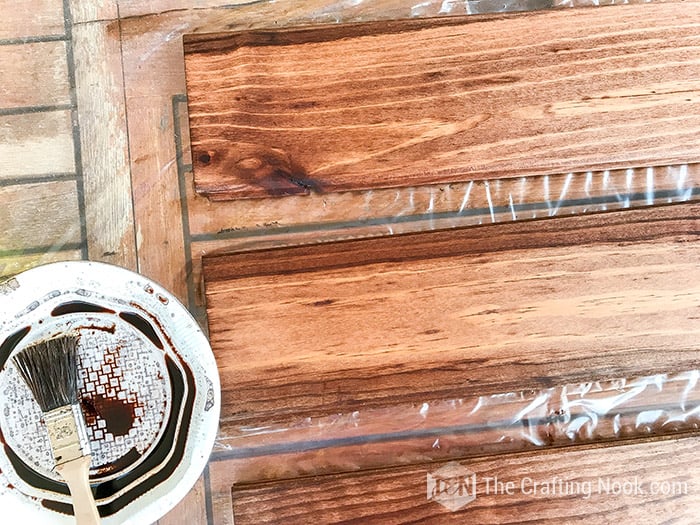 Once the boards have dried (and sanded if necessary) you are going to dry brush on a thin coat of grey latex paint. If you aren't familiar with dry brush technique, just put some paint on a plastic or paper plate and spread it out, then take a dry brush and get a tiny bit of paint on the end of the bristles.
Now you are going to just brush this along your wood, re-dip in the paint as necessary, but don't don't overdo this because you want your brush to remain slightly dry, so get every bit of paint off you can before you get more on there. When you are done it should look like this.