4-Ingredients Caramel Flan or Quesillo Venezolano
Whether you call it Caramel Flan or Quesillo, this 4-ingredient Venezuelan dessert has a firm but creamy texture with a decadent caramel flavor. Learn how to make it with this recipe.
Today I'm sharing a Quesillo recipe, this is a Venezuelan dessert also called Caramel Flan (even though it's not exactly the same).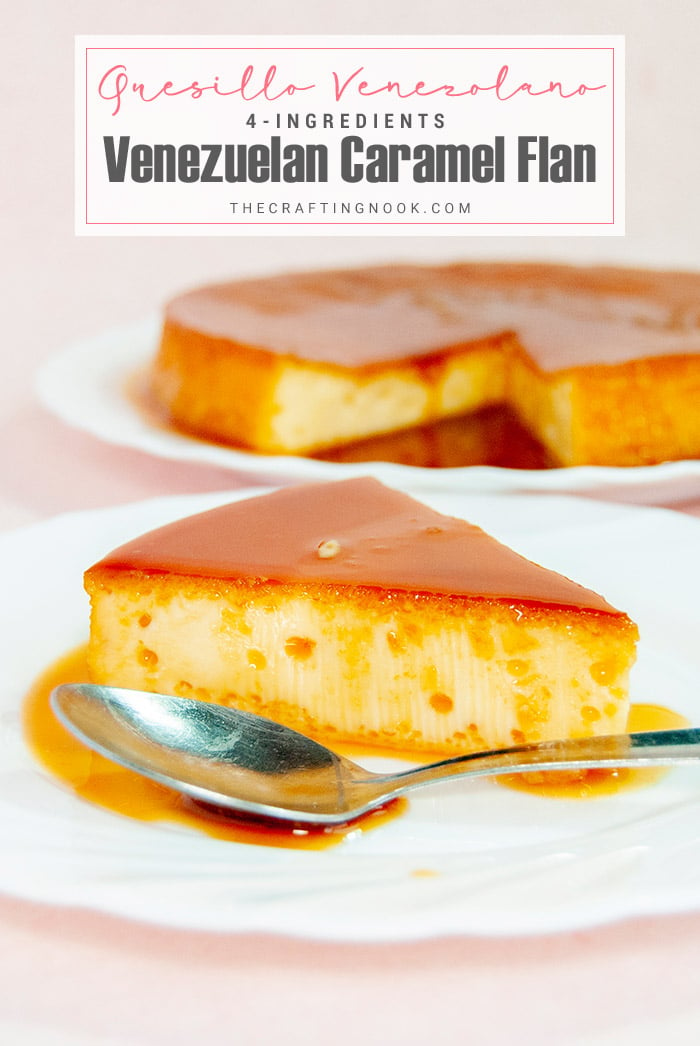 It's made with just 4 ingredients (5 if you count the vanilla) and it's so crazy easy to make. Oh, and it tastes so absolutely good!
What makes Quesillo or Caramel Flan so Special?
In the Venezuelan holidays, there is a dessert that can not be missed in any Venezuelan birthday party: the Quesillo (AKA Caramel Flan).
For Venezuelan people, the cake can never go alone! You should always have your perfect trio: a little piece of cake, little piece of jelly and little piece of quesillo; otherwise, it's not a real Venezuelan party. LOL.
But today, let's stop at the quesillo for a minute; That delicious traditional Venezuelan dessert that is so fascinating for adults and children and that has a special place in the heart of all Venezuelans. You could say it's one of the favorite Venezuelan recipes in any celebration.
I learned to make it with my mom a few years ago. It is like any Caramel Flan but it tastes a bit different and some ingredients vary. It's awesomely easy to make but it takes its time to cook.
I think I've mentioned before that I'm partly Venezuelan even though I was born in Brazil. So, I thought about making some dishes and desserts that are traditional in Venezuela and that I use to make a lot.
How to make This Quesillo or Flan
Want to know how?… here we go…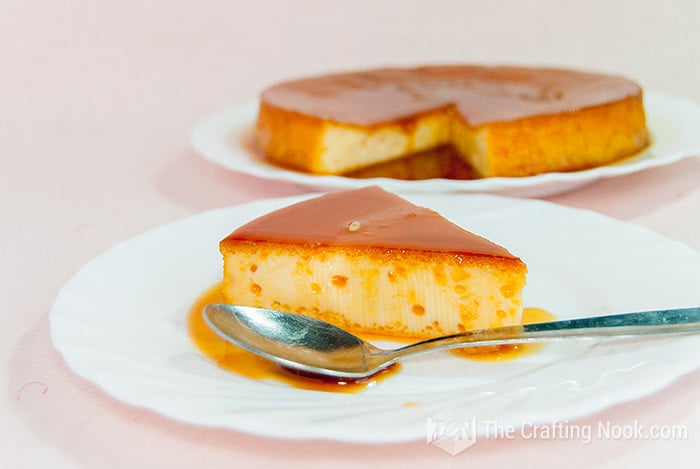 Ingredients:
Sweetened condensed milk – It creates the creamy and silky texture that makes it special.
Whole milk (I use the same can as the condensed milk)
Eggs
Sugar
Vanilla extract *optional.
A metallic recipient with lid (like a cookie can)
Recipe variations
Although this is the original recipe, you can be creative and make variations of this recipe:
You can replace the whole milk with coconut milk and then add a few tablespoons of grated coconut.
You can add cocoa to the milk to make it a delicious chocolate quesillo.
You can replace the whole milk with Orange juice and add 1 teaspoon of orange zest.
Creativity is the limit.
Instructions:
1. Pour the condensed milk into a bowl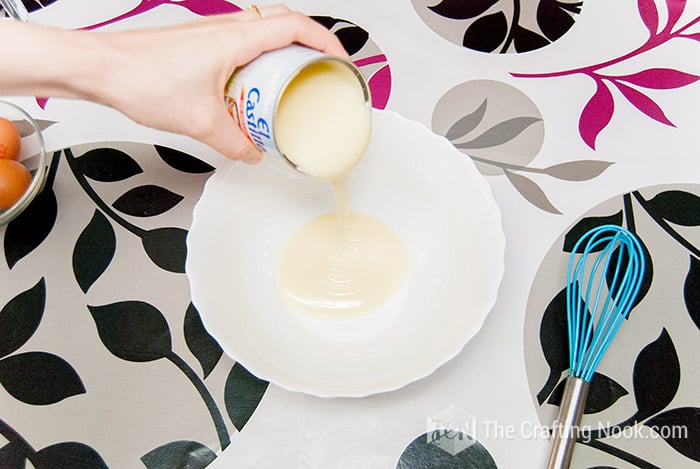 2. Then fill the same can with whole milk and pour it into the condensed milk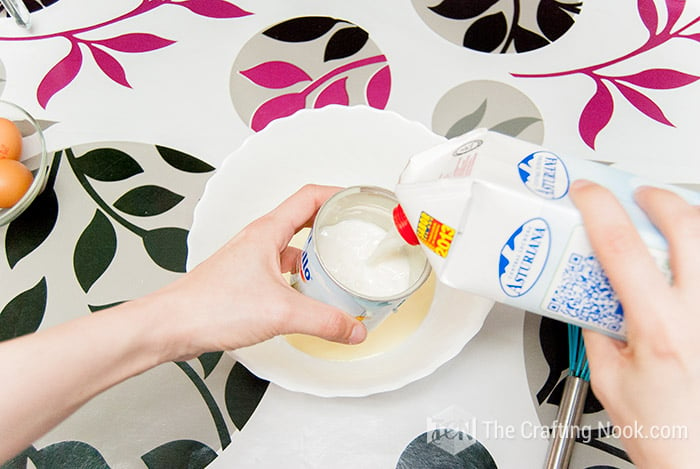 3. Add the eggs and mix it (with a whisk, blender, mini pinner, etc) very well.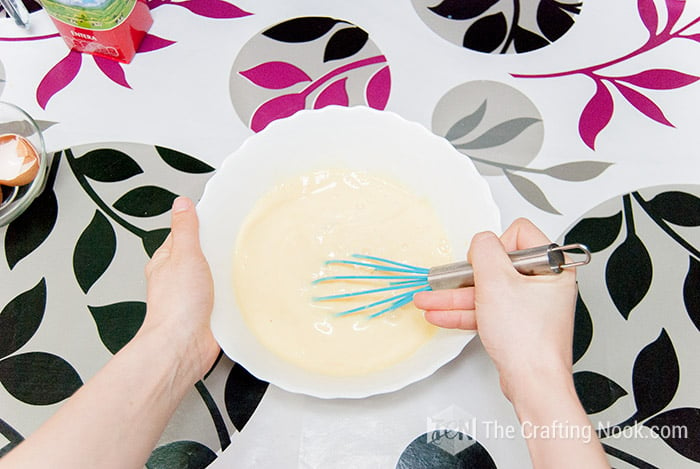 Leave it aside.
4. For the caramel, in a small saucepan place the sugar over low heat.
5. Leave it until it starts melting. It will make some crumbs at some point but in the end, it will be liquid.
6. When it is completely melted, immediately pour it in the metallic recipient.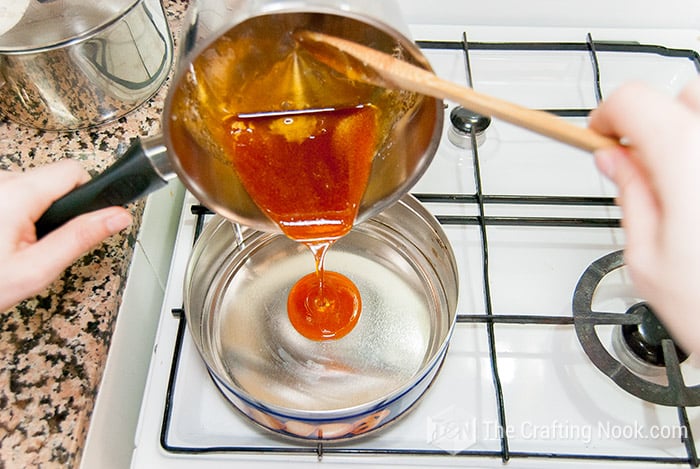 7. Spread it all over the recipient, on the sides too. Be careful because it is very hot.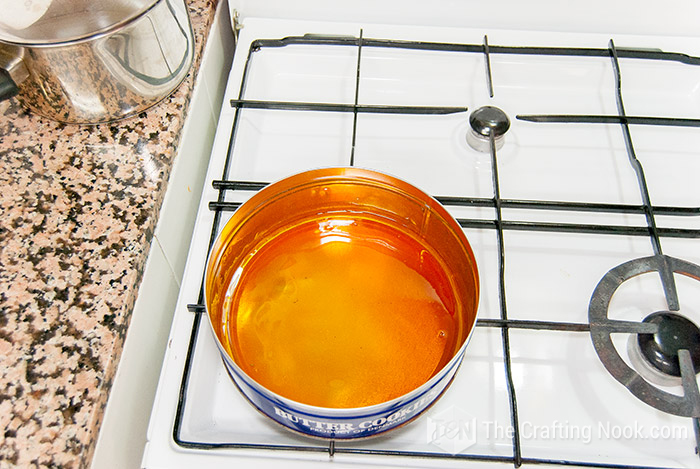 8. Once it's done, pour the milk mixture over the caramel.
9. Cover it with the lid.
10. Cook it on a double boiler. Place it in a big pot with a little water. Make sure the water doesn't cover more than ¼ of the height of the metallic recipient (not the pot).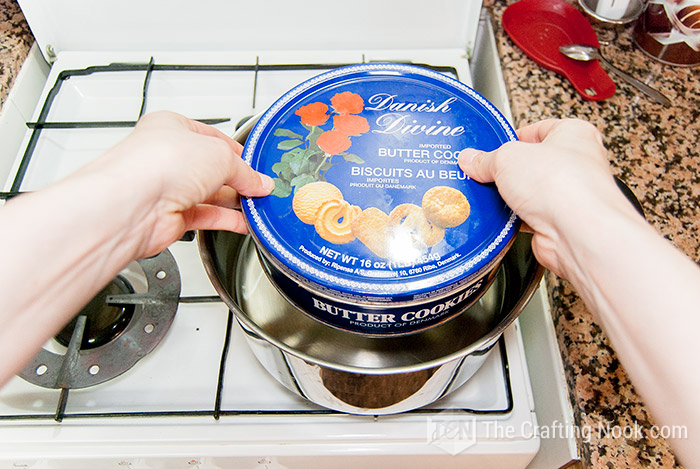 11. Cover the pot and bring it to a simmer over low heat for 45 minutes to 1 hour.
You don't need to check out the quesillo while it's cooking but just keep an eye on the level of water.
If you need to, pour in hot water. Never add in cold water as it drops the overall temperature.
12. When time is up, just wait until cools down, uncover it and place a plate instead of the lid and turn it over to unmold it.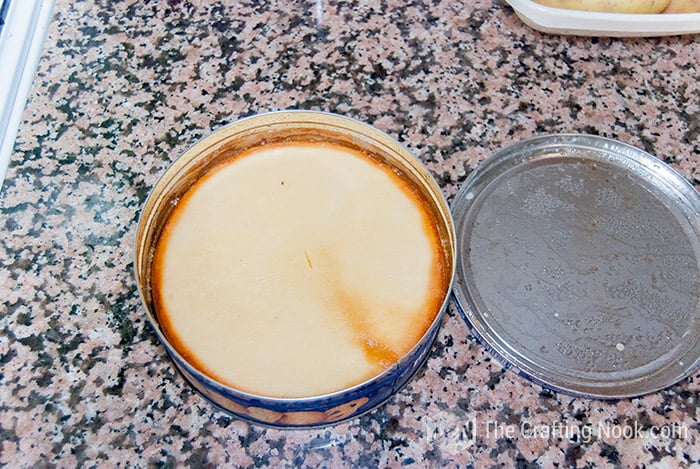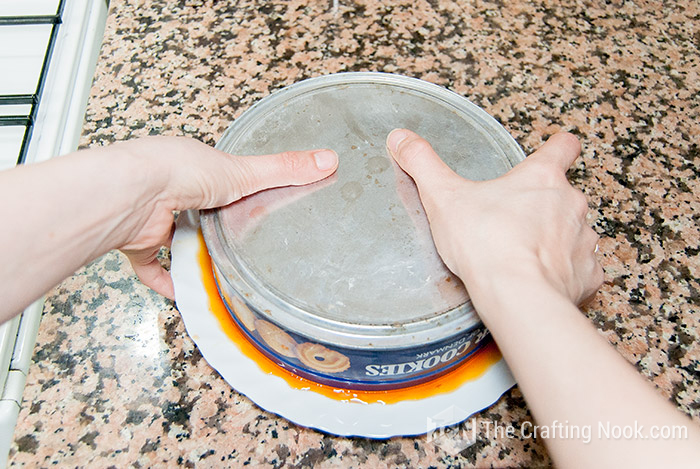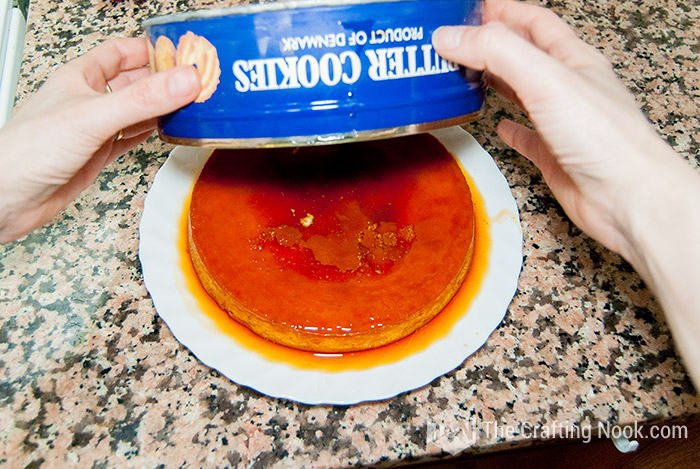 And voilà… Readyyyyyy!
Because of the shape of my dish (I didn't have a better one back then), it looked like it was going down in the center but it's fine.
Serve and enjoy!!!!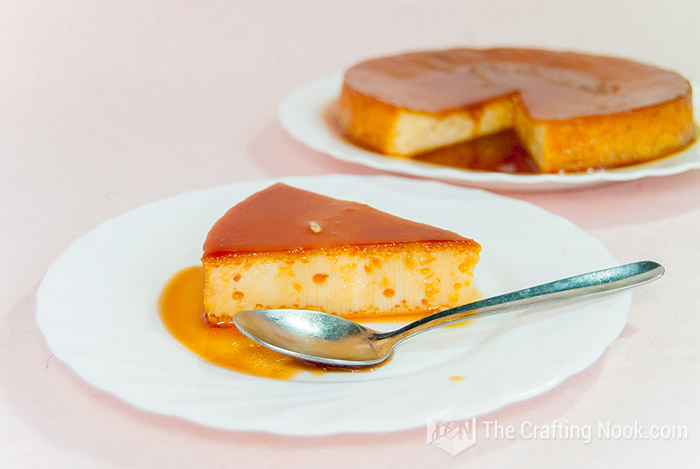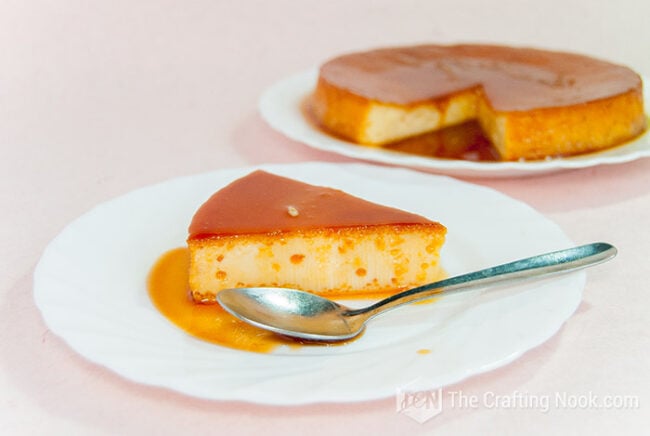 Fun Facts About this Recipe
Let's talk about some facts about the Venezuelan quesillo that you probably didn't know:
Its preparation is of 100% Venezuelan origin and in its purest form is composed of a blend of: beaten eggs, condensed milk, vanilla essence, and liquid milk.
It should not be confused with normal flan since the quesillo is prepared with whole eggs and the normal flan only carries the egg yolks.
It is called "quesillo" (it's like cheesy) because of the porosity of the dessert, which is reminiscent of the traditional holes of a Swiss cheese.
Tradition tells that in each house there is a unique quesillo and that none will resemble the previous one, either because there are those who put more ingredients or unique ingredients following a family recipe.
What cooking method do you use for this Flan?
There are 2 ways we usually cook the Quesillo Flan.
You can either oven-bake it or on the stove in a water bath over medium-low heat. Both ways work perfectly but the texture of the quesillo or Spanish flan will be slightly different.
When you bake it, the overall texture of the quesillo is more solid, firm, and smother. No air bubbles form. But when you cook it on the stove on a double boiler, it gets silkier and lots of little tiny air holes or bubbles form like in the swiss cheese.
The flavor though is the same.
Note that for this particular recipe the stove double boiler should be a mold inside a pot (and not on top) and covered so the temperature stays constant. I'm showing this method in this recipe.
What mold do you use to make this recipe?
Here comes the fun part. I've seen this recipe made in almost any container that can handle the heat. You can definitely use a large flan mold if you happen to have one. But you can use oven-safe glassware as long as it's deep enough, cake mold if it's deep enough, and as I did, you can use cookie cans.
What you need to keep in mind is that water from the double boiler cannot come into the flan mixture. So for example, you can use a deep cake pan on a water bath in the oven covering the pan very well with foil or high-temperature silicone lids. The same goes for glassware.
On the stove, it's important to make sure the level of water will never spill inside the mixture, you can accomplish this by keeping the water level low, the temperature stable at medium heat, and covering well the pan.
But using a flan mold makes it easier since it brings a sealing system. The cookie tin can also work very well but I still have to keep an eye on the water level.
Some Frequently Asked Questions
What flan is made of?
A dessert flan is made of eggs; sweetened condensed milk, creme or whole milk, and flavorings such as vanilla, orange, coconut, or coffee. Because egg-based custard is delicate, flan is baked in a water bath in a pot or in the oven.
What variations of this Caramel flan are there?
You can replace the whole milk with coconut milk and then add a few tablespoons of grated coconut. Add cocoa to the milk to make it a delicious chocolate quesillo. Or replace the whole milk with Orange juice and add 1 teaspoon of orange zest.
What makes a good Venezuelan Caramel flan?
Good flan or quesillo is supposed to be creamy and smooth, with a soft silky texture.  The sauce should be a rich golden caramel, with no hint of a burnt flavor at all.
More Venezuelan Desserts to try
If you enjoyed this Quesillo or Venezuelan Caramel Flan recipe, you might also love these other Venezuelan dessert recipe ideas:
🥘 Recipe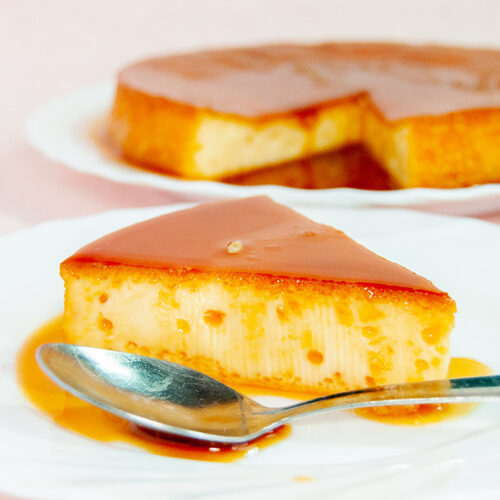 4-Ingredients Caramel Flan or Venezuelan Quesillo.
This Quesillo recipe is a traditional Venezuelan dessert also called Caramel Flan (even though it's not the same). It's made with just 4 ingredients (5 if you count the vanilla) and it's so crazy easy to make. Oh, and it tastes so addictively good!
Ingredients
1

can Sweetened Condensed Milk

10

oz

Whole Milk

4

large eggs

1

tsp

Vanilla Extract

1/3

cup

Sugar
Instructions
In a medium bowl mix Condensed milk, whole milk, eggs, and vanilla.

Mix well with a whisk. You could also use a blender. Set aside

Pour your sugar into a saucepan and take it to simmer over low heat to make Caramel. It will start melting. Some crumbs will form but evenctually it will get liquid. Wait for it to be completely melted and get a beautiful amber color. Remove from heat.

Immediately pour your caramel in your cookie can, and start spreading the caramel all over. Be careful since it's really, really hot.

Next, pour your milk mixture in the cookie can. Cover it with the lid.

Cook it on bain-marie (double boiler) over medium heat for about 45 min. Use a big pot and put your cookie can inside, add in water to the big pot until it gets 1/4 of the can (not the pot). Cover the pot with its lid too.

Past the 45 minutes, remove from heat and let it cool untill warm but not cool. You should be able to hold it with your hands and still feel it warm.

Once it's warm, replace the can lid with a dish or cake stand and turn it over to unmold it.

Serve and enjoy!
Notes
You can add to the mixture, rum, if you like or lemon zest or any other flavor extract that you like. I love just vanilla and even without it, it tastes so good.
What do you think???? Yummmmy, isn't it?
Let me know your thought below in the comments!
Here are some of my favorite flan recipes from my favorite bloggers:
If you enjoyed this delicious Quesillo Caramel Flan recipe you might also love these too:
If you found this recipe interesting don't forget to PIN and share it with friends!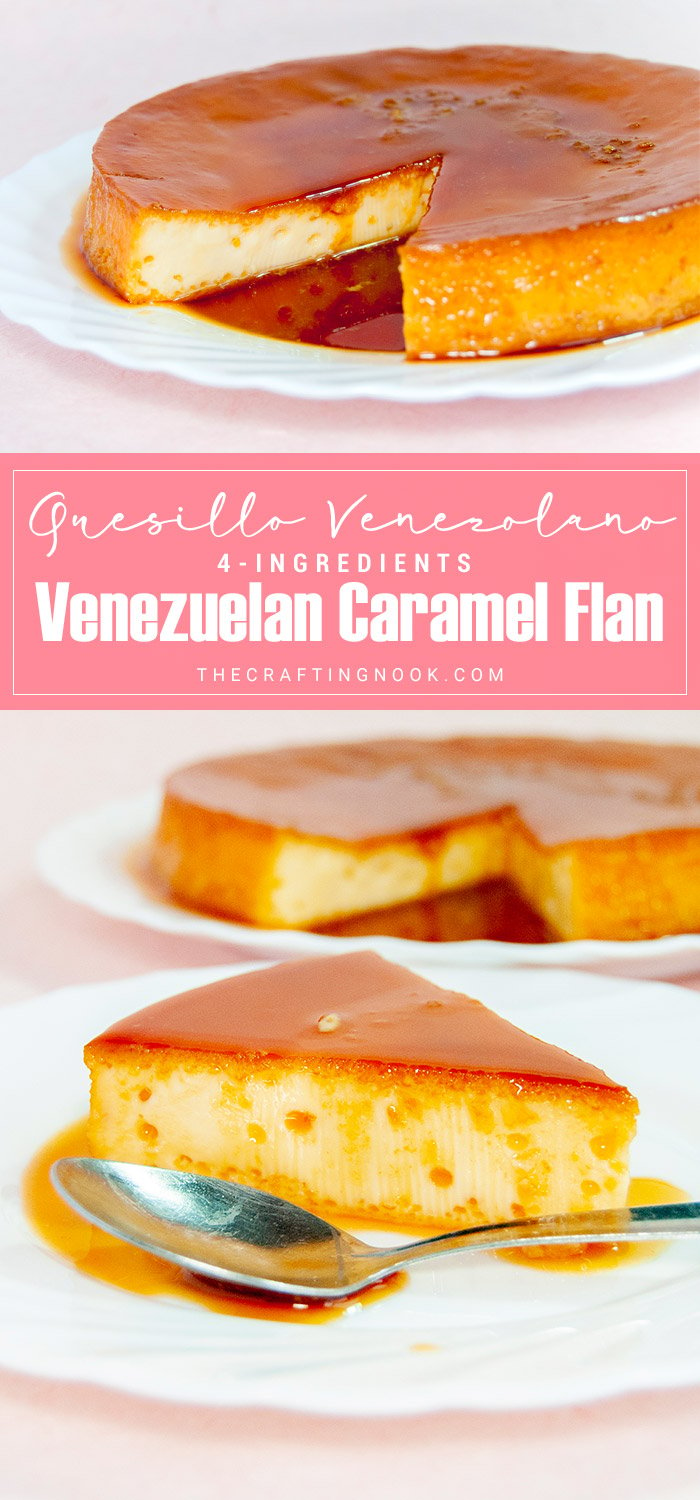 What do you think, doesn't it look delicious or what?????
Til' next time...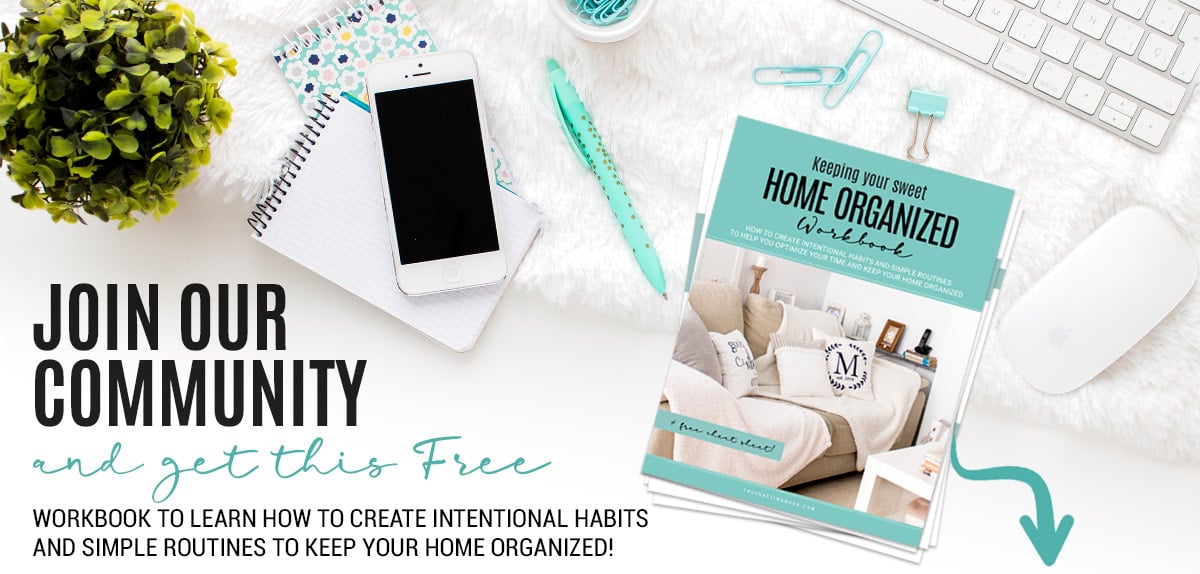 GET INSTANT ACCESS TO THE HOME ORGANIZED WORKBOOK
Plus freebies, printables, exclusive content, tips, stay connected, be the first to know great offers and Product Launches!
Disclaimer: By clicking on the "Yes, I want it" button above you are giving me your consent to collect and use your information according to the law and My Policy Privacy and The Cookie Policy. Zero Spam I promise!