FREE Christmas Chalkboard Art Printables (Size Letter and A4)
It's that time of year and what can be better than sprinkle holiday cheer with these cute and free Christmas chalkboard art printables available in letter and A4 sizes! Perfect for crafts, gifts, and adding a cozy touch to your home decor. Let's get creative this Christmas!
Disclaimer: Please note that some of the links in this post are affiliate links, it won't cost you any extra but i will earn a small commission if you purchase through those links.
Can you believe December is around the corner already? Oh my! This year went by in a wink. It's amazing!
FREE Chalkboard Art Christmas Printables
I'm so excited about our first Christmas in our new home! The last place I decorated was my entryway table. For that hubby and I designed some cute Christmas chalkboard art Printables to put it in a pretty frame we got that looked all snowy.
Since we made a few different designs to choose from, I decided to share them with you in case you might like one or all LOL! T
he best part?
These are free for you to snag!
I'm so happy with how my entryway table turned out. I'll be sharing the whole place's new Christmas decorations photos soon so stay tuned for our Christmas Home tour.
My decoration journey has been slow and I feel I was so behind but after moving to a new country we didn't have a single ornament to start with and since I decided to handmade most of the decorations, I had to start buying everything including our adorable Christmas tree.
I'm loving these printables, I'm even thinking about changing them every week so I get to see them all in my entryway frame! What do you think? Should I? Isn't it too crazy?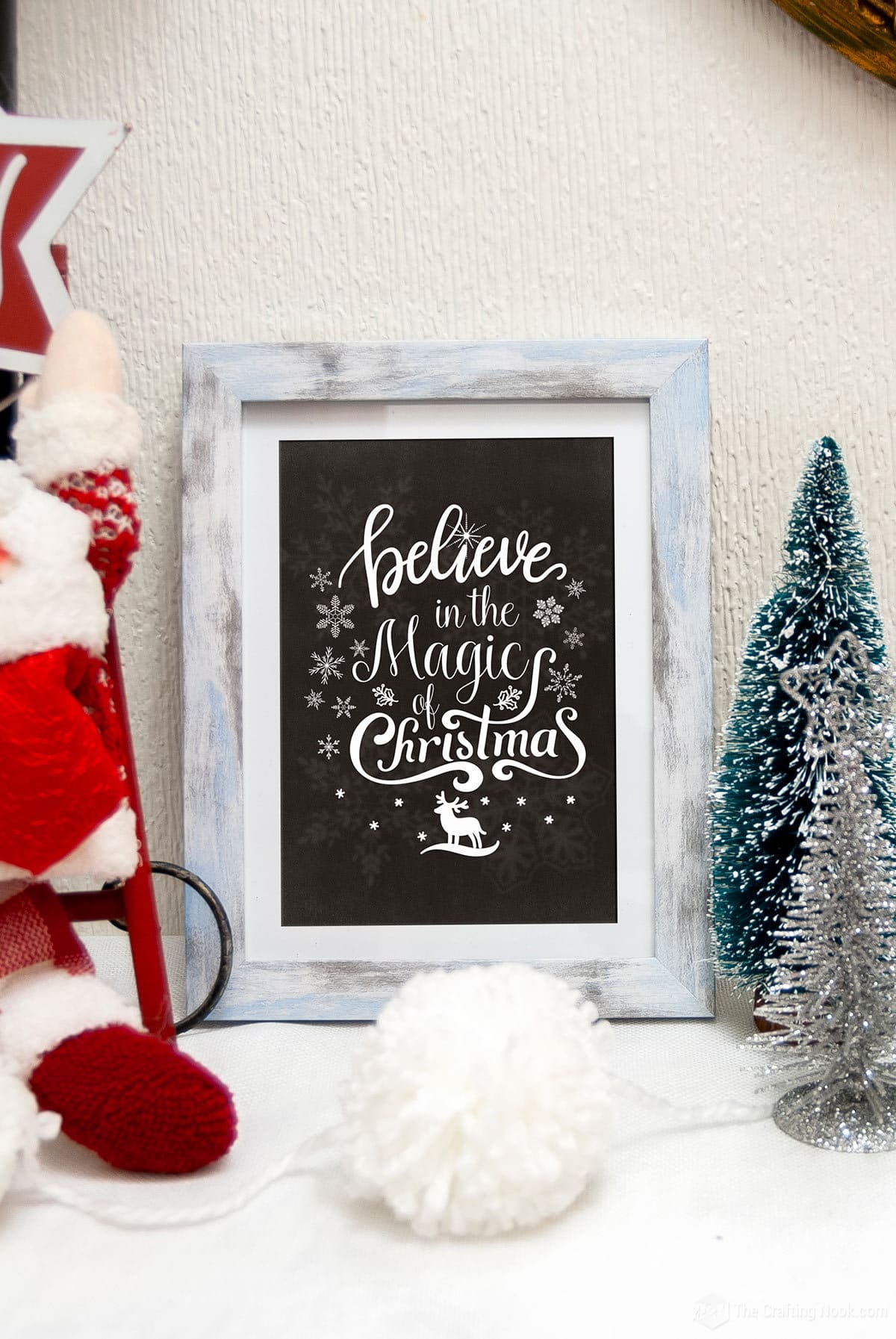 Anyway, I hope you like these Chalkboard Art Christmas Printables and that you get them and enjoy them as much as we did making them.
Snag Your Free Printables
We adapted the designs for both common sizes: Letter and A4. Once you get them you can choose your favorite and enjoy.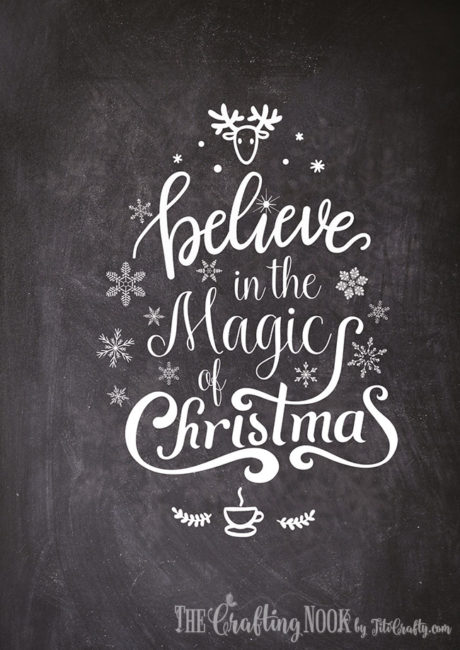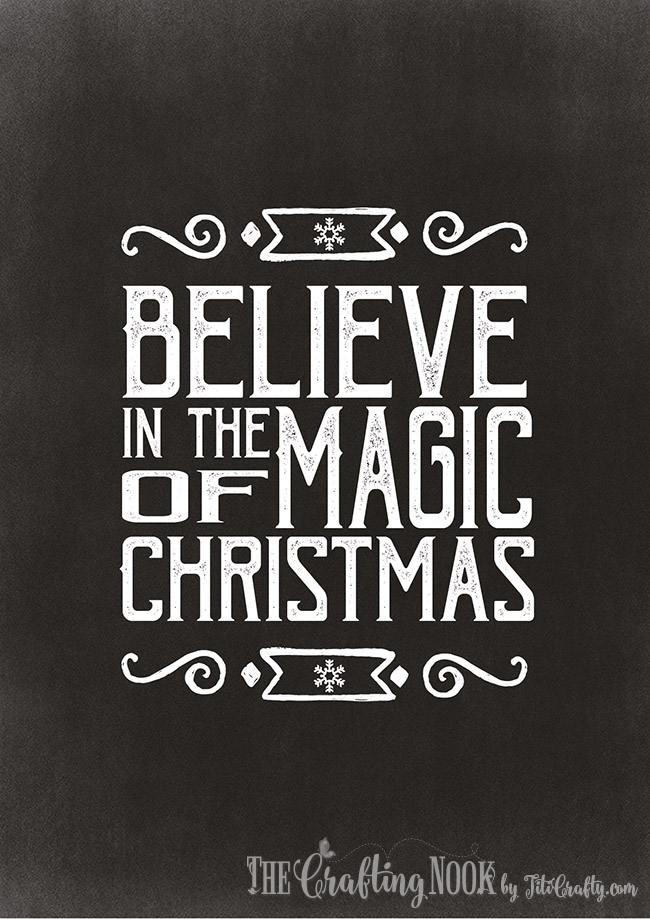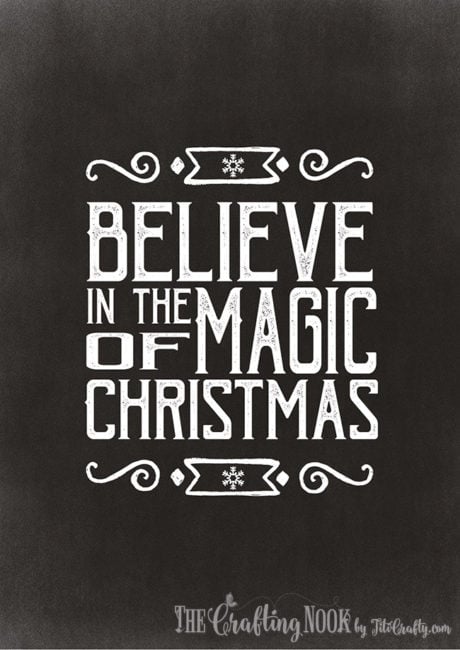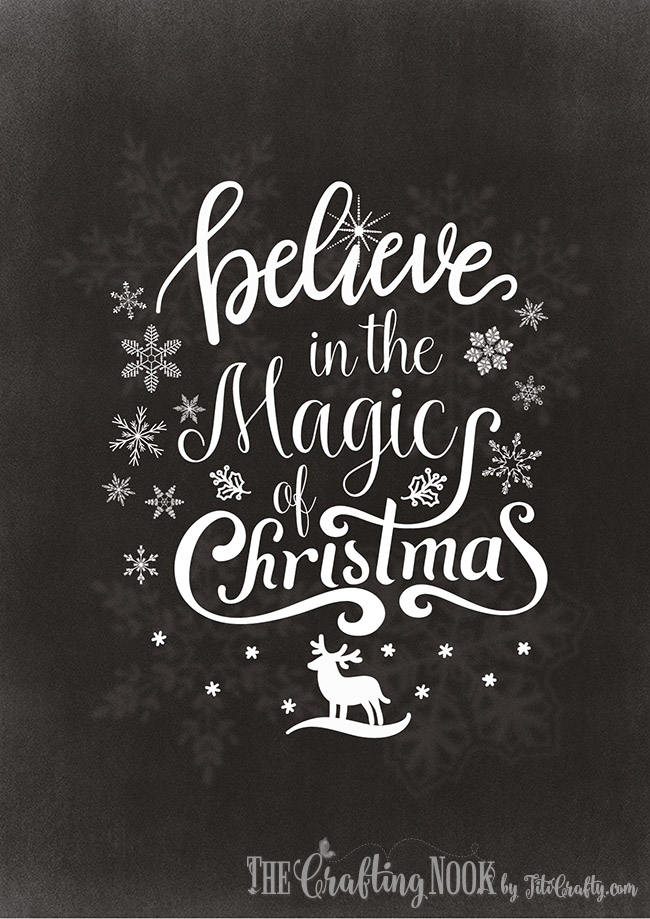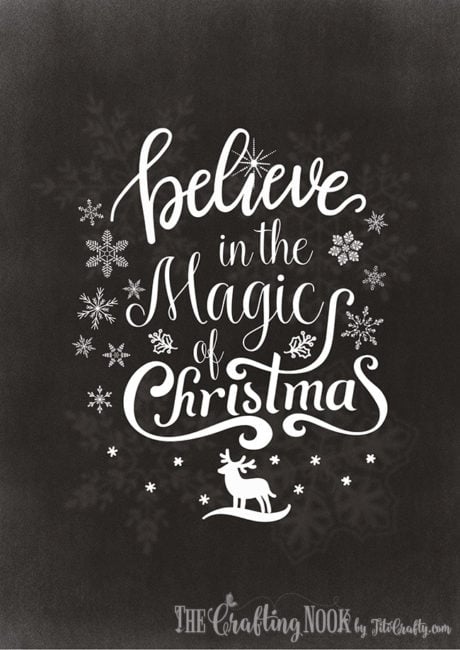 Making these printable was so fun. We used elements from a huge Christmas bundle I got from FontBundles.net. There were so, SO, many elements to work with. You even have a few things already created like cards, invitations.
You also can find chalkboard backgrounds and elements as well as watercolor ones. Possibilities are endless with this Bundle. If like me, you like creating your printable you can get your own favorite Bundle right now! This Bundle Offer will last only for a limited time, so if you like it hurry up!
How to use these Christmas Chalkboard Arts
Once you have downloaded the free Christmas Chalkboard printables zipped file, unzip it.
Choose the one or ones you want to print out.
Use high-quality print paper. I recommend inkjet matte-coated paper between 90 to 110 lb (160-200 msg).
Adjust the size of the printable art to fit your needs.
Send to print using the proper settings: high-quality-paper, high-quality print. If you don't have a printer you can go to a print shop.
Cut excess if needed and use.
Enjoy!
Where can I use the chalkboard Arts
Wall art: Decorate your walls with Christmas-themed chalkboard art by printing them out and framing them. It's an easy way to create beautiful wall decorations. Put them up in your living room, dining area, or even in the hallway to make your home look festive.
Use the printables to make special gift tags by printing them on a smaller scale, and cutting them out as a tag. Punch a small hole and tie them to your gifts with a ribbon or string to make them even more special.
Make the Christmas printables smaller to fit on greeting cards, and then print them. Write your heartfelt holiday greetings inside and send them to the people you care about. They will like the personal and festive addition.
Christmas Ornaments: Print the Christmas designs on thick paper, cut them out, cover them with contact paper, and make a hole at the top. Put string or ribbon through the hole and hang them on your Christmas tree or around the house as cute decorations.
Make your own coasters by putting a protective layer over printed designs using clear contact paper. Try cutting them in a square shape. This way, you can have personalized coasters. These adorable and decorative coasters will keep your tables safe and make your home feel more festive during the holidays.
Scrapbooking and crafts: Use the printed designs in your holiday scrapbooking projects or other craft activities. You can use them as backgrounds, decorations, or ideas for your creative projects.
Christmas wrapping paper: Print the chalkboard art designs on big pieces of paper and use them as special wrapping paper for your holiday gifts. It makes your presents look nice and noticeable under the tree.
Make personalized aprons: Print the chalkboard art designs onto special paper that can be ironed onto the aprons, and then follow the instructions to put the designs onto plain aprons. You will have cute and customized aprons for yourself or to give as presents to your favorite bakers or chefs.
Make the printables smaller so they can fit on the lids of mason jars or other fancy containers. Use glue or tape to stick them together to make personalized covers. Put holiday treats, homemade jams, or small ornaments in the jars and show them off as cute decorations or gifts.
Holiday Pillow Covers: Print the chalkboard art designs onto transfer paper that can be ironed on, and then apply them to plain pillow covers. This is an easy and inexpensive way to make your pillows look festive and cute.
Frequently Asked Questions
Can I print these Christmas chalkboard art printables in different sizes?
Yes! They come in Letter and A4 at 300 dpi so you can print them in both small and big sizes, so you can choose whichever size you prefer for printing.
Are these Christmas printables completely free?
Yes, of course. These adorable chalkboard art are available for you to download without having to pay anything. Have a great time during the holiday season without needing to spend any money.
Can I personalize the "Believe in the Magic of Christmas" phrase on the designs?
These printables come in four different designs with the fixed phrase. However, you can always add your own personal touches by pairing them with other elements or writing on them if desired.
What type of paper should I use to print these printables?
To get the best outcome, use high-quality cardstock or photo paper, I personally love high-quality matte-coatted inkjet paper between 90 to 110 lb (160-200 msg). This will make sure that the colors and details of the designs are bright and clear.
Can I share these printables with others?
These printa arts are copyrighted and can only be used for peersonal use. However, if you make a christmas card, a gift tag, a pillow, or any other final product you can definitely give them away.
Are these printables suitable for both personal and commercial use?
These cute Christmas chalkboard art printables are meant for personal use only, not to share as is or sell. If you create a product with it like a wall art, a pillow a T-shirt for Christmas gif purposes you can do so.
Where can I find other Christmas-themed printables?
Keep following my blog for more printables and DIY ideas for Christmas. You will find many wonderful things that will make your holiday celebrations even better.
Happy Holidays!!!
More Christmas Projects to Try
If you enjoyed this Free Christmas Chalkboard art Printables, you might also love these other Christmas project ideas too:
Share and PIN ME!!!
Til' next time...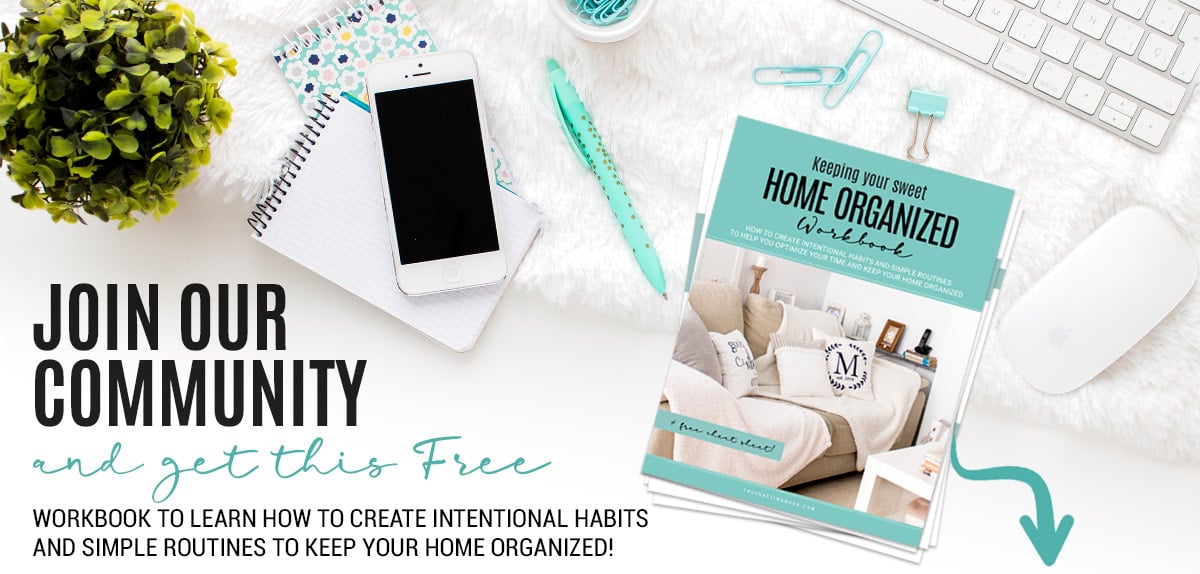 GET INSTANT ACCESS TO THE HOME ORGANIZED WORKBOOK
Plus freebies, printables, exclusive content, tips, stay connected, be the first to know great offers and Product Launches!
Disclaimer: By clicking on the "Yes, I want it" button above you are giving me your consent to collect and use your information according to the law and My Policy Privacy and The Cookie Policy. Zero Spam I promise!