DIY Rustic Oversized Reversible Christmas Wood Sign
Not only is this Oversized Christmas Wood Sign gorgeous but also reversible without losing the Rustic look. The perfect touch for your Christmas home decor this year.
I can't believe Christmas is less than a month away and I'm not ready yet! I know you might think that November is still early but as a blogger, I should start way earlier than most because my mission is to inspire and give ideas!
You might also love these other Wood sign ideas: Oversized Rustic Wood Sign, Reversible Farmhouse Wood Sign, and Inspirational Farmhouse Wood signs (tryptic).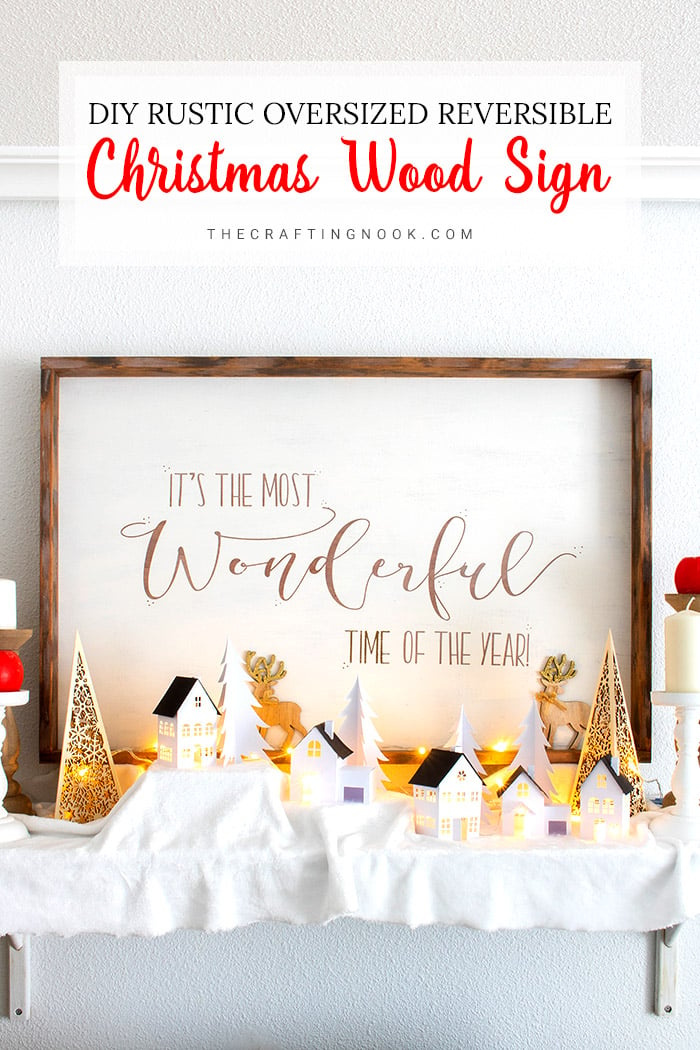 Rustic Oversized Reversible Christmas Wood Sign
This DIY Christmas Wood Sign is a special project that I had in mind for months. I planned it carefully because having a really small apartment I can't just keep making wood signs like crazy because I have no place to store them.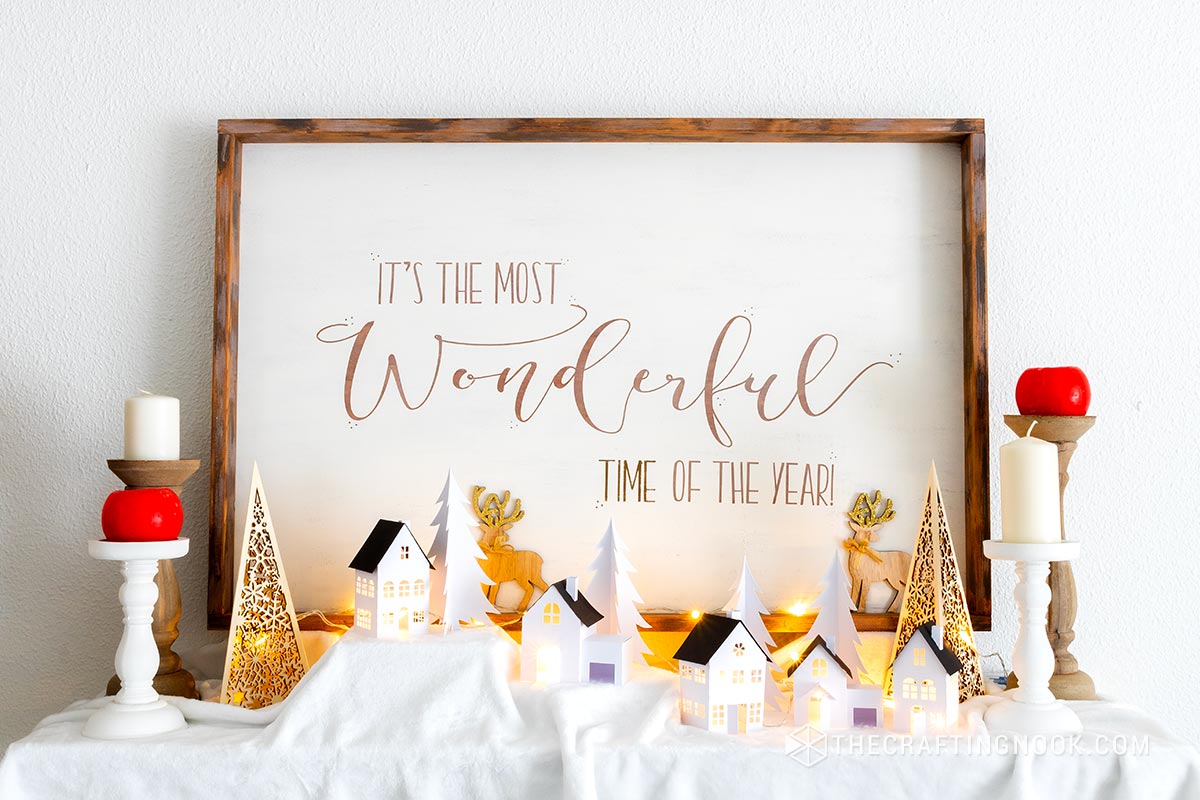 Making reversible makes it the perfect wall art for any occasion and season.
This way I can have different sentiments for different seasons in just one single frame!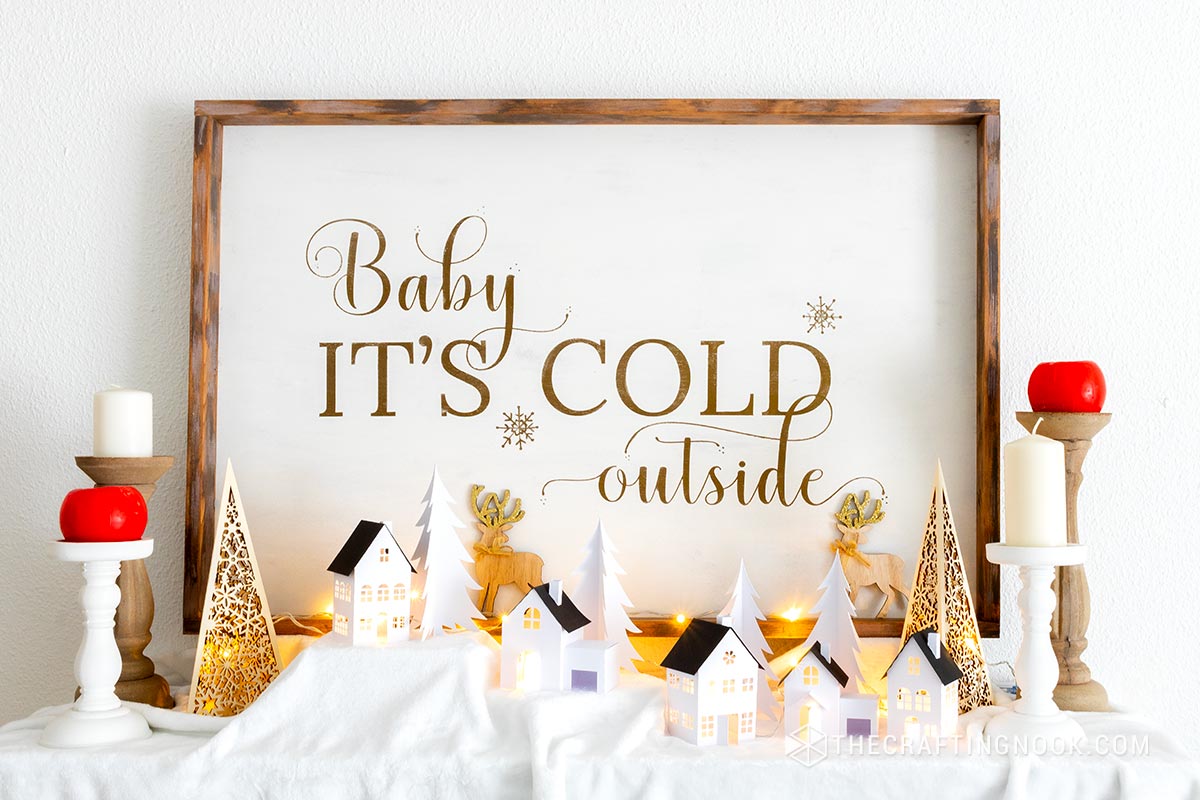 Cool, right?
Think about it you can have about 3 plywood boards and have 6 different wood signs, not bad huh!
Best part? You have kind of storage behind the wood sign. Those boards can be stored behind the sofa, under the bed or mattress, and behind any door. 
If you ask me, it's a win-win!
I just love how it turned out. I never thought it would turn out so good since it was so big and then I missed a word while making it but hopefully everything was fixable in the process.
Yup, you heard that right, I missed a word LOL. In the part "Time of the year" I missed the word "Time" and had to add it later on. Thankfully it was an easy fix even though matching the color was almost an impossible mission but in the end, it didn't matter because the whole thing looks so pretty.
Once I finished one side since I'm all about seasonal decor, I decided to go for a winter sign, so I created a cute "Baby It's Cold Outside" wood sign with the same rustic look but this time with gold letters. I thought about using Silver but gold looks way better with the rustic look of the frame.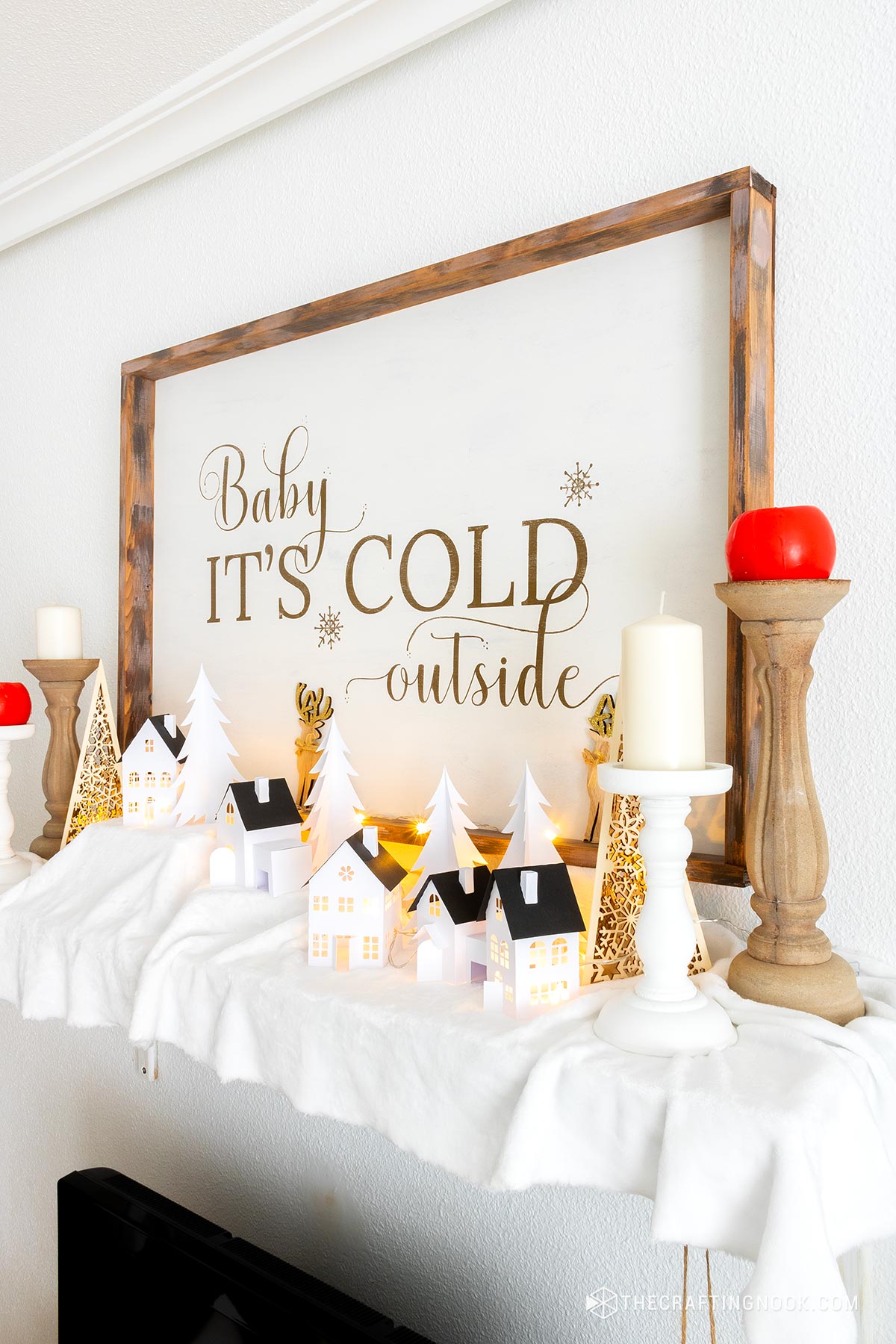 I have to say this, I'm not a carpenter and don't have much experience working with wood. Probably there are many other ways to create this but I don't have many tools or space so I had to manage with what I could buy and what already had.
I mean, that's the point of all this creative thing, right? If you have it all and can buy it all what's the point? Anyways, I always try my best to stay on a budget and assuming not everyone has a garage full of tools, like me, I barely have a saw and a drill LOL.
Wood Painting Technique
I decided to use 2 techniques. My beloved dry brushed technique for the sign and the weathered wood look one for the frame.
I used the dry brushed technique before with my Inspirational Farmhouse Wood Signs and my TV Console Table in 2 different ways: Limewashed look and distressed wood look in case you want to check it out!
How to make this Rustic Oversized Reversible Christmas Wood Sign
Because of its size and the drying time I had to make it in parts. It's not hard at all just a little bit tricky at some points.
Reversible Christmas Wood Sign Supplies:
Pinewood boards from the frame as follows below
Plywood for the backing as follows below
Wood Stain
White furniture acrylic paint
Grey acrylic paint
Wood headless nails
Screws
About 10 L shaped Hook Screws
Brushes (the cheapest the better)
Sandpaper 150 grit
Piece of cloth.
Felt (optional)
Your favorite sentiment stencil. I created mine with a cutting machine.
Drill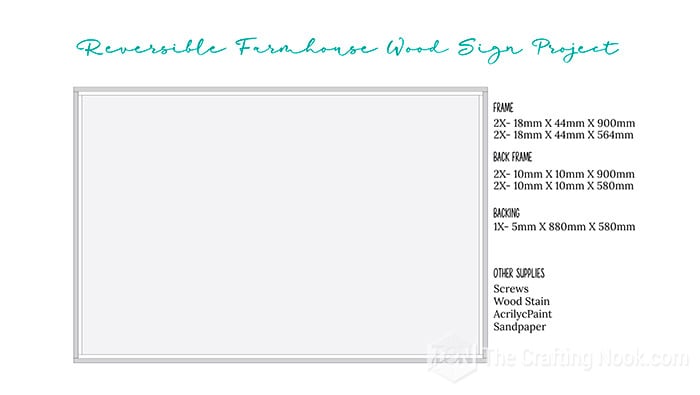 This project might work best if you have a cutting machine. But you can find GORGEOUS Stencils at local craft stores that will work perfectly for this project if you don't have any.
How to build the Reversible Christmas Wood Sign
I created this fun video tutorial if you like this kind of style! If you are more of a step-by-step photo kind of person, scroll down a bit and keep reading.
Before we begin, be sure to follow us on Pinterest, Facebook, Instagram, and YouTube, and also sign up for our email list (at the end of this post), so you'll never miss a post!
Firstly and most importantly make sure the plans are right for your local store sizes. Mine are in millimeters so if you need to, use a converter to the metrics you are most familiar with.
My wood sign is in total 900 mm X 600 mm (35,43 In X 23,62 In)
Most likely your local store can cut your wood for you.
So once you have all your supplies ready, clean them up to avoid dust and grease.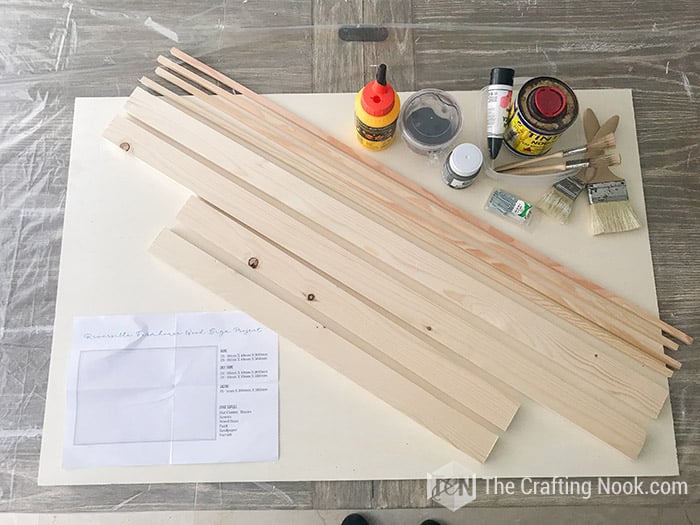 Using your favorite wood stain, paint all your backing plywood. I created mine for this specific piece because I found out that the brands I can find here, usually affects the white paint I use on top. So I diluted a brown acrylic paint q part water 1 part paint.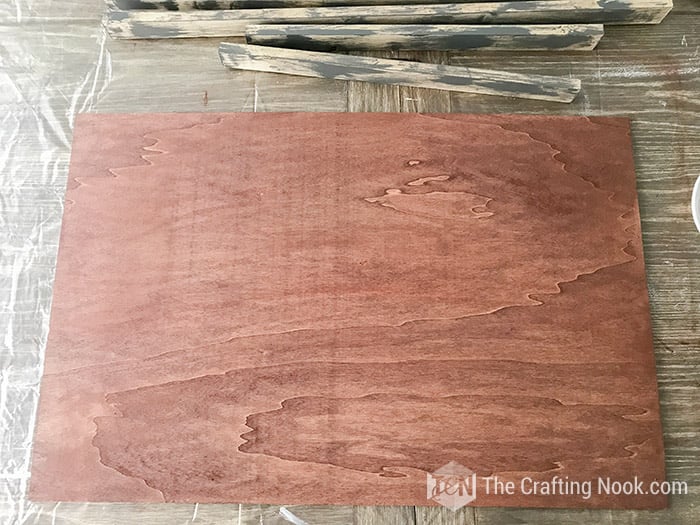 Let it dry.
Take your frame pieces and let's make it look weathered.
On a plate pour some white and grey paint separately.
Firstly, with grey acrylic paint apply rough and uneven strokes all along the boards. You are going to dry brush on a thin coat of paint.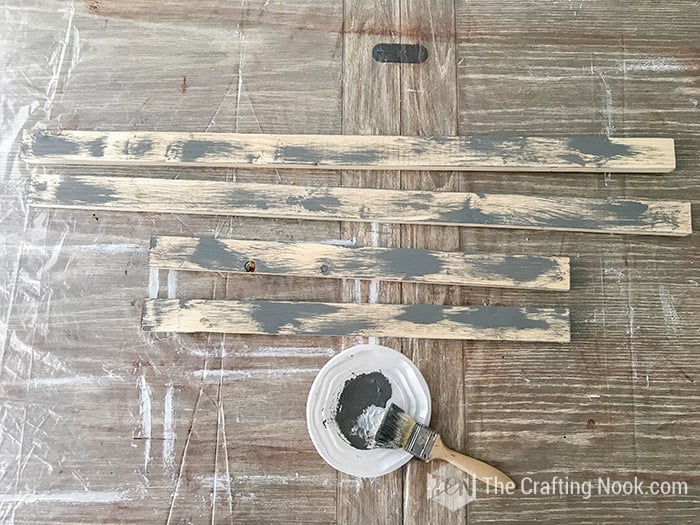 No perfection here, just create strokes here and there.
When you are done it should look something like this: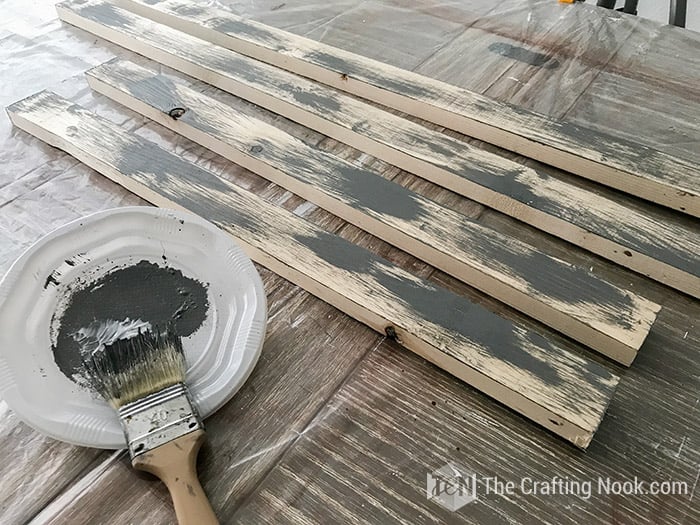 Once the paint dries, do exactly the same but with the white paint. In my experience, if your paint is fast drying, by the time you finish the last board, you can start over with the first right away.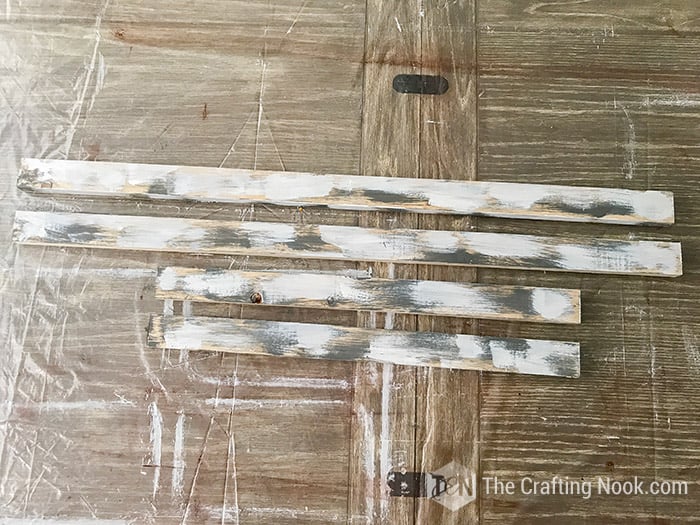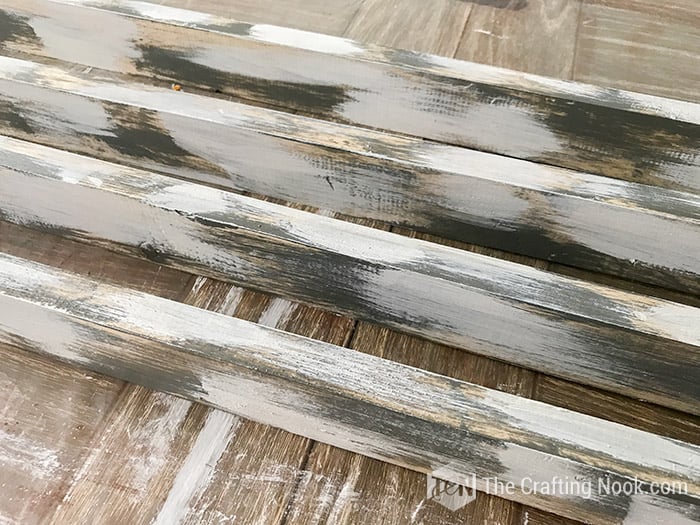 Set aside to let them dry very well now.
Take your backing board back and let's apply the stencils. As I mentioned I created mine. Because of its size, I had to cut it in different parts and put it together on the board.
I used cheap contact paper for this project because vinyl usually leaves glue behind and I hate it and because I didn't have any stencil material available and wanted to keep this project on a budget.
Once cut I removed all the contact paper around the design and all the pieces that didn't belong to the design. Then cut transfer tape and applied it to the stencil with the help of my scraper.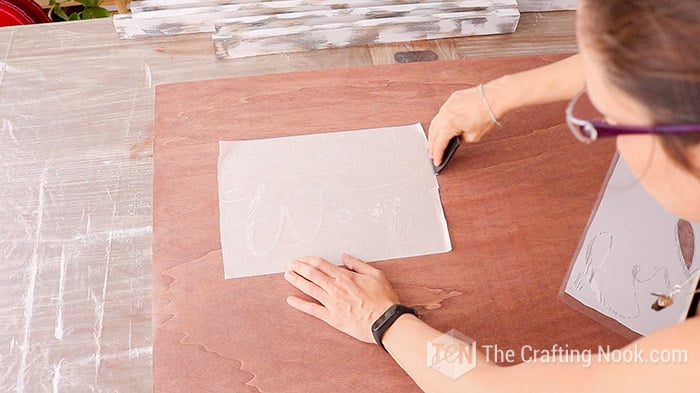 I placed the stencil on my board making sure it was straight and centered. I secured the design using the scraper and removed the transfer tape.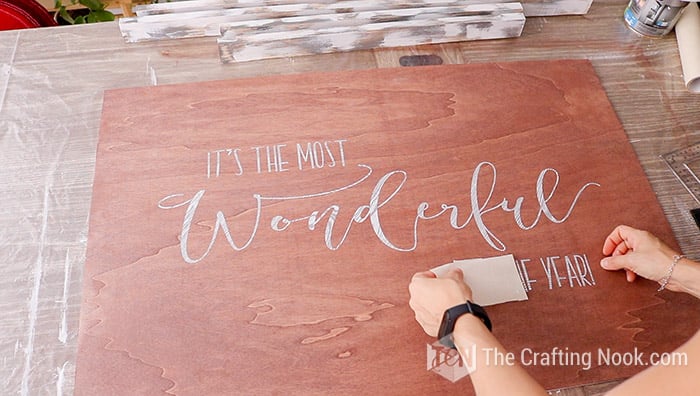 YUP! I know I totally missed a word there! "TIME" LOL. I fixed it on both my wood sign and the cut files! Don't worry!
If you like the design and have a cutting machine you can snag the file free, right here (I swear I fixed the word TIME!!!)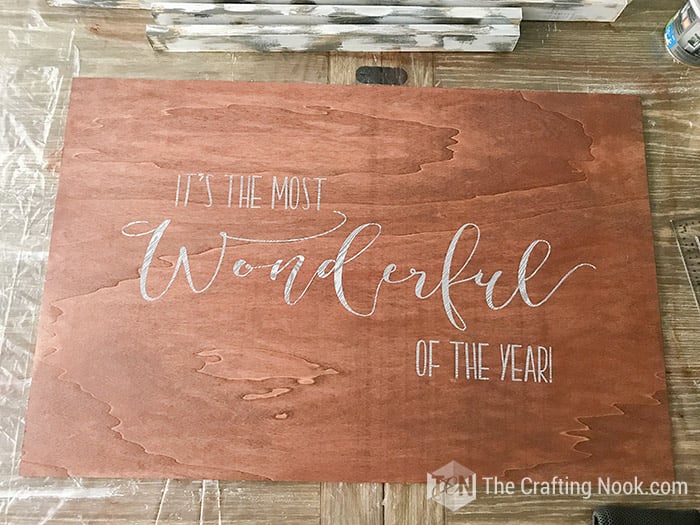 Once the design was all applied to the board I started painting with white using my dry brushing technique to achieve the distressed wood look.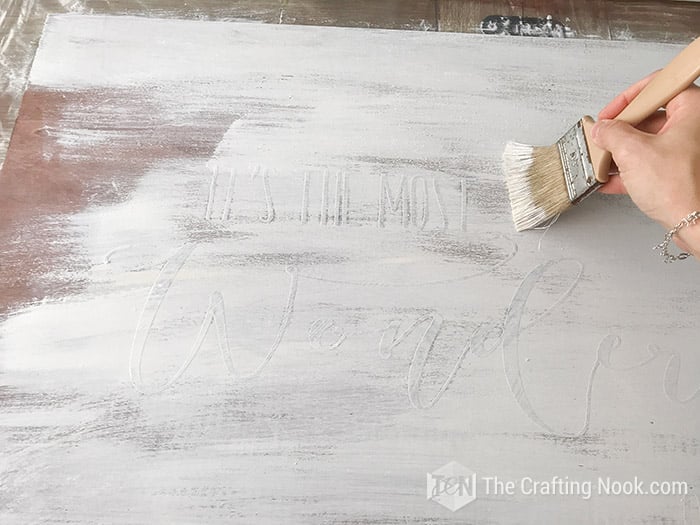 Apply as many coats as you like. I wanted it really white but still, be able to see imperfections from the background color.
Let it dry very well.
Now that your frame pieces are dry, you are going to sand them with your 150 grip sandpaper.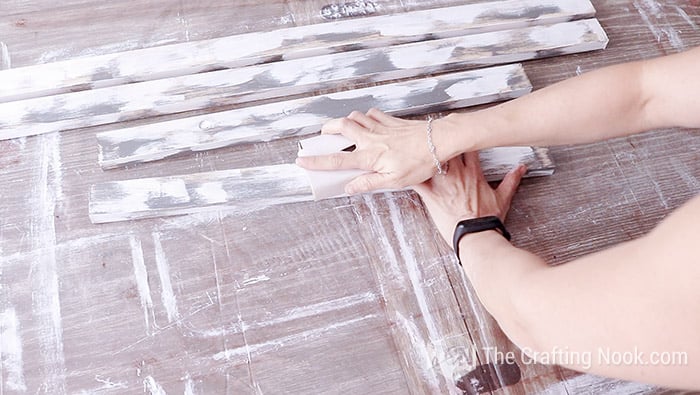 Sand it like you want to remove all that paint. When you are done the boards should look like the remaining paint is all damaged.
Clean your boards well to remove all the dust from sanding.
Time to stain your pieces. Apply your wood stain and then rub it with a piece of cloth.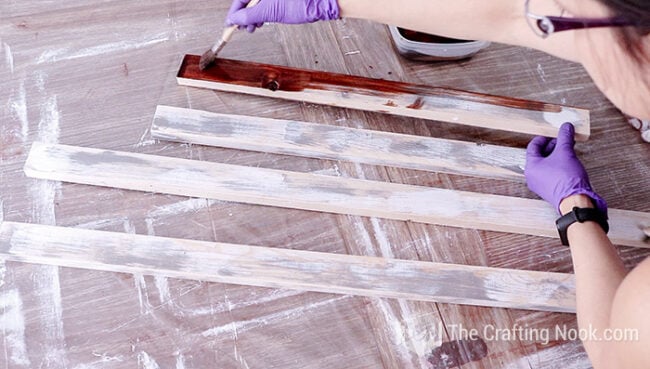 Let them dry.
So, now, let's work on our backing board. With the help of a hook, peel off all the stencil pieces. Be careful so you don't damage or scratch the wood.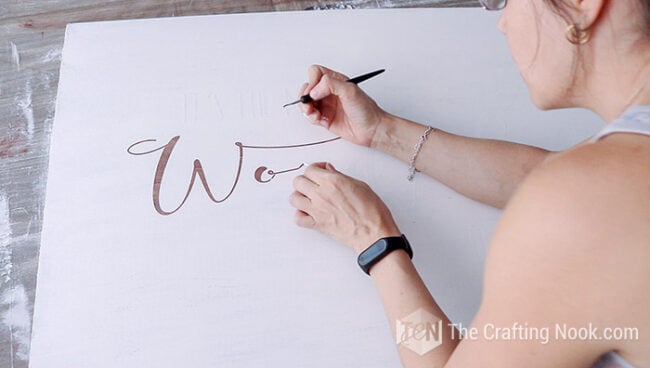 Once your design is revealed again, sand it very well and distress some places as you see fit.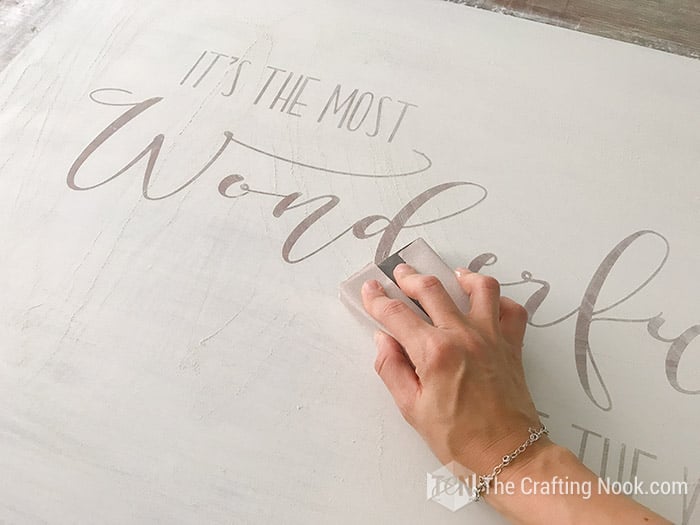 Clean your board well and set it aside.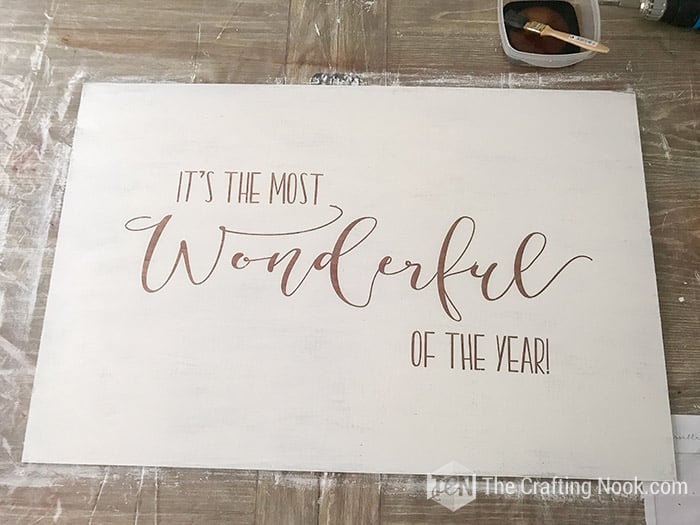 Time to assemble the frame.
Lay down your pieces to form the shape of your frame. Longer boards should go top and bottom and the shorter ones should go left and right.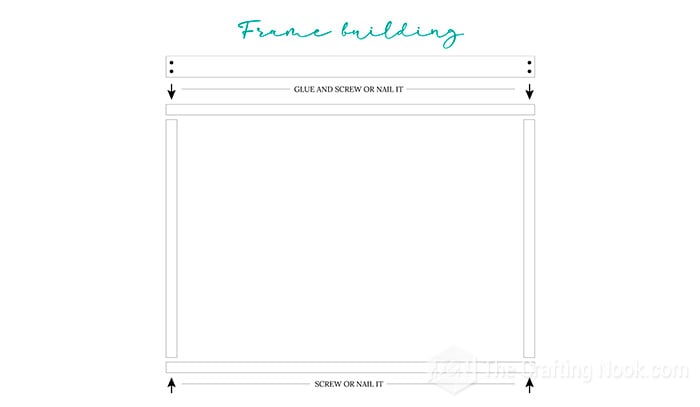 Longer boards should go over the end of the shorter ones as shown below.
To make it easier to screw the frame together (I don't have a nail gun so I went for screws) I drilled 2 holes on each end of the long pieces to mark the path of the screw. Use a drill tip smaller than the screw you are going to use.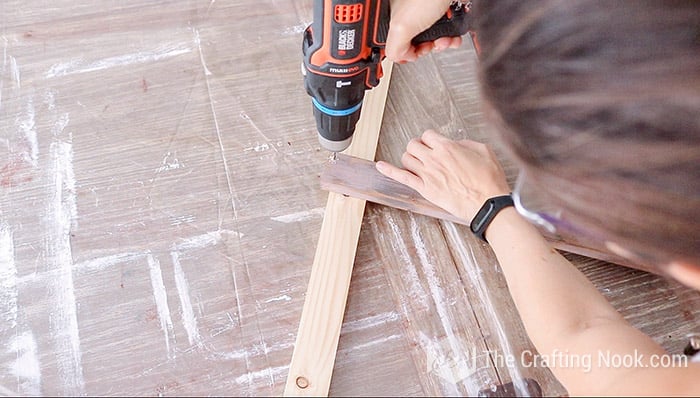 Apply some glue and screw your pieces together.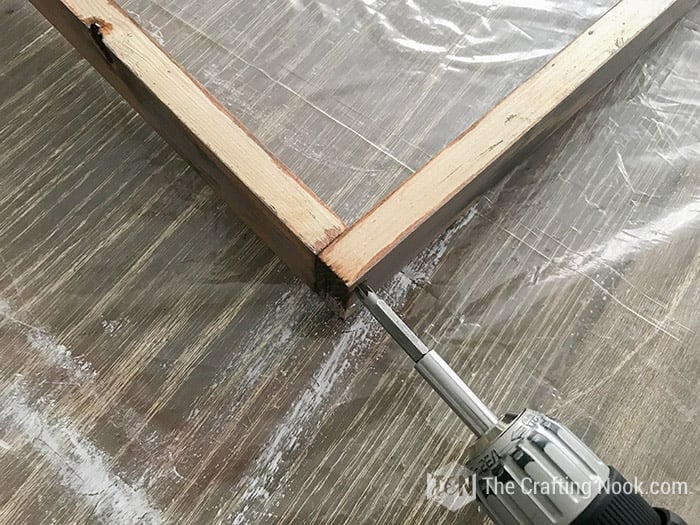 Set aside and let the glue dry for a while.
When it's dry you need to create the back frame that will house your wood sign.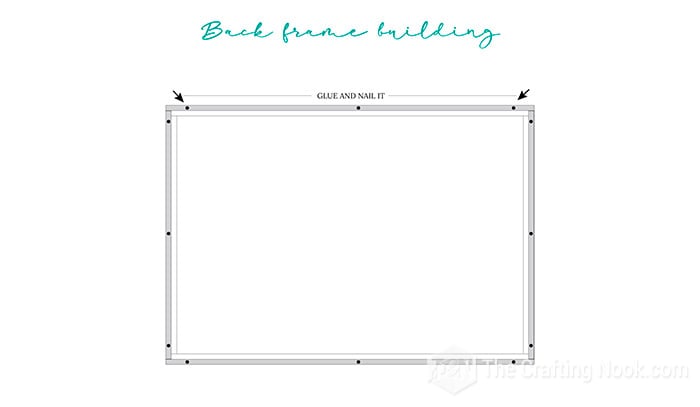 For this, you will set your wood sticks the same way as your mainframe but this time you will just glue and nail them in place.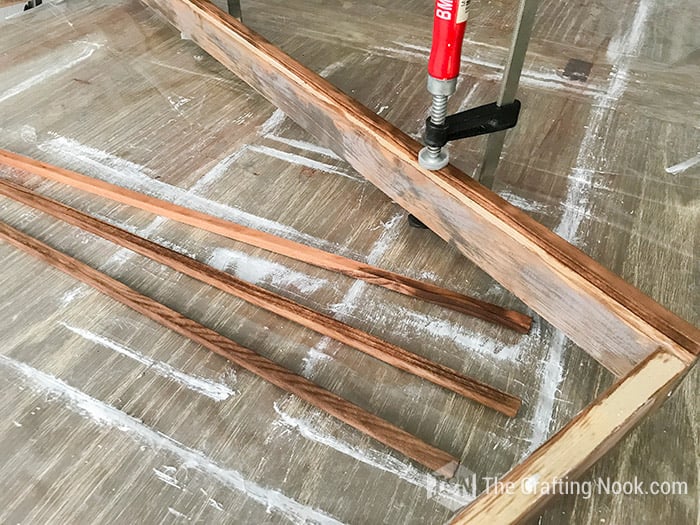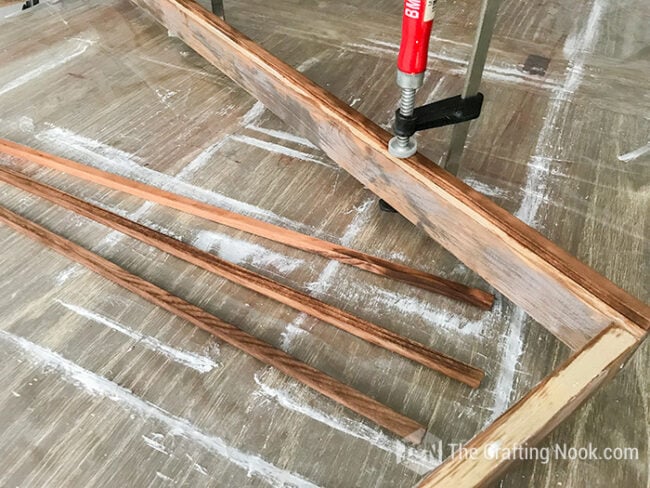 Align your frame pieces with the outer edge of the mainframe. Apply wood and use clamps to secure your pieces in place.
Once dry, nail it on a few spots just to double secure it.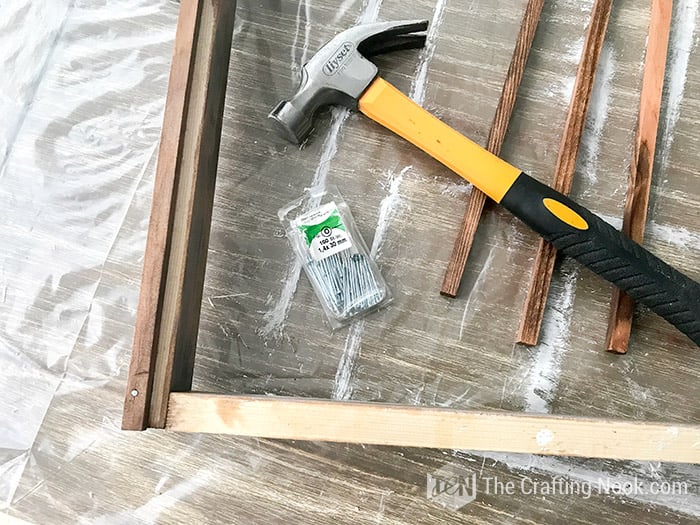 Your frame is done!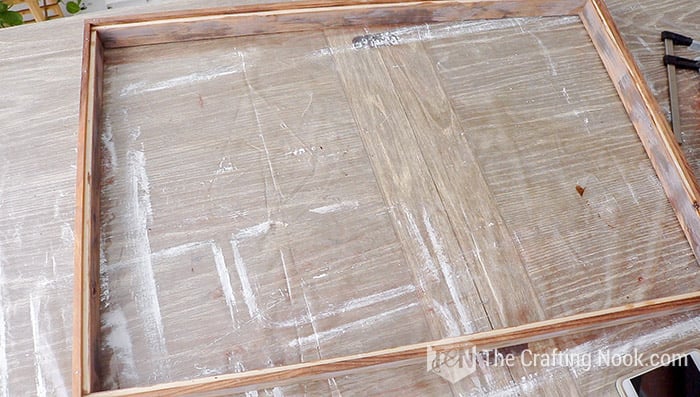 Now to keep your wood sign in place, you can use L-shaped Hook Screws if you are on a budget.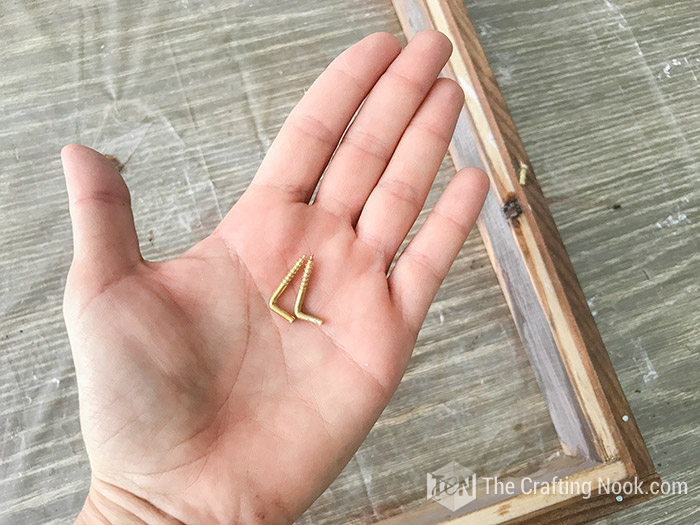 Just drill carefully some holes to mark the path of your hooks on at least 3 spots on the long sides and 2 on the short ones.
Then screw your hooks in place all the way down!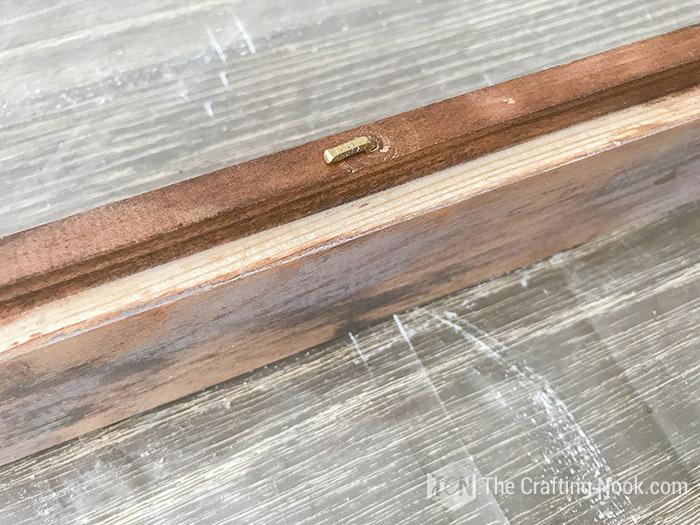 It's time to fit your gorgeous wood sign in.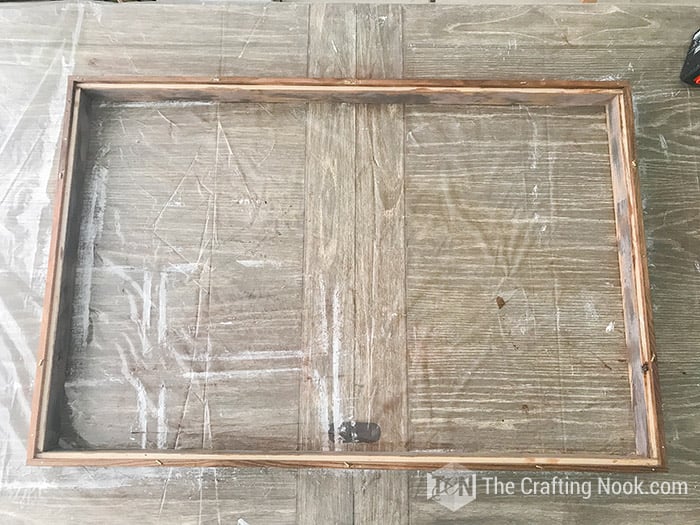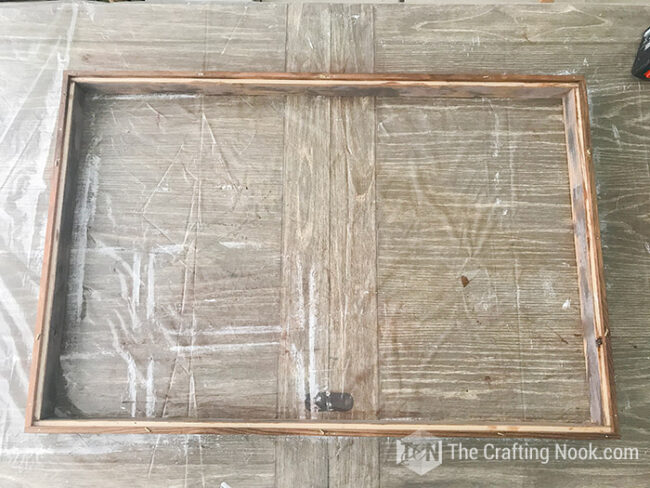 Place your wood sign facing down.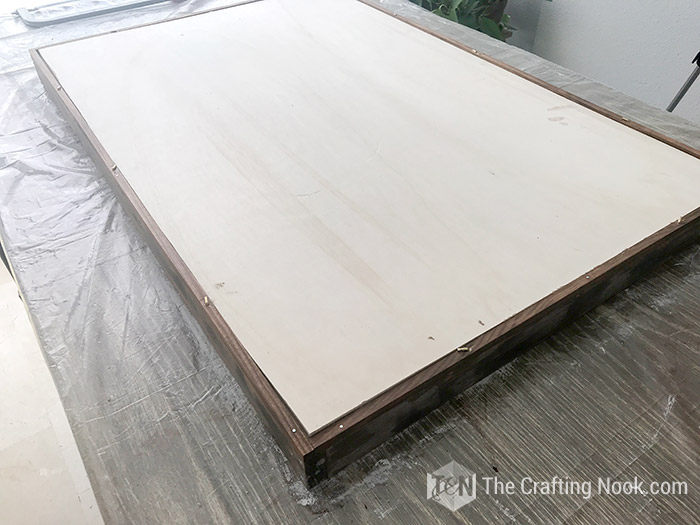 Turn all your hooks over the board to secure them. If they are a bit lose, just cut small pieces of felt and put them between the board and the hook so your board doesn't get scratched.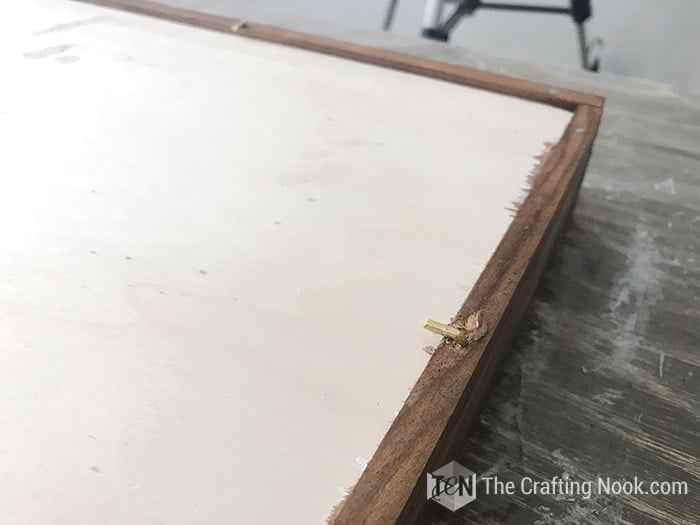 WOOHOO!!!!!
Your Rustic Oversized Reversible Christmas Wood Sign is all ready to rock!
Oh, wait I still have something missing, right?
The final step was fixing the missing word TIME! I just created a stencil with the letters in negative (I removed the letters instead of the surroundings). Aligned it with the rest of the sentence and painted it.
Once dry remove the stencil.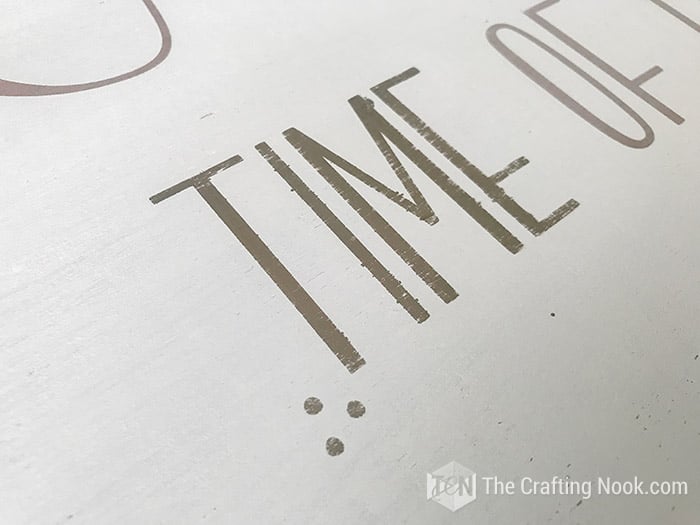 Sand it a little bit to match the overall finish and…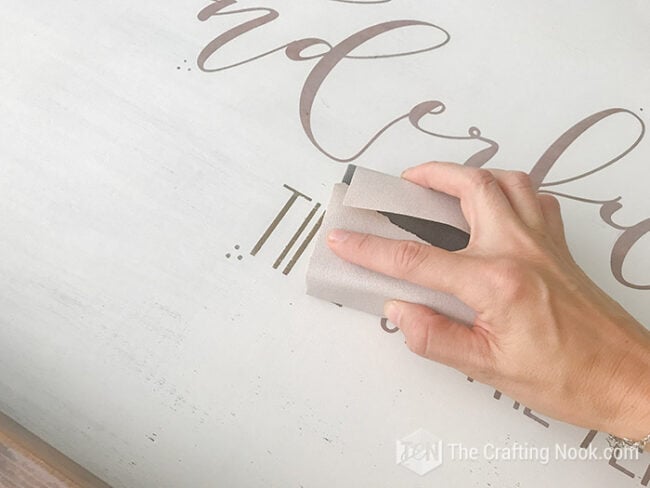 Voila!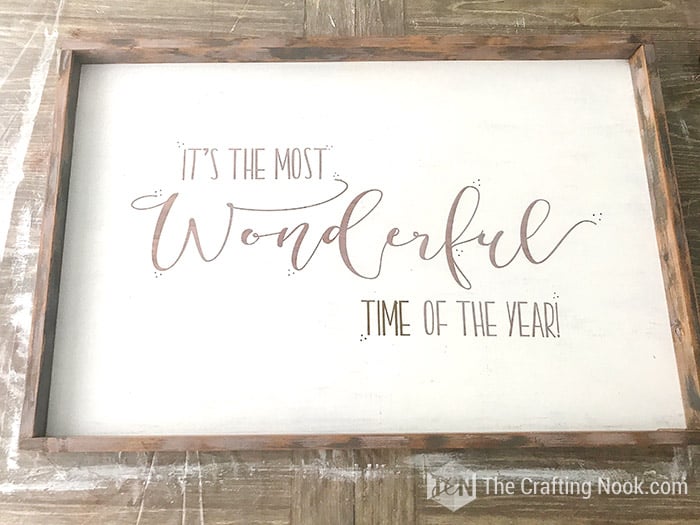 Now to be one step further, before you mount your wood signboard in your frame, you can turn it over and create another wood sign for Winter. That way as soon as New Years' hits, you can just switch your wood sign and voila you have a brand new wood sign in minutes!
My Winter wood sign was created with a similar technique but instead of revealing the wood stain color, I dry brushed the whole board and painted the sentiment with Gold paint afterward.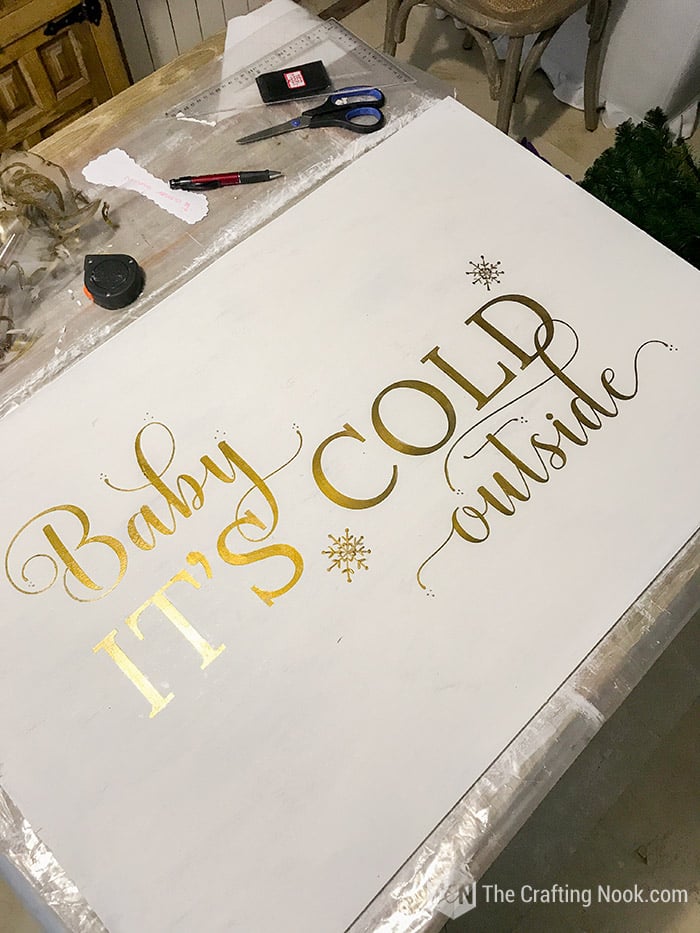 Mounted in the frame looks like this: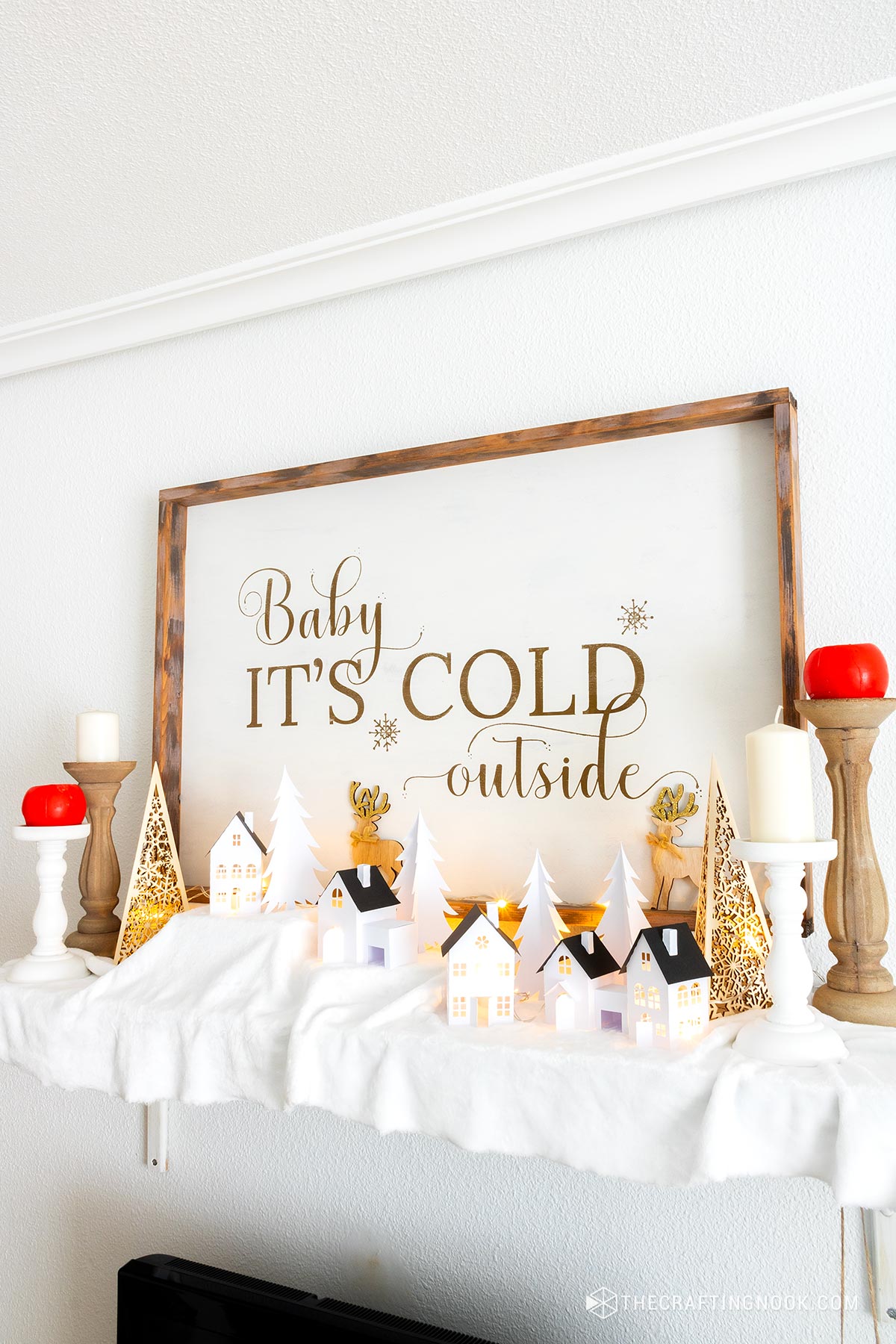 From now on you can keep creating wood signs and just change it for each season without having to make frames over and over again. This is for sure the perfect addition to your home decor!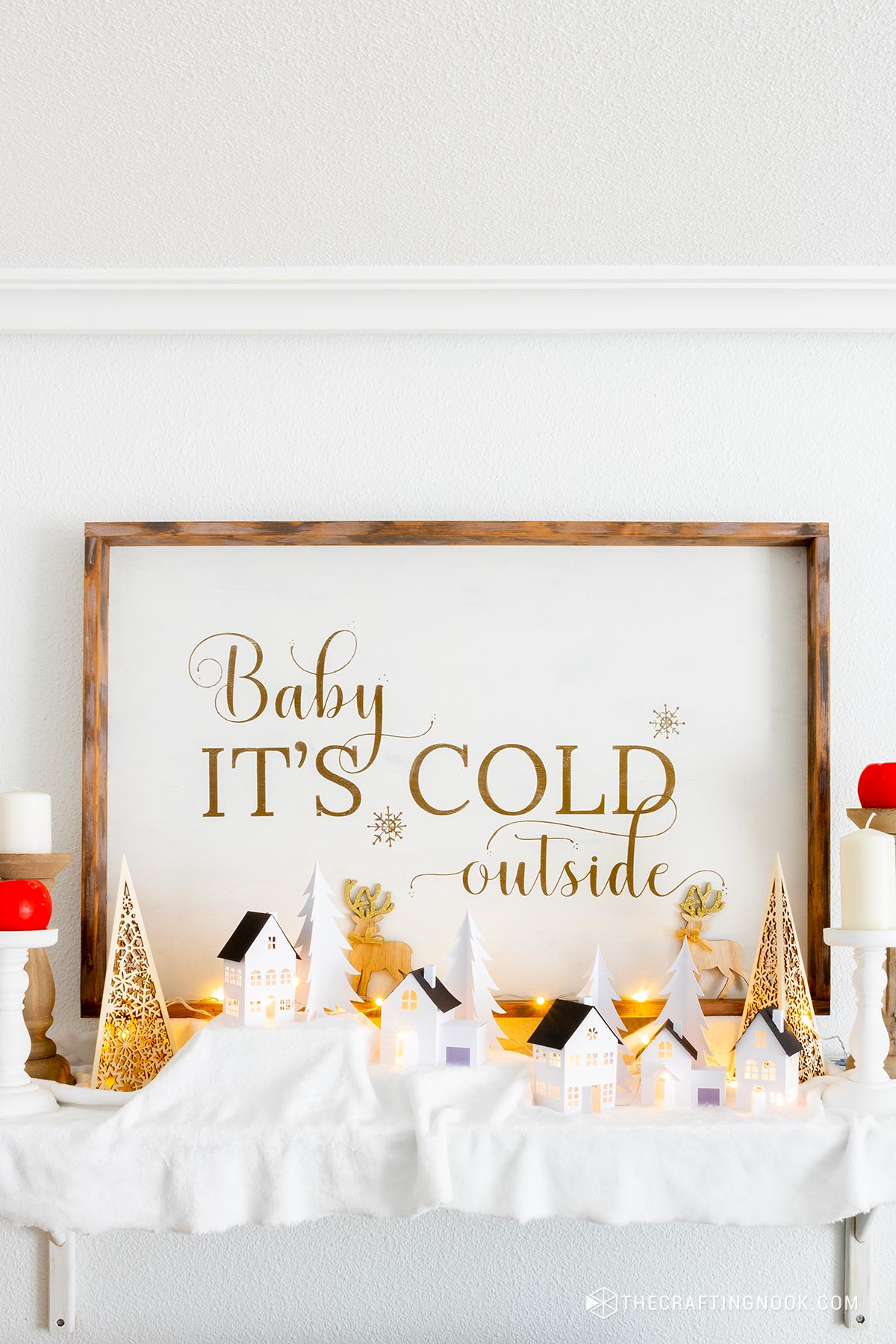 Cool, right?
I just love how mine turned out. It was quite a challenge for me considering the space I have available to create it and record the whole process LOL.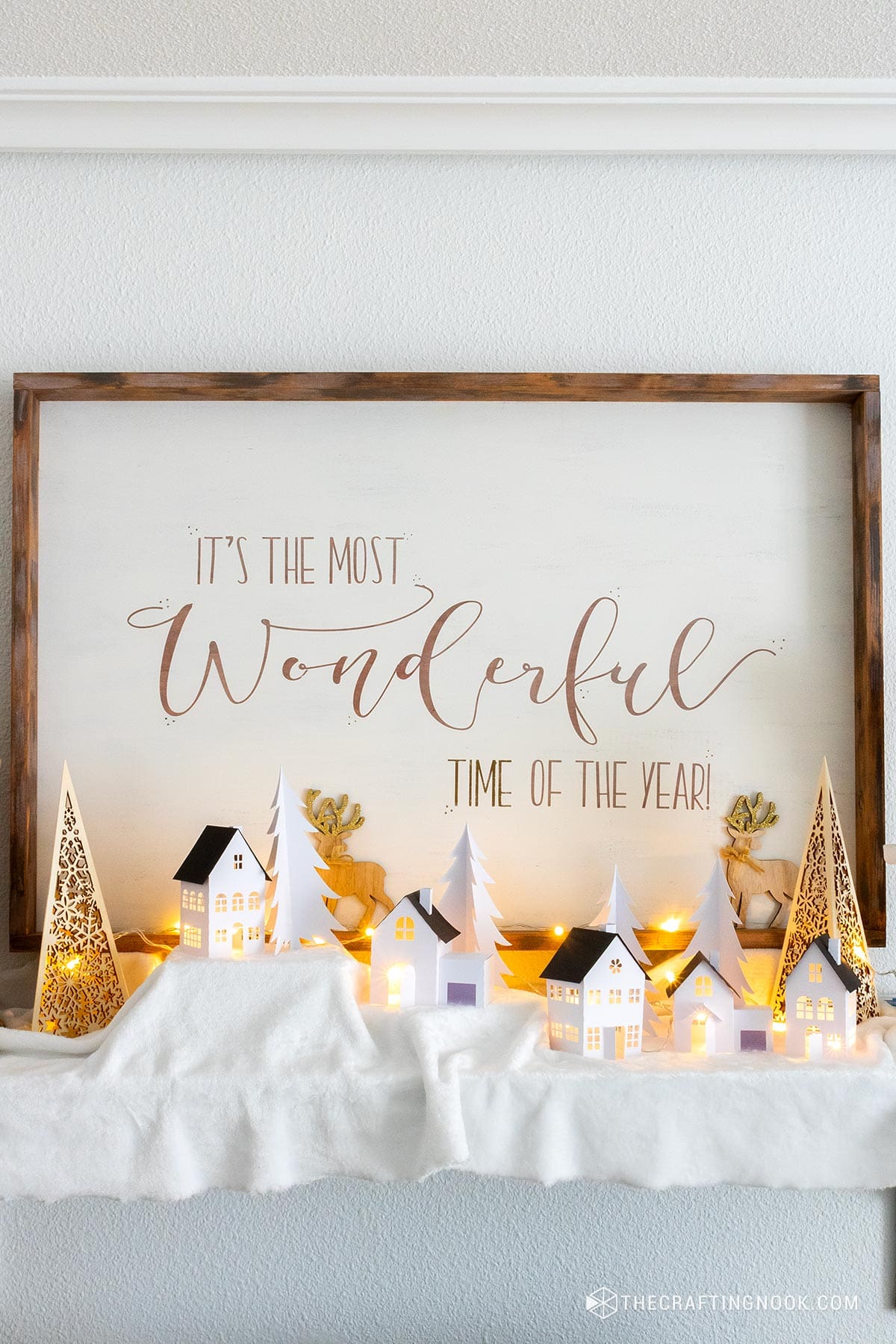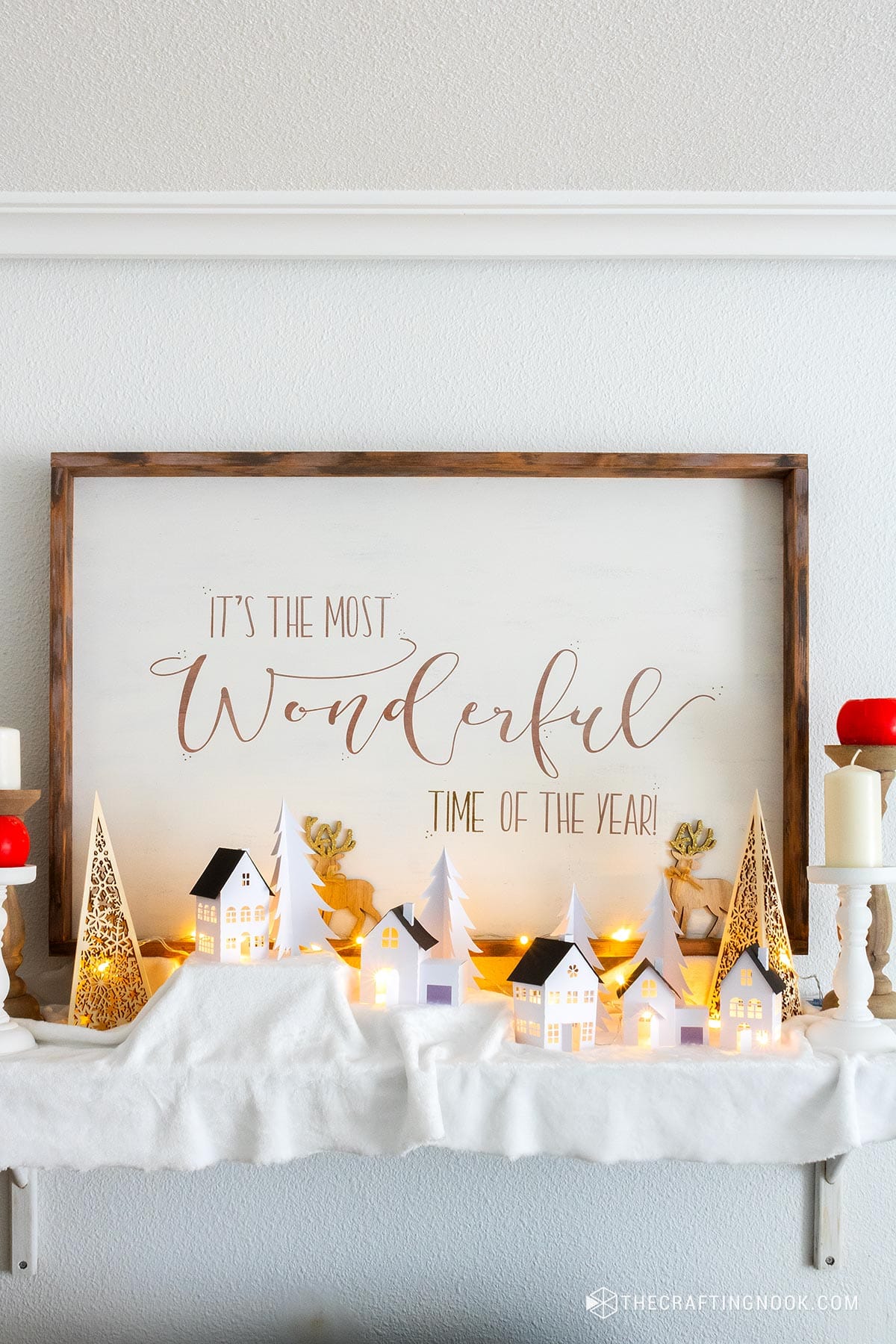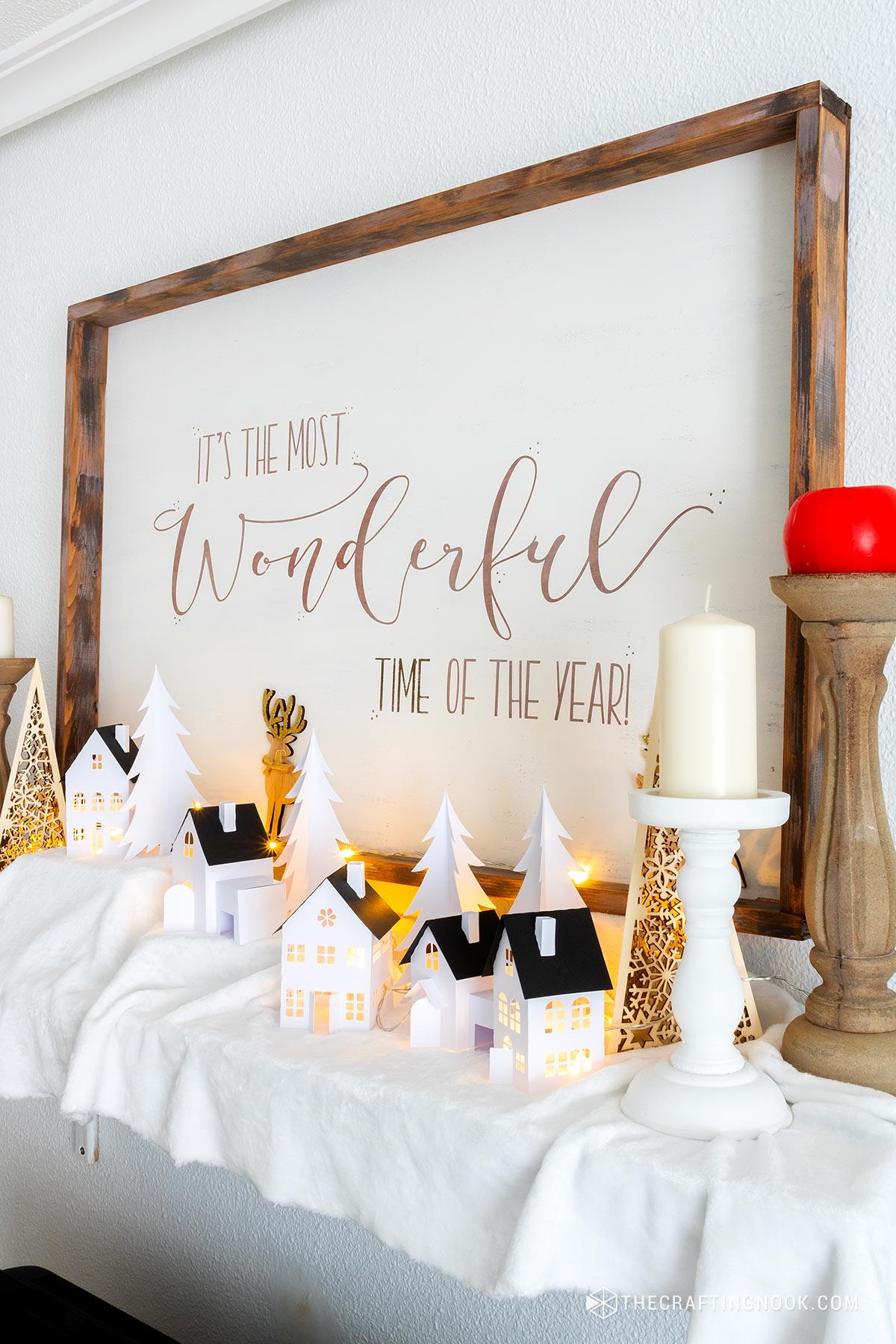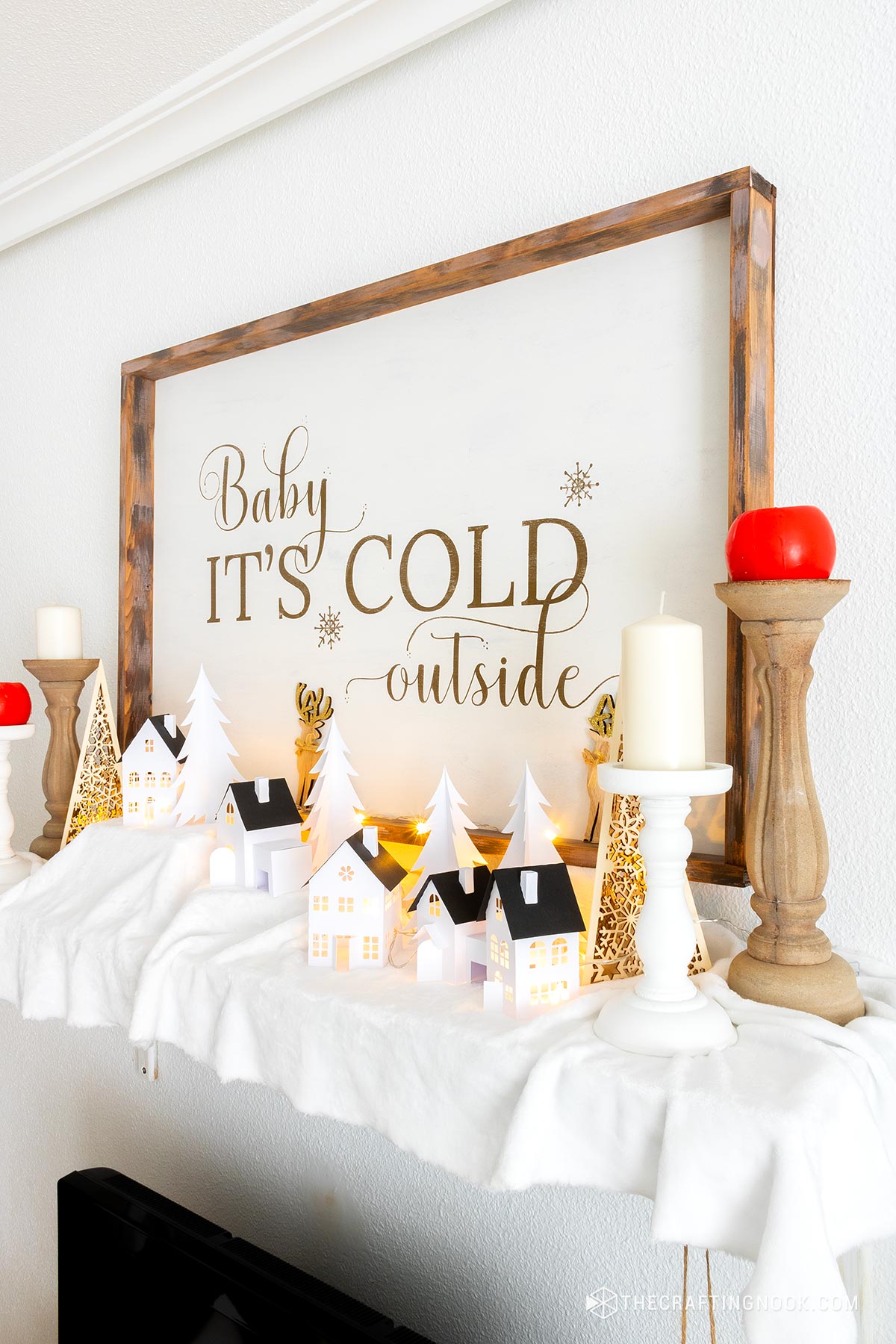 I hope this project inspires you to create lots of gorgeous Rustic Wood Signs. Let me know your thoughts, it always makes my day!
If you enjoyed this project, don't forget to PIN and share it with friends.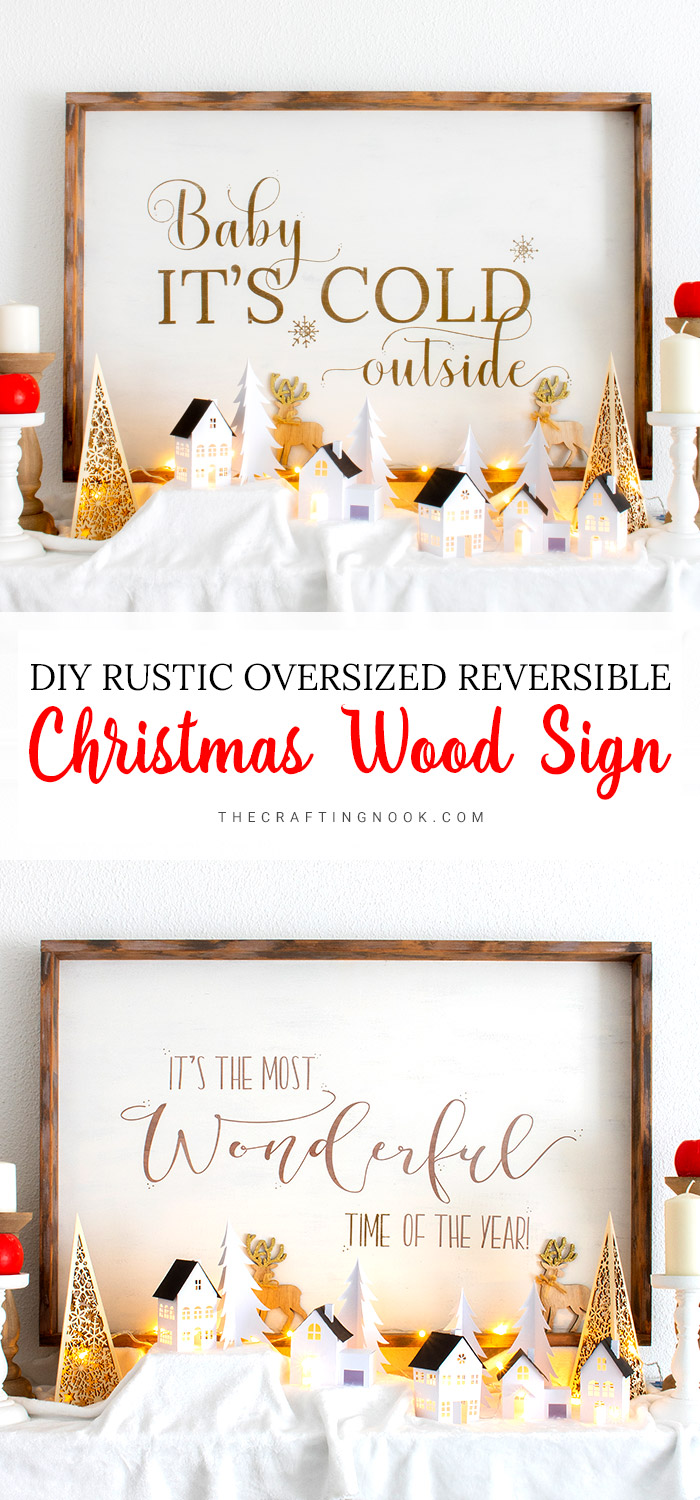 Some of my favorite bloggers' Christmas decor:
Loving this Christmas project? You might also love these too: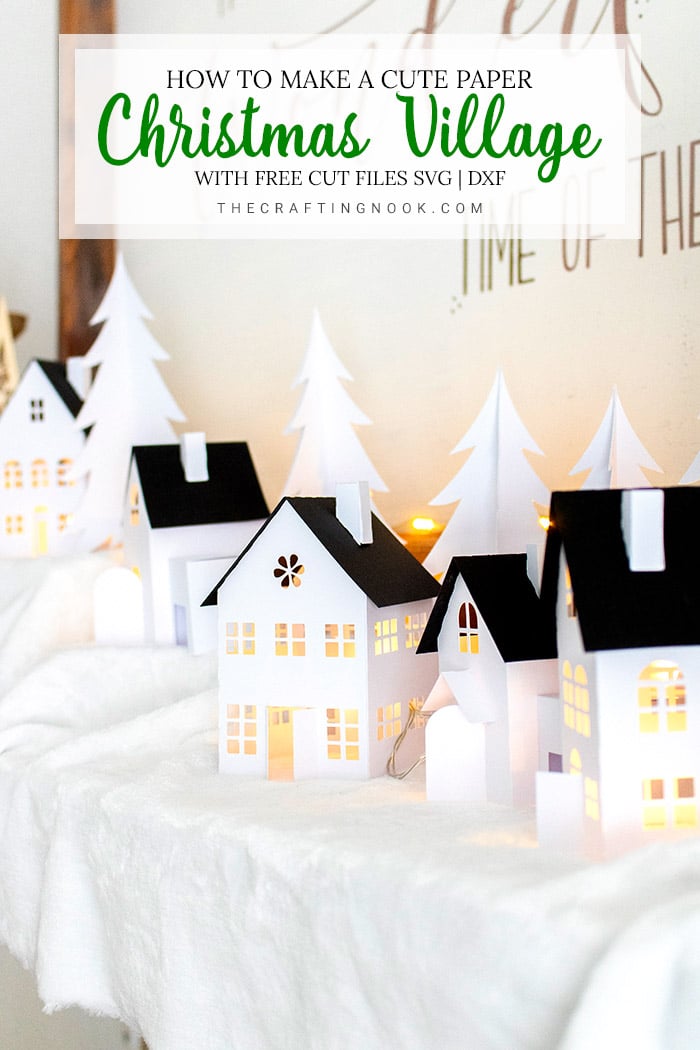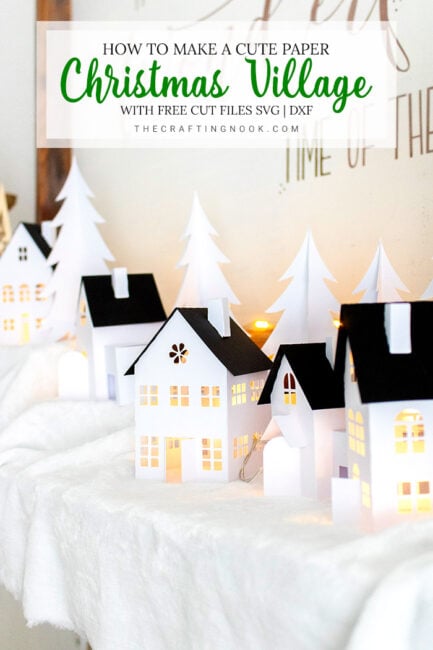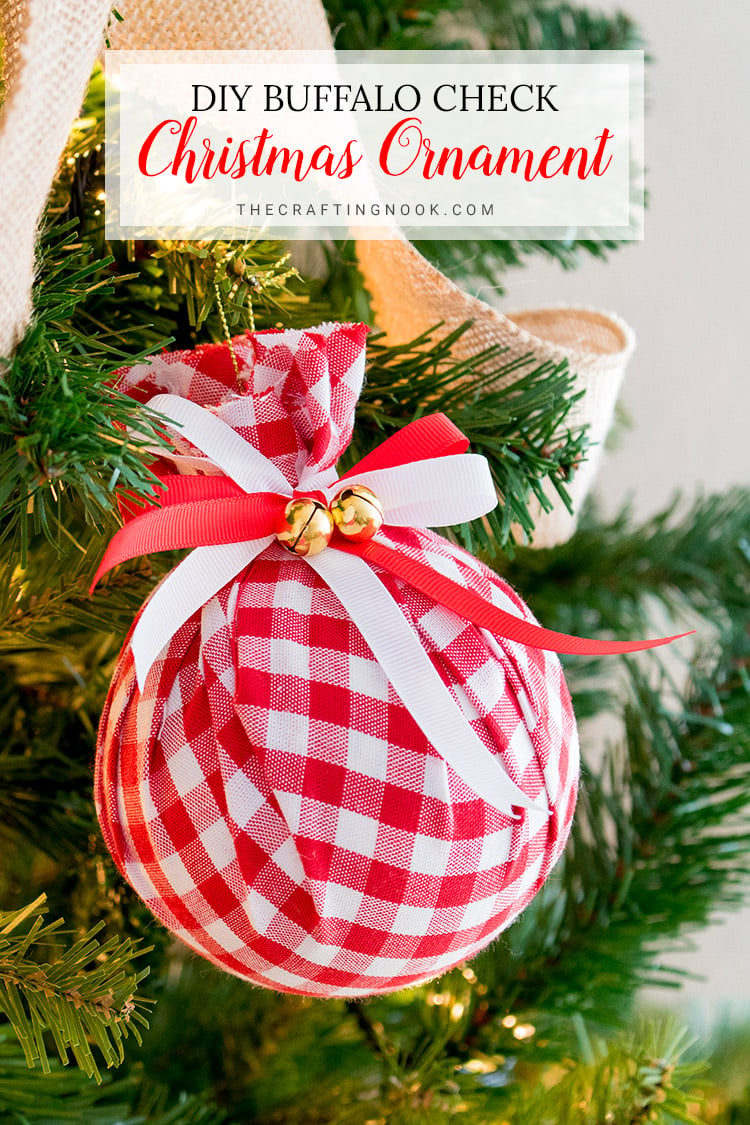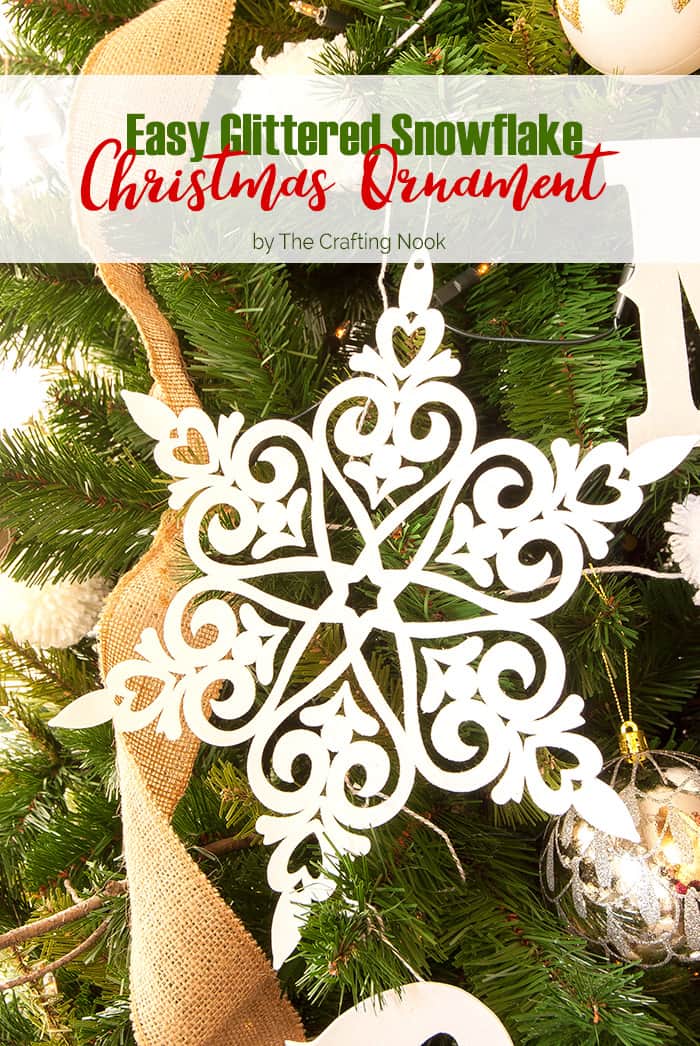 Til' next time...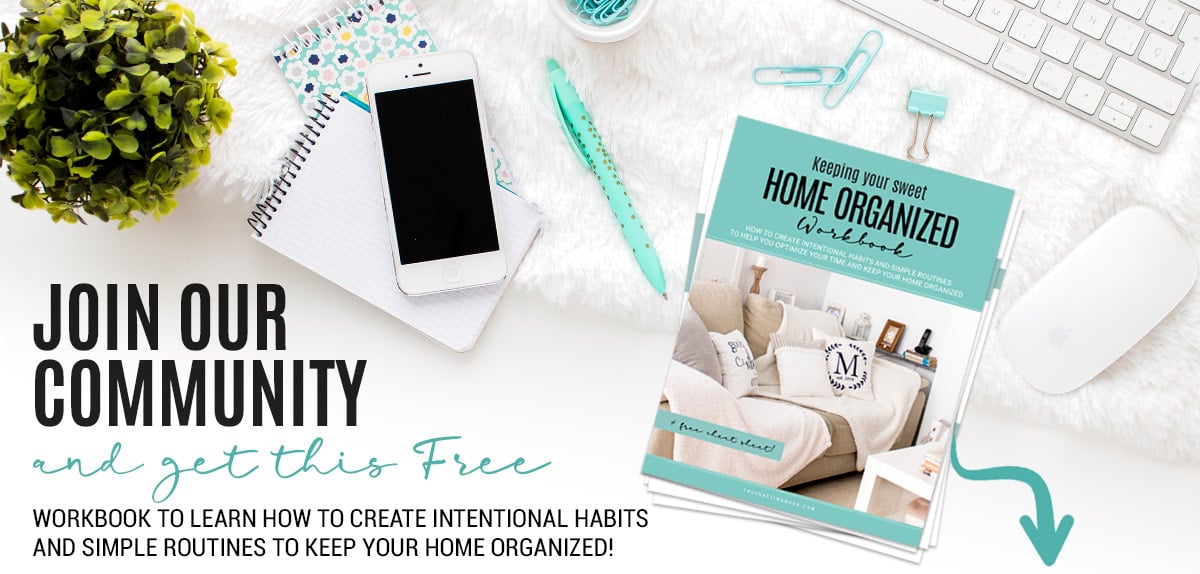 GET INSTANT ACCESS TO THE WORKBOOK
Plus freebies, printables, exclusive content, tips, stay connected, be the first to know great offers and Product Launches!
Disclaimer: By clicking on the "Yes, I want it" button above you are giving me your consent to collect and use your information according to the law and My Policy Privacy and The Cookie Policy. Zero Spam I promise!