This is a super fun Sponsored Review made on behalf of Jord Wood Watches. All opinions are 100% my own.
As a woman, I've always had a thing for shoes, bags, and watches. Shocking right? LOL. Ever since I was a little girl I was always looking for cute watches. As I grew up, I started buying those I loved the most. Now, I had this great opportunity and I received this awesome watch from Jord Wood Watches to review it and guess what??? they are actually made out all of real wood, so cool right? And guess what??? Keep reading until the end and you might have a chance to win one for yourself!!!
Jord Wood Watches perfect for Spring Style
I have to be honest I didn't know this kind of watches existed. It was quite surprising. When it arrived at home and I opened the package, I was really, greatly surprised by all the details they took into consideration. The whole presentation was spotless. The box is made of wood with a sliding lid. When you open it, there is the watch supported by a cute tiny pillow, some spare pieces in case you need it larger and your warranty card.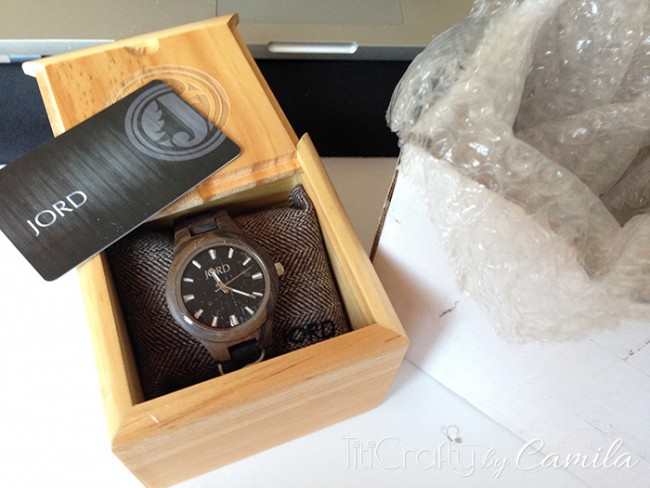 I was soooo excited. You can imagine, most watches are kind of heavy, so when I took it from the box, OMG it's so light! You wouldn't believe it! I think the only thing that has some weight there is the mechanism itself. Every JORD Wood Watch have been handcrafted from 100% natural wood – Maple, Bamboo, Koa, Zebrawood, and Sandalwood among them, and the glass in this watch is scratch proof. The watches are created from all untreated wood with the exception of the clasp of course, which is stainless steel. Who would have imagined that?
I requested and received the Fieldcrest Black watch. I kind of love big watches and since I'm so white I chose one darker to have a lovely contrast when I'm wearing it.
The Fieldcrest Series is produced in a classic midsize. The monochromatic wood face, bezel, and strap serve to showcase the intricacy of the wood grain. Designed to be androgynous, the attitude of the wearer is the final elemental design to this timepiece.

 Fieldcrest Black Features
Deployment Buckle with Push Button
Scratch Resistant Mineral
Citizen Miyota Quartz Movement (2035)
Case Width: 39mm
Case Thickness: 11mm
Lug Ends: 49mm
Band Length: 205mm
Band Thickness: 20mm
I've been using the watch for about 3 weeks and I really love it, love that it's comfortable, light and you can match it almost with anything. What I love the most is the uniqueness that represents these timepieces!
You could say that here where I live is mostly Spring/cool weather so it was fun to take some shots wearing the watch when I've been out!