I've mentioned in the past that I love keeping things organized and that I love boxes. When I saw this idea on The Thinking Closet where she was upcycling boxes, I got a super inspiration to upcycle a bunch of boxes that I had around the house to keep my drawers organized =D.
Keep Drawers Organized Upcycling Boxes
When you have a specific place for each thing or group of similar things, it is easy to keep the organization.  I love to have things handy and when I get that level of organization I usually keep it.
Lauren shared a great idea to keep craft drawers organized saving money, you can see her post HERE for more details.
Here I'm sharing how I made it. It didn't turn out as I wanted since the contact paper I chose wasn't the best. It was not sticky enough so it was hard to make it stay straight. I would give it a try again with some better contact paper.
Anyway, I liked the final result, since I got all my stuff organized and handy =D. I completely forgot to take the "before" picture but if you have an office drawer you know how it would have been LOL.
So, here it is, hope you like it.
What you need:
Different boxes
Contact paper
Felt
Hot glue gun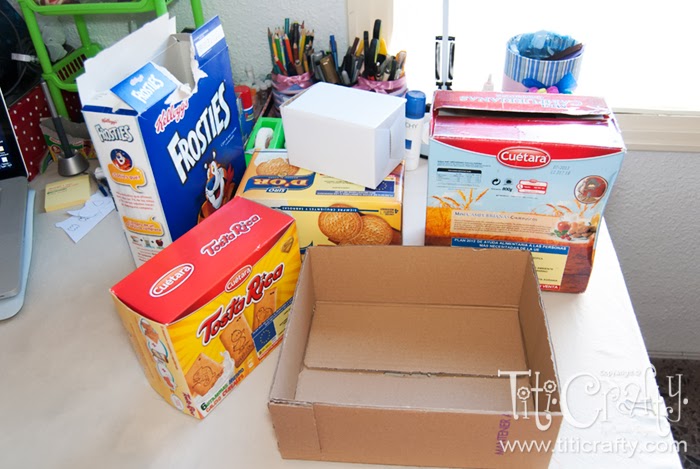 The first thing I did was cut all the boxes in the same height. I chose one as reference and then with a marker I drew a line to cut them.
Once I had them cut, I wrapped every box inside and outside with two different contact paper.
Then I cut some felt to put them in the bottom of the boxes. I glued the felt with the hot glue.
They are ready.
Then was just make them fit into the drawer it's fun because it's like a puzzle =D.
What do you think?