Hello, my dear friends. Have you heard the saying "There's no place like home"? Sure you have. Well, I have to tell you that it's 100% accurate. When you finally feel like home (wherever that is), it all make sense, it feels right and even though it might have its ups and downs, we will always feel happy and safe when we are home. I recently moved to a new apartment. It's small which has been a challenge but It was about time that I finally got to turn a place into my home. For the next few months, I'll be sharing my experience on my Small Apartment Decor journey.
Small Apartment Decor – The Before Home Tour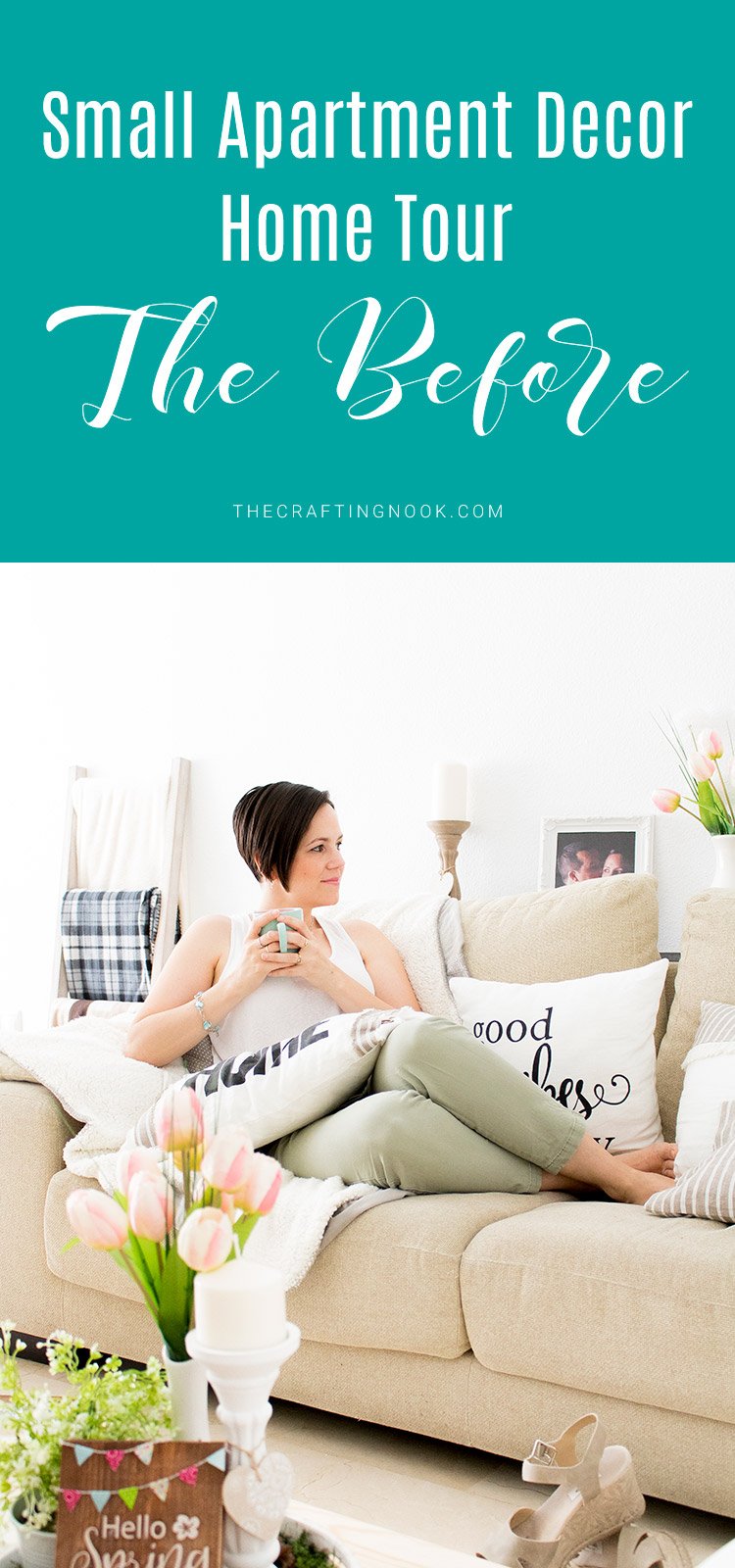 Today I'll share with you the beginnings. I'll show you the raw reality. You will see how we started from scratch here. If you have been around for a while you know I've been living a nomad life for the last 8 years and we finally (and hopefully) are settling in a new country. That means starting absolutely from zero. We came with 3 bags each and hearts filled with hopes and of course, fears too. Needless to say, we didn't have furniture either so we've been slowly stocking up.
Small apartment decor is a huge challenge as it is, especially in Europe so if on top of that you have a tight and limited budget, it all goes to a whole new level. I've had to carefully organize the budget and buy some stuff on thrift stores, some second hand and some at IKEA using their credit program that has been a lifesaver. I'll share my tips and tricks to cope with small spaces and still make it functional, pretty, cozy and comfy.
I've been living here for about a year and I could say we are about halfway there with the whole home decor. I furnished the apartment already with just the necessary pieces and now it's time to decorate and make it homey and cozy. Now you probably understand why I have created and shared so many Roundups about Home decor. I desperately needed inspiration and guidance. The truth is, that most articles I can find on the internet show you gorgeous houses, things to die for. But the reality for me and probably for most people, especially living in small apartments are a whole different story. So what I do is dream a little with what I see and use those ideas I think might fit and accomplish what I have in mind.
Why is Small Apartment Decor a challenge?
Friends, Our apartment might not fit into tiny homes but God! It's really small. I'm not kidding! This apartment is small. It's less than 1000 ft2 fitting 3 bedrooms, 2 bathrooms, living/dining room and a kitchen with tiny laundry room. European architecture is a huge pain, they are so weird and in most cases, they don't make any sense.
For example, one of the bedrooms is right at the entrance of the apartment. Also, the apartment is basically a hallway L-shaped and each area is like a room, completely separated. The living room is almost at the end of the apartment but the kitchen is near the entrance. See what I mean? Makes no sense at all.
Of course, once you get used to it and somehow you feel like it has the potential to be a home, you just go with the flow and learn to work with what you've got. That's what I've been doing the past year since we moved to this apartment. Especially because since it's not your property, it's not worth it, to invest too much in the structure because most cases tenants won't pay you anything when you leave.
That's what makes it challenging the most, little space and it's not yours to modify it. However, there are always ways to manage and create cozy and homey spaces but again that's the challenge I'm facing. Thankfully, I found some really good tips for small apartment decor over at Elle Decor so I might be using some of those tips.
The one thing I had to understand and digest so I could live with our space is admitting and accepting the fact that I WILL NOT have it perfect but I CAN make it as perfect as it can be for me and my family. Hope this makes sense.
Home Tour: Where our Apartment decor began.
I'll give you a tour and you will see our reality during the first days after we moved in. You will be able to have a realistic idea of the spaces with the proportions you will see between the pieces around.
I'll describe each room in the same order they appear when you walk in the apartment.
The Entryway
It's a small but considerable space that I thought was a total waste but now I'm thankful for that. There I'll have my entryway table, the coat hanger or course, but I also plan to use part of it to create a storage space for all my craft supplies that I have nowhere to put them. I literally have my stuff spread all over the apartment in any empty space I could find.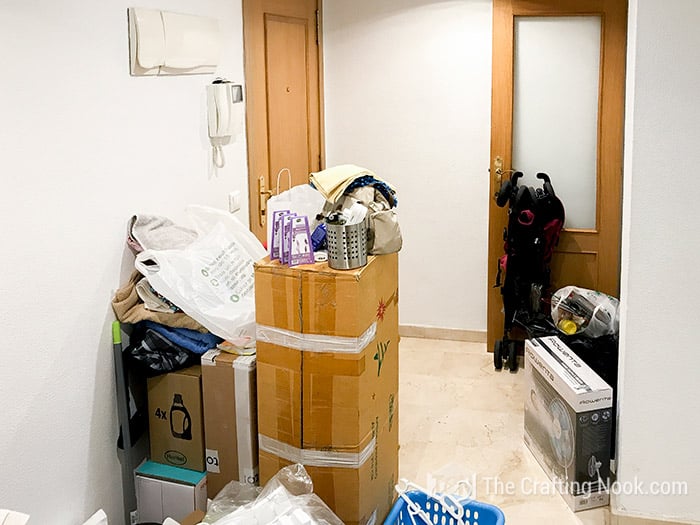 Man! That sucks. Every time I want to make something I have to run around the house looking for my stuff which makes me waste a lot of time and ultimately makes me wonder about if I really want to make whatever I have in mind. With this space, even though it's not ideal (it would be awesome to have a whole craft room for myself) but at least I know where ALL my stuff is, right?
Guest/office room
This room is super small but not as small as the one that was assigned to my girl. Why? Because this bedroom is right at the entrance and I don't want my girl to be on the other side of the apartment. This room doesn't have much light which kills me, to say the least. For that reason, it was decided that it would be the guest room and my husband's office. He only needs a desk and probably a couple shelves so it would be space enough for him. With the exception, of course, when guests come over, which has happened once in a whole year. Not so bad.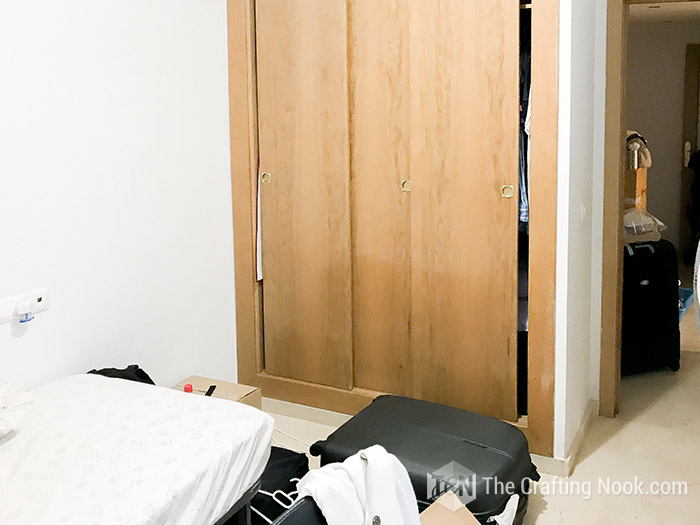 The Kitchen and Laundry Room
Besides bedrooms, this might be my biggest nightmare LOL. As you may notice on the photos, just a few cabinets (not really smartly built or designed), a huge window, a weird-angled door (to the laundry room) and the tiny space for the kitchen table.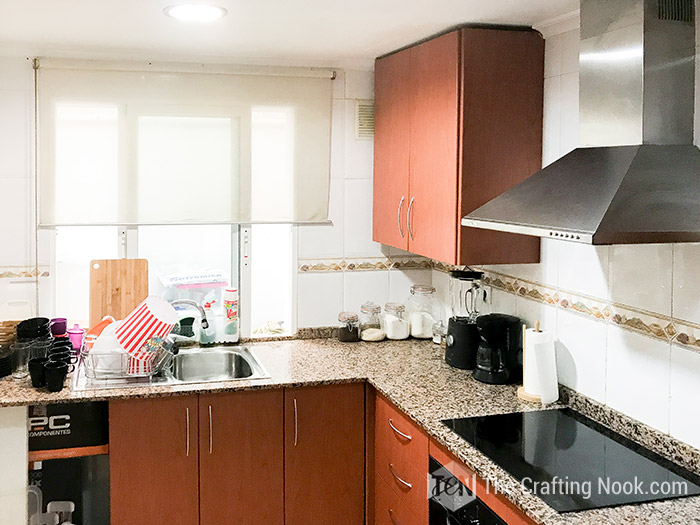 The plan is using shelves to solve storage problem and hope for the best. I've been as creative as I am possible capable to make space be enough.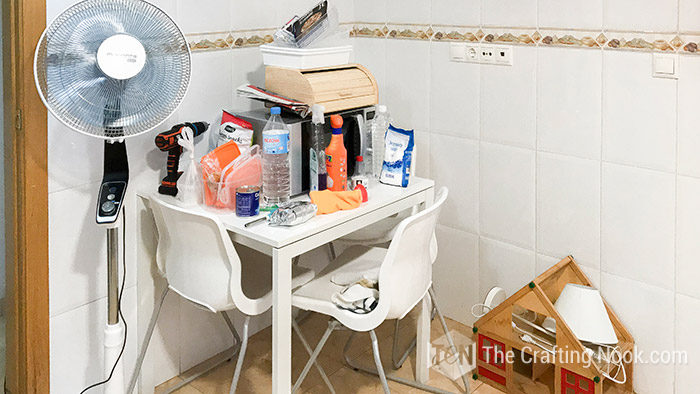 As I said the laundry room is tiny. We had to pile up washer and dryer machines. We put the water heater and it barely fit in the space. I'll manage to make it work for sure.