37+ Farmhouse Spring Decor Ideas
Whether you're decorating for a special occasion or simply want to add a special touch to your home, this great collection of Farmhouse spring decor ideas is sure to inspire you.
In my opinion, Spring is the most inspiring season. Maybe because it's all about renewing, trees get renewed green leaves and flowers, the weather starts to warm up, the air gets that fresh scent…
I know, know, after Christmas, I think it's my favorite Season. For that reason, I collected some of my favorite Farmhouse Spring Decor Ideas to Try on my home somehow.
We shall see, but in the meantime, I couldn't help but share some of my favorite ways to welcome Spring into your home in true farmhouse style with you.
You might also love these other Farmhouse decor ideas: 25 More Gorgeous Farmhouse Style Decoration Ideas, 23 Rustic Farmhouse Decor Ideas, and DIY Farmhouse Spring Styled Tray (super easy).
20 Farmhouse Spring Decor ideas to try
I love the seasonal decor. I think adding seasonal touches to my home makes it look different each season without really having to change the furniture or spending too much.
All these Spring DIY projects and ideas are absolutely gorgeous. With slight differences and variations here and there, they all get an amazing cozy home feeling.
Sometimes it's hard for me to believe that all those thing and styles from my great-grandmother's time is now so in again, who knew? right?.
Modern stuff is awesome but when you mix it with all this rustic-vintage-old style you get all these amazing results you will see right here.
Yeah Yeah! I'm addicted, I know that. I LOVE farmhouse style decoration so badly and adding the spring touch, Oh my!!!!
Flowers and greenery are the perfect options for your spring cleaning and decorating, but finding the best rustic farmhouse spring decor ideas is not always so easy.
One great way to add a Spring vibe to your home is using flowers. You can add flowers to your home in various ways, including rustic vases, boxes, and more.
You can decorate baskets and jars with beautiful floral arrangements that just scream spring.
Make signs that say "Hello Spring" out of wood, paper, or metal to decorate your home. There is no end to the ways you can decorate for spring.
Collection of Rustic Farmhouse Spring Decor Ideas
Before we begin, be sure to follow us on Pinterest, Facebook, Instagram, and YouTube, and also sign up for our email list (at the end of this post), so you'll never miss a post!
Disclaimer: *Just like I do for all my round ups, I get a lot of inspiration from Pinterest. If you are at all familiar with that platform you know there are tons of pictures with no direct links to the original source. Some pictures featured here I found no source for or directed to the wrong one but if you know the source, contact me and I will update this post immediately, thank you so much!
1. Diy Farmhouse Spring Styled Tray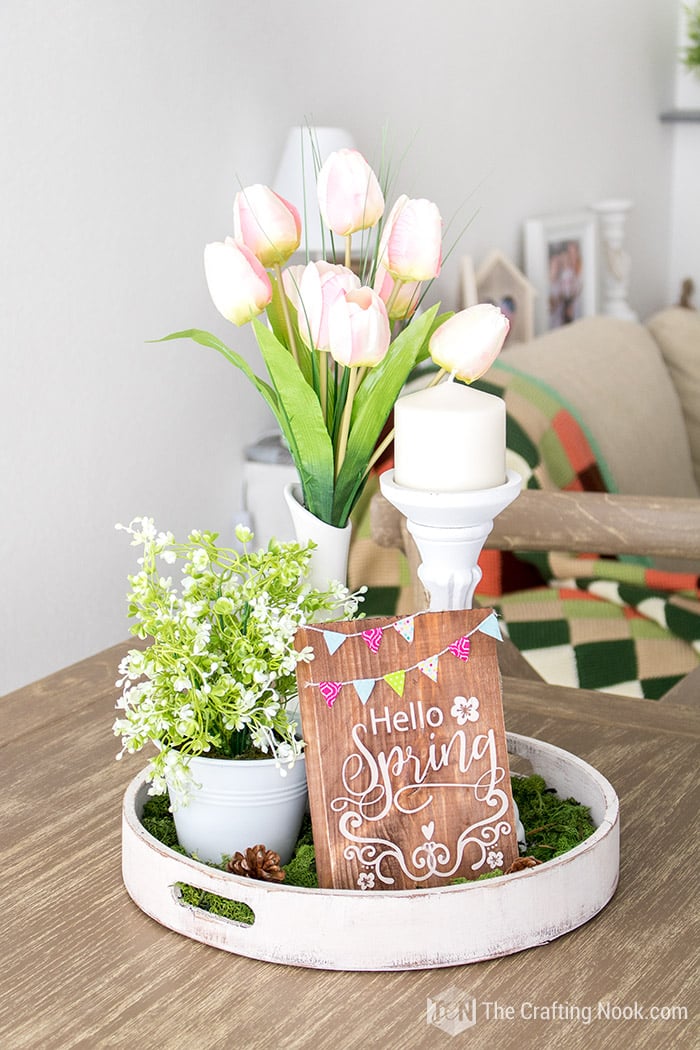 A Spring Farmhouse decoration using a Spring Styled Tray is the perfect touch for your dining table or coffee table. It's easy to put together and will make a great decoration adding farmhouse style to the home!
2. DIY Blossom Paper Flowers in Branches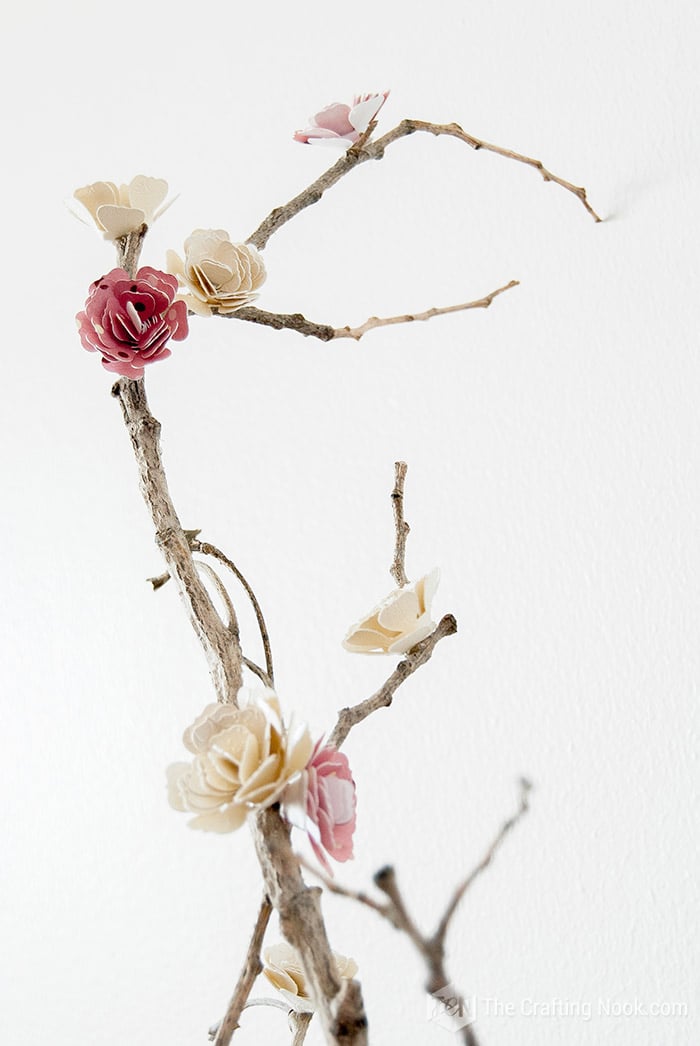 Learn how to make these beautiful DIY Blossom Paper Flowers in Branches with ease and start decorating your own home for Spring.
3. DIY Rustic Spring Wreath
This DIY Rustic Spring Wreath is the perfect project for your front door to welcome Spring to your home. It's easy, pretty and inexpensive. Learn how to make it.
4. Diy Butterfly Shadow Box With Free Printable
Make a butterfly shadow box with these easy DIY instructions and a free printable template. Customize this project to display your favorite butterflies as well.
5. Simple Display Ledge Made from Salvaged Crown Molding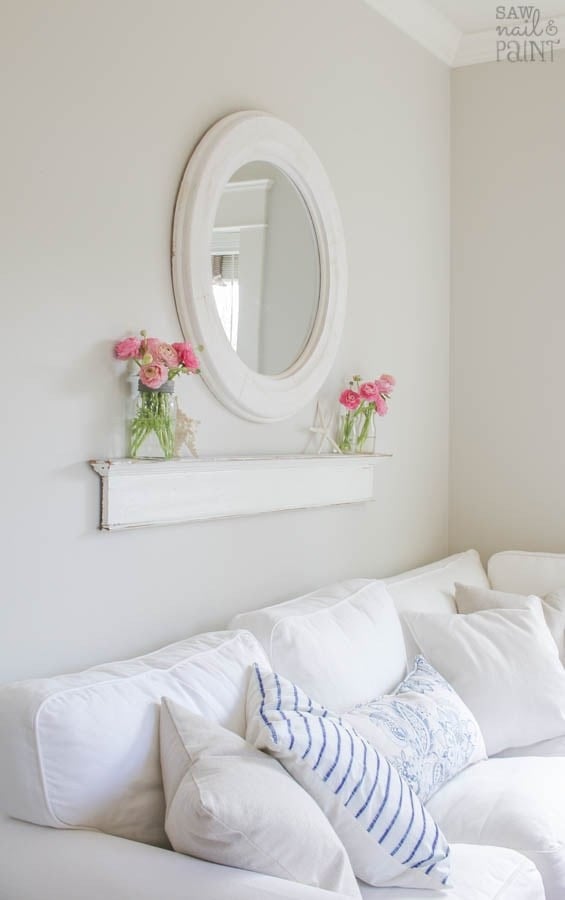 It might look like a simple living room but it's kind of what I love the most about this. I'm crazy about white, that's one thing and then that mirror and that reclaimed molding working like a shelf is genius. I love how it all looks. Those flowers are just the perfect touch to make it all look so Spring-like!
6. Spring Home Tour – Green & White & Spring All Over!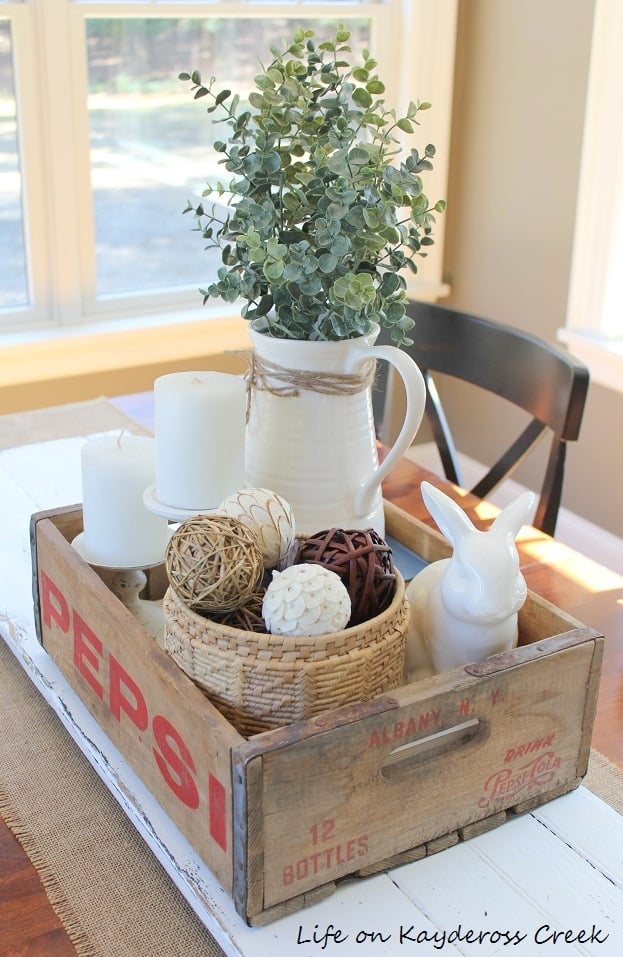 Here's an example of how easy and perfect a centerpiece for your dining table can be. I'm in love with that PEPSI crate. I want it and I need it… LOVE it!
Idea from Life on Kaydeross Creek
7. Simple Cottage Farmhouse Spring Mantel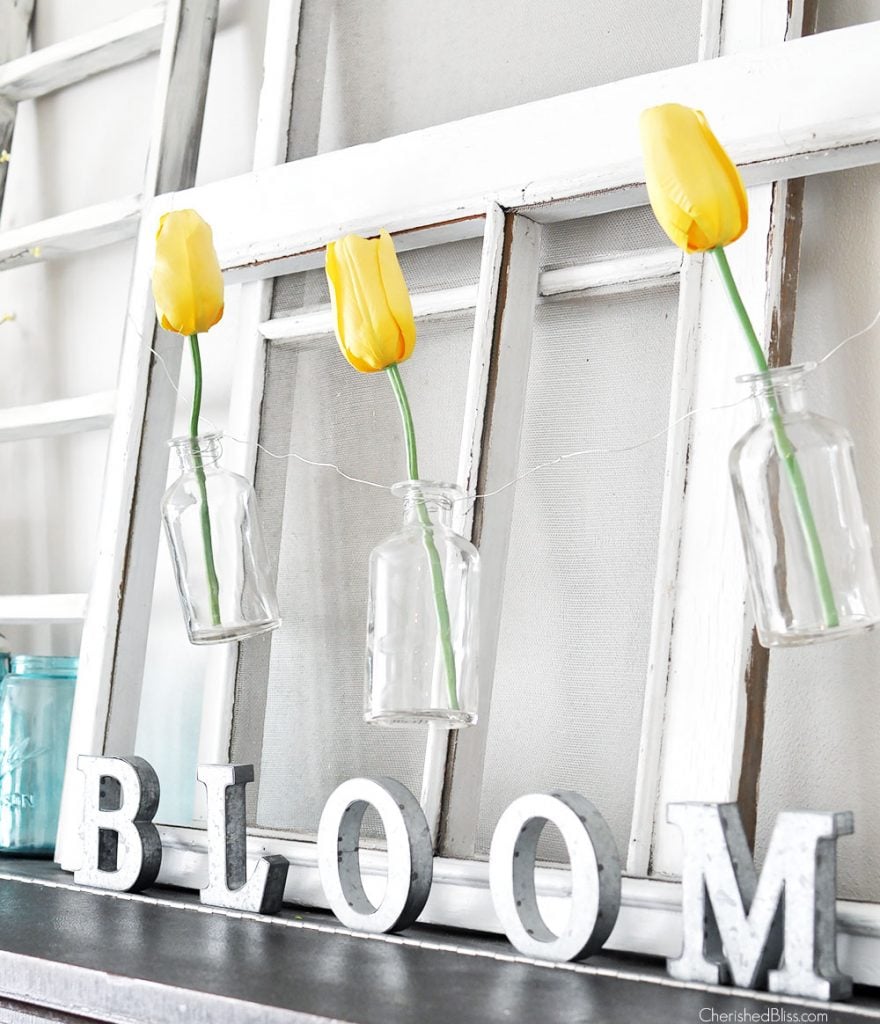 This image says it all! Love the white and dark contrast and that pop of color with those tulips in glass bottles. How simple and yet SO gorgeous. I want to find window frames like those so badly.
8. Foyer Updates And How To Style A Farmhouse Board And Batten Wall
I love decorating entryways. What's not to like about this entrance. It screams Spring all over it and it's SO pretty. I could just go there and bring all to my home!
9. Easter Floral Arrangement
If you like to mix your Spring decor with an Easter touch using Easter eggs and bunnies, this is SO perfect and pretty. I LUUUUUV it. You
Idea from The Casual Craftlete
10. Chalky Finish Painted Entryway Bench
My dream vignette comes true. Not sure what is it about this that I love so much. Maybe the colors, the rustic lantern, the flower pots, the mix of textures, or everything. I do know it looks so pretty.
11. DIY Wooden Box Centerpiece
I can only say one thing about this idea: I'm so making this spring centerpiece filled with pink flower arrangements!!!!!
12. Large Wood Flower Box DIY
Let's just say I wish I had the space to have that table and create that decor. Such an amazing farmhouse look. I could get close but how gorgeous is that table??? Love the wooden planter with the mason jars filled with tulips!
13. Spring Decorating Ideas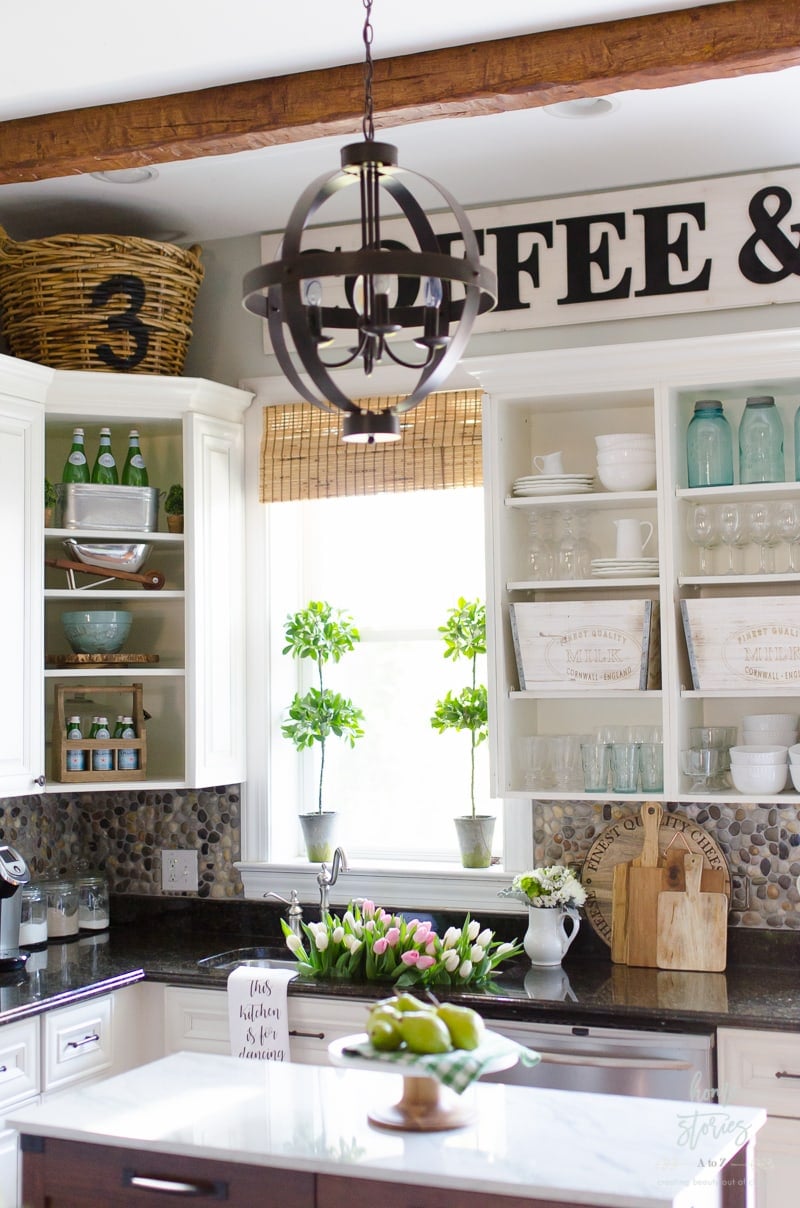 This is my dream kitchen. Seriously! Absolutely gorgeous! And, did you notice the huge Coffee sign up there? So pretty!
14. DIY Bucket of Flowers Spring Centerpiece
I could just sit here and watch this dining room all day long. How absolutely gorgeous is that bucket with those bright pretty yellow flowers? And the chairs? LOVE!!!
15. Spring Home Tour: 9 Tips For Effortless Spring Decorating
One of my favorite decore techniques is vignettes! And this one is one of my favorite. The mix of old and new here is so pretty. The vintage books make it all prettier. Then the jar filled with greenery and flowers… Perfection!
16. Spring Decorating in the Dining Room
Gorgeous, gorgeous! Everything about this decor makes my heart happy. How adorable is that rustic sign?
17. Living Room Spring Decorating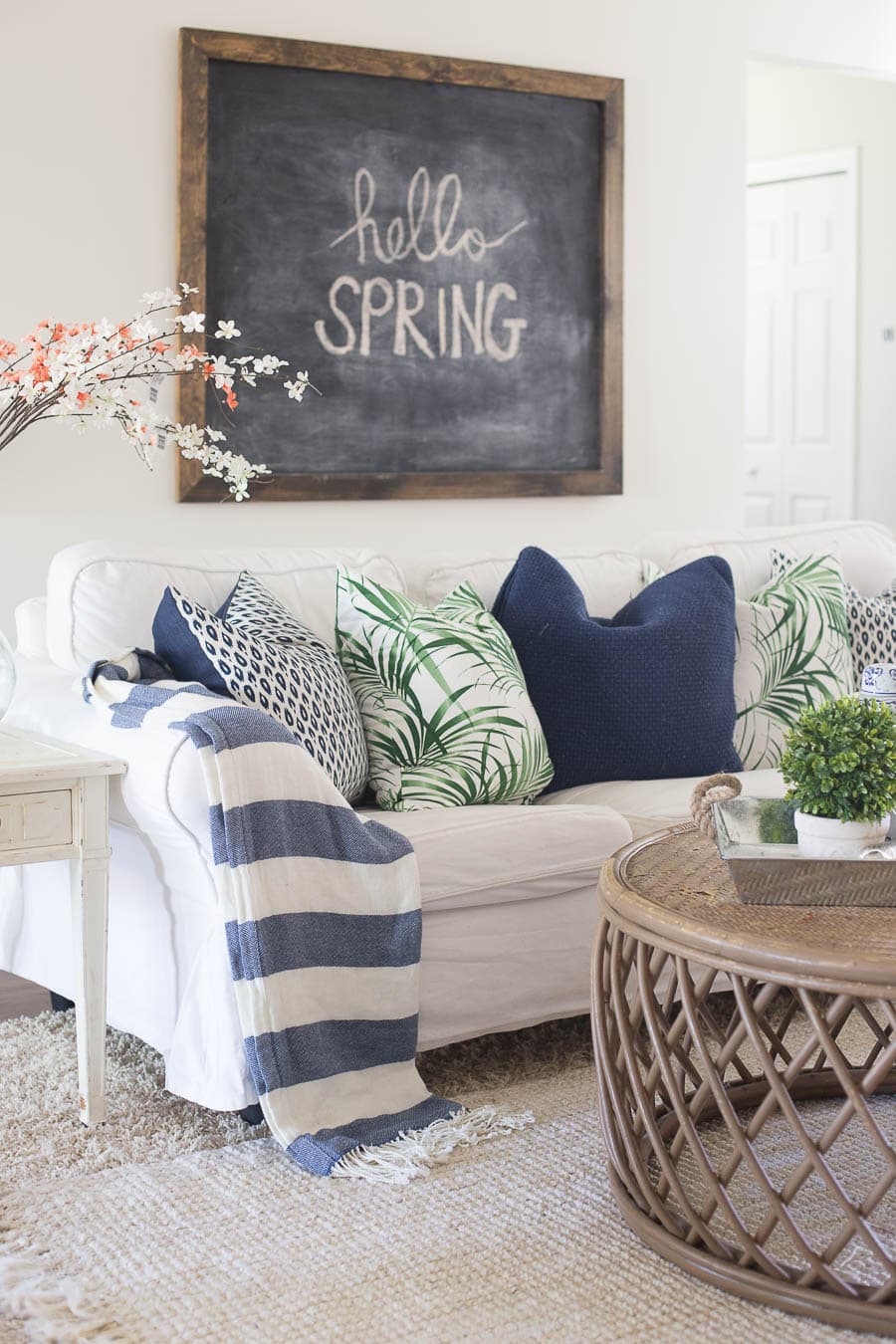 Seems like I'm into chalkboard, have you notice already? Yup… I'm loving all the ways to add a chalkboard to the home decor. This is especially one of my favorites!
18. My Farmhouse Spring Mantel
Here again, the books make it all. I mean everything in these spring mantels is absolutely pretty, check out that rustic spring wreath! But the books and the moss covered bird, Oooh that's so pretty!
19. A Simple Vintage Entryway for Spring
Do I need to say anything here? Except I'm completely in love! It screams Spring all over!
20. Tips On Adding Spring Decor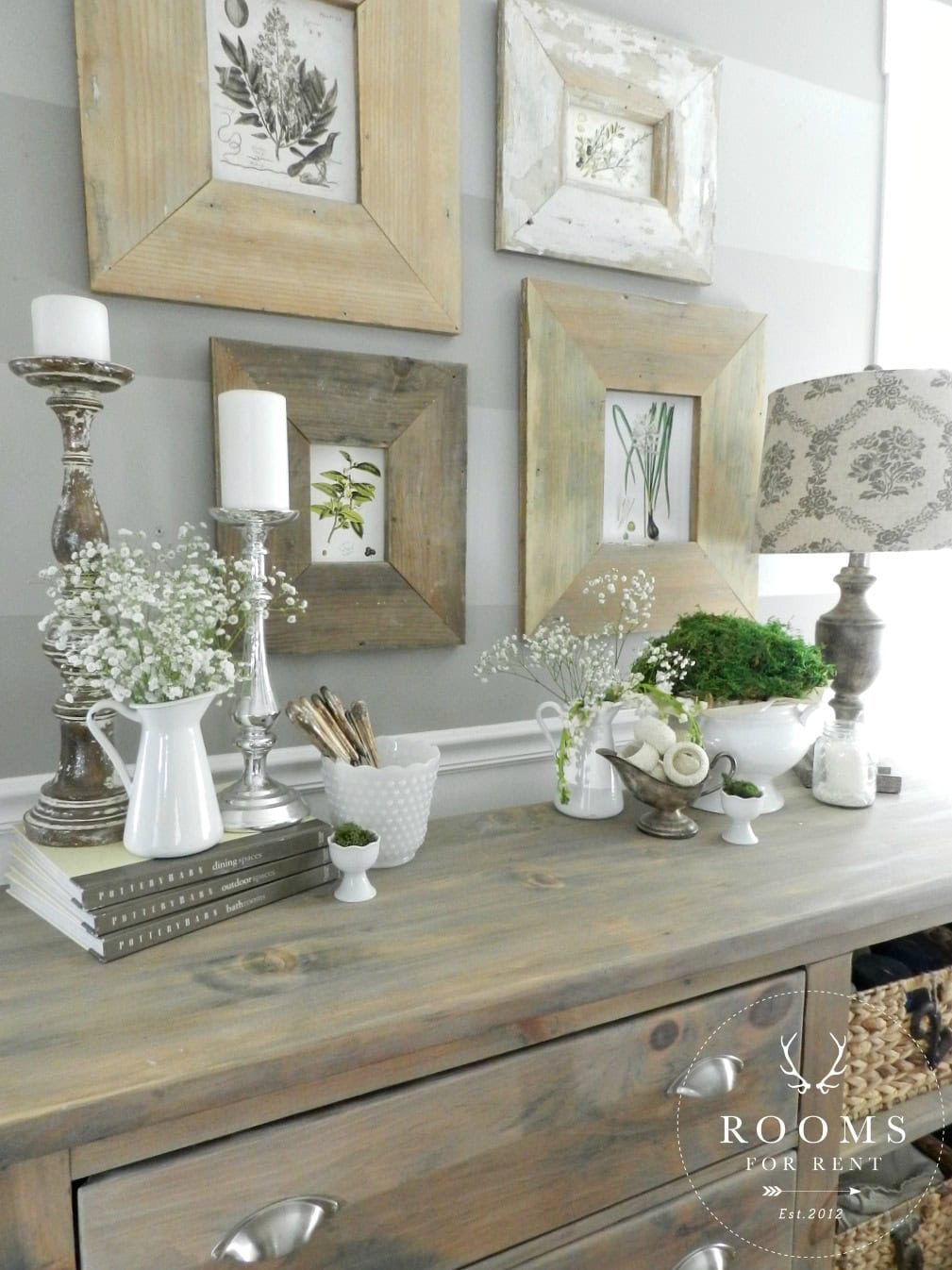 SOOO absolutely gorgeous! I love everything about this!!!
21. Spring Around Our Home
It will be so hard to say what I love the most about this decor. Also, who wouldn't like to have breakfast there with all that sunlight coming in? my perfect spot. I love everything.
22. DIY Metal Flower Market Bucket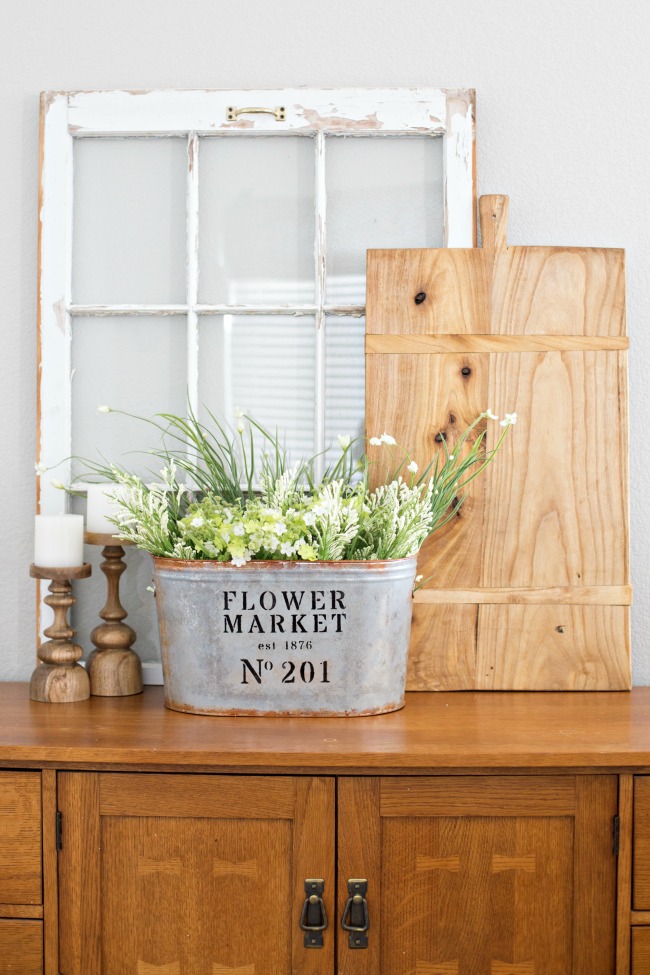 This is so pretty. The whole composition looks so pretty. Can you believe the galvanized bucket effect is all handmade? She created all that rusty effect. Looks amazing. The pretty white flowers are the perfect touch!
23. Spring Home Tour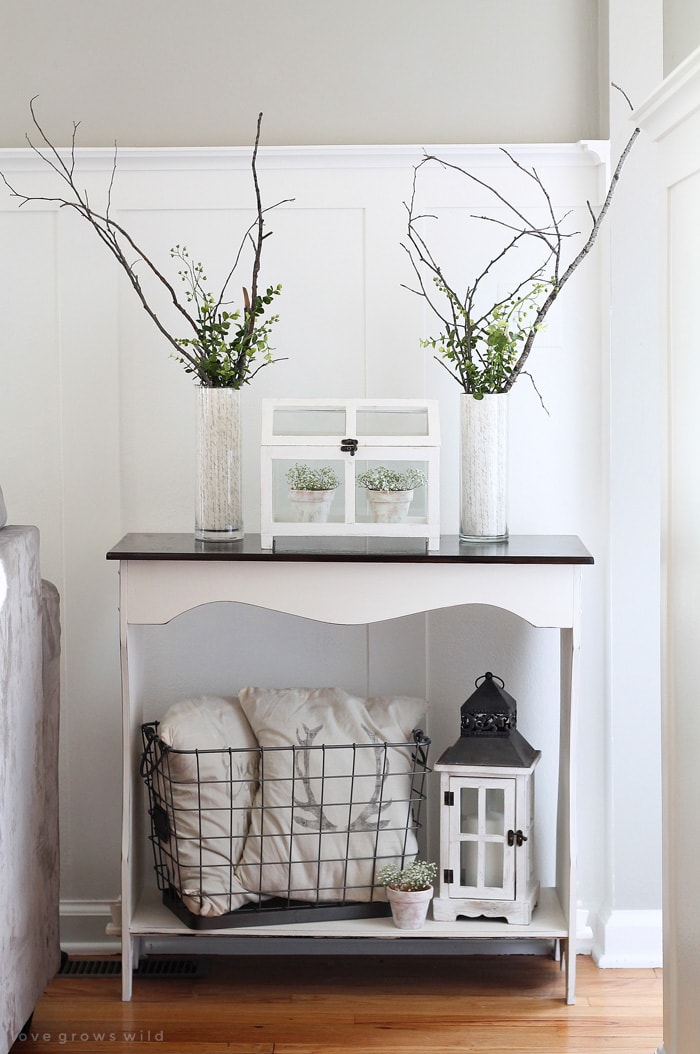 Oh, my! How absolutely cute is that chest with the 2 pots and then below the wire basket with pillows and the lantern? This clean and simple decoration is me completely!
24. Updated Spring Home Tour
Last but not least, I could move right into this house. Looks so cozy and warm not to mention how farmhouse it is. Loving the book and tulips on top. Gorgeous home!
25. DIY Tulip Pillow Cover (Necktie Upcycle – Spring Decor)
This farmhouse style canvas pillow cover uses pops of color and scrappy tulips to brighten your home up for spring! Download the free pattern to applique this simple design.
26. How To Make A Spring Wreath
If you're wondering how to make a spring wreath for the front door, check out this DIY. You can make this Easter grapevine wreath in no time.
by Confessions of an Overworked Mon
27. DIY Resin Coasters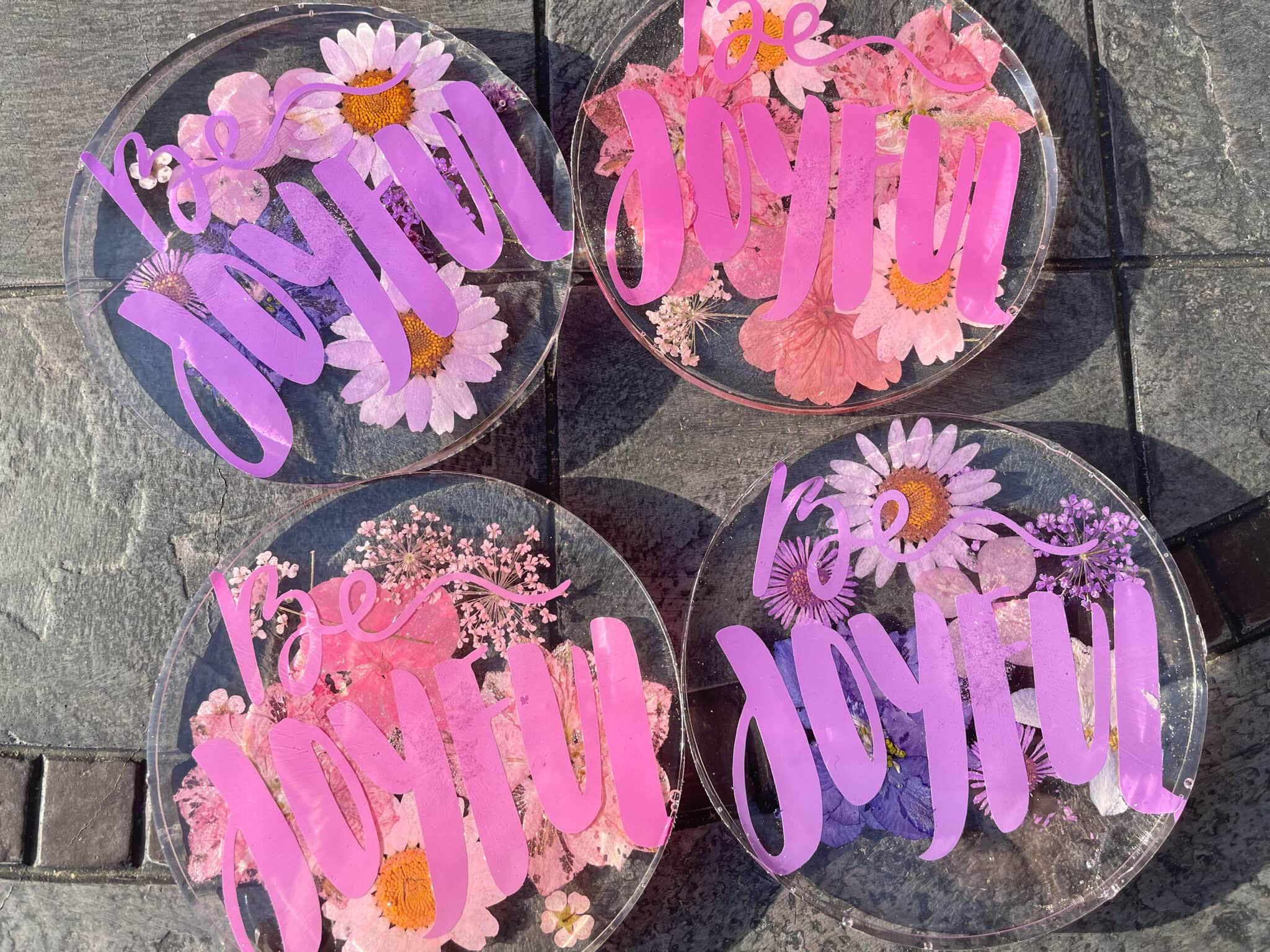 DIY resin coasters are not only a very pretty addition to your summer outdoor decor, but could make beautiful gifts!
28. Spring Hoop Wreath
Embrace the change to warmer temperatures with a playful new and easy to make Spring hoop wreath. Faux eucalyptus sprigs and other craft materials create a beautiful piece of DIY door decor.
29. Farmhouse Spring Décor Ideas
This gorgeous spring farmhouse tablescape is like a table full of sunshine! Creating a farmhouse tablescape for spring means fun dinner parties are just around the corner.
30. DIY Farmhouse Style Flower Pots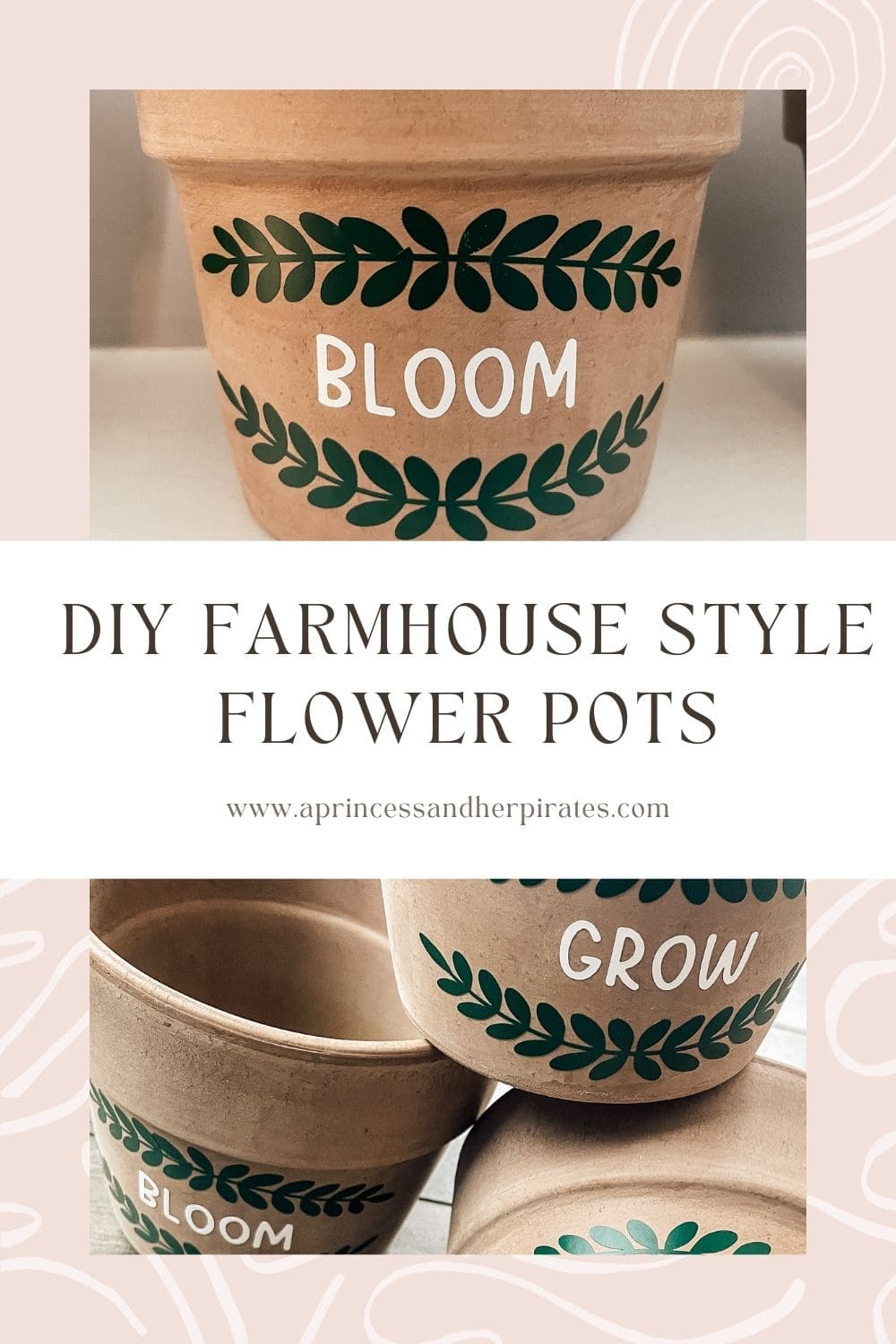 Learn how to make your own DIY Farmhouse Style Flower Pots with vinyl. This is an easy and frugal DIY project for your home.
31. Custom Painted Diy Doormat
A front doormat welcomes guests to your home. It's a way to say we're glad you're here, come and visit for a while…
32. How to Make a DIY POM POM Tree – DIY Spring Decoration
Get ready for Spring with These adorable Die pom pom spring decors for your house.
33. Easy Rustic Farmhouse Diy Dollar Tree Centerpiece
This pretty & simple spring centerpiece is easily adaptable & easy to make! Mod Podge, a Dollar Tree crate, and some glass bottles is all you need to pretty up your space!
34. Pretty XO Spring Flower Wall Decor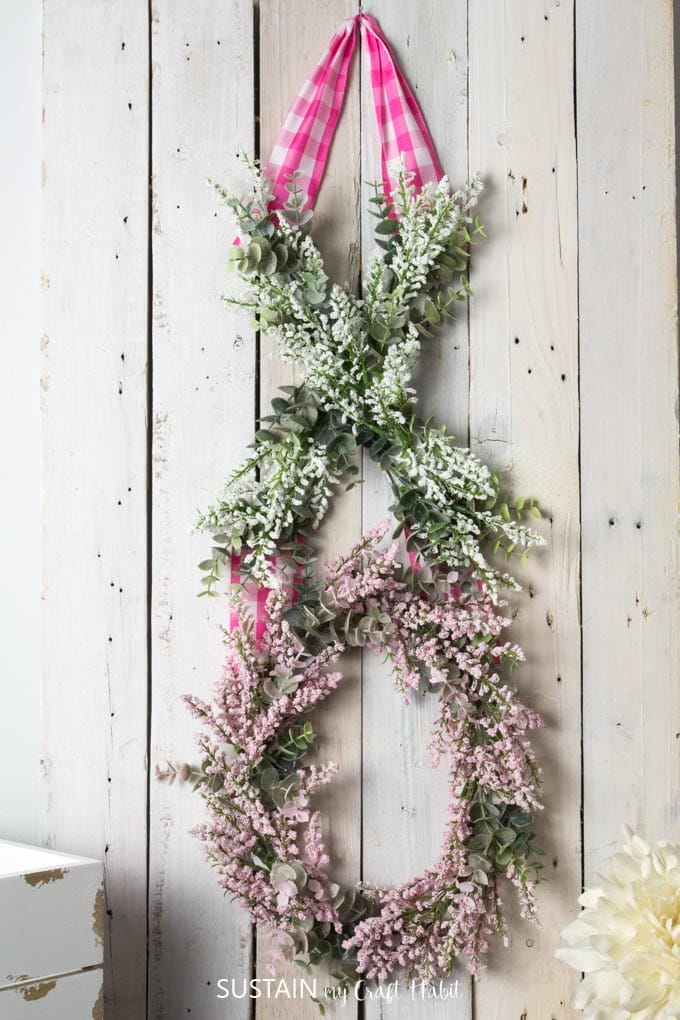 This sweet floral wall decor is the perfect reminder of all things good in the world. With it's delicate pink and white faux floral sprigs and eucalyptus bunches, you'll be delighted to hang it on your walls or on your front door for passers-by to see.
35. Genius No-Sew Hand Towel Wall Hanging
This no-sew wall hanging is made from a kitchen towel of your choice! With a variety of pretty spring towels available, it's easy to custom-create a wall hanging to go perfectly with your home!
36. DIY Rustic Farmhouse Mason Jar Wall Sconce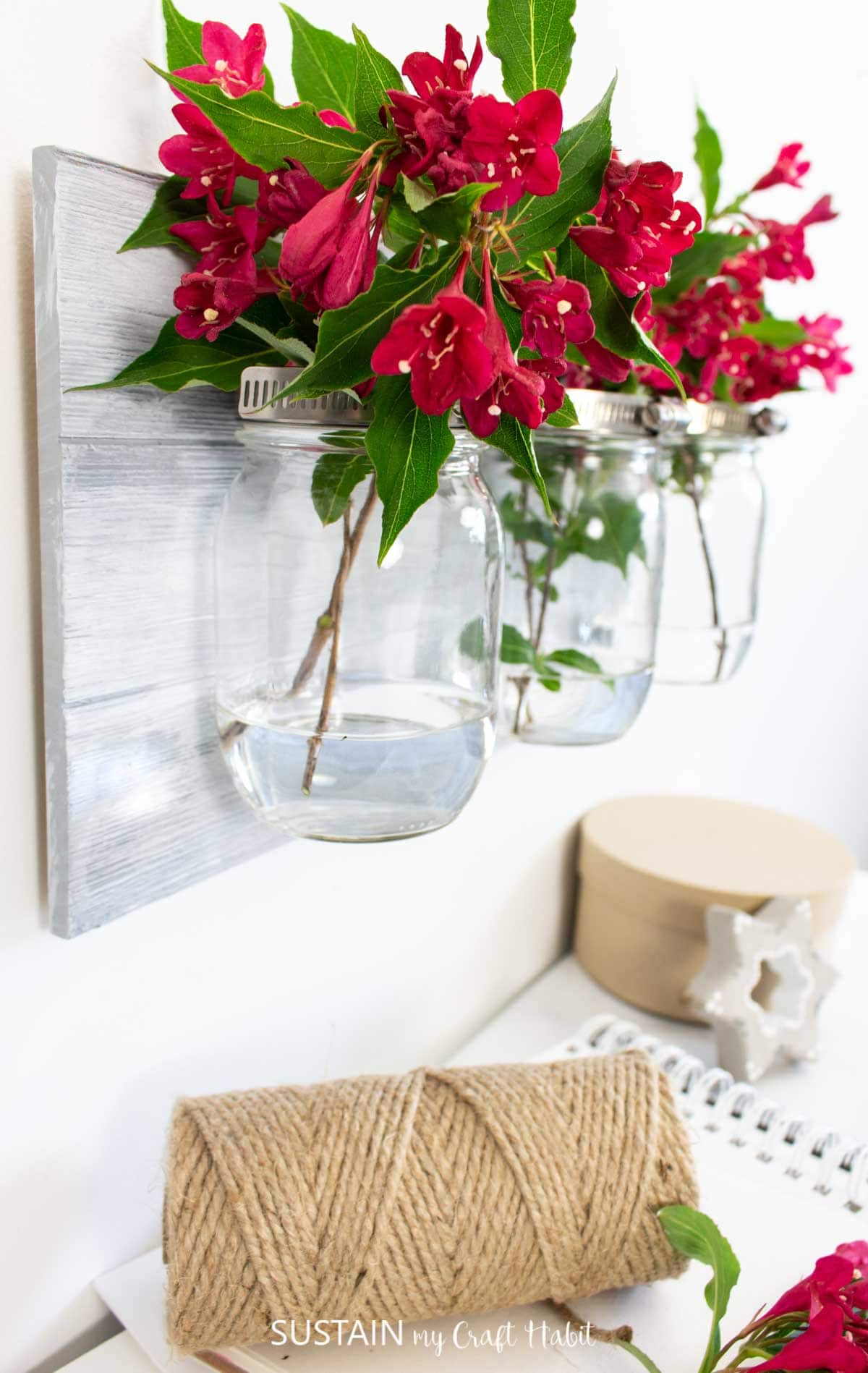 Using some glass jars and a piece of pallet wood, we've made ourselves a farmhouse inspired DIY mason jar wall sconce. Follow the tutorial below to make one for your home as well!
37. Create a Vintage Wagon Garden Planter in 30 Minutes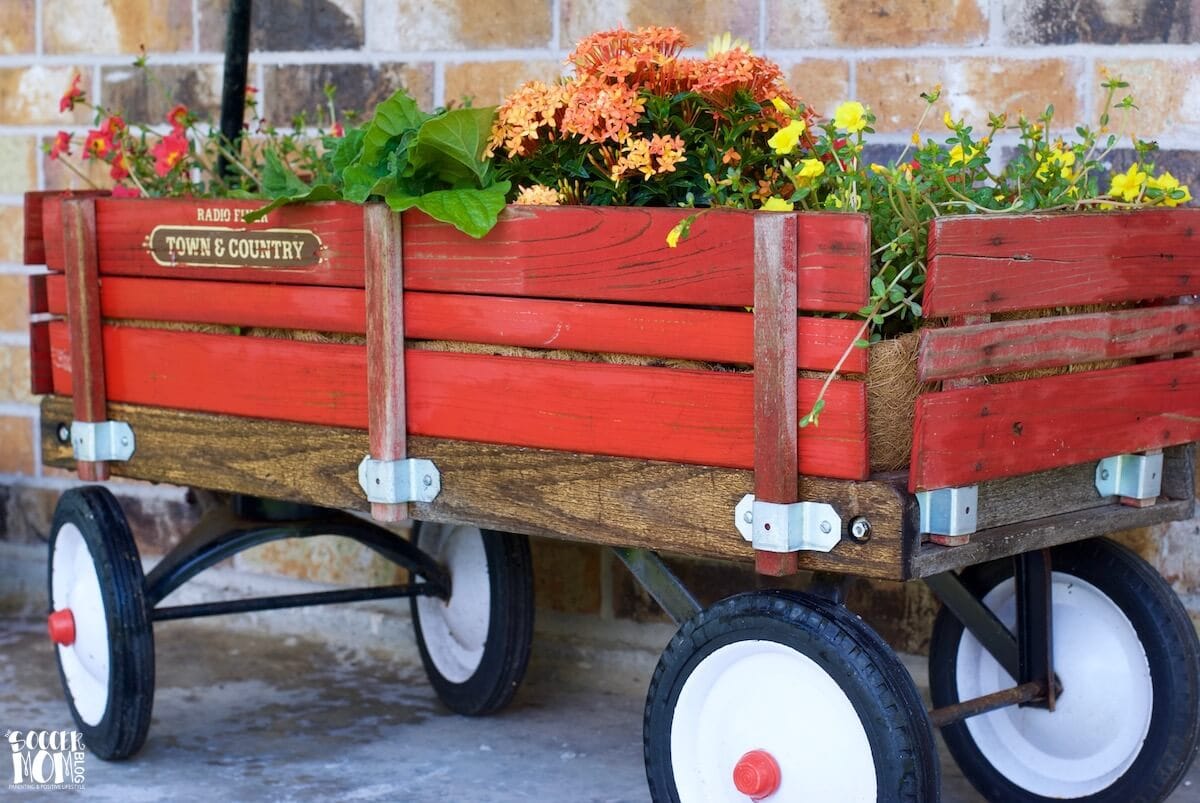 This gorgeous Vintage Wagon Garden Planter is an easy DIY container gardening idea you can put together in 30 minutes or less — no tools required!
38. Farmhouse Centerpiece | Easy Wooden Crate Craft with Mason Jars
This simple DIY has so much farmhouse style. Here's how you can create your own farmhouse centerpiece with a painted wooden crate, painted mason jars, and faux white hydrangeas. This centerpiece is perfect for Spring home decor.
39. Simple DIY Flower Wreath
This simple DIY flower wreath is perfect for spring and summer and took only a few minutes to make!
by Making Joy and Pretty Things
40. DIY House Number Sign with a Wood Slice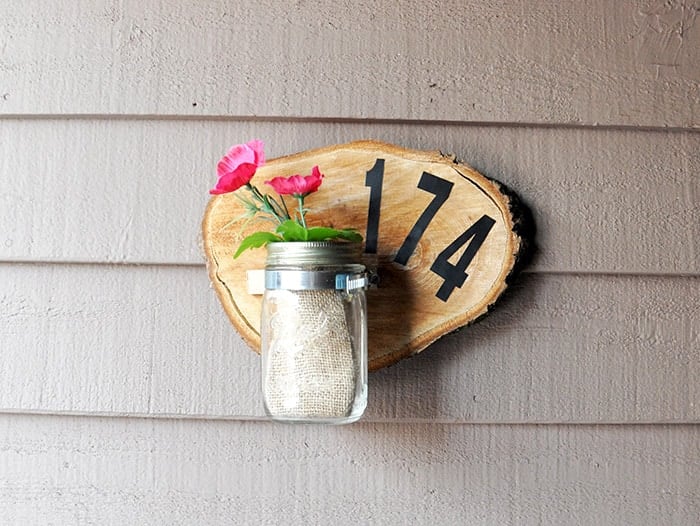 Learn how to make a unique DIY house number from a wood slice – this is such a great home decor project, and on a budget!
Disclaimer: *Just like I do for all my round ups, I get a lot of inspiration from Pinterest. If you are at all familiar with that platform you know there are tons of pictures with no direct links to the original source. Some pictures featured here I found no source for or directed to the wrong one but if you know the source, contact me and I will update this post immediately, thank you so much!
More Home Decoration Ideas to Try
If you liked these super cozy and inspiring Farmhouse Spring Decor Ideas, you might also love these other Farmhouse Home Decor ideas too:
Share and PIN ME
Til' next time...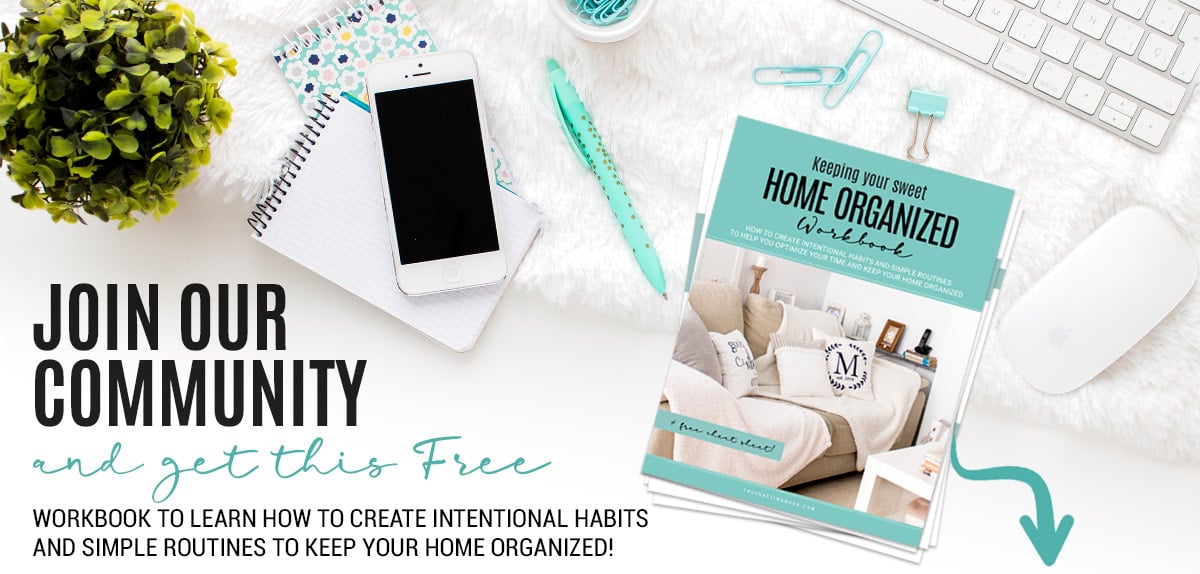 GET INSTANT ACCESS TO THE HOME ORGANIZED WORKBOOK
Plus freebies, printables, exclusive content, tips, stay connected, be the first to know great offers and Product Launches!
Disclaimer: By clicking on the "Yes, I want it" button above you are giving me your consent to collect and use your information according to the law and My Policy Privacy and The Cookie Policy. Zero Spam I promise!