This Buffalo Plaid Embroidery Hoop Christmas Ornament is the easiest DIY embroidery hoop craft you can create to add some elegant and yet festive cheer to your tree.
Christmas, Christmas, Christmas… My favorite time of the year and yet the busiest ever! This year I got behind on the Christmas decor bother I am.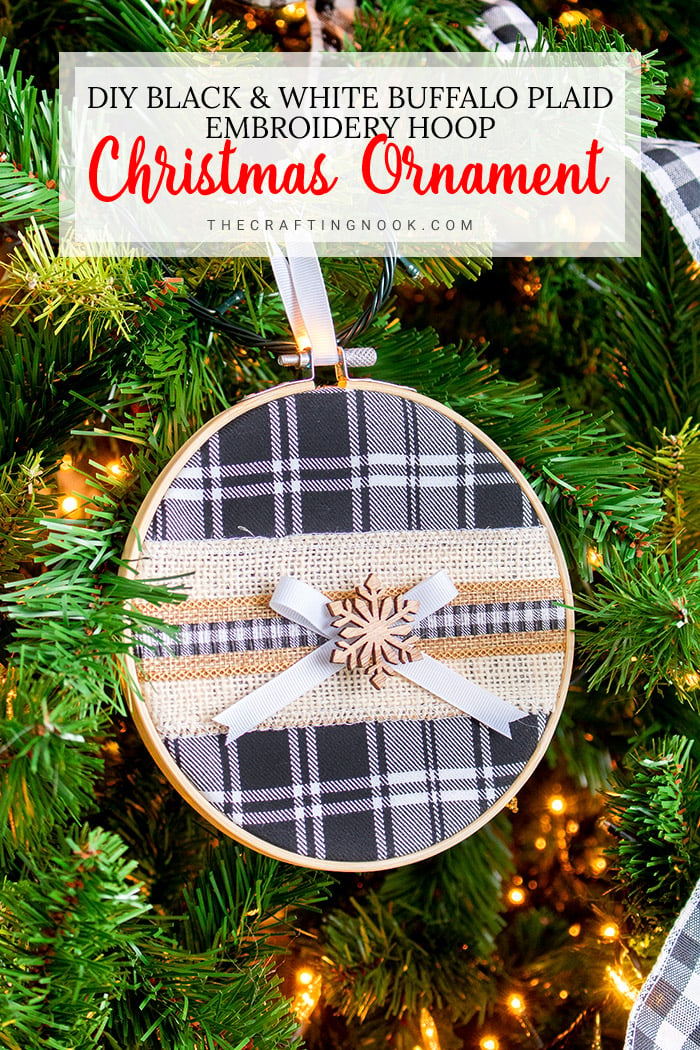 Buffalo Plaid Embroidery Hoop Christmas Ornament Tutorial
This year flew by so freakin' fast. Seriously! I feel like I got stolen about 4 months and got a huge pile of projects waiting for me to start. But Hey! I'm SO excited that it's Christmas season and I get to enjoy each moment of it.
This year's Christmas theme is black and white and buffalo check. I have to confess I couldn't stay with just the black and white so I added a few accents here and there that you will see soon on the coming posts.
Today's project is a super easy one, you can have it done within minutes and there's no need to have fancy tools. It can also be very low budget if you have most supplies at home. I only had to buy cheap embroidery hoops (just for some ornaments I didn't need fancy ones).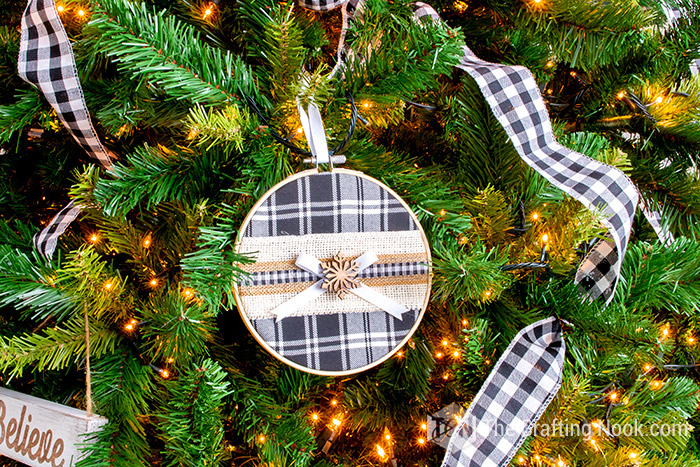 Now that I'm done, I think I should have made more of these I just LOVE how they look! I made 2 types of embroidery hoop ornaments. These ones with Buffalo plaid fabric and others with a painted monogram. I just love them.
What is embroidery hoop used for?
Embroidery hoops and frames are tools used to keep the fabric taut while working embroidery or other forms of needlework but they have got a lot of popularity for other fun crafts besides embroidery such as wreaths, wall arts, ornaments, and much more.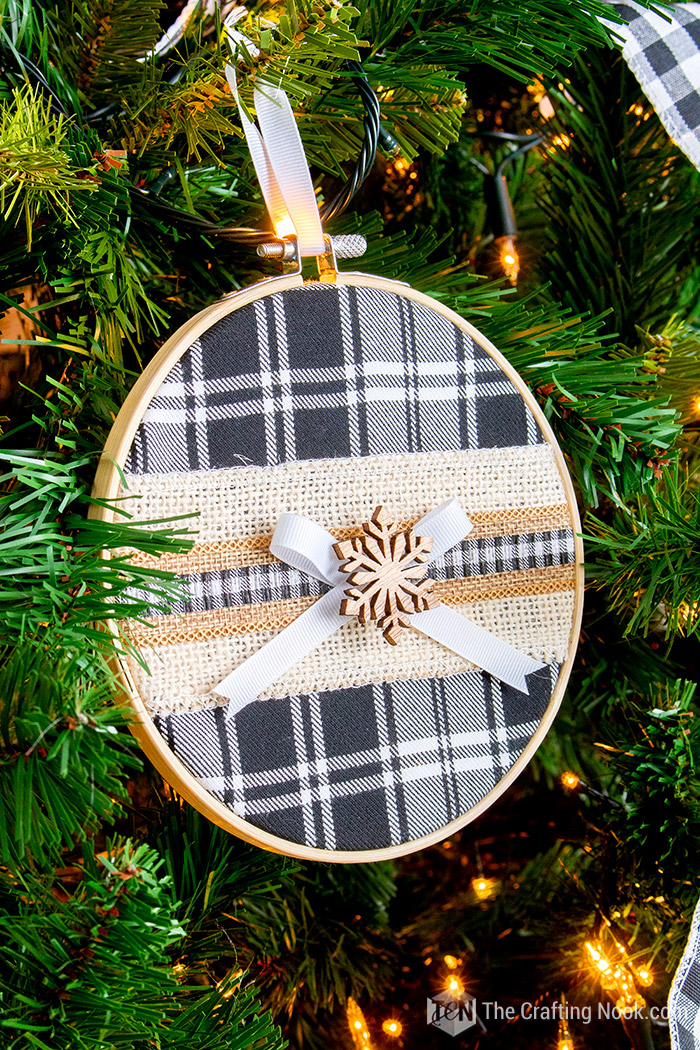 What makes embroidery hoops so popular?
The versatility. There are so many things you can do with them and we don't think about it as a craft supply or tool very often unless you actually love embroidery. But the truth is that they can be a GREAT tool and a basic supply for any crafter.
How to Make a Buffalo Plaid Embroidery Hoop Christmas Ornament
Supplies:
Embroidery hoop (the size of your choice)
Buffalo plaid fabric (or your favorite one)
Burlap Ribbon (light beige, almost white)
Different Ribbons of your choice in different sizes (I used darker burlap with buffalo check and white grosgrain).
Snowflake applique.
Scissors
Hot glue gun.
I've made this cute and quick video tutorial for you. However, if you are more of a photo step-by-step kind of person just scroll down and keep reading!
Firstly, measure your embroidery hoop and cut your fabric about an inch larger.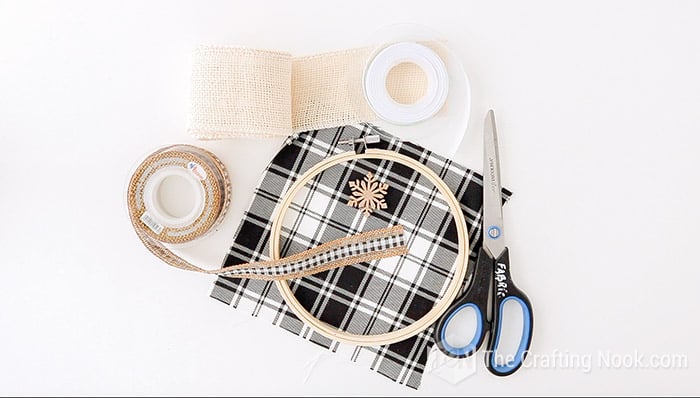 Take the embroidery hoop apart and for now, place the inner hoop on a flat surface.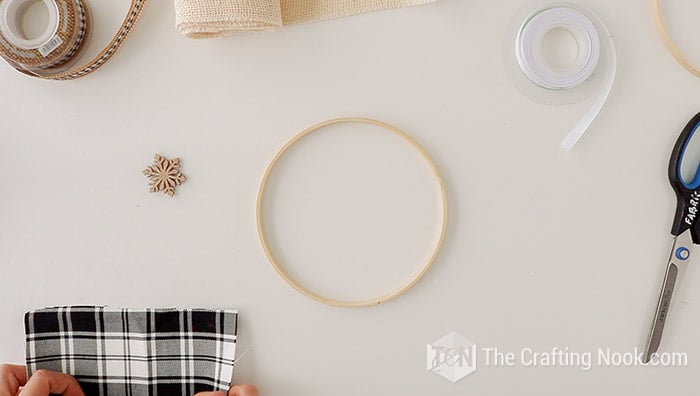 Place the fabric on top of the ring as centered as possible.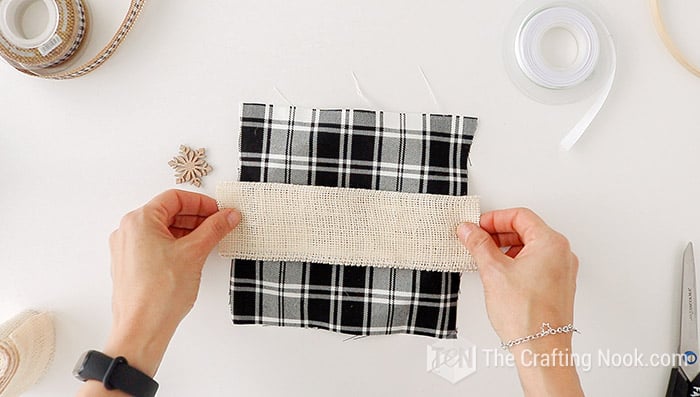 Then cut a piece of your light burlap and place it over the fabric centered.
Cut a piece of the next size ribbon, the same width as the previous one. Please it over the burlap ribbon also centered.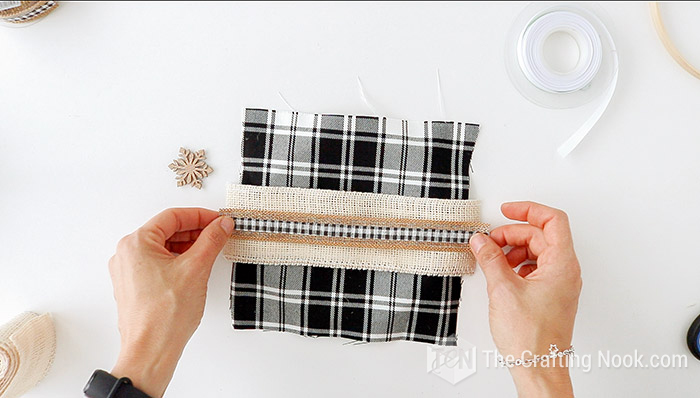 Press outer hoop in place over the fabric.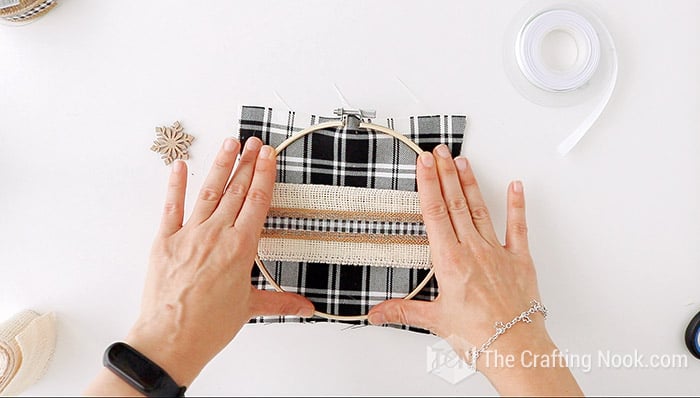 Tighten the screw on the embroidery hoop and pull fabric until fabric is tight. Be careful in this step to not distort the plaid pattern.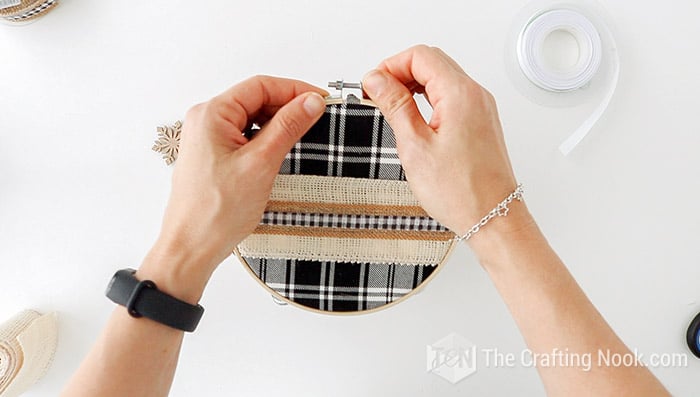 With the last ribbon (in my case, white grosgrain ribbon) make a cute ribbon bow.
Glue the snowflake of your favorite appliqué in the center of the bow. Set aside for a moment.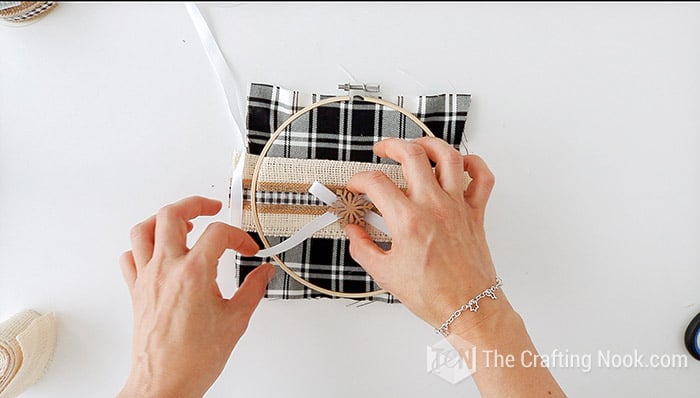 Cut carefully all the leftover fabric from the back of your embroidery hoop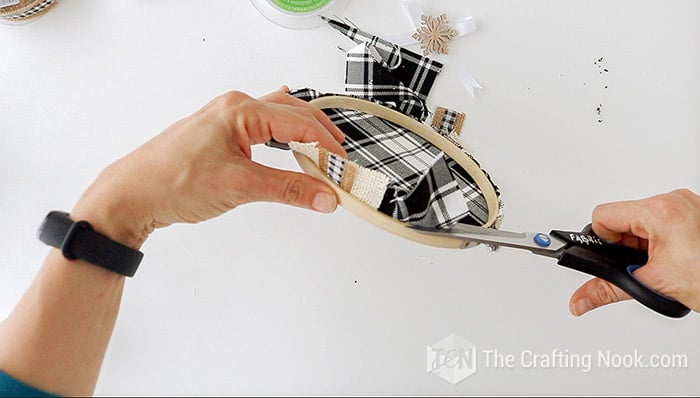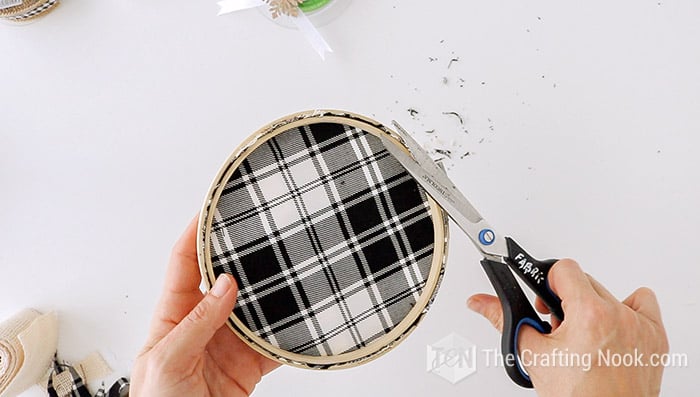 Now glue the bow to the center of your embroidery hoop design.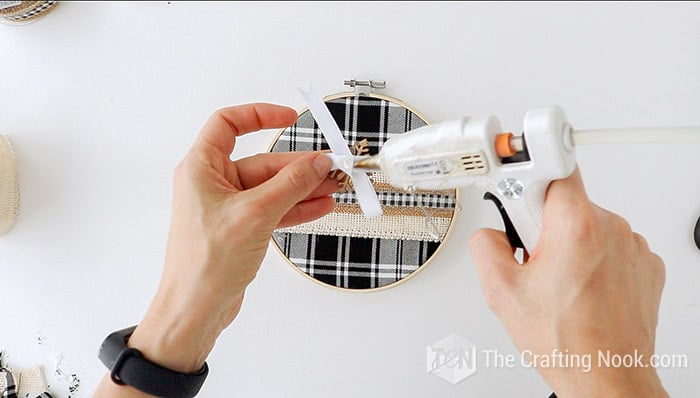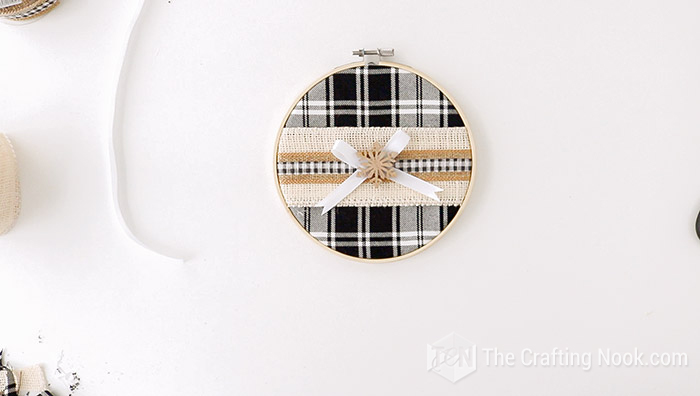 Cut a string of the same ribbon bow ribbon and pass it through the embroidery hoop screw space. Make a tight knot with the ends to create the hanger.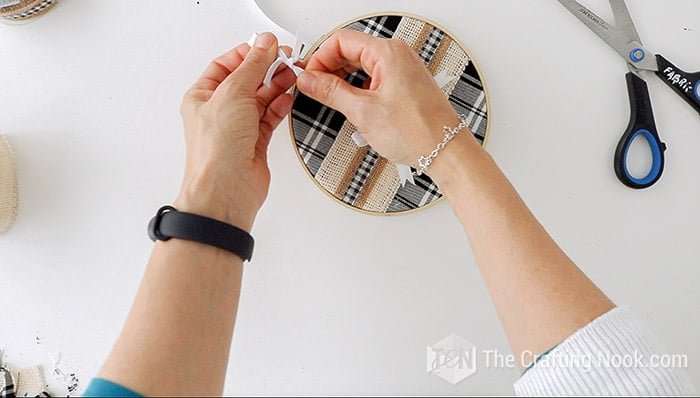 There you go!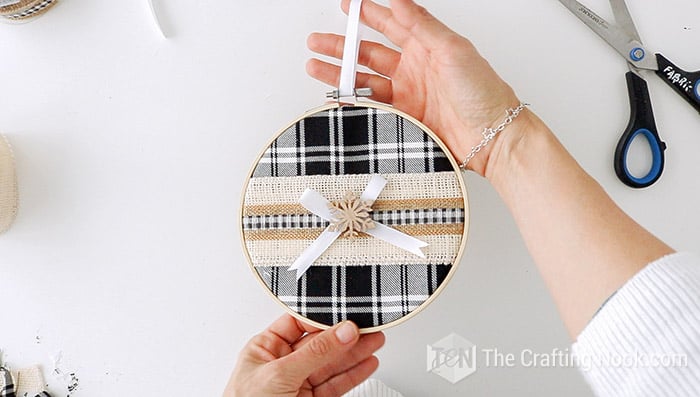 You can make as many as you want with as many different sizes as you desire!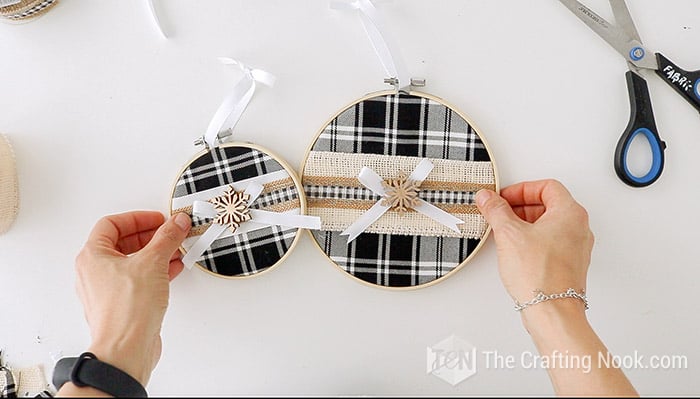 Imagination is your limit! You can adapt this Christmas ornament to your Christmas tree theme and reuse the embroidery hoop over and over again.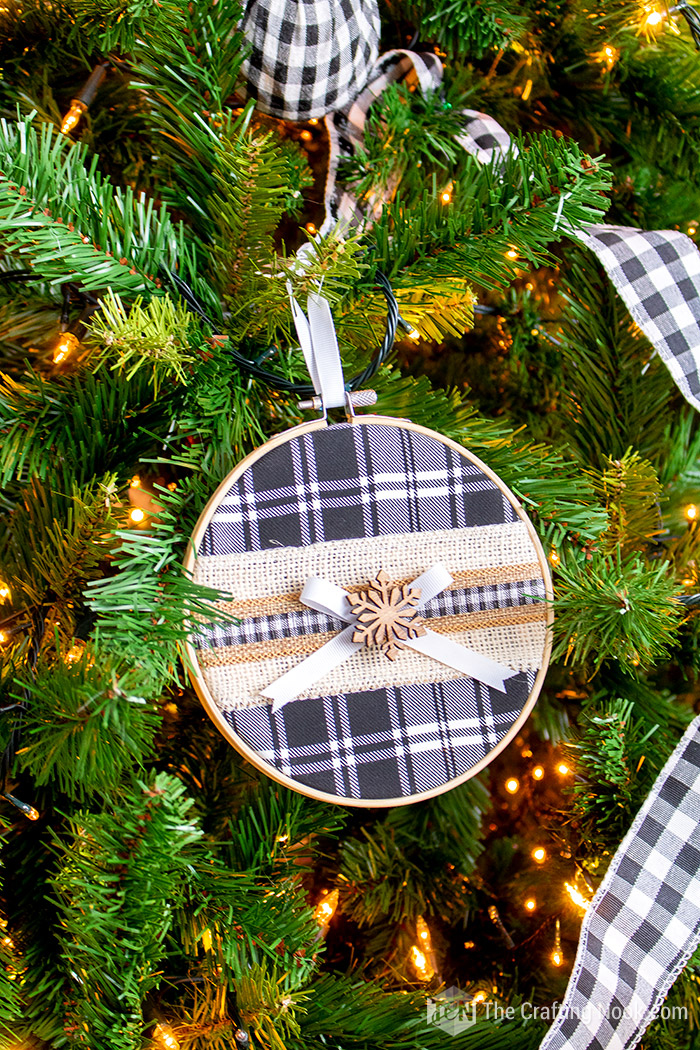 Isn't it cute?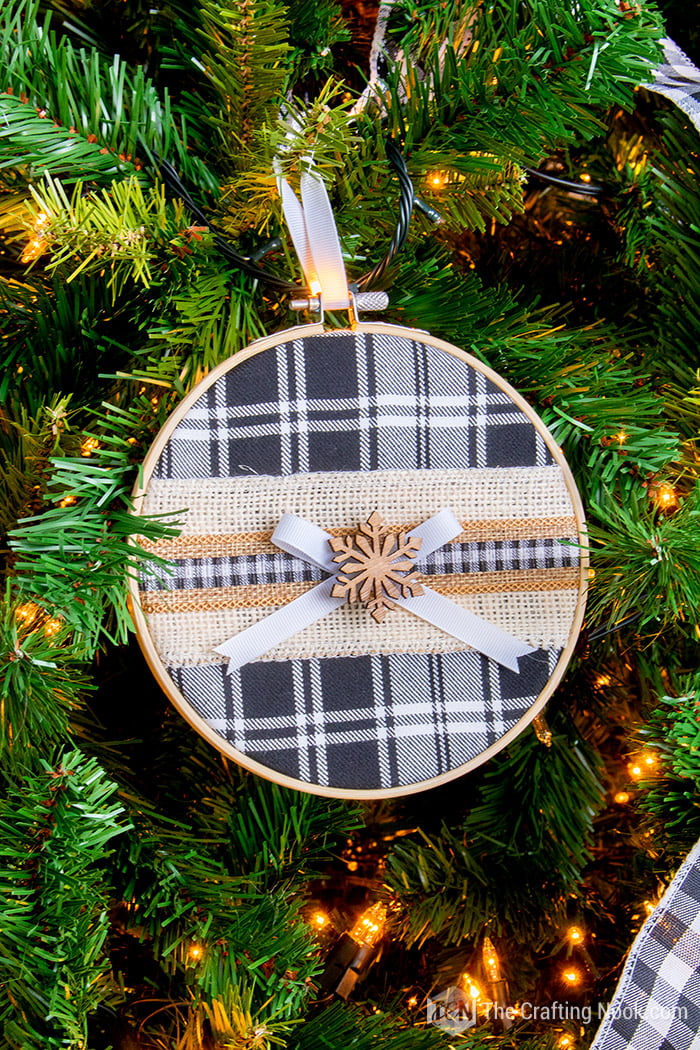 I hope you enjoyed this super easy craft and if you have a cutting machine you will love the next Embroidery hoop Christmas Ornament.
Have a wonderful day everyone!
If you enjoyed this tutorial, don't forget to PIN and share it with friends!
Loving this Christmas Project? You might also love these too: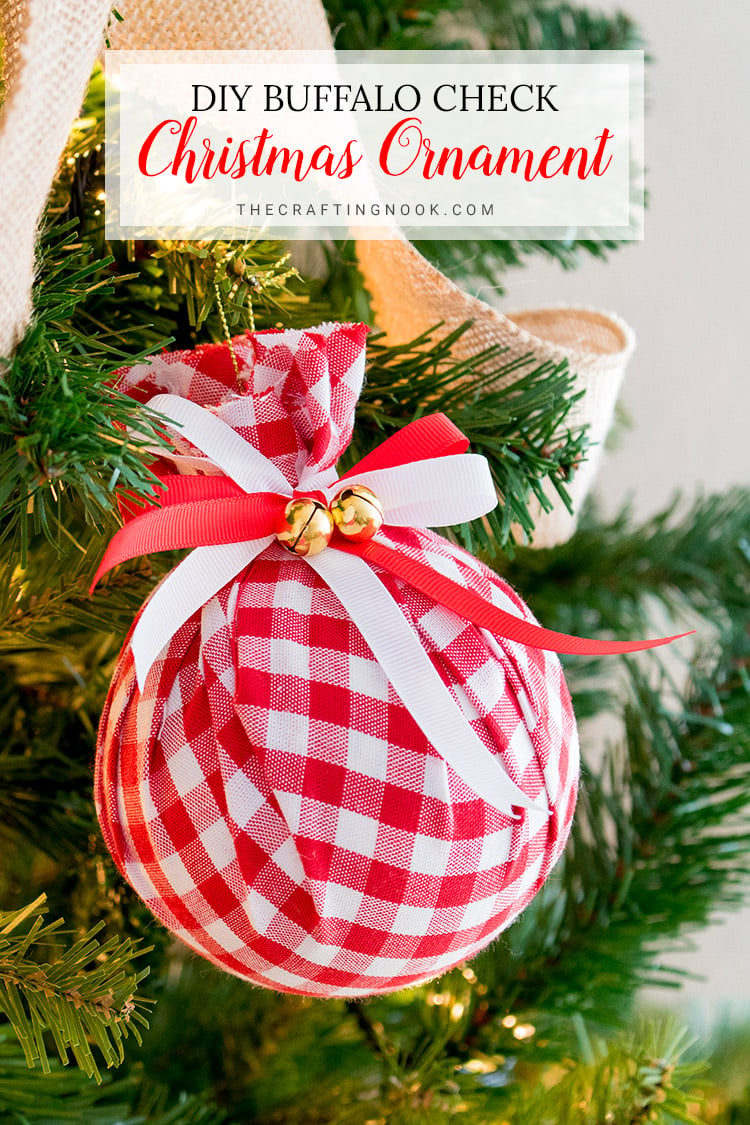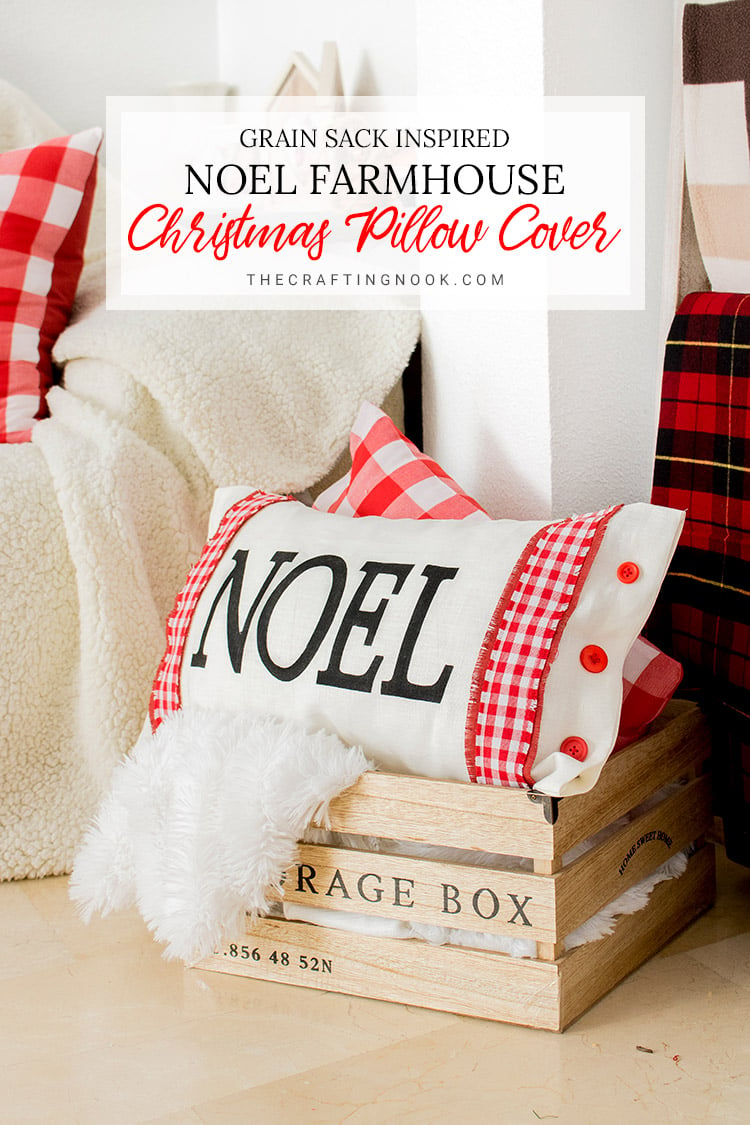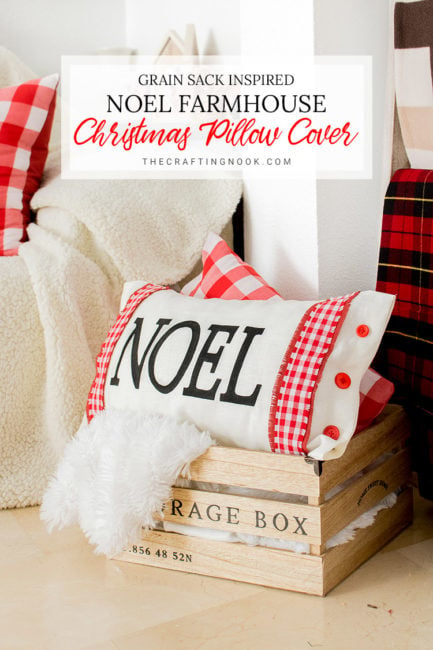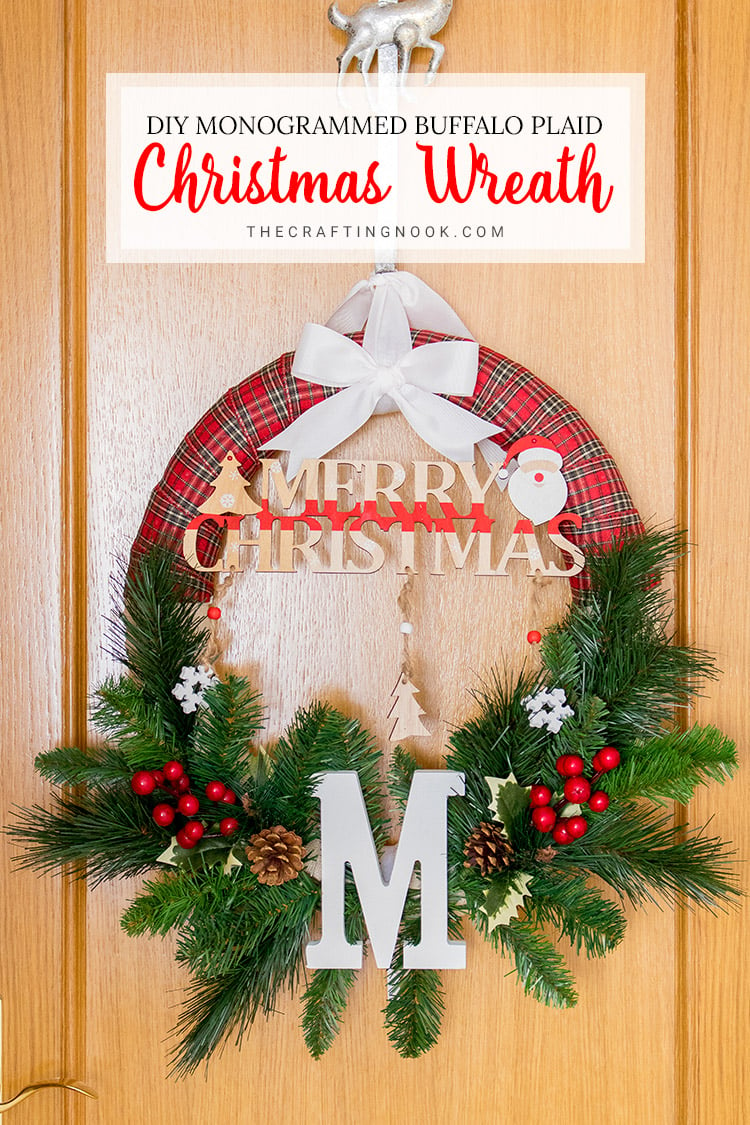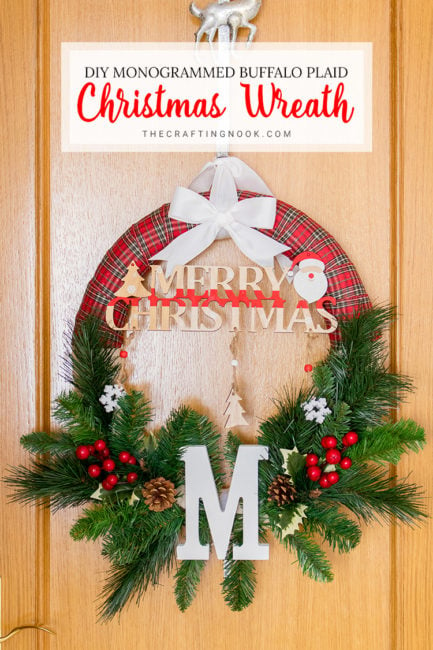 My favorite Embroidery Hoop Crafts from my favorite bloggers:
Till Next time!