Got some Christmas Baubles that got old and maybe ugly but don't know what to do? You can easily make a cute Buffalo Check Christmas Ornament and give them a gorgeous new look! Buffalo Check Christmas Ornaments are all in and I must confess I hope the trend stays! LOVE IT!!!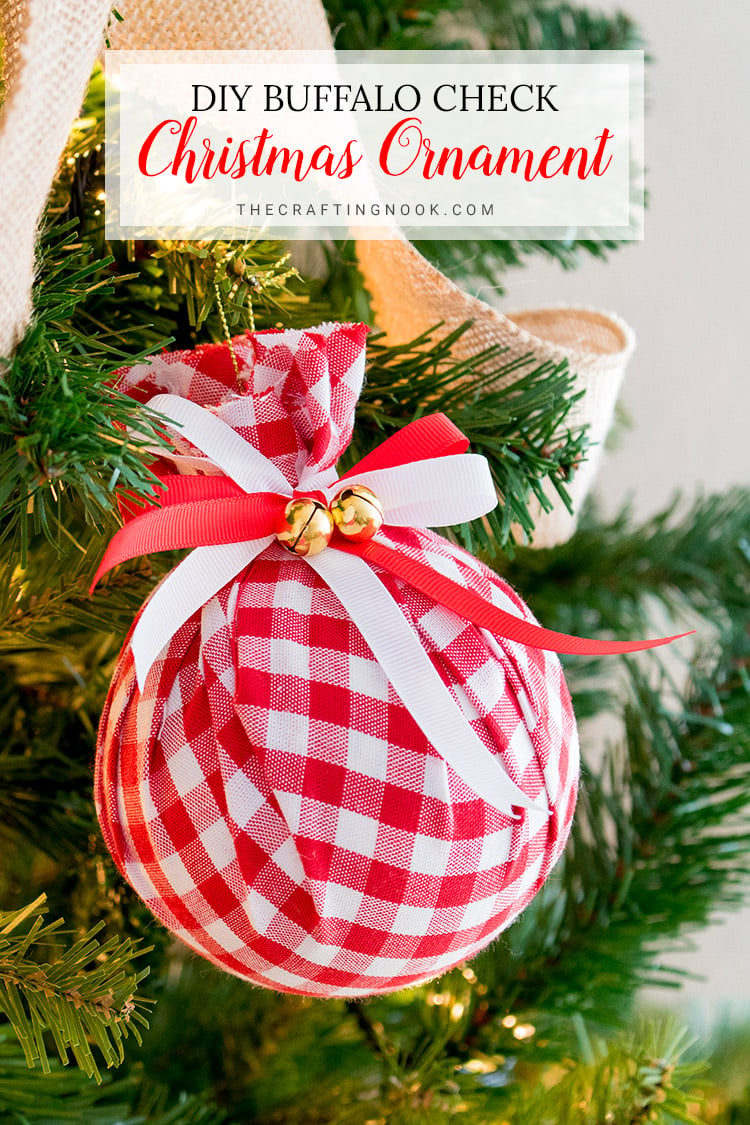 How to make A Buffalo Check Christmas Ornament
This is my first year including red in my Christmas Decor since I moved to my new home. My 2016 Christmas Decoration was all neutral rustic and in 2017 I made it rustic and white. This year I decided to go for the white and red, still rustic and I found Buffalo check so cool that I said why not?
I had all these old deteriorated baubles stored and wanted to give them a new look. The I saw These super cute fabric ornaments from A Place of my Taste and they turned out so adorable that I knew I wanted to make some. The problem was that I like to be able to reuse things so I didn't want to use glue and since my baubles were not made from foam either I could not use pins.
Then I catch some ideas from Etsy where they just wrapped the baubles with fabric and that was a perfect option for me.
Upcycling an old Christmas Bauble into a Buffalo Check Christmas Ornament
There are so many ways to do this but this is how it worked for me. I wanted even edges at the top so I cut fabric circles. My dear Friend Karina from Living and Crafting made hers using squared pieces of fabric and dollar tree baubles. They turned out so beautiful. Make sure you check her out.
This project could easily end up being free if you happen to have all the elements. Old Baubles, scraps of fabric and ribbons.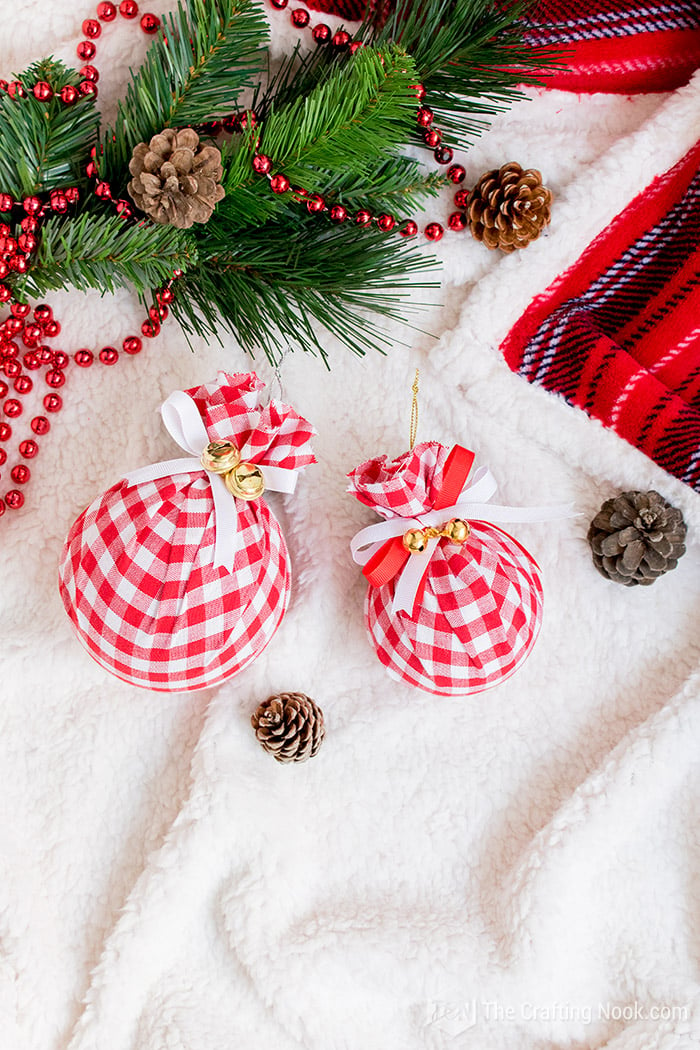 In my case, I only spent on the fabric and ribbon because I really wanted a white and red buffalo check. But I already had the Baubles so it wasn't so bad.
Buffalo Check Christmas Ornament Supplies:
Old Baubles (or plastic/foam balls)
Fabric (of your choice)
Ribbons
Thread or rubber bands
Jingle bells
*optional: Elastic nylon for the bells if your ribbon doesn't work.
Measuring Tape, pins, and scissors

Buffalo Check Christmas Ornament tutorial
I made a fun and quick video tutorial for this project but if you are more of a step-by-step photo kind of person just scroll down and keep reading!!!
First of all, you need to know your baubles size so you can cut your fabric. What I did was using a measuring tape to decide what size I wanted the fabric.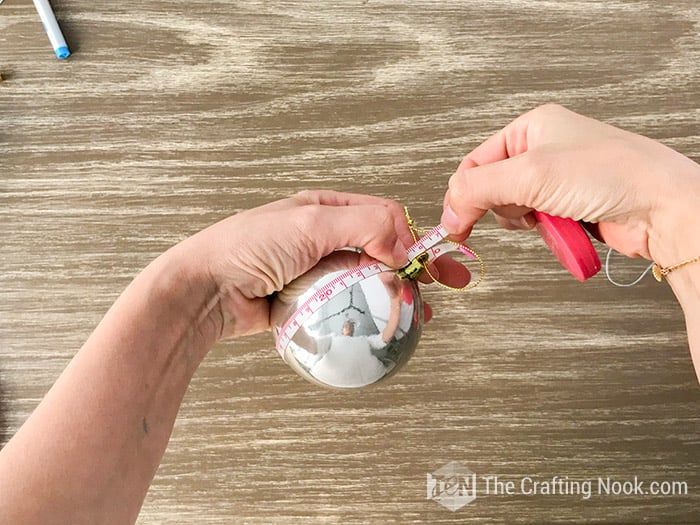 Then I measured and cut the fabric squared shape.
To make the circles, fold your fabric in half twice.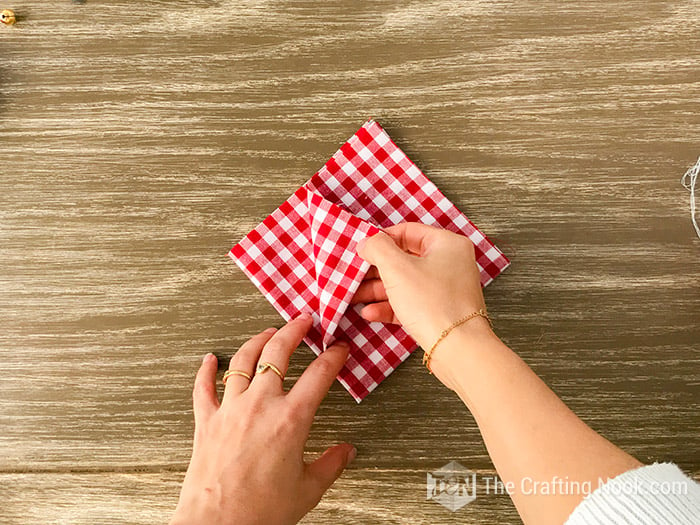 Measure on the side and then keep fixed the center corner and move the tip little by little, making marks as you go.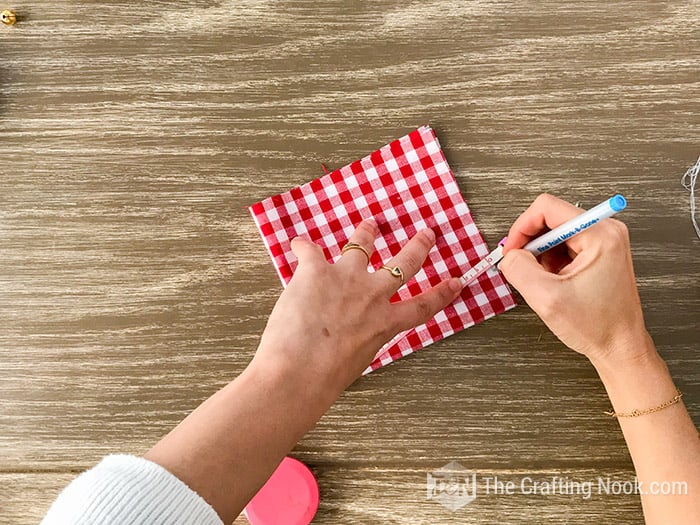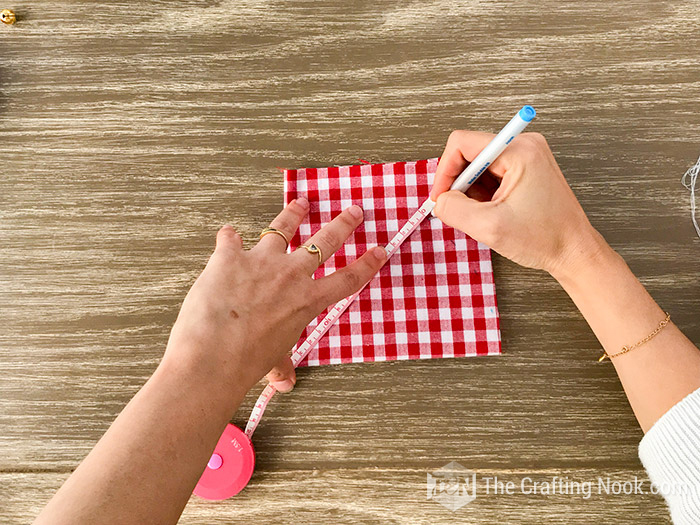 Pin your fabric so it's easier to cut the curve.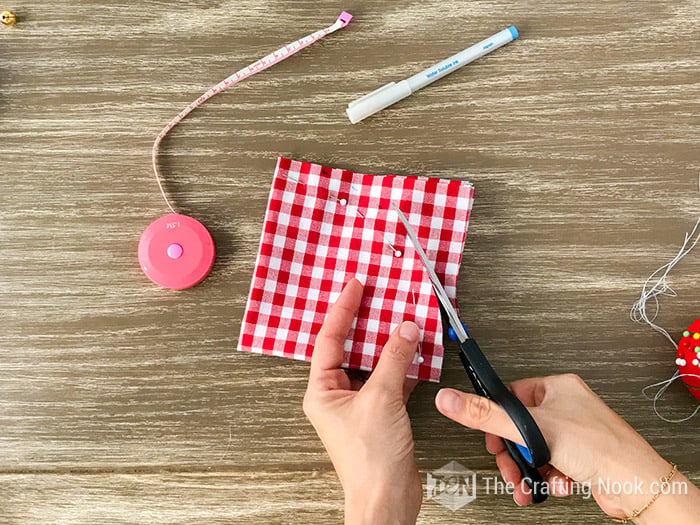 Remove pins and unfold your fabric. You got a pretty circle there!
Place your bauble (or ball) right in the center of your fabric and gather it around the bauble hanger (if yours have it).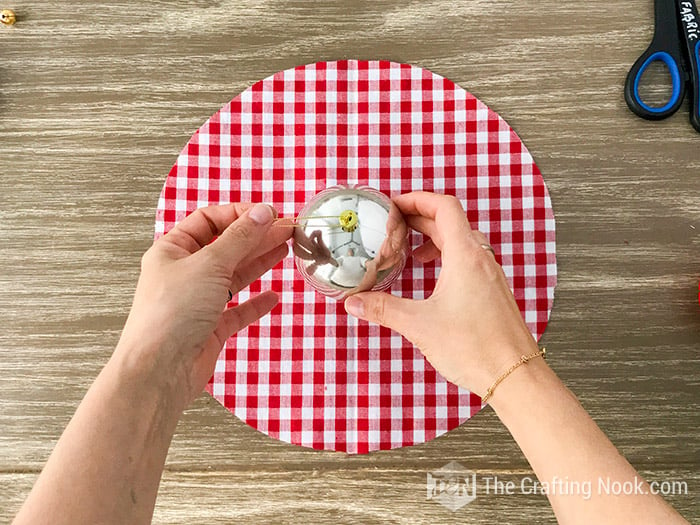 Pull the edges and fix large wrinkles to make it as even as possible.
Using a thread or rubber band secure your fabric in place around the gathered fabric. I used a red Thread. Tie a really tight (seriously REALLY TIGHT ) knot.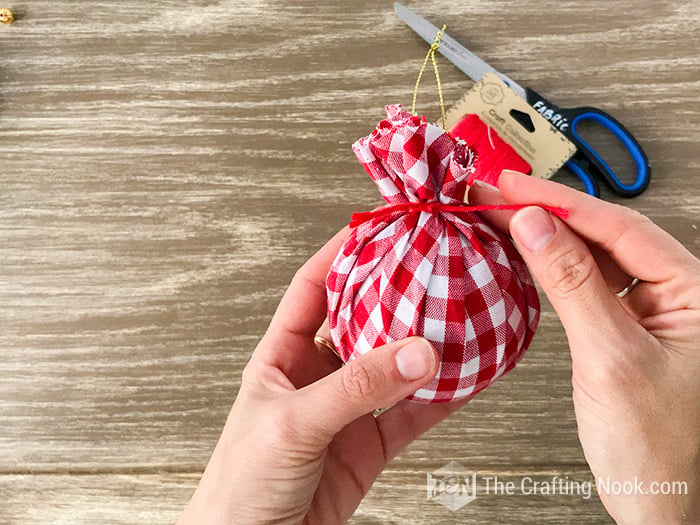 Then take your ribbon or ribbons as I did. Measure more or less how much you need and cut.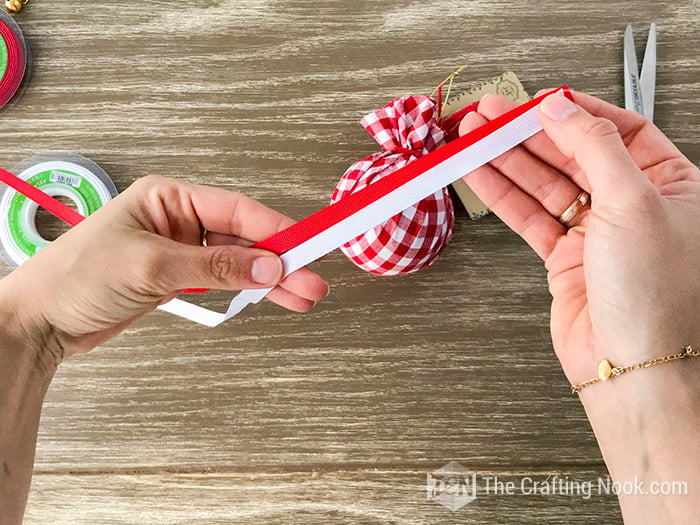 Tie a cute bow around the bauble neck. Since I used 2 ribbons I separated both bow wings.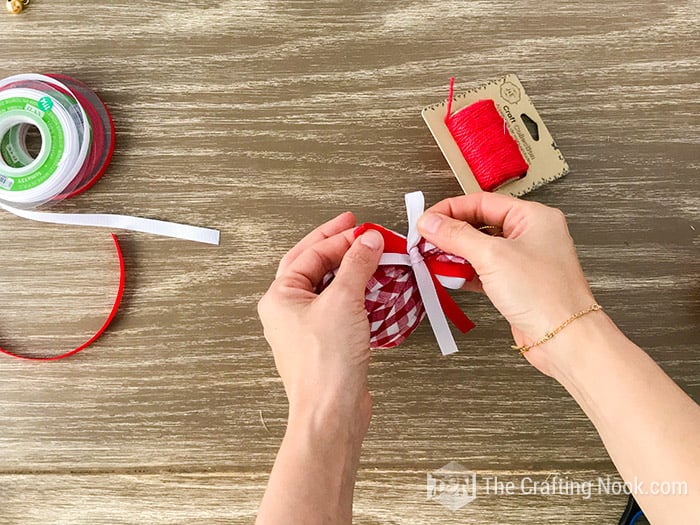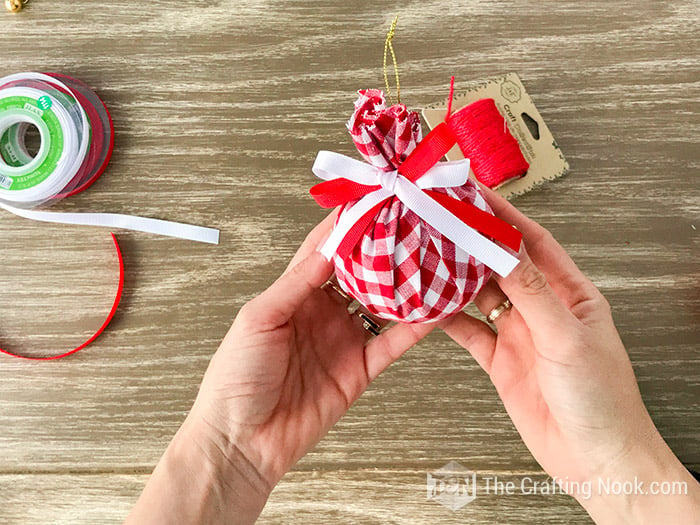 Last but not least. I put some jingle bells below the bow. Cut a string of nylon and insert the bells. Tie it around the ball neck.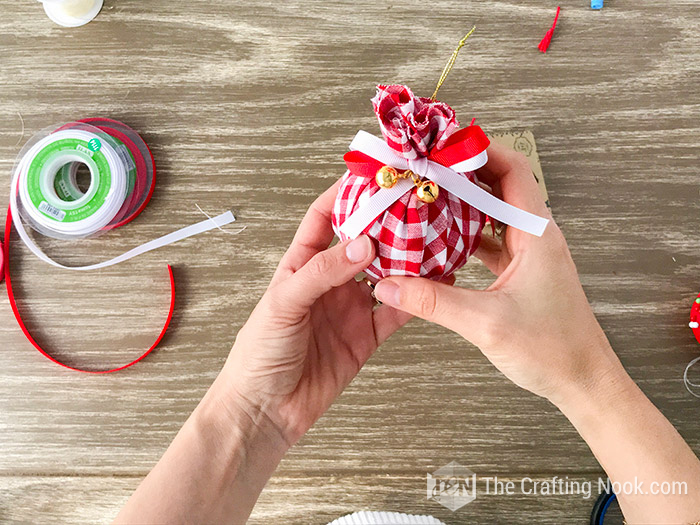 There you go, you are done!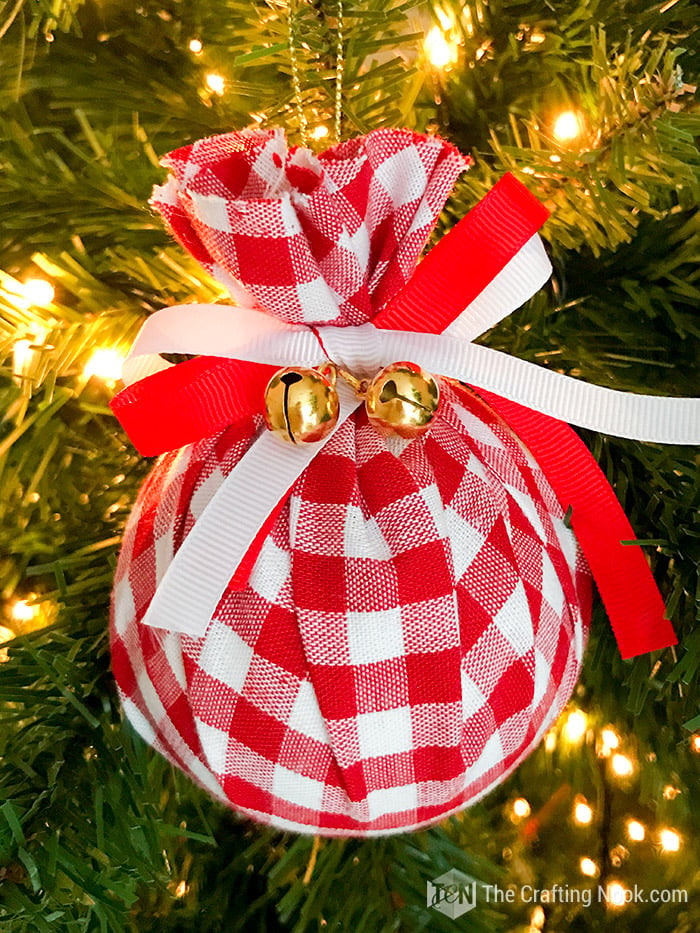 I made about 8 of these a few of them larger in about an hour or so. Not bad.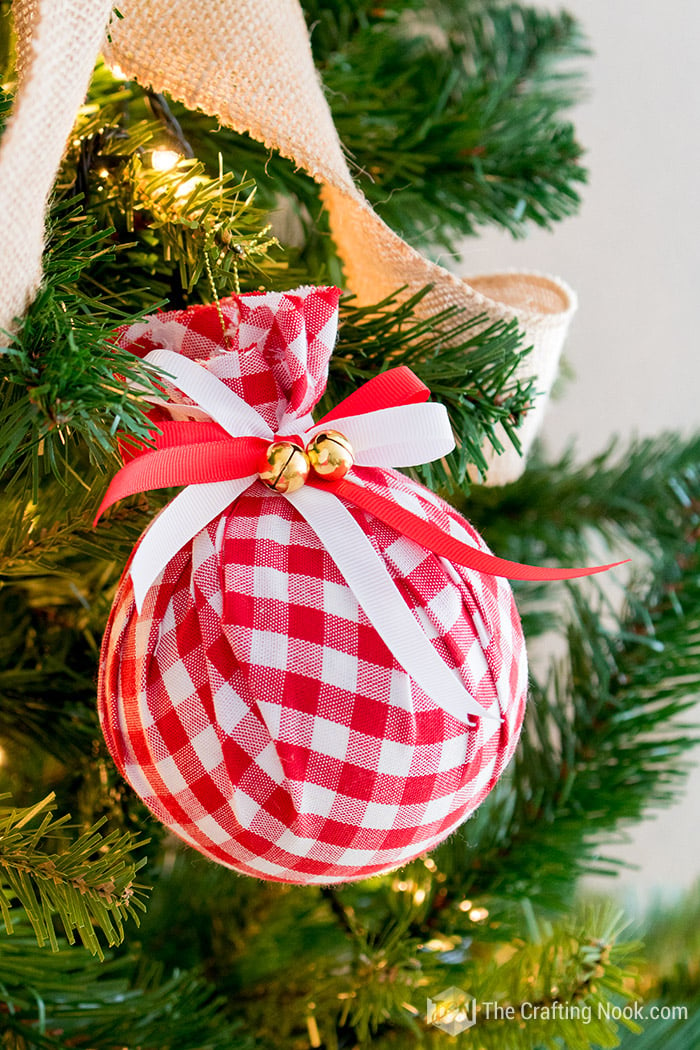 This project could even make a pretty Christmas gift if you may! So many possibilities and so simple to make!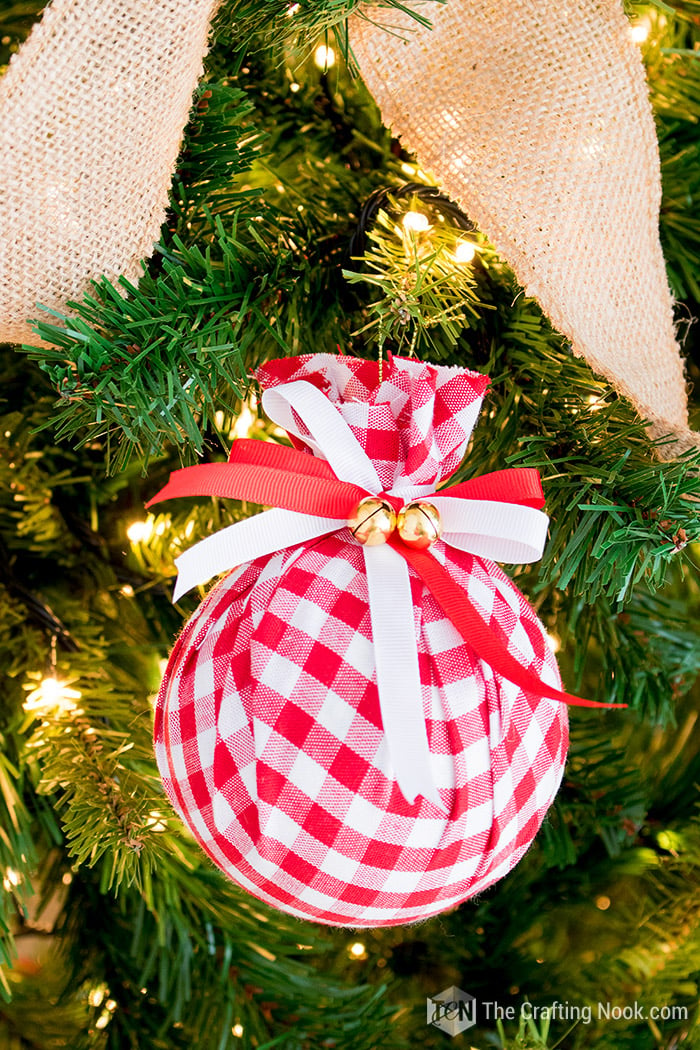 Hope you enjoyed this Buffalo Check Christmas Ornament projects as much as I did making it.
Make sure you jump over Karina's blog for another Buffalo Check Christmas Ornament method to make a cute Christmas ornament.
Liked This Buffalo Check Christmas Ornament idea? Make sure you share with Friends!
If you enjoyed this Buffalo Check Christmas Ornament project, you might also love these too:
Till Next time!