DIY Monogrammed Embroidery Hoop Christmas Ornament
This Monogrammed Embroidery Hoop Christmas Ornament is an elegant yet easy DIY embroidery hoop craft you can create on your own to add some fancy and yet festive cheer to your Christmas tree.
Don't you just love to have something really personal on your Christmas tree? I certainly do. In my past years I've used wooden monograms, Snow globes with family moments photos and so on. I love having something that really belongs to us.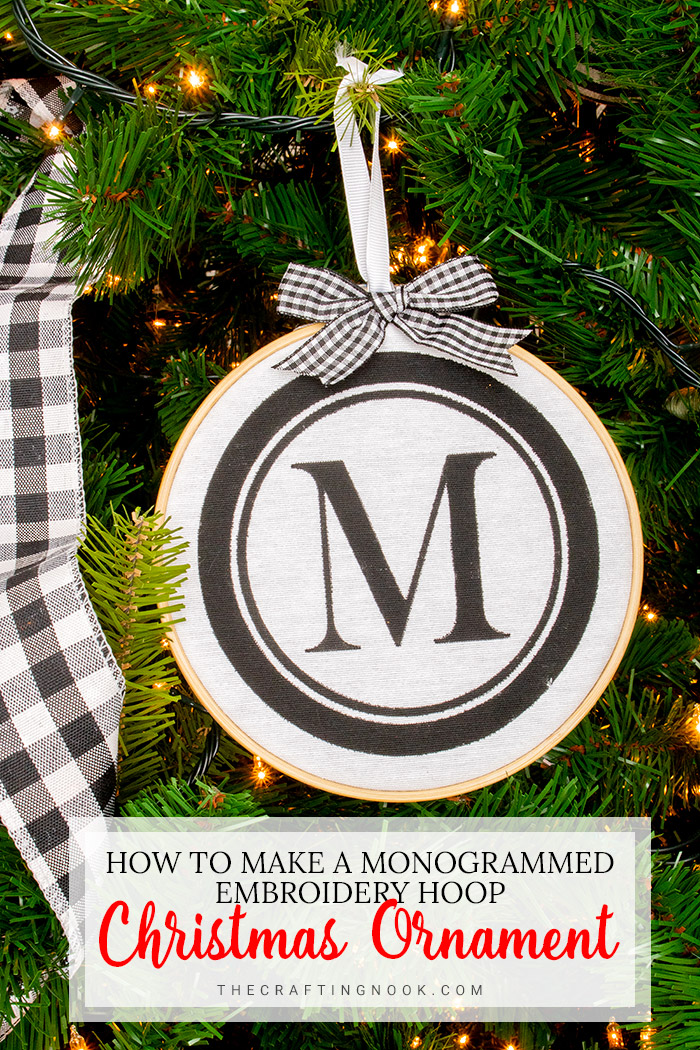 DIY Monogrammed Embroidery Hoop Christmas Ornament
This year I tried something different, still monogrammed but in a different way. I've seen so many cute ideas made with embroidery hoops and I thought I could use it to create our personal ornaments.
I decided to go with a monogram again but this time painted in fabric and placed in the embroidery hoop. I went for a simple yet elegant design with only black and white colors.
This project might work best if you have a cutting machine. If you don't have one, then you might be able to find pre-made stencils for letters and shapes. So it's possible to make it work.
If you want a simpler embroidery hoop Christmas ornament that won't require this type of tool you can check out my Buffalo plaid Embroidery hoop Christmas Ornament.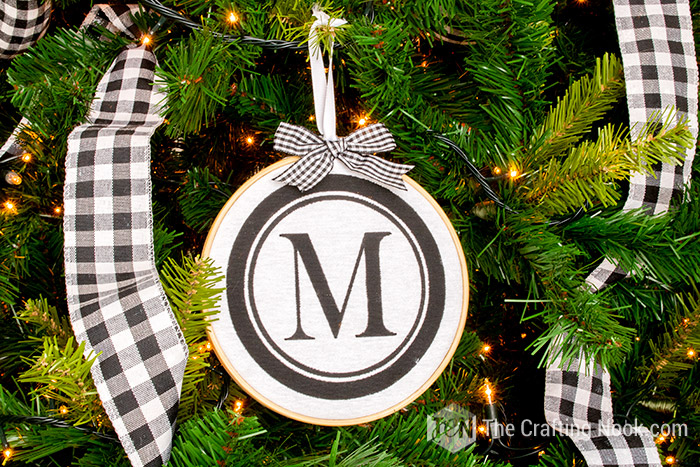 It's super simple to make even though I could have used a simpler strategy. You see, I'm in a very tight budget and besides de embroidery hoops I didn't want to spend more on this project because I know I had supplies I could use.
The truth is that the idea supplied would have been heat transfer vinyl but I didn't have enough of black. Then freezer paper wouldn't work on this design and then I didn't have stencil material either.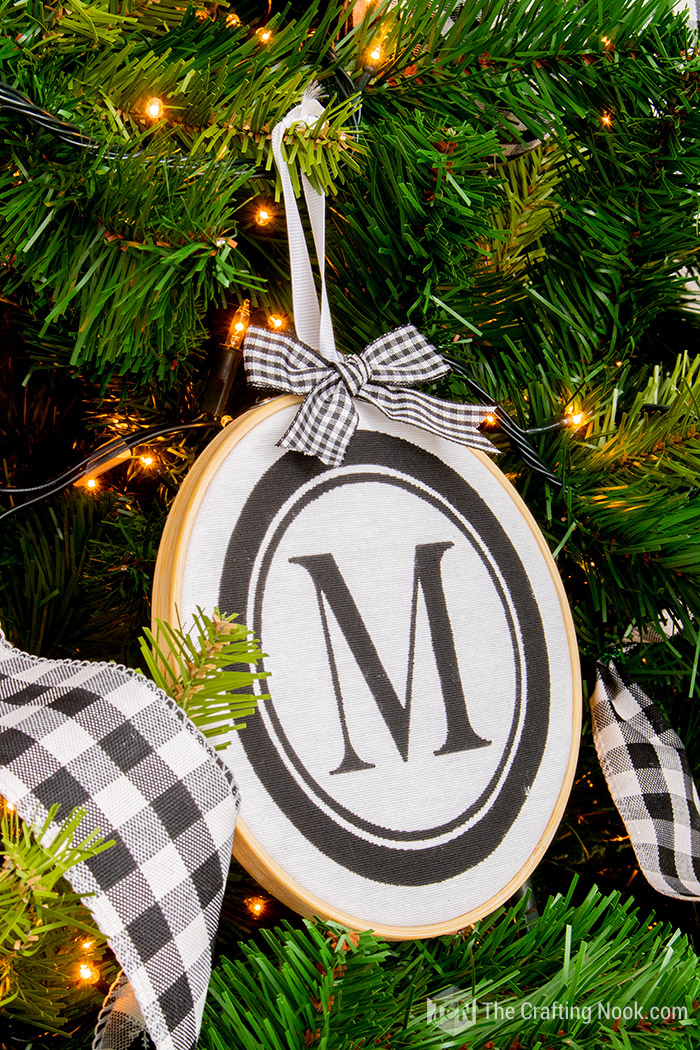 UGH, I was about to drop it when I thought: "MAYBE, just MAYBE contact paper could work". I made a quick test on a piece of fabric and guess what????
IT WORKED!!!! It actually worked.
The contact paper was sticky enough to stay on the fabric so I could paint it all. A great low budget option for a stencil. I ended up using it on a few other projects LOL.
Just a few heads up:
I used cotton canvas fabric so I don't know if contact paper would stick on any fabric. I know for sure 100% synthetic fabrics won't work.
I used good quality contact paper (sadly transparent, I didn't have any other) but the idea was to save money so it worked. If you have a solid color one will be awesome!
Using good quality fabric paint is a great plus.
What is embroidery hoop used for?
Embroidery hoops and frames are tools used to keep fabric taut while working embroidery or other forms of needlework but they have got a lot of popularity for other fun crafts besides embroidery such as a wreath, wall arts, and much more.
What makes embroidery hoops so popular?
Basically its versatility. There are so many things you can do with them and we don't think about it as a craft supply or tool very often unless you actually love embroidery. But the truth is that they can be a GREAT tool and a basic supply for any crafter.
Monogrammed Embroidery Hoop Christmas Ornament Supplies:
Embroidery hoop (the size of your choice)
White cotton canvas fabric (or your favorite one)
Black fabric paint.
Vichy or buffalo check Ribbon (black and white)
White Grosgrain Ribbon
A piece of pipe cleaner.
Contact paper or stencil material
Transfer Tape
Scraper
Ruler
Brush
Scissors
A cutting machine.
How to make Monogrammed Embroidery Hoop Christmas Ornament
I've made this cute and quick video tutorial for you. However, if you are more of a photo step-by-step kind of person just scroll down and keep reading!
Firstly cut a piece of your fabric 1 inch larger than your embroidery hoop.
Create your design on your cutting machine app and send it to cut using the most basic vinyl setting you have and still lower the force just a bit just in case so it won't cut through the backing.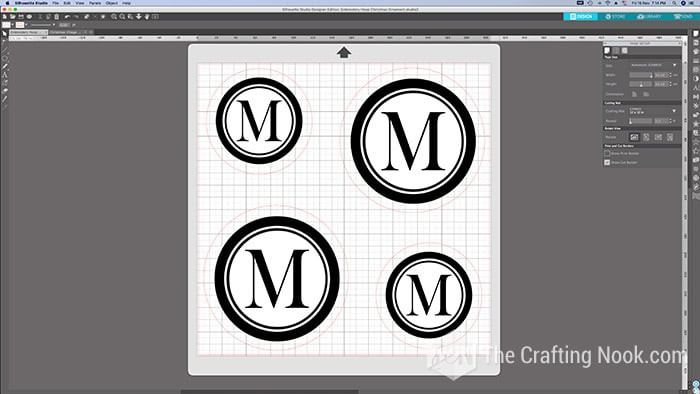 Cut the necessary contact paper or stencil vinyl and place it on your mat. Insert it on your machine and let's cut!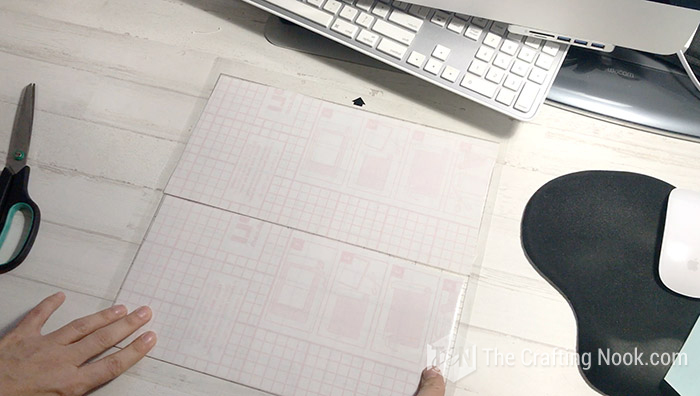 Once the design was cut, using the hook tool peel away the negative space, so all that remains on the vinyl backing is the design.
Then I cut bigger pieces of transfer paper and applied them to each design and smooth it down using a scraper tool.
Time to apply my designs to the fabric. Make sure it's really clean and without dust.
Here comes the tricky part. Just the scrapper was not enough for me. I used a ruler and scrapped really hard the design onto the fabric.
Then I carefully started lifting the transfer paper and make sure that all the vinyl is stuck down on the fabric. If something is coming back on the transfer paper, place it back and rub again the vinyl firmly and try lifting it again. Help with your hook or even nails to make it stay on the fabric.
GO really slow and carefully. Don't rush this. Once you removed all the transfer paper, using your scraper or ruler rub a little more on critical spots such as tips, corners, and any tricky spot.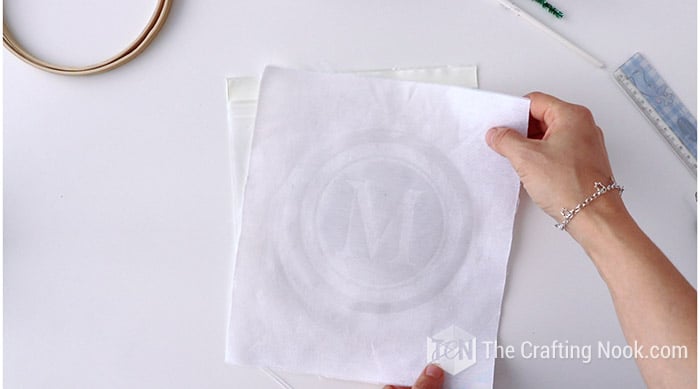 Repeat with each design. I made 4.
Once you are ready, it's time to paint.
Paint your design making sure you don't paint outside the design. Don't forget to protect your working surface with a piece of plastic. I used a zip-Lock the size of the fabric.
I like makings strokes always towards the center of the available space rather than against the vinyl to avoid the paint pushing the paint underneath the protected area. Not always it's possible but I do this whenever I can.
When you are ready let it dry.
Then carefully peel off your contact paper or vinyl. Your design should be ready and gorgeous.
Take the embroidery hoop apart and for now, place the inner hoop on a flat surface.
Place the fabric on top of the ring as centered as possible. In my design, this was fairly easy since it was rounded.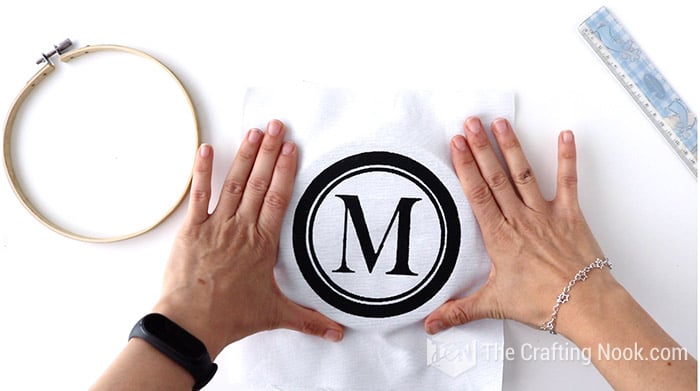 Press outer hoop in place over the fabric.
Tighten the screw on the embroidery hoop and pull fabric until fabric is tight. Be careful in this step to not distort the design.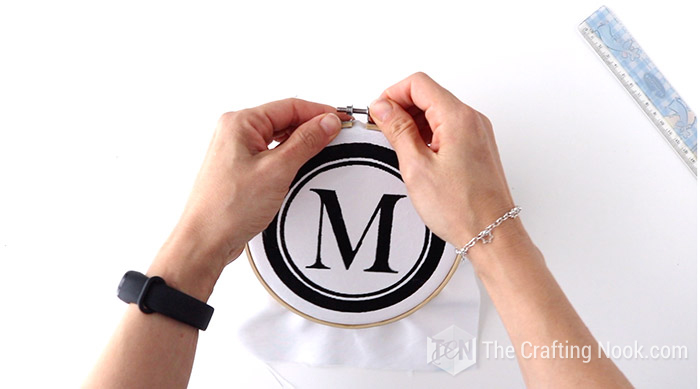 With your buffalo check ribbon make a cute bow.
Decide which Ould be the front side of the bow and insert your piece of pipe cleaner on the back through the bow knot.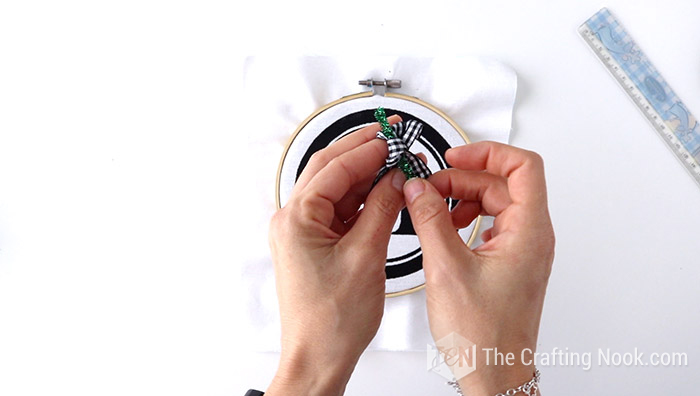 Carefully, cut all the remain fabric around the back of your embroidery hoop.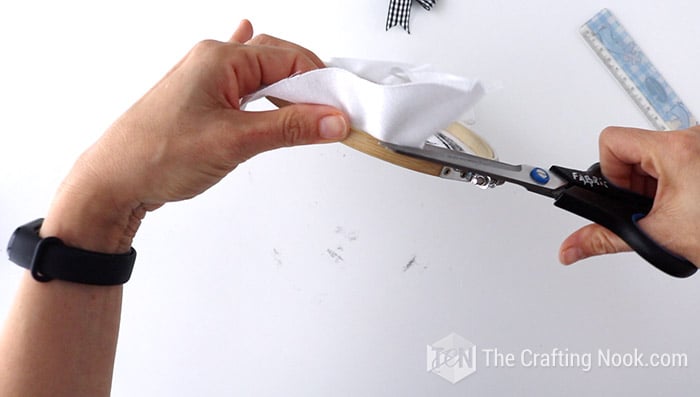 Cut a string of the grosgrain ribbon and pass it through the embroidery hoop screw space. Make a tight knot with the ends to create the hanger.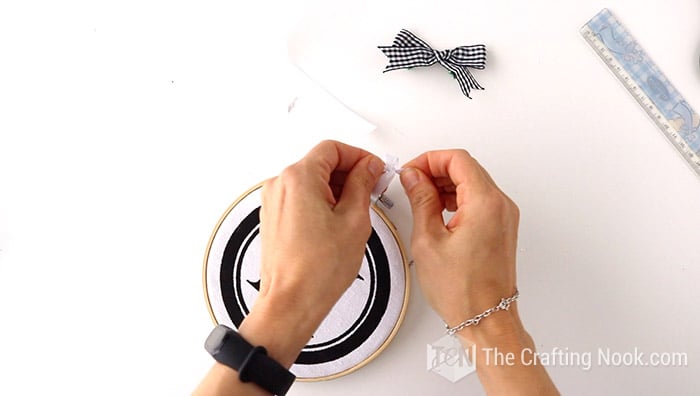 Then place the bow on the front right where the screw is and tighten it with the pipe cleaner on the back. I do it like this so I don't have to glue it and damage the embroidery hoop.
There you go!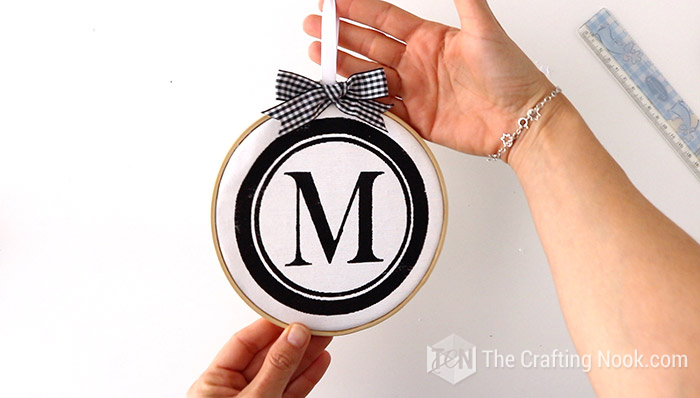 Isn't it so so cute and elegant?
You can make it in any size, with any design you like. Imagination is the limit!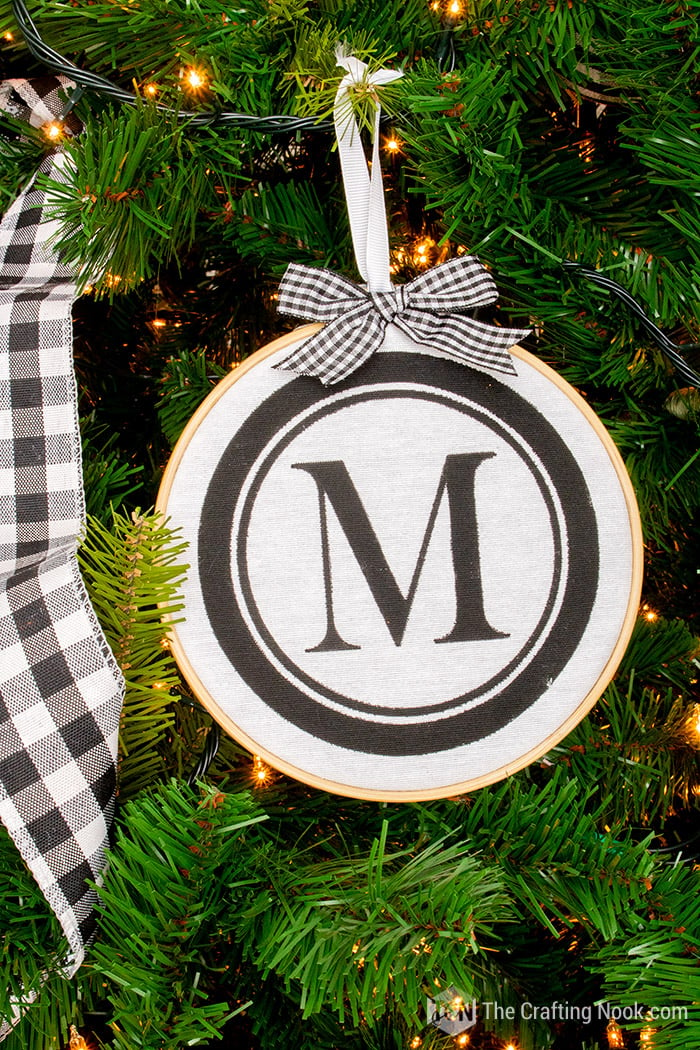 Hope you enjoyed this tutorial, if You did, don't forget to PIN and share with friends.
There are some of my favorite Embroidery hoops crafts from my favorite crafters!
If you enjoyed this project, I'm sure you will love these too: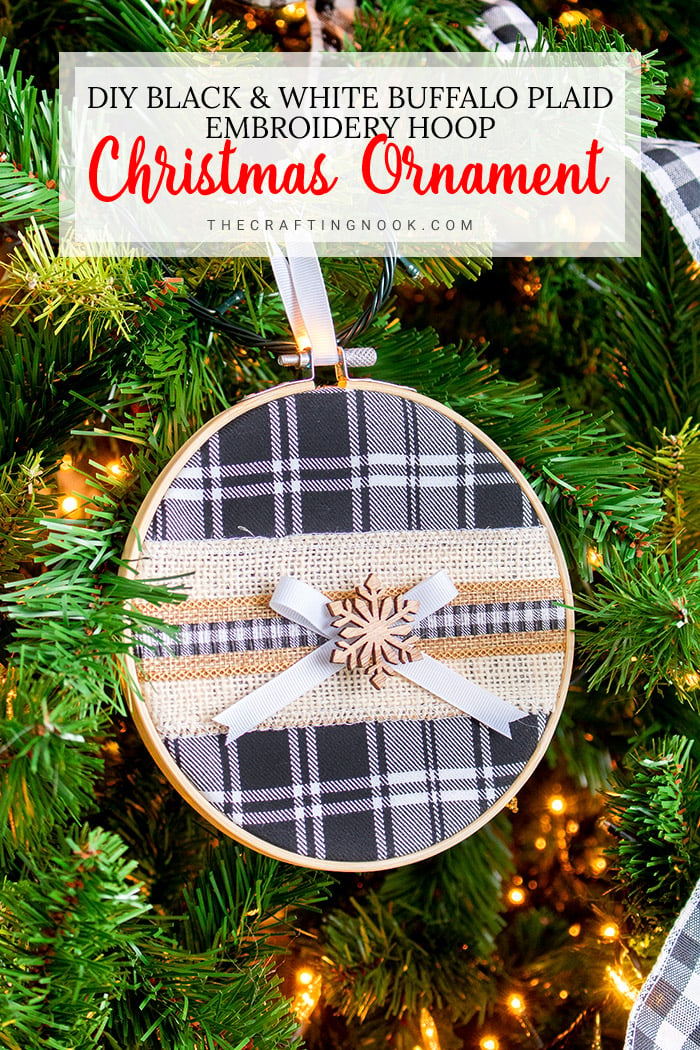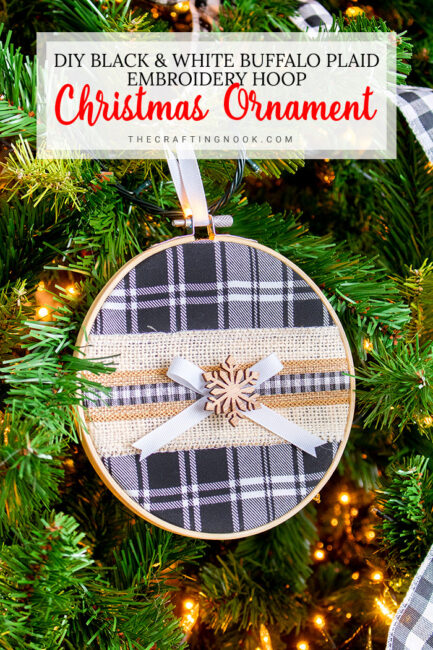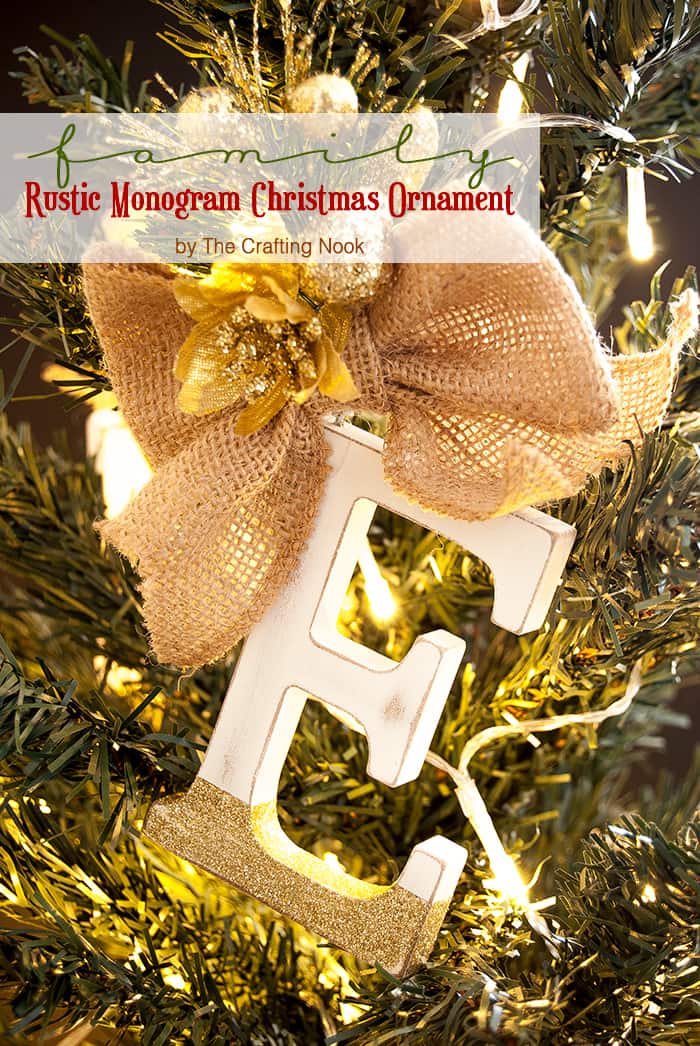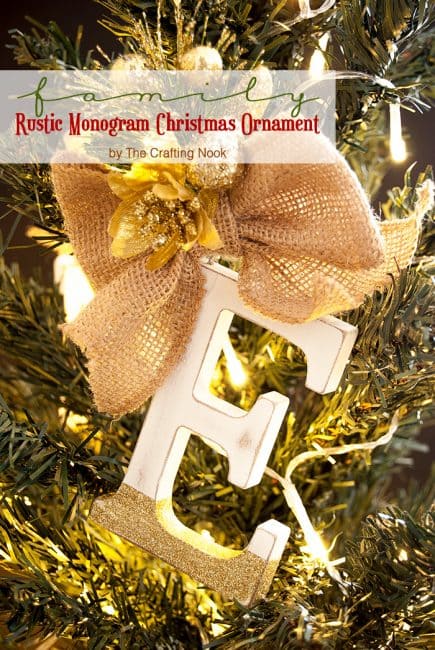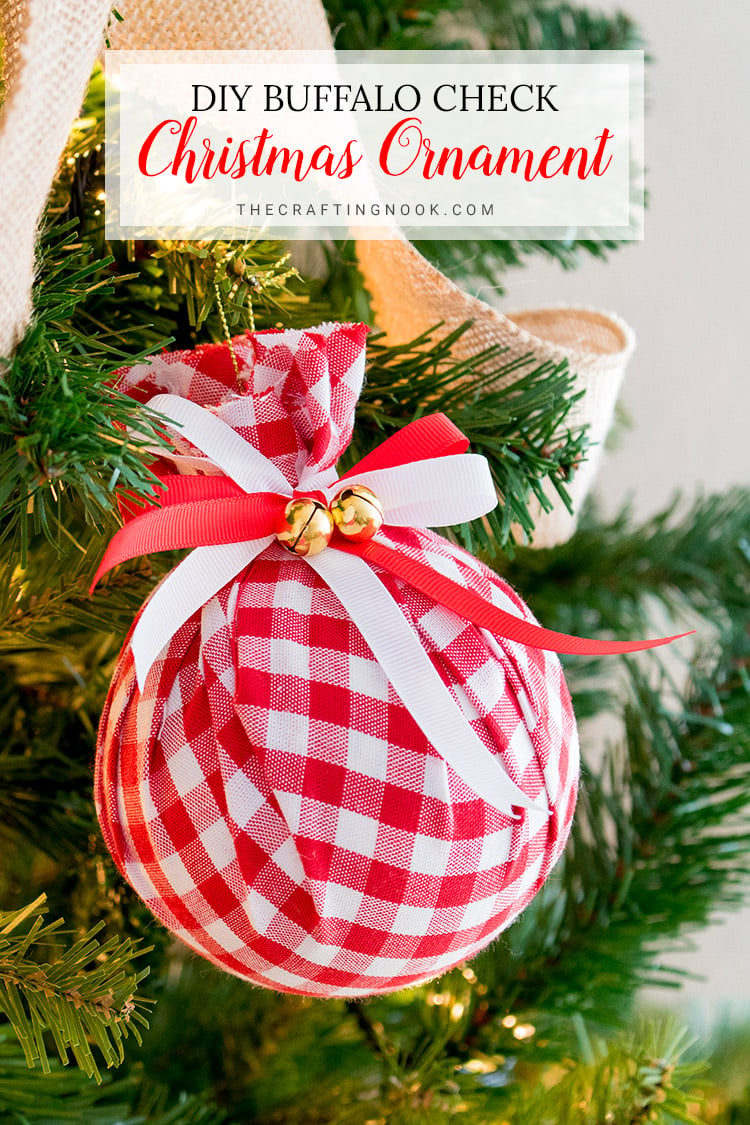 Til' next time...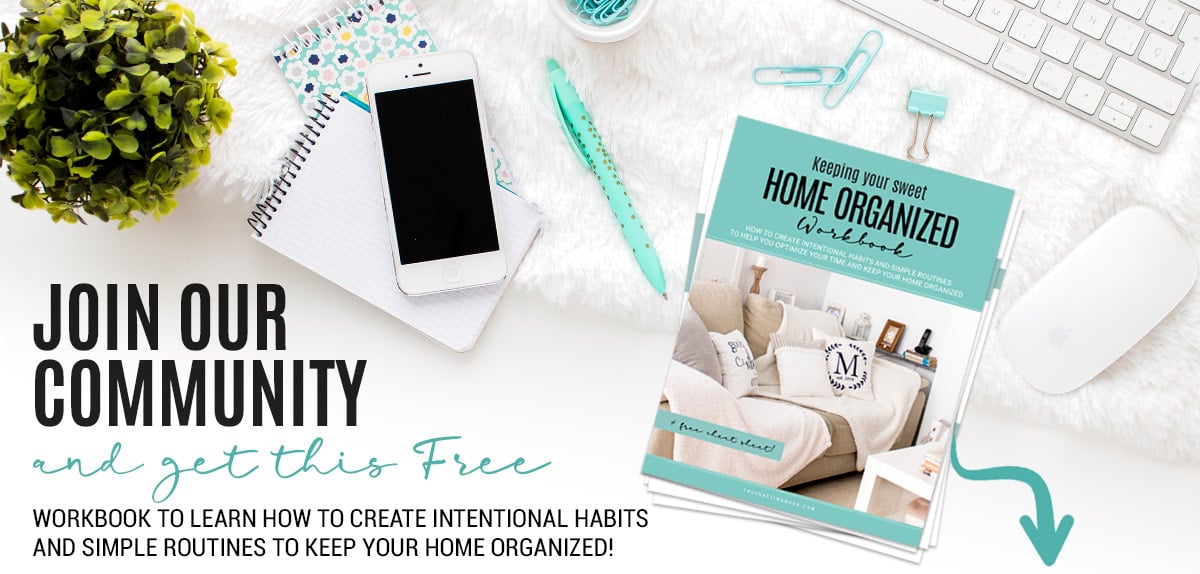 GET INSTANT ACCESS TO THE HOME ORGANIZED WORKBOOK
Plus freebies, printables, exclusive content, tips, stay connected, be the first to know great offers and Product Launches!
Disclaimer: By clicking on the "Yes, I want it" button above you are giving me your consent to collect and use your information according to the law and My Policy Privacy and The Cookie Policy. Zero Spam I promise!