Just 3 supplies, lots of love and one pretty photo it's all you need to create this pretty and fun Colorful Buttons Photo Frame.
Hello everyone!, Buttons are SO much fun, can you tell? LOL. As you may have noticed I love making things with buttons and this series project has been a wonderful way to put my imagination and hands in action. You may also know or not that I've been working on a series of photo frames so my girl doesn't forget her family while we are away from home. So I put those two fun projects together to make this beautiful and colorful Buttons Photo Frame.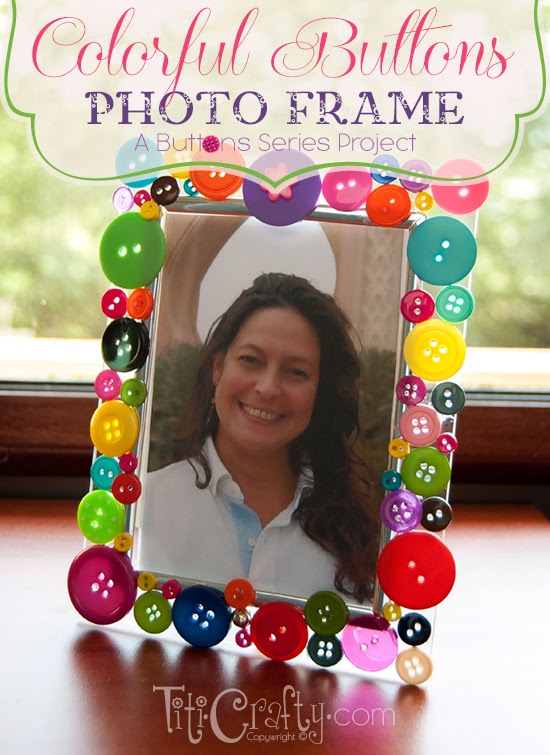 DIY Colorful Buttons Photo Frame. A Buttons Series Project.
This is another quick and easy fun project. I made it in less than 30 min. Most of the time I spent was choosing the buttons and deciding where and how to put them.
I could have made it more crowded but I preferred taking advantage of the transparency the glass the frame provided!
Photo Frame Supplies:
Mixed buttons
Hot glue gun
Photo frame
Ribbon bow or any other embellishment Optional
Firstly, place the buttons the way you like and glue them.
Play with the sizes and colors. You can also pile some if you would like.
Glue them in place once you are happy with the placement.
Tadaaaaaaaa!!!!! LOL
That was quick, right????
I think this is my first short post! LOL.
I used my aunt's photo for this one. She's so special to me and she hasn't had the chance to even meet Emma yet and of course, she doesn't know my aunt either except for some video chats.
So I wanted to make sure that whenever they have the chance to finally meet, at least Emma knows who she is.
It's a way to keep her in Emma's mind and not forget even though they don't know each other LOL
So what do you think of this??? Do you have family or beloved friends that don't live far away from your kids??? Do you have a special way to keep those people in their memories???
Here are some of my favorite button Projects from my favorite bloggers:
For more Buttons inspirations, check these other posts from the series {click on the images}