DIY 5 Minutes Mesh Yarn Knit Bracelet
It's spring and we are eager to have a more colorful and brighter surrounding. Since I had some mesh yarn left from my mesh yarn flower, I thought it would be a good idea to use it to make some crafty jewelry. I couldn't think of a better idea than a cheerful Mesh Yarn Knit Bracelet.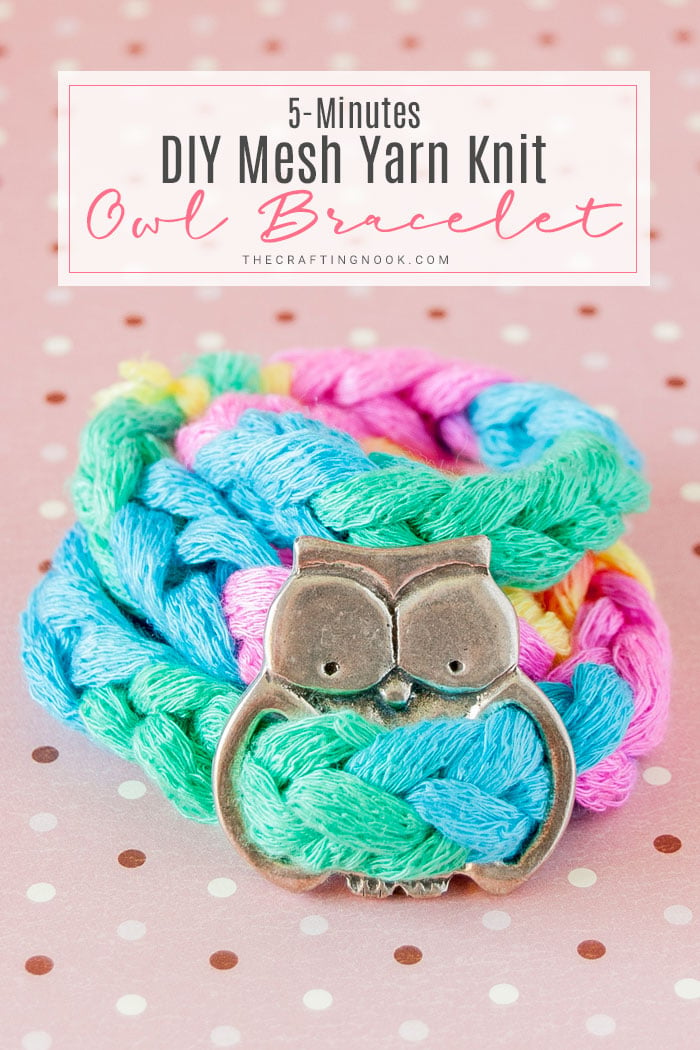 DIY. 5 Minutes Mesh Yarn Knit Bracelet
I saw this idea on V and CO and it looked so cute and simple to make. It was made of jersey cotton and the best part was that you only need that and your fingers to make it!!!
Oh! and of course, any ornament that you may want to use. Once you get the rhythm you can make it super fast, This is why I call it 5 Minutes Craft!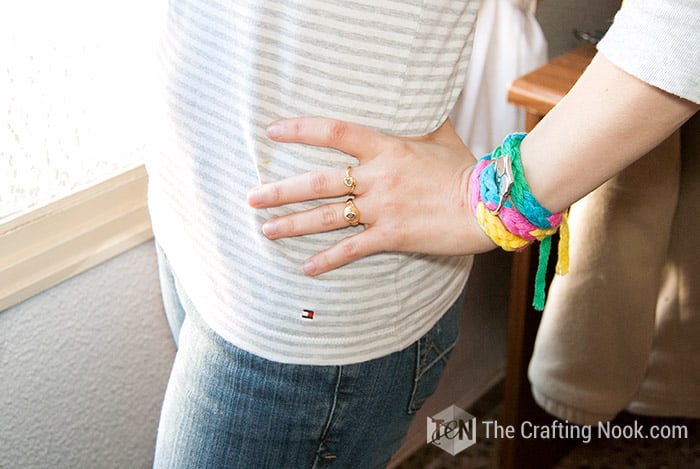 I'm so happy with my new bracelet and I wanted to share it with you. This is how I made it:
Braided Net Wool Owl Bracelet Supplies:
Wool (or jersey cotton or any other flexible and thick material)
An ornament.
How to Make a Mesh Yarn Knit Bracelet
This technique can be made with 2, 3 and 4 fingers. This tutorial is for 2 fingers.
I usually don't establish a specific measure, I just knit until I get what I need.
The first thing we do is to tighten one end of the wool just like in the pic.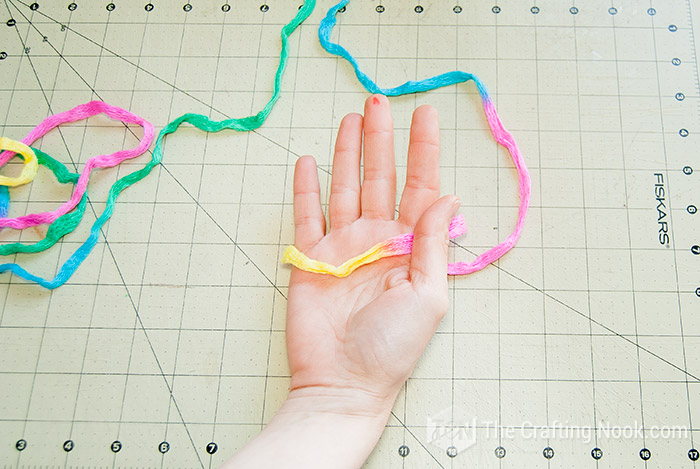 Then weave the strip in and out of our fingers, first behind your ring finger and then in front of your pinky.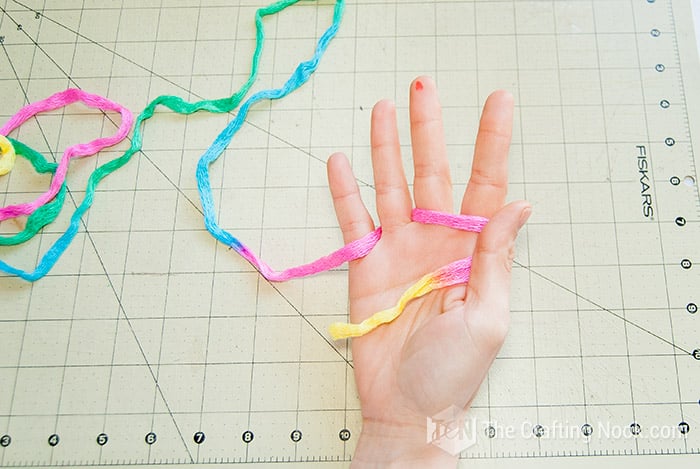 Come back and loop back in front of your ring finger.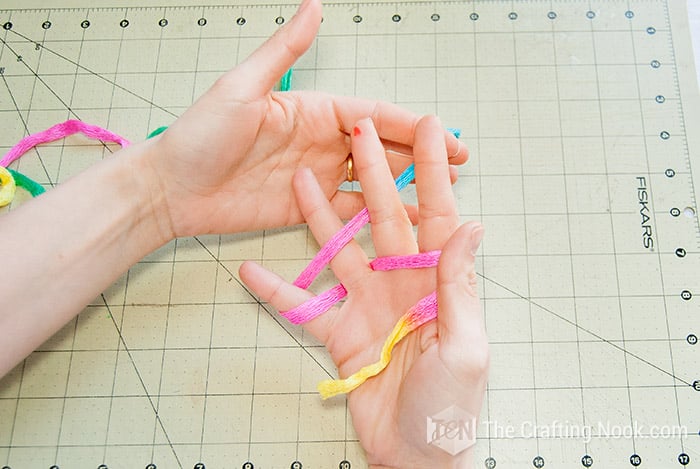 Come back around from behind of the pinky side to the front to make a big loop.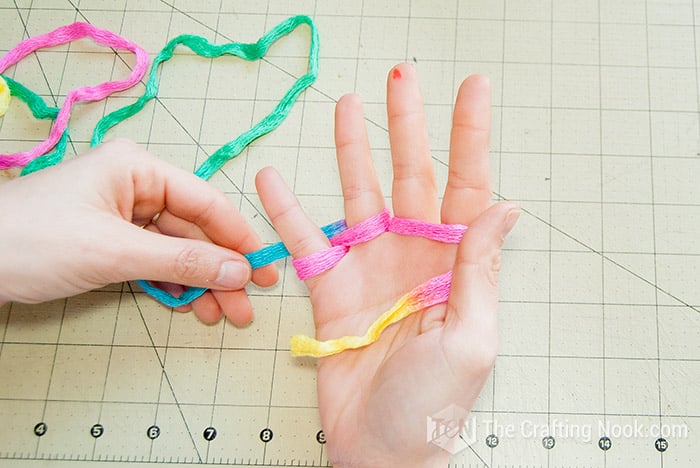 Now take your weaved loops and go over your finger and big loop like the picture below.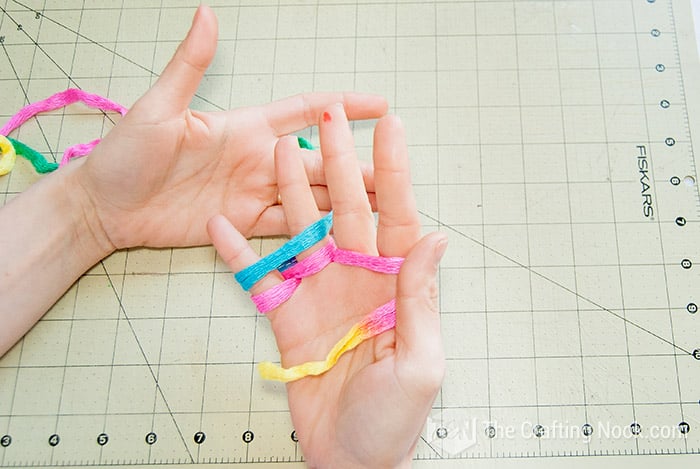 Keep doing it so with the next finger. Pull a little bit the yarn to adjust it, It's not necessary to make it too tight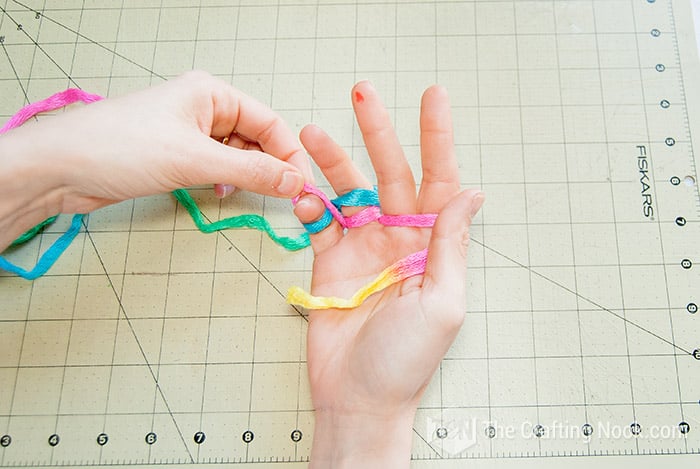 When you get to the end, or at the end of your first chain make a new loop and start the process all over again!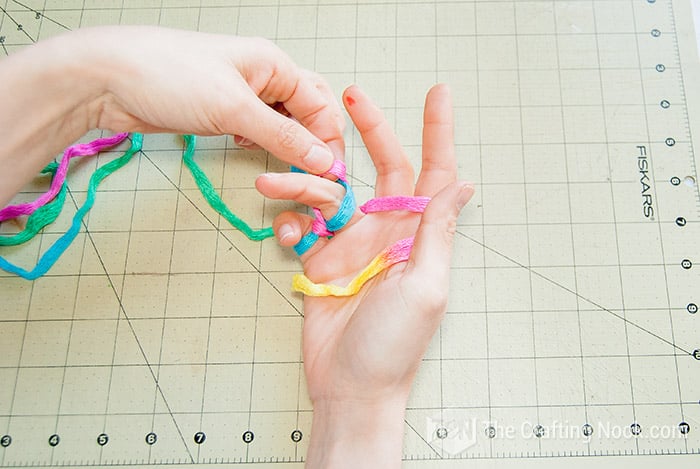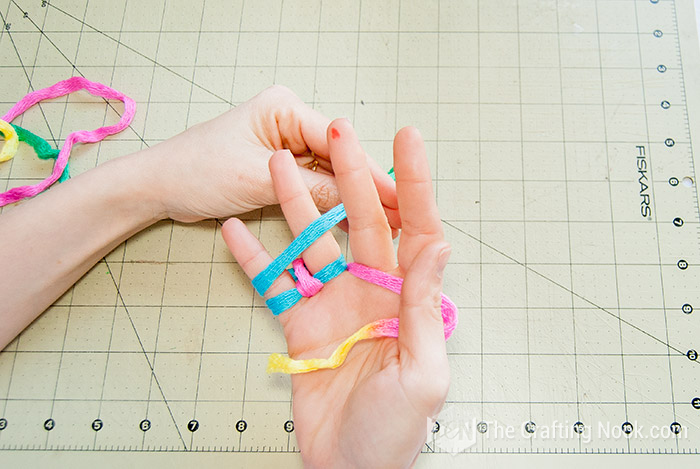 Once you see you have many loops like 6 chains or so done, take your starting tail and gently pull, while your chain is still securely placed on your fingers so it makes the chain more defined and it gives you a better idea of how long you need to make your chain.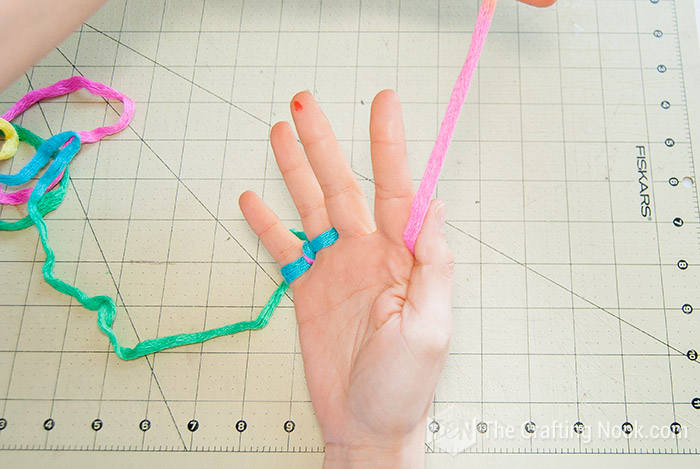 Every now and then take a look and see how long you need to make your chain, depending on your wrist size.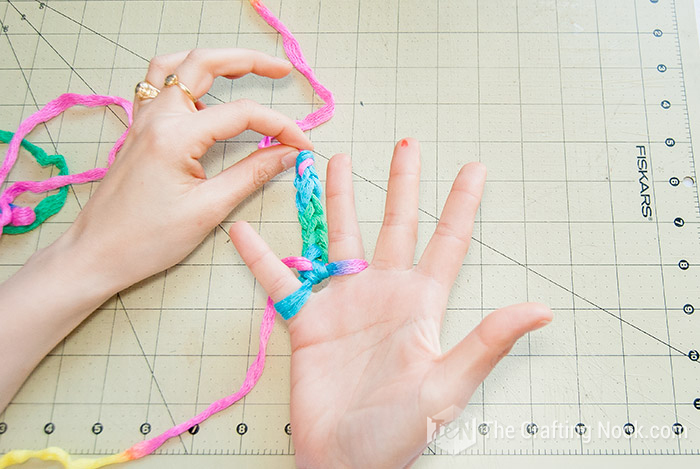 Once you've decided you have a long enough chain length, cut the wool leaving a few centimeters and carefully pull the loops off your fingers, making sure you don't undo any of the chains by losing the loops.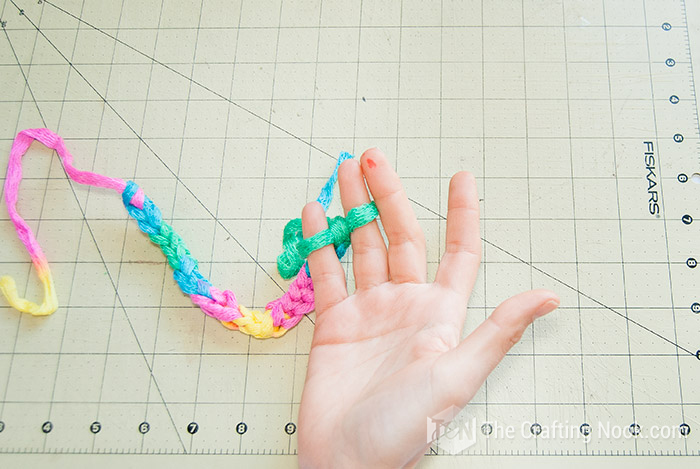 You are going to get 2 loops.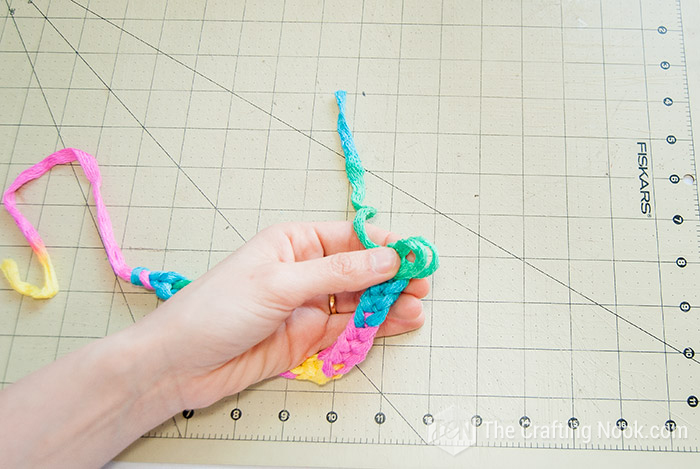 Take the end you just cut and slip it into both loops.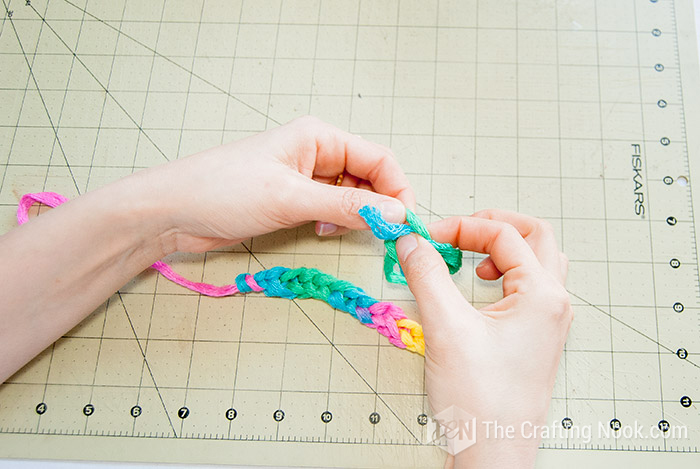 Pull all the way through, and carefully tug the end making a tight knot.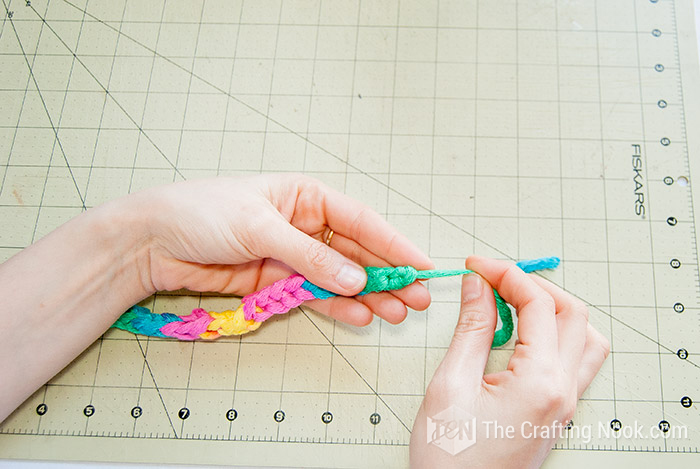 So you have the chain ready. Now add the ornament. I used an owl. Weird Huh?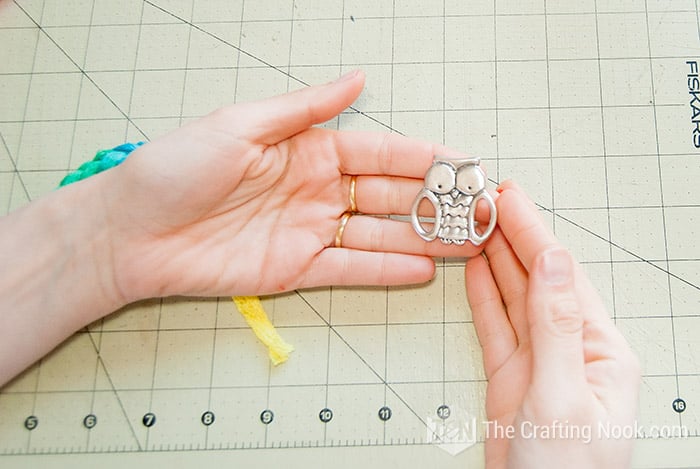 In this case, I slipped the chain from the back to the front and passed it just over the owl's belly and then slipped it again from the front to the back.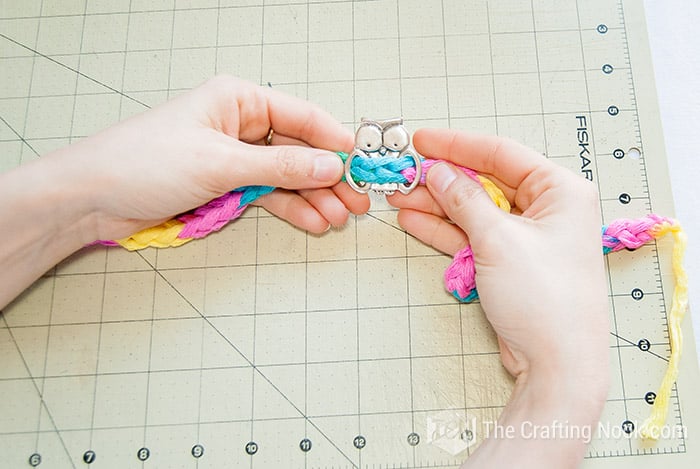 Here you are finishing the process, Just tie off your bracelet with a knot and cut off excess tails!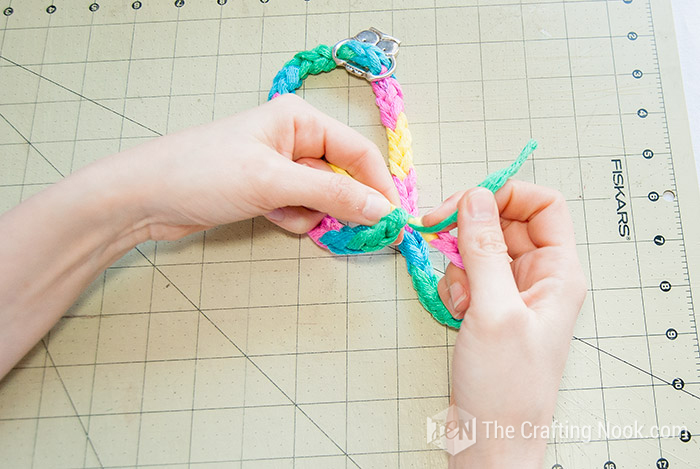 This is what you get.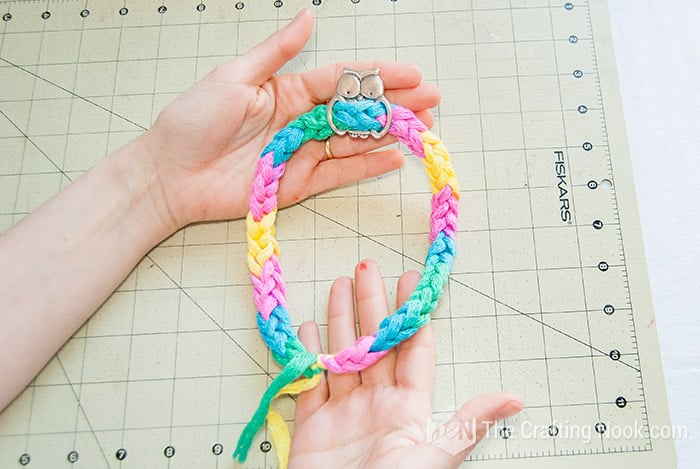 Now what I did was place the owl on my wrist and make loops with the chain until it fit my wrist.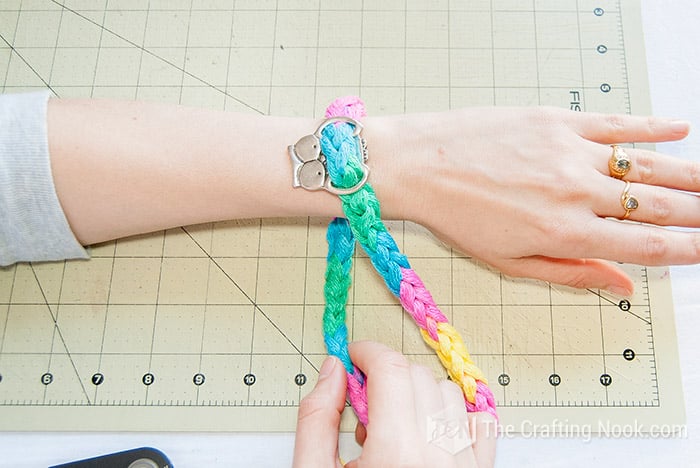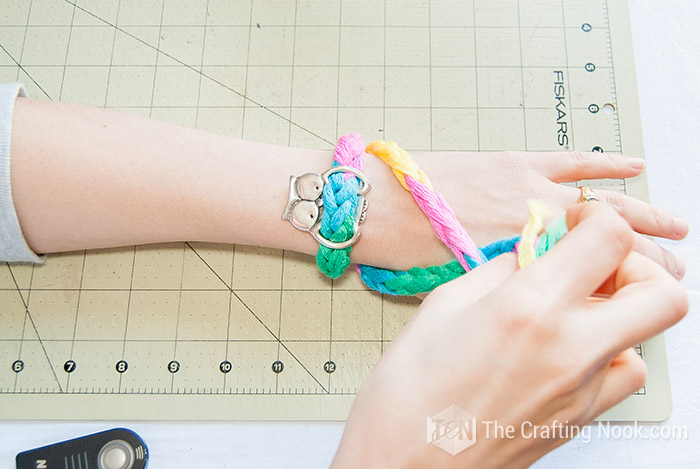 Isn't it cute????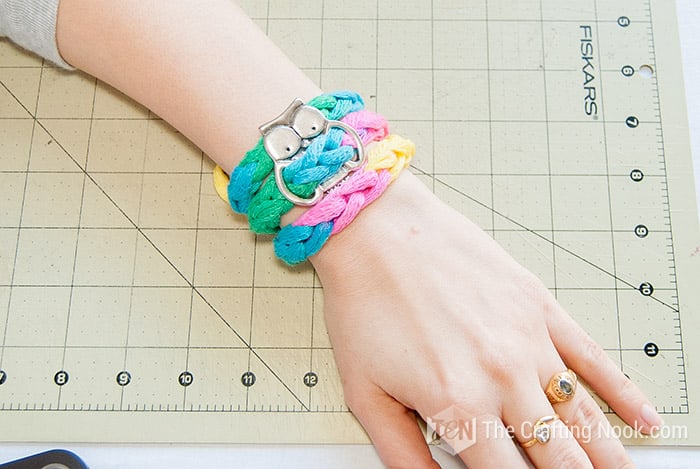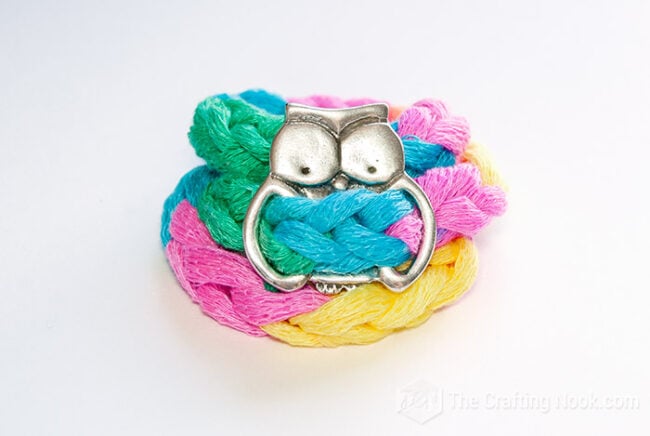 There you go. This super cute, easy and fun to make mesh yarn knit bracelet is ready to rock your outfit!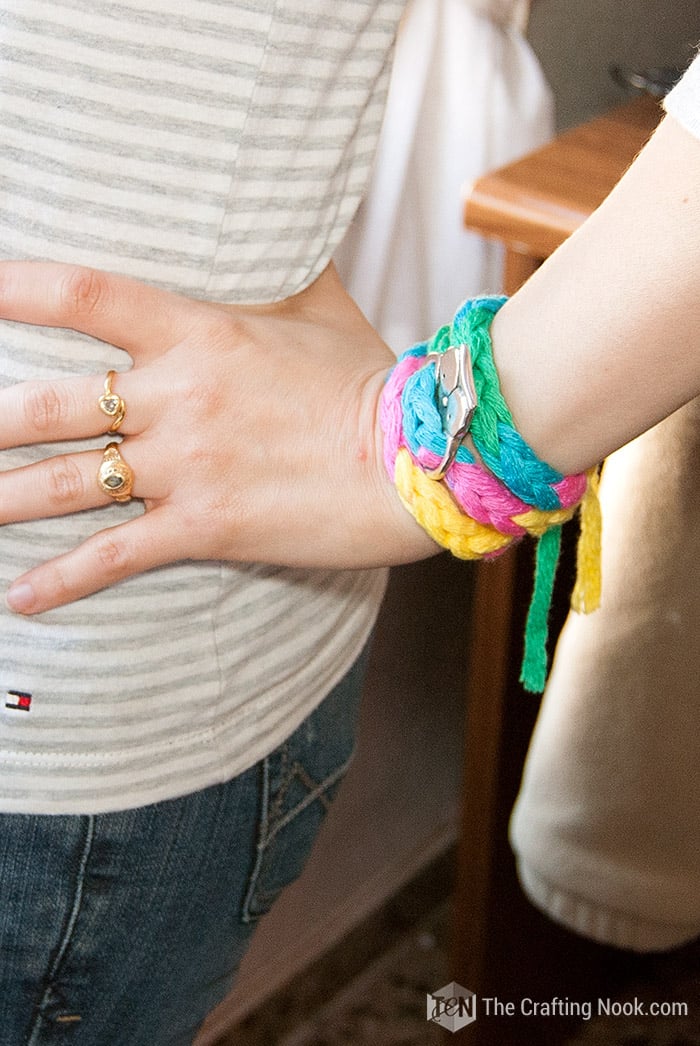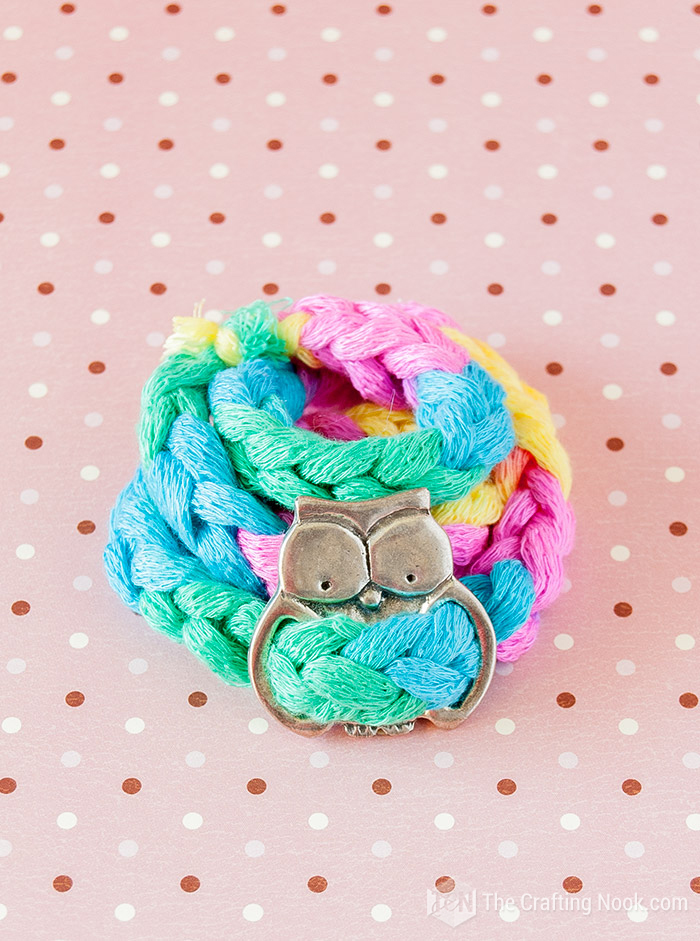 Aaaaand since I still got some wool left I made a headband with a flower for Emma =D so we are coordinated =D. It is a cutie and it looks even better on her.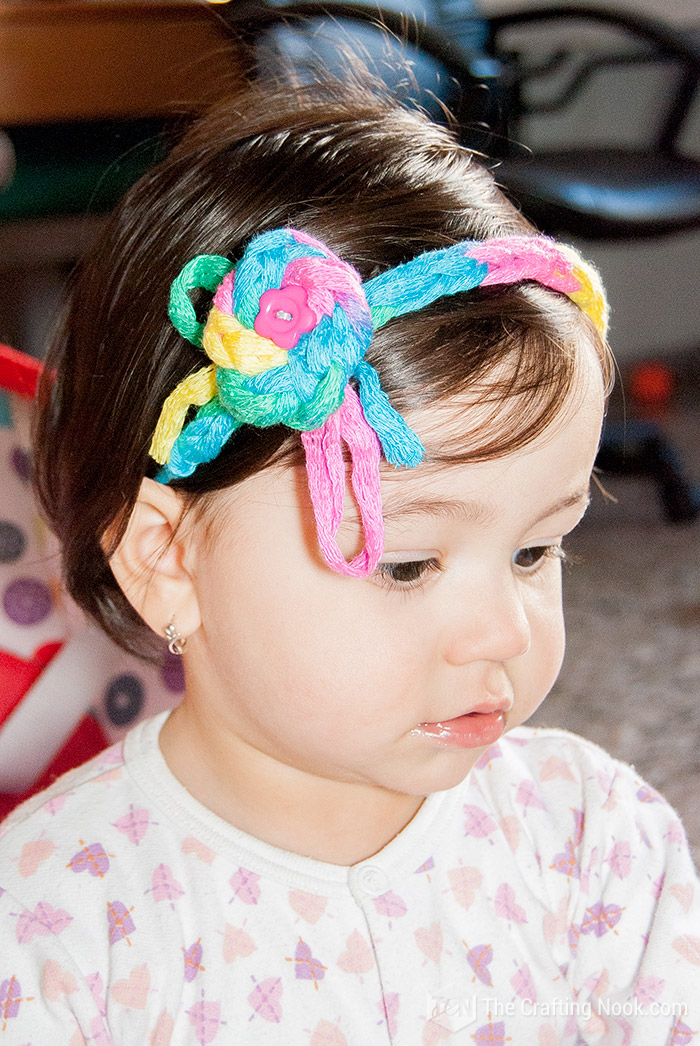 What do you think? Cute, isn't it?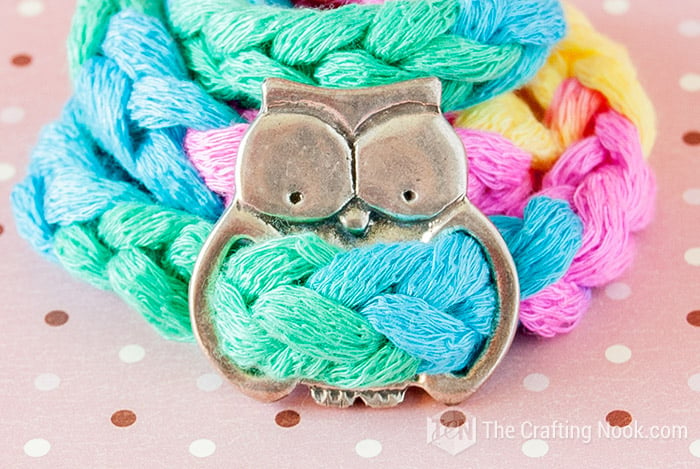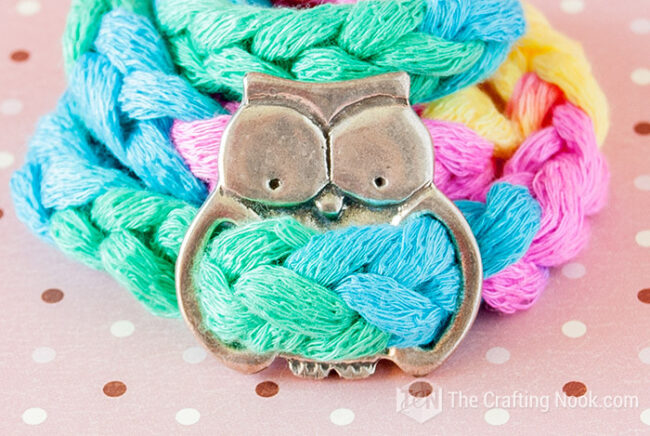 I definitely LOOOOVE it.
How about you? Let me know your thought in comments down below!
Enjoyed this fun mesh yearn knit bracelet tutorial? Don't forget to PIN and share with friends!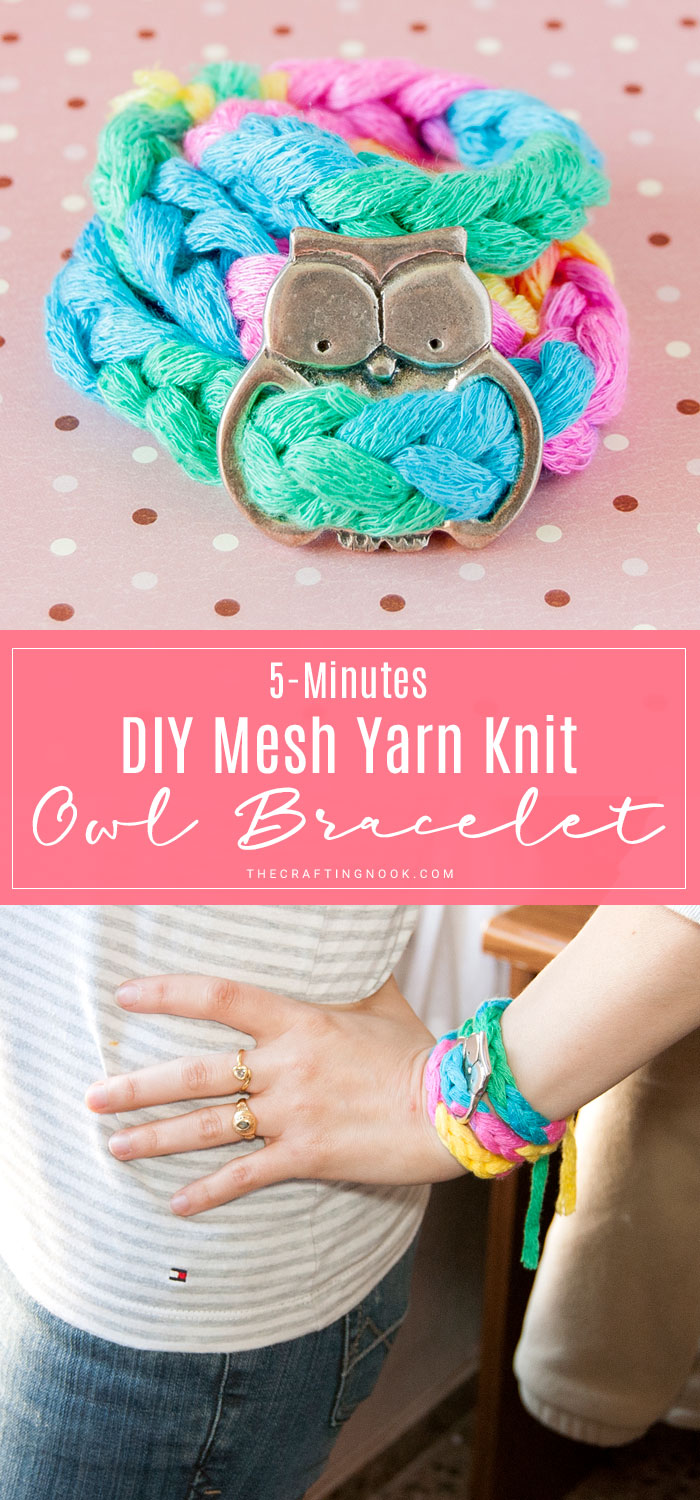 Need some more crafty jewelry ideas? You might love these: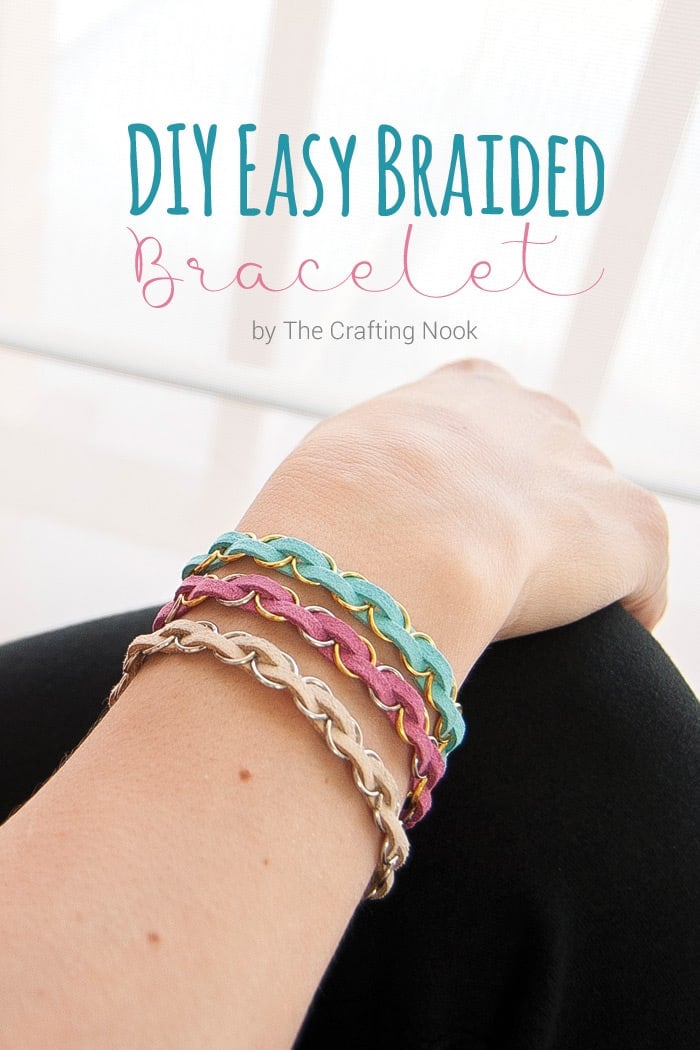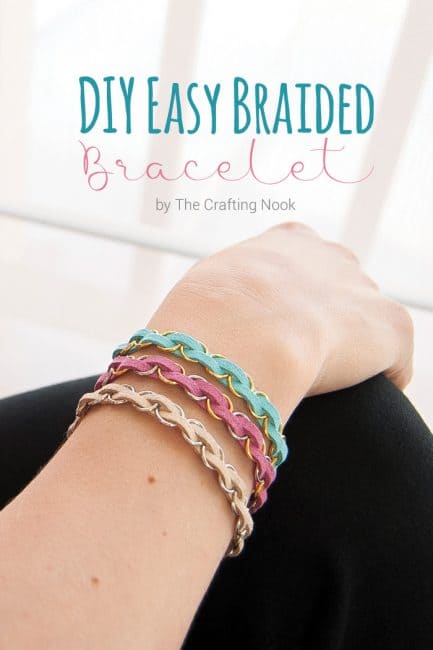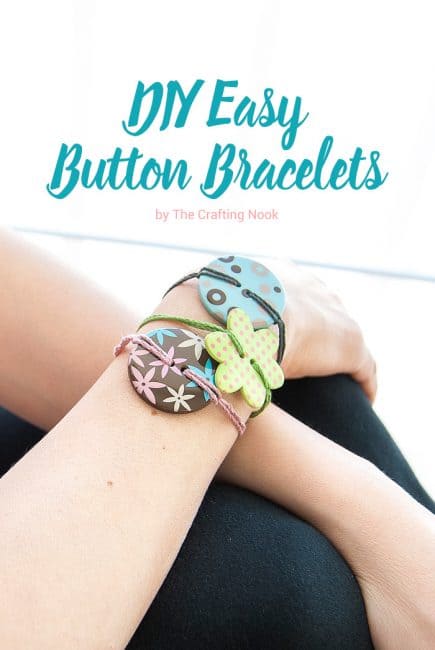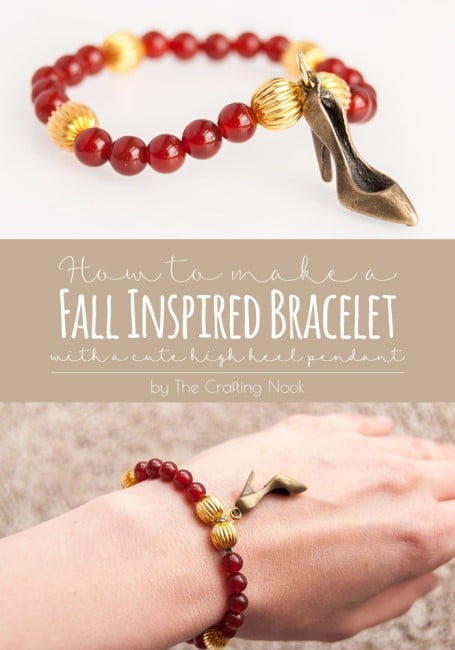 Til' next time...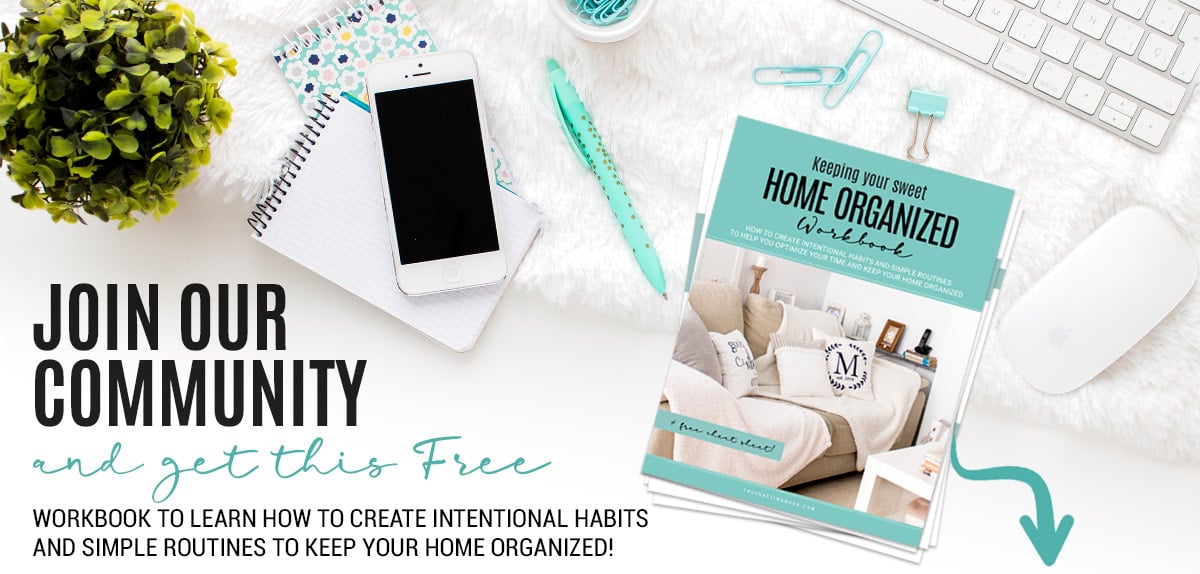 GET INSTANT ACCESS TO THE WORKBOOK
Plus freebies, printables, exclusive content, tips, stay connected, be the first to know great offers and Product Launches!
Disclaimer: By clicking on the "Yes, I want it" button above you are giving me your consent to collect and use your information according to the law and My Policy Privacy and The Cookie Policy. Zero Spam I promise!