It's spring and we are eager to have a more colorful and brighter surroundings. Since I had some net wool left from my wool flower, I thought it would be a good idea to use it to make some crafty jewelry. I couldn't think of a better idea than a cheerful braided bracelet.
Declarada la primavera, la sed de colores vivos y brillantes se hace más aguda.  Y como tenía un montón de lana maya aun guardada, me pareció una genial idea usarla para algún accesorio. Y ¿qué mejor que un brazalete bien llamativo?
DIY. 5 Minutes Braided Net Wool Owl Bracelet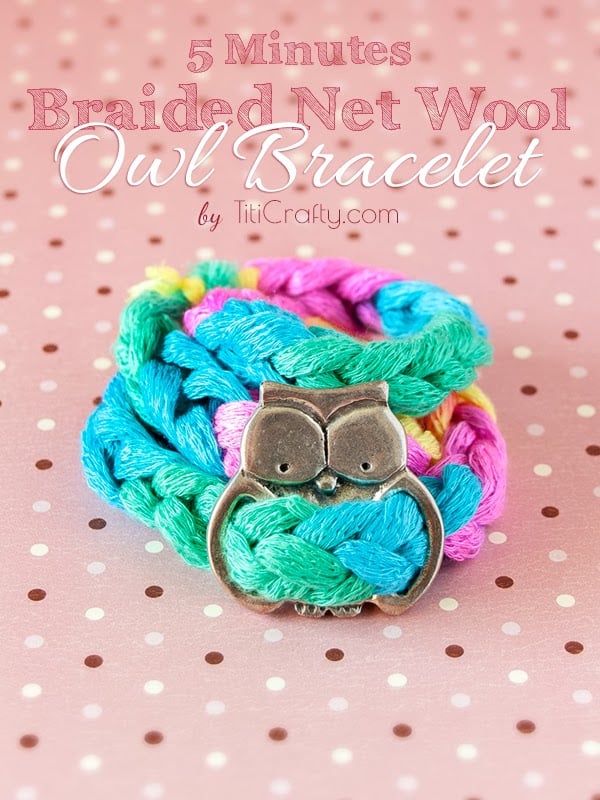 Brazalete de Búho tejido con lana malla en 5 minutos.
I saw this idea on  V and CO and It looked so cute. It was made of jersey cotton and the best part was that you only need that and your fingers to make it!!! Oh! and of course any ornament that you may want to use. Once you get the rhythm you can make it super fast, This is whay I call it 5 Minutes Craft!
Vi esta idea en V and CO y me pareció súper linda. Estaba hecha con tela de algodón (la de trapillo) y lo mejor de todo es que sólo necesitas eso y los dedos!!!. Ah! y por supuesto algún adorno que le quieras colocar. Una vez que le agarras el ritmo lo haces súper rápido, esto es algo a lo que llamo manualidad de 5 minutos :D.

I'm so happy with my new bracelet and I wanted to share it with you. This is how I made it:
Estoy lo más de contenta con mi brazalete y quería compartirlo con ustedes. Así lo hice yo:
Supplies: Wool (or jersey cotton or any other flexible and thick material) and an ornament.
Materiales: Lana malla (o tela de trapillo, o cualquier material que les guste que sea flexible y preferiblemente grueso) y el aplique que les guste.
This technique can be made with 2, 3 and 4 fingers. This tutorial is for 2 fingers. if you want to know how to make one with 3 or 4 fingers, you can see it HERE or let me know and I'll make it for you. I usually don't establish a specific measure, I just knit until I get what I need.
Esta técnica se puede hacer con 2, 3 y 4 dedos. Este tutorial es para 2 dedos, si desean  saber cómo se hacen con 3 y 4 dedos, lo pueden AQUÍ o me dicen y les hago otro tutorial. Yo particularmente no establezco una medida exacta, yo voy usando del ovillo hasta que obtenga lo que quiero.
The first thing we do is to tighten one end of the wool just like in the pic.
Then weave the strip in and out of our fingers, first behind your ring finger and then in front of your pinky.
Come back and loop back in front of your ring finger.
come back around from behind of the pinky side to the front to make a big loop.
Now take your weaved loops and go over your finger and big loop like the picture above.
Keep doing it so with next finger.  Pull a little bit th ewool to adjust it, It's not necessary to make it too tight
when you get to the end, or at the end of your first chain make a new loop and start the process all over again!
Ahora vuelven a dar la vuelta completa hacia delante de los 2 dedos y repiten el proceso una y otra vez.
Once you see you have many loops like 6 chains or so done, take your starting tail and gently pull, while your chain is still securely placed on your fingers so it makes the chain more defined and it gives you a better idea of how long you need to make your chain.
Cuando lleven unas cuantas vueltas pueden soltar el extremo que tenían sujeto con el pulgar y ahí ya deberían ver como se va formando el tejido. De cuando en cuando halen el tejido para poder ajustar la presión de la lana que queda entre los dedos.
Every now and then take a look and see how long you need to make your chain, depending on your wrist size. Once you've determined you have a long enough chain, cut the wool leaving a few centimeteres and carefully pull the loops off your fingers, making sure you don't undo any of the chain by losing the loops.
Cada tanto midan el tejido alrededor de la muñeca para ver si esta del largo deseado (Esta técnica hace que quede flexible por lo que recomiendo que lo dejen ajustado a la muñeca). En mi caso que quería que diera 3 vueltas así que el mío quedaba largo. Cuando decidan que es suficiente, corten la lana dejando unos centímetros extras y saquen cuidadosamente los dedos de la lana.
You are going to get 2 loops.
Take the end you just cut and slip it into both loops.
Pull all the way through, and carefully tug the end making a tight knot .
So you have the chain ready. Now add the ornament. I used an owl. Weir Huh?
In this case I slipped the chain from the back To the front and passed it just over the owls belly and then slipped it again from the front to the back.
Here you are finishing the process, Just tie off your bracelet with a knot and cut off excess tails!
This is what you get.
Now what I did was place the owl on my wrist and make loops with the chain. =D
Así me quedo :D ¿Qué tal?
Isn't it cute???? =D
Chulo ¿no??? =D
Aaaaand since I still got some wool left I made a headband with a flower for Emma =D so we are coordinated =D. It is a cutie and it looks even better on her
What do you think? Cute, isn't it?
I LOVE your opinion and comments, it totally makes my day, it gives me a huge motivation to keep making fun stuff and crafts!!!
Till next time!!! =D