Hey y'all. I have a great recipe for you today. I made some delicious cinnamon sugar breaded bananas. This is something I used to eat a lot in Brazil and also in any Brazilian restaurant. It's really traditional in Brazil but not sure where it really comes from.
Cinnamon Sugar Breaded Bananas
It's so delicious and goes well with meals or as a treat in the afternoon!. Most kids love it.
Ingredients:
3 Bananas cut in 3
2 eggs
1 tsp light cream of half & half.
2 cups crumb bread
1/2 Sugar
1-2 tbsp Cinnamon powder
Directions
In a small bowl beat the eggs with the light cream.
In a plate add the crumb bread.
Run the banana pieces through the egg to coat it lightly and hold them over the liquid to let any excess fall back into the bowl. Finally, lay the bananas in the bread crumbs, turn it over and press it into the breading to coat. Repeat eggs and crum bread once more. Lay on a piece of waxed paper.
In another small bowl mix sugar and cinnamon.
Heat a large skillet over medium-high heat with oil. Lay some banana pieces. Wait until beginning to brown. Turn them and fry until equally brown on every side, about 1 minute.
Immediately place the fried bananas in the sugar-cinnamon mixture and coat them well with it and then place them on a container or plate.
Serve and enjoy!
Woot! There you have it! Some delicious cinnamon sugar breaded bananas! What do you think??? have you tried these before???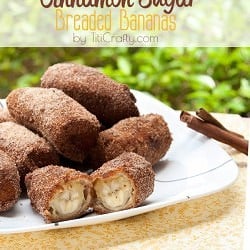 Cinnamon Sugar Breaded Bananas