DIY Black and White Buffalo Check Christmas Wreath
This Black and White Buffalo Check Christmas Wreath is a fun craft that requires a few supplies, mostly inexpensive and so, so easy to make.
Christmas is upon us and there is nothing I love more than creating handmade home decor especially for the holidays. It's always a joy and so much fun to create personalized decorative items for an affordable price. A low budget is always my priority and also using supplies that anyone would have at home.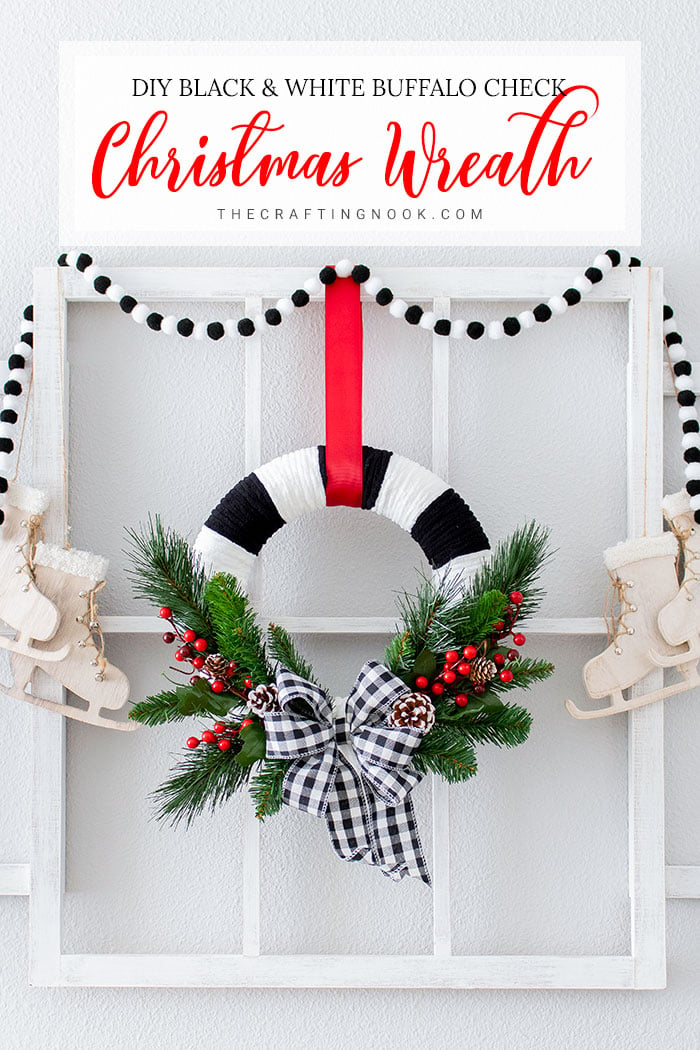 How to make a Black and White Buffalo Check Christmas Wreath
This simple yet gorgeous Black and white Buffalo Check Christmas wreath is versatile and can be used throughout the year by switching some of the elements.
The best part, this DIY wreath is so easy to make you don't have to spend a lot of money or time, just change out the greenery and/or the ribbon for each season or holiday and you are good to go.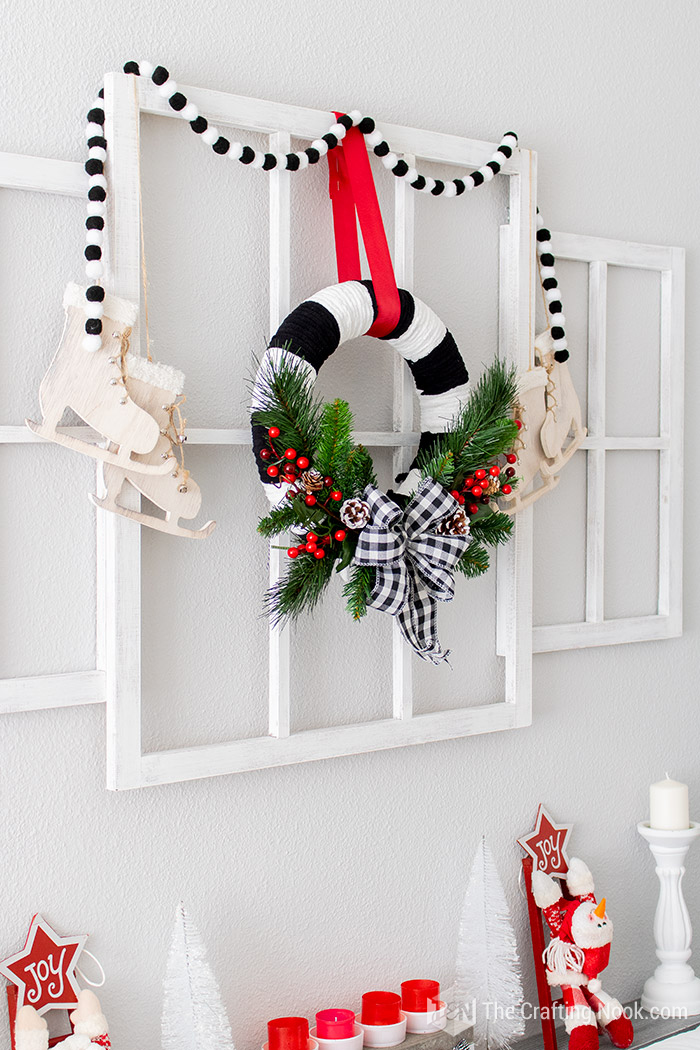 If this beautiful Buffalo Check Christmas wreath doesn't get you ready for the season, I don't know what will.
I also just shared another Christmas Wreath I made for our front door with buffalo check ribbon, bottle brush trees, and gnomes. I just SO love it. Check it out here if you are interested.
Let's get into the spirit of the holidays with this easy and inexpensive homemade Christmas wreaths craft.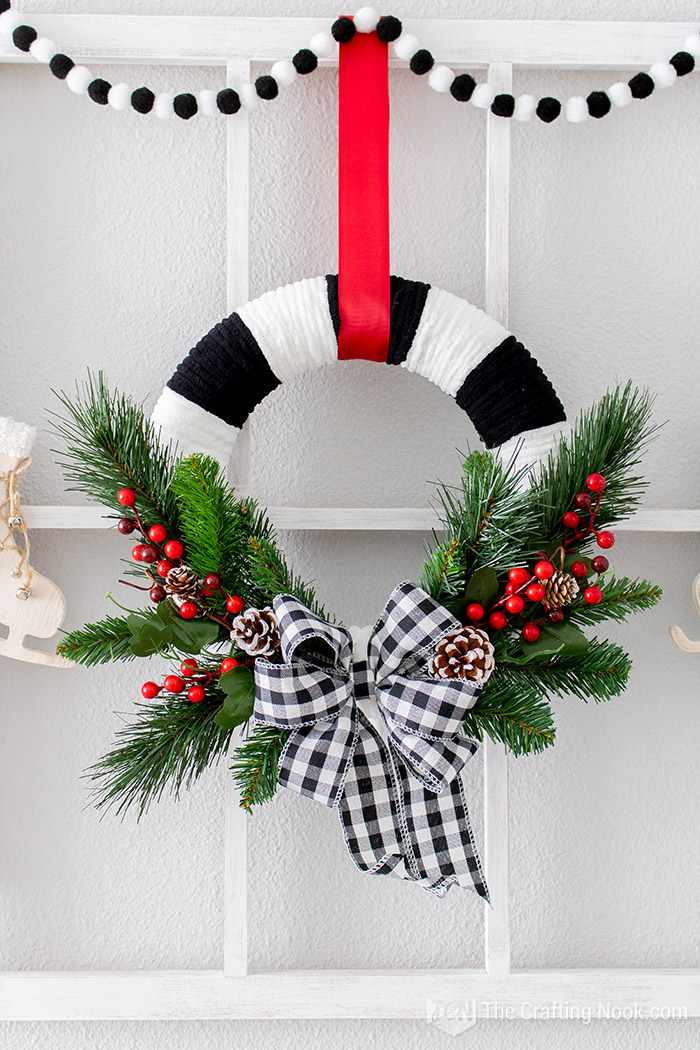 Black and White Buffalo Check Christmas Wreath Supplies:
Foam wreath form (size of your choice.)
Black and white fluffy yarn.
Black and white buffalo check ribbon
Red ribbon
Greenery stems
Berry Stems (mine came decorated with pine leaves and pinecones)
Hot glue gun.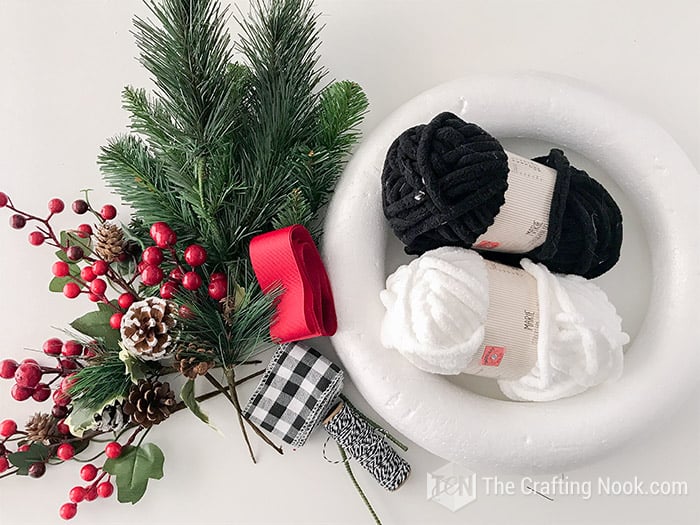 Black and White Buffalo Check Christmas Wreath Tutorial
I created this fun video tutorial if you like this kind of style! If you are more of a step-by-step photo kind of person, scroll down a bit and keep reading.
Firstly, decide what color of yarn you are going to start with. I started with white.
Start wrapping your yarn around your foam wreath form. I decided to make 2 inches stripes and that got me around 10-12 loops.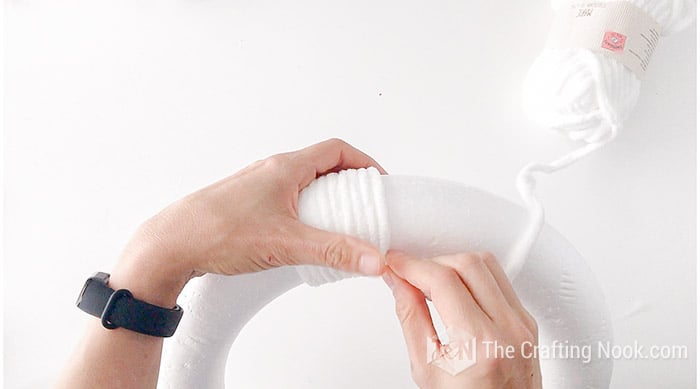 Once your white stripe is done, don't cut it, just leave it sideband start wrapping with the black yarn slightly overlapping the white yarn string.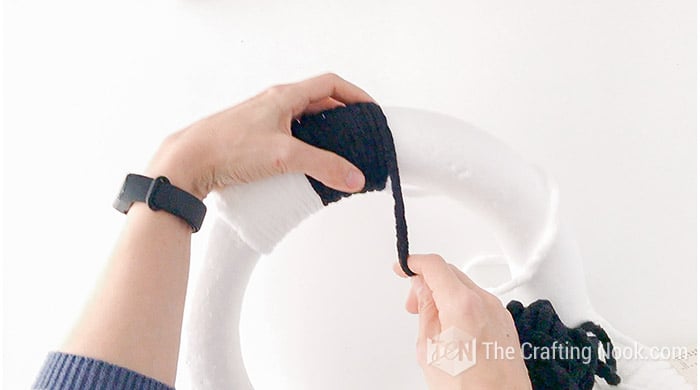 Then swap and leave aside the black yarn and wrap with the white until you finish the whole wreath.
Cut your yarn leaving a couple of inches to make a knot. Cut excess.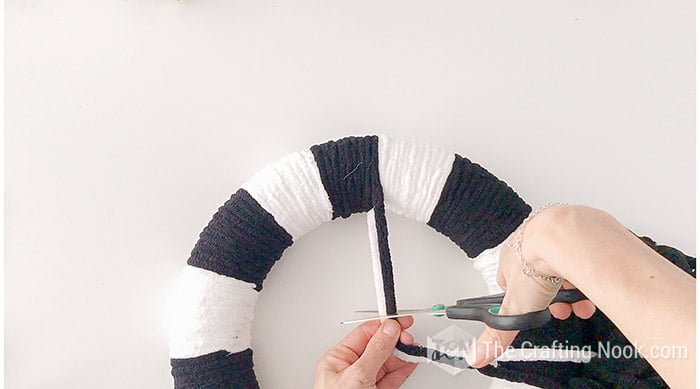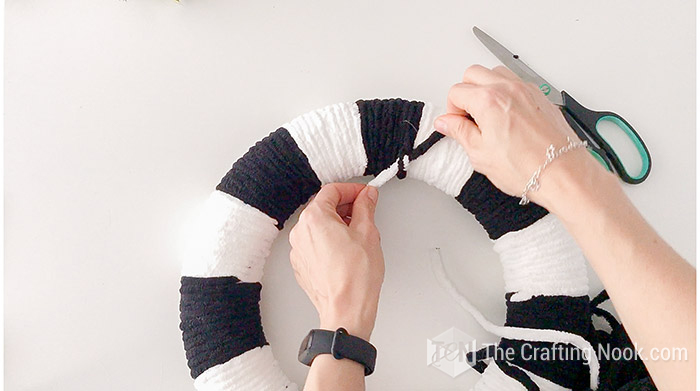 When you are done you should have something like this: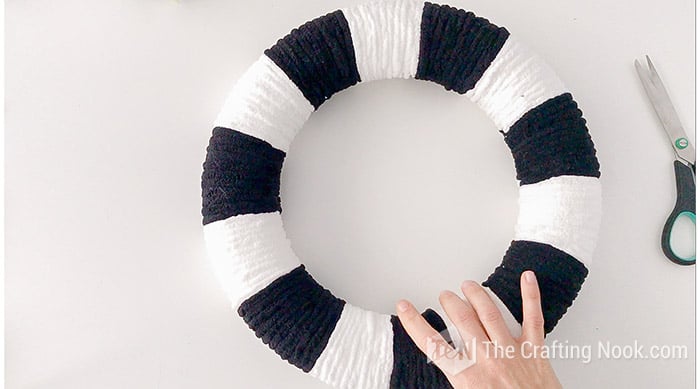 Now get your greenery stems and bend them to make a semi-circle to match your wreath form.
Place them in opposite directions meeting in the center of what you decide will be the bottom of your wreath. Make sure you hide the metallic stems among the leaves.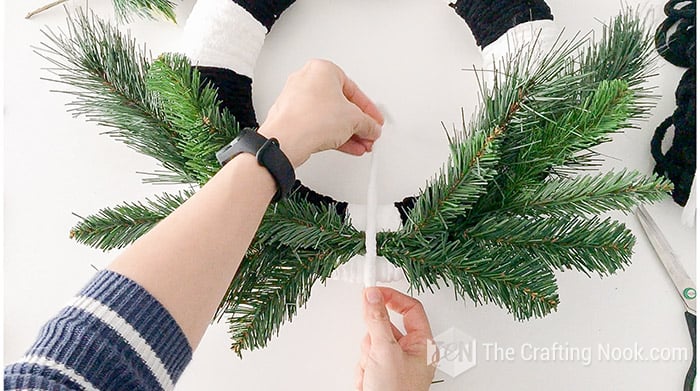 Secure with a string of yarn the same color that the center is on your wreath making a knot on the back. In my case it was white.
Then secure on both ends of the greenery stems the same way as above.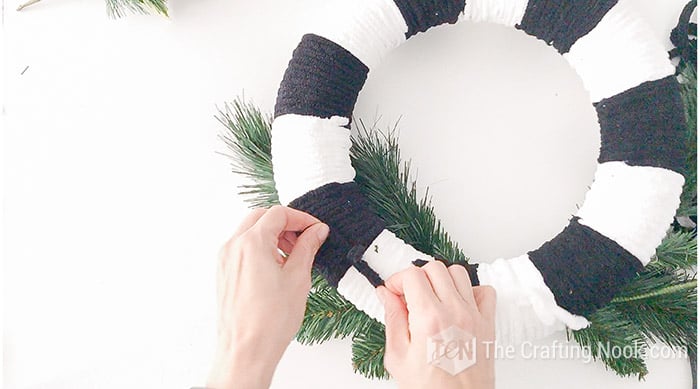 Then insert your berry stems among the greenery leaves and secure if necessary with twine or yarn.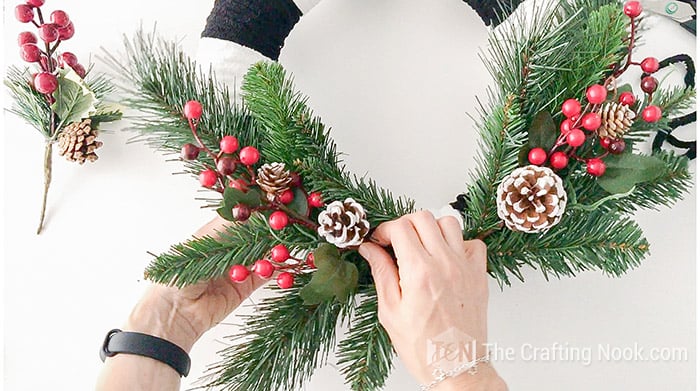 Make a cute buffalo check ribbon bow. In the video, you can see how I made mine.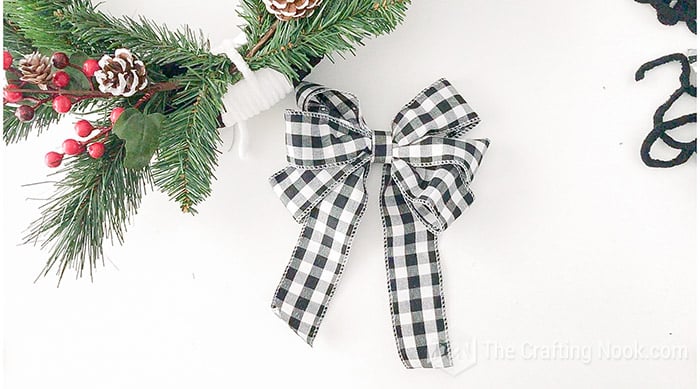 Glue 2 strings of yarn on the back of the bow and place it in the middle of the greenery stems and secure on the back each string separate.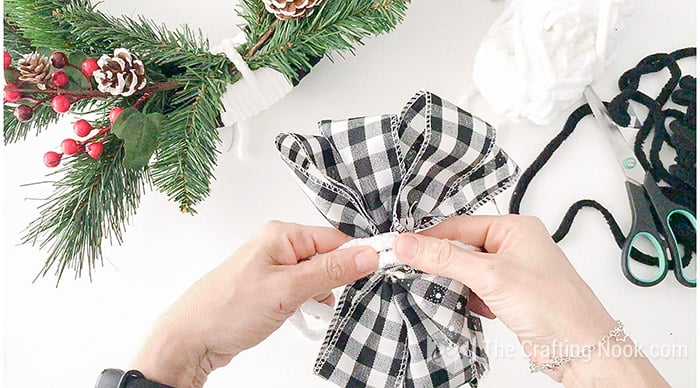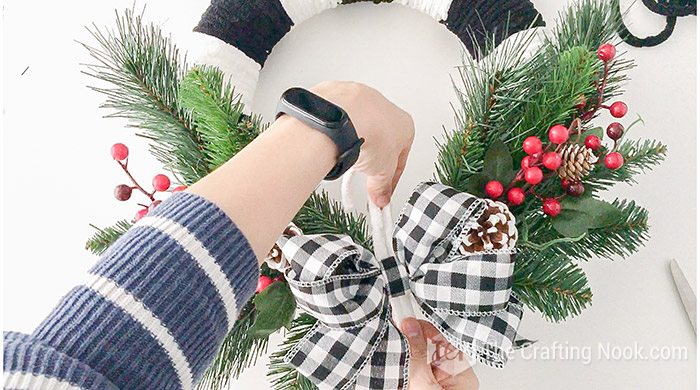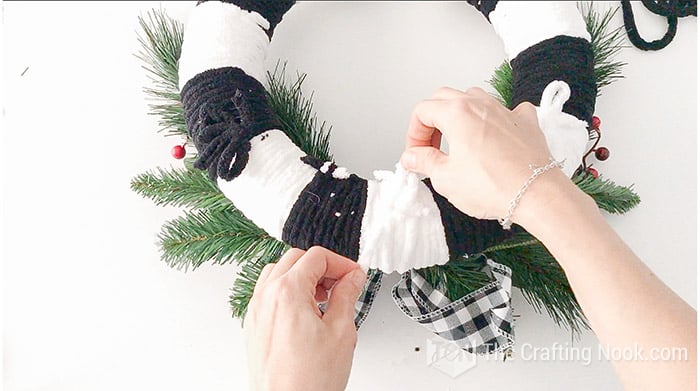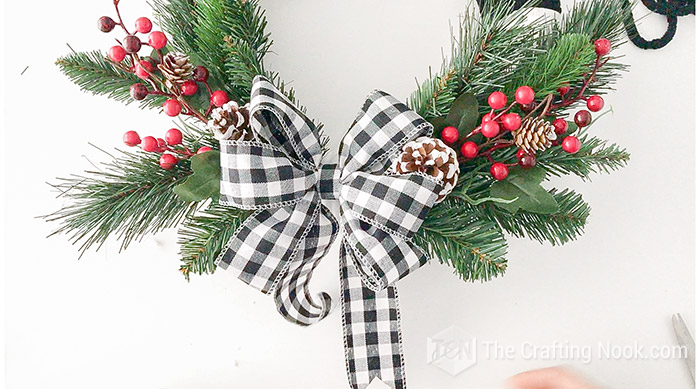 Finally, Use your red ribbon for your hanger.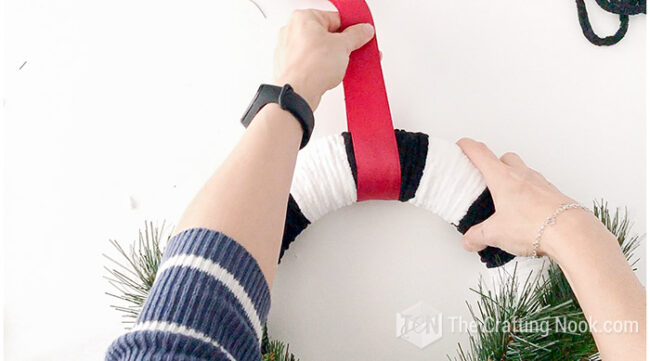 There you go!!!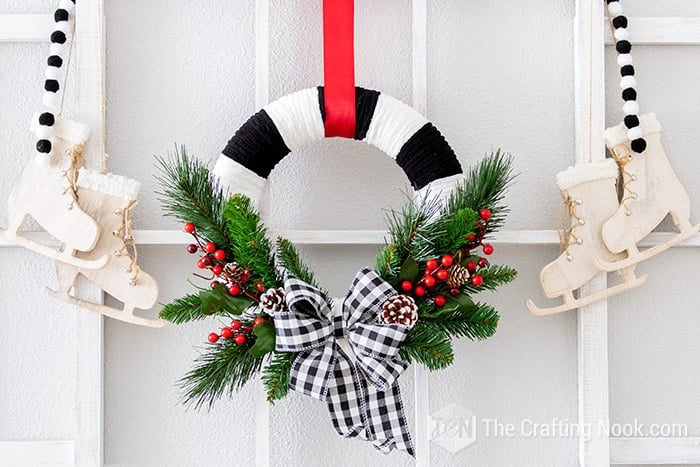 I absolutely LOVE how it turned out. So simple, so easy and yet SOOO pretty!!!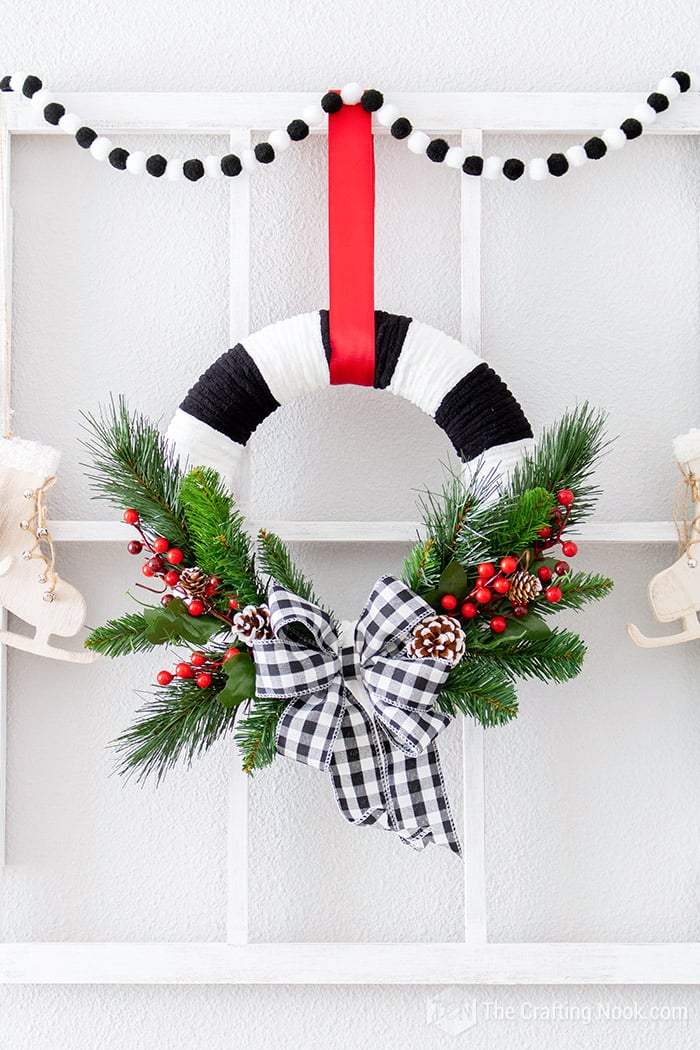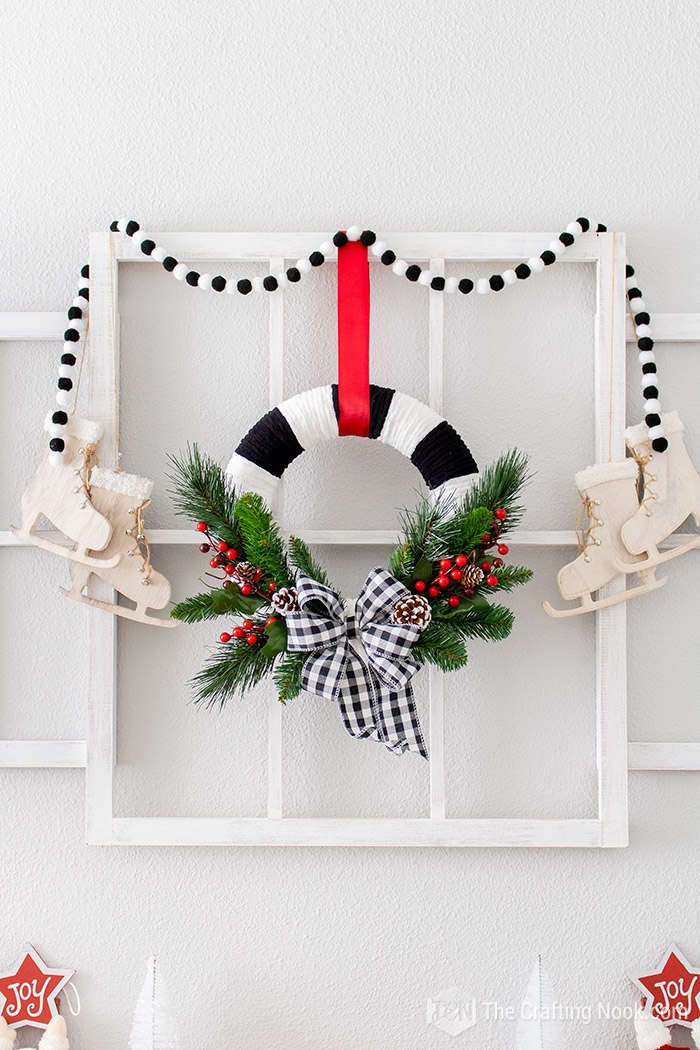 I decided to place my gorgeous wreath hung on my window frame wall art I recently made for the wall behind the sofa!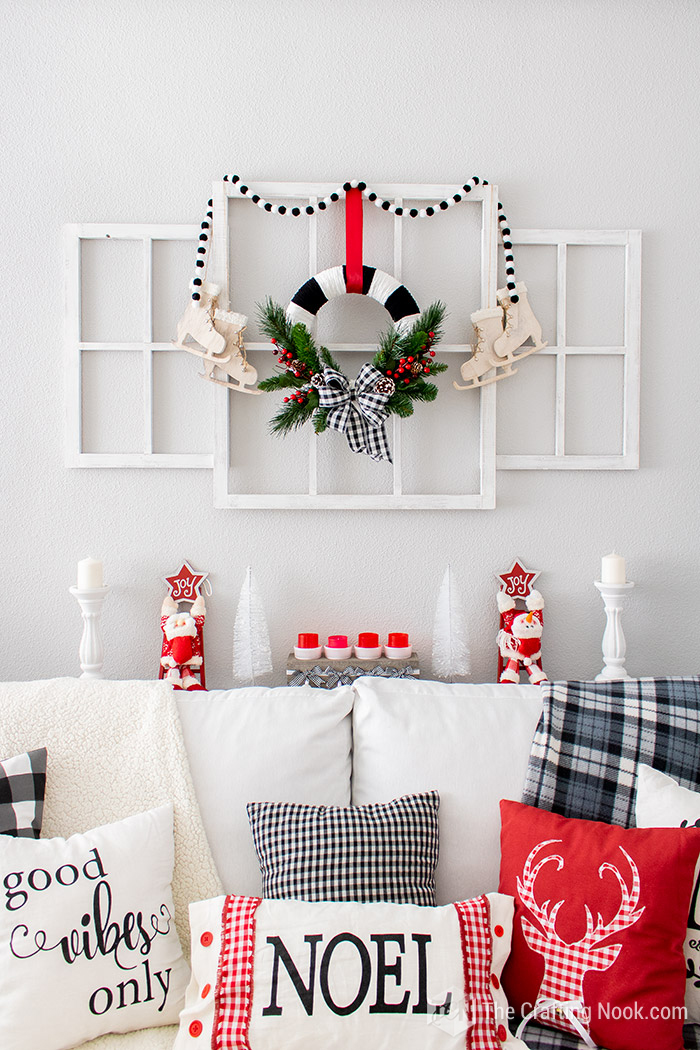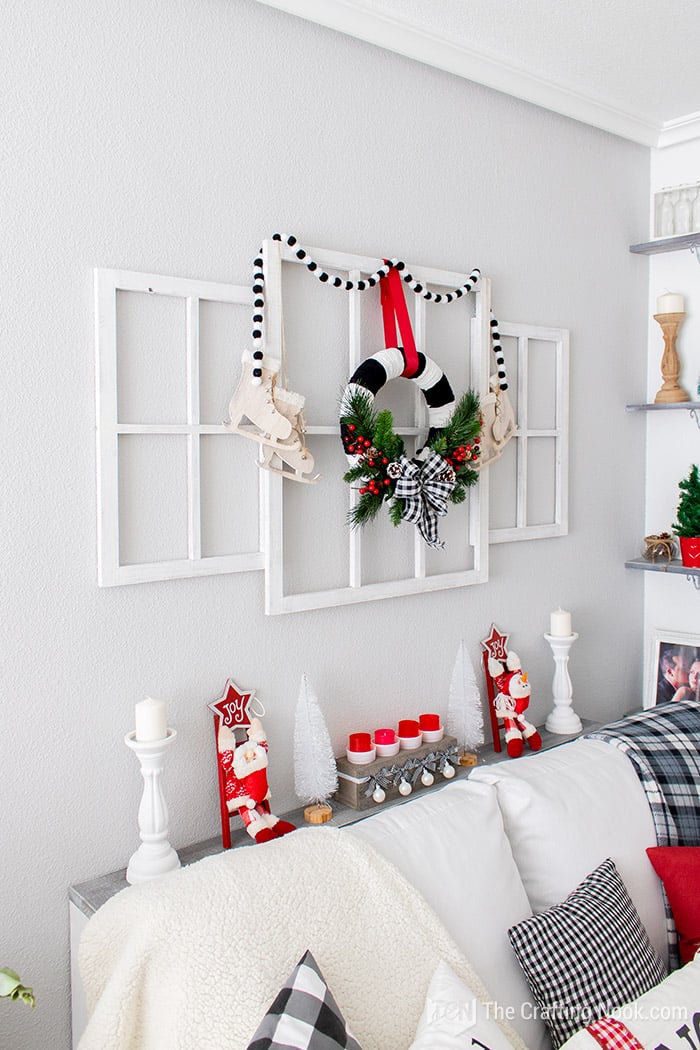 How cute does it look?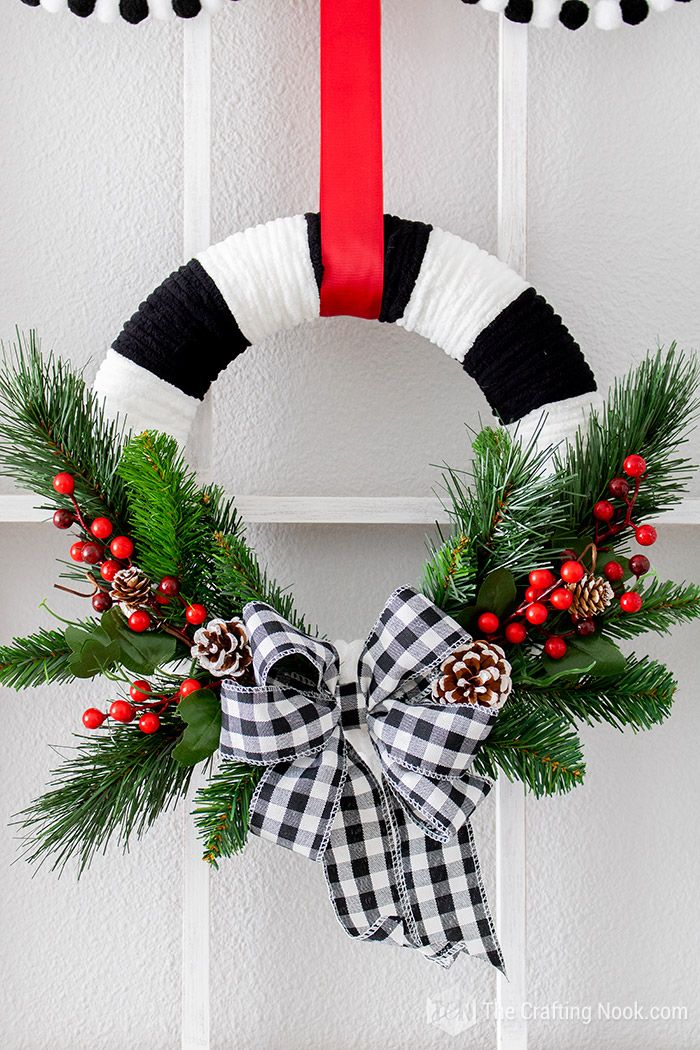 Once Christmas is over you can take it all down and reuse your supplies for another project or use it partially too.
Hope you enjoyed today's project and that it inspires you to create one for yourself.
If you enjoyed this lovely project, don't forget to PIN and share it with friends!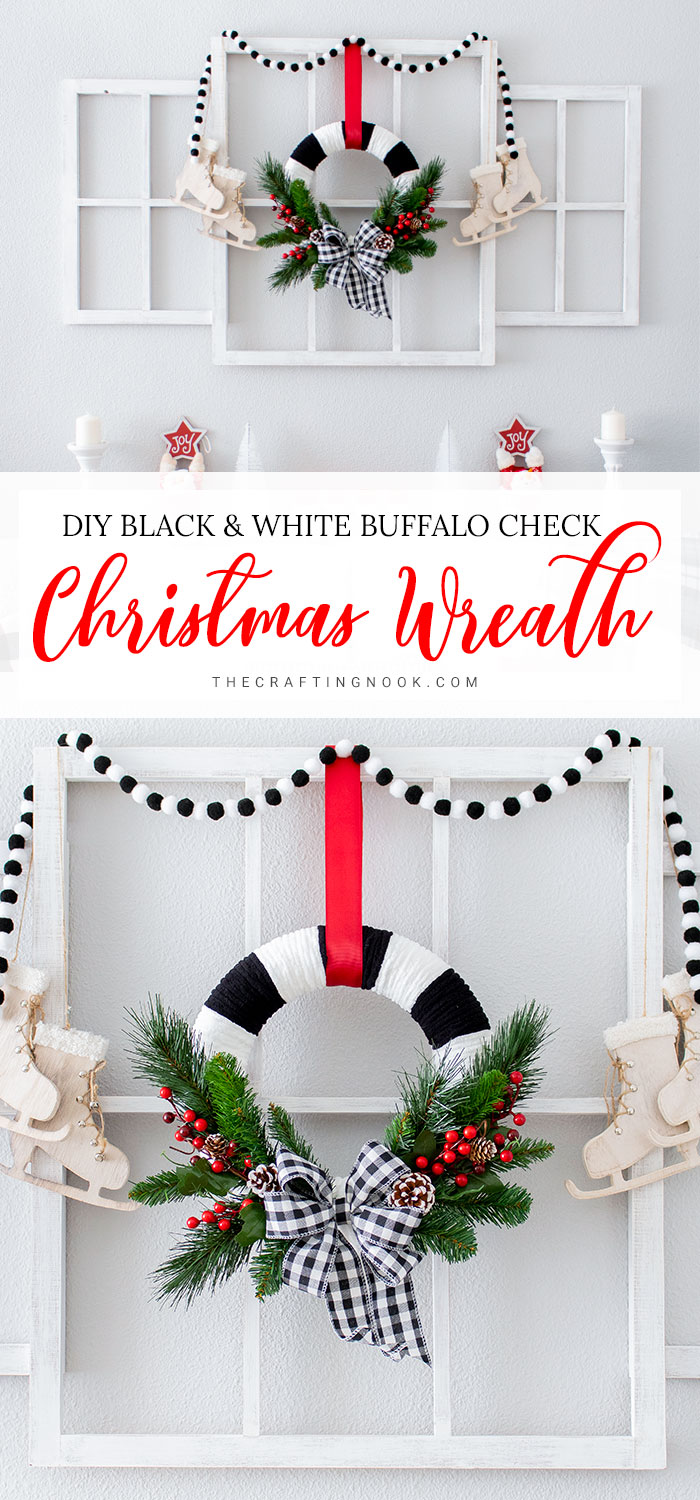 Loving this Christmas Project? You might also love these too: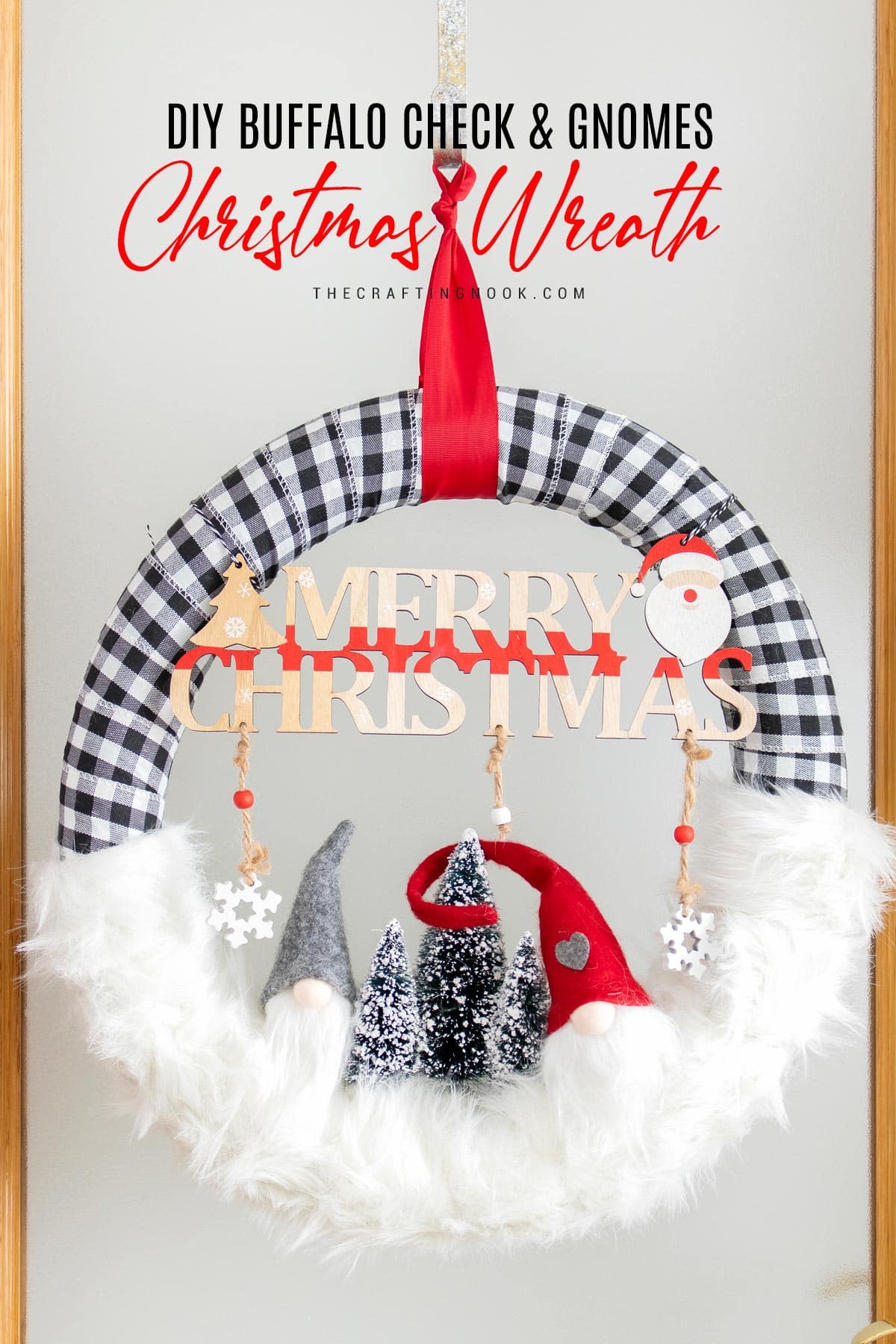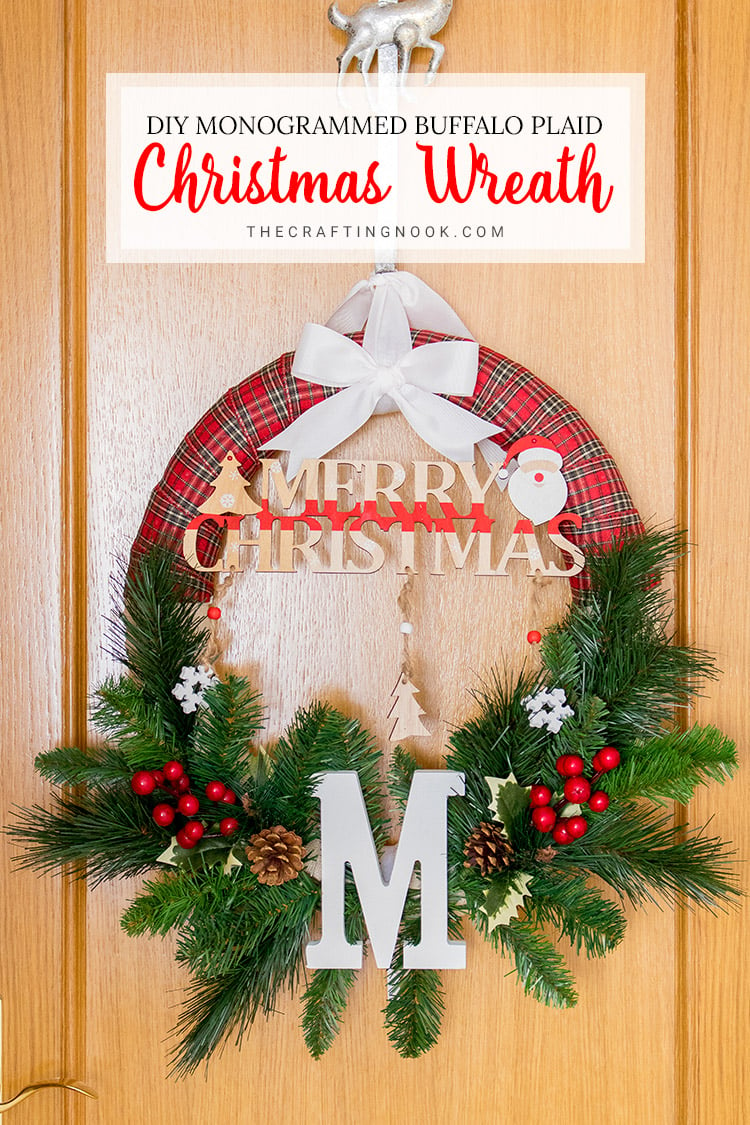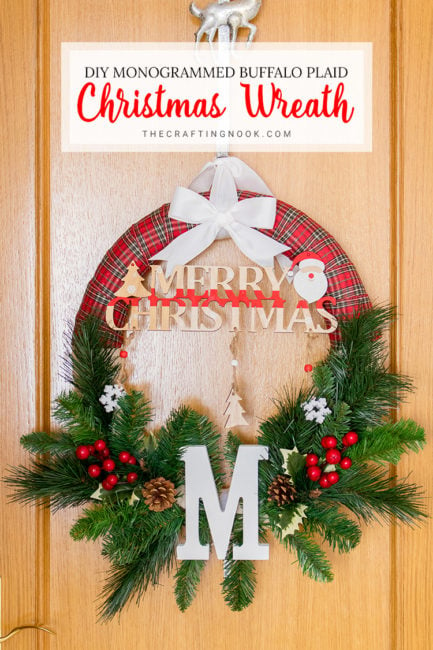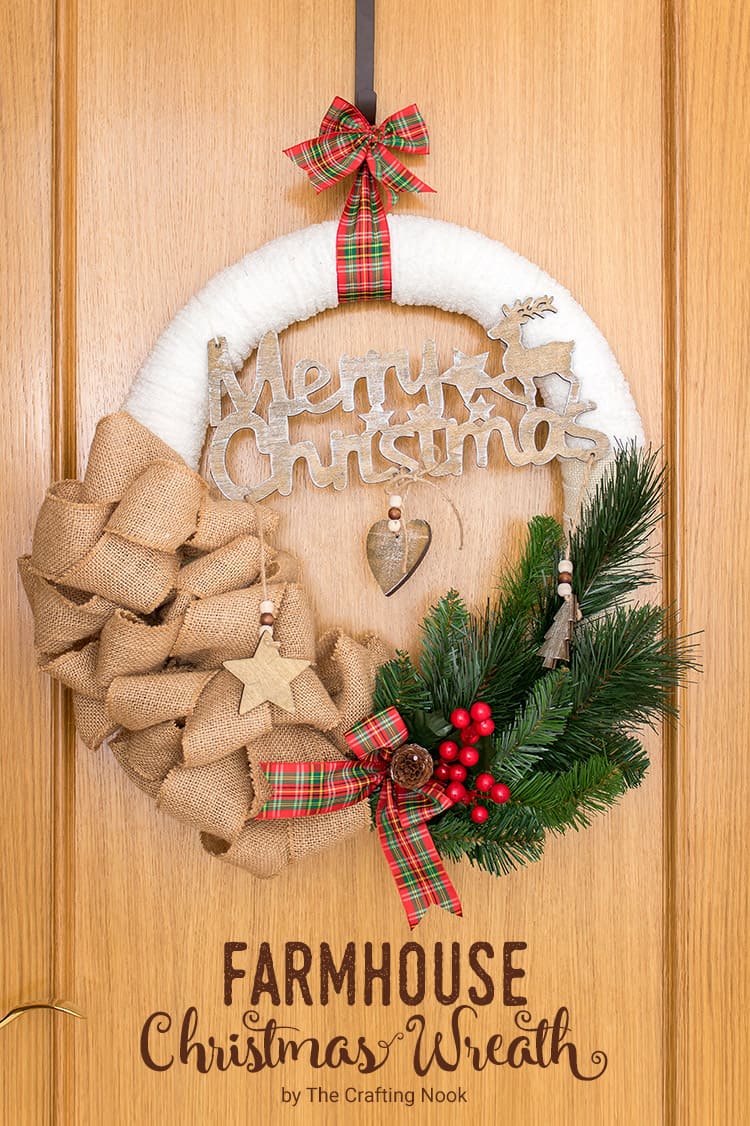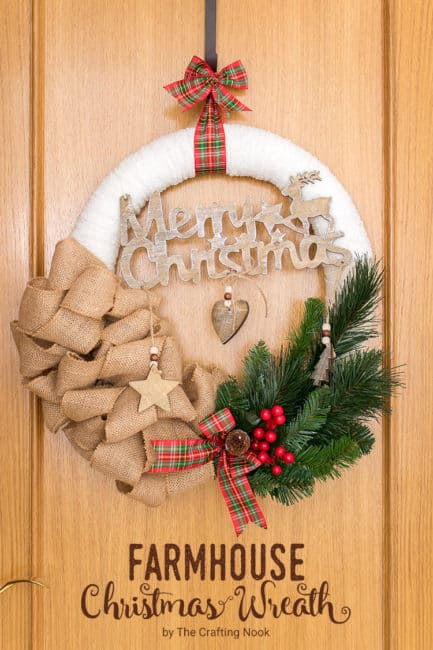 Some of my favorite bloggers' Christmas decor:
Til' next time...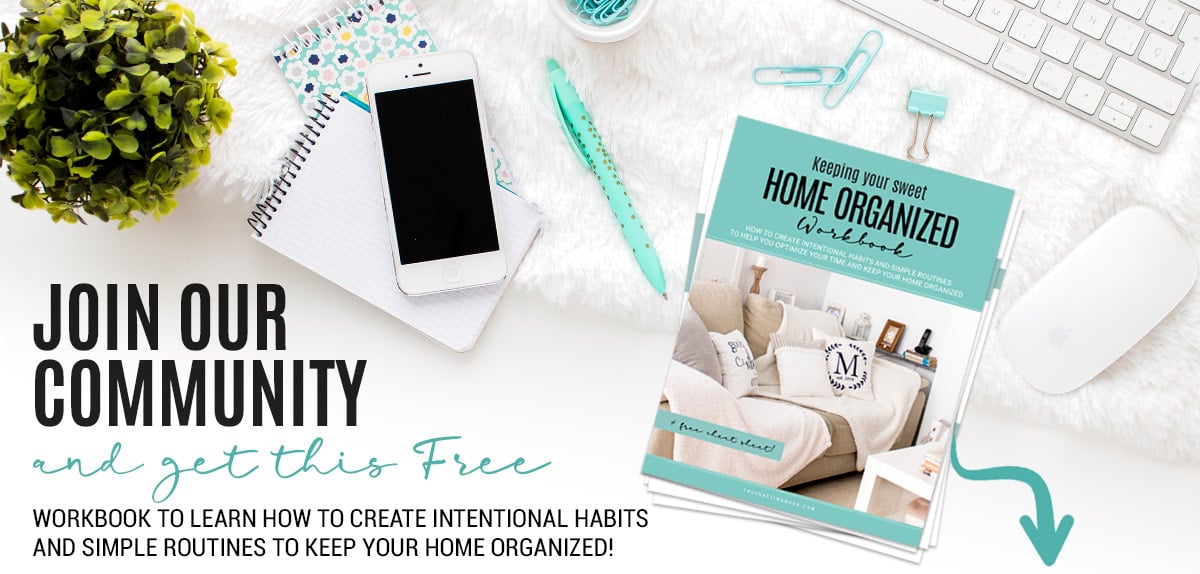 GET INSTANT ACCESS TO THE HOME ORGANIZED WORKBOOK
Plus freebies, printables, exclusive content, tips, stay connected, be the first to know great offers and Product Launches!
Disclaimer: By clicking on the "Yes, I want it" button above you are giving me your consent to collect and use your information according to the law and My Policy Privacy and The Cookie Policy. Zero Spam I promise!