DIY Buffalo Check & Gnomes Christmas Wreath
This Buffalo Check & Gnomes Christmas Wreath it's so crazy easy to make and looks so beautiful. The perfect touch for your Christmas decor.
Wait, what? Did someone say it's December already?
When did that happen?
Tell me you feel the same.
This year went by so freakin' fast. But let's be honest, I'm also so excited. As every year, I enjoy so much getting ready for Christmas!
You might also love these other Christmas ornament ideas: DIY Red and White Rustic Christmas Wreath, DIY Buffalo Check Simple Christmas Wreath, and DIY Black and White Buffalo Check Christmas Wreath.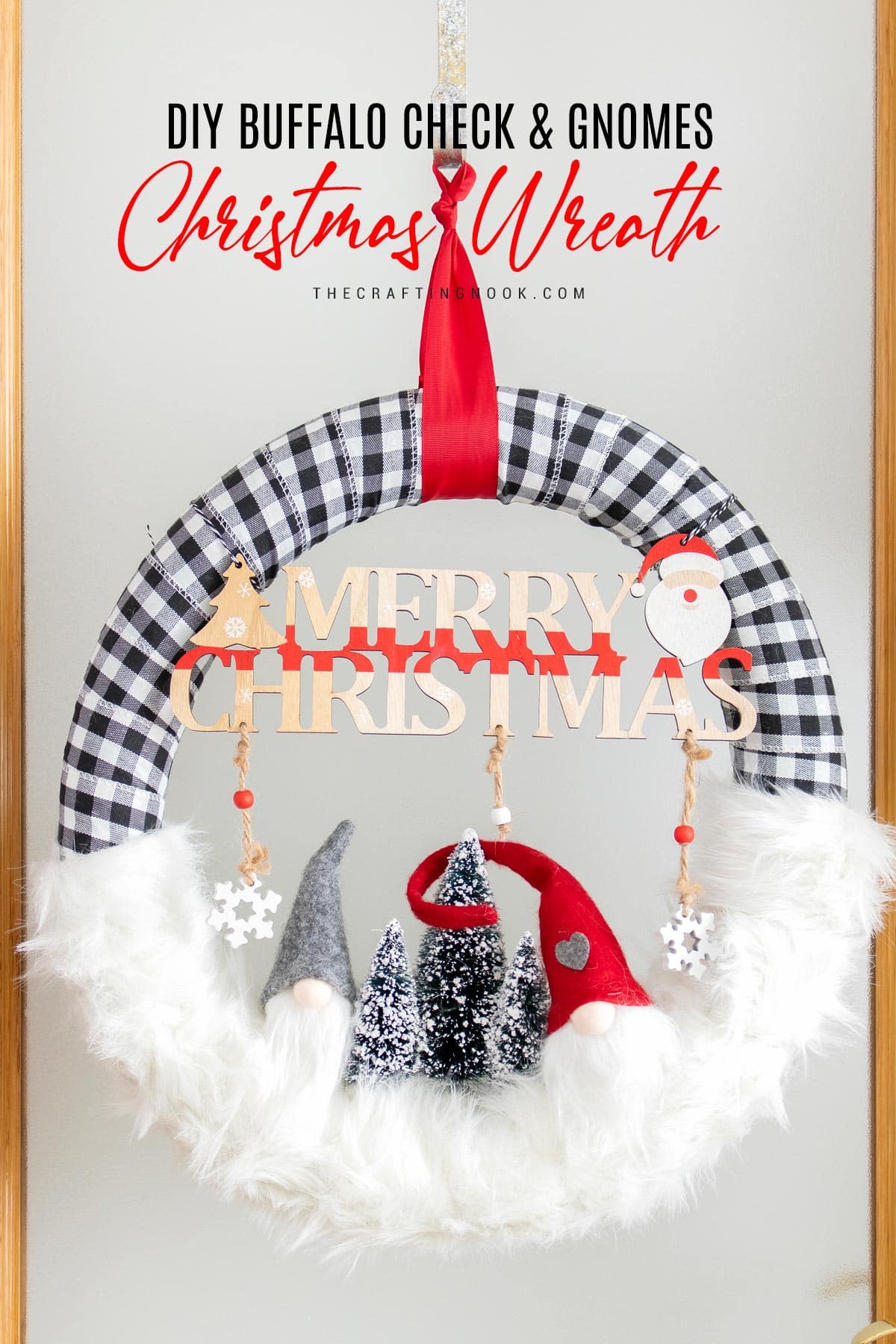 Buffalo Check & Gnomes Christmas Wreath Tutorial
This is the fifth year of my tradition of creating Christmas Wreaths. I don't create wreaths for every season or holiday but for Christmas, I made it a tradition.
I absolutely LOVE having a Christmas wreath to receive visitors. My door looks so festive and pretty with it that I just can't help it, I have to have one every year.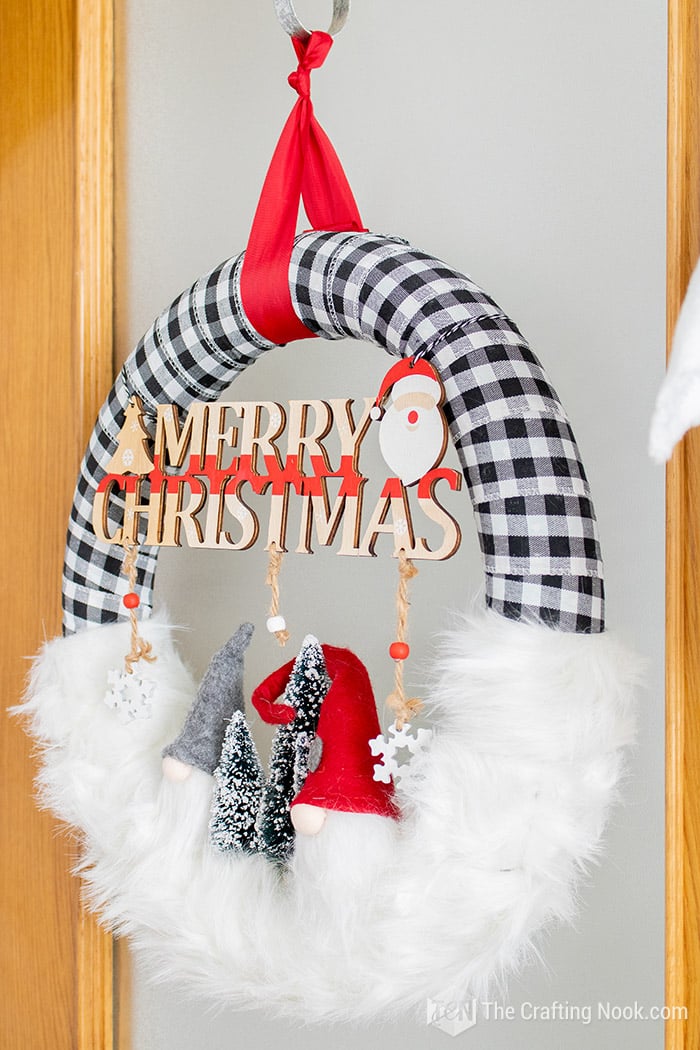 And this year for our Christmas decor, I'm focusing on creating a cozy but chic rustic but still, Winter wonderland feel with lots of plaids, buffalo check, natural textures, wood, pine boughs; and rustic touches.
I can't wait to share more of it with you, woot!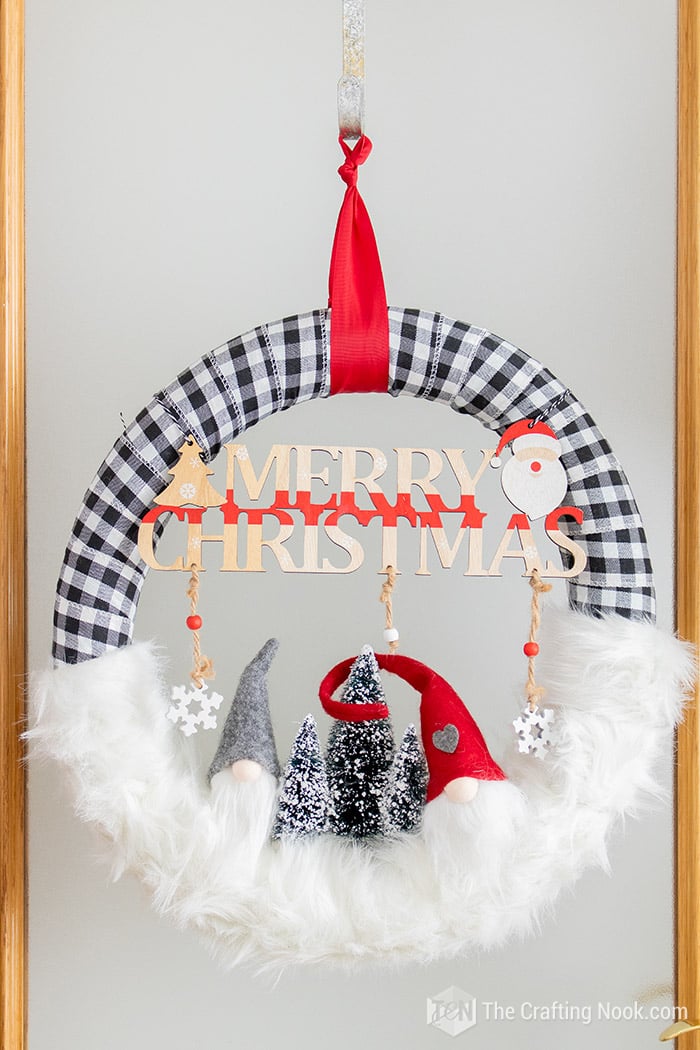 But for now… this simple and thrifty DIY Christmas Gnome Wreath idea is an easy way to add a cute, wintery and cheery feel to your Christmas decor to your front door this Holiday season.
How to Make this Buffalo Check & Gnomes Christmas Wreath
I had so much fun working on this
Gnomes Christmas Wreath Supplies:
Black and white buffalo check ribbon
Red ribbon
Foam wreath form (size of your choice.)
Faux Fur ribbon or garland (or anything you like to simulate snow)
Bottle brush Trees.
Merry Christmas Wooden sign
2 cute gnomes (I used these cute Christmas gnome ornaments).
Pins
Hot glue gun
Twine.
Scissors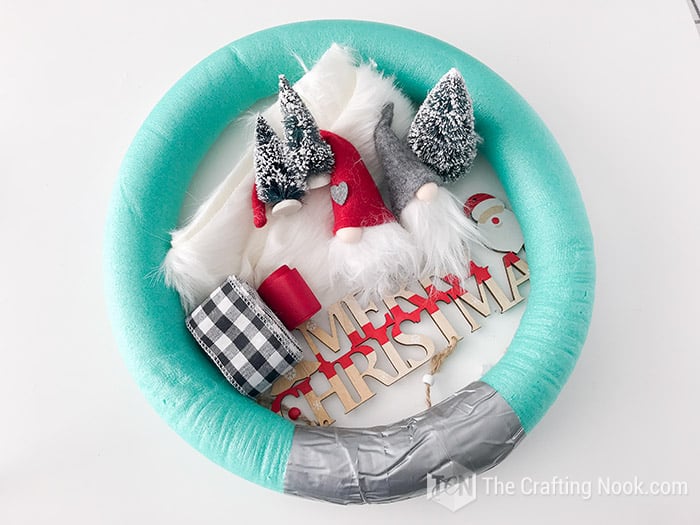 Gnomes Christmas Wreath Instructions:
Before we begin, be sure to follow us on Pinterest, Facebook, Instagram, and YouTube, and also sign up for our email list (at the end of this post), so you'll never miss a post!
I created this fun video tutorial if you like this kind of style! If you are more of a step-by-step photo kind of person, scroll down a bit and keep reading.
Get your foam wreath form (I created mine with pool noodle if you are interested in making it yourself) and start wrapping it with your buffalo check ribbon.
If like me, you don't want to use glue, Fold the ned of the ribbon and secure it with a piece of twine or a pin.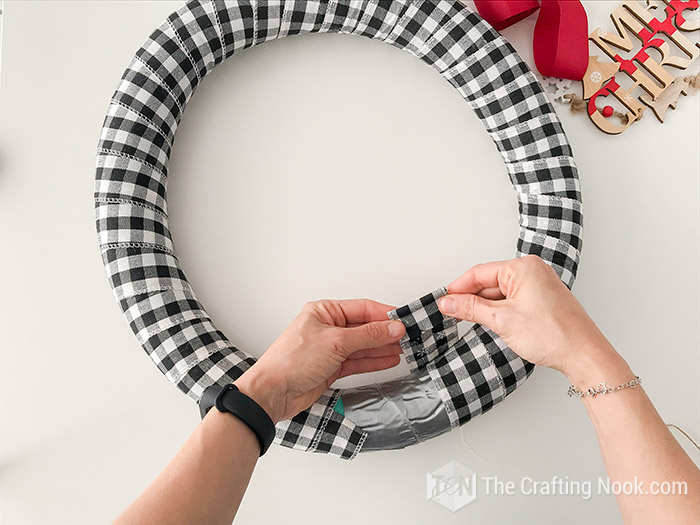 This is the best way to make your wreath form last for years!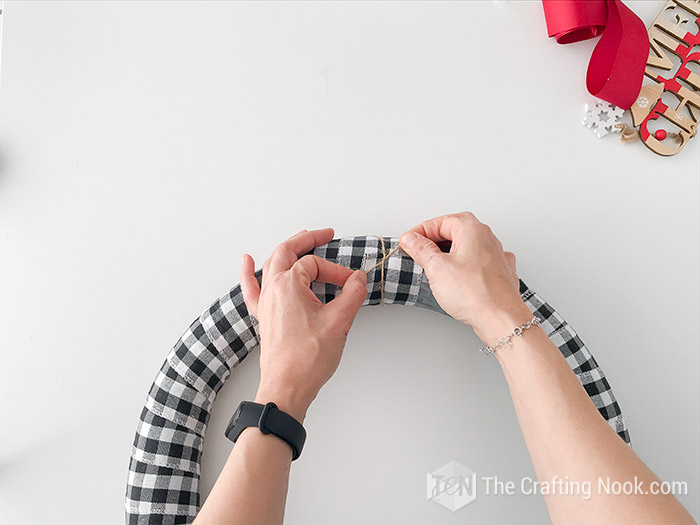 Then decide where will be the bottom of your wreath, wrap it with the fur ribbon.
In this case, you can't find a fur ribbon, you can use any faux fur fabric and cut strips 2 inches wide and as long as you need.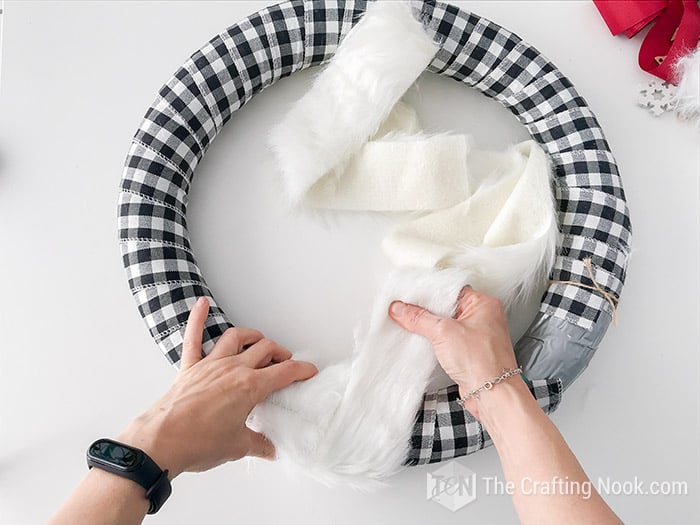 Secure the end of your ribbon with a pin.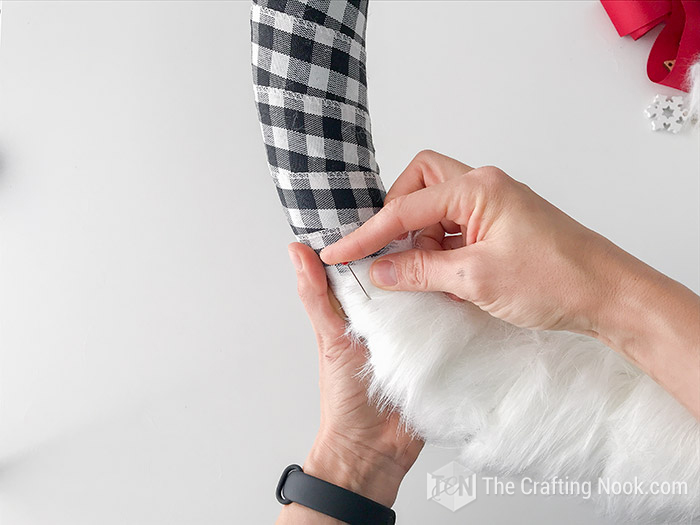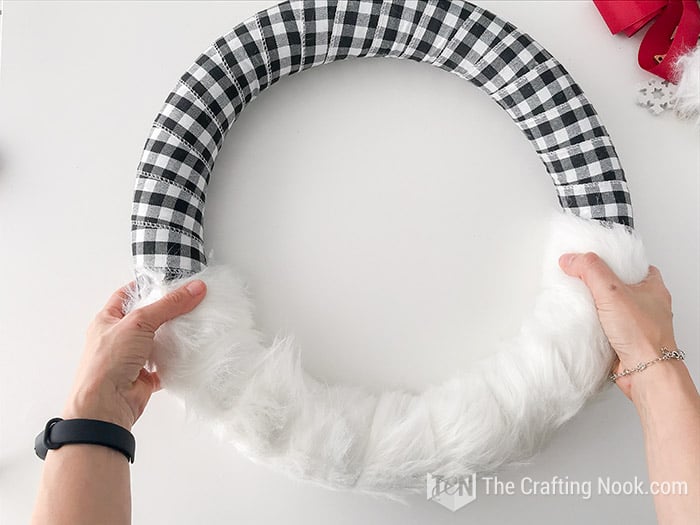 Once done, start gluing your bottle brushes trees. I recommend using a low-temperature glue gun for this.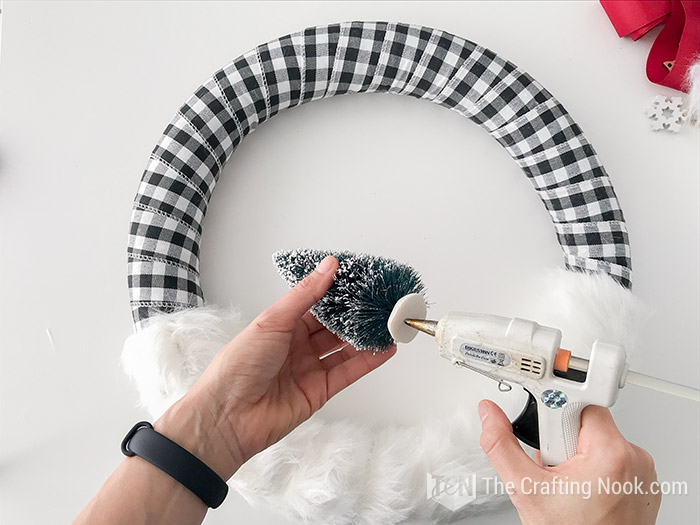 I recommend one large tree in the middle and 2 medium ones on both sides of the large tree.
Then depending on the type of gnomes, you are using I would suggest securing them with pins.
In my case, my gnomes were only heads so I secure them with pins on the back of their hats mad made sure the gnome beard would blend in the fur.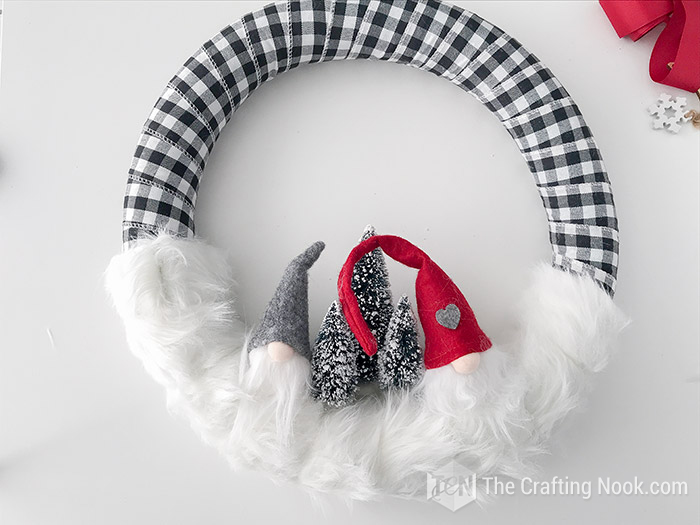 Next, I placed the Merry Christmas sign on the top of the wreath and secure it with some black and white twine trying my best to camouflage among the black and white from the ribbon.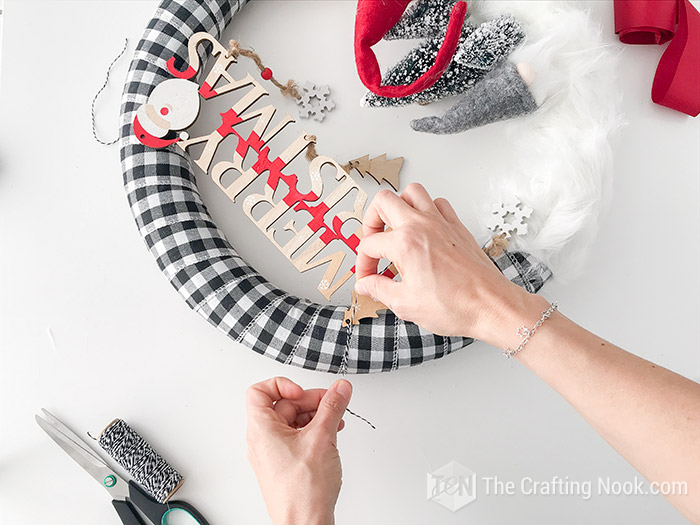 Finally, with a Red Ribbon, I created a hanger for my pretty and easy Buffalo Check & Gnomes Christmas Wreath.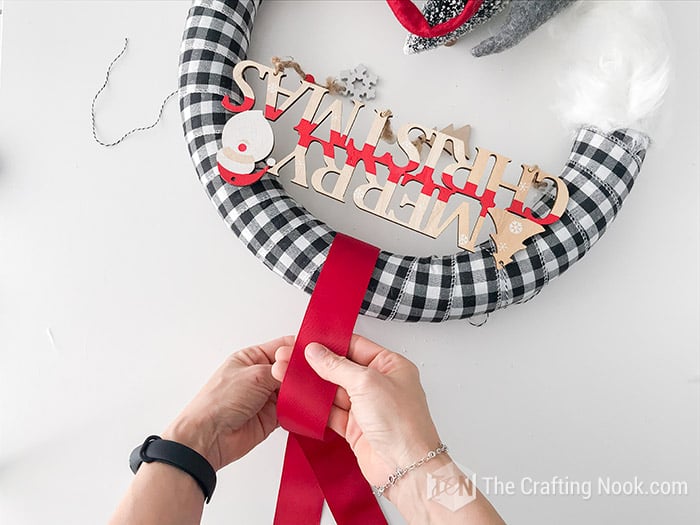 That's pretty much it.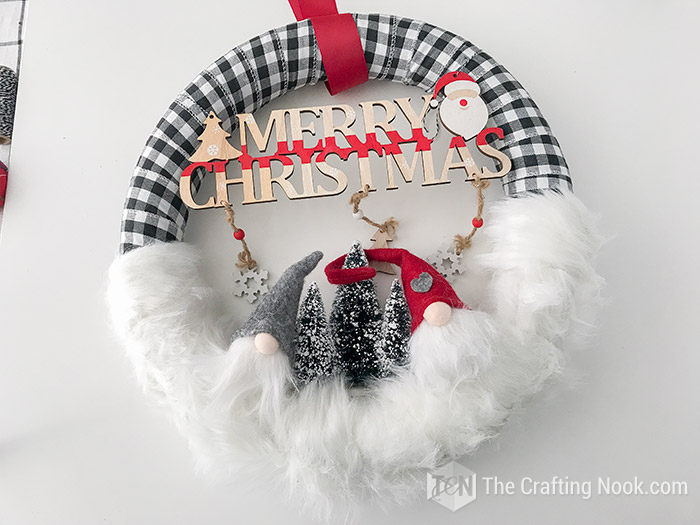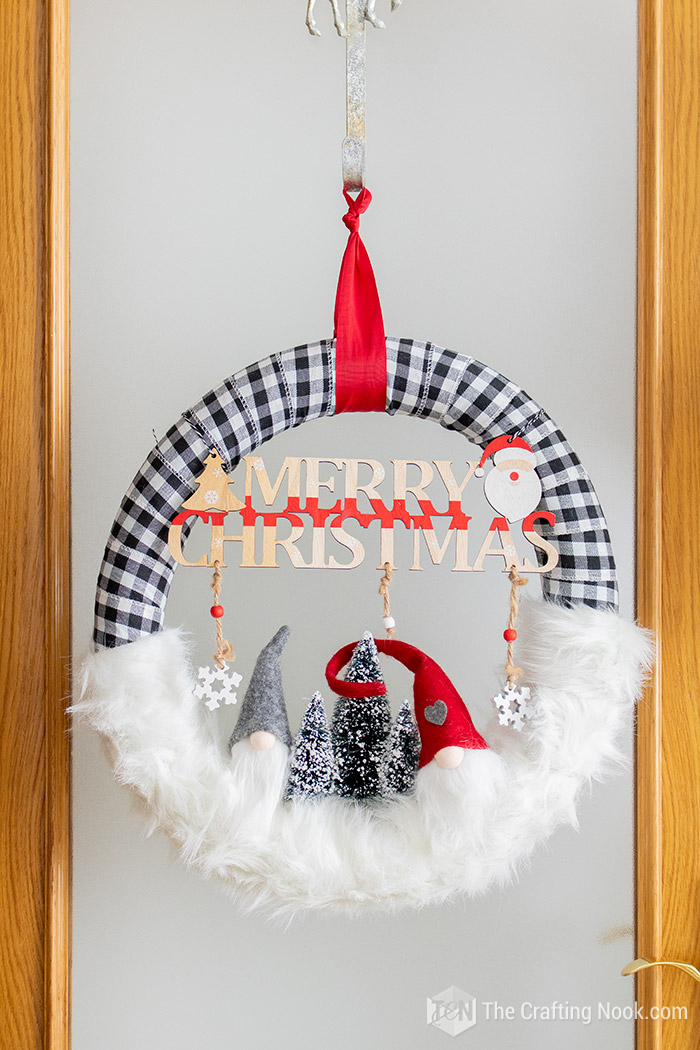 I absolutely love how it looks. It's like a mix between the rustic buffalo check with a winter wonderland feel. I just love it.
Once Christmas is over you can take it all down and reuse your supplies for another project. The only thing that might get damaged is the fur, but saving all the rest is pretty good to me!
Hope you enjoyed today's project and that it inspires you to create one for yourself.
If you enjoyed this lovely project, don't forget to PIN and share it with friends!
Loving this Christmas Project? You might also love these too:
Some of my favorite bloggers' Christmas decor:
Til' next time...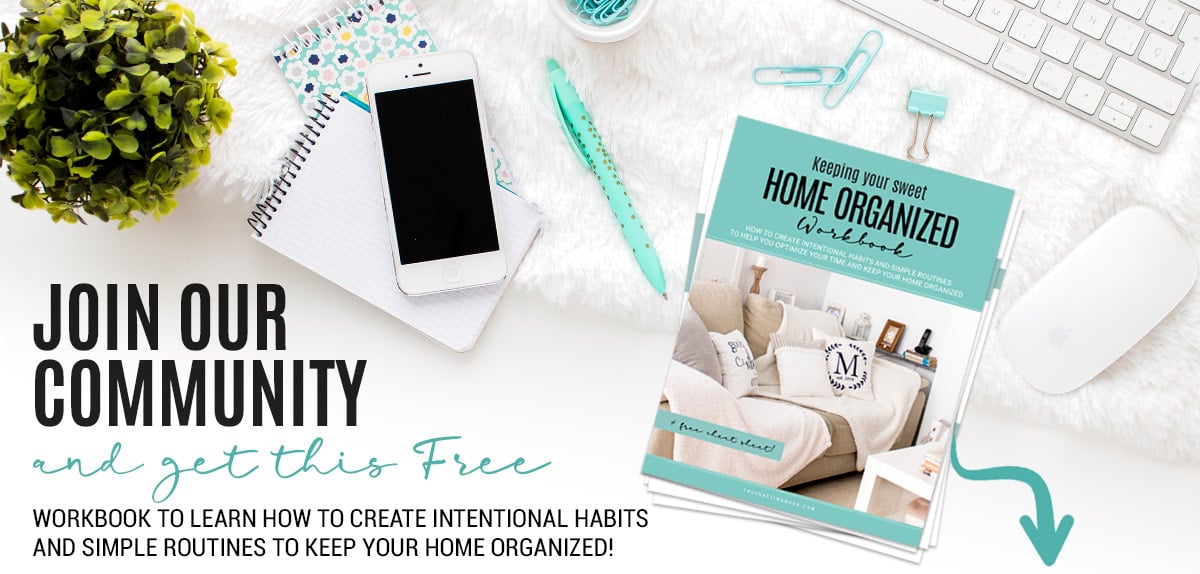 GET INSTANT ACCESS TO THE HOME ORGANIZED WORKBOOK
Plus freebies, printables, exclusive content, tips, stay connected, be the first to know great offers and Product Launches!
Disclaimer: By clicking on the "Yes, I want it" button above you are giving me your consent to collect and use your information according to the law and My Policy Privacy and The Cookie Policy. Zero Spam I promise!