This grain sack inspired Noel Modern Farmhouse Christmas Pillow Cover is a perfect project to add some farmhouse style to our Christmas decor. A fun and easy project that will only need a few supplies and all your love!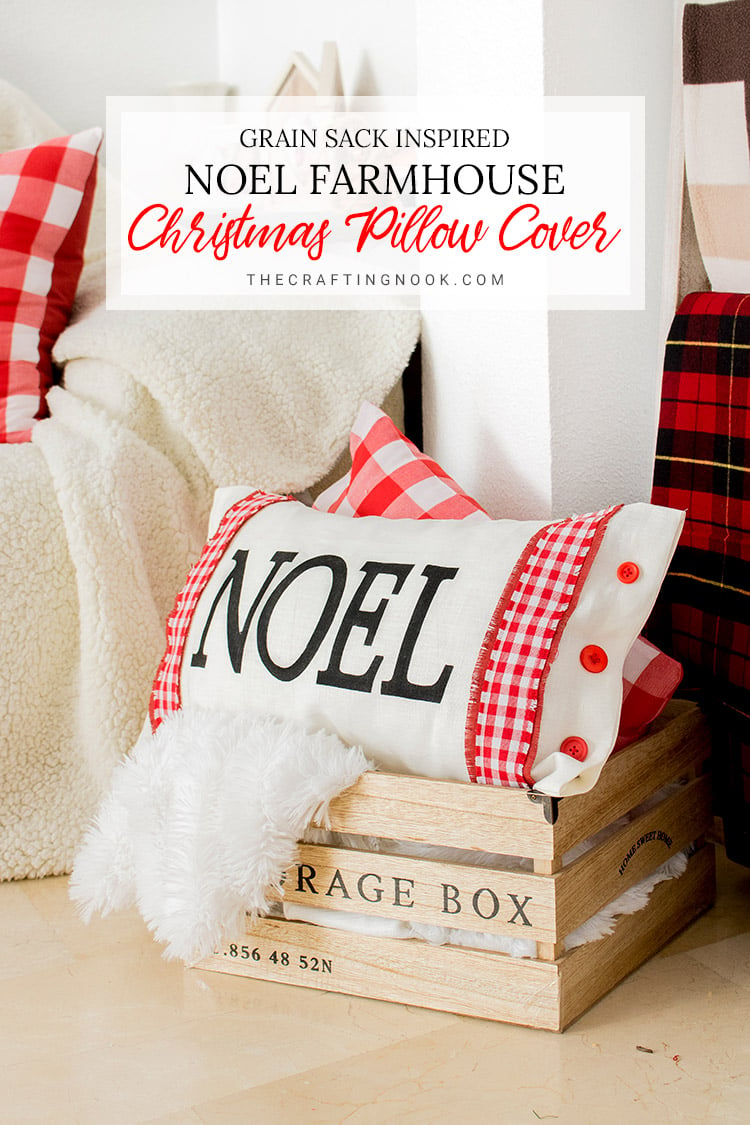 Noel Modern Farmhouse Christmas Pillow Cover Tutorial
Farmhouse is still my favorite home decor style. For some reason, it brings a cozy and homey feeling to the home.
Actually, pillows is an obsession and also my favorite item of any decor but if you add the farmhouse style to it then in my book that's call perfection.
Being Christmas my favorite time of the year, I thought why not put it all together, right?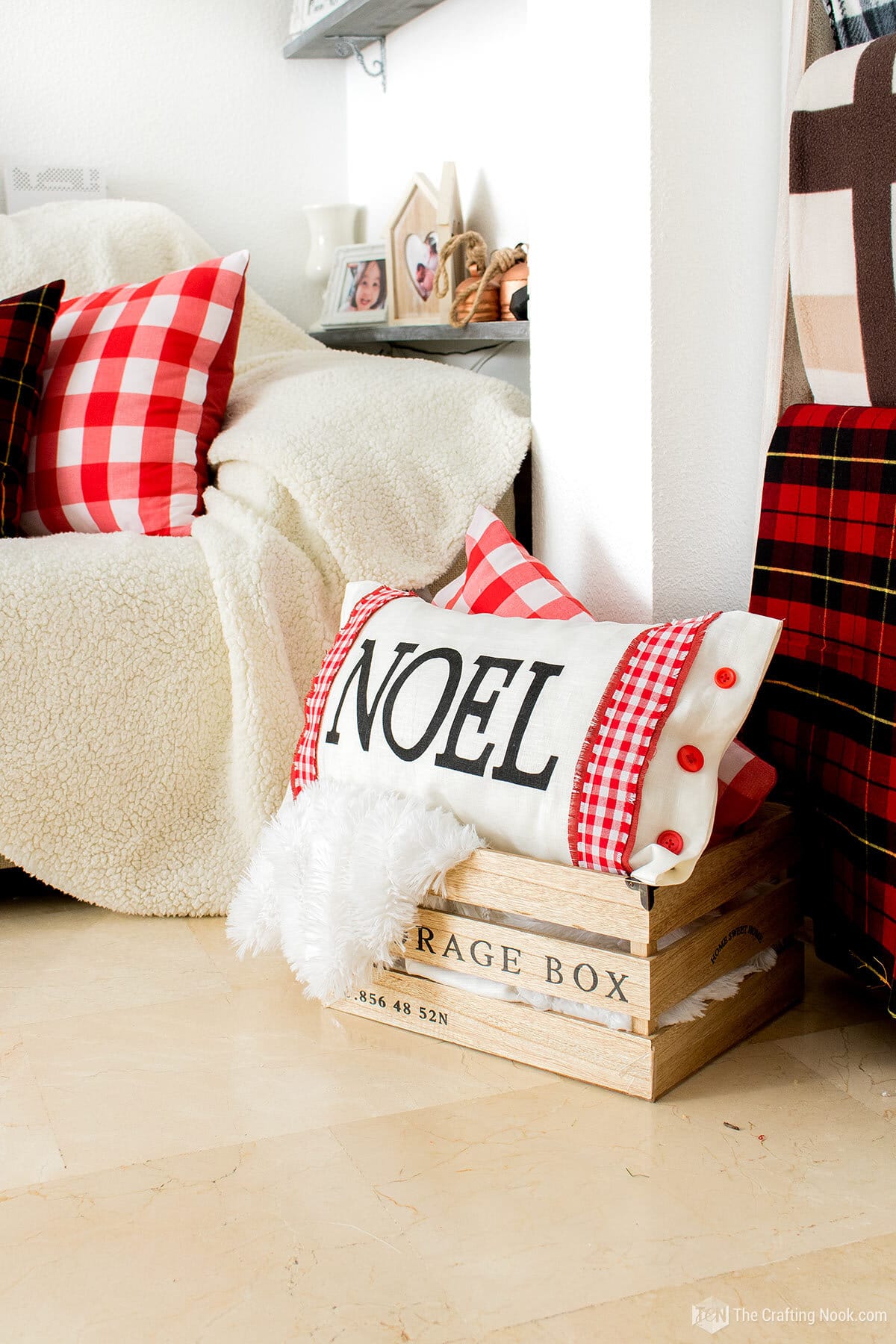 This Noel Modern Farmhouse Christmas Pillow Cover is easy to put together and you don't need to be an expert sewer to accomplish it. Even if you don't have a cutting machine for the painted letters, you can find stencils and still be able to create your own.
So don't let this tutorial scare you. Imagination is the limit.
Farmhouse Christmas Pillow Cover Supplies:
White linen (size should be your pillow size + 1cm lengthwise, +10cm (4 Inches) widthwise)
2 Red fabric Strips (width same as white linen and length about 2.5 Inches)
Buffalo Plaid Red/white fabric (width same as white linen and length about 2 Inches)
Press Snaps
Buttons
A Pillow Insert.
Coordinating threads, pins, scissors, measuring tape, and an iron.
Freezer Paper (or a stencil of your choice if you don't have a cutting machine)
A Sewing Machine
Black fabric paint
Foam brush
How to make A Farmhouse Christmas Pillow Cover

Modern Farmhouse Christmas Pillow Cover Directions
I've made this quick video tutorial to make it easier to see the process, but if you are more of a step-by-step photo kind of person, scroll down a bit and keep reading!
I like to cut my fabric to the dimensions of my pillow insert + 1 cm seam allowance. This way it fits the pillow form nice and slightly snug. If you like it tighter, don't add the 1cm and just cut to the exact dimensions of my pillow insert.
I just adjusted the design size to the maximum my cutting machine could cut (12 Inches wide).
I created my design. I wrote Noel with a pretty font. You can write whatever you want or just use graphics. Imagination is the limit. Just make sure it fits your available space in the pillow cover.
Then when using Freezer paper it's important to remember that the waxed side should always be facing up. For this reason is super important to also remember to flip (mirror) the design before cutting. For this, you just need to select the whole design and go to Object > Mirror > Flip Horizontally.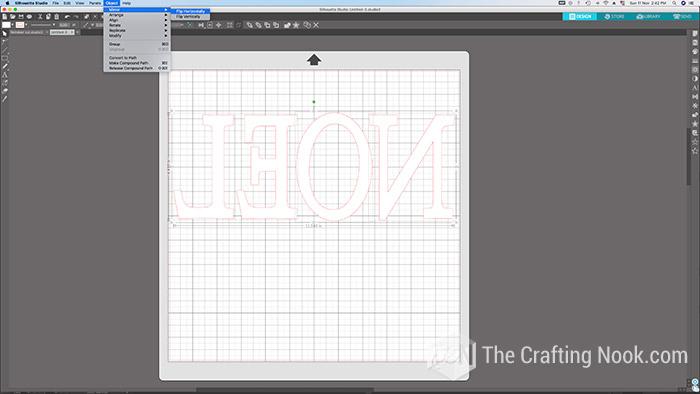 Now you can send to cut. I used Copy Paper setting, BUT I set the blade to 1 since freezer paper is really light.
Once cut, carefully remove from mat the inner parts of the design, leaving only the inner parts that actually belongs to your design. Like in this case, would be the inner part of the letter "O".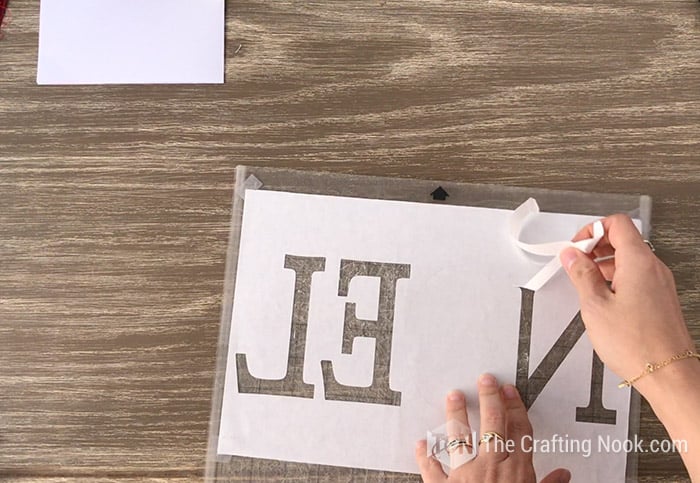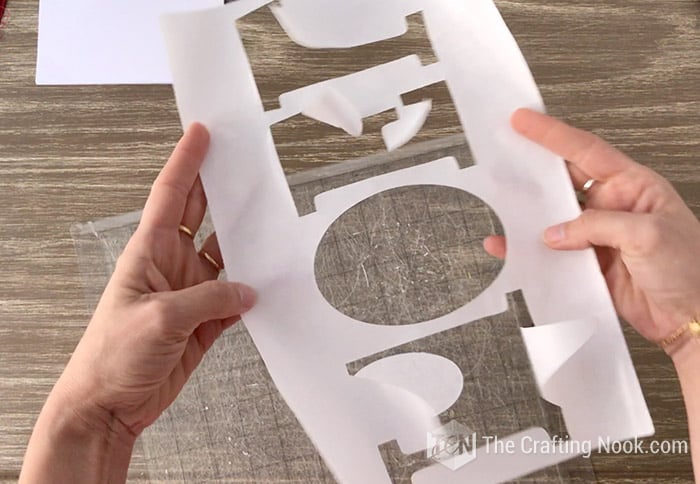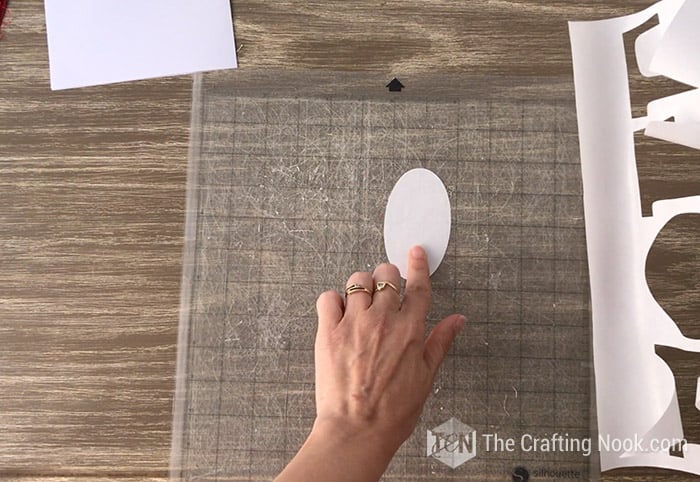 Take one piece of your fabric, iron it well and mark the center. Place carefully your freezer paper stencil wax side facing down onto the fabric as centered as you can.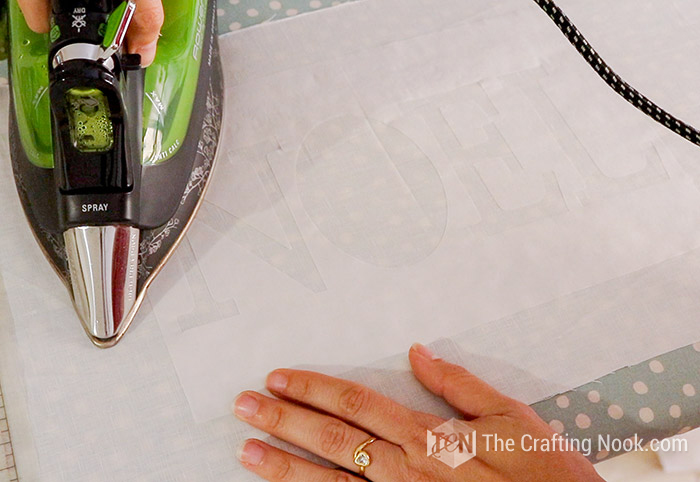 Iron it (again carefully) onto your fabric.
Then add those little inner shapes (like the inner "O") to the correct places and iron them down.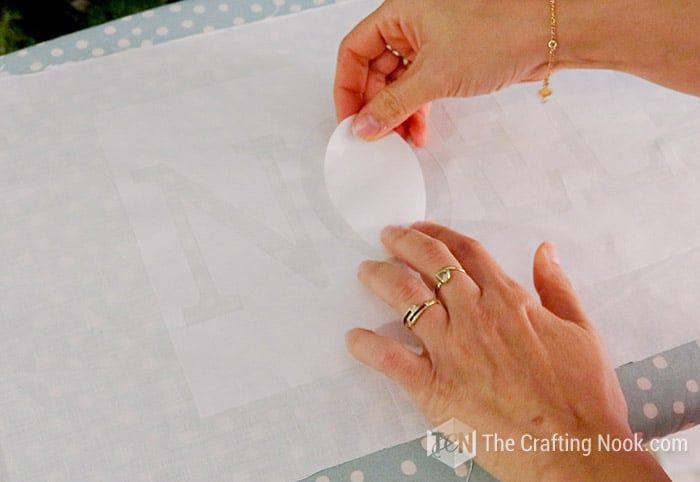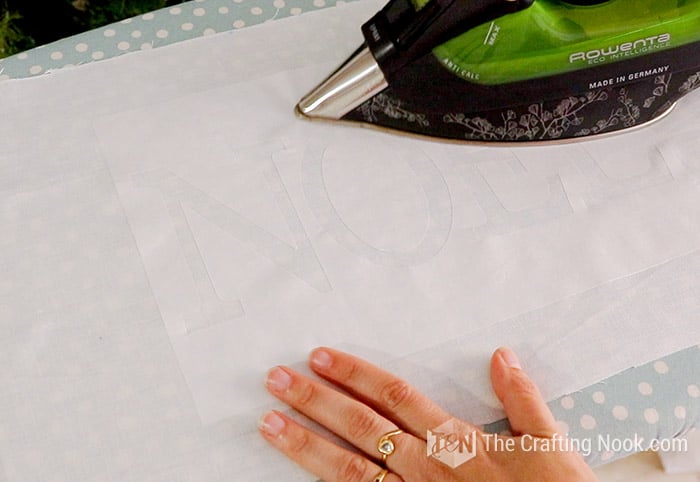 Time To Paint.
I protected a small cutting mat with plastic and taped the fabric to it. You can use cardboard too but always protect with plastic. You don't want the cardboard to stick to your pretty pillow cover.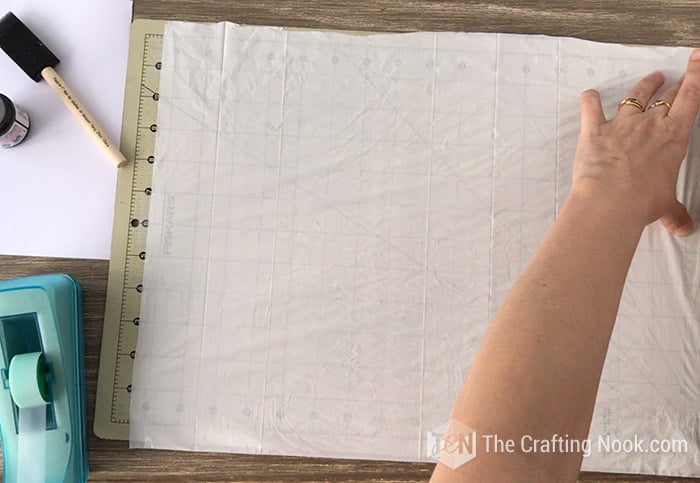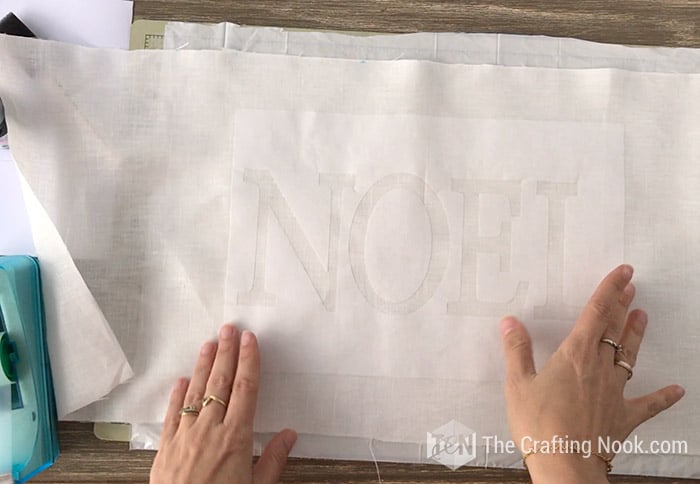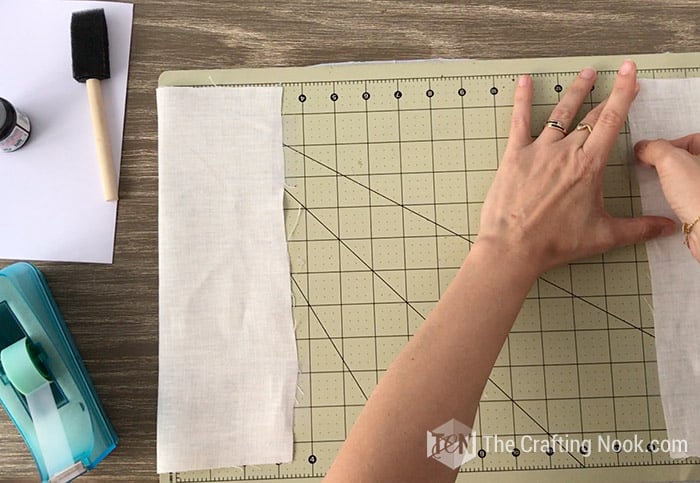 Add some paint on a paper plate or piece of paper. With your foam brush spread the paint all over your design making sure you don't paint beyond the edges.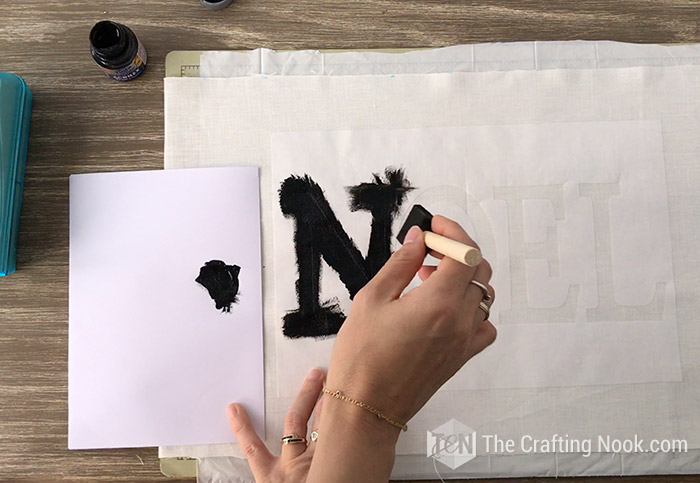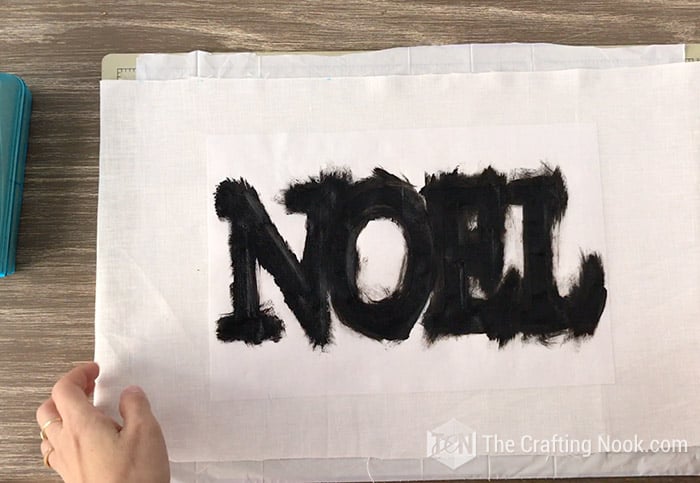 Let it dry for a few minutes and peel off the stencil and all the inner parts.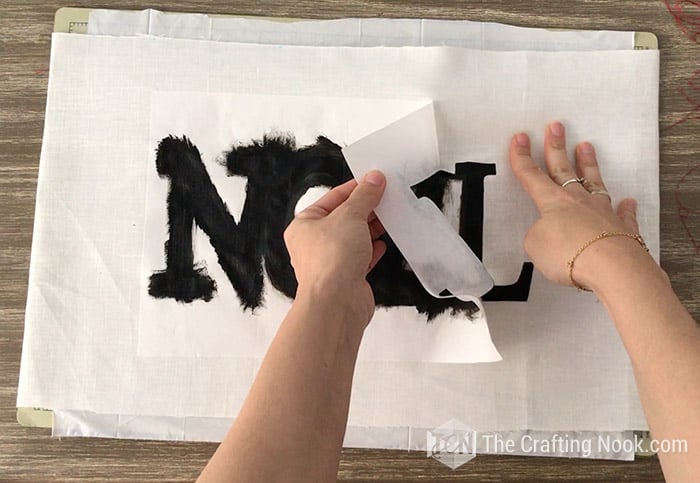 Let it dry completely. Usually, it takes about 30 minutes to an hour but make sure you read the paint directions just in case.
In the meantime, Let's work on the pillow decoration.
Take your fabric strips and let's fringe it! Fun huh!
Before you start fringing the edge, it's important to square off the edges so the fringe is straight and even, with buffalo check it's easier, just cut along the squares. You could trim it later, but it's much easier to begin with good edges.
Carefully start pulling threads out from side to the other until desired fringe length. Repeat for both sides.
I used a seam ripper to help pulling threads from the fabric and then pull the rest by hand.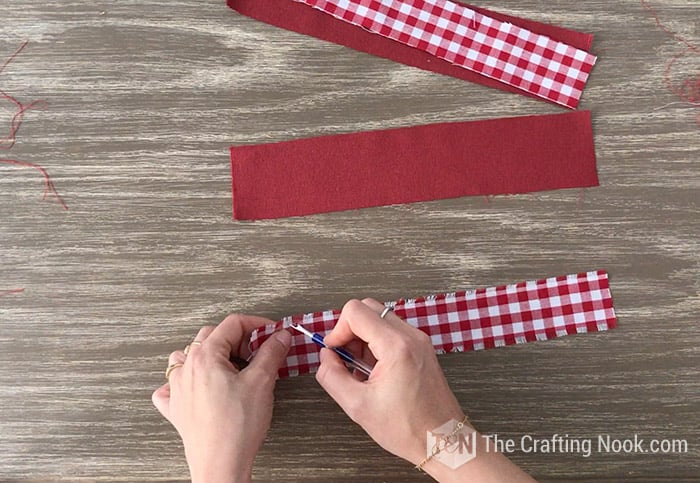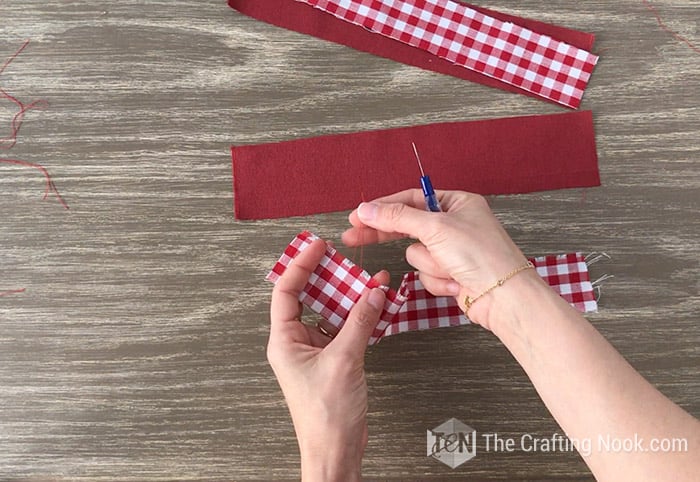 Repeat the process on all 4 strips.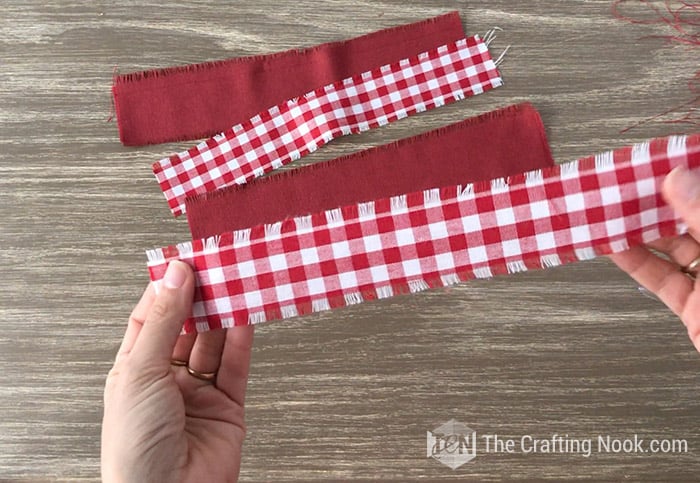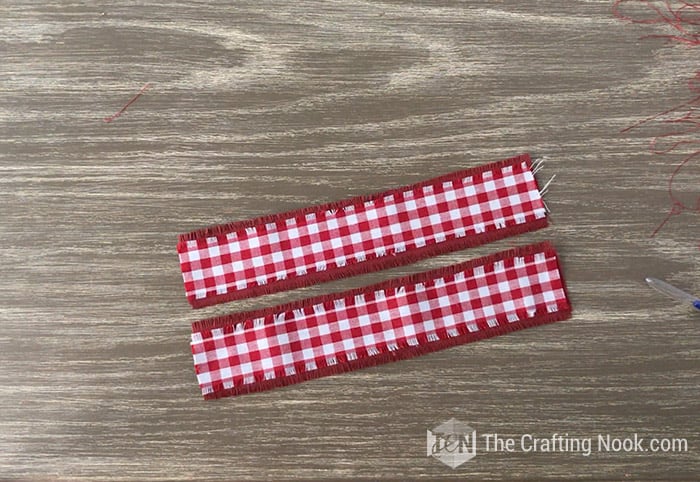 Thread Pulling Tips
If you find it tricky to get the thread pulled, use a seam ripper to reach the thread and then a tweezer may help get it out.
Pull gently to avoid breaking the threads.
If a thread does break, use a needle or the seam ripper to work the end out and begin pulling again.
Ironing the fabric after you're finished keeps the threads aligned and easier to work with.
If your painted fabric is dry, it's time to assemble the sack Pillow cover.
Place buffalo check fabric on top of red fabric strip and then place them on both sides of your painted word.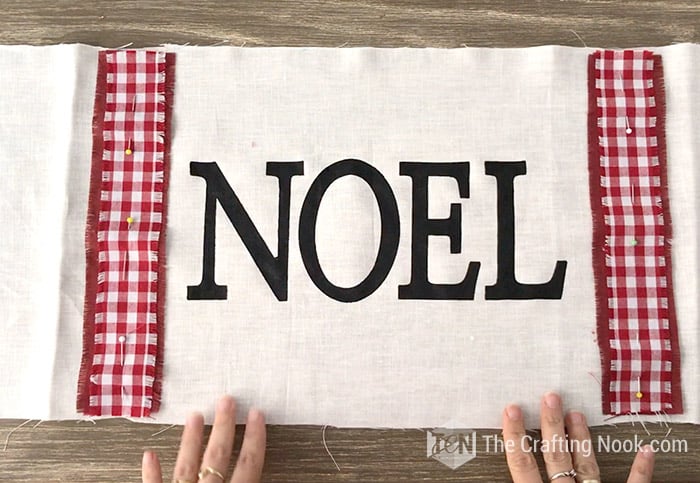 When you are happy with the placement pin in place and stitch each strip on both sides of each strip as close as possible to the fringed edges.
Then, create a double fold hem on each end of your pieces.
Fold up the bottom of your fabric by 1 Inch, press into place. Fold up again by 1 Inch and press again.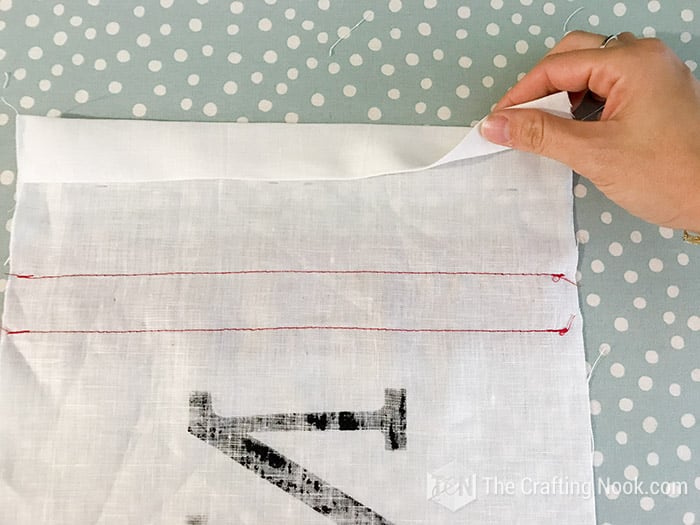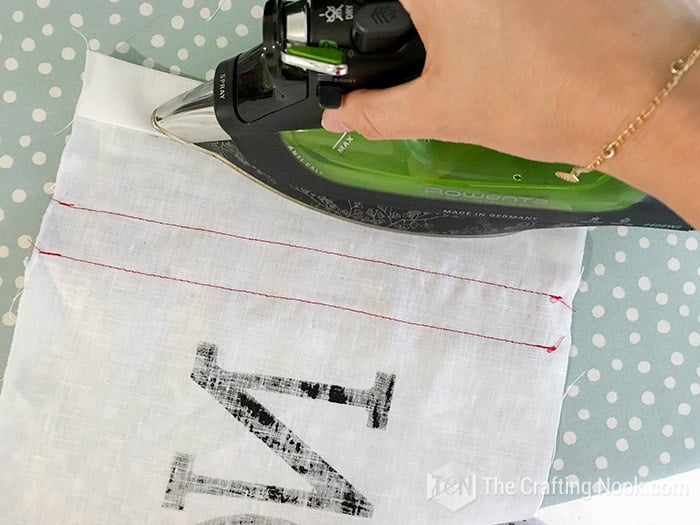 By now, you should have something like the following photo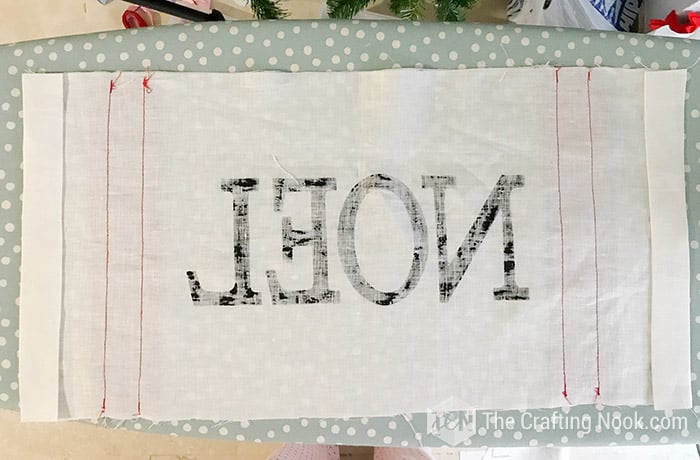 With right sides together and edges aligned, stitch along both long sides. Then zigzag between seam and edges to avoid from fraying with washes.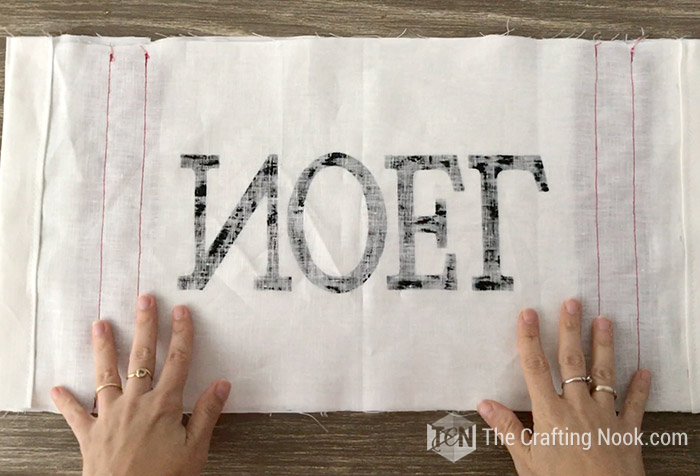 Turn your pillow cover inside out and press.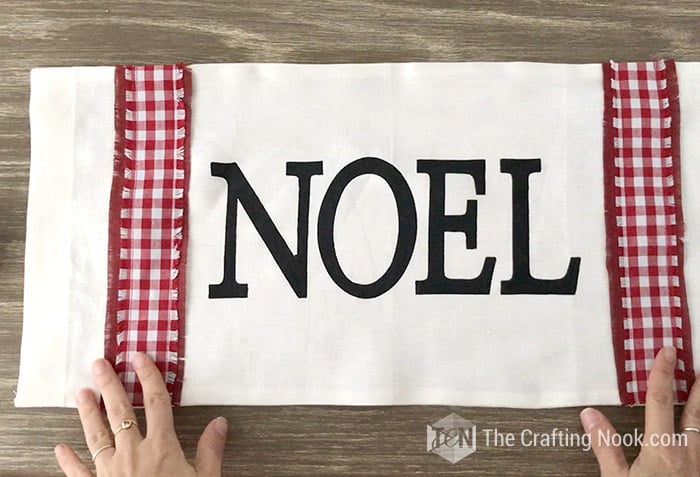 I made one fake buttoned side and a real one.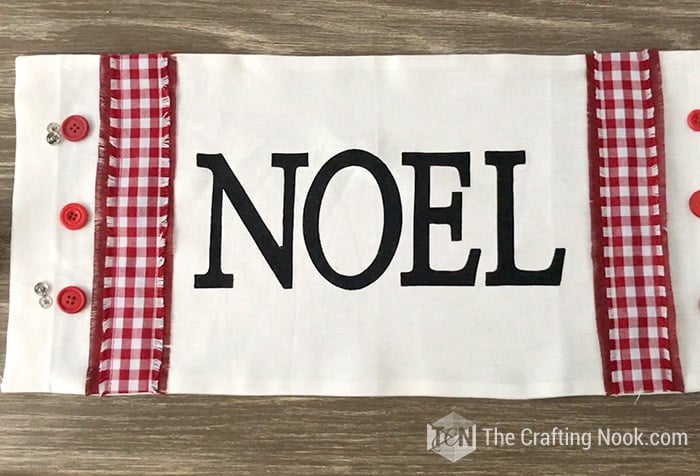 On the fake side, just stitch your buttons in place joining both sides of the pillow cover.
On the other side, I didn't want to make buttonholes so I used press snaps for the inside and normal 4-holes buttons.
For this project, I used different buttons all red colored.
So here's the deal. Press snaps have 4 holes, so do the buttons I chose. So what I did was match the holes from snaps on the inside to the normal button on the outside.
Define where your buttons will go, start with the snap inside and then stitch through to the outside.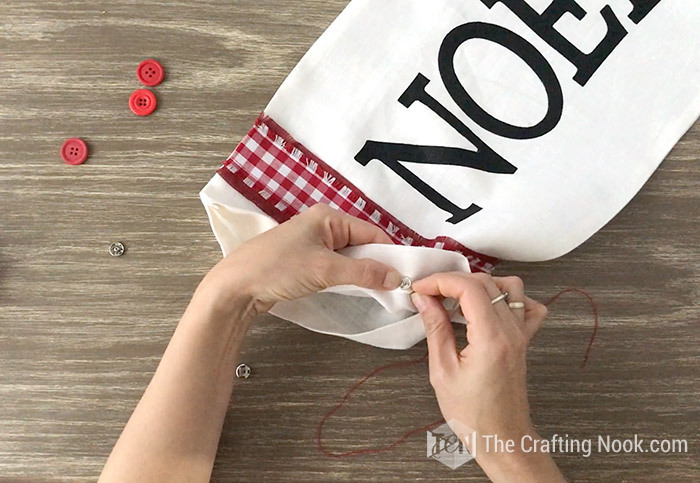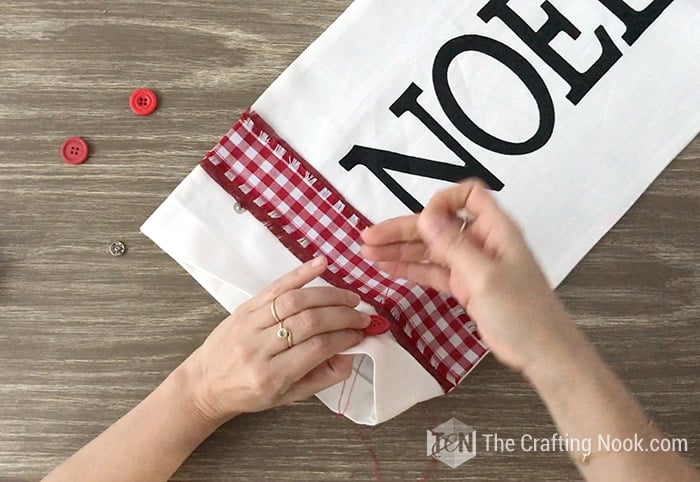 Insert your red button and then stitch back inside making sure the needle goes through another snap hole.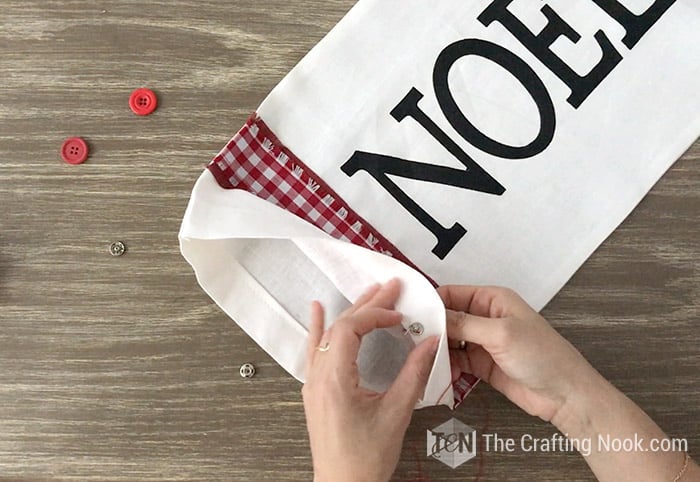 Repeat this a few times and then finish it with a knot in the inside.
Stitch the back of the snap.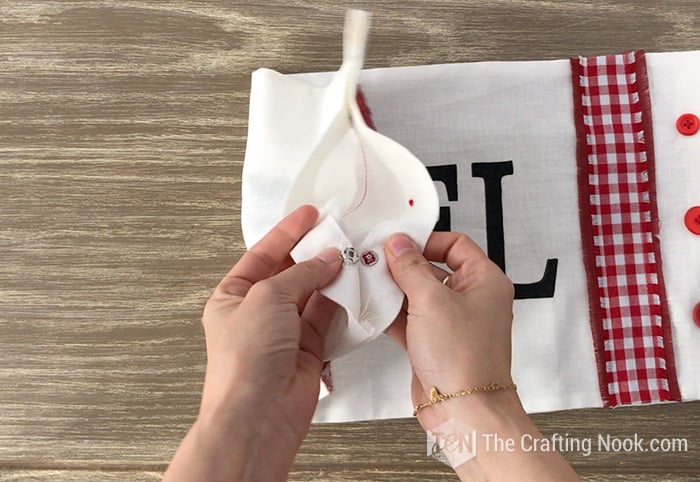 Repeat with the other buttons.
There you go!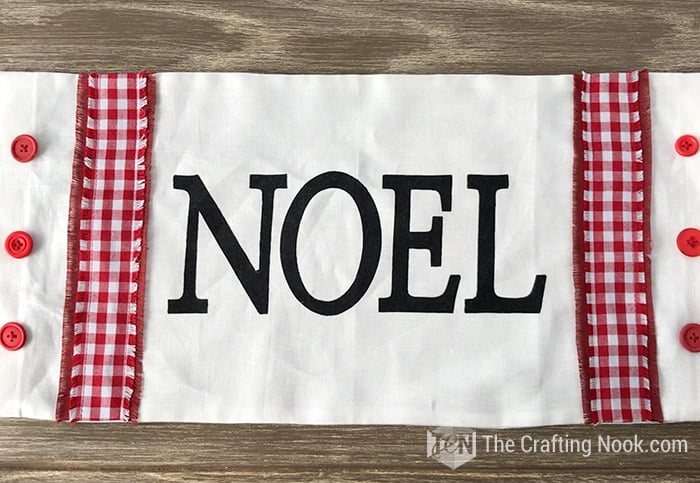 Now get your pillow in there and enjoy your super cute Noel Modern Farmhouse Christmas Pillow Cover!!!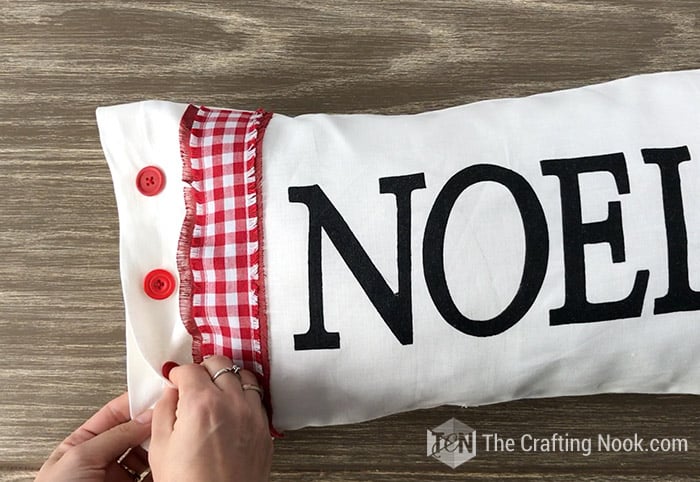 This is how my lovely Reindeer Buffalo Plaid Christmas Pillow looks in my living room!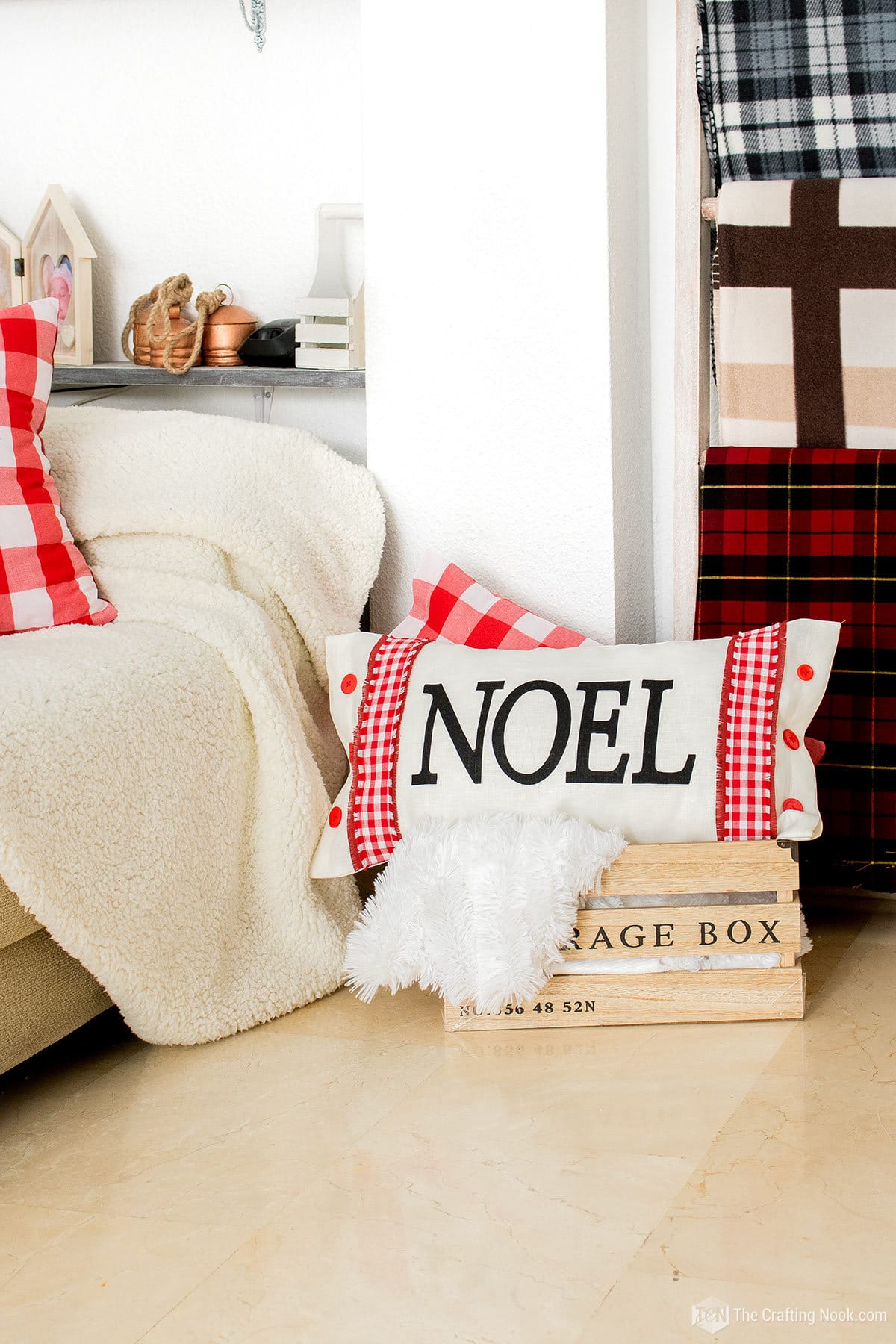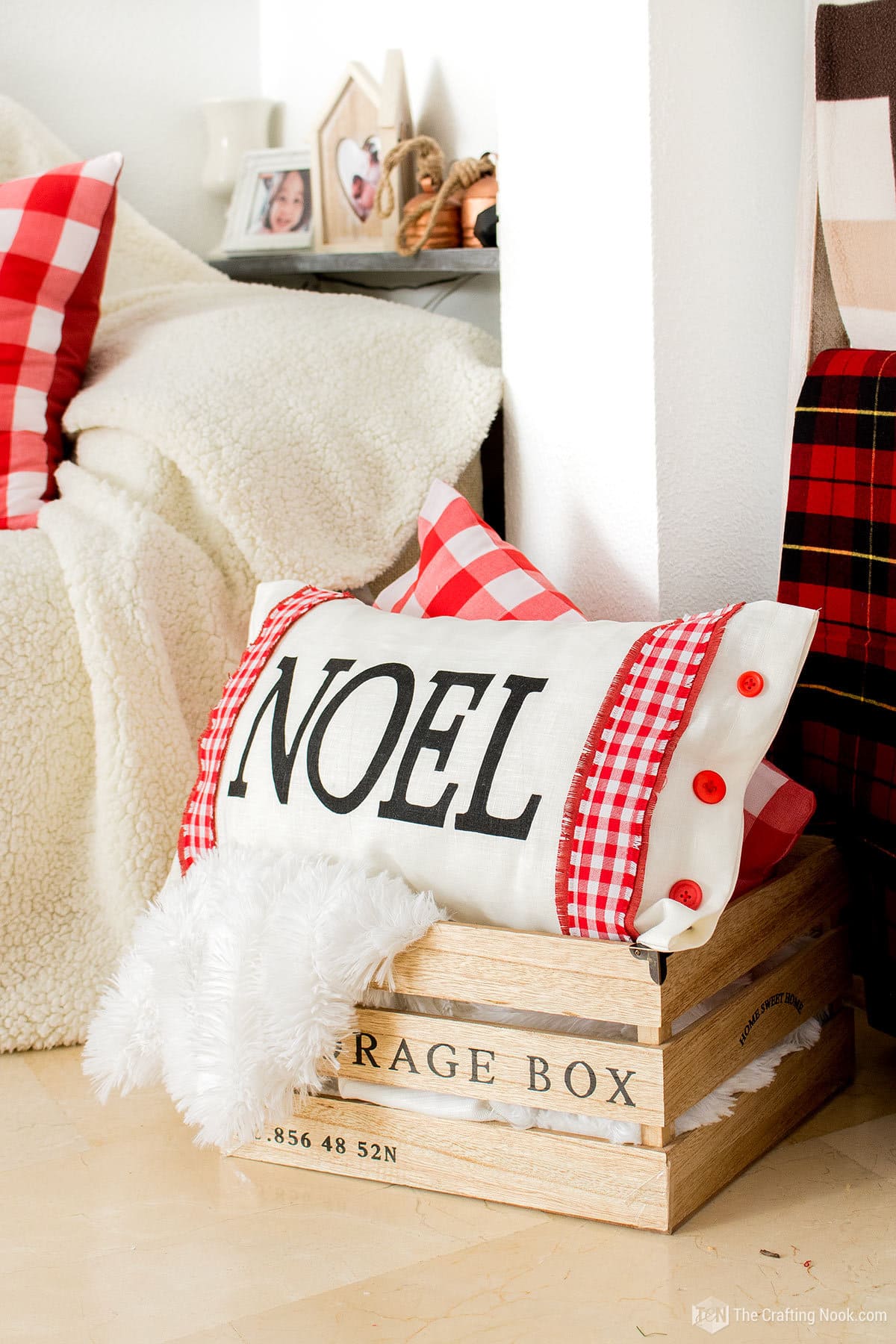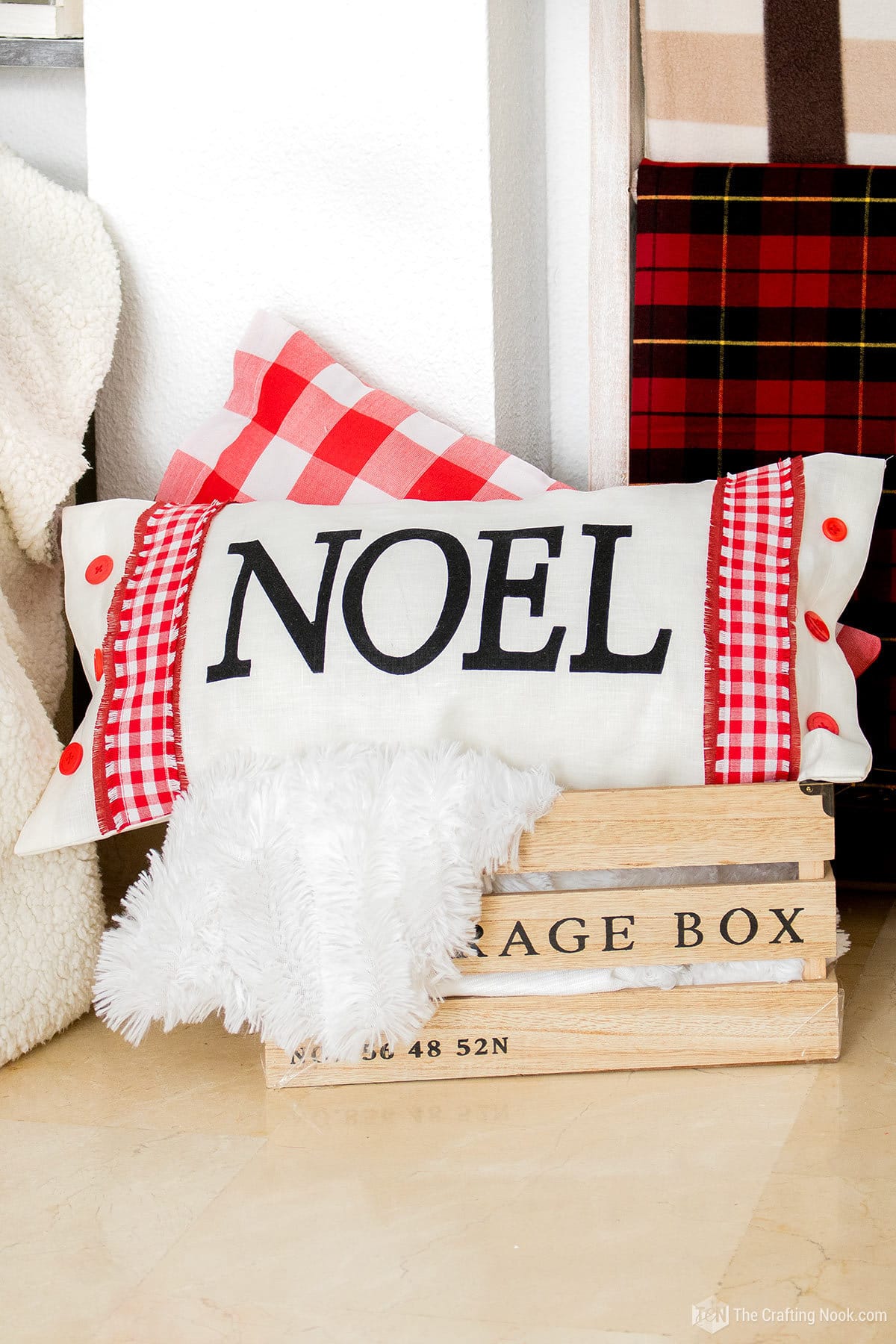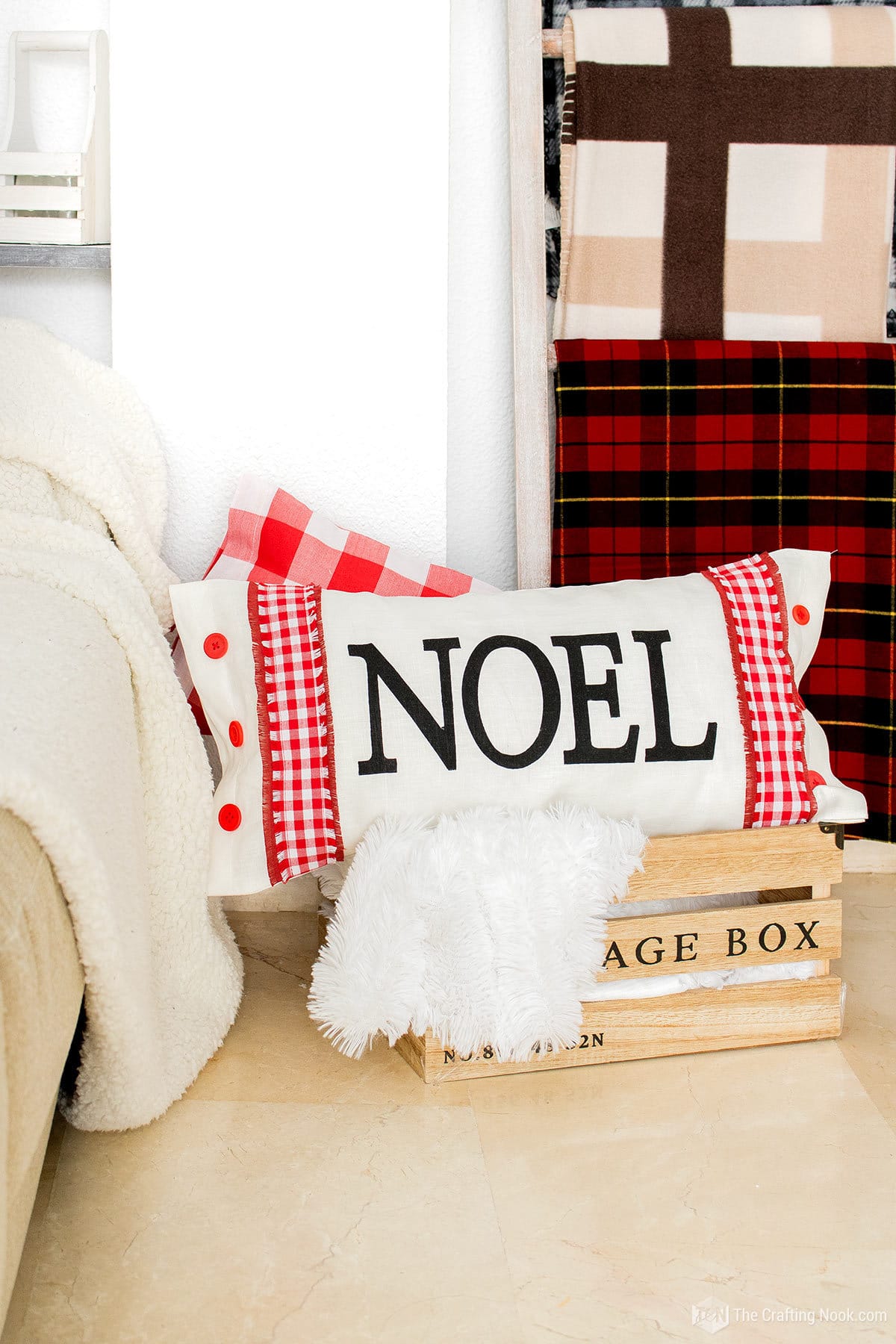 Are the other methods to create Grain Sack Inspired Farmhouse Christmas Pillow cover?
There so many ways to get that look.
Aimee from The Crazy Craft Lady has one super cute and fun method. She uses sharpies and drop cloth to create a grain sack effect.
Cassity from Remodelaholic shares another idea to create that effect with paint and heat n' bond tape. So there's no sewing involved!
I hope, you enjoyed this Reindeer Buffalo Plaid Christmas Pillow Cover tutorial. If you did, don't forget to Share with your friends!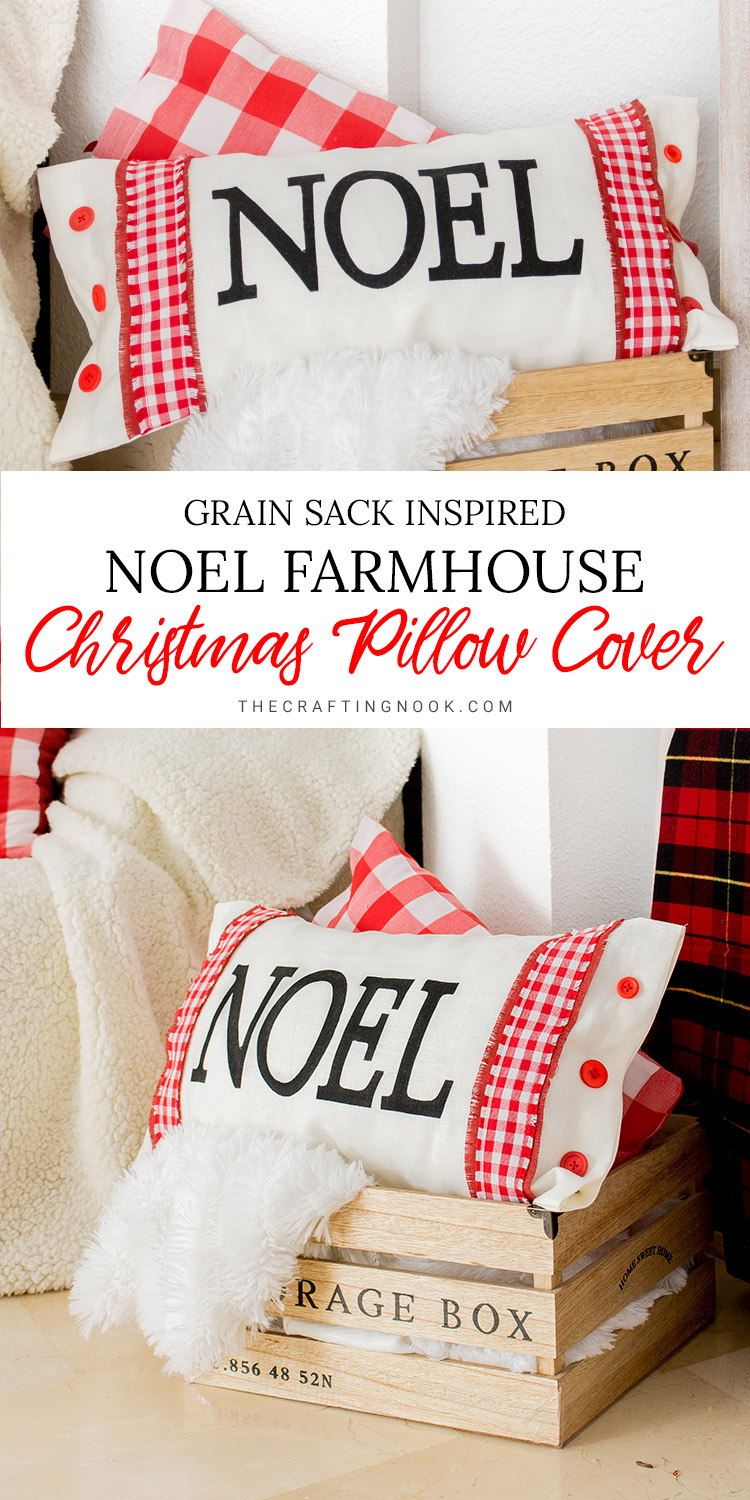 If you like this project, you might also love these too: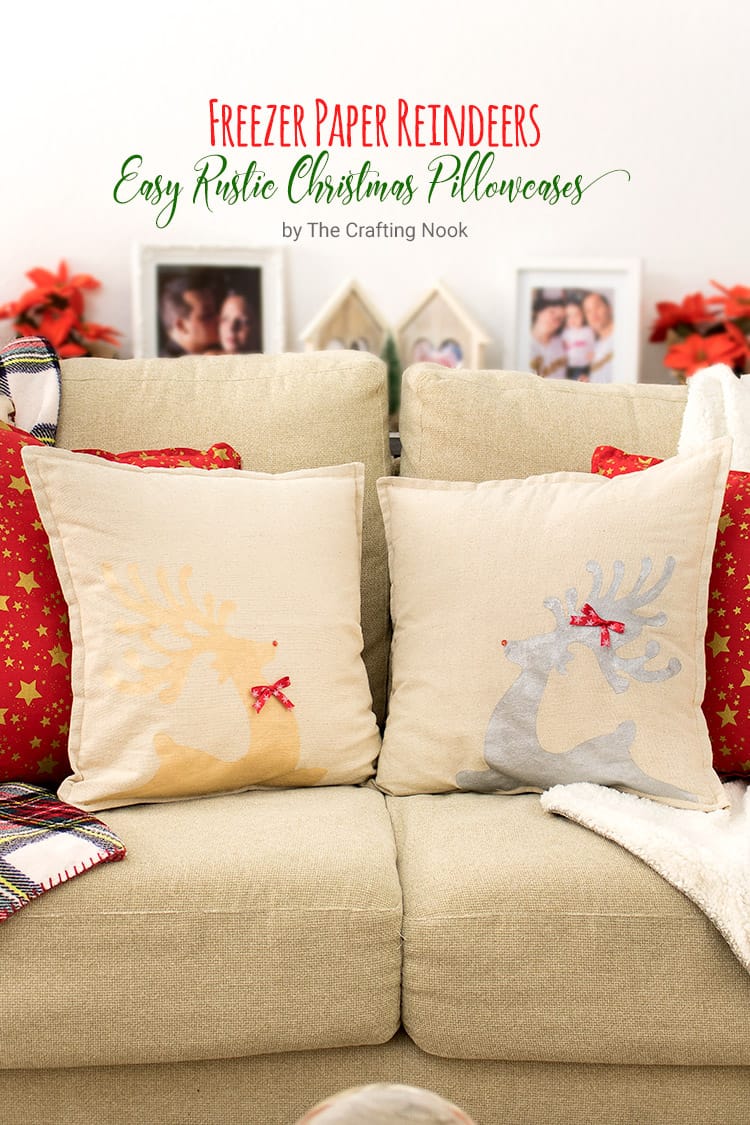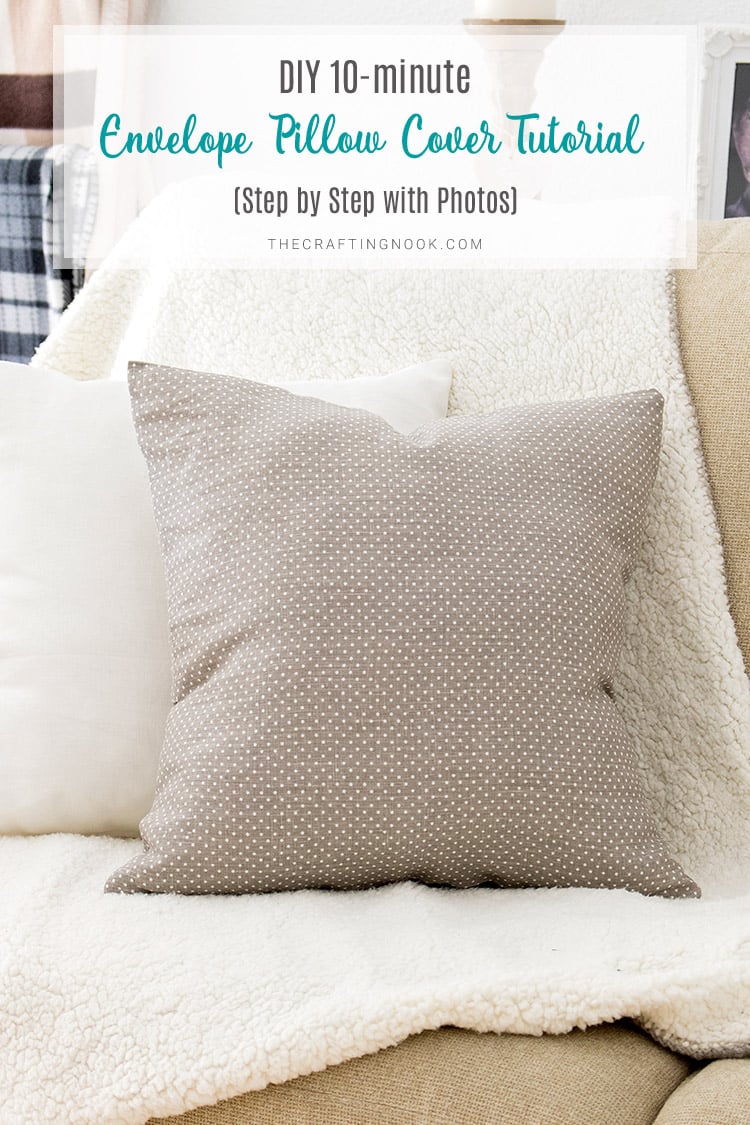 Till Next time!