You can add a beautiful farmhouse charm to your home with this cheap and easy DIY cotton stems. This simple DIY project will add loads of character to your home.
One of the things I've been wanting to make for a long, long time is Cotton Stems.  Cotton stems have been so popular for home decor for the last few years, especially farmhouse style, but they are incredibly expensive to buy and yet so crazy easy to make yourself. The good part is that they will look really close to a real one.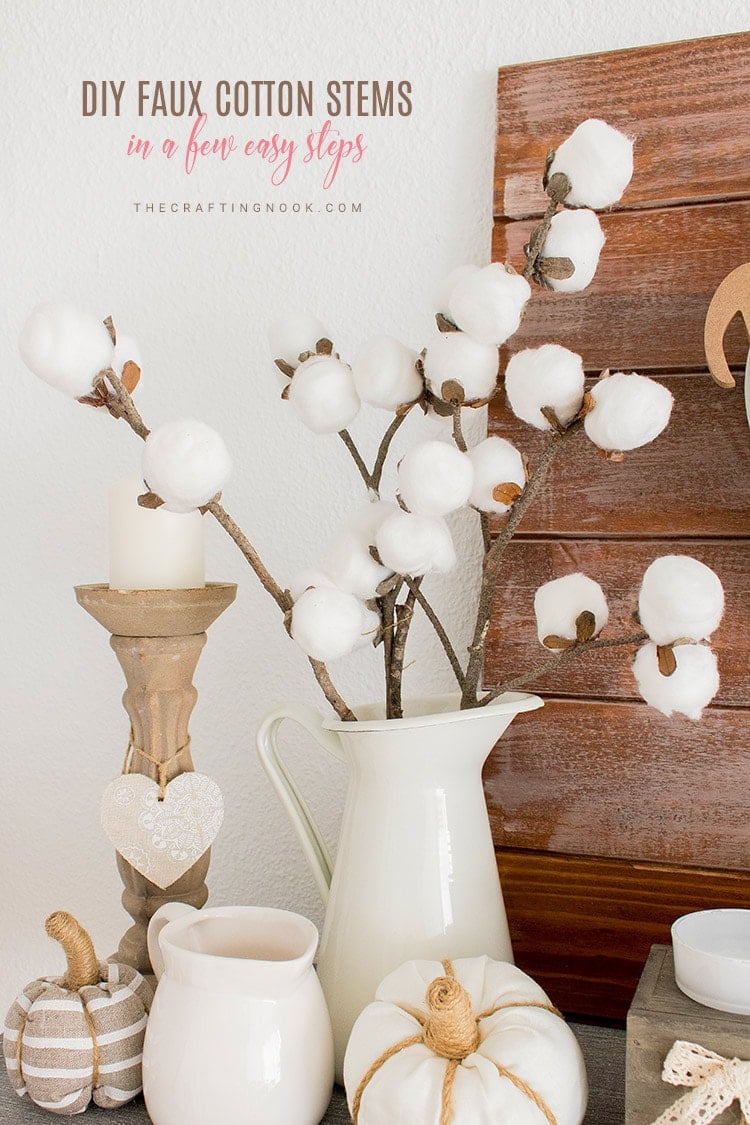 How to make Cotton Stems
I'm not southern and I sure don't have a backyard full of cotton plants BUT I sure LOVE southern and farmhouse style as part of a home decor. So, I thought, why not giving it a shot trying to make some cotton branches myself. I'm so happy I did it because I LOVE how they turned out.
What I love the most about this project is that, depending on what you have available to you in your yard or around where you live and in your cupboards, this project can be pretty much free. What else can you ask for?
I have been brainstorming for a while how to DIY cotton stems, I wanted them to look as real as possible. I went through a few different ideas inspired by a few creative bloggers.  I started by creating the leaves around the cotton with craft paper like Karin from Renovated Faith did.  They looked great but did not look real enough to me. Then I saw Sarah's idea from Twelve on Main and that is when it hit me, I still had a bunch of Pinecones from last winter. That was a clever idea!
At this point, my project was perfectly free because I had everything already in my house. In my vocabulary, that means huge success!
Supplies to make Faux Cotton Stems
Some twigs or branches
Cotton Balls
Hot Glue Gun
Glue sticks
Pinecones

How to make Faux Cotton Stems
I made a quick video tutorial to show you how to make these cute Cotton Stems. But if you are more of a step-by-step photo tutorial kind of person, scroll down a bit and keep reading!
Start out by pulling a bunch of the scales off of a pinecone. Any kind of pinecone will probably work for this, but I just used what I already had. Sometimes it's hard to come off, so what I did was press it up until I head a click and then I pushed it down and to the sides, it came out almost completely.