Farmhouse Fall Mantel Decor (on a budget)
No need to spend a lot to achieve a Farmhouse Fall Mantel Decor. A few handmade decorations, reuse items you already have, a little bit of imagination and voila! Follow along to learn how we did ours!
It's time for my fall mantel decor reveal! I'm so excited about how our mantel turned out this year. I hadn't done a fall mantel decor before so I decided to try one this year.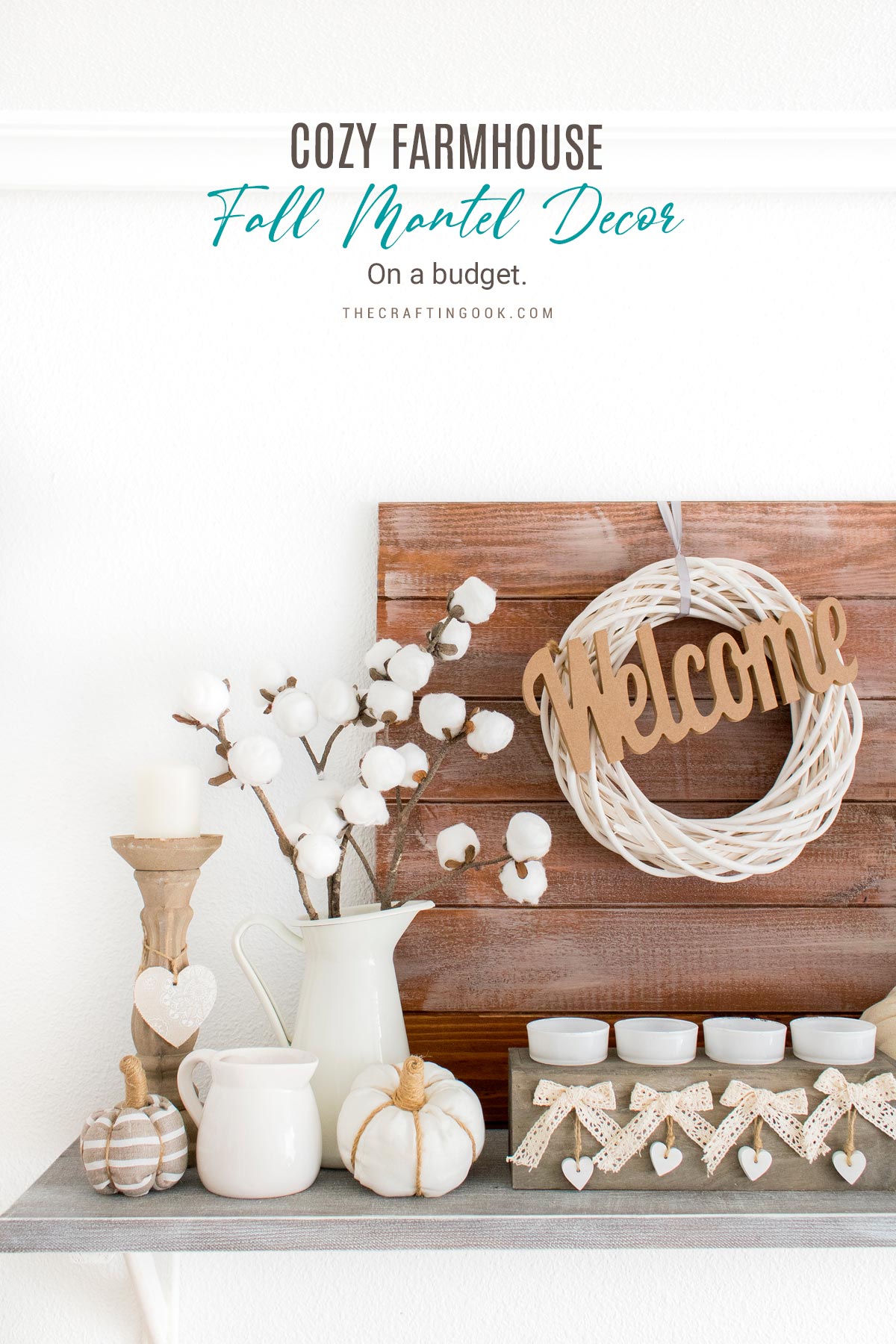 Our

Farmhouse Fall Mantel Decor
Do you love mantels as much as I do? I'm crazy about mantels but here's the truth: I don't have a fireplace so I don't actually have a mantel to decorate. But, that doesn't stop me from creating one.
It's always fun to try something new! I always try to use what I have on hand first and then fill it in with a few new finds' handmade decor pieces. This mantel is not an exception.
Do you use the same decor year after year or mix it up?
Since I'm the farmhouse kick lately, I decided to keep that style. I pretty much already had everything there except for the pumpkins and cotton stems that I made myself and you can too with the tutorials.
This year I kept it simple because as I mentioned in previous posts, I moved here a couple of years ago so I still don't have much to play with so I've been buying things and making some too. I guess with time I'll be able to decorate the entire house but for now, I'm happy with my mantel-wannabe and my centerpiece.
How I decorated my Fall Mantel

This year
Here is my rustic and beautiful fall mantel decor. I love how it turned out despite the fact that there's no fireplace underneath it.
I just love the idea of having a small space in the living room that I could call Mantel and decorate it with whatever I like seasonal or not.
This year I decided to give it a go with Fall and I'm so in love! As I mentioned before, I used mostly things I already had at home.
The space is small but I think I achieved a cozy rustic look.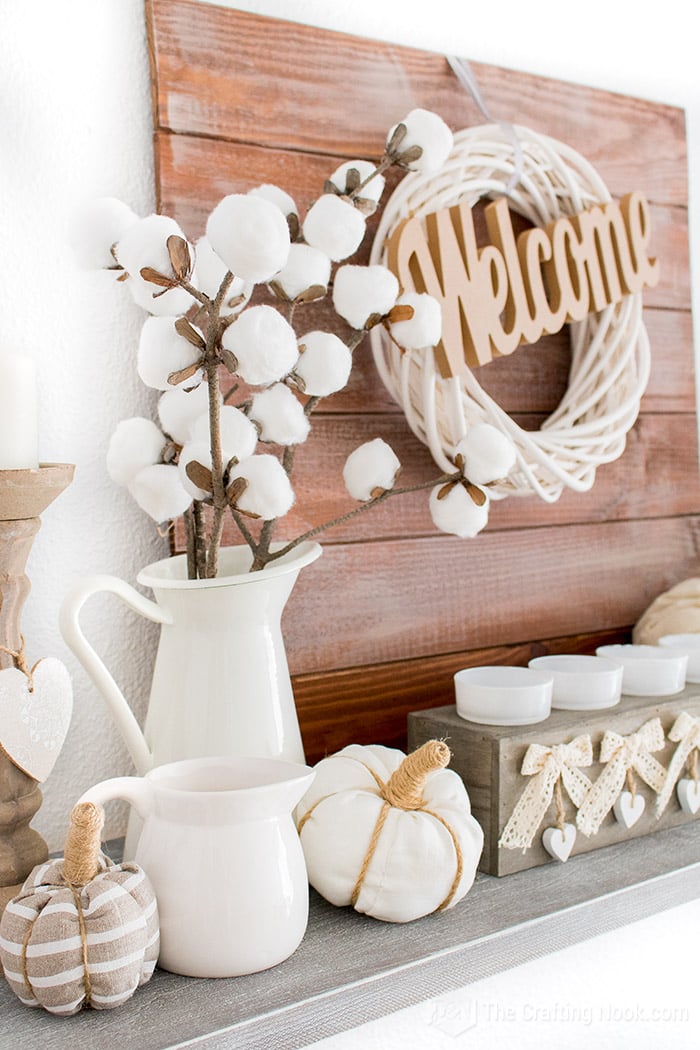 The backdrop was made with leftover shiplap boards from my rustic headboard. I just stained it and assemble it as I did for my fuse box cover. I hung that white wreath with my welcome sign on it.
On the sides, I put some rustic candle holders that I'm obsessed with. I've got tons of them because I like to have them all over the apartment.
On the left side, I arranged One candle holder with a pitcher filled with my cute faux cotton stems.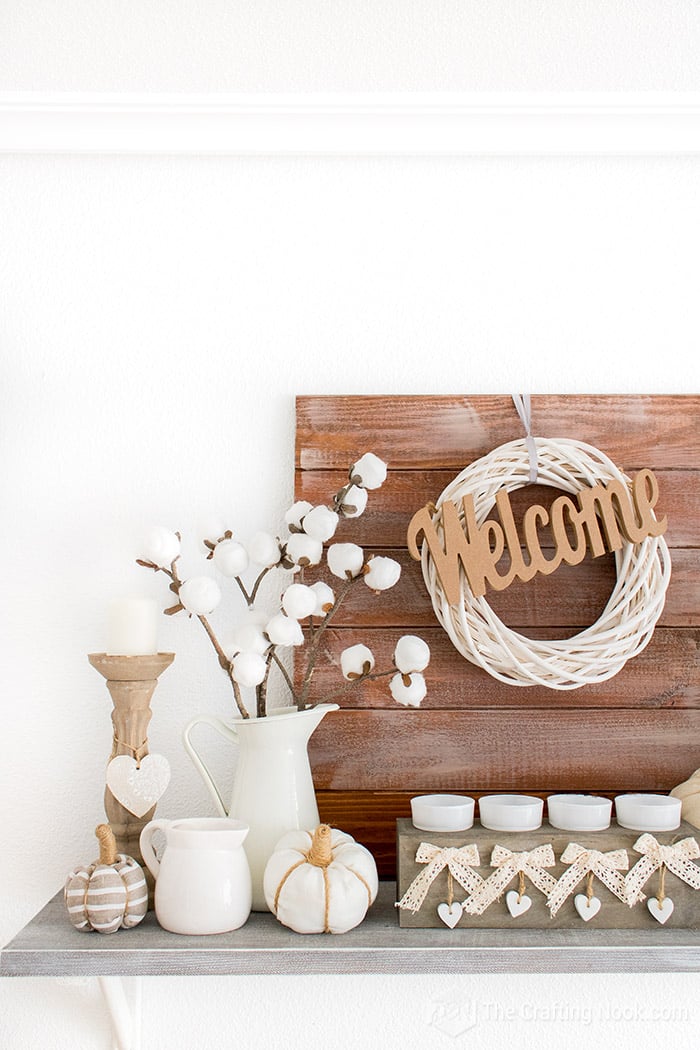 Right in front of it, I placed a small jar and 2 cute rustic fabric pumpkins I made.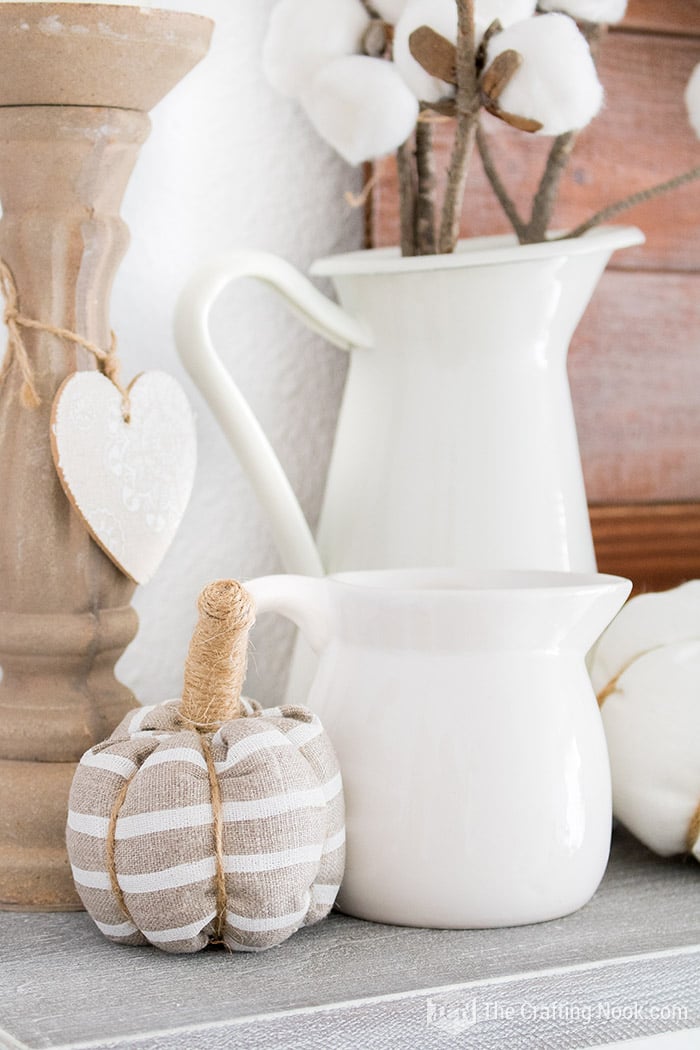 On the right side, I arranged 2 candle holders and another jar with dry tree branches. You might notice with time I love dry branches LOL.
I also placed some more burlap and white pumpkins there. By now you might have noticed I made quite some fabric pumpkins. Yeah, I can get that obsessive LOL.
Right in the center, I put that cute candle holder box. I got that 2 years ago and I'm crazy about it, I change it slightly for every season and always use it.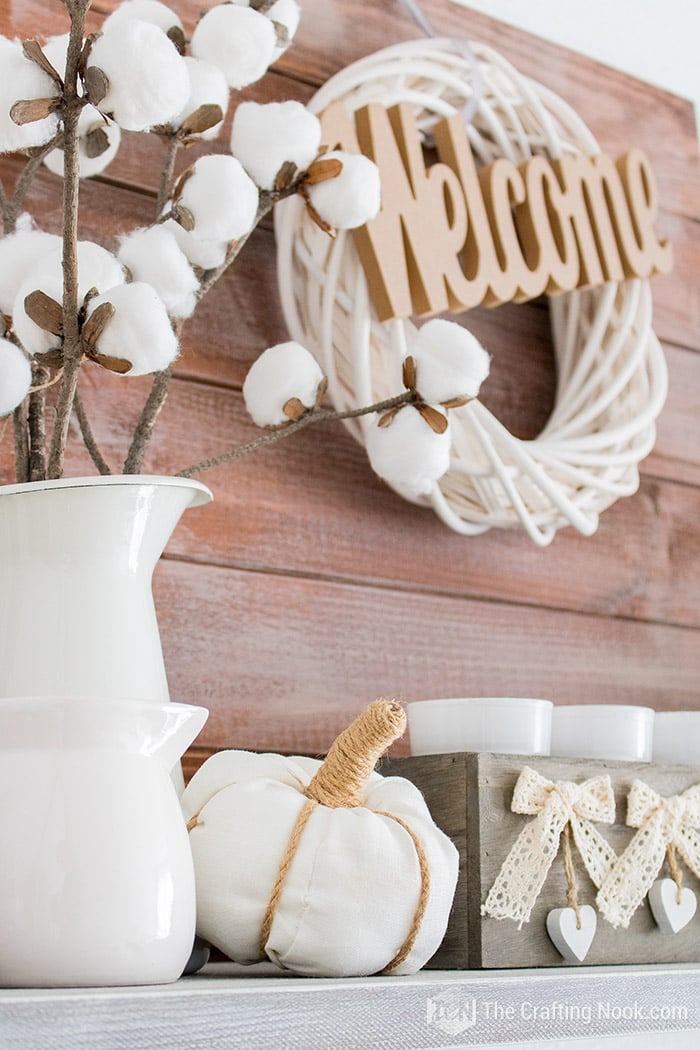 Decorating Tips
Instead of buying fake fall foliage from a store, you can try drying and saving your own flowers and leaves from the fall season. Go around your neighborhood or nearby parks and gather leaves, pinecones, wheat stalks, and flowers. You can save money and make your mantel decor look more genuine by drying them at home.
Look for interesting finds at thrift stores and flea markets. Try to find old-fashioned flower vases, antique picture frames, books from a long time ago, old lanterns, florals items, and small wooden decorations.
Make your own farmhouse-style signs by using old wood or wooden pallets. Decorate with fall quotes, phrases, or seasonal greetings using worn-out finishes to create a rustic and charming look.
Make a garland using paper leaves in the colors of fall. You can make leaf shapes by cutting colored paper or pages from old books. Also make some of the leafs in a brighter color to create pop of color. Then, you can connect them by using string or rope. Put the garland on the fireplace for a cheap and nice fall decoration.
Reuse glass jars and bottles to create special candle holders or flower vases. Tie them with string or burlap and put little candles or dried flowers inside.
Make your mantel smell like autumn by making your own potpourri with lovely fall scents. Collect dried orange peels, cinnamon sticks, cloves, and dried apple slices. Mix them together and put the mixture in small bowls or old-fashioned containers on the mantel.
That's it. I know it's simple but I love the look and how cozy our Farmhouse Fall Mantel Decor turned out. Hope you like it too and give you some inspiration.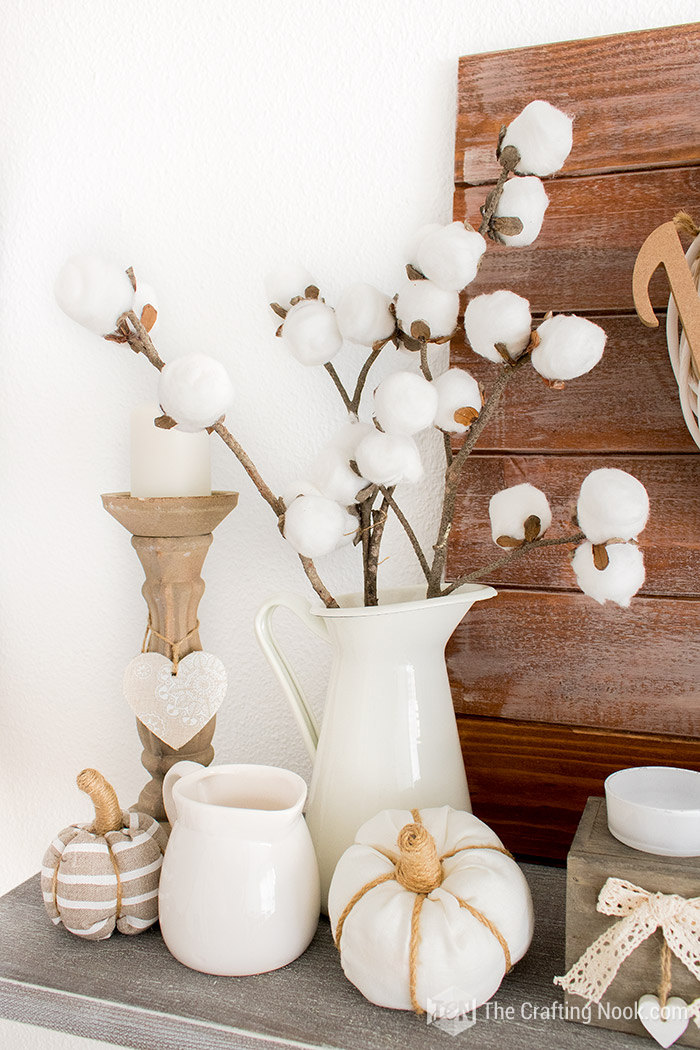 And you might have seen it already this is my cute Fall centerpiece made with more fabric pumpkins.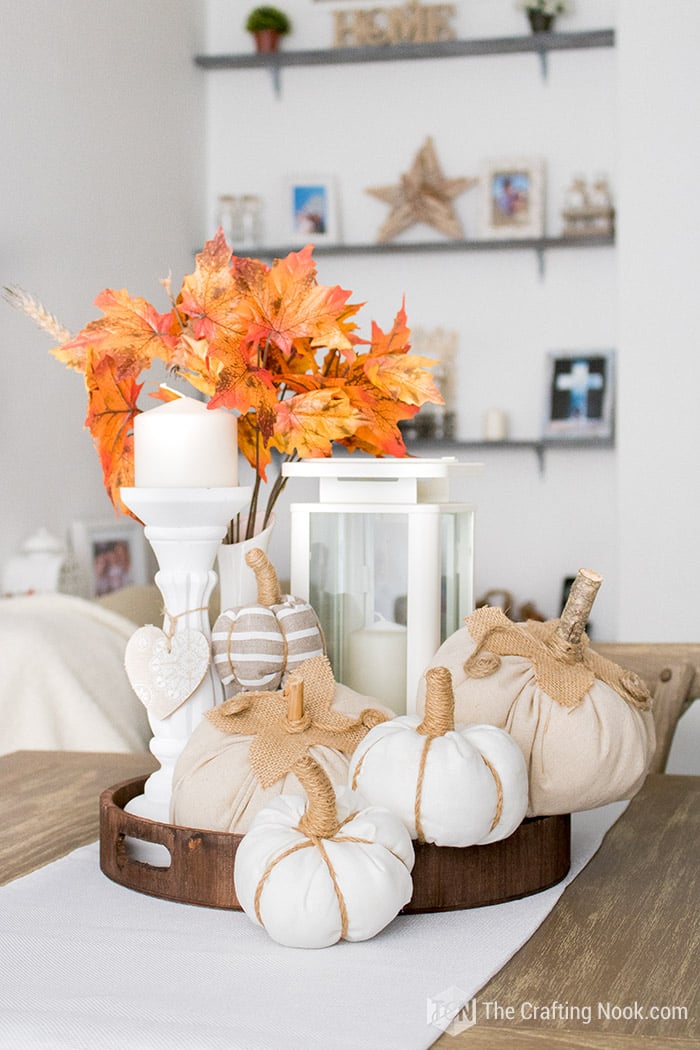 This year that's all I've got for Fall but, I promise there will be more to come next year. Fall is one of my favorite seasons but also so neglected because it comes right after the craziness of summer and back to school season. So usually, I get so behind, I just skip it straight to Halloween or even Christmas.
But, Hey! Here I am, I made it this year, late but I made it!
Frequently Asked Questions
How to decorate my mantel for fall?
You can easily decorate your mantel for the season by putting up a big fall wreath or framed picture above your fireplace. Add some leafs and other small things to make everything look complete. To make your fall mantel decor more interesting, use small pumpkins and tall branches together.
What decor to put on fireplace mantel?
focus on incorporating rustic, vintage, and natural elements. Here are some decor ideas that will help you create a charming farmhouse mantel display: Real and faux pumpkins, Reclaimed Wood Sign, Galvanized Metal Decor, old chalkboard, Mason Jar Vases, Farmhouse Candlesticks, Antique Mirrors, Farmhouse Clock, Wreaths and Garlands, Vintage Frames, Dried Herb Bundles, Barnwood Frames, Woven Baskets, Dried Citrus Garlands.
How do you display candles on a mantel?
You can use different candle holders and candles to create a really nice design on your fireplace mantel. A dark candlestick that is solid has a white or light color candlestick that is shorter next to it. This makes the candlesticks look different and interesting in their design. Make this design better by putting a white candle on a dark candle holder and a dark candle on a white candle holder. You have the option to add more than just two things.
More Fall Projects to Try
If you like this Farmhouse Fall mantel idea, you might also LOVE these other fall project ideas too:
Where can I get more Fall Mantel decor ideas?
Share and PIN ME!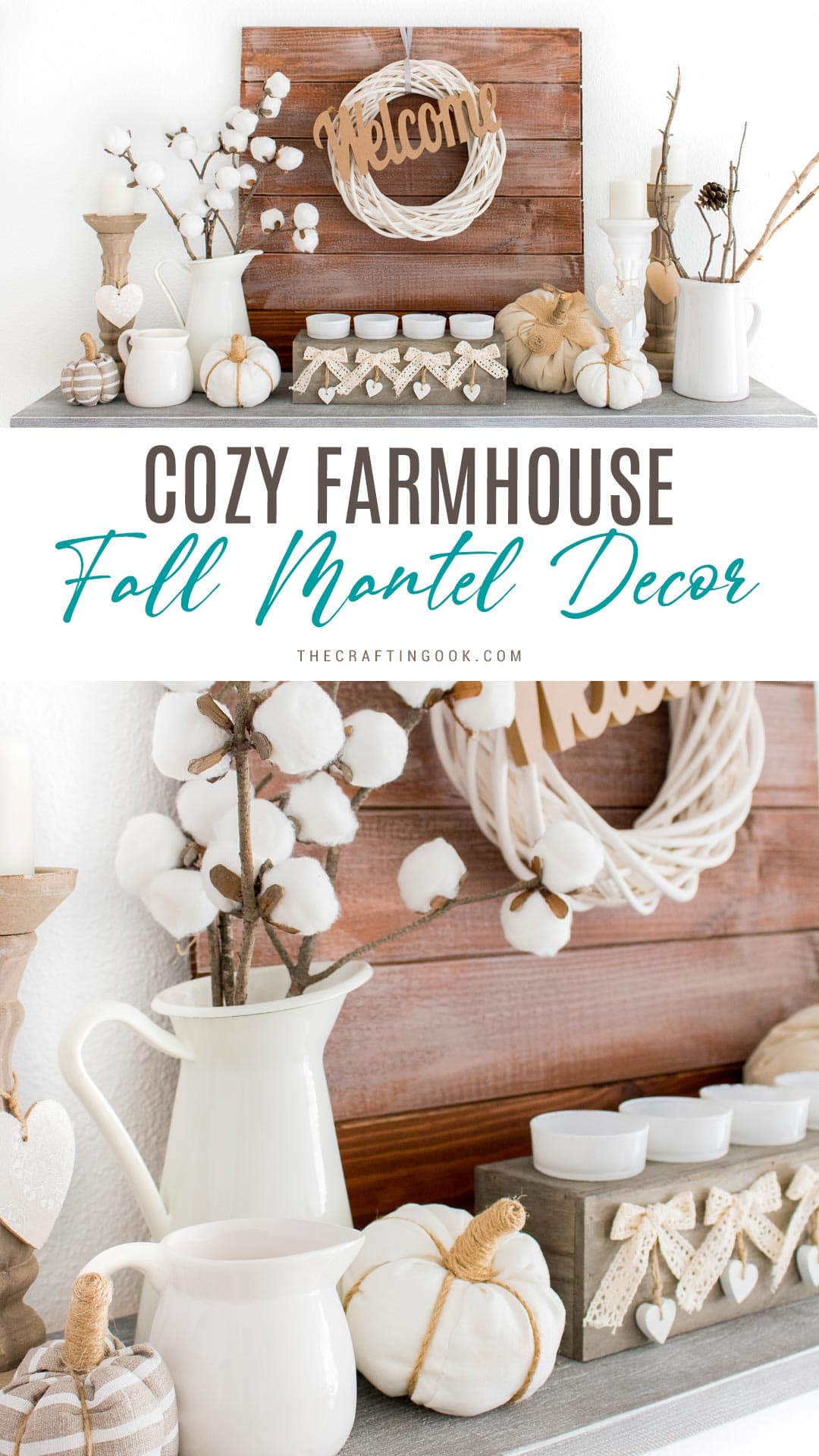 Til' next time...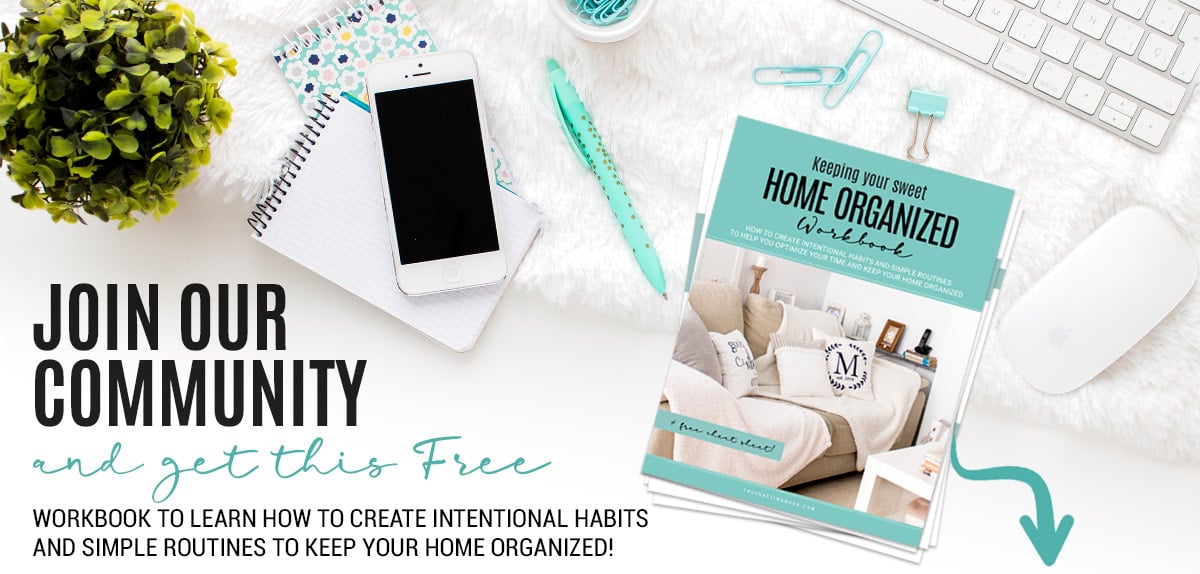 GET INSTANT ACCESS TO THE HOME ORGANIZED WORKBOOK
Plus freebies, printables, exclusive content, tips, stay connected, be the first to know great offers and Product Launches!
Disclaimer: By clicking on the "Yes, I want it" button above you are giving me your consent to collect and use your information according to the law and My Policy Privacy and The Cookie Policy. Zero Spam I promise!