DIY Mini Pallet Wood Sign for Valentine's Day
Valentine's Day is here and love is in the air! If you are looking for some easy DIY handmade gift ideas, why not make a mini pallet wood sign for your valentine? Get the instructions here.
This is one of those crafts that happens suddenly in a moment. I was in the crafts section of a store and saw these cute mini pallets and a few inches away there were lots of wooden letters.
I thought right away this would make the perfect Valentine's day craft project: Simple, easy, cute, and inexpensive.
You might also love these other wood sign craft ideas: DIY Oversized Rustic Wood Sign (also reversible, DIY Inspirational Farmhouse Wood Signs, and DIY Reversible Farmhouse Wood Sign (with video)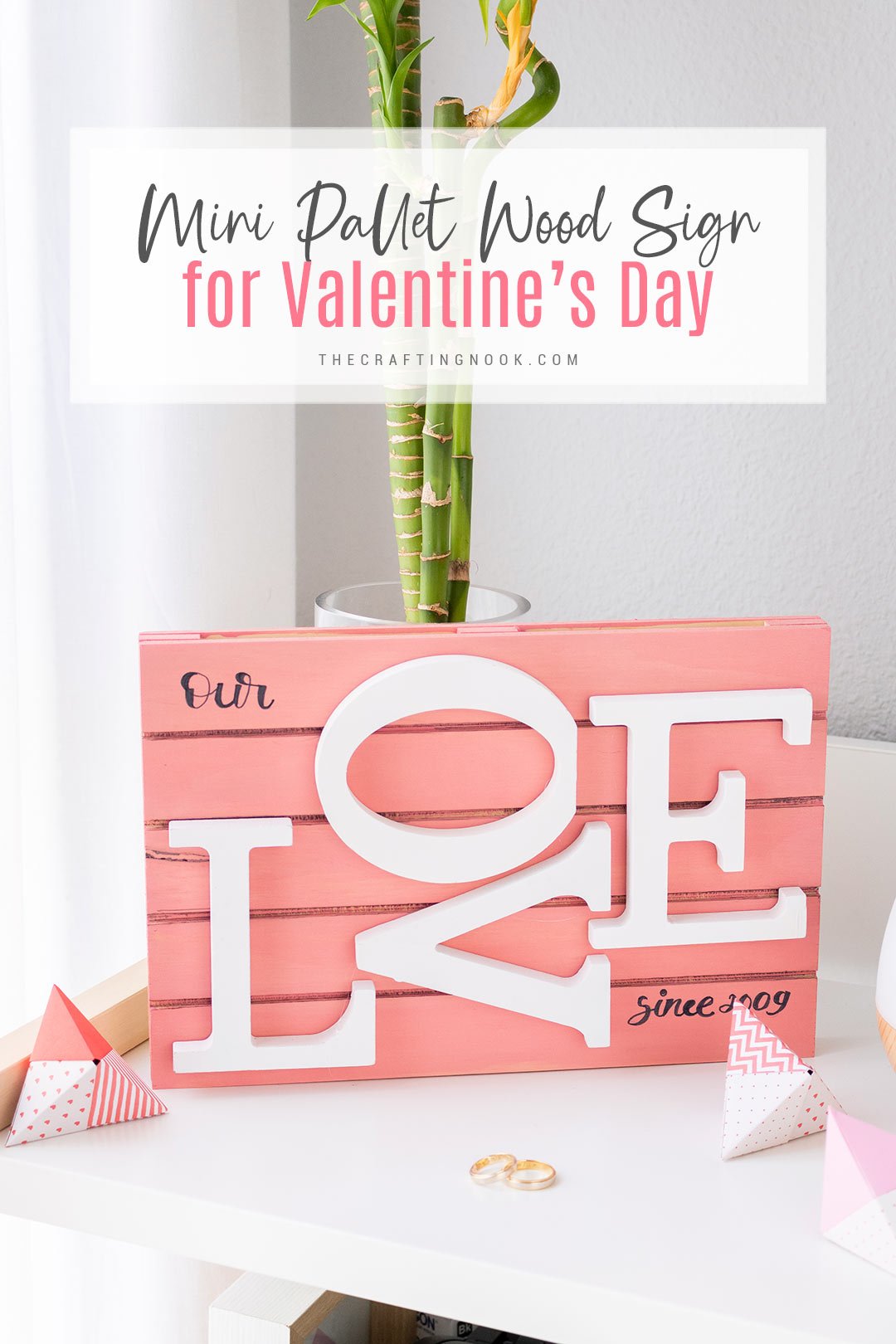 Mini Pallet Wood Sign Tutorial for Valentine's Day
It would be hard to say if you can find these cute mini pallets where you live but honestly, I think any blank wood sign will work, and that I know you can find at any craft store.
Of course, you can always make your own mini pallet.
DIY crafts like this one are perfect for a craft night with friends or family to include kids in the process. Valentine's Day is not only about couples, is about love and that can have different shapes. Love for parents, children, or siblings, love for dear friends, love for family members.
I'm a true believer that love is in the small details.
The best part?
It's so super simple and easy to make while is inexpensive. The whole project took me about 1 hour to make and I spend less than $10. Considering we usually have paint, hot glue, and markers around, this project could cost even less but the fun of making it is priceless.
This project is the easiest way to add a great reminder of all the love we share in our marriage to our decor.
Wooden Letters Alternatives
If you don't want to use wooden letters or can't find the appropriate ones, you can always use stencil or vinyl letters. I personally love stenciled letters. If you have a silhouette cameo or a Cricut, you can make it very custom and play even more with the letters and even create 3D letters. Heck! you could even create beautiful custom quotes if you don't want just the letters.
What can I use instead of the Mini Pallet?
Well, like I always say imagination is the limit. You can use pieces of wood planks or wooden boards and put together a-kind-of pallet. You can also use scrap wood.
Now, if you want something less rustic, you can go to craft stores like Dollar tree or Michale's, I know I've seen blank wood signs already made and just ready for you to paint and beautiful signs.
What type of paint do you use for this DIY pallet sign idea?
I used acrylic paint. But you can use latex paint, chalk paint, even stain itself if you can find it in your chosen color. It also will depend on the type of wood but my guess is that any of these will work. I used pink color but you can choose a different color.
Where Can I Put this Pallet wood sign?
I put mine as decor on my office table next to my baboo plant and my essential oils diffuser for now. But I might take it to our bedroom later on. You can add hooks on the back so you can hang it as wall art, or place it on a shelf, among your family or marriage picture frames, or why not on your entryway table as your welcome sign.
How To Make a Mini Pallet Wood Sign
Mini Pallet sign Supplies:
A mini wooden pallet (size will depend on what's available)
Wooden letters that read L O V E. (measure well the pallet width and height to make sure they all fit)
Pink acrylic paint or stain (of your favorite color)
Hot glue tool.
Nails and a hammer *optional
Pencil and black marker
Black crayon or color pencil.
Piece of cloth
Small paint brush
Instructions:
I created this quick video tutorial to make it easy for you! However, if you are more of a photo step-by-step kind of person just scroll down and keep reading!
Before we begin, be sure to follow us on Pinterest, Facebook, Instagram, and YouTube, and also sign up for our email list (at the end of this post), so you'll never miss a post!
Prep Work
Firstly, clean your mini pallet well to remove dust and possible grease. Use sandpaper if you notice splinters coming out.
I wanted a more washed look, like a stain that you can see the wood lines and grain so I diluted the paint 60-40 paint-water.
Also, clean well your wooden letters.
Painting the mini diy pallet sign.
So here technique is totally up to each one. I wanted to stain the wood rather than paint it, so I used the cloth to apply the paint.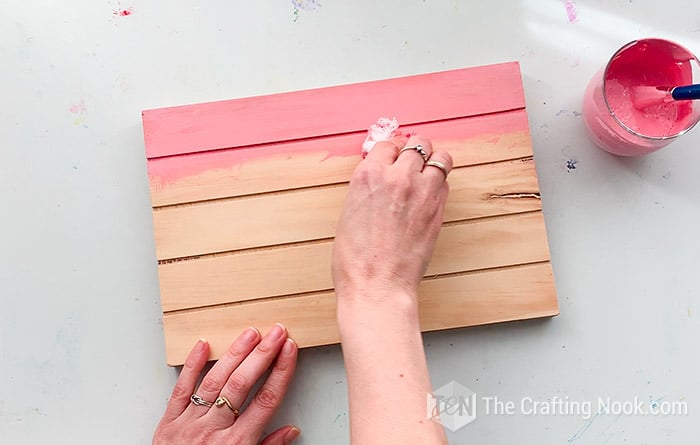 Rub the paint roughly throughout each section making sure the wood would absorb the paint and let the wood grain come through.
Use the brush only to make sure the creases get painted. Right after, rub the paint again with the cloth to avoid lumps of paint.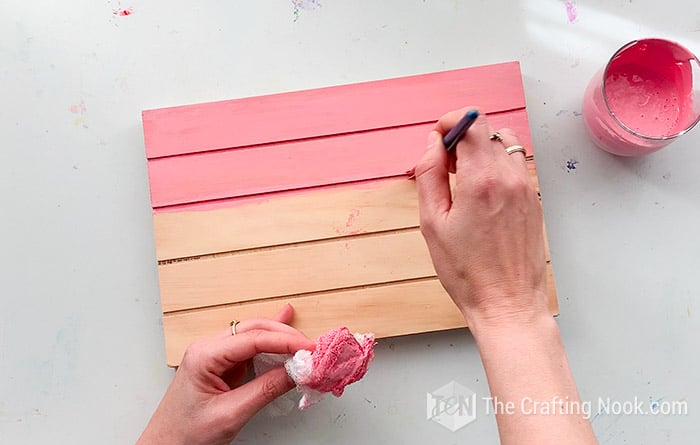 Keep going until you cover the whole pallet board.
Also, paint the sides.
Once you painted everything let it dry for a few minutes.
That's the other perk of applying the paint like this, it dries even faster.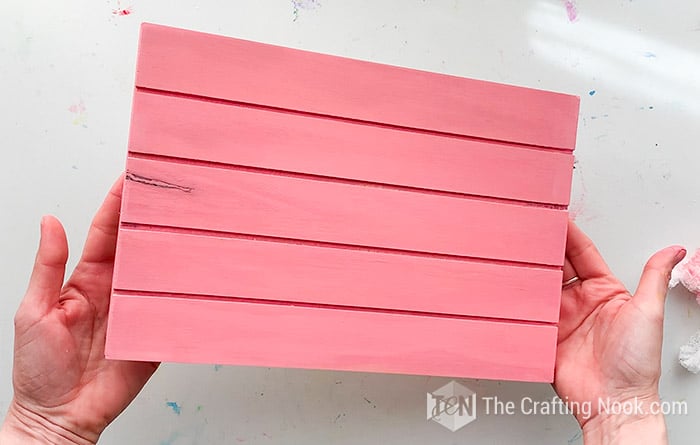 With your black crayon or color pencil mark or trace the creases of the mini pallet. This is to give a more worn-out rustic look.
I also rubbed a bit more the cloth everywhere to make sure everything looks even.
This is my favorite part.
Play around with your letters to make them fit in your space. It's like a puzzle.
Once you like the placements, Add hot glue to each letter and glue them to the wood pallet sign.
If you like, you can put some nails on the back to secure them well.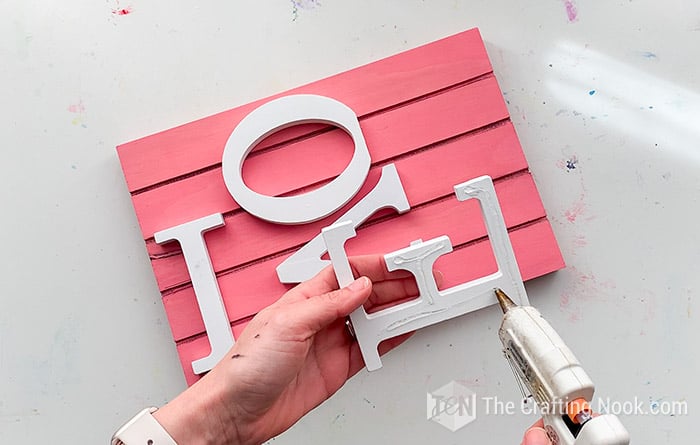 When you finish you could have something like this:
My final step and rustic touch were hand-lettering the word "our" on the top left corner and "since 2009" on the bottom right corner so it would read "Our LOVE since 2009".
There you go! One cute way to celebrate your valentine and the love you have shared with a beautiful sign!
I so love how it turned out. It feels like I finished an artwork, right?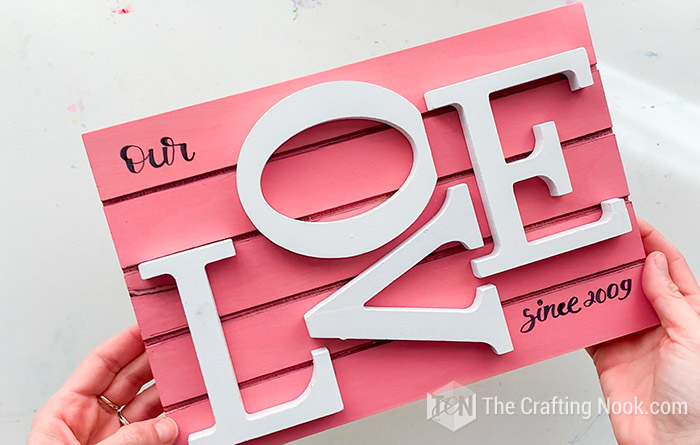 Hope you find this simple DIY sign decor inspiring and that you make one for yourself and your valentine!
What do you think??? Tell me in the comments below.
I Just love how my new sign turned out!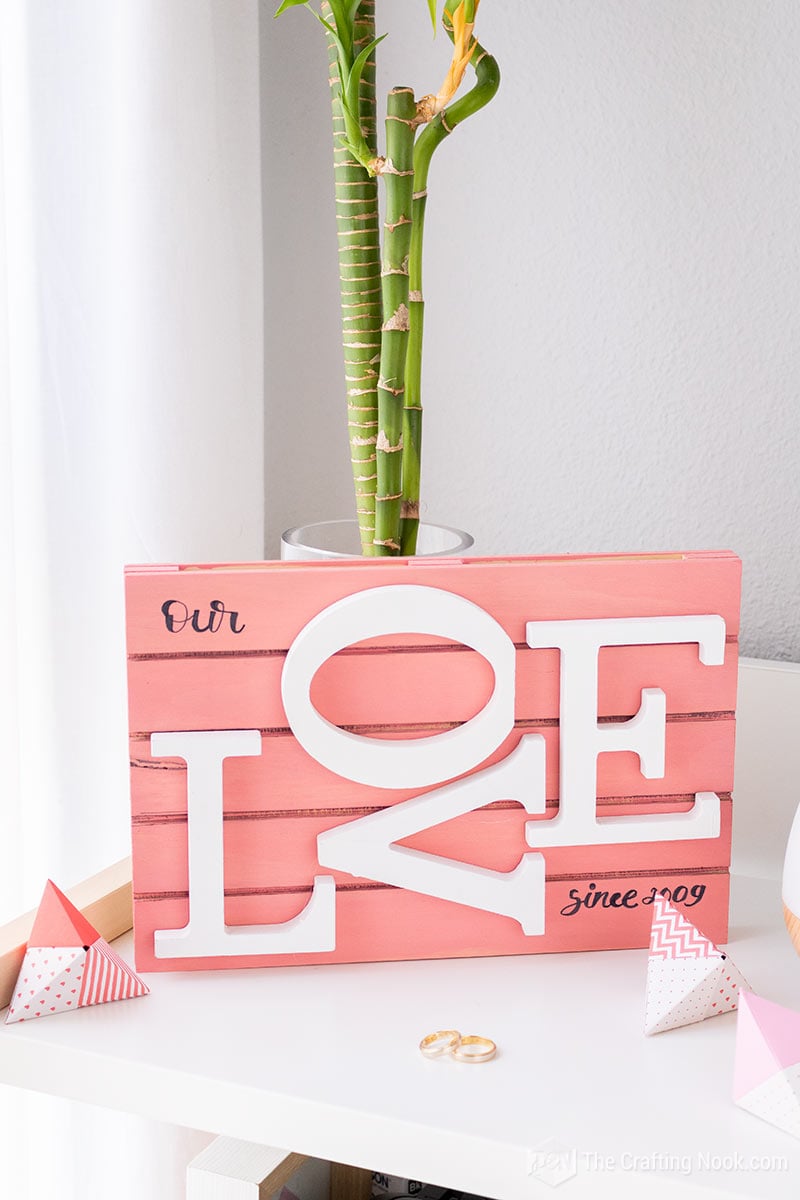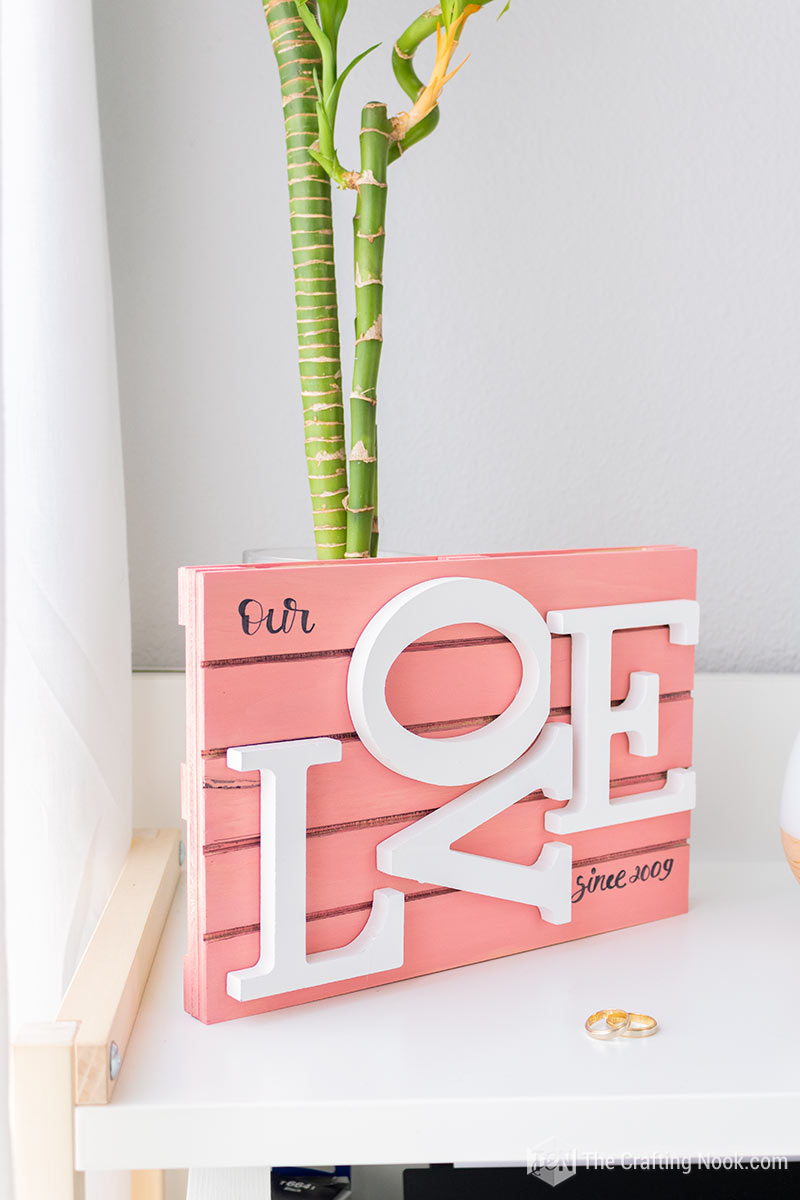 Happy Crafting!!!
If you enjoyed this diy project, don't forget to PIN and share it with friends!
If you like this type of diy pallet sign ideas, you might also love these too:
Til' next time...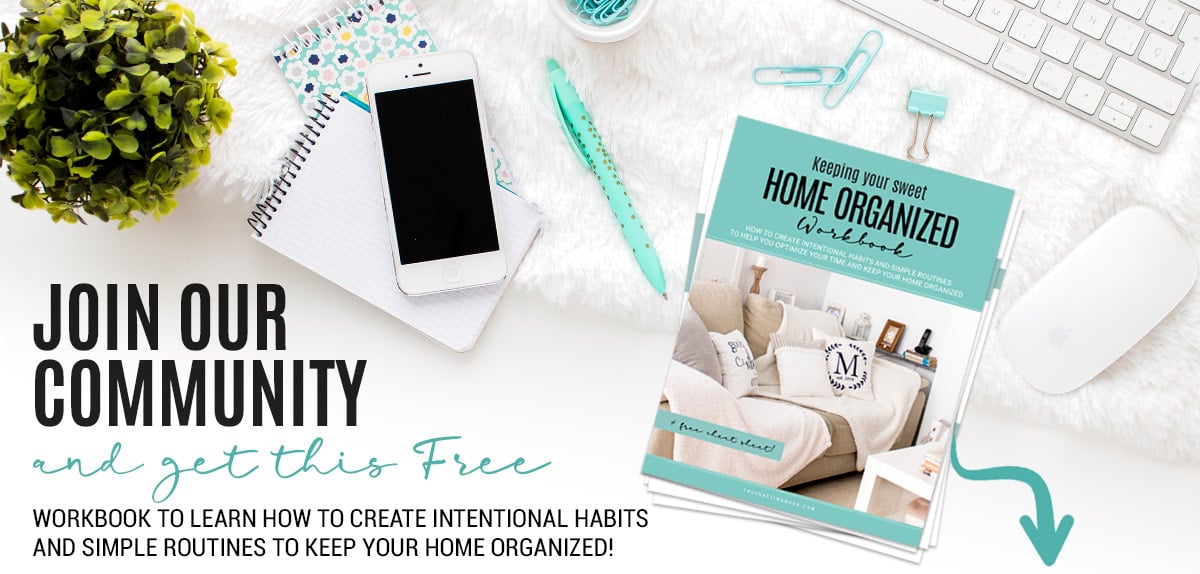 GET INSTANT ACCESS TO THE HOME ORGANIZED WORKBOOK
Plus freebies, printables, exclusive content, tips, stay connected, be the first to know great offers and Product Launches!
Disclaimer: By clicking on the "Yes, I want it" button above you are giving me your consent to collect and use your information according to the law and My Policy Privacy and The Cookie Policy. Zero Spam I promise!